WELCOME TO THE FRONT PAGE
TUESDAY, AUGUST 15, 2006 EDITION
Valley East Lions Club Selling Tickets On 2006 Pontiac Wave To Raise Funds For Local Churches

Rolly Albert, on the left, and Roger Brideau, two long-time members of the Valley East Lions Club, take their regular shift at the ticket table at the Hanmer Valley Shopping Centre as they sell tickets on a brand new 2006 Pontiac Wave automobile. The draw is being held in conjunction with the Valley East Charity Days Event which will take place on Saturday, September 9, 2006 at the Centennial Arena. The Lions can be spotted at the mall once or twice a week as they make the last of the 1200 tickets available to the general public. The proceeds from the sale of the tickets will be donated to several local parishes in Valley East.

Tickets are selling for $20 each. There will only be 1200 sold in the contest, so the chances of winning are excellent. This will be a "Reverse Draw" event, which means that at 4:00 p.m. on Saturday, September 9, 2006, they will begin drawing tickets from the big drum. Every 100th ticket will win the lucky owner a price of $50 in cash. The last ticket in the drum will contain the name of the winner of the Pontiac Wave.

Power Skating Program Benefits Skaters of All Ages

The Valley East Figure Skating Club is once again offering Power Skating Sessions to local boys and girls. Shown above at the registration table at the Hanmer Valley Shopping Centre on August 12, 2006, are, President of the Association, Ray Levesque, and Board Member, Renee Saya. The Summer Session runs from August 21 to September 1. It consists of three age groups: Group A is for all boys and girls 8 years of age and under; Group B is for those from 9 to 12 years of age, and; Group C is for all those over 12. Many children use the summer session as a training period to get themselves ready for the upcoming hockey, ringette or figure skating season. The daily session is one hour in length and stresses a variety of exercises and routines designed to improve the skating skills of participants. The Club will be available during registrations for minor hockey to sign up children for their Winter Session, which runs from October 26 to March 8, every Thursday night. The cost for the Winter Session is $235 for 20 hours of instruction. For more information on the Power Skating or on the Valley East Figure Skating Club, you can go to the web site at www.vesc.ca




VISIT THE
VALLEY
EAST
TODAY
COMMUNITY
WEB SITE


COMMUNITY
SECTION

Welcome
Our Spirit
Our Schools
Our Churches
Our Food Banks
Our Library
Our Cemetery
Our Playgrounds
Our Sports
Our Recreation
Our People
Sports Complex
Youth Centre
Organizations

MUNICIPAL
SECTION

Election 2006
City of Sudbury
Fire Services
Animal Shelter
Hospital

REFERENCE
SECTION

Local Media

The Vision Paper
Toronto Star
TSN Sports
Weather Network
Canada 411
Yellow Pages
Horoscopes
Lotto 649
Student Page
After The Whistle
Ponds & Gardens
Grotto Sudbury
Yahoo Search
Google Canada

Corporate Web Sites
Worth Visiting
Beswick Denture Clinic
Heatwave Tanning Salon
Fantastic Floors
Hanson Family Dentistry
Valley View Cleaners
Sole Mates Footwear
Ron Gladu Photos
VCCNet
Masciangelo Motors

Infocom Canada

Minor Hockey
Registrations

Friday, August 25, 2006
6:00 p.m. to 9:00 p.m.

Saturday, August 26, 2006
9:00 a.m. to 1:00 p.m.

Monday, Tuesday, Wednesday
August 28, 29 & 30, 2006
6:00 p.m. to 8:30 p.m.

At the Hanmer Valley
Shopping Centre
WHAT'S INSIDE THIS WEEK'S ISSUE OF
VALLEY EAST TODAY

Valley East Lions Club Selling Tickets On 2006 Pontiac Wave To Raise Funds For Local Churches
Power Skating Program Benefits Skaters of All Ages
Home Comfort Specialists From Independent Energy Services Will Be On Display At The Mall To Help You Get Your Heating System Ready For Winter

Hanmer's Joey Niceforo Stars In 2006 Toronto Summer Music Festival's Don Giovanni Playing From August 17 to 20
Whether You Are Buying a Newly Built House or a Previously Owned House, It Is Always A Good Time To Check Out Flooring Options Before You Move In!

Caroline Provides Readers With Inspiration Every Week

Valley East Ladies' Slo-Pitch League Plays Every Monday and Tuesday Evening At Centennial Fields In Hanmer
Masciangelo Motors Brings In Greater Number of On-Site Vehicles With Expansion of Lot Space
Robert Kirwan Creates Comprehensive Web Site To Explain His Position On The Issues of Importance to Residents of Hanmer & Val Therese As He Seeks Their Support As The Next Councillor For Ward 6
Index of Previous Issues

"That's Not My Problem"...Four Words That Will Surely Lead To Disaster!

...Editorial by Robert Kirwan

A Very Successful 2006 Valley East Minor Soccer Season Comes To An End
Big Daddy Radio 103.9 Comes To The Hanmer Valley Shopping Centre For Special Sales Event
Excellent Franchise Opportunity
Valley East AAA Midget Cobras Announce Try-Out Times
Combination Locks Now Available At Sixteen Different Locations In The Community Each Week.
Doug & Linda Beswick Featured On The Cover of International Magazine For Oxyfresh

On the Lighter Side

Long Distance Calling???? Interested in Voice Over Internet Technology??? Need Your Computer Repaired???

Question of the Week Answered by Robert Kirwan

Election Information Section

Peace & Serenity Awaits Visitors At Any Time of Day In Blezard Valley
Applications Now Being Taken For Positions At CANADIAN TIRE VALLEY EAST
Frontier Trail Association Is Trying To Promote Trails For Non-Motorized Recreation
Choosing The Right Back To School Footwear Can Mean All The Difference In The World For Your Children

Popularity of "Welcome Home Gift Basket" Is Clear Indication Of Growth Of The Community

Keep The Spirit Alive Contest Is Being Well-Received By Local Residents
Ron & Lise Gladu Welcome All Visitors To Take A Tour Of Their Home Based Professional Studio
Comments From Our Readers Are Always Welcome And Will Help Us Make Valley East Today Even More Useful
Home Comfort Specialists From Independent Energy Services Will Be On Display At The Mall To Help You Get Your Heating System Ready For Winter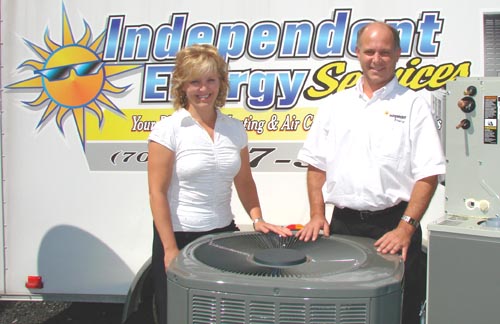 Rick and Jody Villeneuve, owners of Independent Energy Services located in the Valley East Industrial Park , are shown in the picture putting the final touches on an information exhibit which will be on display at the Hanmer Valley Shopping Centre on Thursday, August 17 and Friday, August 18, 2006.

During the two day presentation, Home Comfort Specialists from IES will be on hand to answer questions and provide expert advice on what you need to know so that you can get your home ready for the long, cold winter months ahead.

In April 2000 Rick decided to leave his 11-year position as Service Inspector at Union Energy (formerly Union Gas) to start up a Residential Plumbing and Heating business. With the support of his wife, Jody (nee Connors), Rick worked from the basement of his home in Valley East with 2-5 employees.

In 2001, Rick bid on his first Commercial job at the Club D'Age D'Or in Hanmer. The Board of Directors was pleased with his presentation and awarded him the job. This large renovation quickly grew into a large mechanical project and allowed Rick to increase his workforce. The experience was a success and helped set the foundation to pursue work in the commercial market. In September 2004 Rick relocated the business to the Valley East Industrial Park at 2869 White Street where Independent Energy Services, provides Plumbing, Heating, Ventilation and Air-Conditioning equipment and services to both the Residential and Commercial markets.

Rick makes it very clear that he is in this business for the long term. "I believe that I have formed a sound foundation for this business and, I intend to pass it on to my sons, Justin and Joel. I am hopeful that it will be passed on for generations and that it will continue to employ and support many families within the Sudbury region as well as continue to serve our customers' needs".

Rick and Jody are looking forward to introducing the community to their team of professional "Home Comfort Consultants" during their special Exhibition at the Hanmer Valley Shopping Centre on August 17 and 18. Independent Energy is very proud to introduce its team of professional "Home Comfort Consultants".
"Rod O'Grady, shown separately in the photo above, and Barry Hamilton (on the left in the photo below) have both enjoyed long-term careers in the HVAC industry," explained Rick. "This means that Independent Energy is able to offer superior Residential Consulting services guaranteed to meet our customers' Heating and Cooling needs. Because of our rapid growth, we've added a number of new employees including, Brian Chretien, shown on the right in the photo below. Brian joined the team in the capacity of Residential, Service Coordinator and brings a wealth of knowledge and years of experience in the area of Residential Service and Installation."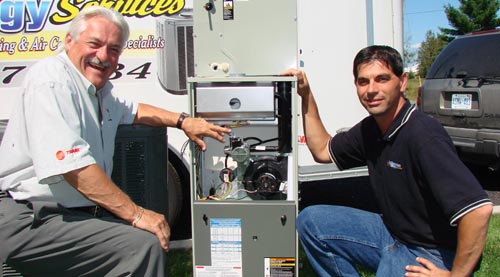 Rick and Jody invite all of their friends and neighbours from Valley East and Capreol to come over to the Hanmer Mall on August 17th and 18th to meet their Home Comfort Specialists in person and, find out what is meant by "clean air, the best air and, Total Home Comfort - the Independent Way with Trane products. "At Independent Energy, we are committed to building customer relationships and providing customers with the best HVAC systems and the most value — value through technical expertise and quality Trane products. Remember, "It's hard to stop a Trane!"

Upgrade your existing Heating and Air Conditioning system before August 31st , 2006 and receive a $1000.00 rebate when you purchase Trane products. Offer ends August 31st , 2006 .

Make sure you drop in and see the Home Comfort Specialists from Independent Energy Services at the mall on August 17 and 18 to discuss how they might be able to make this a much more enjoyable winter. You can also get some more information by visiting the web site at www.independentenergyservices.com
VALLEY EAST MENS' SLO PITCH
Each week during the 2006 season, Brian Beaupre will be providing us with up-to-date standings from the Valley East Mens' Slo Pitch League. You will be able to open up the standings in a WORD DOCUMENT and save them to your own computer if you wish. We appreciate Brian's efforts in providing us with this important service.


FIRST HALF
FINAL STANDINGS
DIVISION 'A' & 'B'
AUGUST 13, 2006
Hanmer's Joey Niceforo Stars In 2006 Toronto Summer Music Festival's Don Giovanni Playing From August 17 to 20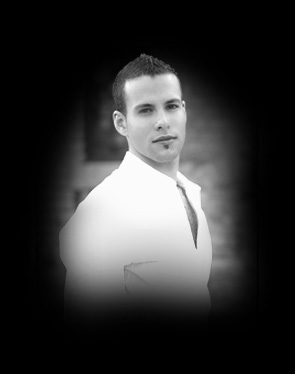 Joey Niceforo is considered one of Canada's top emerging opera stars. He and two others hvae been cast in the 2006 Toronto Summer Music Festival's staging of Don Giovanni.

Along with Joey Niceforo are Phillip Addis and Phillip Carmichael. They will be the principals in the festival's four performances of the Mozart opera which will run from August 17 to 20. It will mark the first of its kind in Toronto since 2004.

Artistic Director, Agnes Grossmann stated that the casting of the three young performers is a celebration of Canada's rising stars. "All three of these singers have exceptional on-stage track records, both nationally and internationally, and we are certain they will impress the audience with their interpretation of the challenging score of Don Giovanni.

Joey Niceforo (who plays Don Ottavio) has achieved international fame as a member of the group DESTINO TENORS, formerly known as the Canadian Tenors. Joey recently appeared in his first TV role in Britney Spears' MOW Brave New World and has also appeared singing on NBC.

Joey and the DESTINO TENORS -- as per popular demand--plan a return performance in Sudbury in the fall or early winter.

Emerging young talent JOEY NICEFORO has been commanding attention in North America and Europe with his thrilling tenor voice. He made his professional singing debut in the Toronto Opera in Concert's Canadian Gala Concert and has since performed several roles with them. He recently travelled to the Czech Republic where he performed two operas with Hradek Karlove Philharmonic Orchestra.

In Mozart's DON GIOVANNI Opera Canada reviewed that "Joey Niceforo charmed as Don Ottavio .... a breathtaking 'Dalla Sua Pace' and 'Il mio tesoro intanto.'" The Times Colonist states that, "Joey Niceforo has the finest natural instrument" while Insight Magazine declared that, "Joey Niceforo has one of the most robust and exciting voices I've heard in a long time. He's riveting on stage, his voice pins you to the song and does not let you go until the last stirring note."
Whether You Are Buying a Newly Built House or a Previously Owned House, It Is Always A Good Time To Check Out Flooring Options Before You Move In!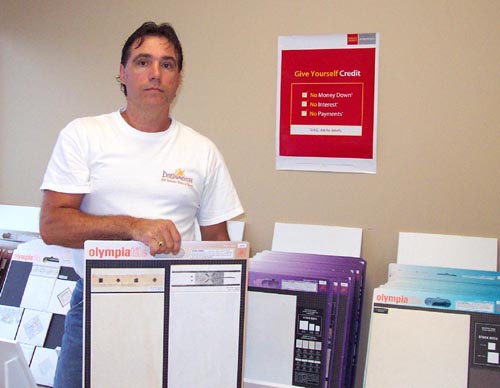 Ron Pedneault, owner of Fantastic Floors, located in the
Valley
Bingo
Plaza
in Val Caron, prepares to discuss some new flooring options with one of his customers who have just purchased a new home in
Valley East
. The young couple is looking forward to moving into their home at the beginning of August and wanted to make some changes to the existing floors. Here they were going over some of the samples of ceramics and porcelain which are becoming ever popular throughout the entire house, not just in the kitchen and bathrooms.
According to Ron, "Just about everybody I know who has purchased an existing house makes some changes to the flooring in at least one of the rooms. New home owners want to personalize the house in some way to make sure that the floors and walls are in line with their own personalities, or they just find the old flooring in need of replacement. Whatever the reason, it is always a good idea to change the flooring "before" you begin moving in with the furniture."
Ron advises that if you are preparing to move into a new house this summer or fall, it would be a good idea to meet with him to go over the options and plan your renovations to coincide with your moving date. Even if you are still "looking" for that perfect house, stop by and talk about the different kinds of flooring that you can order and get an idea of approximate cost so that you can include floor replacement in your cost calculations at the time of purchase. It doesn't hurt to talk, and Ron will always find time to give you free advice.
"You wouldn't believe the number of people I've seen who are moving into homes in the Valley. We knew this community was going to grow, which is one of the main reasons we wanted to open FANTASTIC FLOORS," stated Ron, who after spending over 30 years working in the flooring business on everything from installing to sales and management, has found that the transition to owning and operating his own store has been extremely satisfying.
"We will do anything we can to help the Valley grow and prosper. That is why we are participating in the Valley East Lions Charity Days Treasure Hunt," he explained.
FANTASTIC FLOORS will have one of the twelve (12) combination locks on site from July 20 to July 26 and again from August 10 to 16. Anyone who has a combination is invited to stop by and see if you can open the lock and qualify for a trip to Cuba .
FANTASTIC FLOORS, is open Monday to Wednesday, from

to

; open late until

on Thursdays and Fridays, and; open until

on Saturdays.



We also invite you to take a virtual tour of FANTASTIC FLOORS on their web site at

www.fantasticfloors.ca

2914 Hwy 69 North, Val Caron
In the Valley Bingo Plaza
897-3567
www.fantasticfloors.ca
VALLEY EAST COBRAS AAA MIDGETS
8th Annual Golf Tournament

Saturday, August 19, 2006
Clearview Golf Club in Val Caron
18 Hole 4-Person Best Ball
10:30 a.m. Shot Gun Start

A Large Screen TV Hole In One
Sponsored by Bianco's Audiotronics
Men's & Ladies Closest To the Pin 50/50 Contest
Men's & Ladies Longest Drive Contest
$10,000 Hole In One
Sponsored by Valley Pro Sports
Plus Prizes & A Steak Dinner

REGISTRATION FEE: $70 PER PERSON
Contact Dave Stone at 897-6641
Marymount College/Academy's 50th Anniversary Reunion
Calling all former & present students & teachers …Spouses & friends welcome also…
Sat. Oct. 14th /06 -- 11am-2pm: Open House - Marymount Academy
6pm: Reception & 6:30pm: Dinner at Howard Johnson Hotel (Brady St.)
(Seating for 300 only!)
Sun. Oct. 15th/06 -- 10:00am: Mass at Marymount
11:00am: Light Brunch
Tickets: $50./person Register online at: www.marymount.scdsb.edu.on.ca/reunion.html
Or pick up forms at St. Patrick's Church (in main entrance at Youth Bulletin Board) 39 Walford Rd.;
Christ the King Church or Vicki Dee's (Forms can be dropped off at all Sudbury Catholic Churches)
Mail cheque payable to Marymount Academy 165 D'Youville Ave. Sudbury, ON P3C 5E7
Final Registration Deadline: August 20th/2006

LOVE'S OPEN HOUSE-LOH
A School, Sanctuary, Theatre and Playground for ALL Ages
Discover and Share Your Magical Self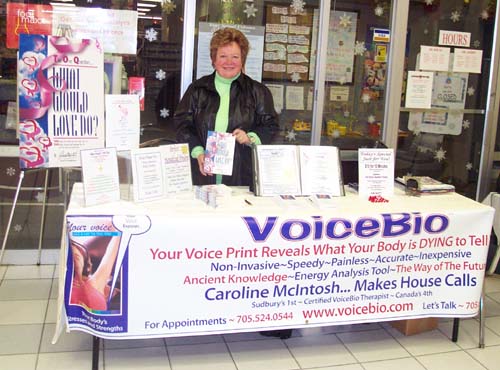 Caroline McIntosh, shown above in the photo during one of her visits to the Hanmer Valley Shopping Centre has introduced local residents to VoiceBio, an alternative health technique that uses one's voice print to reveal certain information about the condition of the body. Caroline is Sudbury's first Certified VoiceBio Therapist.

Caroline has been providing Valley East Today with regular newsletters since December 2005. To access past copies of her publications, or to read the latest newsletter, click on the link below: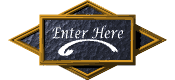 Valley East Ladies' Slo-Pitch League Plays Every Monday and Wednesday Evening At Centennial Fields In Hanmer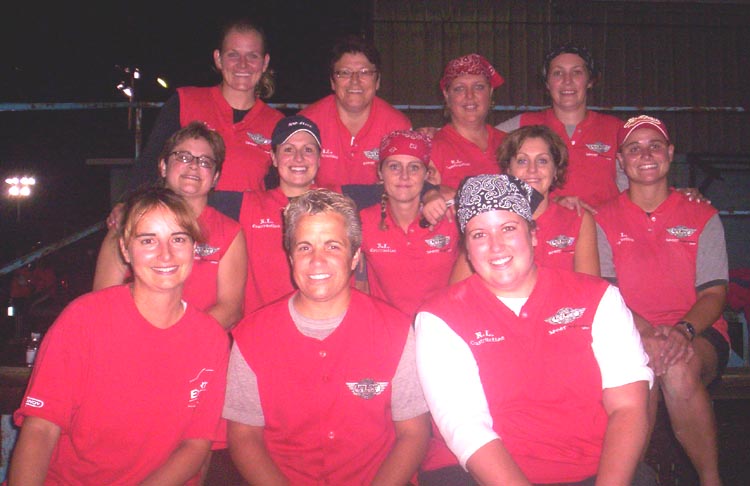 THE CHEMY GIRLS PUT ON THEIR VICTORY SMILES AFTER DOWNING THEIR ARCH-RIVALS T.B.A. - HANMER CORTINA
To View Some of the other teams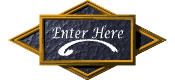 Masciangelo Motors Brings In Greater Number of On-Site Vehicles With Expansion of Lot Space

Masciangelo Motors has recently expanded the the amount of space it has on site for vehicles and the result has been a huge increase in the number of cars and trucks on the lot for customers to browse through.

Ron & Jeff continue to search out the auctions, both in person and on-line to bring in the best deals possible. This means that many vehicles are on and off the lot before you know it, so many people in the market for pre-owned vehicles have developed the habit of dropping in for a look on a regular basis.

You can still discuss the type of car or truck you would like to purchase and have Ron & Jeff search out the continent for exactly what you are looking for. The "Pick of the Month" section on their web site also gives you an excellent overview of the kinds of vehicles you can find on the lot.

If you want a close up look at the latest on the lot, just drop in and see Ron, Jeff, Tim or Jennifer. Better yet, go the link below and take a tour right from your computer.

You can find out much more by visiting the Masciangelo Motors web site at www.masciangelomotors.com
CORN ROAST

The Valley East Ringette Association invites everyone to a Corn Roast at Neil's Independent Grocer in Hanmer on August 19, 2006. The event will be held from 10 a.m. to 4 p.m. There will be community vendors, fun and games; music; street ringette; hay and pony rides; a car wash; BBQ, and more.
For information about the event, contact Terry at 969-5336

Feature Articles Table of Contents...

Valley East Lions Club Selling Tickets On 2006 Pontiac Wave To Raise Funds For Local Churches
Power Skating Program Benefits Skaters of All Ages
Home Comfort Specialists From Independent Energy Services Will Be On Display At The Mall To Help You Get Your Heating System Ready For Winter

Hanmer's Joey Niceforo Stars In 2006 Toronto Summer Music Festival's Don Giovanni Playing From August 17 to 20

"That's Not My Problem"...Four Words That Will Surely Lead To Disaster!

...Editorial by Robert Kirwan

A Very Successful 2006 Valley East Minor Soccer Season Comes To An End
Big Daddy Radio 103.9 Comes To The Hanmer Valley Shopping Centre For Special Sales Event
Doug & Linda Beswick Featured On The Cover of International Magazine For Oxyfresh
Long Distance Calling???? Interested in Voice Over Internet Technology??? Need Your Computer Repaired???
Peace & Serenity Awaits Visitors At Any Time of Day In Blezard Valley
Frontier Trail Association Is Trying To Promote Trails For Non-Motorized Recreation

August 8, 2006

The Case of The Missing Playground Equipment Is Solved
But What Now????
The 2006 Mini-Masters Takes Place This Weekend on Saturday, August 12. There is still time to Registrations at The Valley Family Golf Centre
Valley East Mens' Slo-Pitch Standings
Linda Tessier Is Winner of the July Customer Appreciation Contest At The Hanmer Valley Shopping Centre
Mary Guy Says Thank You To Everyone Who Supported The Dystonia Walk-And-Wheel Event
Is There Someone You Want To Thank Today?...Editorial by Robert Kirwan
A Year Filled With Memories For Valley East's Ryan Benoit - Provincial Easter Seals Representative
Valley East AAA Midget Cobras Announce Try-Out Times
New Development Establishing Busy Intersection
As the "Power Centre" of Valley East
Hanmer Skate Board Park Is Typical of Similar Unsupervised Facilities

August 1, 2006

Valley East's John Rodriguez Enters The Race For Mayor of The City of Greater Sudbury
Natalie Raymond-Marois Of The Valley East Ladies' Slo-Pitch League Is Nominated As One of Greater Sudbury's Best Slo-Pitch Players
Valley East Ladies' Slo-Pitch League Features Skill & Fun For The Girls of Summer
Let Us All Do Our Part To Return To The Basics of Life: People, Tolerance and Love...Editorial by Robert Kirwan
It's Time To Give Valley East An Identity

Hanmer's Joey Niceforo Continues To Shine As An International Star In The World of Opera
Frenchman/Hanmer/Joe/Dixon Lakes Ratepayers' Association Known Otherwise As The Valley East Ratepayers' Association Holds Impressive Annual General Meeting
Grotto of Our Lourdes Is Going To Become One Of The Major Attractions In Northeastern Ontario By The Time The Restructuring Project Is Completed

July 25, 2006

Hanmer Valley Shopping Centre Comes Out As One Of Most Courteous Areas Of The City In Sudbury Star Research
Chad Salemink of Desjardins' Food Basics Is One Of The Reasons Why People Are Impressed With Politeness Level Of The People of Valley East
Teens Invited To Work With Valley East Youth Centre To Make This Something That The Entire Community Can Be Proud Of
The Key To Being A Successful Leader Is Simple… Know Your People!

Editorial by Robert Kirwan

Sudbury Action Centre For Youth Enjoy Raising Funds For Wonderland Trip At The Hanmer Valley Shopping Centre
Buddies' Restaurant Chosen To Host The First Annual Valley East Idol Competition

Northway Bus Lines Is Looking For New Drivers
Are You Available For Work In Valley East or Capreol? Looking For Full- or Part-Time Employees? Check Out The Valley East Today Employment Section

Andrea Martin - A Renaissance Lady From Valley East Who Has Become The Public Face of Science North Enterprises
Local Residents Upset That Playground Equipment Taken From Elmview Playground Has Not Been Replaced
Exceed The Expectations of Those Around You...Editorial by Robert Kirwan

Free Bus Transportation From Capreol to Desjardins' Food Basics Twice A Month Now That Grocery Store Has Closed

The Action Was As Hot As The Temperature in the Valley East Mixed Slo-Pitch Tournament Held Last Weekend

Ryan Benoit's Unique Abilities Serve Him Well In His Role as Provincial Ambassador for the Easter Seal Society
21st Annual Hanmer Knights of Columbus
FESTIVAL D'ETE / SUMMER FAIR Once Again Draws Huge Crowds To Hanmer

Junior Golf League At Valley Family Golf Centre Provides Introduction To A Lifelong Sport For Young Boys and Girls
Young Couple Chooses Valley East After Considering What The Future Will Offer For Their Children
Don't Throw Away That Old Paper Bag Full of Treasures...Editorial by Robert Kirwan
Safety of Children In Residential Subdivision Is Motive Behind Request For Additional Stop Signs On Desmarais Road
Valley East Soccer Club Holds Very Successful Houseleague Tournament At End of June

Robert Kirwan Says It's Show Time For Valley East

Time To Raise The Curtain

Valley Acres Playground Is An Example Of Why Things Must Change In Outlying Areas of the City After November Election

Last Day of School Ribbon Cutting Ceremony A Significant Moment In The History of Valley View Public School
It Was A Morning That All Students From Val Caron and Valley View Public Schools Will Always Remember
You Could Win Millions In The "Keep The Spirit Alive Campaign"
Masciangelo Motors Practices A Whole New Approach To The Selling of Pre-Owned Vehicles
Building A Strong And Productive Life is Simple...by Robert Kirwan
Valley East Lions Charity Days - Check Out The Vision Paper July 5
Kin Club of Valley East Thank The Public For Supporting Them By Providing Record Sales Totals On July 1 Weekend
Lifeguard Team At Kalmo Beach in Val Caron Takes Pride In What They Do
Valley East Youth Centre Opens July 7 With Hope For A Long, Bright Future
Myrna Young Plans On Making The 2006 Mini-Masters One Of The Best Ever At The Valley Family Golf Centre
Robert Kirwan Finds Election Campaign No Different From His Normal Routine

What Happened To The Playground Equipment At Valley Acres Playground?

Val Therese Man Wins "Ticket To Ride" Contest And Takes Home $29,000 Harley-Davidson Motorcycle
350 Couples Celebrate Over 15,000 Years of Marriage In North Bay
Kin Club of Valley East Will Once Again Be Selling Fireworks For Canada Day At The Mall
Coach Dan Ross Writes About The "Dream Season" For Bran-Kor Midgets
Jean Beaupre Strikes Gold In The Hills At Clearview

Grade 3 & 4 Students From Ecole Notre Dame de L'Esperance Introduced To Golf
Former Easter Seal Ambassador Doesn't Let Her Physical Disability Affect Her Attitude

Junior Golf League Starts Thursday At Whistling Winds Golf Course
9th Annual Dystonia Walk In Valley East Raises Valuable Funds For Research
Valley East Lions Club Officially Opens Storage Building To Complete Re-Construction of Lions' Den
Madam Charette's Grade 3/4 Class Enjoys Sub Party For Participating In Mothers' Day Card Contest

Witnesses thrilled with response to convention

Valley East Ladies' Slo-Pitch League Has Bright Future

The Campeau Family Is A True Example Of What Community Is All About In Valley East
Club Optimiste de Vallee Holds Another Successful Golf Tournament In Valley East With 73 Participants
Grade 4/5 Class From Redwood Acres Enjoys Pizza Party For Participating in Mothers' Day Card Display
Young Student Creates Historical Display Honouring The Mazzuca Family
Marymount Academy Travelling Group Hosts Penny Table & Bake Sale At the Mall
St. Kevin's Parish Holds Its Annual Family Fun Day
Housing Market Is Strong In Greater Sudbury Area
Not All Full-Time Laurentian University Students Happy About Having To Pay $135 For Transit System Pass This Fall
City Council Urged To Ban Cosmetic Use of Pesticides

Vic Whissell To Coach Carter McDavid During Summer Months
Korbin Thibault Hopes To Make Baby Boy A Household Name

Valley East Waves Excel In The Pool This Past Season
Mosquitoes: Don't let them ruin your outdoor activities
Therese Campeau is winner of May Customer Appreciation Contest
Local Residents Looking For Assistance In Finding Meaningful Employment Now Have Easier Access To Job Connect / Connexion Emploi
Valley East Waves Host First Car Wash At The Hanmer Valley Shopping Centre on Saturday, June 3, 2006

It's Time To Bring Out The Bats & Gloves And "Play Ball"
Kin Club of Valley East Still Optimistic About Their Mission Despite Break In During Victoria Weekend Holiday
Ontario Metis Aboriginal Association Conducts Free Blood Glucose Screening Clinic
Healthy Babies - Health Children By Helping Young Mothers Before & After Birth
Young Friends Take Part In Relay For Life Project To Stay Together During Post-Secondary Years
Windows In Time Section Of Valley East Today Community Web Site Brings Back Fond Memories

Announcement of First Annual Lions Club of Valley East Charity Days Receiving Great Response From Local Residents
ANNUAL GENERAL MEETING OF SHOOTING STAR DAY CARE
GARDENIA ETOILE FILANTE Will Be Held May 29, 2006 at 6:00 p.m. at The Valley East Public Library
A Special Thank You To The General Public From Lizette Gascon
Chevaliers du Columb / Knights of Columbus Council #5005
Co-op Education Program At Bishop Alexander Carter Catholic Secondary School Provides Valuable Real-Life Experience for Students
Kin Club of Valley East Holds Annual Fireworks Sale To Raise Funds For Community Projects
Grotto Association Announces Winners of Mothers' Day Raffle Draw

TO VIEW ALL OF THE PREVIOUS ISSUES

MAKE SURE YOU TAKE TIME TO VISIT THE VALLEY EAST TODAY COMMUNITY WEB SITE AT www.valleyeasttoday.ca