WELCOME TO THE FRONT PAGE
TUESDAY, JULY 11, 2006 EDITION
The Valley East Today Weekly Online News Magazine is published and distributed every Tuesday to thousands of people, most of whom reside in Valley East, Capreol, and the Greater Sudbury Area. THIS IS A FREE PUBLICATION.
Junior Golf League At Valley Family Golf Centre Provides Introduction To A Lifelong Sport For Young Boys and Girls

Vic Whissell is shown here providing instruction to the parents and children gathered for the first day of play in the Whistling Winds Junior Golf League which runs every Thursday evening for ten weeks at the nine hole golf course which is part of the Valley Family Golf Centre complex. The Junior League began on Thursday, June 22 and culminates in a year end tournament which will be held on Saturday, August 26, 2006. Boys and girls from as young as 4 years of age up to and including 16 were invited to register with the league for a fee of $65. This fee includes nine holes of golf every week; the year end tournament; prizes and awards; plus helpful instruction on how to play the game. Vic is shown below preparing the scorecard for one of the young participants.

If your child was unable to register for the Junior League, you can still register for the 15th Annual Mini-Masters Junior Golf Tournament will be held at the Valley Family Golf Centre on Regional Road 15 just outside Blezard Valley, on Saturday, August 12, 2006. The tournament is open to all boys and girls from the ages of 4 through 12. It consists of a nine-hole tournament; special skills competitions; a barbeque lunch; prizes and trophies. The action starts at 9:30 a.m. Registration fee for the tournament is only $35. For more information on how you can register your child, call Myrna or Vic at 897-7400.




VISIT THE
VALLEY
EAST
TODAY
COMMUNITY
WEB SITE


PLEASE FORWARD THIS SITE TO YOUR EMAIL FRIENDS

We know that through the power of the internet, the Valley East Today Online News Magazine is forwarded every week to individuals who are as far away as Florida, Vancouver and even Germany. I hope you enjoy the feature articles and stories that are highlighted in this edition encourage you to forward this newsletter to as many of your friends and acquaintances in your "address book" as possible. With your help we expect the Valley East Today Weekly Online News Magazine to reach over 20,000 people each week.

BONUS
See the article below on the Keep The Spirit Alive Contest
You Could Win 100 Lotto 649 tickets just by subscribing to Valley East Today...Tell Your Friends!

Special Invitation

Wednesday July 26 2006, 6:30 p.m. you are all invited to come and celebrate the Feast of Ste Anne, Patron of first Nations Peoples organized by First nations, with the Rosary & Mass presided by Father Michael Stogre s.j. at Our Lady of Lourdes Shrine 271 Van Horne Street. Info: Margaret Gordon at 674-2128.
WHAT'S INSIDE THIS ISSUE OF VALLEY EAST TODAY

Junior Golf League At Valley Family Golf Centre Provides Introduction To A Lifelong Sport For Young Boys and Girls
Young Couple Chooses Valley East After Considering What The Future Will Offer For Their Children
Keep The Spirit Alive Contest Is Being Well-Received By Local Residents
Pick of the Month Feature of Masciangelo Motors Web Site Offers A Great Cross-Section of Vehicles Available From Dealer
Robert Kirwan Explains Why He Is Running For Council
Caroline Provides Inspirational Messages That Unite and Inspire

Don't Throw Away That Old Paper Bag Full of Treasures...Editorial by Robert Kirwan
Free Bus Transportation From Capreol to Desjardins' Food Basics Begins Today
Don't Forget To Try Out Your Combinations At Local Business Establishments. It Could Win You A Trip To Cuba!
Sole Mates Family Footwear Now Has Two Locations To Serve Customers Throughout The Greater Sudbury Area
Testimonials Say It All When You Are In Business...Just Ask Ron Pedneault of FANTASTIC FLOORS
Long Distance Calling???? Interested in Voice Over Internet Technology??? Need Your Computer Repaired???

21st Annual Hanmer Knights of Columbus FESTIVAL D'ETE / SUMMER FAIR
Keep Memories Alive By Simple Process of Transferring 8mm Film to DVD Is a Specialty of Ron Gladu Photos
Safety of Children In Residential Subdivision Is Motive Behind Request For Additional Stop Signs On Desmarais Road
Valley East Soccer Club Holds Very Successful Houseleague Tournament At End of June
Nicole Brunet of Beswick Denture Clinic Provides Readers With Excellent Advice On Combating Bad Breath

Robert Kirwan Says It's Show Time For Valley East

Time To Raise The Curtain

Valley Acres Playground Is An Example Of Why Things Must Change In Outlying Areas of the City After November Election
Election 2006 Information Guide
Young Couple Chooses Valley East After Considering What The Future Will Offer For Their Children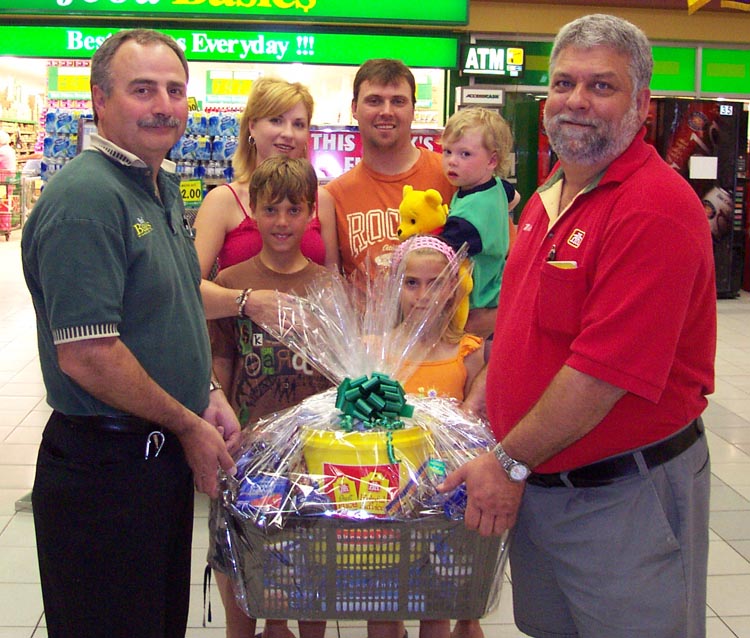 Patti and Sean Carroll were born and raised in Garson. The 32 year old parents of three young children, shown in the photo above, had decided to renovate their home in Garson when they spotted a number of attractive houses for sale in Valley East. It didn't take them long to spot the potential for the future with respect to the recreational facilities and schools available for their children and at the beginning of July moved into their home in the Elmview area.

Ken Desjardins, on the left, owner of Desjardins' Food Basics, and Mike Lemieux, on the far right, owner of Hanmer Home Hardware, presented the Carroll Family with a "Welcome Home Gift Basket", a special initiative just introduced by the two merchants to welcome people who purchase new homes or who settle into apartments in the communities of Valley East and Capreol. The Carrolls were the first recipients of the "Welcome Home Gift Basket". Two other couples, one from Mississauga and one from Alberta, were to receive theirs the following day.

While the gift basket may only contain a little better than $100 worth of helpful products, the Carrolls were thrilled to have been welcomed in such a warm manner.

"We are so glad we moved here," exclaimed Patti. "We just can't believe how friendly everyone has been. Our children have already made new friends and they just love it here."

Sean, who works for the City of Greater Sudbury as a Fire Fighter at the Airport, commented, "The thing that we are most impressed with are the facilities in this town. Where we live now we can walk to the Howard Armstrong Recreation Centre, the Library and the Hanmer Valley Shopping Centre. Now, with a Canadian Tire coming in and places like Hanmer Home Hardware, Desjardins' Food Basics, the Hart Department Store and all of the other stores and services so close, it wasn't hard to decide. It's just as close to go to work as it was from Garson and I am going to be a Volunteer Fire Fighter at the Val Therese Station #16."

Sean is shown in the photo holding their youngest child, 3-year old Ben. Standing behind the basket are Ryan (10) and his sister Emma (8). The children will be attending Redwood Acres Public School in the fall.

The Carrolls are quite typical of young families who are choosing to live in Valley East. The community is large enough to provide a wide range of recreational and commercial facilities, and yet still retains that special community spirit that adds to the quality of life.

As for anyone moving into the communities of Valley East and/or Capreol on or after July 1, 2006, don't forget to stop in and pick up your FREE WELCOME HOME GIFT BASKET from Hanmer Home Hardware in the Hanmer Valley Shopping Centre. Just ask to see Mike.
VALLEY EAST MENS' SLO PITCH
Each week during the 2006 season, Brian Beaupre will be providing us with up-to-date standings from the Valley East Mens' Slo Pitch League. You will be able to open up the standings in a WORD DOCUMENT and save them to your own computer if you wish. We appreciate Brian's efforts in providing us with this important service.
CLICK HERE FOR THE STANDINGS AS OF JULY 8, 2006
MIXED SLO-PITCH TOURNAMENT JULY 14 - 16
The Valley East Mixed Slo-Pitch Association is hosting an SPN Molson Qualifying Mixed Tournament the weekend of July 14 to 16 at the Centennial Arena Complex. The entry fee is $300 plus your SPN registration of $55 if your team is not already registered with the provincial association. You will play 3 to 5 games during the weekend. If you are interested in registering for this event, contact one of the following:
Scott Bolger
693-3440

Jeanine Bolger
897-0306
Keith McLeod
969-5063
The Valley East Mixed Slo-Pitch League plays at the Centennial Arena Complex every Sunday afternoon beginning at 4:30 p.m. There are sixteen teams playing at both the recreation and competitive levels. Residents are invited to come out any Sunday and watch the action. New players are always welcome. If you want information about the league, contact the League President, Keith McLeod at 969-5063

Keep The Spirit Alive Contest Is Being Well-Received By Local Residents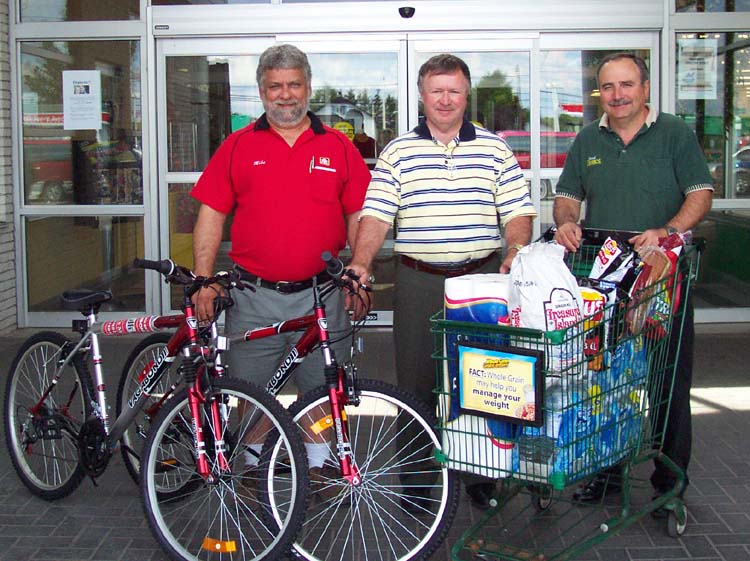 The "Keep The Spirit Alive Contest" was only introduced to the community a week ago, but already it is picking up momentum as residents not only like the idea of winning valuable prizes, but they also are thrilled about the fact that they can do their small part to help improve the overall community spirit in Valley East and Capreol.
Three community-minded local businessmen have teamed up to begin a "Keep The Spirit Alive Campaign" and they are inviting all residents to help them spread the message that Valley East is a great place in which to live!
From left to right in the photo: Mike Lemieux, owner of Hanmer Home Hardware, Robert Kirwan, Publisher of the Valley East Today Community Web Site, and Ken Desjardins of Desjardins' Food Basics announced the launch of the campaign during a press conference which was held at the Hanmer Valley Shopping Centre last week.
In explaining the purpose of the initiative, Kirwan explained, "We want to let everyone know that Valley East is a town where you can still find that "old style community spirit" mixed with a modern lifestyle that fits right in with the 21st Century. There are a lot of good things happening in Valley East and it is about time that the rest of the people in the City of Greater Sudbury knew about it. Furthermore, it is also time to let the rest of the province know that if anyone is looking for a place to live and raise a family, or a place to retire within the City of Greater Sudbury , they need look no further than Valley East ."

In order to help get this message out to the rest of the "world" the people of Valley East are being asked to take part in a massive communication strategy using the power of the internet.
Everyone participating in this campaign will have a chance to win a "Grand Prize" consisting of 100 Lotto 649 tickets for the New Year's Eve Draw on December 31, 2006 . What a way to celebrate the New Year by winning the big prize with one of those tickets!
Runners up will receive other valuable prizes, including "two" mountain bikes donated by Hanmer Home Hardware, $300 in groceries from Desjardins' Food Basics, More prizes from other local merchants which will be announced in the coming weeks, including a $150 gift certificate on any flooring purchase from Fantastic Floors in Val Caron.
In order to qualify for these prizes, all you have to do is register to receive the Valley East Today Weekly Online News Magazine. Every month from July until the end of December, ten names will be drawn at random from all of the people registered to receive the publication. Those ten people will qualify for our final draw which will be held on Christmas Eve. The winners will be announced in the December 26 issue of Valley East Today!
Once you register, the Valley East Today Online Weekly News Magazine, which is currently being received by over 2000 people, will be sent directly to your email address every Tuesday. Not only will you qualify to win the 100 Lotto 649 tickets or other runner up prizes, but more importantly, you can help us "Keep the Spirit Alive" by forwarding Valley East Today to everyone on your own personal mailing list. By using the power of the internet, we can let tens of thousands of people know about Valley East every week.
QUALIFIERS

FOR THE

MONTH OF

JUNE 2006

#0065 Chantal Proulx

#0133 Marilyn Liske

#0384 Bernadette Mrochek

#0411 Cathy Bellefeuille

#0446 Gaston Boisvoneault

#0690 Carol Mailloux

#1057 Glynis Cappadocia

#1228 Shelly Pelland

#1318 Nicky Blais

#1827 Michelle Wiebes

The names of the above people who are already subscribed to the Valley East Today Online Weekly News Magazine will be entered as finalists in the contest. The sooner you register, the more chances you have of being selected as one of the ten monthly finalists. On December 24, 2006, one person will win 100 Lotto 649 tickets, while runners up will win other valuable prizes. Make sure your friends all enter the contest and help us "Keep the Spirit Alive".
ARE YOU RECEIVING VALLEY EAST TODAY EVERY WEEK?
THEN CONGRATULATIONS - YOU ARE ALREADY REGISTERED
YOU QUALIFY FOR THE CONTEST!
NOT REGISTERED YET?????
TO QUALIFY FOR THE CONTEST
ALL YOU HAVE TO DO IS SEND US AN EMAIL BELOW
ALONG WITH YOUR NAME AND PHONE NUMBER

Pick of the Month Feature of Masciangelo Motors Web Site Offers A Great Cross-Section of Vehicles Available From Dealer
Masciangelo Motors has been running a special "Pick of the Month" feature on their web site for the past five months, and it is turning into quite a display of vehicles. If anyone wants to see a good cross section of the variety of vehicles that area available on the lot at Masciangelo Motors, which is now located on Falconbridge Hwy just across from Madison Avenue, just take a look at the web site. For example, Ron Masciangelo's Pick of the Month for July is this beautiful 1969 Chevelle SS 396 hp. It has a 4-speed transmission and is a Canadian car that has been in storage since 1980. All documentation is available for the vehicle to authenticate its history and features. The original asking price was $49,000, but for the month of July, Ron is giving it away for only $39,000. There are numerous automobiles and trucks posted on line for your viewing. If you want a close up look, just drop in and see Ron, Jeff, Tim or Jennifer. Better yet, go the link below and take a tour right from your computer.

You can find out much more by visiting the Masciangelo Motors web site at www.masciangelomotors.com
Community Groups & Organizations; Churches; Schools - Are All Are Invited To Use Mall Facilities Free Of Charge To Raise Money and Promote Their Activities

The Marymount Academy Travelling Group is just one of the many groups and organizations that take advantage of an open invitation by the Hanmer Valley Shopping Centre to use its facilities to promote their activities and raise money through fund raisers such as car washes, penny tables, raffle sales and bake tables. There is absolutely no charge for the use of the facilities and the mall even provides tables, chairs and other material to help the groups. The owners of the mall, Val and Violet Mazzuca, have been strong supporters of Valley East and Capreol and will bend over backwards to help out in any way they can. If you or your group would like more information about using the mall, simply contact the Director of Marketing & Public Relations, Robert Kirwan at 524-7006.

Roger's Tower Update
A good source has told Valley East Today that the Roger's Cell Tower should be operational by the end of the summer. Apparently the company has been having difficulties with the contractor and this has put the project behind schedule.
Centennial Year Book...
The Grotto of Our Lady of Lourdes wants to prepare an historical document for centennial year. We are inviting anyone with pictures and stories to tell to contact Josée Lapalme at 675-1151 ext. 5100.
Moonlight Bowl For The Grotto...
Come one and all! A fundraiser is being held by the youth group at The Grotto of Lourdes Shrine. Friday, August 11th, there will be a moonlight bowl at

at Plaza Bowl in

Sudbury

. Tickets are 10$ a person and prizes will be given throughout the evening. The youth are also challenging the adults to come out in great numbers. For more information or to purchase tickets, please call Christiane at 673-3961. It is sure to be a great time!

Easter Seals Kids Golf...
The Michelle Tonner Ladies Golf Tournament in support of Easter Seals Kids will be held at the Clearview Golf Course on Thursday, July 20. Registration is from 11:00 a.m. to 12 noon. The tournament is a four ball scramble. Several interesting event sponsors have been arranged. There will be wine and chocolate tasting on some holes as well as mini-manicures on another. Each participant will be eligible to enter the draw for the door prize which is a golf getaway to Stonegate Inn in Orillia. There are two hole-in-one contests sponsored by Richard Tasse and Sears Travel. If you are interested in the tournament, contact Nicky at 566-8828 Ext. 4.

Feature Articles Table of Contents...

Junior Golf League At Valley Family Golf Centre Provides Introduction To A Lifelong Sport For Young Boys and Girls
Young Couple Chooses Valley East After Considering What The Future Will Offer For Their Children
Keep The Spirit Alive Contest Is Being Well-Received By Local Residents
Pick of the Month Feature of Masciangelo Motors Web Site Offers A Great Cross-Section of Vehicles Available From Dealer
Robert Kirwan Explains Why He Is Running For Council
Caroline Provides Inspirational Messages That Unite and Inspire
Don't Throw Away That Old Paper Bag Full of Treasures...Editorial by Robert Kirwan
Free Bus Transportation From Capreol to Desjardins' Food Basics Begins Today
Don't Forget To Try Out Your Combinations At Local Business Establishments. It Could Win You A Trip To Cuba!
Sole Mates Family Footwear Now Has Two Locations To Serve Customers Throughout The Greater Sudbury Area
Testimonials Say It All When You Are In Business...Just Ask Ron Pedneault of FANTASTIC FLOORS
Long Distance Calling???? Interested in Voice Over Internet Technology??? Need Your Computer Repaired???
21st Annual Hanmer Knights of Columbus FESTIVAL D'ETE / SUMMER FAIR
Keep Memories Alive By Simple Process of Transferring 8mm Film to DVD Is a Specialty of Ron Gladu Photos
Safety of Children In Residential Subdivision Is Motive Behind Request For Additional Stop Signs On Desmarais Road
Valley East Soccer Club Holds Very Successful Houseleague Tournament At End of June
Nicole Brunet of Beswick Denture Clinic Provides Readers With Excellent Advice On Combating Bad Breath

Robert Kirwan Says It's Show Time For Valley East

Time To Raise The Curtain

Valley Acres Playground Is An Example Of Why Things Must Change In Outlying Areas of the City After November Election
Election 2006 Information Guide

Last Day of School Ribbon Cutting Ceremony A Significant Moment In The History of Valley View Public School
It Was A Morning That All Students From Val Caron and Valley View Public Schools Will Always Remember
You Could Win Millions In The "Keep The Spirit Alive Campaign"
Masciangelo Motors Practices A Whole New Approach To The Selling of Pre-Owned Vehicles
Robert Kirwan Explains Why He Is Running For Council
Caroline Provides Inspirational Messages That Unite and Inspire
Rogers Tower Update
Building A Strong And Productive Life is Simple...by Robert Kirwan
Free Bus Transportation To Be Provided From Capreol To Desjardins' Food Basics Twice A Month Beginning July 11
Valley East Lions Charity Days - Check Out The Vision Paper July 5
The Name Says It All When It Comes To Harley-Davidson Footwear

"The 'Welcome Home Gift Basket' Is Our Way of Saying Thank You For Choosing Valley East As A Place To Live"

FANTASTIC FLOORS Provides More Than Just Product
Kin Club of Valley East Thank The Public For Supporting Them By Providing Record Sales Totals On July 1 Weekend
Long Distance Calling???? Interested in Voice Over Internet Technology??? Need Your Computer Repaired???
Lifeguard Team At Kalmo Beach in Val Caron Takes Pride In What They Do
Valley East Youth Centre Opens July 7 With Hope For A Long, Bright Future
Myrna Young Plans On Making The 2006 Mini-Masters One Of The Best Ever At The Valley Family Golf Centre
Nicole Brunet of Beswick Denture Clinic Provides Readers With Excellent Advice On Combating Bad Breath
Robert Kirwan Finds Election Campaign No Different From His Normal Routine

What Happened To The Playground Equipment At Valley Acres Playground?
Keep Memories Alive By Simple Process of Transferring 8mm Film to DVD Is a Specialty of Ron Gladu Photos
GREATER SUDBURY PUBLIC LIBRARY TD Summer Reading Club

Val Therese Man Wins "Ticket To Ride" Contest And Takes Home $29,000 Harley-Davidson Motorcycle
350 Couples Celebrate Over 15,000 Years of Marriage In North Bay
FANTASTIC FLOORS Introduces Quality 'Roll Ends' At The Best Prices In The City!
Kin Club of Valley East Will Once Again Be Selling Fireworks For Canada Day At The Mall
Masciangelo Motors Changing Appearance of Lot To Provide More Space To Display On-Site Vehicles
Coach Dan Ross Writes About The "Dream Season" For Bran-Kor Midgets
Buying A Purse Is Not An Easy Decision Today - Just Ask Laurna
Jean Beaupre Strikes Gold In The Hills At Clearview

Long Distance Calling???? Interested in Voice Over Internet Technology??? Need Your Computer Repaired???
Valley East Youth Centre Opens July 7 With Hope For A Long, Bright Future
Grade 3 & 4 Students From Ecole Notre Dame de L'Esperance Introduced To Golf
Nicole Brunet of Beswick Denture Clinic Provides Readers With Excellent Advice On Combating Bad Breath
Former Easter Seal Ambassador Doesn't Let Her Physical Disability Affect Her Attitude

With New Border Requirements On The Horizon Many People Travelling To The United States May Soon Need Passports
GREATER SUDBURY PUBLIC LIBRARY TD Summer Reading Club

Junior Golf League Starts Thursday At Whistling Winds Golf Course
9th Annual Dystonia Walk In Valley East Raises Valuable Funds For Research
Valley East Lions Club Officially Opens Storage Building To Complete Re-Construction of Lions' Den
Madam Charette's Grade 3/4 Class Enjoys Sub Party For Participating In Mothers' Day Card Contest

Witnesses thrilled with response to convention

Valley East Ladies' Slo-Pitch League Has Bright Future

The Campeau Family Is A True Example Of What Community Is All About In Valley East
Club Optimiste de Vallee Holds Another Successful Golf Tournament In Valley East With 73 Participants
Grade 4/5 Class From Redwood Acres Enjoys Pizza Party For Participating in Mothers' Day Card Display
Young Student Creates Historical Display Honouring The Mazzuca Family
Marymount Academy Travelling Group Hosts Penny Table & Bake Sale At the Mall
St. Kevin's Parish Holds Its Annual Family Fun Day
Housing Market Is Strong In Greater Sudbury Area
Not All Full-Time Laurentian University Students Happy About Having To Pay $135 For Transit System Pass This Fall
City Council Urged To Ban Cosmetic Use of Pesticides

Vic Whissell To Coach Carter McDavid During Summer Months
Korbin Thibault Hopes To Make Baby Boy A Household Name

Valley East Waves Excel In The Pool This Past Season
Mosquitoes: Don't let them ruin your outdoor activities
Therese Campeau is winner of May Customer Appreciation Contest
Local Residents Looking For Assistance In Finding Meaningful Employment Now Have Easier Access To Job Connect / Connexion Emploi
Valley East Waves Host First Car Wash At The Hanmer Valley Shopping Centre on Saturday, June 3, 2006

It's Time To Bring Out The Bats & Gloves And "Play Ball"
Kin Club of Valley East Still Optimistic About Their Mission Despite Break In During Victoria Weekend Holiday
Ontario Metis Aboriginal Association Conducts Free Blood Glucose Screening Clinic
Healthy Babies - Health Children By Helping Young Mothers Before & After Birth
Young Friends Take Part In Relay For Life Project To Stay Together During Post-Secondary Years
Windows In Time Section Of Valley East Today Community Web Site Brings Back Fond Memories

Announcement of First Annual Lions Club of Valley East Charity Days Receiving Great Response From Local Residents
ANNUAL GENERAL MEETING OF SHOOTING STAR DAY CARE
GARDENIA ETOILE FILANTE Will Be Held May 29, 2006 at 6:00 p.m. at The Valley East Public Library
A Special Thank You To The General Public From Lizette Gascon
Chevaliers du Columb / Knights of Columbus Council #5005
Co-op Education Program At Bishop Alexander Carter Catholic Secondary School Provides Valuable Real-Life Experience for Students
Kin Club of Valley East Holds Annual Fireworks Sale To Raise Funds For Community Projects
Grotto Association Announces Winners of Mothers' Day Raffle Draw

MAKE SURE YOU TAKE TIME TO VISIT THE VALLEY EAST TODAY COMMUNITY WEB SITE AT www.valleyeasttoday.ca