WELCOME TO THE FRONT PAGE
TUESDAY, JULY 25, 2006 EDITION
The Valley East Today Weekly Online News Magazine is published and distributed every Tuesday to thousands of people, most of whom reside in Valley East, Capreol, and the Greater Sudbury Area. THIS IS A FREE PUBLICATION.
Hanmer Valley Shopping Centre Comes Out As One Of Most Courteous Areas Of The City In Sudbury Star Research

Two reporters from the Sudbury Star set out on a special project to find out where we would rank against other major cities of the world in the area of courtesy and politeness. Their motivation was a study released by the Readers' Digest in July which compared 36 cities around the globe. Toronto came third behind New York City and Zurich, Switzerland.

The Star Reporters used the same scoring criteria that was used by Readers' Digest. They went into five of the busiest locations around the City of Greater Sudbury, including: Downtown Sudbury; the Hanmer Valley Shopping Centre; the New Sudbury Centre; Place Bonaventure Mall in Chelmsford; and the Rio Can's Power Centre. At each site the following situations were enacted and the reporters observed the actions of nearby shoppers:

1. They walked into the building behind people to see if they would hold the door open for them.

2. The bought small items from different stores and recorded whether the sales assistants said thank you.

3. They dropped a folder full of papers in different locations to see if anyone would help pick them up.

At each location, each of the above was performed four times. Each act of politeness was given a score of 1 with a 0 recorded if there was no act of courtesy shown. A perfect score was 12.

THE RESULTS

Downtown Sudbury came out in first place with a score of 11 out of 12. The Hanmer Valley Shopping Centre was a close second.

Overall, the City of Greater Sudbury came in with a combined rate of 75% which would have placed us ahead of Toronto in 3rd place when ranked with the 36 other cities in the world.

Chad Salemink of Desjardins' Food Basics Is One Of The Reasons Why People Are Impressed With Politeness Level Of The People of Valley East

Chad Salemink, 24, is an employee of Desjardins' Food Basics. Chad's job is to collect and return shopping carts from the large parking lot outside and bring them back into the store for use by the close to 20,000 customers who come through the doors of the popular grocery store every week.

In his role, Chad comes into contact with hundreds of visitors to the mall every shift. If you follow Chad around you will see that he never hesitates to hold open doors, say excuse me, or demonstrate courtesy to people of all ages. In addition, Chad is quick to acknowledge others with a smile and a wave. Doing these "little things" comes naturally for Chad, as it does with so many of the store clerks and merchants of the mall. And in the hectic world in which we now live, it is definitely the little things that count.

Chad was recently featured in a special article in The Sudbury Star on July 10, 2006 for his success in the Building Bridges Program which is offered by Cambrian College to help students with developmental disabilities learn to find their way on their own.

When he was young, doctors told his mother Colette that his developmental disabilities would prevent him from ever learning to read, write or ride a bike. Chad's determination proved the doctors wrong and he can now read at the Grade 5 level in French, the Grade 6 level in English and can definitely ride a bike. He also used the internet and communicates via email just like the rest of us.

After high school, Chad qualified for the Bridges Program at Cambrian and with a lot of hard work and continued determination finished with a 4.0 grade point average. The one-year program brought out a sense of confidence and independence in Chad that is shown in everything he does.

"I really want to thank Ken and Sandra Desjardins' for giving me a chance to work at their store," Chad stated. "I love what I do and enjoy meeting so many nice shoppers. They have been really good to me and everyone is so nice around here."

Well, Chad, on behalf of everyone in the community of Valley East, thank you for being one of the reasons why we are now known as one of the most courtesy areas of the region.




VISIT THE
VALLEY
EAST
TODAY
COMMUNITY
WEB SITE


COMMUNITY
SECTION

Welcome
Our Spirit
Our Schools
Our Churches
Our Food Banks
Our Library
Our Cemetery
Our Playgrounds
Our Sports
Our Recreation
Our People
Sports Complex
Youth Centre
Organizations

MUNICIPAL
SECTION

Election 2006
City of Sudbury
Fire Services
Animal Shelter
Hospital

REFERENCE
SECTION

Local Media

The Vision Paper
Toronto Star
TSN Sports
Weather Network
Canada 411
Yellow Pages
Horoscopes
Lotto 649
Student Page
After The Whistle
Ponds & Gardens
Grotto Sudbury
Yahoo Search
Google Canada

PLEASE FORWARD THIS SITE TO YOUR EMAIL FRIENDS

We know that through the power of the internet, the Valley East Today Online News Magazine is forwarded every week to individuals who are as far away as Florida, Vancouver and even Germany. I hope you enjoy the feature articles and stories that are highlighted in this edition encourage you to forward this newsletter to as many of your friends and acquaintances in your "address book" as possible. With your help we expect the Valley East Today Weekly Online News Magazine to reach over 20,000 people each week.

Special Invitation

Wednesday July 26 2006, 6:30 p.m. you are all invited to come and celebrate the Feast of Ste Anne, Patron of first Nations Peoples organized by First nations, with the Rosary & Mass presided by Father Michael Stogre s.j. at Our Lady of Lourdes Shrine 271 Van Horne Street. Info: Margaret Gordon at 674-2128. Make sure to visit the Grotto web >>>>>
You Could Win Millions of Dollars or Valuable Prizes in our Valley East Today

FOR COMPLETE DETAILS ON HOW YOU CAN HAVE A CHANCE TO WIN MILLIONS OF DOLLARS IN OUR KEEP THE SPIRIT ALIVE CONTEST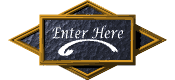 WHAT'S INSIDE THIS ISSUE OF VALLEY EAST TODAY

Hanmer Valley Shopping Centre Comes Out As One Of Most Courteous Areas Of The City In Sudbury Star Research
Chad Salemink of Desjardins' Food Basics Is One Of The Reasons Why People Are Impressed With Politeness Level Of The People of Valley East
Robert Kirwan Explains Why He Is Running For Council
Caroline Provides Inspirational Messages That Unite and Inspire
Mini-Masters Registrations Being Taken At Valley Family Golf Centre
Valley East Ladies' Slo-Pitch League Features Skill & Fun For The Girls of Summer
Buying A New House This Year? Check Out Your Options At FANTASTIC FLOORS Before You Move In
Masciangelo Motors Brings In Greater Number of On-Site Vehicles With Expansion of Lot Space
Teens Invited To Work With Valley East Youth Centre To Make This Something That The Entire Community Can Be Proud Of

The Key To Being A Successful Leader Is Simple… Know Your People!

Editorial by Robert Kirwan

Sudbury Action Centre For Youth Enjoy Raising Funds For Wonderland Trip At The Hanmer Valley Shopping Centre
Combination Locks Now Available At Sixteen Different Locations In The Community Each Week.
Sole Mates Family Footwear Now Has Two Locations To Serve Customers Throughout The Greater Sudbury Area
Buying A New House This Year? Check Out Your Options At FANTASTIC FLOORS Before You Move In
Long Distance Calling???? Interested in Voice Over Internet Technology??? Need Your Computer Repaired???

On the Lighter Side

Buddies' Restaurant Chosen To Host The First Annual Valley East Idol Competition

Northway Bus Lines Is Looking For New Drivers

Moving Into A New Home or Apartment In Valley East or Capreol? Don't Forget To Pick Up Your "Welcome Home Gift Basket"

Keep The Spirit Alive Contest Is Being Well-Received By Local Residents
Are You Available For Work In Valley East or Capreol? Looking For Full- or Part-Time Employees? Check Out The Valley East Today Employment Section
Keep Memories Alive By Simple Process of Transferring 8mm Film to DVD Is a Specialty of Ron Gladu Photos
Nicole Brunet of Beswick Denture Clinic Provides Readers With Excellent Advice On Combating Bad Breath
Comments From Our Readers Are Always Welcome And Will Help Us Make Valley East Today Even More Useful
Election 2006 Information Guide
The 2006 Mini-Masters Takes Place on August 12.
Registrations Now Being Taken at Valley Family Golf Centre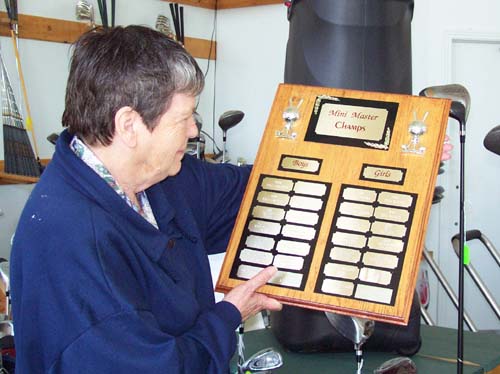 The 15th Annual Mini-Masters Junior Golf Tournament will be held at the Valley Family Golf Centre on Regional Road 15 just outside Blezard Valley, on Saturday, August 12, 2006. Myrna Young, shown looking over the plaque with the past winners, has been involved in every one of the events.

The tournament is open to all boys and girls from the ages of 4 through 12. It consists of a nine-hole tournament; special skills competitions; a barbeque lunch; prizes and trophies. The action starts at 9:30 a.m.

Registration fee for the tournament is only $35.

For more information on how you can register your child, call Myrna or Vic at 897-7400.
PAST WINNERS of Mini Masters Golf Tournament
| | | |
| --- | --- | --- |
| YEAR | BOYS | GIRLS |
| 1992 | Ryan Abresch | Magan Pitura |
| 1993 | Ryan Abresch | Tina Savard |
| 1994 | Ryan Abresch | Celine Taillefer |
| 1995 | Ryan Abresch | Tina Savard |
| 1996 | Mathew Houle | Joanne Lachance |
| 1997 | Mathew Houle | Tina Savard |
| 1998 | Matthew Bortolotto | Desiree Major |
| 1999 | Andrew Kottick | Desiree Major |
| 2000 | Corey Leger | Melanie Fenton |
| 2001 | Serge Bourdeau | Nicole Deschamps |
| 2002 | James Gagne | Karine Gauthier |
| 2003 | Michael Grieri | Karine Gauthier |
| 2004 | Dexton Abresch | Stephanie White |
| 2005 | John Maley | Vanessa Young-Armstrong |
Valley East Ladies' Slo-Pitch League Features Skill & Fun For The Girls of Summer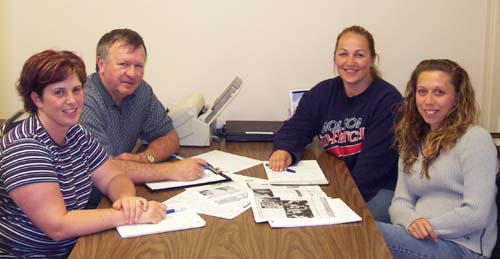 The Valley East Ladies' Slo-Pitch League features a total of ten (10) teams for the 2006 season, thanks in large part to the efforts of the young ladies on the Executive who are committed to seeing the League continue and thrive into the future.
Three of the Executive members met at the beginning of June with Robert Kirwan, Publisher of Valley East Today to discuss plans for marketing and promotion of the league. Shown with Robert are, from the left, Robin Trottier, Secretary; Mandy Hnatiuk, President, and Natalie Raymond-Marois, Vice-President. Two other executive members were unable to attend the meeting. They are Nicki Trottier, Treasurer, and Paula Martel-Lavallee, Statistician.
A year ago the Valley East Ladies' Slo-Pitch League was facing a serious enrolment problem. With only six teams registered just prior to the start of the season, the women who enjoyed playing this sport were worried. The season began with seven teams, but it was obvious that changes had to be made.
One of the biggest changes was the decision to allow teams and players from other municipalities to join the league, and it appears as if that made all the difference in the world. Two teams have joined with players who live in Rayside Balfour or Sudbury. Another positive change was the decision to allow girls who are 16 years of age and over. There are only a few younger players in the league, but at least they now have a place where they can enjoy this sport while in their late teens.
As a result, there are over 200 women of all ages playing slo-pitch two nights a week during the 15 week season. They play at Centennial Ball Park every Monday and Wednesday evening, with games at 6:30, 8:00, and 9:30 p.m. Valley East Today is pleased to introduce the First Annual Valley East Ladies' Slo-Pitch Photo Album with this issue. Below is one of the teams, sponsored by Rocky's and Beautiful Balance. We will be posting the rest of the team pictures as they are provided to us by long-time Slo-Pitch member, Monique Grenon.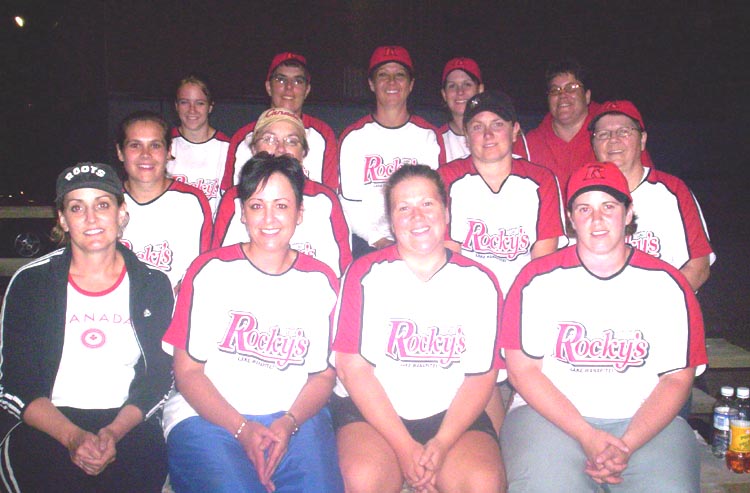 ROCKY'S & BEAUTIFUL BALANCE LADIES
To View Some of the other teams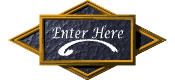 VALLEY EAST MENS' SLO PITCH
Each week during the 2006 season, Brian Beaupre will be providing us with up-to-date standings from the Valley East Mens' Slo Pitch League. You will be able to open up the standings in a WORD DOCUMENT and save them to your own computer if you wish. We appreciate Brian's efforts in providing us with this important service.


FIRST HALF
FINAL STANDINGS
DIVISION 'A' & 'B'
JULY 24, 2006
VALLEY EAST COBRAS AAA MIDGETS
8th Annual Golf Tournament

Saturday, August 19, 2006
Clearview Golf Club in Val Caron
18 Hole 4-Person Best Ball
10:30 a.m. Shot Gun Start

A Large Screen TV Hole In One
Sponsored by Bianco's Audiotronics
Men's & Ladies Closest To the Pin 50/50 Contest
Men's & Ladies Longest Drive Contest
$10,000 Hole In One
Sponsored by Valley Pro Sports
Plus Prizes & A Steak Dinner

REGISTRATION FEE: $70 PER PERSON
Contact Dave Stone at 897-6641
GROTTO OF LOURDES SPECIAL EVENT
MOONLIGHT BOWL AT PLAZA BOWL
FRIDAY, AUGUST 11, 2006
9:00 P.M.
This is a special fund raiser being held by the youth group of The Grotto of Lourdes Shrine. Tickets are $10 per person and prizes will be given out during the evening. The youth are challenging the adults to come out in great numbers.
CALL CHRISTIANE AT 673-3961 FOR MORE INFORMATION OR TO PURCHASE TICKETS
Marymount College/Academy's 50th Anniversary Reunion
Calling all former & present students & teachers …Spouses & friends welcome also…
Sat. Oct. 14th /06 -- 11am-2pm: Open House - Marymount Academy
6pm: Reception & 6:30pm: Dinner at Howard Johnson Hotel (Brady St.)
(Seating for 300 only!)
Sun. Oct. 15th/06 -- 10:00am: Mass at Marymount
11:00am: Light Brunch
Tickets: $50./person Register online at: www.marymount.scdsb.edu.on.ca/reunion.html
Or pick up forms at St. Patrick's Church (in main entrance at Youth Bulletin Board) 39 Walford Rd.;
Christ the King Church or Vicki Dee's (Forms can be dropped off at all Sudbury Catholic Churches)
Mail cheque payable to Marymount Academy 165 D'Youville Ave. Sudbury, ON P3C 5E7
Final Registration Deadline: August 20th/2006

The Royal Canadian Legion Capreol Branch 179, Capreol has established a special Trust fund for the benefit of Trevor McDavid's wife, Giselle and their two daughters.

Trevor McDavid, 31, was killed July 13, 2006 in a helicopter crash during a rescue exercise off the coast of Nova Scotia with the Canadian Armed Forces. McDavid grew up in Capreol. He was the father of two and he and his young wife are expecting a third child. McDavid grew up in Capreol and is fondly remembered by all who knew him.

Donations may be made at these location: The Capreol Legion, Northern Credit Union, Capreol Liquor Store, Joan's Variety and M&R Grill.

Cheques, made out to The Trevor McDavid Trust Fund may be mailed to The Royal Canadian Legion, Branch 179, 16 Young Street, Capreol ON P0M 1H0 Tel: 705-858-1522.

For more information please call David Bateman at 858-5971 or Gary Biesinger at 858-4687, or email to garyb@capreolonline.com

You can find out more by going to the following link:

Buying A New House This Year? Check Out Your Options At FANTASTIC FLOORS Before You Move In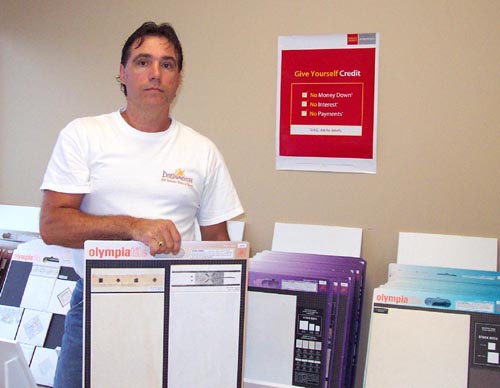 Ron Pedneault, owner of Fantastic Floors, located in the
Valley
Bingo
Plaza
in Val Caron, prepares to discuss some new flooring options with one of his customers who have just purchased a new home in
Valley East
. The young couple is looking forward to moving into their home at the beginning of August and wanted to make some changes to the existing floors. Here they were going over some of the samples of ceramics and porcelain which are becoming ever popular throughout the entire house, not just in the kitchen and bathrooms.
According to Ron, "Just about everybody I know who has purchased an existing house makes some changes to the flooring in at least one of the rooms. New home owners want to personalize the house in some way to make sure that the floors and walls are in line with their own personalities, or they just find the old flooring in need of replacement. Whatever the reason, it is always a good idea to change the flooring "before" you begin moving in with the furniture."
Ron advises that if you are preparing to move into a new house this summer or fall, it would be a good idea to meet with him to go over the options and plan your renovations to coincide with your moving date. Even if you are still "looking" for that perfect house, stop by and talk about the different kinds of flooring that you can order and get an idea of approximate cost so that you can include floor replacement in your cost calculations at the time of purchase. It doesn't hurt to talk, and Ron will always find time to give you free advice.
"You wouldn't believe the number of people I've seen who are moving into homes in the Valley. We knew this community was going to grow, which is one of the main reasons we wanted to open FANTASTIC FLOORS," stated Ron, who after spending over 30 years working in the flooring business on everything from installing to sales and management, has found that the transition to owning and operating his own store has been extremely satisfying.
"We will do anything we can to help the Valley grow and prosper. That is why we are participating in the Valley East Lions Charity Days Treasure Hunt," he explained.
FANTASTIC FLOORS will have one of the twelve (12) combination locks on site from July 20 to July 26 and again from August 10 to 16. Anyone who has a combination is invited to stop by and see if you can open the lock and qualify for a trip to Cuba .
FANTASTIC FLOORS, is open Monday to Wednesday, from

to

; open late until

on Thursdays and Fridays, and; open until

on Saturdays.



We also invite you to take a virtual tour of FANTASTIC FLOORS on their web site at

www.fantasticfloors.ca

2914 Hwy 69 North, Val Caron
In the Valley Bingo Plaza
897-3567
www.fantasticfloors.ca
BASEBALL TOURNAMENT
SPN RULES
JULY 29th and 30th 2006
Organized by LA PORTE DES EAUX/THE WATER GATE
McFARLANE LAKE BASEBALL FIELD
PIONEER ROAD, SUDBURY
FIRST PLACE - $600.00
SECOND PLACE -$400.00
THIRD PLACE - $300.00
REGISTRATION FEE - $300.00 per team due July 25th, 2006
Sunday night banquet included for all team members
ONLY FIRST 8 TEAMS ACCEPTED
Contact Lina Madore by email link below

Masciangelo Motors Brings In Greater Number of On-Site Vehicles With Expansion of Lot Space

Masciangelo Motors has recently expanded the the amount of space it has on site for vehicles and the result has been a huge increase in the number of cars and trucks on the lot for customers to browse through.

Ron & Jeff continue to search out the auctions, both in person and on-line to bring in the best deals possible. This means that many vehicles are on and off the lot before you know it, so many people in the market for pre-owned vehicles have developed the habit of dropping in for a look on a regular basis.

You can still discuss the type of car or truck you would like to purchase and have Ron & Jeff search out the continent for exactly what you are looking for. The "Pick of the Month" section on their web site also gives you an excellent overview of the kinds of vehicles you can find on the lot.

If you want a close up look at the latest on the lot, just drop in and see Ron, Jeff, Tim or Jennifer. Better yet, go the link below and take a tour right from your computer.

You can find out much more by visiting the Masciangelo Motors web site at www.masciangelomotors.com
Community Groups & Organizations; Churches; Schools - Are All Are Invited To Use Mall Facilities Free Of Charge To Raise Money and Promote Their Activities

The Marymount Academy Travelling Group is just one of the many groups and organizations that take advantage of an open invitation by the Hanmer Valley Shopping Centre to use its facilities to promote their activities and raise money through fund raisers such as car washes, penny tables, raffle sales and bake tables. There is absolutely no charge for the use of the facilities and the mall even provides tables, chairs and other material to help the groups. The owners of the mall, Val and Violet Mazzuca, have been strong supporters of Valley East and Capreol and will bend over backwards to help out in any way they can. If you or your group would like more information about using the mall, simply contact the Director of Marketing & Public Relations, Robert Kirwan at 524-7006.

CORN ROAST

The Valley East Ringette Association invites everyone to a Corn Roast at Neil's Independent Grocer in Hanmer on August 19, 2006. The event will be held from 10 a.m. to 4 p.m. There will be community vendors, fun and games; music; street ringette; hay and pony rides; a car wash; BBQ, and more.
For information about the event, contact Terry at 969-5336

Roger's Tower Update
A good source has told Valley East Today that the Roger's Cell Tower should be operational by the end of the summer. Apparently the company has been having difficulties with the contractor and this has put the project behind schedule.
Centennial Year Book...
The Grotto of Our Lady of Lourdes wants to prepare an historical document for centennial year. We are inviting anyone with pictures and stories to tell to contact Josée Lapalme at 675-1151 ext. 5100.
Moonlight Bowl For The Grotto...
Come one and all! A fundraiser is being held by the youth group at The Grotto of Lourdes Shrine. Friday, August 11th, there will be a moonlight bowl at

at Plaza Bowl in

Sudbury

. Tickets are 10$ a person and prizes will be given throughout the evening. The youth are also challenging the adults to come out in great numbers. For more information or to purchase tickets, please call Christiane at 673-3961. It is sure to be a great time!

Valley East Youth Centre
Open Friday Evenings
From 6:00 p.m. to 11:00 p.m.
Across from the
Centennial Arena in Hanmer
Teens Invited To Work With Valley East Youth Centre To Make This Something That The Entire Community Can Be Proud Of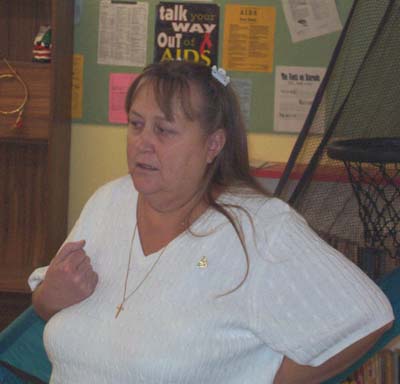 The Valley East Youth Centre, located beside the Centennial Arena in Hanmer, is open every Friday evening from 6:00 p.m. to 11:00 p.m.

Susan Johnston, shown on the right, has been working with the Valley East Youth Centre for over 23 years. While this is likely one of the most challenging times she has seen in the history of the Centre, she is still optimistic that the organization will see better times, "We are down to only one night a week right now, but if we can get some energetic and ambitious teenagers involved, we may be able to raise the funds necessary to begin opening more often and get back to the interest level that we once had at the Valley East Youth Centre."

One of her main goals over the next couple of months is to speak to as many of the youth as possible to determine what they would like to see from the Youth Centre, "Just about all of the teenage boys and girls I talk to wants to keep the Youth Centre open. So, I want to find out what it will take to have them participate in our activities and to bring their friends over."

The ball is now in the hands of the young people of the community. If teenage boys and girls want to see the Valley East Youth Centre continue to exist, it will be up to them to show their support and get involved in activities. If you would like to contact Susan Johnston for more information, call her at 969-5188.

Feature Articles Table of Contents...
July 25, 2006

Hanmer Valley Shopping Centre Comes Out As One Of Most Courteous Areas Of The City In Sudbury Star Research
Chad Salemink of Desjardins' Food Basics Is One Of The Reasons Why People Are Impressed With Politeness Level Of The People of Valley East
Robert Kirwan Explains Why He Is Running For Council
Caroline Provides Inspirational Messages That Unite and Inspire
Mini-Masters Registrations Being Taken At Valley Family Golf Centre
Valley East Ladies' Slo-Pitch League Features Skill & Fun For The Girls of Summer
Buying A New House This Year? Check Out Your Options At FANTASTIC FLOORS Before You Move In
Masciangelo Motors Brings In Greater Number of On-Site Vehicles With Expansion of Lot Space
Teens Invited To Work With Valley East Youth Centre To Make This Something That The Entire Community Can Be Proud Of
The Key To Being A Successful Leader Is Simple… Know Your People!

Editorial by Robert Kirwan

Sudbury Action Centre For Youth Enjoy Raising Funds For Wonderland Trip At The Hanmer Valley Shopping Centre
Combination Locks Now Available At Sixteen Different Locations In The Community Each Week.
Sole Mates Family Footwear Now Has Two Locations To Serve Customers Throughout The Greater Sudbury Area
Buying A New House This Year? Check Out Your Options At FANTASTIC FLOORS Before You Move In
Long Distance Calling???? Interested in Voice Over Internet Technology??? Need Your Computer Repaired???
On the Lighter Side
Buddies' Restaurant Chosen To Host The First Annual Valley East Idol Competition

Northway Bus Lines Is Looking For New Drivers
Moving Into A New Home or Apartment In Valley East or Capreol? Don't Forget To Pick Up Your "Welcome Home Gift Basket"
Keep The Spirit Alive Contest Is Being Well-Received By Local Residents
Are You Available For Work In Valley East or Capreol? Looking For Full- or Part-Time Employees? Check Out The Valley East Today Employment Section
Keep Memories Alive By Simple Process of Transferring 8mm Film to DVD Is a Specialty of Ron Gladu Photos
Nicole Brunet of Beswick Denture Clinic Provides Readers With Excellent Advice On Combating Bad Breath
Comments From Our Readers Are Always Welcome And Will Help Us Make Valley East Today Even More Useful
Election 2006 Information Guide

Andrea Martin - A Renaissance Lady From Valley East Who Has Become The Public Face of Science North Enterprises

Moving Into A New Home or Apartment In Valley East or Capreol? Don't Forget To Pick Up Your "Welcome Home Gift Basket"

Trevor McDavid Trust Fund

Are You Available For Work In Valley East or Capreol? Looking For Full- or Part-Time Employees? Check Out The Valley East Today Employment Section
Robert Kirwan Explains Why He Is Running For Council
Caroline Provides Inspirational Messages That Unite and Inspire
Pick of the Month Feature of Masciangelo Motors Web Site Offers A Great Cross-Section of Vehicles Available From Dealer
Local Residents Upset That Playground Equipment Taken From Elmview Playground Has Not Been Replaced
Exceed The Expectations of Those Around You...Editorial by Robert Kirwan

Free Bus Transportation From Capreol to Desjardins' Food Basics Twice A Month Now That Grocery Store Has Closed

The Action Was As Hot As The Temperature in the Valley East Mixed Slo-Pitch Tournament Held Last Weekend

Combination Locks Now Available At Sixteen Different Locations In The Community Each Week.

Sole Mates Family Footwear Now Has Two Locations To Serve Customers Throughout The Greater Sudbury Area

Buying A New House This Year? Check Out Your Options At FANTASTIC FLOORS Before You Move In
Long Distance Calling???? Interested in Voice Over Internet Technology??? Need Your Computer Repaired???
Ryan Benoit's Unique Abilities Serve Him Well In His Role as Provincial Ambassador for the Easter Seal Society
Keep Memories Alive By Simple Process of Transferring 8mm Film to DVD Is a Specialty of Ron Gladu Photos
21st Annual Hanmer Knights of Columbus
FESTIVAL D'ETE / SUMMER FAIR Once Again Draws Huge Crowds To Hanmer
Nicole Brunet of Beswick Denture Clinic Provides Readers With Excellent Advice On Combating Bad Breath
Comments From Our Readers Are Always Welcome And Will Help Us Make Valley East Today Even More Useful
Election 2006 Information Guide

Junior Golf League At Valley Family Golf Centre Provides Introduction To A Lifelong Sport For Young Boys and Girls
Young Couple Chooses Valley East After Considering What The Future Will Offer For Their Children
Keep The Spirit Alive Contest Is Being Well-Received By Local Residents
Pick of the Month Feature of Masciangelo Motors Web Site Offers A Great Cross-Section of Vehicles Available From Dealer
Robert Kirwan Explains Why He Is Running For Council
Caroline Provides Inspirational Messages That Unite and Inspire
Don't Throw Away That Old Paper Bag Full of Treasures...Editorial by Robert Kirwan
Free Bus Transportation From Capreol to Desjardins' Food Basics Begins Today
Don't Forget To Try Out Your Combinations At Local Business Establishments. It Could Win You A Trip To Cuba!
Sole Mates Family Footwear Now Has Two Locations To Serve Customers Throughout The Greater Sudbury Area
Testimonials Say It All When You Are In Business...Just Ask Ron Pedneault of FANTASTIC FLOORS
Long Distance Calling???? Interested in Voice Over Internet Technology??? Need Your Computer Repaired???
21st Annual Hanmer Knights of Columbus FESTIVAL D'ETE / SUMMER FAIR
Keep Memories Alive By Simple Process of Transferring 8mm Film to DVD Is a Specialty of Ron Gladu Photos
Safety of Children In Residential Subdivision Is Motive Behind Request For Additional Stop Signs On Desmarais Road
Valley East Soccer Club Holds Very Successful Houseleague Tournament At End of June
Nicole Brunet of Beswick Denture Clinic Provides Readers With Excellent Advice On Combating Bad Breath

Robert Kirwan Says It's Show Time For Valley East

Time To Raise The Curtain

Valley Acres Playground Is An Example Of Why Things Must Change In Outlying Areas of the City After November Election
Election 2006 Information Guide

Last Day of School Ribbon Cutting Ceremony A Significant Moment In The History of Valley View Public School
It Was A Morning That All Students From Val Caron and Valley View Public Schools Will Always Remember
You Could Win Millions In The "Keep The Spirit Alive Campaign"
Masciangelo Motors Practices A Whole New Approach To The Selling of Pre-Owned Vehicles
Robert Kirwan Explains Why He Is Running For Council
Caroline Provides Inspirational Messages That Unite and Inspire
Rogers Tower Update
Building A Strong And Productive Life is Simple...by Robert Kirwan
Free Bus Transportation To Be Provided From Capreol To Desjardins' Food Basics Twice A Month Beginning July 11
Valley East Lions Charity Days - Check Out The Vision Paper July 5
The Name Says It All When It Comes To Harley-Davidson Footwear

"The 'Welcome Home Gift Basket' Is Our Way of Saying Thank You For Choosing Valley East As A Place To Live"

FANTASTIC FLOORS Provides More Than Just Product
Kin Club of Valley East Thank The Public For Supporting Them By Providing Record Sales Totals On July 1 Weekend
Long Distance Calling???? Interested in Voice Over Internet Technology??? Need Your Computer Repaired???
Lifeguard Team At Kalmo Beach in Val Caron Takes Pride In What They Do
Valley East Youth Centre Opens July 7 With Hope For A Long, Bright Future
Myrna Young Plans On Making The 2006 Mini-Masters One Of The Best Ever At The Valley Family Golf Centre
Nicole Brunet of Beswick Denture Clinic Provides Readers With Excellent Advice On Combating Bad Breath
Robert Kirwan Finds Election Campaign No Different From His Normal Routine

What Happened To The Playground Equipment At Valley Acres Playground?
Keep Memories Alive By Simple Process of Transferring 8mm Film to DVD Is a Specialty of Ron Gladu Photos
GREATER SUDBURY PUBLIC LIBRARY TD Summer Reading Club

Val Therese Man Wins "Ticket To Ride" Contest And Takes Home $29,000 Harley-Davidson Motorcycle
350 Couples Celebrate Over 15,000 Years of Marriage In North Bay
FANTASTIC FLOORS Introduces Quality 'Roll Ends' At The Best Prices In The City!
Kin Club of Valley East Will Once Again Be Selling Fireworks For Canada Day At The Mall
Masciangelo Motors Changing Appearance of Lot To Provide More Space To Display On-Site Vehicles
Coach Dan Ross Writes About The "Dream Season" For Bran-Kor Midgets
Buying A Purse Is Not An Easy Decision Today - Just Ask Laurna
Jean Beaupre Strikes Gold In The Hills At Clearview

Long Distance Calling???? Interested in Voice Over Internet Technology??? Need Your Computer Repaired???
Valley East Youth Centre Opens July 7 With Hope For A Long, Bright Future
Grade 3 & 4 Students From Ecole Notre Dame de L'Esperance Introduced To Golf
Nicole Brunet of Beswick Denture Clinic Provides Readers With Excellent Advice On Combating Bad Breath
Former Easter Seal Ambassador Doesn't Let Her Physical Disability Affect Her Attitude

With New Border Requirements On The Horizon Many People Travelling To The United States May Soon Need Passports
GREATER SUDBURY PUBLIC LIBRARY TD Summer Reading Club

Junior Golf League Starts Thursday At Whistling Winds Golf Course
9th Annual Dystonia Walk In Valley East Raises Valuable Funds For Research
Valley East Lions Club Officially Opens Storage Building To Complete Re-Construction of Lions' Den
Madam Charette's Grade 3/4 Class Enjoys Sub Party For Participating In Mothers' Day Card Contest

Witnesses thrilled with response to convention

Valley East Ladies' Slo-Pitch League Has Bright Future

The Campeau Family Is A True Example Of What Community Is All About In Valley East
Club Optimiste de Vallee Holds Another Successful Golf Tournament In Valley East With 73 Participants
Grade 4/5 Class From Redwood Acres Enjoys Pizza Party For Participating in Mothers' Day Card Display
Young Student Creates Historical Display Honouring The Mazzuca Family
Marymount Academy Travelling Group Hosts Penny Table & Bake Sale At the Mall
St. Kevin's Parish Holds Its Annual Family Fun Day
Housing Market Is Strong In Greater Sudbury Area
Not All Full-Time Laurentian University Students Happy About Having To Pay $135 For Transit System Pass This Fall
City Council Urged To Ban Cosmetic Use of Pesticides

Vic Whissell To Coach Carter McDavid During Summer Months
Korbin Thibault Hopes To Make Baby Boy A Household Name

Valley East Waves Excel In The Pool This Past Season
Mosquitoes: Don't let them ruin your outdoor activities
Therese Campeau is winner of May Customer Appreciation Contest
Local Residents Looking For Assistance In Finding Meaningful Employment Now Have Easier Access To Job Connect / Connexion Emploi
Valley East Waves Host First Car Wash At The Hanmer Valley Shopping Centre on Saturday, June 3, 2006

It's Time To Bring Out The Bats & Gloves And "Play Ball"
Kin Club of Valley East Still Optimistic About Their Mission Despite Break In During Victoria Weekend Holiday
Ontario Metis Aboriginal Association Conducts Free Blood Glucose Screening Clinic
Healthy Babies - Health Children By Helping Young Mothers Before & After Birth
Young Friends Take Part In Relay For Life Project To Stay Together During Post-Secondary Years
Windows In Time Section Of Valley East Today Community Web Site Brings Back Fond Memories

Announcement of First Annual Lions Club of Valley East Charity Days Receiving Great Response From Local Residents
ANNUAL GENERAL MEETING OF SHOOTING STAR DAY CARE
GARDENIA ETOILE FILANTE Will Be Held May 29, 2006 at 6:00 p.m. at The Valley East Public Library
A Special Thank You To The General Public From Lizette Gascon
Chevaliers du Columb / Knights of Columbus Council #5005
Co-op Education Program At Bishop Alexander Carter Catholic Secondary School Provides Valuable Real-Life Experience for Students
Kin Club of Valley East Holds Annual Fireworks Sale To Raise Funds For Community Projects
Grotto Association Announces Winners of Mothers' Day Raffle Draw

MAKE SURE YOU TAKE TIME TO VISIT THE VALLEY EAST TODAY COMMUNITY WEB SITE AT www.valleyeasttoday.ca