WELCOME TO THE FRONT PAGE
TUESDAY, SEPTEMBER 12, 2006
You Can Win 100 Lotto 649 Tickets Plus Other Great Prizes Just By Subscribing To The Valley East Today Weekly Online News Magazine

The "Keep The Spirit Alive Contest" was only introduced to the community during the month of June, and already it is picking up momentum as residents not only like the idea of winning valuable prizes, but they also are thrilled about the fact that they can do their small part to help improve the overall community spirit in Valley East and Capreol.

Three community-minded local businessmen have teamed up to begin a "Keep The Spirit Alive Campaign" and they are inviting all residents to help them spread the message that Valley East is a great place in which to live!

From left to right in the photo: Mike Lemieux, owner of Hanmer Home Hardware, Robert Kirwan, Publisher of the Valley East Today Community Web Site, and Ken Desjardins of Desjardins' Food Basics announced the launch of the campaign during a press conference which was held at the Hanmer Valley Shopping Centre.

In explaining the purpose of the initiative, Kirwan explained, "We want to let everyone know that Valley East is a town where you can still find that "old style community spirit" mixed with a modern lifestyle that fits right in with the 21st Century. There are a lot of good things happening in Valley East and it is about time that the rest of the people in the City of Greater Sudbury knew about it. Furthermore, it is also time to let the rest of the province know that if anyone is looking for a place to live and raise a family, or a place to retire within the City of Greater Sudbury , they need look no further than Valley East ."

In order to help get this message out to the rest of the "world" the people of Valley East are being asked to take part in a massive communication strategy using the power of the internet.

Everyone participating in this campaign will have a chance to win a "Grand Prize" consisting of 100 Lotto 649 tickets for the New Year's Eve Draw on December 31, 2006 . What a way to celebrate the New Year by winning the big prize with one of those tickets!

Runners up will receive other valuable prizes, including "two" mountain bikes donated by Hanmer Home Hardware, $300 in groceries from Desjardins' Food Basics, More prizes from other local merchants may be announced in the coming weeks before the contest ends.

In order to qualify for these prizes, all you have to do is register to receive the Valley East Today Weekly Online News Magazine. Every month from July until the end of December, ten names will be drawn at random from all of the people registered to receive the publication. Those ten people will qualify for our final draw which will be held on Christmas Eve. The winners will be announced in the December 26 issue of Valley East Today!

Once you register, the Valley East Today Online Weekly News Magazine, which is currently being received by over 2300 people, will be sent directly to your email address every Tuesday. Not only will you qualify to win the 100 Lotto 649 tickets or other runner up prizes, but more importantly, you can help us "Keep the Spirit Alive" by forwarding Valley East Today to everyone on your own personal mailing list. By using the power of the internet, we can let tens of thousands of people know about Valley East every week.

ARE YOU RECEIVING VALLEY EAST TODAY EVERY WEEK? THEN CONGRATULATIONS - YOU ARE ALREADY REGISTERED YOU QUALIFY FOR THE CONTEST!

NOT REGISTERED YET?????

TO QUALIFY FOR THE CONTEST
ALL YOU HAVE TO DO IS SEND US AN EMAIL THROUGH THE LINK BELOW ALONG WITH YOUR NAME AND PHONE NUMBER




VISIT THE
VALLEY
EAST
TODAY
COMMUNITY
WEB SITE


COMMUNITY
SECTION

Welcome
Our Spirit
Our Schools
Our Churches
Our Food Banks
Our Library
Our Cemetery
Our Playgrounds
Our Sports
Our Recreation
Our People
Sports Complex
Youth Centre
Organizations

MUNICIPAL
SECTION

Election 2006
City of Sudbury
Fire Services
Animal Shelter
Hospital

REFERENCE
SECTION

Local Media

The Vision Paper
Toronto Star
TSN Sports
Weather Network
Canada 411
Yellow Pages
Horoscopes
Lotto 649
Student Page
After The Whistle
Ponds & Gardens
Grotto Sudbury
Yahoo Search
Google Canada

Corporate Web Sites
Worth Visiting
Beswick Denture Clinic
Heatwave Tanning Salon
Fantastic Floors
Independent Energy Serv.
Hanson Family Dentistry
Valley View Cleaners
Sole Mates Footwear
Ron Gladu Photos
VCCNet
Masciangelo Motors

Infocom Canada
"Keep The Spirit Alive"
CONTEST QUALIFIERS
People who have already qualified for the Grand Prizes in the
Keep The Spirit Alive Contest. These names will be placed in a drum along with ten additional qualifiers chosen each month until December 2006.

QUALIFIERS

FOR THE

MONTH OF

JUNE 2006

| | |
| --- | --- |
| #0065 | Chantal Proulx |
| #0133 | Marilyn Liske |
| #0384 | Bernadette Mrochek |
| #0411 | Cathy Bellefeuille |
| #0446 | Gaston Boisvoneault |
| #0690 | Carol Mailloux |
| #1057 | Glynis Cappadocia |
| #1228 | Shelly Pelland |
| #1318 | Nicky Blais |
| #1827 | Michelle Wiebes |

QUALIFIERS

FOR THE

MONTH OF

JULY 2006

| | |
| --- | --- |
| #80 | Kim Dwyer |
| #154 | Lana Ranger |
| #255 | Karen Lische |
| #288 | Rebecca Ogilvy |
| #886 | Chris Coulombe |
| #1086 | Brian Koivu |
| #1194 | Jessica Rienguette |
| #1979 | Corina Gavin |
| #1993 | Lynn Poulin |
| #2006 | Linda Dubois |

QUALIFIERS

FOR THE

MONTH OF

AUGUST 2006

| | |
| --- | --- |
| #5 | Lillian Wade |
| #37 | Lisa Proulx |
| #74 | Hayden Hack |
| #499 | Linda Tessier |
| #623 | Doug Malloy |
| #1098 | Bob Boyuk |
| #1283 | Shandi Charette |
| #1366 | Todd Mazzuca |
| #1522 | Sharon Leger |
| #2259 | Angele Rancourt |

The names of the above people who are already subscribed to the Valley East Today Online Weekly News Magazine will be entered as finalists in the contest. The sooner you register, the more chances you have of being selected as one of the ten monthly finalists. On December 24, 2006, one person will win 100 Lotto 649 tickets, while runners up will win other valuable prizes. Make sure your friends all enter the contest and help us "Keep the Spirit Alive".
Confederation Secondary School Chargers Looking For Plenty of Fan Support When They Open Their Season At Home On Friday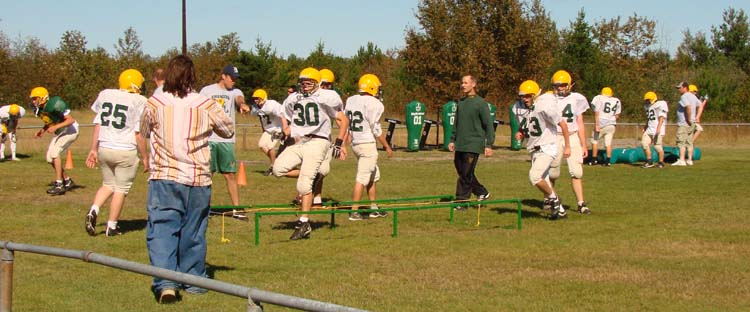 The Confederation Secondary School Chargers play their first home game of the season on Friday, September 15, 2006 at 1:30 in the afternoon at Confederation. Their opponent will be the Secondary School North Stars. It is a special school spirit game where students will be allowed to take time off class to come out and cheer on their team. The general public is also invited to come out and watch high school football being played on "the best football field in the district" according to Head Coach, Brandon Dougan. This year Confederation has four home games during the regular season. When he is not on the field, Brandon Dougan teaches Special Education at Confederation.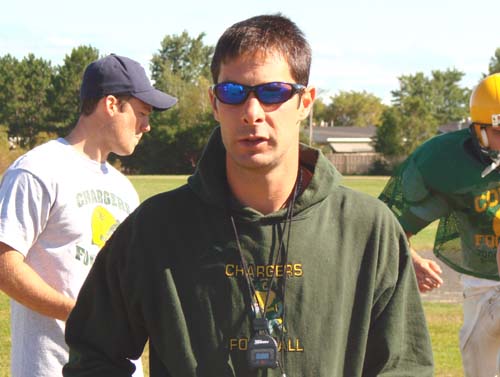 Dougan has played for the Sudbury Spartans for the past ten years and is recognized as one of the most effective offensive players in the league. In fact he was named to the NFC All-Star squad thanks to his 2006 season which saw him catch 22 passes for 440 yards, placing him second overall in the league. He scored four touchdowns.

Dougan played in the NFC All-Star Game at Queen's Athletic Field on Saturday, September 9, 2006.

He is definitely looking forward to leading the Chargers to another great season in hopes of coming out as City Champs.

Confederation is beginning its 5th year in the 8-team league, and to its credit, already holds one City Championship which was captured during its 2nd year of operation. The players were in training during the week prior to school opening, going through twice-a-day workouts to get back into shape for the North-South exhibition game played on Friday night, September 8, at Queen's Athletic Field in Sudbury.

The six-game schedule doesn't leave much time to play yourself into shape, so each game must be considered a must-win for the club. "Everybody who comes out to practice will make the team," explained Dougan, who plays as a receiver with the Sudbury Spartans during the summer. "The coaching staff is prepared to work with each of the boys to develop their playing skills and help them enjoy the game. We all have a background in football and truly believe in the benefits of being part of a football team."

Dougan also coaches in the Joe MacDonald Football League and is committed to putting something back into the game he loved as a young kid. "I remember playing for the Paris Street Blues in high school under Sid Forester. He helped me go on to a University career with the St. Mary's Huskies. I love the game and I saw what it did to help me accomplish my goals. Now as a teacher, I can look forward to working with young people all my life."

The players would love to see as many people from the community at the field to cheer them on as well. Football is not something that we get much of a chance to see in Valley East, but it would be extremely nice if we gave our boys the kind of boost that they get in small towns in the United States.

The complete schedule for the 2006 season for Confederation is as follows:
REGULAR SEASON

Friday, September 15
1:30 p.m. at Confederation against Sudbury Secondary
Friday, September 22
7:00 p.m. at Queen's Athletic Field against Lasalle
Friday, September 29
7:00 p.m. at Queen's Athletic Field against St. Charles
Wednesday, October 4
3:30 p.m. at Confederation against Loellen
Friday, October 13
3:30 p.m. at Confederation against Notre Dame
Wednesday, October 18
3:30 p.m. at Confederation against Lockerby

PLAYOFFS

Semi-Finals
October 25 to 28
The teams will be divided into two divisions for the playoffs with the top four in one division and the bottom four in another. Semi-Finals will be played between October 25 and 28 with the winners advancing to the finals of their respective divisions.
Finals
Friday, November 3
The two final games will be played at Queen's Athletic Field with the bottom four division meeting at 4:00 p.m. and the City Championship Game at 7:00 p.m.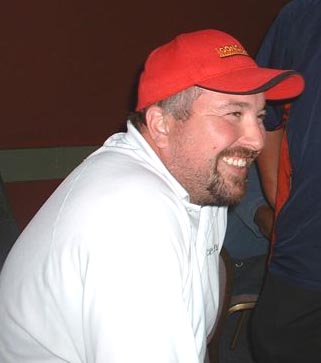 VALLEY EAST
MENS'
SLO PITCH
LEAGUE

The first round of the playoffs is history. Now the four divisions enter their championship finals with the first games to be played on Tuesday, September 12.
Our playoff information is being provided by Brian Beaupre who has been providing us with up to date standings all during the season.
Check out the standings by clicking on the link below to open up a WORD document which will contain the latest standings, courtesy of Brian Beaupre.
We appreciate Brian's efforts in providing us with this important service and will keep you up to date with the latest playoff scores. It should be an exciting race in all of the four playoff divisions as the teams this year are extremely competitive within their own groups.
FIRST HALF
FINAL STANDINGS
FINAL STANDINGS &
First Round Playoff Results
CHAMPIONSHIP SERIES SCHEDULES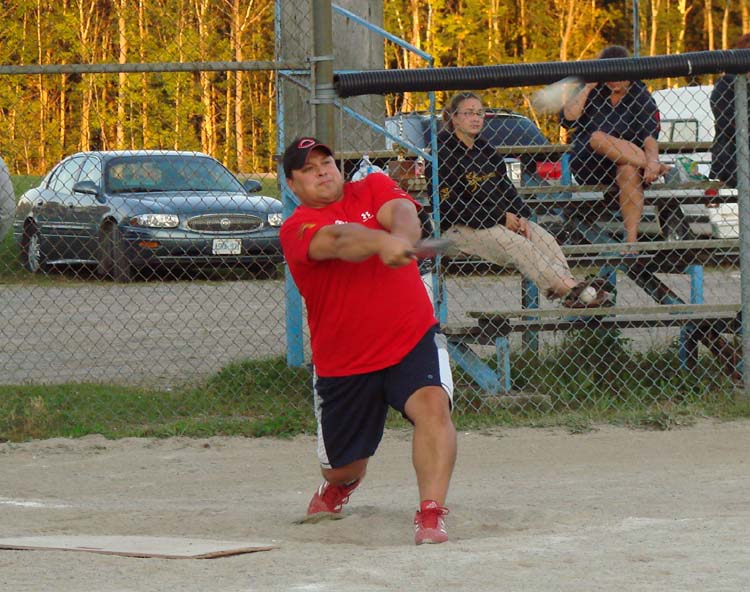 Bobby Brunet, 1st Base with Auto Tech, gives the ball a good ride during playoff action on September 1. Auto Tech is playing King Sportswear in one of the best of three "C" Division semi-final series. You can catch all of the playoff action at the Centennial Ball Fields every Tuesday and Thursday night as the playoffs continue to the middle of September. Spectators are always welcome to the playoffs where you will spend a couple of hours of friendly conversation with your neighbours and friends.
STREET-HOCKEY SHOWDOW
( Sudbury , ON.), September 11, 2006 … If you want to see action 'so hot it will peel the pavement' then don't miss the 7th annual "Power Play for Easter Seals Kids" at Don Cherry's this weekend !
On Saturday, September 16th, from to , Don Cherry's parking lot will be transformed into a street-hockey stadium. Team's from the Sudbury community will leave the workplace to face off against their rivals in this 4-on-4, street-hockey tournament in support of children, youth and young adults with physical disabilities. And the wackiest part – they're playing in their work attire or team themed costume!
Spectators and players will enjoy a day of hockey fun, great food and good-old-fashioned rivalries.
The Easter Seal Society, Ontario is dedicated to helping children, youth and young adults with physical disabilities achieve their full individual potential and future independence.

Easter Seals funds disability solutions through financial assistance, summer camp, the Recreational Choices funding program, research, advocacy, and public and consumer education.
Blood Donor Clinics Held At Knights of Columbus Hall Every Month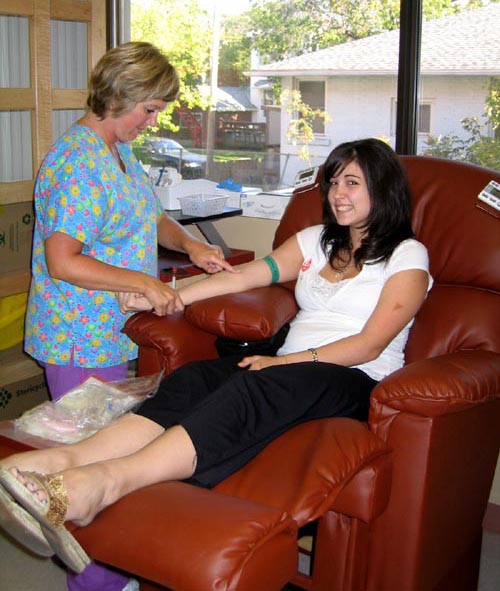 Michelle Blais, Senior Clinic Coordinator, Donor Services for Canadian Blood Services reminds all local residents that monthly clinics are held at the Knights of Columbus Hall on Emily Street every month.

Clinic hours are between 4:00 and 7:00 p.m. on the following dates:

September 13
October 18
November 15
December 21
January 17, 2007
February 21, 2007
March 21, 2007

If you have any questions, please contact Michelle at:
Phone: (705)688-7347
Toll free: (800) 263-3733
email: michelle.blais@bloodservices.ca

Seventeen year old Kelsey Patterson, shown above in the photo, a Grade 12 student at Confederation Secondary School in Val Caron, recently gave blood for the very first time on her 17th birthday. She is shown above with Health Worker, Shiela Gravelle, who gave Kelsey a birthday to remember.

First Anniversary Is Cause For Celebration of An Excellent Year For Val Caron's Fantastic Floors - Fall Renovation Projects Are The Order of the Day - Begin Planning Now!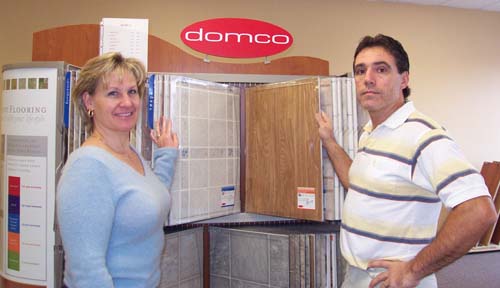 Bernie & Ron Pedneault will be approaching the first anniversary of the opening of their new store in Val Caron on October 1. It has been a great year for Fantastic Floors as they continue to establish their reputation for quality products and good, sound advice. Whether the job is big or small, you can always trust Ron to come up with excellent ideas to help you accomplish your goals within your budget constraints. One piece of advice he gives people during this time of year is that if you are thinking of doing some home renovations before Christmas, now is the time to begin looking through samples and preparing your plans. Don't wait until the last minute or you will be scrambling around and you won't be happy with the end result. Ron invites you to stop by his site in the Valley Bingo Plaza at any time to go over your plans and establish your options. He always encourages people to shop around and look for the best value because he knows that his prices cannot be beat, and he is confident in his ability to provide you with that bit of extra added value that means so much when you are renovating.
Make sure you visit their web site or call Ron today to get some more information on the Fantastic Floor experience.
FANTASTIC FLOORS, is open Monday to Wednesday, from

to

; open late until

on Thursdays and Fridays, and; open until

on Saturdays.



We also invite you to take a virtual tour of FANTASTIC FLOORS on their web site at

www.fantasticfloors.ca

2914 Hwy 69 North, Val Caron
In the Valley Bingo Plaza
897-3567
www.fantasticfloors.ca
GREATER SUDBURY PUBLIC LIBRARY
OFFERS STORY TIME FOR CHILDREN
The Greater Sudbury Public Library is pleased to present Saturday Family Story Time.

Saturday Family Story Time will be offered monthly, from 10:30 to 11:15 a.m. We invite children from 0 to 7 years of age accompanied by an adult to the Main Public Library, 74 MacKenzie Street, Sudbury. Family Story Time is designed to encourage children to become life-long readers by promoting an appreciation of language, rhythm and imagination. It includes storytelling, puppets, finger plays, songs, rhymes and a craft.

Register for the following Saturday Family Story Times to avoid disappointment...

September 30, 2006.

November 25, 2006

December 16, 2006

January 27, 2007

February 24, 2007

March 24, 2007

April 28, 2007

May 26, 2007

Please note, the different time on October 21, from 1:30 to 2:15 p.m.

For more information and to register, call the Main Library at 673-1155 or contact Monique Roy at 673-1155 extension 270.

For more information, please contact:


Monique Roy - Children's Librarian


Greater Sudbury Public Library, 673-1155, extension 270


monique.roy@greatersudbury.on.ca
GREATER SUDBURY PUBLIC LIBRARY


Looking for Volunteers

The Greater Sudbury Public Library is looking for volunteers to help organize a special photo collection.

If interested please call Nada at the library, 673-1155 extension 274.

For more information, please contact:


Kaija Mailloux, Co-ordinator of Outreach Programs and Partnerships,


Greater Sudbury Public Library, 673-1155, extension 210


kaija.mailloux@city.greatersudbury.on.ca
Marymount College/Academy's 50th Anniversary Reunion
Calling all former & present students & teachers …Spouses & friends welcome also…
Sat. Oct. 14th /06 -- 11am-2pm: Open House - Marymount Academy
6pm: Reception & 6:30pm: Dinner at Howard Johnson Hotel (Brady St.)
(Seating for 300 only!)
Sun. Oct. 15th/06 -- 10:00am: Mass at Marymount
11:00am: Light Brunch
Tickets: $50./person Register online at: www.marymount.scdsb.edu.on.ca/reunion.html
Or pick up forms at St. Patrick's Church (in main entrance at Youth Bulletin Board) 39 Walford Rd.;
Christ the King Church or Vicki Dee's (Forms can be dropped off at all Sudbury Catholic Churches)
Mail cheque payable to Marymount Academy 165 D'Youville Ave. Sudbury, ON P3C 5E7
Final Registration Deadline: August 20th/2006
Check Out The Picks of the Month For September At Masciangelo Motors - Great Deals Can Be Found Throughout The Entire Lot

One of the most popular features of the Masciangelo Motors web site has been the Pick of the Month section.

Each month, Ron, Jeff, Tim and Jen select one vehicle they have on the lot that they feel is one of the best on the lot.

According to Jeff, "It seems as if a lot of people go to that part of the web site because once we list a vehicle as a Pick of the Month, it is usually sold before the end of that month."

If you would like to check out the picks for September, simply follow this link: Pick of the Month

Ron & Jeff continue to search out the auctions, both in person and on-line to bring in the best deals possible. This means that many vehicles are on and off the lot before you know it, so many people in the market for pre-owned vehicles have developed the habit of dropping in for a look on a regular basis.

You can still discuss the type of car or truck you would like to purchase and have Ron & Jeff search out the continent for exactly what you are looking for. The "Pick of the Month" section on their web site also gives you an excellent overview of the kinds of vehicles you can find on the lot.

If you want a close up look at the latest on the lot, just drop in and see Ron, Jeff, Tim or Jennifer. Better yet, go the link below and take a tour right from your computer.

You can find out much more by visiting the Masciangelo Motors web site at www.masciangelomotors.com
Divine Providence
The following is an article written by David Helwig that appeared in SooToday.com on Saturday, September 2, 2006.
They buried Jewel Martin yesterday, down in Port Findlay on Lake Huron's picturesque North Channel. Jewel died this past Tuesday at Sault Area Hospital. She was 78.

The past two years have been rough on the Martin family, known in agricultural circles as one of Northern Ontario's most progressive dairy producers.

It's been just a little over two months since Jewel's husband Stan, the family's hard-working patriarch, died suddenly at Matthews Memorial Hospital in Richards Landing, St. Joseph Island, on June 14.

Nineteen months before that, their daughter, Shiela Matheson, a former Algoma school trustee, died of cancer.

Then came Jewel's death this week.

Three passings in less than two years - all hard blows for a close-knit Tarbutt Township farm family.

But at Jewel's funeral yesterday at the Arthur Funeral Home and Cremation Centre in Sault Ste. Marie, grief transfigured into raw amazement when mourners were shown this astonishing trio of carrots, shown here by special permission of the Martin family.

The carrots were found in Jewel's garden the day after she died.

The following, as related to SooToday.com by relatives and friends of the
Martin family, is the remarkable story of the Miracle of Stan Martin's
Ring.

************************************************
Best friends for 72 years

Stan and Jewel had been married for 59 years, but they'd been best friends for much longer than that.

Their relationship actually began at West Korah school just outside the Sault, when Jewel was in Grade 1 and Stan in Grade 2.

It was the first day of classes, and Jewel was sitting under a tree, crying because she didn't know where she was supposed to put her lunch pail. Stan, exhibiting a compassion for which he would become known throughout his adult life, came over to find out what was wrong.

He resolved Jewel's problem and the two remained close friends through their school years, marrying in 1947. They moved to Tarbutt to take up farming, a calling at which Stan excelled.

Introducing the upright silo

The Martins pioneered the use of upright silos in Northern Ontario and Stan became a silo distributor, at the same time as he and Jewel built a herd of dairy cows that at one point numbered 90 - quite impressive for an Algoma operation.

Stan served on the Ontario Milk Marketing Board as a provincial director and was also a director of the Algoma Co-op in Echo Bay.

"In addition to being a hard worker, he cared for people," recalls Mike Tulloch, the Thessalon lay preacher who presided at both Stan's and Jewel's funerals.

"He could never stand to see someone treated poorly," Tulloch says. "He stood up for the less fortunate, whether they were children or a wife who was being treated badly."

Stan Martin was also known for his sense of humour, which he deftly employed to keep people in line and to defuse tense situations.

Jewel, the matriarch

As hard as Stan worked, Jewel worked even harder.

She laboured alongside Stan in the barn, milked the cows, loaded the hay (one year, there were 32,000 bales) and then spent her evenings tending to the myriad needs of five children.

"She was a very positive influence to people," Tulloch says. "She accepted everybody for who they were, and they thought the world of her because she was such a positive influence."

Which brings us to Stan's ring.

He lost it about four years ago, and after he died, Jewel was often heard commenting that she wished she still had it.

Mikayla and Shelley pull carrots

Then, the day after Jewel died, two of her grandchildren (Mikayla and Shelley) were pulling carrots from the garden Jewel had planted shortly after Stan died.

And there, encircling this cluster of three intertwined roots, was their Grandpa's missing ring!

Glenn Martin, clerk-treasurer for the Township of Tarbutt & Tarbutt Additional and a son to Stan and Jewel, brought the carrots to the Arthur Funeral Home yesterday.

"If we needed a sign that Shiela, Dad and Mum are together, this is a pretty good one!" Glenn says in a special card he's been e-mailing to family and friends.

'This is certainly a sign'

"It's more than coincidence," says Tulloch, who held up the inseparable carrots as he delivered the eulogy yesterday.

"I do believe in Divine Providence and this is certainly a sign," he told SooToday.com. "It's certainly a sign of comfort to the family."

Glenn Martin, meanwhile, is trying now to find the best way of preserving Jewel Martin's Miracle Carrots.


Now You Can Have Access To All Of The Stories and Articles That Were Published in Previous Issues Past Issues Of The Weekly Online News Magazine

by
Robert Kirwan: Publisher of Valley East Today

It gives us great pleasure to maintain a complete archive of previous issues of the Valley East Today Online News Magazine. We understand that there are times when you may have missed a week or would like to return to look over a previous article. Hopefully you will find this archive section useful and will share it with your friends. Everyone associated with Valley East Today is quite proud of the "Living History" we are creating and we know that it is providing a great deal of pleasure and enjoyment for people in the community. Thank you for spending some time with us today. If you have any comments, please do not hesitate to contact me at:
Inside Today's Issue...

You Can Win 100 Lotto 649 Tickets Plus Other Great Prizes Just By Subscribing To Free Weekly News Magazine

Confederation Secondary School Chargers Looking For Plenty of Fan Support When They Open Their Season At Home On Friday

First Anniversary Is Cause For Celebration of An Excellent Year For Val Caron's Fantastic Floors - Fall Renovation Projects Are The Order of the Day - Begin Planning Now!

Check Out The Picks of the Month For September At Masciangelo Motors - Great Deals Can Be Found Throughout The Entire Lot
"Life Is Not Fair…Get Used To It"

Editorial by Robert Kirwan

Couple Travels All Over North America And Decides To Settle Down In Valley East
1st Valley East Scouts Hold Registrations At Mall And Increase Membership Significantly
Valley East Ladies' Slo-Pitch League Plays Every Monday and Wednesday Evening At Centennial Fields In Hanmer
Joe Ann's Market Research Collects Important Information From Local Consumers
Beswick Denture Clinic Provides Education As Well As Patient Service
ON THE LIGHTER SIDE
Long Distance Calling???? Interested in Voice Over Internet Technology??? Need Your Computer Repaired???
Robert Kirwan Believes In The Golden Rule of Politics…Know Your People
The United Church Women of St. James In The Valley Are Very Pleased With The Support They Received At Their Annual Fall Bake Sale & Penny Table Sale
Glamorous You Nail Salon Not Only Provides Service To Clients, But Also Gives People A Chance To Get Certified In A Great Career

Popularity of "Welcome Home Gift Basket" Is Clear Indication Of Growth Of The Community

Choosing The Right Back To School Footwear Can Mean All The Difference In The World For Your Children
Ron & Lise Gladu Welcome All Visitors To Take A Tour Of Their Home Based Professional Studio
Comments From Our Readers Are Always Welcome And Will Help Us Make Valley East Today Even More Useful
"Young Eagles" Flight Rally!
2006 Valley East Sports Hall of Fame Inductions Held During Valley East Lions Charity Days
Suzanne McCarthy Wins Over $1500 In Gift Certificates As Grand Prize Winner For August
Valley East Lions Charity Days Kicks Off The Day With Popular Pancake Breakfast Sponsored by Desjardins' Food Basics
Canadian Red Cross Youth Group Is Looking For Members Who Want To Have Fun
Valley East Skating Club Returns For Another Registration Session at The Hanmer Valley Shopping Centre on September 15 and 16

Most Recent Previous Issues...

Confederation Secondary School Football Program Looking Forward To A Solid Season
The Secret To A Happy Family – Treat Each Other Like Strangers...Editorial by Robert Kirwan

Valley Pentecostal Church Provides Local Food Banks With Windfall That Will Go A Long Way To Help Those In Need This Year

Late Registration For Valley East Minor Hockey Association Will Be Held Saturday & Sunday - September 8 & 9, 2006

Valley East Cobras 'AAA' Midget Team Gearing Up For A Great Season - Looking For Fan Support

This Could Be Your Last Chance To Qualify For A Trip To Cuba!

Robert Kirwan Believes In The Golden Rule of Politics… "Know Your People!"

Robert Kirwan Urges All Residents of Valley East To Support Organizations Such As LE CENTRE CLUB AGE d'OR DE LA VALLEE / GOLDEN AGE CLUB

CIBC Run For The Cure Sets Up In The Mall To Raise Funds For Breast Cancer Research
FREE AIRPLANE RIDES
Roy St. Jacques Continues To Collect Pop Cans In Support Of Special Olympics Bowling League
Suzanne McCarthy Wins Over $1500 In Gift Certificates As Grand Prize Winner For August
Our Children / Our Future Raising Funds By Selling Tickets To Councillors' Breakfast at Valley East Lions Charity Days
Valley East Skating Club Returns For Another Registration Session at The Hanmer Valley Shopping Centre on September 15 and 16
OPEN INVITATION TO GIRLS NIGHT OUT
GREATER SUDBURY COMPETITIVE


LADIES BASKETBALL LEAGUE
Azilda Dog House Sports Bar Relics Lose In Championship Final

Kelsey Patterson Has Chance To Earn Bursary By Volunteering Her Time To Recruit Blood Donors
Valley East Cobras 'AAA' Midgets Annual Golf Tournament Was Enjoyed By All
Coping With Change Is All A Matter of Going With The Flow

...Editorial by Robert Kirwan

Valley East Ringette Association Registrations Expected To Reach Record Levels

Another Year Gets Under Way For Valley East Minor Hockey With Registrations At The Hanmer Valley Shopping Centre

Valley East Ladies' Slo-Pitch League Plays Every Monday and Wednesday Evening At Centennial Fields In Hanmer

Valley East Cobras AAA Midgets 2006-2007 Team Tryout Schedule

2006 Northern Ontario Fastpitch Champions
Valley East Skating Club Registers Dozens of Hockey and Ringette Players For Power Skating Sessions During The Winter

Registration Time for Minor Hockey
Valley East Skating Club Takes Registrations At The Mall
Valley East Ringette Association Expecting To See Big Increase In Enrolment This Season
How Old Would You Be If You Didn't Know How Old You Are?

...Editorial by Robert Kirwan

Valley East Cobras AAA Midgets 2006-2007 Team Tryout Schedule

Combination Locks Now Available At Sixteen Different Locations In The Community Each Week.

Question of the Week Answered by Robert Kirwan

Valley East is the place to be!

Summer Students Enjoy Experience With Community Living Greater Sudbury This Summer
3rd Annual Model Airshow & Yard Sale Hosted by Greater Sudbury Modelers

Valley East Lions Club Selling Tickets On 2006 Pontiac Wave To Raise Funds For Local Churches
Power Skating Program Benefits Skaters of All Ages
Home Comfort Specialists From Independent Energy Services Will Be On Display At The Mall To Help You Get Your Heating System Ready For Winter

Hanmer's Joey Niceforo Stars In 2006 Toronto Summer Music Festival's Don Giovanni Playing From August 17 to 20

"That's Not My Problem"...Four Words That Will Surely Lead To Disaster!

...Editorial by Robert Kirwan

A Very Successful 2006 Valley East Minor Soccer Season Comes To An End
Big Daddy Radio 103.9 Comes To The Hanmer Valley Shopping Centre For Special Sales Event
Doug & Linda Beswick Featured On The Cover of International Magazine For Oxyfresh
Long Distance Calling???? Interested in Voice Over Internet Technology??? Need Your Computer Repaired???
Peace & Serenity Awaits Visitors At Any Time of Day In Blezard Valley
Frontier Trail Association Is Trying To Promote Trails For Non-Motorized Recreation

TO VIEW ALL OF THE PREVIOUS ISSUES

MAKE SURE YOU TAKE TIME TO VISIT THE VALLEY EAST TODAY COMMUNITY WEB SITE AT www.valleyeasttoday.ca
WELCOME TO THE FRONT PAGE
TUESDAY, SEPTEMBER 12, 2006