WELCOME TO THE FRONT PAGE
TUESDAY, SEPTEMBER 5, 2006
Confederation Secondary School Football Program Looking Forward To A Solid Season

Brandon Dougan, on the right, is heading into his second year as Head Coach of the Confederation Secondary School Chargers football team with a great deal of optimism about the club and the future of the sport in general. Above he is shown with one of his community assistant coaches, Pastor Steven Gudrie of the Valley Pentecostal Church in Hanmer. Pastor Steve is in charge of the line, a position he himself played during his younger years. Brandon has several other assistant coaches helping him mold the team, including Steven's son, Curtis Gudrie, who is Youth Pastor at Valley Pentecostal.
Confederation is beginning its 5th year in the 8-team league, and to its credit, already holds one City Championship which was captured during its 2nd year of operation. The players were in training during the week prior to school opening, going through twice-a-day workouts to get back into shape for the North-South exhibition game which will be played this Friday night, September 8, at Queen's Athletic Field in Sudbury.

The six-game schedule doesn't leave much time to play yourself into shape, so each game must be considered a must-win for the club. The North-South contest is the only exhibition game for the club. On that night six of the eight teams will be in action, each competing in a game equivalent to one-half. Confederation will start things off at 4:00 p.m. with a game against St. Benedict.

"Everybody who comes out to practice will make the team," explained Dougan, who plays as a receiver with the Sudbury Spartans during the summer. "The coaching staff is prepared to work with each of the boys to develop their playing skills and help them enjoy the game. We all have a background in football and truly believe in the benefits of being part of a football team."

Dougan also coaches in the Joe MacDonald Football League and is committed to putting something back into the game he loved as a young kid. "I remember playing for the Paris Street Blues in high school under Sid Forester. He helped me go on to a University career with the St. Mary's Huskies. I love the game and I saw what it did to help me accomplish my goals. Now as a teacher, I can look forward to working with young people all my life."




VISIT THE
VALLEY
EAST
TODAY
COMMUNITY
WEB SITE


COMMUNITY
SECTION

Welcome
Our Spirit
Our Schools
Our Churches
Our Food Banks
Our Library
Our Cemetery
Our Playgrounds
Our Sports
Our Recreation
Our People
Sports Complex
Youth Centre
Organizations

MUNICIPAL
SECTION

Election 2006
City of Sudbury
Fire Services
Animal Shelter
Hospital

REFERENCE
SECTION

Local Media

The Vision Paper
Toronto Star
TSN Sports
Weather Network
Canada 411
Yellow Pages
Horoscopes
Lotto 649
Student Page
After The Whistle
Ponds & Gardens
Grotto Sudbury
Yahoo Search
Google Canada

Corporate Web Sites
Worth Visiting
Beswick Denture Clinic
Heatwave Tanning Salon
Fantastic Floors
Independent Energy Serv.
Hanson Family Dentistry
Valley View Cleaners
Sole Mates Footwear
Ron Gladu Photos
VCCNet
Masciangelo Motors

Infocom Canada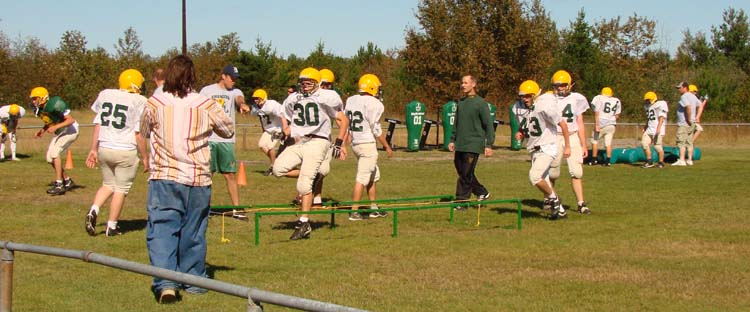 The Confederation Secondary School Chargers play their first home game of the season on Friday, September 15, 2006 at 1:30 in the afternoon at Confederation. Their opponent will be the Secondary School North Stars. It is a special school spirit game where students will be allowed to take time off class to come out and cheer on their team. The general public is also invited to come out and watch high school football being played on "the best football field in the district" according to Head Coach, Brandon Dougan. This year Confederation has four home games during the regular season. When he is not on the field, Brandon Dougan teaches Special Education at Confederation.

Dougan has played for the Sudbury Spartans for the past ten years and is recognized as one of the most effective offensive players in the league. In fact he was named to the NFC All-Star squad thanks to his 2006 season which saw him catch 22 passes for 440 yards, placing him second overall in the league. He scored four touchdowns.

Dougan will be on the field when the NFC All-Star Game comes to Queen's Athletic Field on Saturday, September 9, 2006.

The complete schedule for the 2006 season for Confederation is as follows:
REGULAR SEASON

Friday, September 15
1:30 p.m. at Confederation against Sudbury Secondary
Friday, September 22
7:00 p.m. at Queen's Athletic Field against Lasalle
Friday, September 29
7:00 p.m. at Queen's Athletic Field against St. Charles
Wednesday, October 4
3:30 p.m. at Confederation against Loellen
Friday, October 13
3:30 p.m. at Confederation against Notre Dame
Wednesday, October 18
3:30 p.m. at Confederation against Lockerby

PLAYOFFS

Semi-Finals
October 25 to 28
The teams will be divided into two divisions for the playoffs with the top four in one division and the bottom four in another. Semi-Finals will be played between October 25 and 28 with the winners advancing to the finals of their respective divisions.

Finals
Friday, November 3
The two final games will be played at Queen's Athletic Field with the bottom four division meeting at 4:00 p.m. and the City Championship Game at 7:00 p.m.


WHAT'S INSIDE THIS WEEK'S ISSUE OF
VALLEY EAST TODAY

Confederation Secondary School Football Program Looking Forward To A Solid Season
SPAGHETTI SUPPER DINNER TICKETS FOR VALLEY EAST LIONS CHARITY DAYS NOW AVAILABLE FROM CONFEDERATION SECONDARY SCHOOL GROUP

First Anniversary Is Cause For Celebration of An Excellent Year For Val Caron's Fantastic Floors - Fall Renovation Projects Are The Order of the Day - Begin Planning Now!

Check Out The Picks of the Month For September At Masciangelo Motors - Great Deals Can Be Found Throughout The Entire Lot
Index of Previous Issues

The Secret To A Happy Family – Treat Each Other Like Strangers...Editorial by Robert Kirwan

Valley Pentecostal Church Provides Local Food Banks With Windfall That Will Go A Long Way To Help Those In Need This Year

Late Registration For Valley East Minor Hockey Association Will Be Held Saturday & Sunday - September 8 & 9, 2006

Valley East Ladies' Slo-Pitch League Plays Every Monday and Wednesday Evening At Centennial Fields In Hanmer

Valley East Cobras 'AAA' Midget Team Gearing Up For A Great Season - Looking For Fan Support

This Could Be Your Last Chance To Qualify For A Trip To Cuba!

Beswick Denture Clinic Provides Education As Well As Patient Service

Robert Kirwan Believes In The Golden Rule of Politics… "Know Your People!"

On the Lighter Side

Long Distance Calling???? Interested in Voice Over Internet Technology??? Need Your Computer Repaired???

Election Information Section

Robert Kirwan Urges All Residents of Valley East To Support Organizations Such As LE CENTRE CLUB AGE d'OR DE LA VALLEE / GOLDEN AGE CLUB

CIBC Run For The Cure Sets Up In The Mall To Raise Funds For Breast Cancer Research

Popularity of "Welcome Home Gift Basket" Is Clear Indication Of Growth Of The Community

Choosing The Right Back To School Footwear Can Mean All The Difference In The World For Your Children
Keep The Spirit Alive Contest Is Being Well-Received By Local Residents
Ron & Lise Gladu Welcome All Visitors To Take A Tour Of Their Home Based Professional Studio
Comments From Our Readers Are Always Welcome And Will Help Us Make Valley East Today Even More Useful

FREE AIRPLANE RIDES
Roy St. Jacques Continues To Collect Pop Cans In Support Of Special Olympics Bowling League
Suzanne McCarthy Wins Over $1500 In Gift Certificates As Grand Prize Winner For August
Valley East Lions Club Selling Tickets On 2006 Pontiac Wave To Raise Funds For Local Churches
Our Children / Our Future Raising Funds By Selling Tickets To Councillors' Breakfast at Valley East Lions Charity Days
Valley East Skating Club Returns For Another Registration Session at The Hanmer Valley Shopping Centre on September 15 and 16
OPEN INVITATION TO GIRLS NIGHT OUT
GREATER SUDBURY COMPETITIVE


LADIES BASKETBALL LEAGUE
Azilda Dog House Sports Bar Relics Lose In Championship Final

SPAGHETTI SUPPER DINNER TICKETS FOR VALLEY EAST LIONS CHARITY DAYS NOW AVAILABLE FROM CONFEDERATION SECONDARY SCHOOL GROUP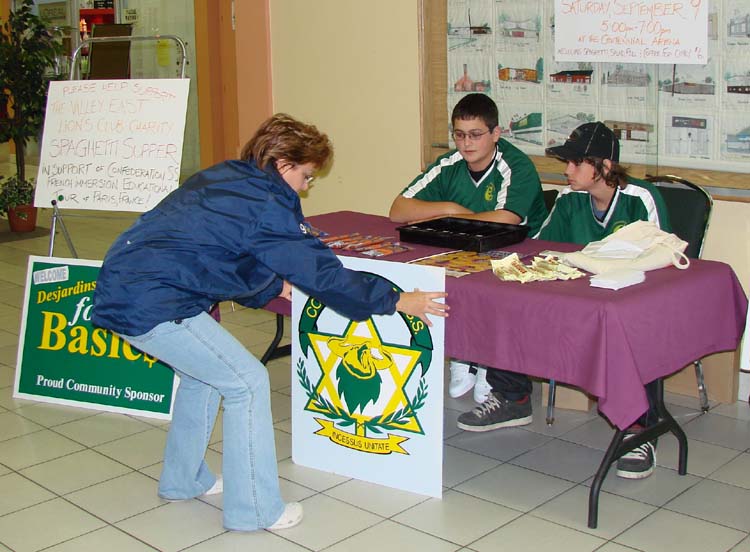 The Confederation Secondary School French Immersion Educational Tour group is now selling tickets to the Spaghetti Supper which will be one of the highlights of the Valley East Lions Charity Days being held at the Centennial Arena in Hanmer on Saturday, September 9, 2006. Tickets are only $6.00 each. For this you get a full plate of spaghetti, salad, a bun and coffee. Companies, businesses and organizations are encouraged to consider purchasing a whole table of eight seats for only $48.00. The food for the Spaghetti Dinner is being provided by Desjardins' Food Basics so that the entire proceeds of the event will go to help the Travelling Group.
If you are interested in purchasing tickets to support the Confederation Secondary School French Immersion Educational Tour, you can contact Gisele McCue at 969-3996.
In the above photo, Gisele is shown putting the final touches to the display table at the Hanmer Valley Shopping Centre on September 2. Two of the students who will be going on the trip next March were on hand for the day selling tickets. The students, Chris Burns on the left and Ian Henri on the right, are both going into Grade 11 this year. They are looking forward to the trip which will take them to France and Italy during the March Break.
Other fund-raising activities will be held during the year so that the students can earn money to pay for the trip, but more importantly so that they can develop communication and employability skills which will benefit them in their quest to become prepared for a career after they complete their formal education.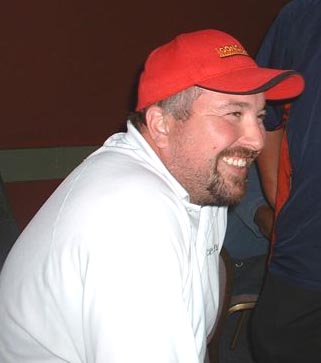 VALLEY EAST
MENS'
SLO PITCH
LEAGUE

The playoffs began on September 1, 2006.
Some of the action during opening night were captured on camera below.
Our playoff information is being provided by Brian Beaupre who has been providing us with up to date standings all during the season.
Check out the standings by clicking on the link below to open up a WORD document which will contain the latest standings, courtesy of Brian Beaupre.
We appreciate Brian's efforts in providing us with this important service and will keep you up to date with the latest playoff scores. It should be an exciting race in all of the four playoff divisions as the teams this year are extremely competitive within their own groups.
FIRST HALF
FINAL STANDINGS
FINAL STANDINGS &
PLAYOFF MATCH-UPS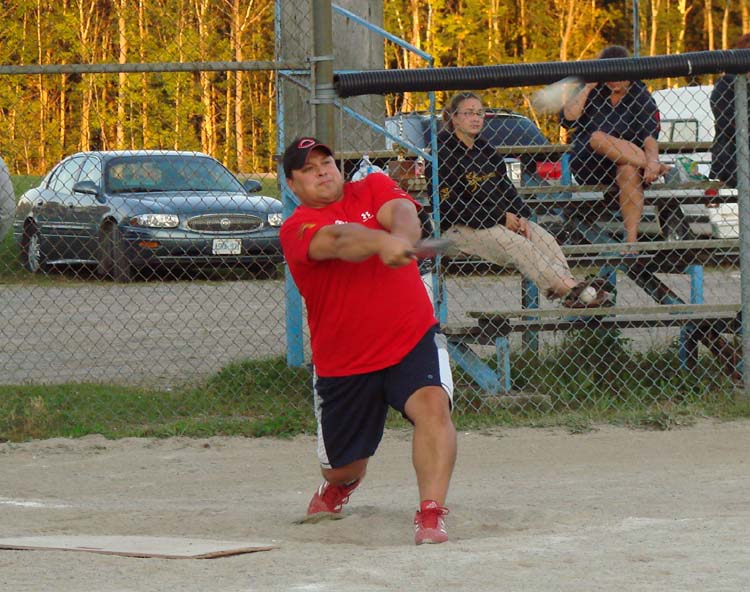 Bobby Brunet, 1st Base with Auto Tech, gives the ball a good ride during playoff action on September 1. Auto Tech is playing King Sportswear in one of the best of three "C" Division semi-final series.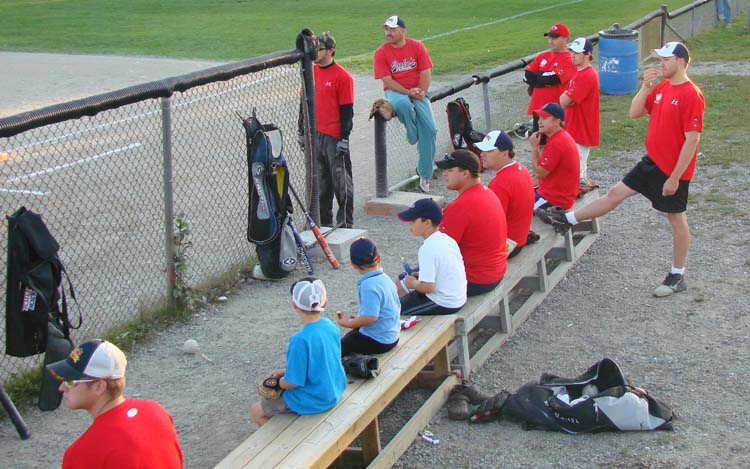 The Auto Tech players, are all into the game as the score remained close until the late innings. Above, they watch intently as Mud Murdock, below demonstrates that he still has speed on the base-paths and motors on to score another important run for the team that helped them take Game One.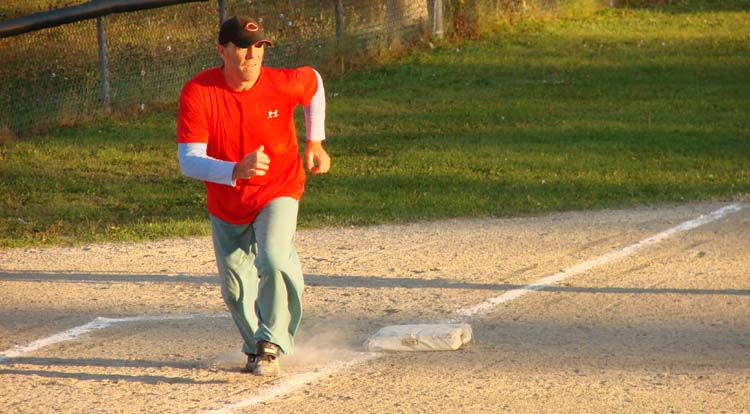 Ryan Kirwan, below, gets a jump on a fly ball during the latter stages of the game when defense was crucial in order to secure the win.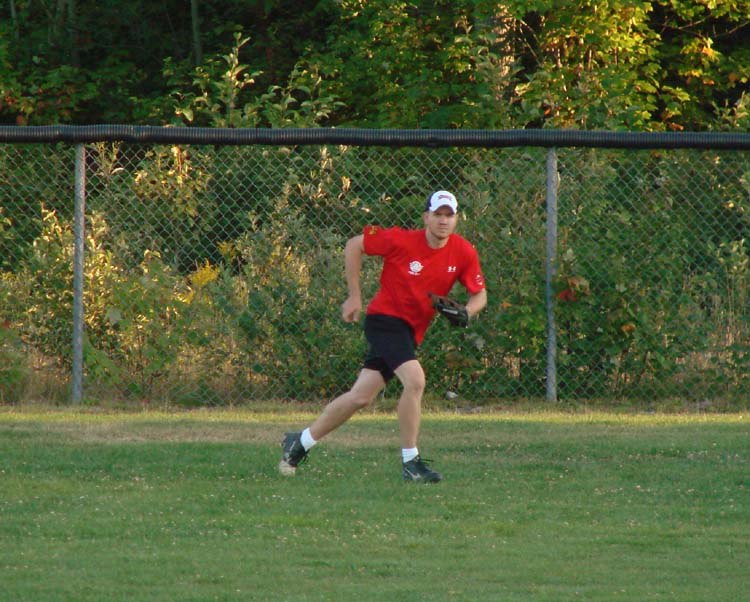 You can catch all of the playoff action at the Centennial Ball Fields every Tuesday and Thursday night as the playoffs continue to the middle of September. Spectators are always welcome to the playoffs where you will spend a couple of hours of friendly conversation with your neighbours and friends.
First Anniversary Is Cause For Celebration of An Excellent Year For Val Caron's Fantastic Floors - Fall Renovation Projects Are The Order of the Day - Begin Planning Now!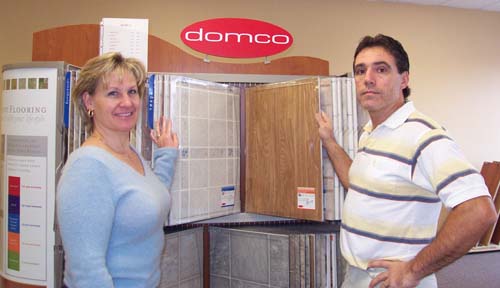 Bernie & Ron Pedneault will be approaching the first anniversary of the opening of their new store in Val Caron on October 1. It has been a great year for Fantastic Floors as they continue to establish their reputation for quality products and good, sound advice. Whether the job is big or small, you can always trust Ron to come up with excellent ideas to help you accomplish your goals within your budget constraints. One piece of advice he gives people during this time of year is that if you are thinking of doing some home renovations before Christmas, now is the time to begin looking through samples and preparing your plans. Don't wait until the last minute or you will be scrambling around and you won't be happy with the end result. Ron invites you to stop by his site in the Valley Bingo Plaza at any time to go over your plans and establish your options. He always encourages people to shop around and look for the best value because he knows that his prices cannot be beat, and he is confident in his ability to provide you with that bit of extra added value that means so much when you are renovating.
Make sure you visit their web site or call Ron today to get some more information on the Fantastic Floor experience.
FANTASTIC FLOORS, is open Monday to Wednesday, from

to

; open late until

on Thursdays and Fridays, and; open until

on Saturdays.



We also invite you to take a virtual tour of FANTASTIC FLOORS on their web site at

www.fantasticfloors.ca

2914 Hwy 69 North, Val Caron
In the Valley Bingo Plaza
897-3567
www.fantasticfloors.ca
Marymount College/Academy's 50th Anniversary Reunion
Calling all former & present students & teachers …Spouses & friends welcome also…
Sat. Oct. 14th /06 -- 11am-2pm: Open House - Marymount Academy
6pm: Reception & 6:30pm: Dinner at Howard Johnson Hotel (Brady St.)
(Seating for 300 only!)
Sun. Oct. 15th/06 -- 10:00am: Mass at Marymount
11:00am: Light Brunch
Tickets: $50./person Register online at: www.marymount.scdsb.edu.on.ca/reunion.html
Or pick up forms at St. Patrick's Church (in main entrance at Youth Bulletin Board) 39 Walford Rd.;
Christ the King Church or Vicki Dee's (Forms can be dropped off at all Sudbury Catholic Churches)
Mail cheque payable to Marymount Academy 165 D'Youville Ave. Sudbury, ON P3C 5E7
Final Registration Deadline: August 20th/2006

Check Out The Picks of the Month For September At Masciangelo Motors - Great Deals Can Be Found Throughout The Entire Lot

One of the most popular features of the Masciangelo Motors web site has been the Pick of the Month section.

Each month, Ron, Jeff, Tim and Jen select one vehicle they have on the lot that they feel is one of the best on the lot.

According to Jeff, "It seems as if a lot of people go to that part of the web site because once we list a vehicle as a Pick of the Month, it is usually sold before the end of that month."

If you would like to check out the picks for September, simply follow this link: Pick of the Month

Ron & Jeff continue to search out the auctions, both in person and on-line to bring in the best deals possible. This means that many vehicles are on and off the lot before you know it, so many people in the market for pre-owned vehicles have developed the habit of dropping in for a look on a regular basis.

You can still discuss the type of car or truck you would like to purchase and have Ron & Jeff search out the continent for exactly what you are looking for. The "Pick of the Month" section on their web site also gives you an excellent overview of the kinds of vehicles you can find on the lot.

If you want a close up look at the latest on the lot, just drop in and see Ron, Jeff, Tim or Jennifer. Better yet, go the link below and take a tour right from your computer.

You can find out much more by visiting the Masciangelo Motors web site at www.masciangelomotors.com

Now You Can Have Access To All Of The Stories and Articles That Were Published in Previous Issues Past Issues Of The Weekly Online News Magazine

by
Robert Kirwan: Publisher of Valley East Today

It gives us great pleasure to maintain a complete archive of previous issues of the Valley East Today Online News Magazine. We understand that there are times when you may have missed a week or would like to return to look over a previous article. Hopefully you will find this archive section useful and will share it with your friends. Everyone associated with Valley East Today is quite proud of the "Living History" we are creating and we know that it is providing a great deal of pleasure and enjoyment for people in the community. Thank you for spending some time with us today. If you have any comments, please do not hesitate to contact me at:
Most Recent Previous Issues...

Confederation Secondary School Football Program Looking Forward To A Solid Season
The Secret To A Happy Family – Treat Each Other Like Strangers...Editorial by Robert Kirwan

Valley Pentecostal Church Provides Local Food Banks With Windfall That Will Go A Long Way To Help Those In Need This Year

Late Registration For Valley East Minor Hockey Association Will Be Held Saturday & Sunday - September 8 & 9, 2006

Valley East Cobras 'AAA' Midget Team Gearing Up For A Great Season - Looking For Fan Support

This Could Be Your Last Chance To Qualify For A Trip To Cuba!

Robert Kirwan Believes In The Golden Rule of Politics… "Know Your People!"

Robert Kirwan Urges All Residents of Valley East To Support Organizations Such As LE CENTRE CLUB AGE d'OR DE LA VALLEE / GOLDEN AGE CLUB

CIBC Run For The Cure Sets Up In The Mall To Raise Funds For Breast Cancer Research
FREE AIRPLANE RIDES
Roy St. Jacques Continues To Collect Pop Cans In Support Of Special Olympics Bowling League
Suzanne McCarthy Wins Over $1500 In Gift Certificates As Grand Prize Winner For August
Our Children / Our Future Raising Funds By Selling Tickets To Councillors' Breakfast at Valley East Lions Charity Days
Valley East Skating Club Returns For Another Registration Session at The Hanmer Valley Shopping Centre on September 15 and 16
OPEN INVITATION TO GIRLS NIGHT OUT
GREATER SUDBURY COMPETITIVE


LADIES BASKETBALL LEAGUE
Azilda Dog House Sports Bar Relics Lose In Championship Final

Kelsey Patterson Has Chance To Earn Bursary By Volunteering Her Time To Recruit Blood Donors
Valley East Cobras 'AAA' Midgets Annual Golf Tournament Was Enjoyed By All
Coping With Change Is All A Matter of Going With The Flow

...Editorial by Robert Kirwan

Valley East Ringette Association Registrations Expected To Reach Record Levels

Another Year Gets Under Way For Valley East Minor Hockey With Registrations At The Hanmer Valley Shopping Centre

Valley East Ladies' Slo-Pitch League Plays Every Monday and Wednesday Evening At Centennial Fields In Hanmer

Valley East Cobras AAA Midgets 2006-2007 Team Tryout Schedule

2006 Northern Ontario Fastpitch Champions
Valley East Skating Club Registers Dozens of Hockey and Ringette Players For Power Skating Sessions During The Winter

Registration Time for Minor Hockey
Valley East Skating Club Takes Registrations At The Mall
Valley East Ringette Association Expecting To See Big Increase In Enrolment This Season
How Old Would You Be If You Didn't Know How Old You Are?

...Editorial by Robert Kirwan

Valley East Cobras AAA Midgets 2006-2007 Team Tryout Schedule

Combination Locks Now Available At Sixteen Different Locations In The Community Each Week.

Question of the Week Answered by Robert Kirwan

Valley East is the place to be!

Summer Students Enjoy Experience With Community Living Greater Sudbury This Summer
3rd Annual Model Airshow & Yard Sale Hosted by Greater Sudbury Modelers

Valley East Lions Club Selling Tickets On 2006 Pontiac Wave To Raise Funds For Local Churches
Power Skating Program Benefits Skaters of All Ages
Home Comfort Specialists From Independent Energy Services Will Be On Display At The Mall To Help You Get Your Heating System Ready For Winter

Hanmer's Joey Niceforo Stars In 2006 Toronto Summer Music Festival's Don Giovanni Playing From August 17 to 20

"That's Not My Problem"...Four Words That Will Surely Lead To Disaster!

...Editorial by Robert Kirwan

A Very Successful 2006 Valley East Minor Soccer Season Comes To An End
Big Daddy Radio 103.9 Comes To The Hanmer Valley Shopping Centre For Special Sales Event
Doug & Linda Beswick Featured On The Cover of International Magazine For Oxyfresh
Long Distance Calling???? Interested in Voice Over Internet Technology??? Need Your Computer Repaired???
Peace & Serenity Awaits Visitors At Any Time of Day In Blezard Valley
Frontier Trail Association Is Trying To Promote Trails For Non-Motorized Recreation

TO VIEW ALL OF THE PREVIOUS ISSUES

MAKE SURE YOU TAKE TIME TO VISIT THE VALLEY EAST TODAY COMMUNITY WEB SITE AT www.valleyeasttoday.ca
WELCOME TO THE FRONT PAGE
TUESDAY, SEPTEMBER 5, 2006