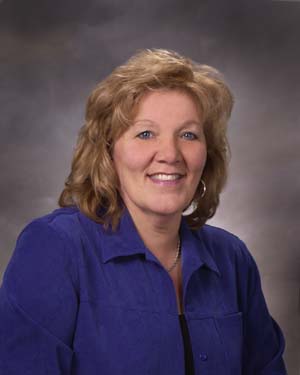 Connie Laforest was born and raised in

Sudbury

before moving to

Valley East

in 1974. Her oldest child, Corey (29) lives in Hanmer and together he and his wife, Kim (Dwyer) have provided Connie with two

of her three

grandchildren. Her daughter, Christina (28), lives in

Sudbury raising Connie's other

grandchild.

For the past 18 years, Connie has gained valuable experience in all facets of banking with the Royal Bank of Canada. She has worked at various branches in Hanmer, Val Caron, Sudbury

and

. Her passion for working with clients has lead Connie to her current position as a Residential Mortgage Specialist.

"I really enjoy working with individual clients to help them make one of the most important purchases of their life a little less stressful," Connie explained when asked why she chose this particular field of banking at this time in her career. "I totally understand where people are coming from when they are going through the process of buying a house. It can be a very frightening time in their life. I try to help them feel relaxed by removing some of the "fear of the unknown", especially for first-time buyers."

Staying on top of all of the new product lines in the residential mortgage market is one of Connie's main responsibilities. "Things are changing all of the time with residential mortgages. I make sure that I am fully aware of all of the different options available to my clients, and then we work out the best choice for their particular situation. By educating my clients, and making them feel at ease with the process, many of them are comfortable about coming back to see me when they make their next purchase, or even referring me to their family and friends. This is the greatest compliment they can give me. It means that I have done my job well and I have developed a healthy, long-lasting relationship with them. I love it when my clients treat me as a friend. After all, if they live in the Valley we are likely to be neighbours."

Connie points out that buying a house is relatively simple when you break down the steps.

1. A client will come to Connie for a pre-qualification meeting to determine the amount of mortgage for which they might be able to qualify. This will depend on their income and current debt ratio. It then gives the client an idea of the price range he/she/they can afford and gives them some focus and direction to their house hunting.

2. The client then searches the market for a house that will be satisfactory to their needs.

This is usually done through one or more real estate agents.

3. Once they find a house and settle upon a purchase price, they return to Connie for the final mortgage approval. When it comes to the pre-qualification of the amount of the mortgage, the amount is determined by the income and financial status of the client. When it comes to the final mortgage approval, the amount is determined by the value and state of the property. After the mortgage amount is approved, the payment details and terms of the mortgage are agreed upon.

4. The client is then free to take care of all of the necessary legal details of the purchase, including the closing date.

5. All that house and enjoy their new home

Connie is not afraid to show her feelings about her new career as a Residential Mortgage Specialist,. "I just love working flexible hours and being mobile. It means that I can meet my clients at a time and place when it is convenient to their schedule in a more relaxed atmosphere. There is already enough stress in the purchase of a house. Anything I can do to make it easier helps me to serve my clients in the best way possible."

Connie invites anyone who is interested in finding out more information about residential mortgages to contact her at any time by email or phone.