TUESDAY, MAY 23, 2006 EDITION
How Many Minutes Would You Like To Spend Calling Long Distance In A Month?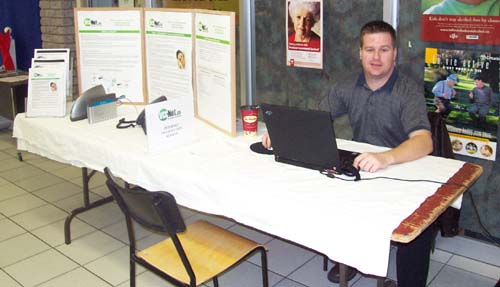 Edgar Lajambe, is a 30-year old life-long resident of Hanmer. His passion for computers and information technology goes back to a high school co-op placement he had in 1994 with a company called the AMS Group. When he graduated from St. Charles College he discovered that there were a lot of people who kept coming to him for computer repairs and consulting, so he formed his own company, Valley Computers & Consulting.

When VoIP (Voice over Internet Technology) was first introduced to Sudbury , Edgar saw this as the future of communication and immediately jumped on board; studying everything there is to know about the technology. As a result, he formed another division of his company, called VCCNet.ca Internet Solutions, which deals with long-distance discount calling and the use of the internet for communication purposes.

Edgar has joined forces with another locally owned firm, Infocom Canada Business Consultants Inc. which operates Valley East Today, a marketing & public relations company which publishes a community web site and weekly online news magazine.

"The cost of long distance calling has always been a detriment to people living in the north," Edgar explained when asked why he feels so strongly about the communication services he now provides to the community. "I know so many of my friends and acquaintances who have children or parents living in other parts of Ontario . They would love the chance to talk to them more often by phone, but long distance charges really cut into the budget; especially for seniors who would love to talk to grandchildren, or parents who have children away at university or college."

"Once people find out how easy it is to switch over to my plan, and they realize that there is absolutely no risk or long-term commitment – that all they get is the freedom to talk on the phone to anyone in Ontario for as long as they want for one low price of $15.95 a month, they are sold," Edgar went on.

"So in order to demonstrate just how good this system actually is, I am going to give everyone in Valley East and Capreol a chance to try it out for a WHOLE MONTH, absolutely free of charge. If you use it, you can continue in the plan by paying a monthly fee of $15.95. If you don't want it, you can just stop using it and it won't cost you a thing! All I want you to do is try it and see how easy it is to talk as much as you want. There is absolutely no catch. This isn't a trick. You won't get any surprise bills later on. And you are not obligated to stay with the plan once your free month is over. This is just something I believe in so much, that I am willing to let you try it out for a whole month. I know you are going to like it, so I know a lot of you will stay with the plan," Edgar declared.

To get your free month of unlimited long distance calling in Ontario , give Edgar a call at 670-4039 or you can go to his web site at www.vccnet.ca for further instructions.
Professional Studio Graduation Portraits Create A Lasting Memory Of One of The Most Significant Events In Your Life...Ron Gladu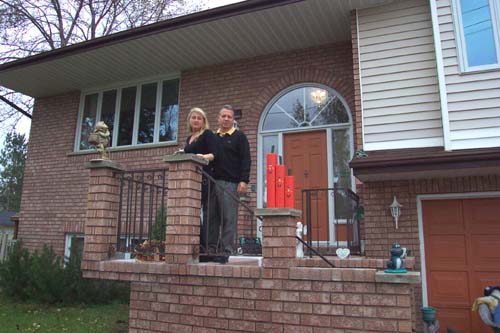 Ron Gladu has been doing graduation portraits for over 20 years and is currently the photographer for Confederation Secondary School, Ecole Secondaire L'Horizon, and Ecole Secondaire Hanmer, as well as many of the local elementary schools.

Ron and Lise thoroughly enjoy working with young students in the secondary and post-secondary schools. Graduation is such an accomplishment and it provides Ron and Lise with so much satisfaction to be able to help make the event last a lifetime with a quality portrait.

"A person's high school graduation is a once-in-a-lifetime event," Ron explained. "In fact, when you speak to most people, they will tell you that their high school graduation was the second most important event in their life, with their wedding coming first. That is why we like to take our time and do anywhere from 8 to 12 different poses in order to make sure that we get the best photo possible."

Ron will take photos of graduates at the school in order to make it convenient for all students and staff, or he will take individuals in his studio. The cost is the same whether the photo is taken at the school or in the studio, however, Ron prefers to do the work in his studio where all of the conditions are perfect and he can give each person a much higher degree of personalized service. For more information>>>>>
Ron Masciangelo Runs His Company The Way He Has Lived His Life... Having Fun And Making Long-Lasting Friends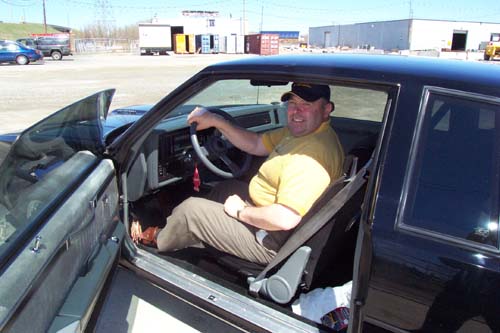 One visit to Masciangelo Motors on Falconbridge Road is all you need to be convinced that Ron Masciangelo runs his business the way he has always lived his life. He loves people and he wants to make friends. That is all you need to know to realize that this is one gentleman who will treat you right.

Ron also loves to collect classic cars. One of his favourites is a 1987 Buick Grand National is one of the last 12 that General Motors ever made. It has only 26,000 kilometers and is considered the last Muscle Car that General Motors produced which could be driven right from the showroom directly to the track. It is what Ron calls "A Rare Breed". One of Ron's favourite adventures was in the Buick Grand National. He recalls that one evening he couldn't sleep, so he got up quietly, without waking his wife, Bonnie, and went for a drive in the Buick while still in his pyjamas. He drove into Sudbury, and since it was a Friday night, some young "punks" in a Mustang drove beside him and challenged him to a "drag" down the street. The light turned green and Ron resisted as the Mustang took off like a shot to the next set of lights. When Ron pulled up beside the Mustang, the young kids once again challenged him and sent a few derogatory comments his way. This time Ron was mad, and when the light turned green, he floored it. At the next lights, when the Mustang finally pulled up beside him, the kids showed a lot of humble respect for this "old guy in his pyjamas".

You can visit Masciangelo Motors by going to their web site at www.masciangelomotors.com
Doug & Linda Beswick Featured On The Cover Page Of International Magazine For Oxyfresh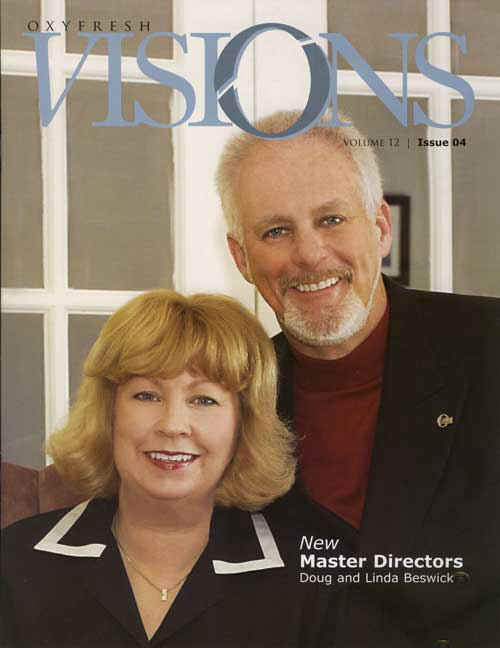 Besides being recognized throughout the Greater Sudbury Area as one of the most successful Denturists in the province of Ontario, Doug Beswick, owner of Beswick Denture Clinic, and his wife, Linda, were recently honoured as Master Directors of Oxyfresh and appear on the cover of the company's international magazine.

Doug and Linda became involved in the distribution and promotion of Oxyfresh in Canada several years ago and have been so successful in developing their business that they have been recognized as one of the top directors in the Oxyfresh

organization.
Doug and Nicole Brunet provide denture services to patients out of their office at the Hanmer Valley Shopping Centre. Beswick Denture Clinic also has an office in Sudbury on Barrydowne Road.
Linda, who is a Registered Nurse, provides professional footcare treatment out of both locations.
If you would like to find out more about Beswick Denture Clinic or the Beswick Footcare Clinic, simply go to their comprehensive web site at the following link>>>>
Now Is The Perfect Time Install New Flooring In Your Camp or Camper - See Ron At Fantastic Floors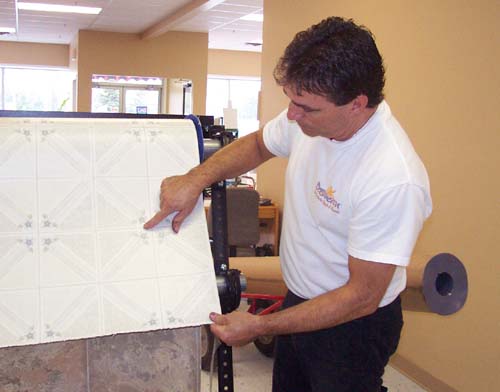 When it comes to vinyl flooring, Fantastic Floors has just about everything you can imagine.
Now that summer is here, Ron has also assembled some inexpensive vinyl which is an excellent choice for people who are looking for flooring for their cottages or trailers.
This is right in the store and can be taken out on a cash-and-carry basis. In fact, some of his rolls cost almost the same as peel-n-stick products you can pick up at the hardware stores. Putting down the floor as a role is so much easier and is naturally a better product.
The 'Builder's Choice' vinyl below is an example of one of the four different patterns that Ron has in stock for use in camps, trailers and anywhere else where all you want to do is cover up a floor to make it look nice for seasonal use. Besides being inexpensive, the flooring can be 'loose laid' so you do not need any adhesive and it is extremely easy to install. This 'cash 'n carry' product sells for only 79 cents a square foot, so it can fit every budget.
Visit the Fantastic Floors web site for more information on all of their products >>>>>
Sole Mates Family Footwear Expands With Opening Of Second Location At The Rainbow Centre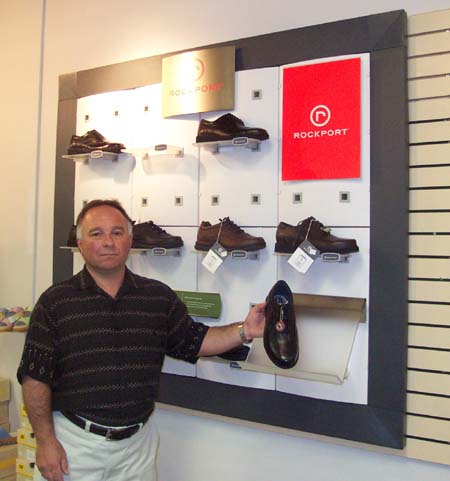 Rob Cousins, owner of Sole Mates Family Footwear is pleased to announce that he has opened up a new 3600 square foot store at the Rainbow Centre in Downtown Sudbury.

Sole Mates Family Footwear now has two locations in the City of Greater Sudbury . The first store opened in the Hanmer Valley Shopping Centre in the spring of 2003. The decision to expand to Downtown Sudbury was based on several factors.

"Our philosophy at Sole Mates Family Footwear is based on the fact that we want to establish a long-term relationship with each of our customers. We are not interested in a 'one-time' sale. We want our customers to come back to us on a continuous basis, so we give them personalized service and pay particular attention to their individual footwear needs," explained Cousins. "During the first couple of years we noticed that a growing number of our regular customers were coming from Sudbury . Therefore, I began to look for available sites in Sudbury in order to provide a more convenient location for customers who lived outside of the communities of Valley East and Capreol."

According to Cousins, the Rainbow Centre offered everything he was looking for in a second location. "The Rainbow Centre has become one of the most popular shopping centers in the City of Greater Sudbury . The management is committed to improving the shopping experience for customers of all ages and it's overall image has been revitalized as a result of the opening of the Hart Department Store. This is an ideal location for the kind of service we provide to our own customers. The Rainbow Centre is right beside the Public Transit Terminal; it is in the middle of a high density downtown residential area; it is within walking distance of several hotels and motels; and it is in the heart of the downtown business district which contains thousands of office workers from the entire City of Greater Sudbury . On top of that, there is free parking for our customers and I was able to secure one of the prime locations within the Rainbow Centre."

The initial response from the public since the opening of Sole Mates Family Footwear in the Rainbow Centre has been overwhelming. "Even I didn't expect the immediate results we are receiving. Everybody we have spoken to is extremely impressed with the layout, the selection, the quality and most of all, the personal service. We will continue to go out of our way to completely satisfy the needs of every one of our customers. Whether you are visiting from out of town, or you are a life-long resident of the Greater Sudbury Area, you can rest assured that you will be given the special treatment you deserve at Sole Mates Family Footwear. That is our guarantee and it is something you can count on."

For more information please contact Rob Cousins at (705) 969-7549 or (705) 675-7613. You can also visit our web site at www.solematesfamilyfootwear.ca.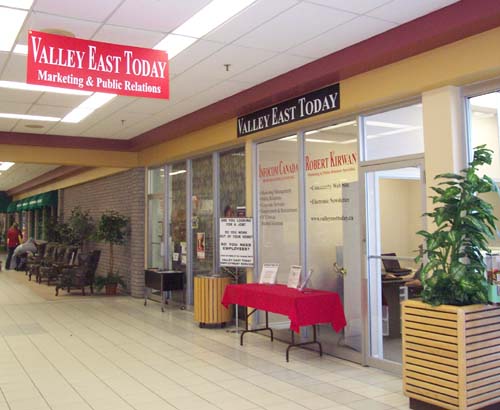 Mall Marketing Office Now Located At Valley East Today Main Office In The West Wing

The Mall Marketing Office has moved to the other side of the mall and is now located in the offices of Valley East Today, which can be found beside Shelley Martel's office in the West Wing.

Robert Kirwan, Marketing and Public Relations Director for the Hanmer Valley Shopping Centre also owns and operates Valley East Today.
For The Political Section

Return To The Front Page


For The full Valley East Community Web Site go to www.valleyeasttoday.ca