TUESDAY, MAY 30, 2006 EDITION
After Decades of Providing Shade, Perhaps It Is Time To Get Rid Of Those Huge Poplars Before Someone Gets Hurt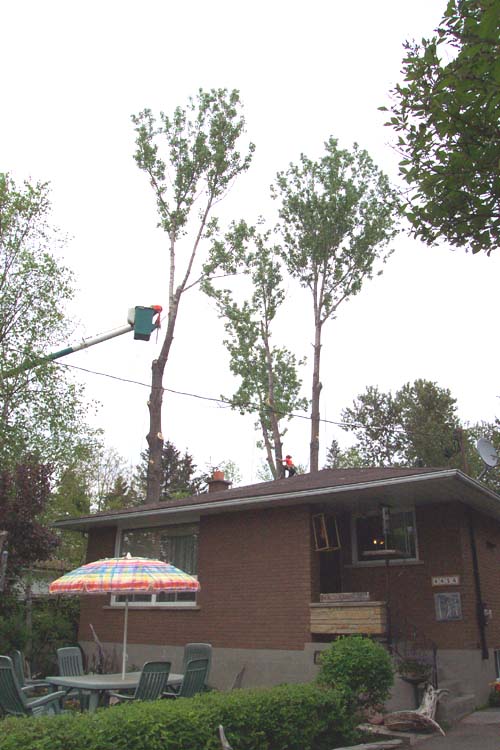 Several decades ago, when the town of Valley East was expanding rapidly and new subdivisions were going up all over the community, the 'poplar' was considered one of the best trees to plant because it grows very quickly and can rapidly enhance your property by providing shade within a couple of years.

These very same poplar trees that were planted 20 or 30 years ago pose a serious hazard to property and people now that they have grown to 80 feet or more and are at risk of rotting and breaking off.

The three trees being removed in the photo to the right pose just such risk. In fact, every time there was some kind of strong wind during the past few years, it was not unusual to find the odd large branch on the ground around these trees. So, this spring, the property owner decided to take preventative measures and hire a professional company to take the trees down before any major damage could occur.

Because of their proximity to the two adjacent houses, as well as the fact that all three trees were in excess of 80 feet high, it took almost two full days of work by a crew of trained professionals to take the trees down.

Matt Marleau, co-owner of McGuire's Tree Guys Ltd. indicated that jobs like this are what demonstrate just how skilled the specialists must be in order to dismantle a tree, piece by piece without doing any damage to the houses or property in the vicinity.

In the photo, you can see one of the workers using a boom bucket to work on the closest tree. However, the other two trees on the far side were too far away to get at with the boom truck. Hence, Allan, a summer student who is training to become an arborist at Sir Sanford Fleming College, was forced to scale the trees, cut the branches and have them lowered to the ground. You can just see Allan working his way up the 2nd tree in the photo.

Marleau indicated that removing large trees from residential lots is a huge part of their summer business schedule. "We don't even have to advertise much. Every time we are doing a job like this one, dozens of cars stop by to ask for a business card and a free quote. We are schedule for a couple of weeks in advance all summer long.

All residents of Valley East and Capreol should examine the tall trees they have on their property. A strong wind may be all it takes to weaken an already damaged or rotten tree. The next branch may fall on your house. Worse still, it could fall on an unsuspecting child who just may be in the neighbourhood playing.

If you have any questions, or wish to receive a free quote on your job, give Matt a call at (705) 897-1184.
Long Distance Calling???
? Interested in Voice Over Internet Technology??? Need Your Computer Repaired???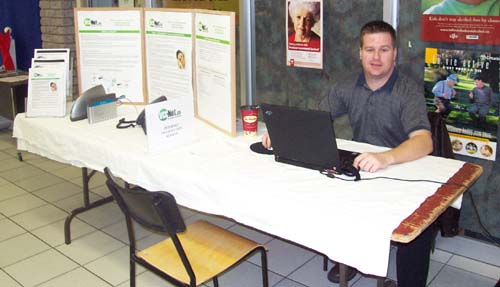 Edgar Lajambe, is a 30-year old life-long resident of Hanmer. His passion for computers and information technology goes back to a high school co-op placement he had in 1994 with a company called the AMS Group. When he graduated from St. Charles College he discovered that there were a lot of people who kept coming to him for computer repairs and consulting, so he formed his own company, Valley Computers & Consulting.

When VoIP (Voice over Internet Technology) was first introduced to Sudbury , Edgar saw this as the future of communication and immediately jumped on board; studying everything there is to know about the technology. As a result, he formed another division of his company, called VCCNet.ca Internet Solutions, which deals with long-distance discount calling and the use of the internet for communication purposes.

Edgar has joined forces with another locally owned firm, Infocom Canada Business Consultants Inc. which operates Valley East Today, a marketing & public relations company which publishes a community web site and weekly online news magazine.

"The cost of long distance calling has always been a detriment to people living in the north," Edgar explained when asked why he feels so strongly about the communication services he now provides to the community. "I know so many of my friends and acquaintances who have children or parents living in other parts of Ontario . They would love the chance to talk to them more often by phone, but long distance charges really cut into the budget; especially for seniors who would love to talk to grandchildren, or parents who have children away at university or college."

"Once people find out how easy it is to switch over to my plan, and they realize that there is absolutely no risk or long-term commitment – that all they get is the freedom to talk on the phone to anyone in Ontario for as long as they want for one low price of $15.95 a month, they are sold," Edgar went on.

Edgar also repairs and programs individual computers for both commercial and residential use. You can drop in and see him at his office in the Hanmer Valley Shopping Centre, or he will come directly to your home or office.

Whatever you are looking for, give Edgar a call at 670-4039 or you can go to his web site at www.vccnet.ca and see how he can meet your needs.
With New Border Requirements Many People Travelling To The United States Will Need Passports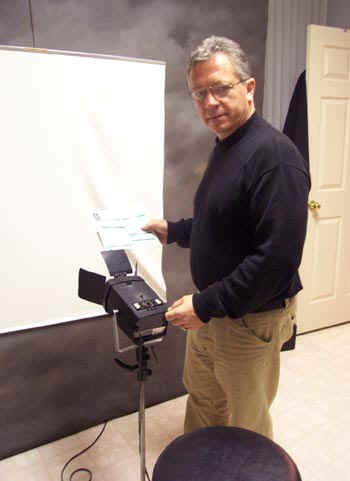 Since Ron Gladu Photos is one of the very few, if not the only place in Valley East, where a person can get a passport photo taken, he is extremely busy providing this service to local residents who travel out of the country.

"There doesn't seem to be a slow time of year for passport photos," explained Ron. "People are travelling at all times of the year, and countries are getting very particular about their requirements when it comes to passports. We do between 25 and 30 passport photos a week, so there are a lot of people travelling from Valley East and Capreol."

At first glance it would appear that taking a photo for your passport is a relatively simple procedure. However, after speaking to Ron about this, it is obvious why so many people complain about having their passport applications rejected because of improper photos.

"One of the things I am particularly proud of is that we are so sure that our photos will be accepted that we will guarantee our work. If your photo is ever rejected, we will do another one for you free of charge," explained Ron. "We have a special section of our studio all set up for these photos with the required three lights so that there are no shadows. We have a plain white background and we remind our clients that they cannot wear a white top when they take the photo. For individuals who have white hair, we have a special "hair light" (shown in the insert) that separates the subject from the background so that you can tell where the hair ends and the background begins. It is absolutely critical that you do not smile, or even have any opening between your lips. Your lips must be pressed together. The photo may be taken in black and white or in colour, but we take all of ours in colour. And it must be the right size with a proper stamp on the back."

A photo can be rejected for violations of any of the above criteria, so it is important that everything be done right the first time. "It might take a few weeks for an application to be processed, so it is extremely frustrating for a person to have it rejected because of an improper photo. That means you have to take another picture, get another signature from a guarantor, who sometimes charges you for this service, and then send it off again.

Ron Gladu Photos also take photographs for the F.A.C. Gun registry, citizenship applications and also for work VISA's.
Masciangelo Motors Carries Wide Variety of Mopeds For People Of All Ages And Interests
Ron Masciangelo is a familiar name in the car business around Greater Sudbury. This has been his career since 1974, and it has been his son, Jeff's, since he was "old enough to wash cars".

Masciangelo Motors was created in 1993 and since then this family run business has developed a solid reputation for selling quality pre-owned vehicles at an affordable price. The number of return customers is proof positive that people are satisfied with the products they purchase from Masciangelo Motors.

So, when Ron was asked to become the sole authorized Northern Ontario dealer for Tomos Mopeds, it took him two years to investigate the company thoroughly in order to make sure that the product was worthy of the Masciangelo stamp of approval. It passed the test. Now, after four years, Tomos models are still flying out of the showroom as customer after customer discovers the benefits of owning one of these attractive, versatile vehicles.

You can find out more about the selection of Mopeds by visiting the Masciangelo Motors web site at www.masciangelomotors.com
Nicole Brunet of Beswick Denture Clinic Provides Readers With Series of Articles on Combating Bad Breath

Bad breath or halitosis is a common problem among individuals and can range from moderate to sever, acute (short term) or chronic (long term). There are many contributing factors when it comes to bad breath.

During the next few weeks I will be writing on the different causes, from the connection between dentures and halitosis, to medical disorders that can cause bad breath.

With all the different contributing factors of bad breath one thing is certain, good oral hygiene is imperative in helping to control your breath. If you think you have bad breath seek treatment, once you can pin point the cause or source of your bad breath the success is more attainable.

Look for next weeks article when we talk about how bacteria and the oral cavity play a large role in bad breath.

If you would like to find out more about Beswick Denture Clinic or the Beswick Footcare Clinic, simply go to their comprehensive web site at the following link>>>>
FANTASTIC FLOORS Introduces Quality 'Roll Ends' At The Best Prices In The City!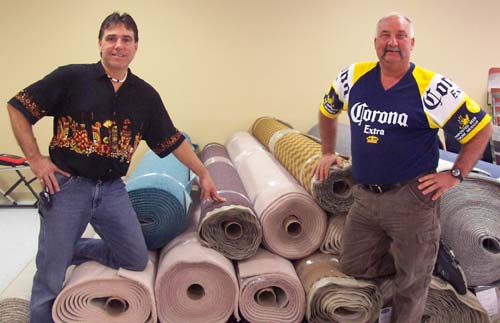 Ron Pedneault, owner of Fantastic Floors, located in the Valley Bingo Plaza in Val Caron, and his Sales Manager, Andy Szanto, are shown above examining a new shipment of "roll ends" that have just arrived at the store.

Now that we have entered the spring season and people have been opening up their cottages, many of Ron's customers have been asking him if he would search out "roll ends" that could be used for seasonal dwellings.

"We've always made it perfectly clear that Fantastic Floors was in business to provide what our local customers need," explained Ron. "So when we heard that there was a need for roll ends, we decided to search out the suppliers."

The biggest challenge facing Ron and Andy was not in finding roll ends at low prices. There are plenty of roll ends available from manufacturers at bargain basement prices. However, the tremendous support Ron has experienced since opening on October 1, 2005 has been a direct result of his commitment to quality – not only in the level of service he provides to his customers, or in his guarantee lowest prices, but also in the quality of his products. It has been the mix of service, quality and prices that has quickly moved FANTASTIC FLOORS to the head of the class when it comes to the flooring business.
"I am not interested in a one-time sale," Ron emphasized. "I want my customers to keep coming back to me for all of their flooring needs, and I want them to tell their family and friends about us. That means that when you come through our doors, you can be certain that you will be given the kind of treatment that will make you happy you dropped in. You will leave here knowing that your business is important to us and that we will take good care of you."
"So I did not just go out to find roll ends. I will only buy roll ends of quality carpeting. And I will only buy those products if I can keep my prices lower than any other flooring outlet in the entire City of Greater Sudbury ," stated Ron with pride. "I guarantee that you won't find anyone who can beat our prices on the roll ends I have in stock. Furthermore, I guarantee you won't be disappointed with the quality of the carpeting you get from our roll ends."
After spending over 30 years working in the flooring business on everything from installing to sales and management, Ron has found that the transition to owning and operating his own store has been extremely satisfying.

"There are a lot of stores in the area selling flooring products," explained Ron. "You can get hardwood, laminate, ceramic tiles, and carpeting from many other places, so at FANTASTIC FLOORS we know that we have to go out of our way to offer our customers that 'something extra' that they may not be able to find elsewhere. It's that 'something extra' that makes us different."
FANTASTIC FLOORS, is open Monday to Wednesday, from to ; open late until on Thursdays and Fridays, and; open until on Saturdays.

We also invite you to visit our new web site which can be found at www.fantasticfloors.ca to take a virtual look at FANTASTIC FLOORS.
When It Comes To Selecting Shoes For Comfort, Laurna Explains What You Should Be Looking For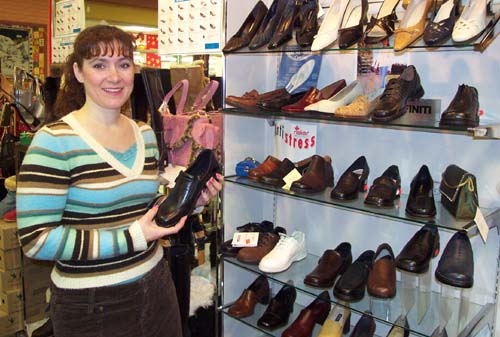 Laurna Lynn Mills - Manager of the Hanmer Valley Shopping Centre location of Sole Mates Family Footwear, loves to help her customers select the right kind of shoe for their needs. One of her favourites is what she calls the "comfort shoe".
"A comfort shoe is one that you can wear to work day in and day out," Laurna explained. "The best comfort shoes have a soft, but supportive foot bed. If you are going to be on your feet all day, you need proper support."
Laurna went on to advise that ladies who are looking for comfort shoes should avoid anything that has a heel that is more than one and a half inches in order to give your back the support it needs.
Leather shoes are also recommended over man-made products. "Leather shoes conform better to the shape of your feet. It's like when you buy leather skates. They shape to your feet very quickly. So too with leather shoes," Laurna stated. "Leather also breathes very well and absorbs perspiration so that you don't need to worry as much about odor eaters."
Leather shoes are also more "orthotic-friendly" than man-made products such as vinyl. And since most leather shoes come with a removable insole, orthotics fit well.
As for price, Laurna pointed out that women should expect to pay anywhere from $69 to $130 for a decent pair of comfort shoes. For men, the price range is from $79 to $180. However, she explained that a good pair of leather comfort shoes will last up to three times longer than a less expensive man-made product, so while the price you pay may be more at the beginning, it pays off in the long run.
No matter where you shop for your shoes, it is always good advice to ask questions and make sure that your shoes feel "comfortable" as soon as you put them on. You are going to be in your shoes a long time each day, and there is nothing worse than having sore feet at the end of the day.
If you have any questions about this article, feel free to contact Laurna at 969-7549.
For more information please contact Rob Cousins at (705) 969-7549 or (705) 675-7613. You can also visit our web site at www.solematesfamilyfootwear.ca.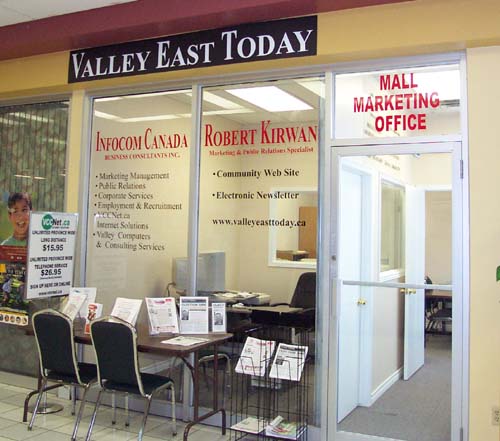 Mall Marketing Office Now Located At Valley East Today Main Office In The West Wing

The Mall Marketing Office has moved to the other side of the mall and is now located in the offices of Valley East Today, which can be found beside Shelley Martel's office in the West Wing.

Robert Kirwan, Marketing and Public Relations Director for the Hanmer Valley Shopping Centre also owns and operates Valley East Today.

Community groups, schools, churches and other organizations which are interested in booking space in the mall are invited to contact Kirwan to discuss the options and make necessary arrangements. The mall is always willing to work with any group of local residents who are trying to increase public awareness and/or funding for their activities. Tables and chairs are provided as well as some advance promotion in The Vision. For more>>>>>
For The Political Section

Return To The Front Page


For The full Valley East Community Web Site go to www.valleyeasttoday.ca