Valley East Skating Club Presents "Disney Through the Ages"

Capreol Curling Club Claims Bantam Boys 'A' Playdowns - Compete In Provincials In Kapuskasing
CIBC Run For The Cure Volunteers Raise Money And Awareness During Their Spring Sale
Pet Save Volunteers Busy Raising Money To Provide Care And Treatment To Rescued Dogs and Cats
Osteoporosis: The Silent Thief
Every Month Is Heart Month At The Hanmer Valley Shopping Centre

CLUB OPTIMISTE DE VALLÉE EST INC.

Presents Large Cheque To Sudbury Regional Hospital Foundation

The Fox Family Is Making A Difference For Our Troops In Afghanistan
Straight From the Heart by VECAN ( Valley East Community Action Network)
Blue Jean Fridays At Metalec Turn Into Cash For Community Living Greater Sudbury
Workplace Wellness Is A Top Priority Among Store Owners of The Hanmer Valley Shopping Centre
Public Health Inspectors Promote Environmental Public Health Week At The Mall
Valleyview Community Church Once Again Brings Out The Free Gift Wrapping For Local Shoppers
Valley East
Skating Club Presents "Disney Through the Ages"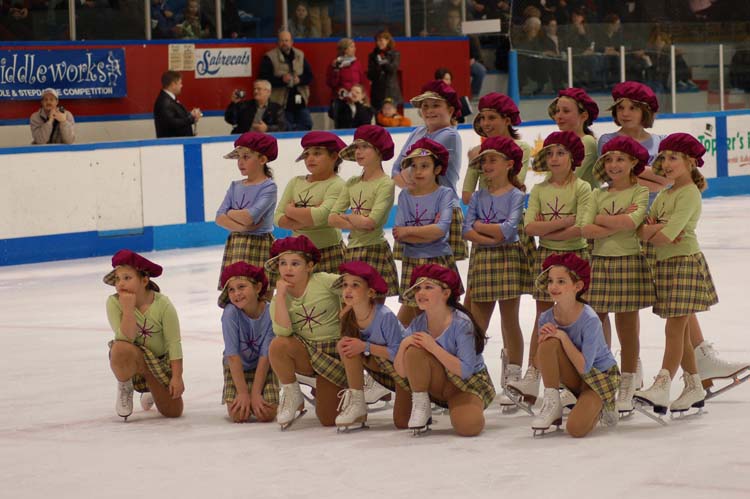 The Valley East Skating Club will be presenting their annual skating carnival on Sunday March 4, 2007 at at Centennial Arena in Hanmer. This is always one of the most spectacular events of the year in this community, with the arena jam packed with appreciative spectators. This year's theme is Disney Through the Ages. Approximately 180 skaters from Valley East will be performing in this show. Skaters have been practicing for several weeks to make this great performance. Children ranging in age from 3 to 18 with a wide range of skating abilities will be entertaining the audience for the afternoon. This is the culmination of years of skill development for many of the skaters and it is a chance for them to demonstrate their talents in front of an appreciative audience. Several of the more experienced skaters have competed in many competitions over the years and have won several medals for their accomplishments. If you are new to Valley East , or if you have never been to one of these skating events in the past, take time this Sunday and see what you've been missing. Come out and enjoy an afternoon of local talent. Admission is only $4.00 per person and children 5 & under are free. For more information about the Valley East Skating Club and the programs they offer, visit www.vesc.ca.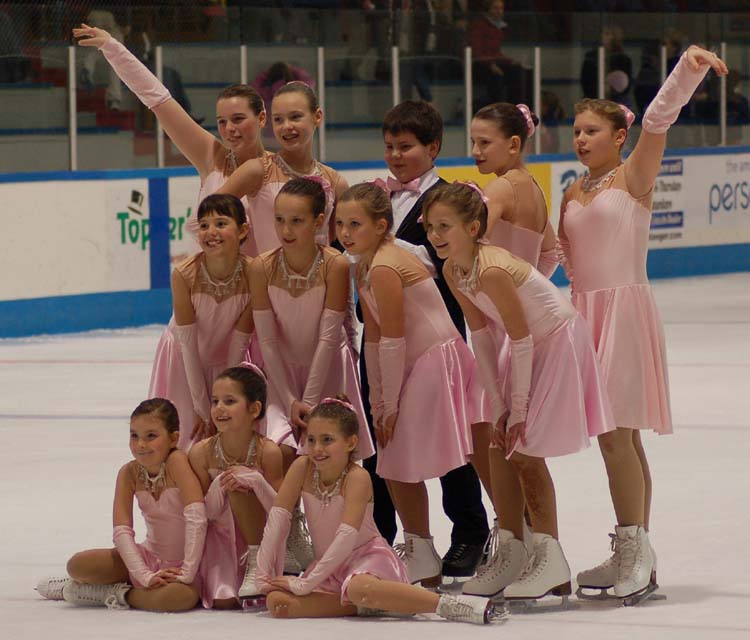 Capreol Curling Club Claims Bantam Boys 'A' Playdowns - Compete In Provincials In Kapuskasing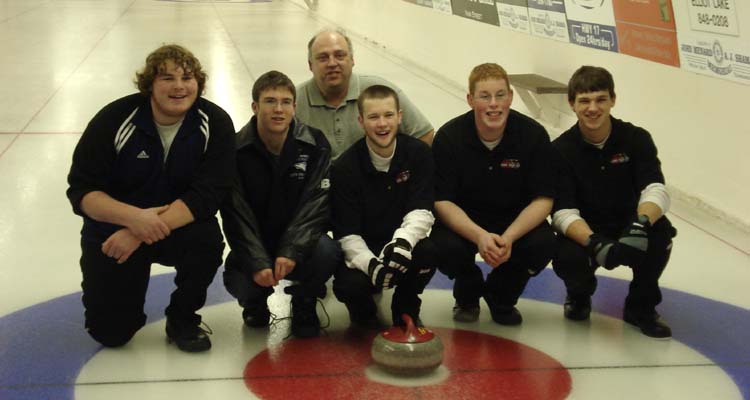 Daniel Beaudry, shown in the back behind the bantam boys curling team he coaches out of the Capreol Curling Club, is proud of the accomplishments of his players this season. They participated in the bantam boys playdowns in Blind River on the weekend of January 19-21 where they posted a 5 - 0 record and won the 'A' event.

That victory in Blind River earned them a chance to play for the provincial championships in Kapuskasing during the weekend of February 15 to 18, 2007.

From right to left in the photo we have Nicholas Beaudry (skip), Adam Leger (vice), Tyler Giesbrecht (second), and Steve Murray and Austin Roy who split playing the lead position
CIBC Run For The Cure Volunteers Raise Money And Awareness During Their Spring Sale
Daniel Ladouceur is busy putting items on display for sale at the Hanmer Valley Shopping Centre during the Annual Valentine's Day display sponsored by the CIBC to raise money for the Run For The Cure for the Canadian Breast Cancer Foundation.

Below, Karen Ladouceur, seated, and her mother, Colleen Shelswell, put the items out for display at the other end of the table. The volunteers from the Val Caron Branch of the CIBC have the items available for sale all year long, so all you have to do is stop by and see Karen anytime.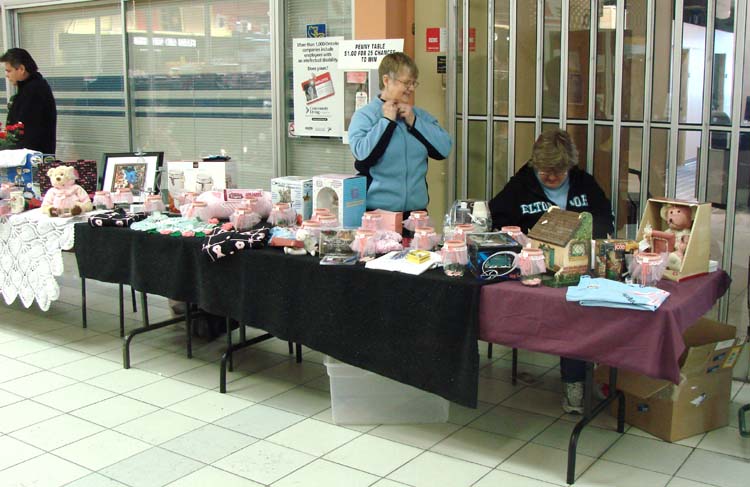 Pet Save Volunteers Busy Raising Money To Provide Care And Treatment To Rescued Dogs and Cats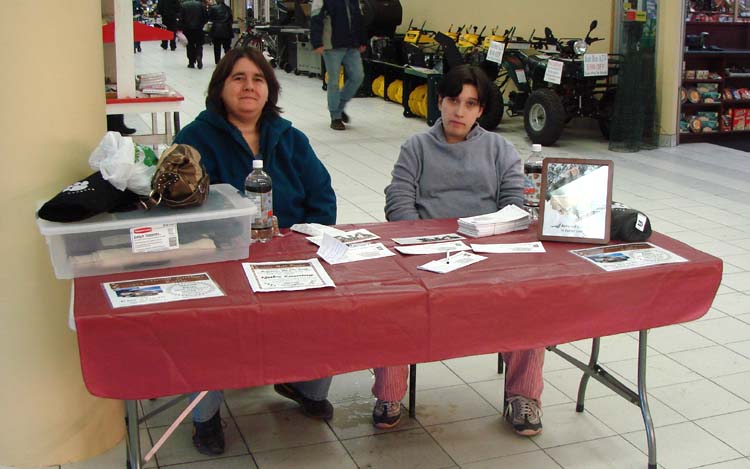 Ruth Gibson, on the left, and Melissa Poisson, are shown volunteering their time selling tickets on a major automobile raffle for the Hyundai Sonata shown in the photo below. Visitors to the Hanmer Valley Shopping Centre will see that vehicle parked in front of the mall often between now and the draw date in April.

Pet Save promotes responsible pet ownership. All of the pets that are rescued and put up for adoption are vet checked, spayed or neutered, dewormed and treated for fleas. In addition, all dogs and cats are vaccinated before adoption.

Pet Save believes that education is the key to controlling animal overpopulation.

Ruth, for example, offers her home as a "foster home", caring for numerous cats while they are waiting for someone to adopt them and put them in a nice home. Pet Save has a "no kill policy" and is able to find a home for all strays that they can save.

Pet Save also needs many volunteers to help with the following:
Transporting animals to foster homes, veterinarian appointments, etc.

Volunteering time at special fundraising events.

Selling raffle tickets and distributing fundraising products.

Delivering food to foster homes.

Volunteering office/computer skills.

Sharing creative ideas to enhance our organization.
If you are interested in volunteering or donating to Pet Save, contact us.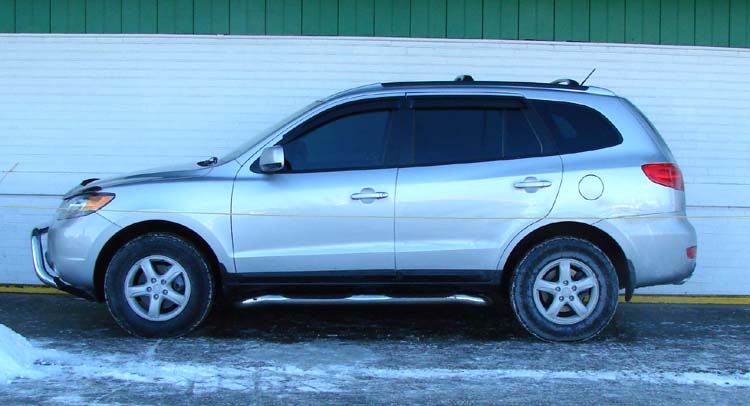 Osteoporosis: The Silent Thief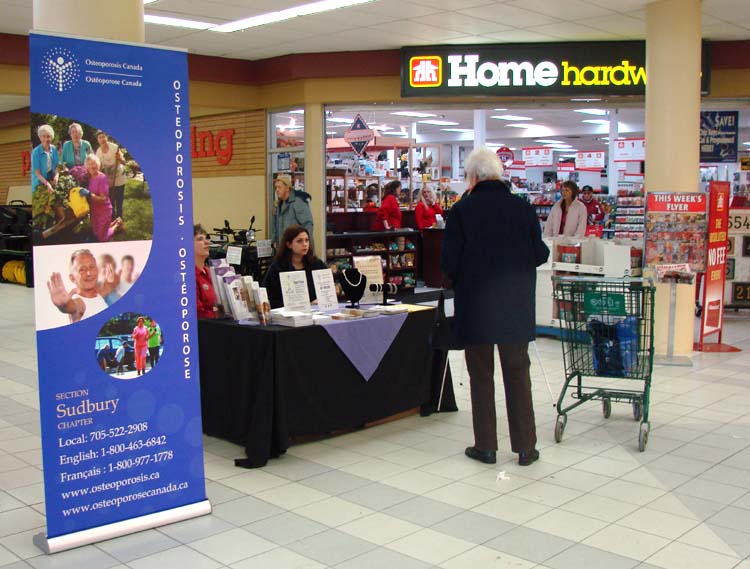 Roberta Reist, on the left, and Natacha Dupuis, are two volunteers with the Sudbury Chapter of Osteoporosis Canada. These two ladies, along with over twenty other members of the Chapter, are doing whatever they can to increase public awareness of this dangerous disease, commonly known as "The Silent Thief".

Osteoporosis is a potentially crippling disease characterized by low bone mass (density) and deterioration of bone tissue, a condition that can lead to increased bone fragility and risk of fracture - most often at the spine, wrist or hip.

The reason it is called the "Silent Thief" is that it is something that does not happen overnight. You lose bone mass steadily for many years without experiencing any symptoms or signs of the disease until you fracture a bone. If osteoporosis is diagnosed at the time of the fracture, it is already fairly advanced in your body.

Osteoporosis affects one out of every four women over the age of 50. It also affects one out of every eight men over 50.

There are many factors that may place you in a high risk category for osteoporosis.

These are best checked out on the web site at www.osteoporosis.ca

Early detection is done through a special medical test known as bone mineral density (BMD) testing. If you go through the information on the web site and think you may be at risk, speak to your doctor about going for a bone density test.

There are also two monthly support group meetings in the area for people interested in finding out more about this disease and also for people who want to volunteer to make young people aware of how diet and exercise can help prevent problems from occurring at a later age.
Osteoporosis Support Group Meets on The Last Tuesday of Every Month

At Southwind Retirement Home
1645 Paris Street, Sudbury
2:00 p.m. to 4:00 p.m.
At Meadowbrook Retirement Village
Lively
7:00 p.m. to 8:30 p.m.
Natacha and Roberta will be taking their message into the area schools in an effort to create awareness and promote a healthier lifestyle. While at the Hanmer Valley Shopping Centre they were selling white and purple pearls to raise money to support their activities. If you are interested in finding out more about the Sudbury Chapter, you can call (705) 522-2908
Natacha is currently the Co-Chair of Marketing and lives in Val Therese. Roberta lives in Capreol and works as a volunteer, helping promote public awareness at displays such as the one below.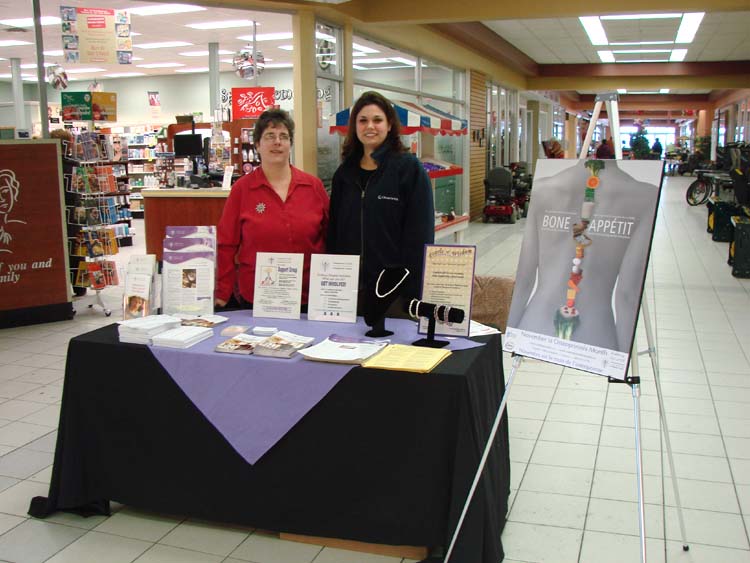 Every Month Is Heart Month At The Hanmer Valley Shopping Centre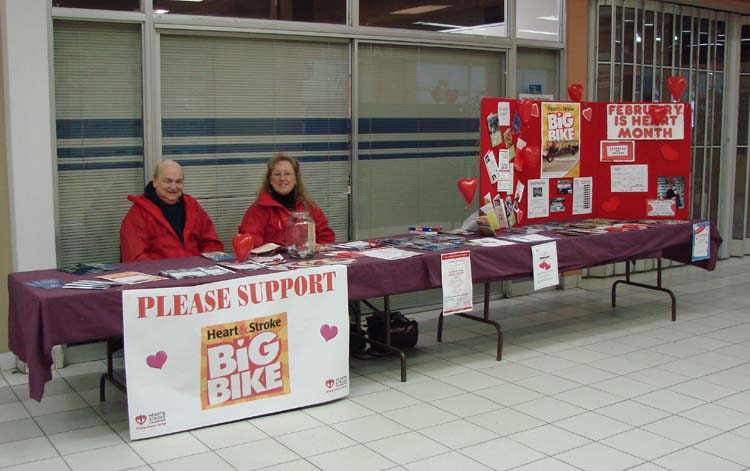 Ivan Desjardins and Wanda Levesque have each been volunteering with the Heart and Stroke Society for over fifteen years. They recently spent a pleasant Saturday afternoon at the Hanmer Valley Shopping Centre talking to local residents about the Big Bike for Heart event which is coming up on May 30 and 31. Ivan and Wanda both take part in the fun activity with the Wal-Mart Team, perennial Spirit Award Champs in the region.

The cost to ride the bike is $50 in pledges per person. You may have as many as 29 on a team to rent the whole bike to yourself for a spin.

More information can be found by visiting the web site at www.heartandstroke.ca/bigbike
CLUB OPTIMISTE DE VALLÉE EST INC.
Presents Large Cheque To Sudbury Regional Hospital Foundation
At a media conference held on February 1, 2007 at the HRSRH St. Joseph's Health Centre, a cheque for $15,889.40 was presented to the Sudbury Regional Hospital Foundation from the Optimist Club of Valley East. The donation was used to purchase a new CPAP unit for the HRSRH's Neonatal Intensive Care Unit (NICU).
The NICU utilizes several CPAP (Continuous Positive Airway Pressure) units to assist newborns who are unable to breathe adequately on their own. CPAP is often used to prevent premature infants from succumbing to respiratory failure and can prevent the need for intubation. CPAP delivers oxygen (or air) under a small amount of pressure to the baby, usually through small tubes fit into the nostrils. The pressurized air helps keep air sacs in the baby's lungs open.
Past-President of the Optimist Club of Valley East, Richard Legault explained that most activities the Optimists are involved in are for the benefit of children. Beaudry went on to state that "The Optimist Club of Valley East is very grateful for the opportunity to help babies in our community. On behalf of the entire club, I would like to say it has been our pleasure assisting the NICU and we look forward to helping out again in the future."
"The Foundation is proud to work with groups in our community for the betterment of healthcare in Northeastern Ontario. " stated Jim Corless, Vice Chairman, "The Foundation is especially proud when we have the opportunity to help meet the healthcare needs of children in the Sudbury area." stressed Corless.
Joe Pilon, HRSRH Senior Vice President, was on hand to accept the donation on behalf of the NICU. "I would like to thank the Optimists for their dedication to the children of our community and for this gift to the HRSRH's Neonatal Intensive Care Unit."
CLUB OPTIMISTE DE VALLÉE EST INC.
On June 9, 1919 eleven clubs met in Louisville , Kentucky and adopted the name International Optimist Club. Five years later, the first Canadian Optimist Club was formed in Toronto , Ontario . Currently there are 105,000 individual members who make up over 35,000 autonomous clubs in 53 districts spread across the globe. Collectively, Optimists serve over 6 million children per year, including 1.5 million children in Canada .
Optimist International's mission statement is that "By providing hope and positive vision, Optimists bring out the best in kids." Programs run by Optimist clubs include: Childhood Cancer Campaign, the Optimist International Junior Golf Championships, and International Scholarships (Communication Contest for the Deaf and Hard of Hearing, Essay Contest, Oratorical Contest.
Each member club is autonomous, run by members in their community and is flexible to serve youth in their area in anyway they feel fit. Each member club also elects their own officials and raise their own funds. The Valley East Optimist Club was charted on August 22, 1990 and currently has 17 members who volunteer their time helping children in our community. Some of the activities the Valley East Optimists organize include a bike rodeo which provides children a chance to have a safety check on their bikes and the Santa Claus Breakfast which provides breakfast, a meeting with Santa, and a loot bag for children in 6 Valley East elementary schools. The Valley East Optimists also host a golf tournament for children in the community and the winners of the tournament get to participate in the Optimist International Junior Golf Championships.
The Valley East Optimist Club meets every third Monday at the Centennial Arena in Hanmer. The club currently has 17 members and 6 additional individuals who will become full-members this year. The club continues to grow each year and is always accepting new members.
SUDBURY REGIONAL HOSPITAL FOUNDATION
The Sudbury Regional Hospital Foundation has raised funds for local healthcare initiatives for three decades. Governed by a Board of Directors made up of a cross-section of our community, the Sudbury Regional Hospital Foundation is the fundraising partner of the HRSRH. A separate entity from the Hospital, the Sudbury Regional Hospital Foundation's mandate is to operate exclusively as a non-profit, charitable foundation to raise funds for medical equipment and capital construction.
Hôpital regional de Sudbury Regional Hospital is the regional referral centre for hospital-based patient care for people throughout northeastern Ontario . The HRSRH is not program-specific but rather a full service facility with primary, secondary and tertiary care levels for the over 600,000 people in the North. The HRSRH has recently integrated the former Northeastern Ontario Regional Cancer Centre within its structure as a part of the Regional Cancer Program. The HRSRH is also renowned as the site for both the first beating-heart surgery to be performed in Canada as well as the first hospital to successfully use stem cell transplantation to fight cancer.
On March 28, 2000, the Sudbury Regional Hospital Foundation signed an historic partnership agreement with the Northern Cancer Research Foundation, the St. Joseph 's Foundation of Sudbury, the Hôpital régional de Sudbury Regional Hospital , the Northeastern Ontario Regional Cancer Centre and the St. Joseph 's Health Centre. Together, these three Foundations and three health care institutions formed the Heart & Soul Campaign - the most ambitious fundraising partnership in the history of Sudbury . The Heart & Soul Campaign ended in April 2003, two years ahead of schedule. Over $50 million was raised in this Campaign, making it the largest and most successful fundraising campaign ever in Northern Ontario .
Since its amalgamation on June 22, 1998, the Sudbury Regional Hospital Foundation has disbursed nearly $17.9 million towards HRSRH equipment and capital funding needs. These disbursements include millions towards important medical equipment such as dialysis chairs, blood pressure monitors, beds and stretchers, and an ECG. The Foundation has helped and will continue to help all departments and areas of the HRSRH with their equipment and capital needs.
Your continued support to the Sudbury Regional Hospital Foundation will ensure that we can continue to fulfill our vision "to ensure superior health services in northeastern Ontario ."
The Fox Family Is Making A Difference For Our Troops In Afghanistan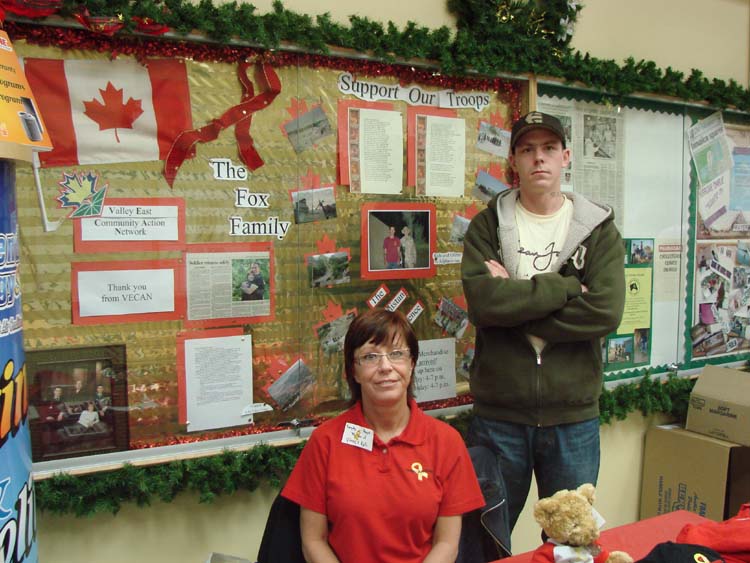 Sandra Amyot and her son, Kyle, 23, are shown in front of the special bulletin board which has been created by the Valley East Community Action Network to pay tribute to the members of the Canadian Armed Forces who are serving in Afghanistan. Kyle and his bother, Glenn, 28, are both members of the armed forces and both have seen action in this war-torn segment of the globe.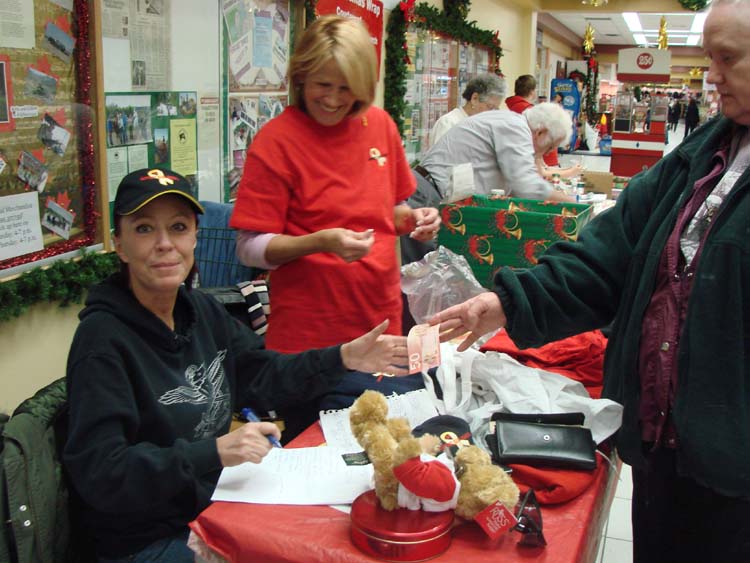 Sandra and Claudette Lauhti-Ouwen of VECAN are shown selling "Support Our Troops" merchandise to help raise money to support families with loved ones serving in Afghanistan. With the help of VECAN and the Hanmer Valley Shopping Centre, Sandra was able to raise a significant amount of money for this worthy cause.

The bulletin board will remain up during January 2007 as a constant reminder to local citizens of the sacrifice that is being made by the brave recruits of the armed forces.
Straight From the Heart
by VECAN ( Valley East Community Action Network)
The second in a series of Support the Troops endeavours by the Valley East Community Action Network is "Straight from the Heart" which features the Berthelot family whose son, Sergeant Raymond Berthelot, will soon be returning from a mission in the vicinity of Kandahar, to visit with his children, Matthieu and Cassandra.
Matthieu, 11, is shown with Alana Evershed of MCTV being interviewed for a special segment on the evening news. The poster behind Matthieu is one that he designed himself for the display.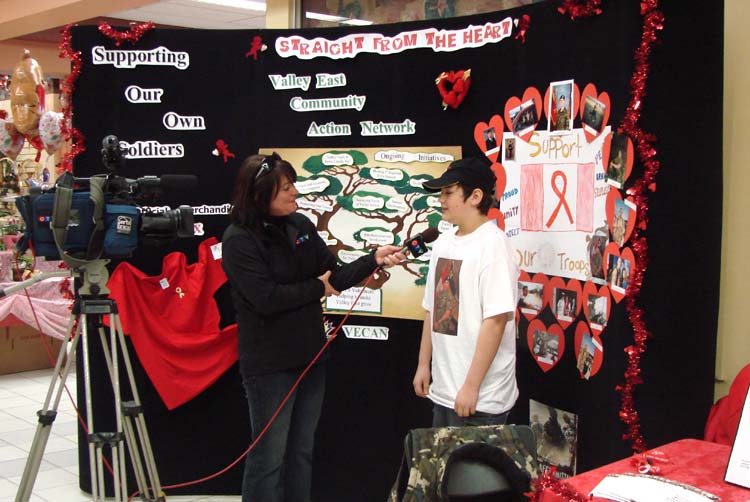 The son of Gaston and Pauline was a Val Caron boy who attended Notre Dame du Rosaire, 9 and 10 at Sacré Coeur, and graduated from l'Héritage. The 36-year-old's love of the military began in 1983 with four years of Army Cadets in Capreol, after which he moved on to the Militia in Sudbury . In October of '88, Raymond joined the Armed Forces, doing his basic training in St. Jean , Que., before being posted with Vindoux (the 22nd regiment) for infantry training in early '89 and spending the next four years in Lahr , Germany . Injuries to his back in Bosnia shortened that '92 tour of duty, after which he was posted in Gagetown, N.B. In '99, he returned to Bosnia for 6 ½ months as a peacekeeper. In 2001, after becoming Master Corporal, Raymond spent 6 ½ months in Africa's Eurethea and Ethiopia on a peacekeeping mission. In 2005, he became Sergeant Raymond Berthelot and was stationed in Kabul .
Raymond has had a variety of experiences with the Canadian Armed Forces. For several weeks during the January ice storms south of Montreal in '98, he brought in food, helped to restore services, was involved in cutting trees and removing debris, and worked to save livestock by removing them from dangerous situations or delivering food to them in isolated areas. The recovery of forensics and debris from Swiss Air's Flight 111 plane crash, seven nautical miles off the coast of Nova Scotia , not far from Peggy's Cove, provided both experience and challenge.
In an interview, Gaston and Pauline shared, "You never get used to the fact that your son or daughter is stationed in a dangerous situation. Each parent deals with the situation in their own way; some need to hear every word about the armed forces on television and radio; others avoid any information but what pertains to their family."
How can we support the family? The family needs to know that members of their community support them in what they are doing. Relatives need to keep in communication with others who are in the same situation, as in a support group. Soldiers returning to their community need to feel that their community supports them.
Straight from the Heart has been organized, not only to showcase the Berthelot Family, but to introduce to the communities of Valley East and Capreol a newly-formed Military Family Support group.
"We get together to connect with other families who share the same concerns and worries as we do," said Volunteer Co-ordinator, Denise Lecuyer, " but, most of all, we provide moral support in very difficult times."
The Military Family Support group will be distributing the Invisible Ribbon, part of a federal project that was launched in November, and which represents an invisible uniform that we wear to support our troops. Denise welcomes calls to 983-0708 for any military family member who requires resources or further information about the next meeting to take place on Feb. 22nd.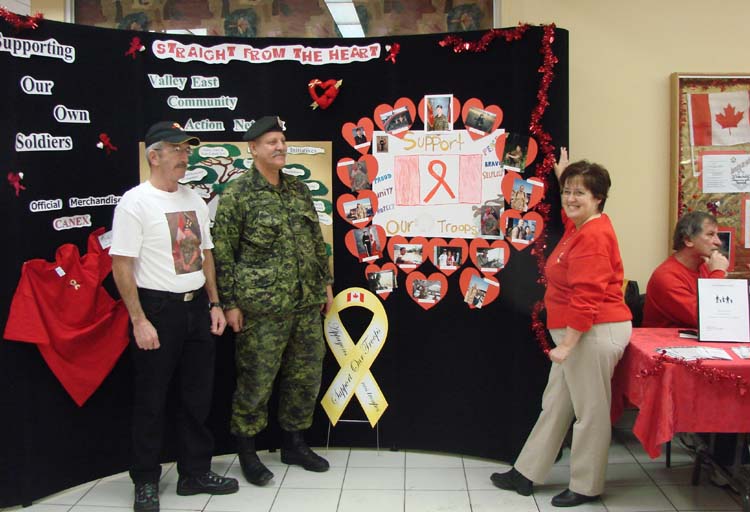 On Saturday, February 10, 2007, VECAN once again sponsored a special day at the Hanmer Valley Shopping Centre where the public was able to talk to some of the family members. In the above photo, Gaston, on the left is shown with Denise Lecuyer, Volunteer Co-ordinator, on the far right, explaining some of the information that is on the display board. Denise also has a daughter in the Canadian navy. In the middle of the photo is Warrant Officer Yvon Godin, a veteran soldier who retired in 2004 after more than 35 years of service in the Canadian military. According to Lecuyer, there are a total of 17 area families with sons or daughters serving in the military.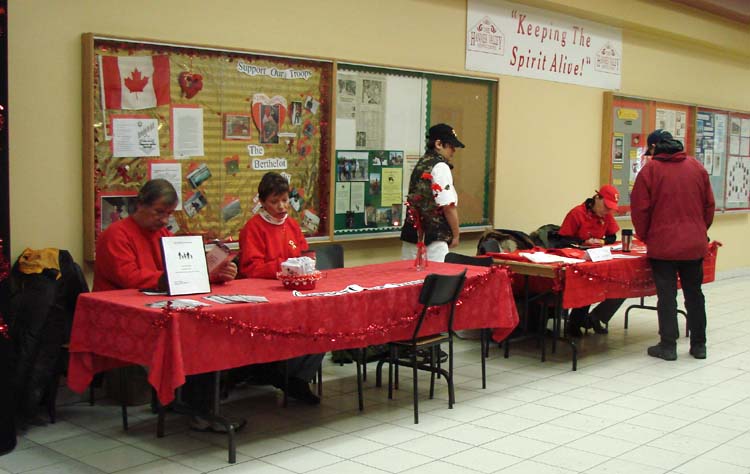 Sandy Amyot, mother of Glenn and Kyle Fox, was also on hand to sell merchandise to raise money in the Support Our Troops campaign.

Sandy is shown in both photos at her familiar spot selling another item of clothing to a supporter.

If you are aware of other local families whose relatives have been deployed, please share that information by e-mailing vecan@mysudbury.ca.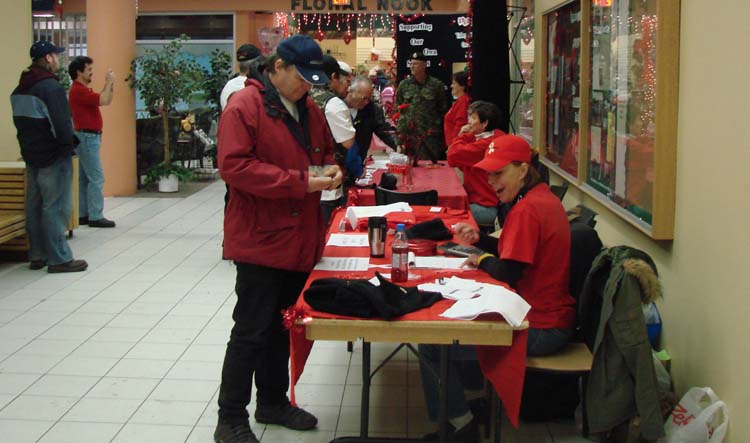 Blue Jean Fridays At Metalec Turn Into Cash For Community Living Greater Sudbury
Blue Jean Fridays at Metalec is not only something that the employees look forward to every week - it's also a huge bonus for the Community Living Greater Sudbury clients.

On November 17, 2006, Tina Connor, on the left, Secretary for Metalec Sudbury Inc. is shown presenting a bag of money collected on their Blue Jean Fridays to Dorice Dusty, Community Living Greater Sudbury's Public Relations Director.

"The money will be well used by the association's clients," Dorice declared. "Thank you, Metalec and AVAD for your generous contribution."
Workplace Wellness Is A Top Priority Among Store Owners of The Hanmer Valley Shopping Centre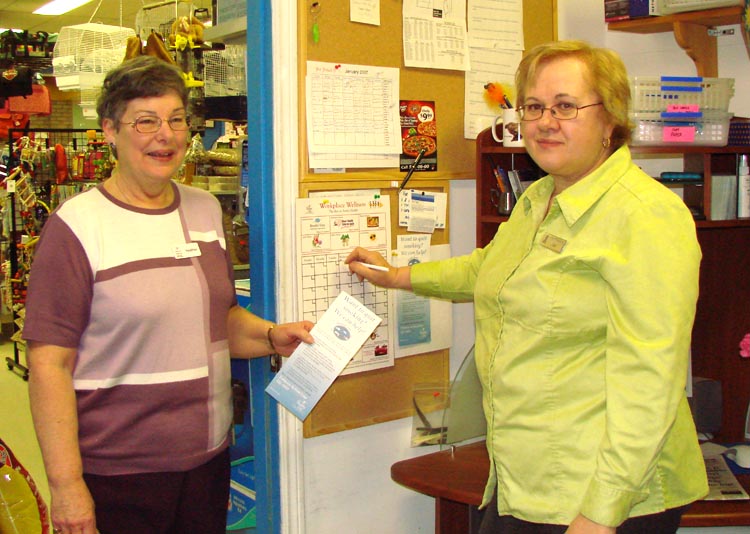 The workplace wellness team from the Sudbury & District Health Unit was out in full force during January visiting the tenants of the Hanmer Valley Shopping Centre. Above, Lisa Froemmel, on the right, owner of Pet Palace, is shown putting up the special Workplace Wellness Calendar that was provided by one of the Team Members who is responsible for visiting the mall every month.

According to the Wellness Team, "The place where you work and the work you do can affect your health. How you feel can affect how well you do your job."

The Workplace Wellness team provides opportunities for skill building, education and support or consultation. They also help employers create and implement workplace policies that reduce the risk of injury and promote the health of workers.

For more information, contact (705) 522-9200 Ext. 290 or email workplaceteam@sdhu.com
Public Health Inspectors Promote Environmental Public Health Week At The Mall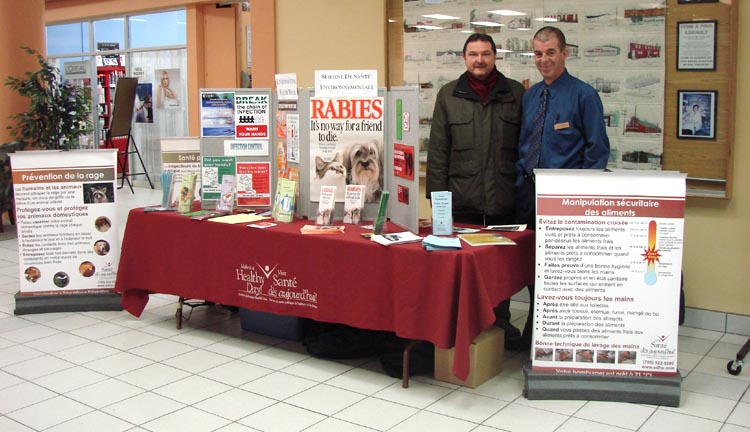 Charles Diosi, on the left, and Claude Patry, Public Health Inspectors with the Health Protection Division of the Sudbury & District Health Unit, are shown at their exhibit which was set up in the Hanmer Valley Shopping Centre on January 17, 2007.

As members of the Canadian Institute of Public Health Inspectors (CIPHI), they were taking part in the event in recognition of the Environmental Public Health Profession of Canada by celebrating "Environmental Public Health Week 2007 during the week of January 15 to 21, 2007.

Environmental Public Health Professionals are font-line Public Health Professionals in Canada, including certified Public Heaelth Inspectors and Environmental Health Officers. Environmental Public Health Week was first established in January 2004 to recognize the important role of Environmental Public Health Professionals in protecting the health of Canadians.

Charles and Claude set up their displays at several area shopping centres in an attempt to raise the profile of their profession.

To find out more go to www.ciphi.on.ca
Valleyview Community Church Once Again Brings Out The Free Gift Wrapping For Local Shoppers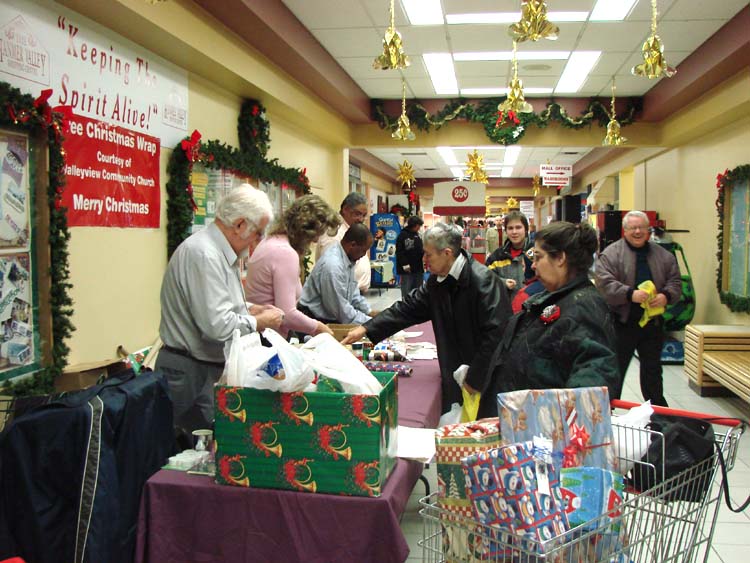 Lou Dotto, to the left in the foreground, spent a busy few days at the Hanmer Valley Shopping Centre wrapping holiday gifts for local shoppers. This was about the fifth year that the Valleyview Community Church has organized this free service for local residents. It is much appreciated by the busy, last-minute shopper. The gift wrapping is free, but many people donated an item of food for the needy to say thank you for the service.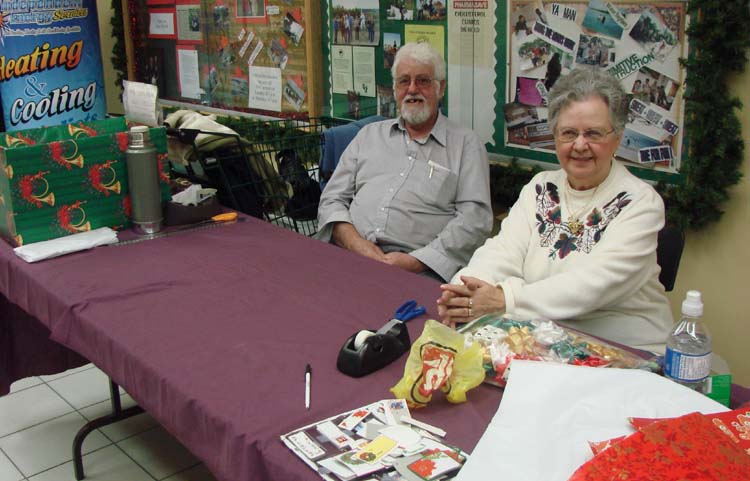 Here, Lou is shown with his wife Bernadette during a quiet moment.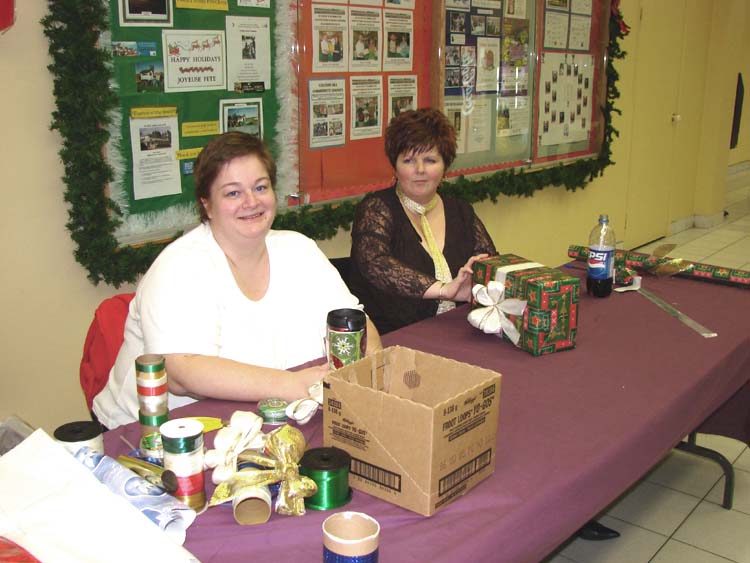 Karen Stenbraaten, on the left, and Kimberly Irving were also two of the volunteers from the Church who took part in the gift wrapping activity.