Hanmer's Robert Plourde Hits The Century Mark As A Blood Donor

Valley East Minor Soccer Registrations Remind Everyone That Summer Is Just Around The Corner
2nd Annual Soap Box Derby Race Being Sponsored By The Human League Association
Valley East Community Theatre Raises Funds and Promotes 'NUNSENSE'
Announcement of New Mall Development Not Expected To Change The Way Local Residents Feel About Their 'Community Shopping Centre'
Trailsmen Wonder "What's This World Coming To?" After Being Senselessly Victimized By Vandals
Hanmer's Robert Plourde Hits The Century Mark As A Blood Donor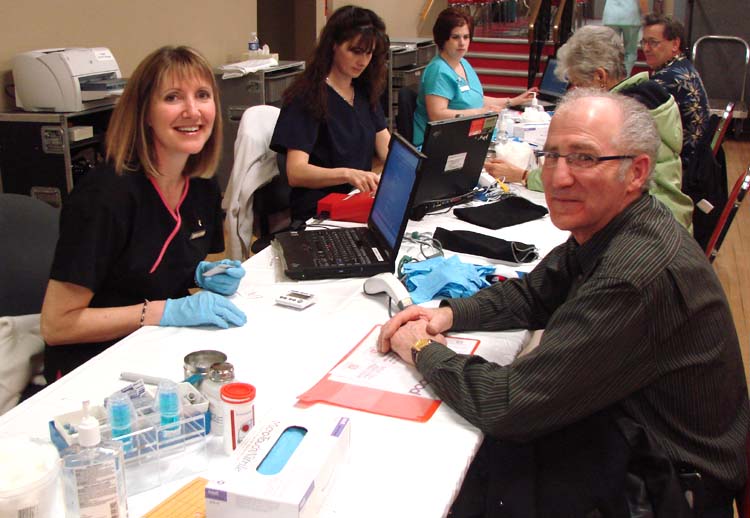 Robert Plourde, Co-Chair of the Blood Donor Clinic for the Knights of Columbus Council #5005, not only helps organize the clinic for the Canadian Blood Services staff, he also donates a unit of his own blood four times a year. In fact, Robert has been so faithfully giving this precious gift over the years that on Wednesday, March 21, 2007 , he joined the "Century Club" for blood donors.
In the photo above, he is shown with Clinic Assistant, Jeannie Chamberlain, going through the 'Tech Registration' part of the process. Everyone must go to this table to register and have a blood sample taken which will go through screening and testing before any of the donated blood will be used. This is Jeannie's 14th year with Canadian Blood Services.
According to Robert, he began donating blood quite innocently back in 1969. "I was attending upgrading classes in the evening at Sudbury High School , then known as Sheridan Tech. On this one evening our teacher told us that if we wanted to give blood we could miss class, so a friend of mine and I decided to give a pint of blood. In those days you got a shot of brandy when you gave blood. I wasn't drinking, but my friend told me to take one anyway and give it to him. Ever since then I have been giving blood three or four times a year."
In fact, except for a period of seven years while he was working in Timmins , Robert has been extremely consistent in donating as often as he possibly could. Now, at the age of 59, he has achieved a goal that few people would ever reach.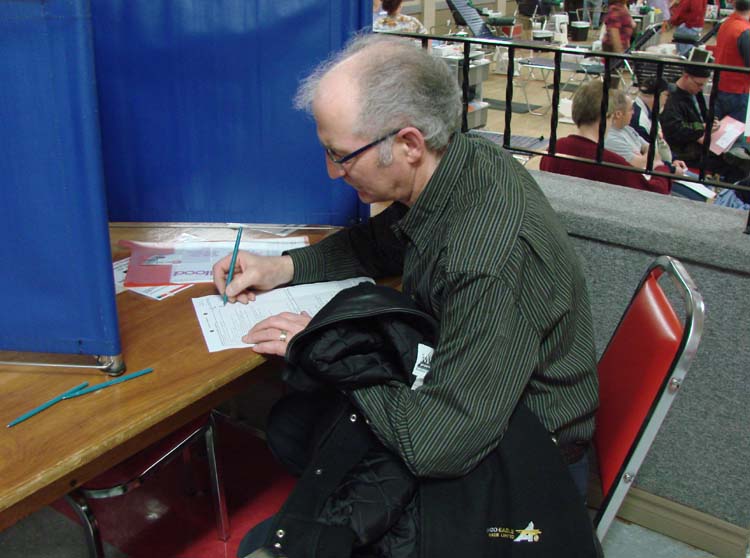 Above, Robert is shown filling out a personal questionaire with information about his past medical history and current health conditions. Gail Fong, a Registered Nurse, is shown with Robert inside one of their private cubicles where Robert gets his blood pressure tested and reviews his information sheet. Gail and the other Registered Nurses are responsible for screening candidates and making sure they are appropriate for donating blood.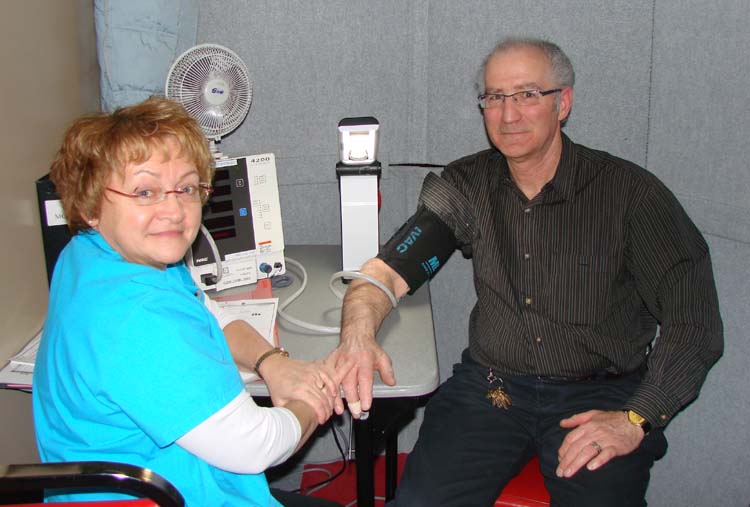 After finishing up with Gail, Robert is cleared to meet with Phlebotomist, Robby Kirkwood, as final preparations are being made to take out the 100th unit of blood from his left arm. In fact all 100 units have been taken out of Robert's left arm.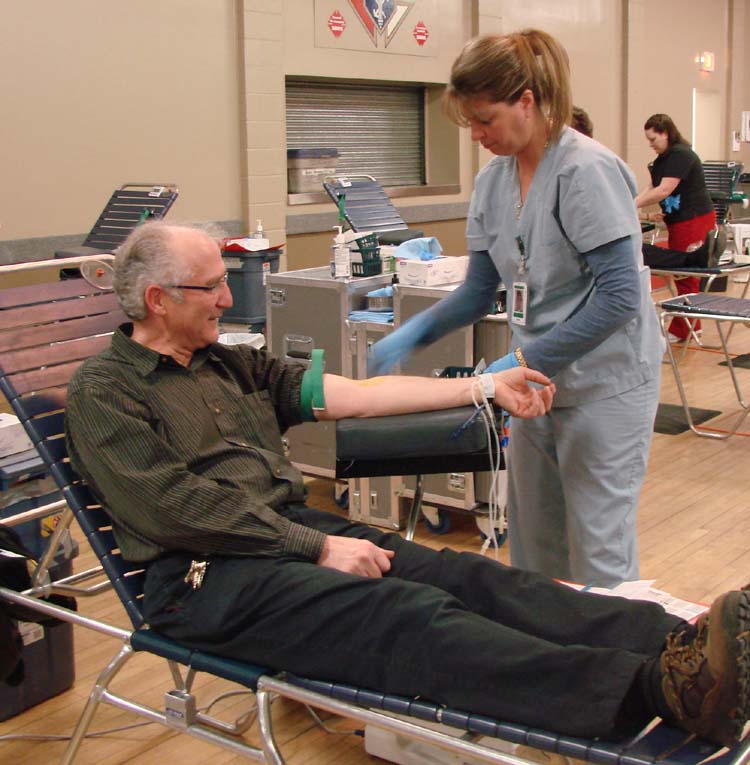 Robert says he is proud of his accomplishment and he wishes more people would consider donating blood several times during the year. According to Robbie, "We take about 1/10 of the blood from your body when we remove a unit of about 450 ml during this process. After three months your body will have had plenty of time to replenish the loss and you can safely donate again."

Robert's blood type of A+ is one of the common ones, found in about 36% of the population. Type O+ is found in 38% of the population.

It usually takes less than one hour to go through the whole procedure. You cannot contract and diseases from donating blood and you can make donations again every 56 days.

For more information, contact 1-888-236-6283 or visit the web site at www.bloodservices.ca
Valley East Minor Soccer Registrations Remind Everyone That Summer Is Just Around The Corner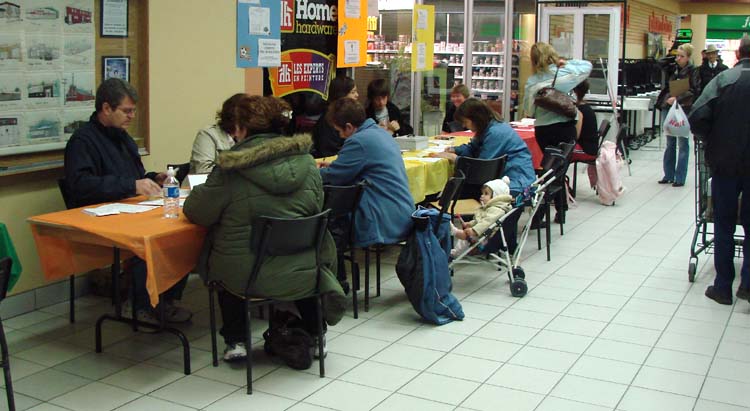 Registration was scheduled to begin at 5:00 p.m. on Friday March 23, 2007, but the people begin lining up almost a half hour early to sign up for the 2007 soccer season with the Valley East Minor Soccer Club. Registrations will continue on Friday, March 30 (5 to 8); Saturday, March 31 (10 to 4); and Saturday, March 7 (10 to 4).

Once all of the registrations are taken and the teams formed, play is scheduled to begin the week of May 29, 2007. All games are played Monday through Thursday with the adults playing on Sunday evening as well. Make-up games are played on Fridays.

The Valley East Soccer Tournament is scheduled for the weekend of June 22, 23 and 24.

Playoffs are tentatively scheduled for August 7 to 12 inclusive with final playoff games occuring during the weekend of August 10 to 12.

If you require any further information contact the Soccer Line and leave a message at 969-8497.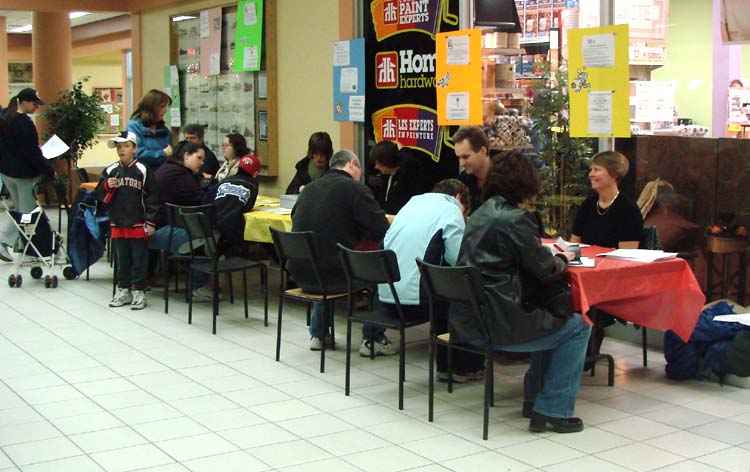 2nd Annual Soap Box Derby Race Being Sponsored By The Human League Association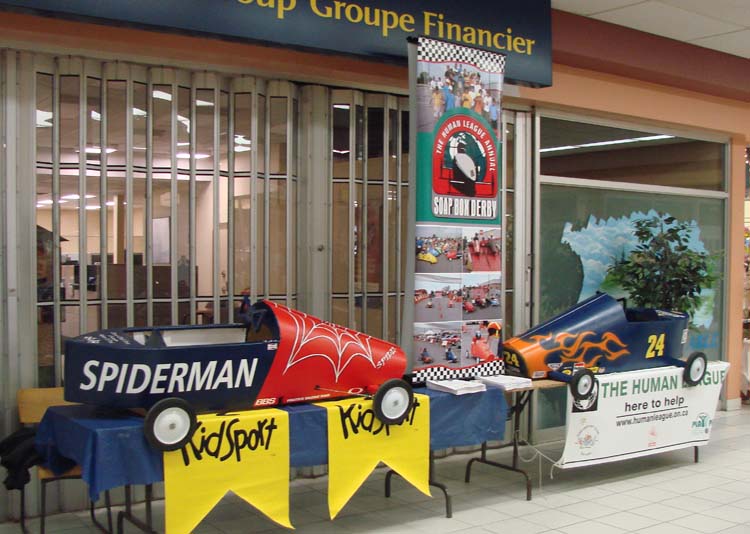 The Human League Association was in the Hanmer Valley Shopping Centre recently promoting the 2nd Annual Soap Box Derby Race which will be held on June 23rd and 24th, 2007 in the back parking lot of the Southridge Mall. Proceeds from this event will help support programs for children offered by the Human League.

According to Executive Director, Paul Brokenshire, "In the upcoming year the Human League will be feeding over 3000 hungry children a nutritious morning meal in area schools. The Human League will also sponsor approximately 400 underprivileged children to participate in recreational activities of their choice through the P.L.A.Y. Program (Positive Leisure Activities for Youth) and KIDSPORT ONTARIO - Sudbury Chapter.

You must submit your registration form and waiver fee of $30 per driver no later than June 11, 2007.

For more information on the derby you can contact one of the following people:

Paul Brokenshire at execdirector@bellnet.ca

Chantal Gorman at humanleague@bellnet.ca

Dan Ernst at ernst.dynatec@sympatico.ca
Valley East Community Theatre Raises Funds and Promotes 'NUNSENSE'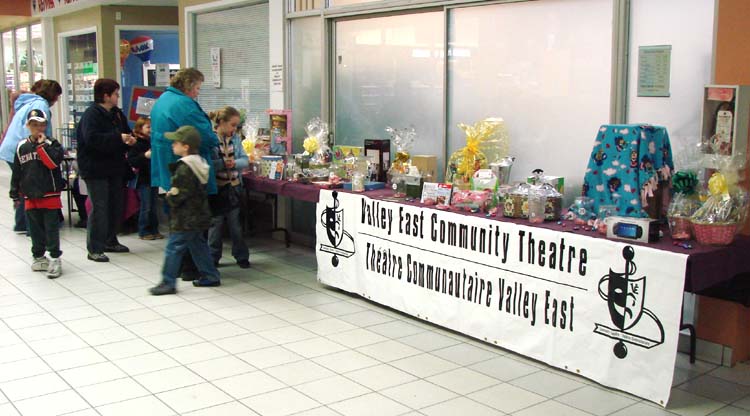 The Annual Spring Penny Table Sale was another huge success for the Valley East Community Theatre group. Not only did they raise much needed funds, but they also raised public awareness and interest in their upcoming production, 'NUNSENSE' thanks to a special guest appearance by the "Singing Nuns" shown below.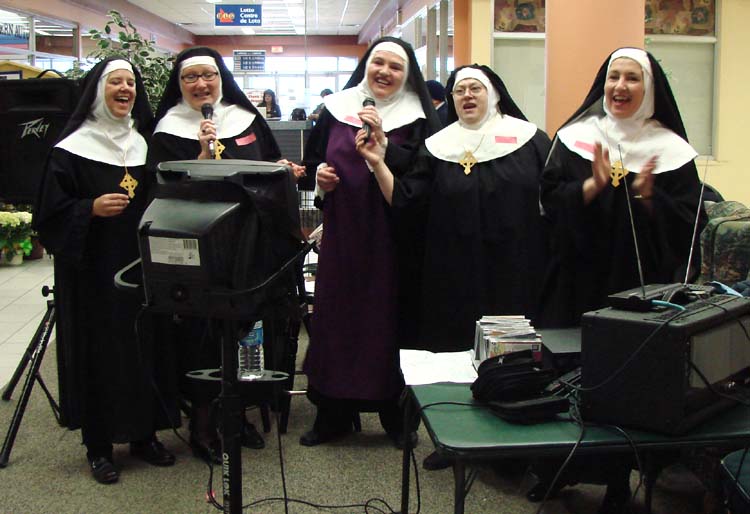 Sister Robert Ann (otherwise known to the community as Cathy Langlois); Sister Mary Cardelias (Maureen Sauve); Rev. Mother Regina ( Jean Fowler); Sister Mary Keyboard (Carmen Shepard); and Sister Hubert (Laurie Kaelas) took time from their devotions on Saturday afternoon to provide some inspirational entertainment to shoppers and pass out flyers with the times and dates of their next performance, 'NUNSENSE'.

The play will be presented April 26, 27, 28 and May 3, 4, and 5.

It will be held at Ecole Secondaire Hanmer with show time at 7:00 p.m. each evening.

The show is directed by Carole Hawes with Luc Demers as the Stage Manager.

Tickets will be available at the door, but if you would like any more information, you can call Carole at 969-8397.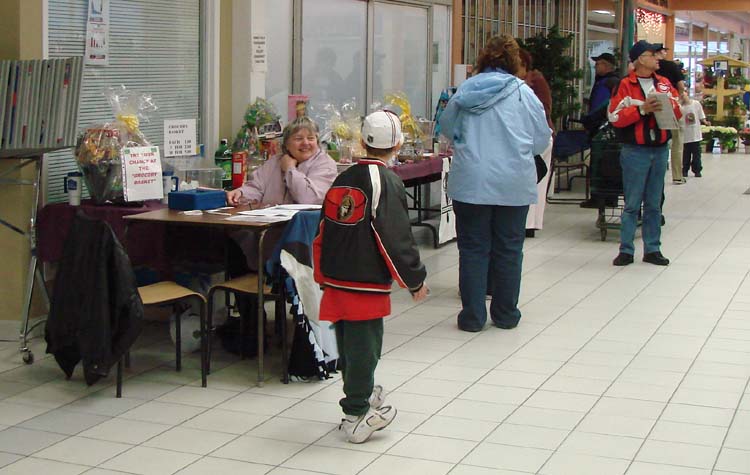 Announcement of New Mall Development Not Expected To Change The Way Local Residents Feel About Their 'Community Shopping Centre'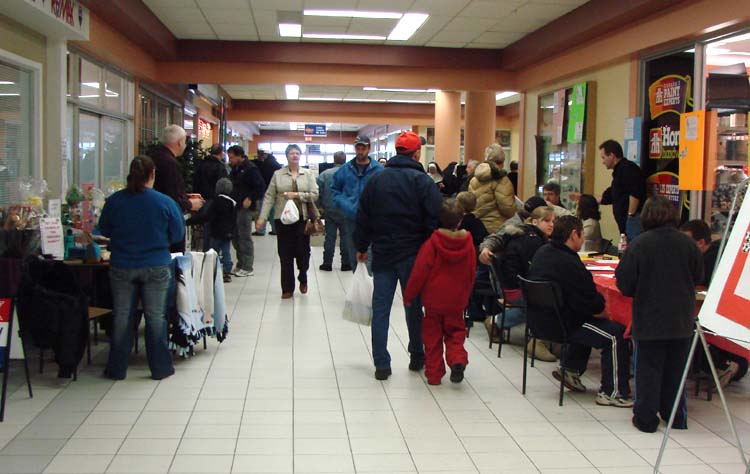 City Councillors of the City of Greater Sudbury may have approved the development of a 200,000 square foot box-store style shopping complex across from Carol Richard Park, but local residents are still expected to show their support and appreciation for the contributions being made to their community by the Hanmer Valley Shopping Centre.

Despite being told that the plans to increase the total retail shopping space in Valley East by 20% through the addition of 200,000 square feet of box stores in a new development across from Carol Richard Park may have a devastating impact on the smaller 'Ma & Pa' stores, City Council went ahead and approved the project by rezoning the land to "General Commercial".

However, in talking to dozens of local residents at the Hanmer Valley Shopping Centre recently, the large majority feel that no matter what stores come to the new development, they will still support their "Community Mall" because of the commitment that the owners, Val and Violet Mazzuca and the merchants have shown to the schools, churches and organization over the past years.

One man commented, "The large corporate box stores never get involved in sponsoring local sports teams and they could never do what you guys are doing here today."

He was referring to a typical weekend, such as that in the photo above, where the mall provided space to the Valley East Minor Soccer Club to take registrations; the Valley East Community Theatre Group for a penny table; the cast of 'NUNSENSE' to perform in the centre sitting area; the Lions Club to sell tickets; and the Human League Association to promote their Soap Box Derby.

Another female shopper stated, "We know how much this shopping centre means to our children and our seniors and everyone in between. We can come here to do some mall walking, have a coffee, sit in comfortable chairs, see our doctor, dentist, optometrist, denturist, pharmacist, lawyer, and buy anything we need from all of the retail stores. And we can do all of this under one roof in the cleanest shopping centre around. We won't forget what you have done to build this community."

Schools, churches, organizations and recreation groups are always welcome to contact the Mall Manager to book space in the shopping centre or to promote their activities on the community bulletin board. Just call Robert Kirwan at 969-7215 or 524-7006 for more information. Or you can email him at rkirwan@infocomcanada.com
Trailsmen Wonder "What's This World Coming To?" After Being Senselessly Victimized By Vandals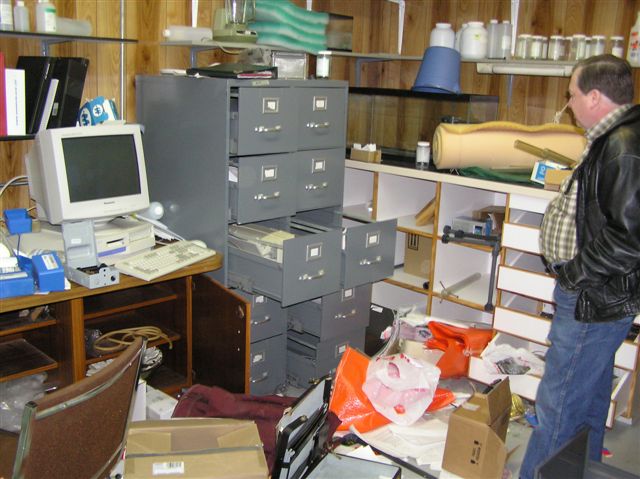 It may have been a nice, sunny day in Sudbury this past Wednesday, March 7th, but it turned out to be a disastrous day for The Trailsmen Rod and Gun Club in Hamner when it was discovered vandals had trashed the clubhouse.

The 40-year-old club promotes conservation of wild life, forest, water, fish, and ethical hunting.

A regular meeting was scheduled Wednesday to discuss preparations for the hatchery that helps re-stock local lakes with pickerel. Guy Roberge, who's been a club member for the last four years, discovered the break-in.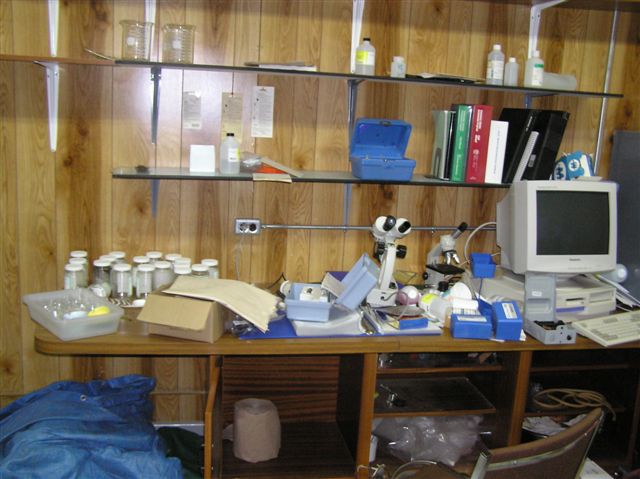 "When I stopped to walk in, the door was wide open, and I was wondering why the door was open. Then when I saw the window was broken open and the door was smashed open, we knew they had broken in," said Roberge.

He was shocked at what he saw. There was toilet paper all over the place, countless items were missing, desk drawers were ripped wide open, and tons of other debris was splattered all over the floor.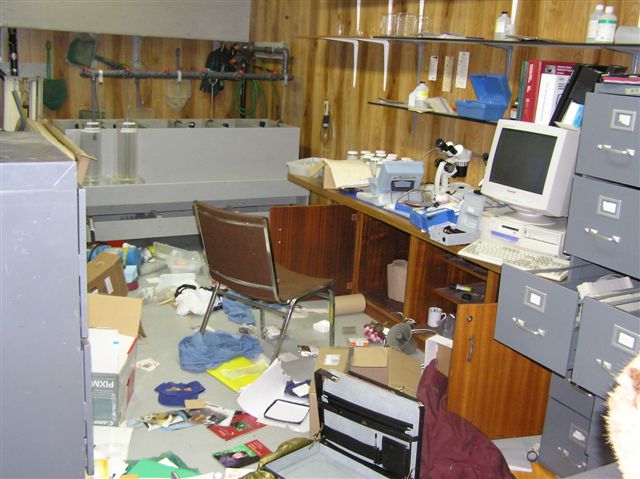 "They took the deer head off that plaque up there on the wall and they even stole a phone," says Tilbury. "They took about 25 fishing rods, tackle boxes, these were used by the Physically and Mentally challenged committee for the kids and adults from various homes and institutions in and around Sudbury, these activities will be severely curtailed because of the theft, a flight pump, archery targets, lights we use to get to the eggs at night, and a bunch of tools too."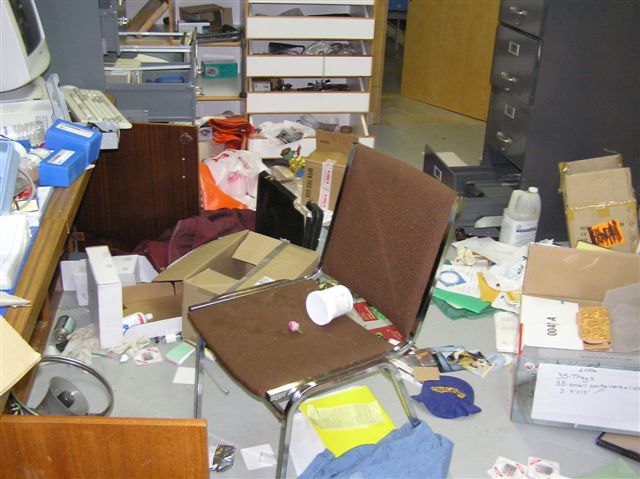 Members still need to do an inspection as well as an inventory to find out if anything else was taken. So far members are aware that approximately $5,000 in merchandise was stolen. Damage is estimated in the range of $1,000.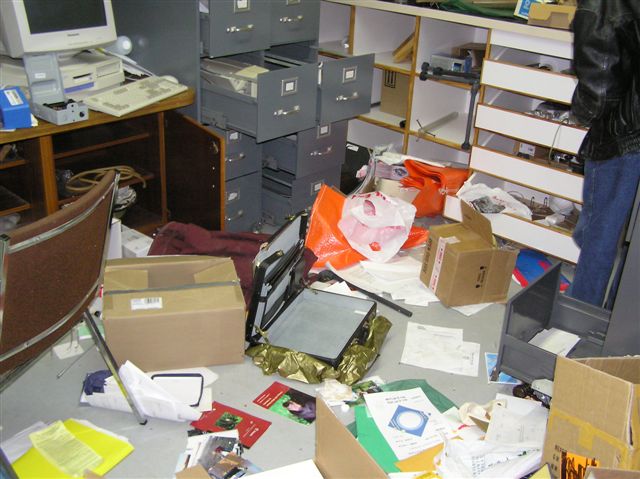 It's not clear when exactly the break-in took place because no one visited the clubhouse in the previous week.

It's also unclear who was responsible, although Roberge and Tilbury figure it was youngsters because there were no vehicle marks near the site.

"They didn't drive in, they walked in from the gates," Tilbury suggests.
"It was nice for two days in a row, and the tracks were all melted, so you could see a lot of footprints all over the place," adds Roberge.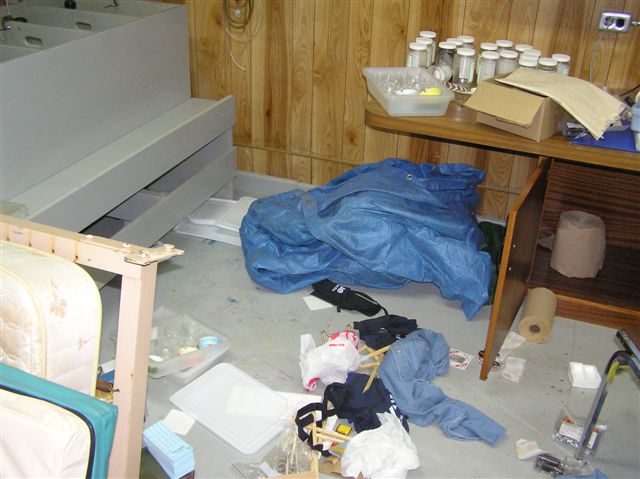 This is the first time anything like this has happened to the club, but some members are already talking about making sure it never happens again.

"From now one, we're thinking of getting more security," says Roberge. "Maybe we can get some outside lights or something. Some have even suggested maybe (getting) a camcorder or motion detector."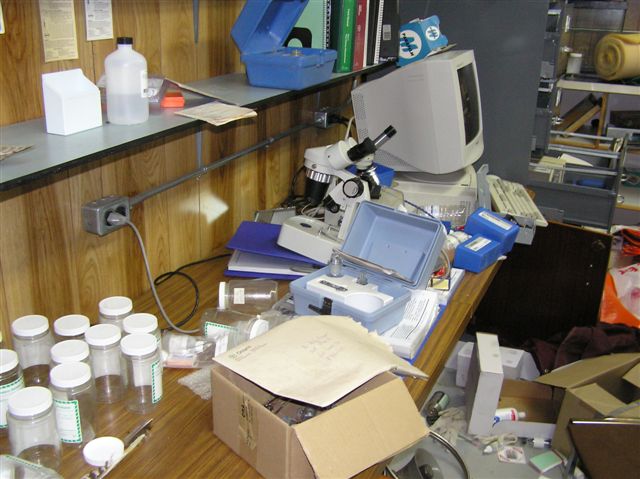 The club's hatchery is still expected to be opened in April. The club is made up of 72 members.
Any assistance to replace the stolen articles will be greatly appreciated.
Contact: Rolly Frappier walleye@sympatico.ca