Despite Recommendation From City Staff, Planning Committee Approves Retail Centre in Valley East
Mayor John Rodriguez Announces His Expert Panel Leaders As Part of His First 100 Days Plan
Christine Brosseau Begins Preparation For 2nd Annual BIG SWIM FOR ARTHRITIS
Hundreds of Local Residents Meet Half of the Famous Staal Brothers At Desjardins' Food Basics Autograph Session
Floyd Laughren Presents His Report To Council On January 10, 2007:
"Constellation City - Building A Community of Communities In Greater Sudbury"
Confederation Secondary School Music Program Runs State-Of-The-Art Recording Studio
President of Valley East Minor Hockey Association Nominated For National Award Through Hockey Canada
Collecting Coins Is An Excellent And Potentially Rewarding Hobby For All Ages
Close To 100 Christmas Hampers Delivered by Knights of Columbus Council #5005
Despite Recommendation From City Staff, Planning Committee Approves Retail Centre in Valley East
Despite the fact that the City Staff from the Planning Department recommended against it, the "political will" prevailed and the Planning Committee unanimously approved the development of a Mega-Power Centre on land directly across from Carol Richard Park in Val Caron.

The rezoning to General Commercial now allows the Canadian Shopping Centre to begin taking shape on the 25 acre property which has over 1500 feet of frontage along Hwy 69N. When complete, according to the conceptual drawing, the complex will offer close to 200,000 square feet of retail space with enough parking for 1200 cars.

According to the plan, the Canadian Shopping Centre would consist of two 60,000 square foot box stores along with several others approximately 20,000 square feet in size.

In citing reasons for opposing the application, City staff pointed out that

"The Valley East Secondary Plan designates three main nodes for general commercial development, one in each of the former urban communities of Hanmer, Val Therese and Val Caron. Four smaller sites, each with less than 1 ha are located outside of the three primary centres.

Subsection 3.13 of the Secondary Plan sets out policies to address development applications proposed outside of the designated commercial areas, which states as follows:

"3.13 Where a general commercial development is proposed outside of the three designated commercial nodes, and the policies under Subsections 3.12(c) and (d) do not apply, an application to amend this Plan is required. As a condition of considering such an application, the proponent shall provide a planning study that demonstrates the need for the proposed location and the adequacy of the site for the proposed use. The report shall also address all applicable policies stipulated under Section 3.12 and other relevant policies of this Plan, the Official Plan and Provincial policies."

Council also considers that the use of a market study by the developer to assess and ameliorate negative market impacts on the community is an important pro-active tool.

If a market study has not been prepared by the proponent of a new commercial development, Council may, as a condition for considering the application require the proponent to submit a market study to demonstrate that the proposed development will not have significant negative impacts on the existing commercial structure of the community."



IN OTHER WORDS, it has been recognized that the construction of a development of this size would have a serious negative impact on the existing commercial structure of the community. While there has been no formal market study done, an informal survey of some of the existing business owners clearly indicates that there would definitely be a negative impact since the new development would be approximately 20% of the existing commercial space in the community.

City staff also examined the potential for residential development of the property in question:

"The subject lands are designated Medium Density Residential in the Valley East Secondary Plan permitting up to 60 dwelling units per hectare, which equates to 636 dwelling units. The subject lands are well suited for medium density development, being located adjacent to public transit along Municipal Road 80.

The subject lands form one of the largest vacant areas designated for Medium Density development in the Valley East Area which will assist in providing a variety of housing types and densities to meet the future housing needs of the community over time.

In the absence of a compelling justification for the lands for commercial development, the lands should remain designated and available for the development of medium density housing forms.

"



In summarizing its recommendations to the Planning Committee:

The General Commercial designations in the Valley East Secondary Plan are primarily focused on three commercial nodes in Val Caron, Val Therese and Hanmer.

The recently completed Official Plan review, did not identify a need to redesignate additional lands for commercial uses or the need to establish a fourth major commercial node in the Valley East area.

Further, based on the amount of commercial area developed since 1996 (152,000 sq. ft.), current vacant commercial lands (20 acres), projected population and household forecasts, there does not appear to be a planning basis demonstrating the need to redesignate the subject lands for commercial use at this time. In the future, should expansion of the existing General Commercial nodes not be able to address the future needs of the community, the size and location of a fourth primary General Commercial node would, more appropriately be assessed and determined in the context of a comprehensive review of the Official Plan. Such a review would allow for an assessment of various potential locations and address several matters including, servicing, access, compatibility etc. of each potential site to determine the most appropriate location.

In consideration of the matters as set out in this report it is recommended that the applications be denied.

The Planning Committee seemed to have its mind made up and did not listen to the concerns expressed about how a shopping centre of this size would strike a devastating blow to existing independent retailers who have helped create the character of the community. Instead, the Councillors were more interested in the increased assessment that would emanate from an investment of $20M of construction.

It is not known when construction will begin, but some feel it could begin as early as this summer.
Mayor John Rodriguez Announces His Expert Panel Leaders As Part of His First 100 Days Plan
Mayor John Rodgriguez said he was going to be a man of action and this week he will put some fuel into the "bus he is driving" when he introduces his five expert panels to the City.

Each of the Expert Panels will be responsible for coming up with an action plan designed to accomplish some desired outcomes for the City of Greater Sudbury.

Panel #1: To develop an action plan for the construction of a performing arts centre.

This panel will be headed up by Diane Salo, owner of Furniture World. The vice-chairs will be Ward 9 Coun. Doug Craig and Ward 4 Coun. Evelyn Dutrisac.

Panel #2: To promote future growth of the health sector.

Former mayor Jim Gordon, will be chairman of this expert panel on health cluster development. Ward 8 Councillor Ted Callaghan and Ward 11 Councillor Janet Gasparini will serve as vice-chairs.

Panel #3: To develop a plan for new recreation and leisure facilities in the form of a multi-sport facility.

The recreation and leisure panel will be chaired by Cory McPhee, manager of public relations at CVRD Inco. The vice-chairs will be Ward 2 Coun. Jacques Barbeau and Ward 5 Coun. Ron Dupuis.

Panel #4: To come up with a new taxation/revenue system which will give northern municipalities a greater share of the wealth generated by resource industries.

This expert panel will be chaired by Jose Blanco, a former vice-president of then Inco Ltd. Ward 1 Coun. Joe Cimino will be the committee's vice-chairman.

Panel #5: To provide direction, guidance and a financial oversight to the performing arts centre and recreation centre advisory panels.

This panel will be chaired by Mayor Rodriguez. Members of the panel will also include Gasparini, Callaghan, Salo, McPhee and two representatives of the Greater Sudbury Development Corporation.

The entire report on the expert panels can be found on the city's website at www.greatersudbury.ca It is expected that City Council will endorse the recommendations of the report, including a budget of $50,000 for each of the four main expert panels, during it's meeting on Wednesday, February 28.
Christine Brosseau Begins Preparation For 2nd Annual BIG SWIM FOR ARTHRITIS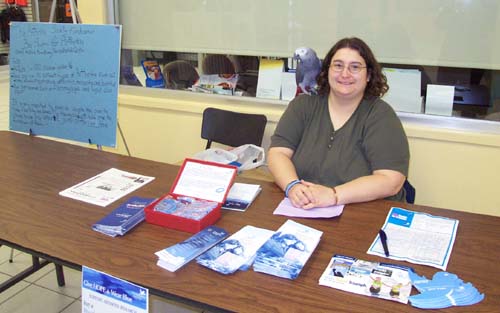 The Foresters BIG Swim for Arthritis was a huge success in 2006 and as it enters its 2nd Annual Swim, volunteers are hoping to break all records from the inaugural year.
Foresters BIG Swim for Arthritis is the only National swimming event in Canada. More than 1000 swimmers in more than 60 pools across the country will put on their swimming caps and dive in to show their support for The Arthritis Society by swimming to raise money.
Foresters BIG Swim for Arthritis 2007 will take place between Friday, April 20th and Sunday, April 22nd .
Once again, the Howard Armstrong Recreation Centre in Valley East will be hosting the event for the Greater Sudbury Area. The BIG Swim For Arthritis will be held her on Friday, April 20, 2007 beginning at 9 a.m.
Christine Brosseau, shown above at her table in the mall with Sam, her 7-year old Congo African Grey Parrot, will be one of the swimmers participating in the event at the Howard Armstrong Recreation Centre in Valley East . She will be set up at the Hanmer Valley Shopping Centre every Saturday between February 16 and April 14 collecting pledges from generous patrons from Valley East.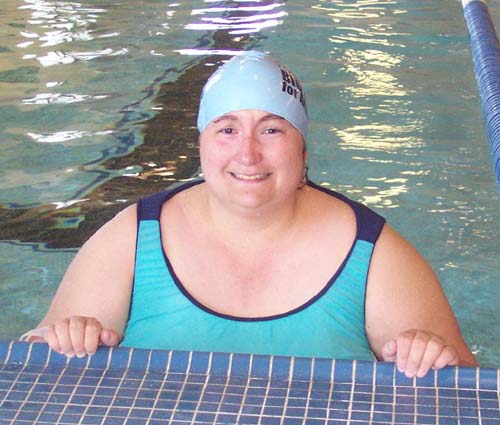 Christine is shown moments after she completed her swim on April 21, 2006, during the first Annual BIG Swim For Arthritis. She is all smiles after completing a 5000 metre swim in 2 hours and 50 minutes. She swam a full 200 laps and was presented with a medal in honour of her accomplishment from Bob McOrmond, President of the Sudbury Shunia Branch #228.
Christine is hoping to raise even more than the $555 she raised last year, so if you would like to sponsor Christine, call her by phone at 969-5306 or email
You can also stop by her table at the mall any Saturday.
To see all of the stories written about Christine Brosseau last year, click here.
Hundreds of Local Residents Meet Half of the Famous Staal Brothers At Desjardins' Food Basics Autograph Session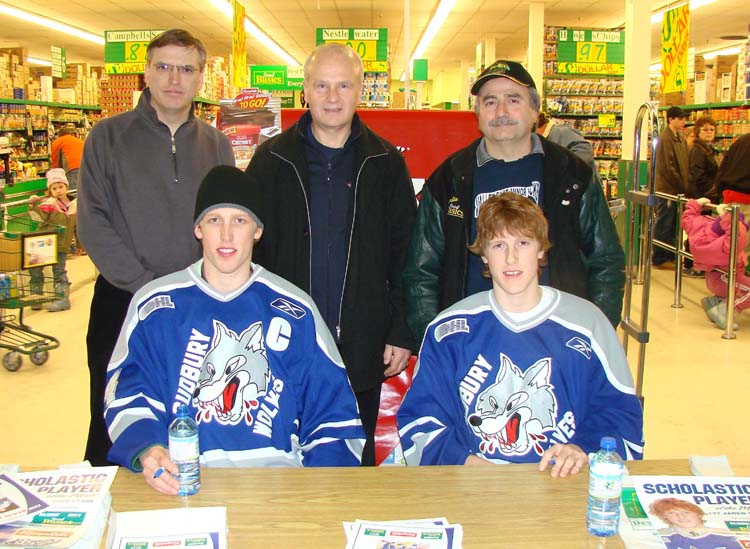 Marc Staal, Captain of the Sudbury Wolves and destined to join his other two brothers, Eric and Jordan in the NHL for the 2007-2008 season, is shown at the end of an "exhausting" autograph session with his younger brother, Jared on the right. The two talented players had just finished an hour of continuously signing posters, jerseys, hats, sticks, etc. as fans of all ages spent a few brief moments that they will be able to talk about for the rest of their lives.
Blaine Smith, Vice-President of Hockey Operations, is standing on the far left in the photo. Blaine Smith, who is a graduate of the Sports Administration program at Laurentian University, has served in just about every role possible on the staff and is currently celebrating his 25th year with the Sudbury Wolves.
Beside Blaine is Bill Nurmi, Territory Development Manager for Campbell Soup Company Ltd., one of the corporate sponsors of the Sudbury Wolves.
The third gentleman in the back row is Ken Desjardins' owner of Desjardins' Food Basics, who along with Gary Doyle, owner of Doyle's Food Basics, has been a major corporate sponsor of the Sudbury Wolves for three years and is the team's Official Grocer.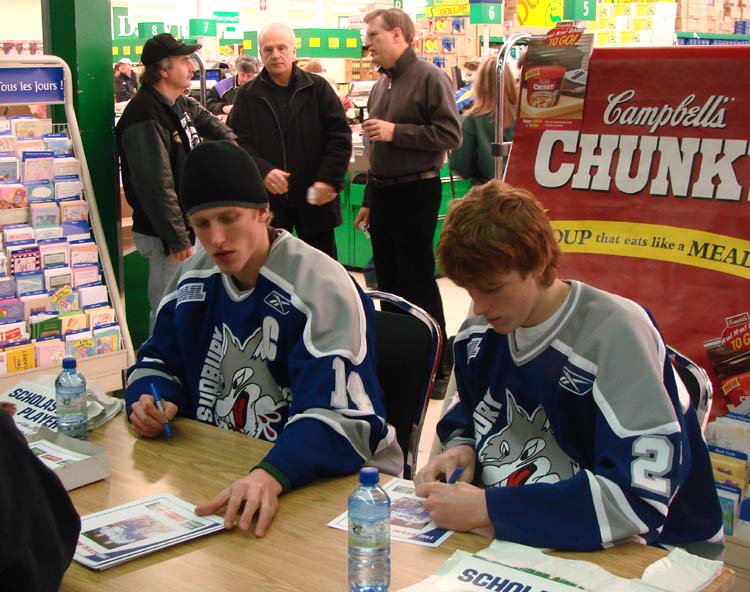 Marc Staal, on the left, was born on January 13, 1987. The 20 year old who wears #14 stands in at a solid 6' 4" and 205 pounds, making him a sure bet for a contract with the New York Rangers in the fall of 2007. The Rangers drafted Marc 12th overall in 2005 after the Sudbury Wolves picked him in the 1st round of the midget entry draft in 2003. He is a left-hand shooting defenseman who has the frame to battle with the tough stars of the NHL. Marc has already had a story-book hockey career, winning two gold medals with Team Canada at the World Junior Championships and received the top defenseman award in 2006.

Jared, on the right in the photo, was born on September 21, 1990 and hails from Thunder Bay. The 16-year old is in his first season with the Wolves and already stands in at 6' 2" and 180 pounds. He now plays right wing, shoots right and wears #27. Jared was a first round pick by the Wolves in the midget entry draft of 2006, playing last year with the Thunder Bay Kings Midget AAA. He is eligible for the 2008 NHL draft and is expected to see a lot of playing time during the 2007-2008 season.

The crowd, partly shown in the photo below, began lining up forty minutes before the autograph session was scheduled to begin and gave the Staal brothers a hearty ovation when they arrived.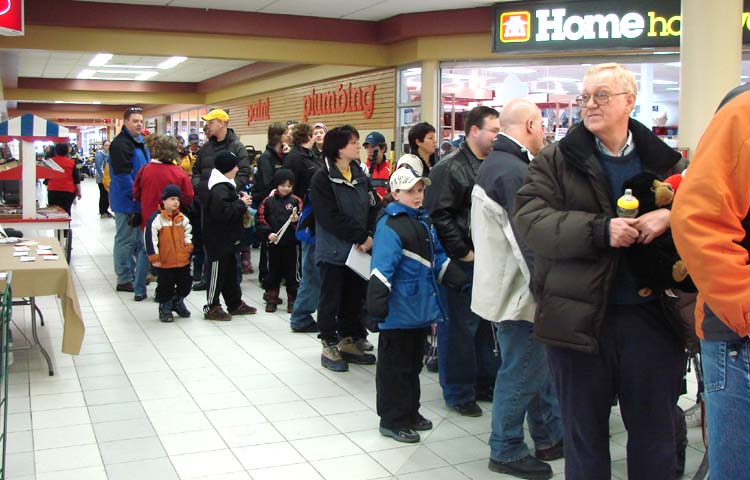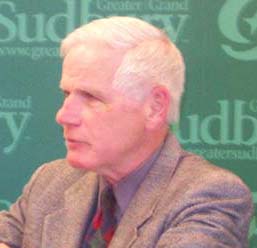 Floyd Laughren Presents His Report To Council On January 10, 2007:
"Constellation City - Building A Community of Communities In Greater Sudbury"
Greater Sudbury's new city council received the much-anticipated Laughren Report on January 10, 2007.
Judging from the initial reactions of Councillors, most of the recommendations have been received with open arms and each of the Councillors and Mayor have committed themselves to implementing the suggestions as soon as possible.
Besides containing 35 recommendations, the report also encourages City Council to adhere to the following eight core values with respect to the operation of the city:

1. Inclusiveness: all communities must feel part of the whole;

2. Preservation and celebration of community history: creates shared experiences;

3. Openness and accessibility: links for citizens with policy makers, access to services;

4. Transparency and accountability: enhances democracy, citizens get information on how and why decisions are made;

5. High-quality, responsive customer service: timely, affordable, accessible;

6. Fairness: not necessarily equality, but respect for individual circumstances;

7. Superb communications: two-way flow of information using multiple media and access points;

8. Decentralization as appropriate: finding the balance between local decision-making and cost-effective management

The report's 35 recommendations are:

1. That the City Council adopt a resolution declaring that the City of Greater Sudbury is a Community of Communities and, that the Constellation City concept and its core values form the basis for municipal policies and decision-making in Greater Sudbury.

2. That the City of Greater Sudbury produce a municipal newsletter on a regular basis. It should be made available both in print and electronically and contain information on subjects such as capital projects, road standards and special events. Efforts should be made to link with and include local information from communities both inside and outside the city core.

3. That the City of Greater Sudbury establish an advisory group and develop a strategy to evaluate, revise, improve and promote municipal websites in order to enhance usability.

4. That the City of Greater Sudbury work with other community agencies to create a single directory of community services both in print form and on the Internet. This directory should build upon and link with existing directories of community services.

5. That the City of Greater Sudbury formulate a strategy to resolve issues controlled by private enterprise that are central to the well being of the city as a whole. These include Bell Telephone long distance charges, cell phone coverage and broadband Internet access.

6. That the City of Greater Sudbury undertake a full review of transit services and explore the potential for expanded intra-community transit, expansion of handi-transit and an end to two-tier fares. Full-year pilot projects should be undertaken to evaluate this potential, starting as soon as possible. Further, the city should establish an ongoing transit advisory group, using riders from across the entire community.

7. That the City of Greater Sudbury Council hold at least six meetings per year in communities outside the city core.

8. That the City of Greater Sudbury develop orientation training sessions for all staff, new and existing, to be made aware of population diversity as well as the unique conditions and specific concerns of outlying areas in order to be able to communicate in an efficient and sensitive manner with all citizens. Further, that the City of Greater Sudbury establish a employment transition policy to ensure that knowledge gained through experience is retained.

9. That the City of Greater Sudbury review the mandate of Citizen Service Centres and Community Libraries, along with the menu of services available in each. The focus of the review should be on innovations that will improve access to services across the city, considering factors such as the distance residents must travel for service, the potential to expand the number of services available and the potential co-location of additional library and CSCs. Further, the review should consider the potential for mobile services, additional web services and the potential to enhance a lead staff position to allow that person to be more active and proactive in local community affairs.

10. That the City of Greater Sudbury develop a written Declaration of Support for community volunteer groups and local events. The declaration should clearly delineate the assistance that the city can provide as well as how individual groups and community event organizers can access this assistance.

11. That the City of Greater Sudbury work with the Greater Sudbury Police Service to reduce or eliminate the fee for police checks for volunteers who provide valuable service for community events, community groups and non-profits.

12. That the City of Greater Sudbury review how the City formally recognizes individuals and groups and consider ways to improve recognition in all communities.

13. That the CGS review gaming regulations and procedures as they apply to non-profit and volunteer groups and develop options to make the regulations simpler and less onerous. Further, that Council work with the Federation of Northern Ontario Municipalities and the Association of Municipalities of Ontario to lobby the provincial government to make changes to provincial regulations to provide more flexibility for use of funds and simpler reporting standards.

14. That the CGS nurture the creation and support the operation of a special events group that can share expertise on managing of major/minor special events.

15. That Council continue the development of a comprehensive bylaw to govern the use of All Terrain Vehicles (ATVs) within the CGS.

16. That the City of Greater Sudbury continue to investigate the environmental impact of current road salting practices, research alternatives and propose a strategy to reduce the impact of road salt or mitigate the damage it causes, while ensuring traffic safety.

17. That the City of Greater Sudbury undertake a full review of the number of municipal wards and their boundaries in order to better recognize the diversity and the large geographic size of the City of Greater Sudbury. The intent of this review is to allow better representation and a more natural grouping of communities of interest in each ward. Further, the Community Solutions Team recommends that the geographic boundaries of the former towns of Onaping Falls and Capreol each form the basis for a single ward in any new system.

18. That the City of Greater Sudbury create a full list of municipal infrastructure along with a transparent list of capital priorities and criteria for support and that this list is made available to the public on an ongoing basis.

19. That the map-based inventory of existing services infrastructure throughout Greater Sudbury be updated and promoted to the public for the purposes of indicating the ability of the infrastructure to support expansion of current subdivisions or new development.

20. That the City of Greater Sudbury conduct an annual review and produce a written report on the status of all major studies undertaken by the municipality since 2005.

21. That the City of Greater Sudbury adopt a policy on the use of consultants which ensures better use of existing expertise and establishes clear criteria for the use or retention of consultants.

22. That the City of Greater Sudbury continue to encourage the development of Community Action Networks at the local community level. Further, that the CGS establish Terms of Reference for 12 Area CANs across the city.

23. That the City of Greater Sudbury foster the development of local committees to work in a support or advisory capacity with city staff on issues including recreation, libraries, museums, and parks.

24. That the City of Greater Sudbury establish clear and transparent standards for road improvements as well as summer and winter road maintenance and, that these standards be set by road segment and that this information be made public and available online using GIS technology.

25. That the City of Greater Sudbury eliminate tipping fees for home or personal garbage, as well as the surcharge for tires, and, that the City of Greater Sudbury increase the minimum fine for illegal dumping to $500 (the maximum permitted under the Provincial Offences Act). Further, that the City of Greater Sudbury continue to promote proper waste management and look for ways to increase public awareness.

26. That the City of Greater Sudbury establish a fair rates policy for the use of community facilities and fields across the CGS.

27. That the City of Greater Sudbury designate specific downtown areas in appropriate communities. Further, that the city commit to improving the development of downtowns in outlying areas and ensure that city programs that are established for the improvement or enhancement of downtowns and target areas be made available across the city.

28. That the City of Greater Sudbury improve maintenance standards and beautification for local parks, arenas, downtowns and neighbourhood entrances.

29. That the City of Greater Sudbury review the availability and type of services available to youth and to seniors in our city. Further, that the CGS develop a strategy to ensure that senior and youth services are more accessible and equitable across the city. Finally, the CGS should ensure that youth and senior representatives play an active role in the development of the respective strategies.

30. That the City of Greater Sudbury investigate and report by department the potential to decentralize services with the intent to improve these services and service levels across the entire city. Potential changes should improve access while maintaining efficient use of municipal resources.

31. That the City of Greater Sudbury undertake a full review of tax rates in remote areas and establish rates that are more closely based on services provided.

32. That the City of Greater Sudbury work with citizens and CANs in areas served by Hydro One to determine a position and strategy on unification that is in the best interests of those affected.

33. That the City of Greater Sudbury adopt a policy whereby communities of interest are considered for representation on city panels, committees and boards.

34. That the City of Greater Sudbury formally recognize the importance of the local agricultural community, ensure that the preservation of viable agricultural land is a priority in development planning, and establish an Agricultural Advisory Committee to provide input on farm-related issues.



35. That the Greater Sudbury Council commit to a public review of the recommendations of the Community Solutions Team on an annual basis for the next four years and that a full report on the implementation and status of these recommendations be undertaken in 2010 and made public by September 1 of that year.
Confederation Secondary School Music Program Runs State-Of-The-Art Recording Studio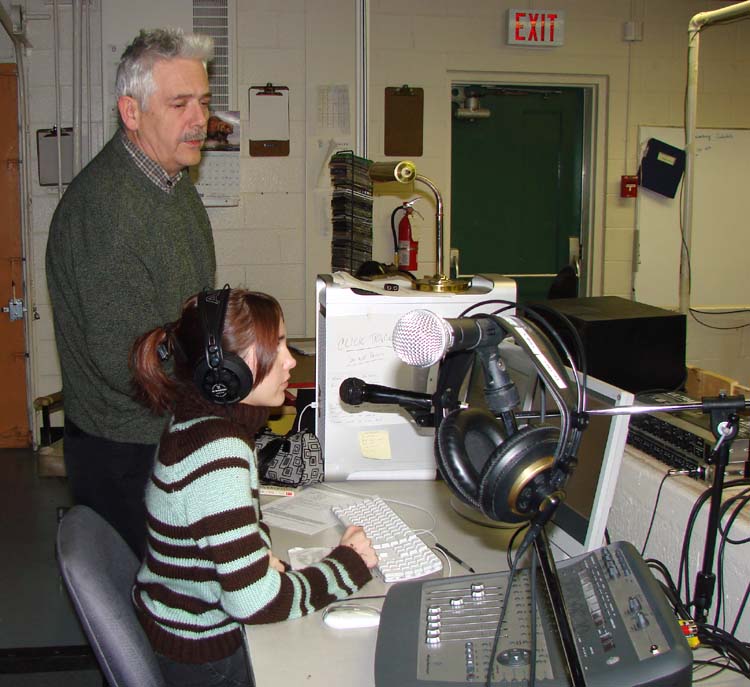 "A Solid Music Program Helps Students In Many Other Disciplines" According to Norm McIntosh, Music Director at Confederation Secondary School who doesn't hesitate a bit when asked what he likes most about music.

"I love live bands," he exclaims. "There is just something about a live band which captures the essence of music and that is why I have devoted my entire career to this segment of the industry."

Norm is shown with one of the students in his Music class, Lianne Caron, who is a "Recording Engineer" in the State-of-The-Art Recording Studio that was built with the help of a $23,000 Trillium Grant from the Valley East Lions Club. Lianne, who is in Grade 11, watches carefully while two students from Pinecrest Public School (see article below) record their song for a CD that was being produced by the class. Approximately one group or individual per week comes to the studio each week The school asks for a donation of $25 per hour, which includes the time in the studio to record the music, complete editing and technical refinement of the recording, transferring the music on to a CD and the finished product ready to take home in about two weeks. For about $50 you can record an entire CD and walk away with a professional product that is as good as you will get anywhere!

"This studio is one of the best kept secrets in Valley East," McIntosh declared. "We use professional equipment and recording software that is currently used in over 80% of the recording studios in the country. The studio is large enough to accommodate an 80 person choir or a single performer. We even record our Evolutionary Band here."

Despite the technological advances being made in the industry, Norm feels that as long as young people are encouraged to develop an "ear for music" there is no fear that computer generated music will replace live performances. However, he feels that music programs in schools in Ontario must continue to be funded and even expanded or students will lose a lot more than the chance to play in a band.

"It has been well documented that music students do much better in other curriculum areas. Because music is such an exact science, it develops a desire for perfection in a young person. For example, if you have a 100 question test in math and you get 90 correct, you will get an 'A' and feel good about yourself. However, if you have a 100 note musical piece and you make 10 mistakes, the end result will be terrible and you will certainly not get an 'A'," explained McIntosh.

"Another thing working in a band teaches you is team-work. If you have a 24 member band, the group is only as good as the weakest player. Therefore, you see a lot more cooperation and encouragement as stronger players help the weaker players become better. One person off key can destroy an entire performance, so there is definitely a commitment to working together as a team," McIntosh went on.
| | |
| --- | --- |
| For more stories and photos about the Confederation Recording Studio... | |
President of Valley East Minor Hockey Association Nominated For National Award Through Hockey Canada
The RBC Local Hockey Leaders Program is a joint effort of RBC Insurance, the Hockey Hall of Fame
and Hockey Canada. They are participating in a nationwide search for outstanding hockey volunteers. According to Shelley Lepp Fransen or the RBC Local Hockey Leaders Program, Thirteen regional RBC Local Hockey Leaders 13 winners from across Canada will be selected in February (one from each of the Hockey Canada branches) and each will receive $10,000 towards a local minor hockey cause.

Some of the nominations that have been submitted have been set aside that demonstrate true local leadership.

Robert (Bob) Bellerose, President of the Valley East Minor Hockey Association, was one of those nominations. He was nominated by his son, Michael Bellerose.

Ms. Fransen stated, "It is people like Bob who continue to make hockey a Canadian tradition. It is our hope that the community will be able to recognize him for his tireless efforts towards minor hockey. It is our goal to highlight the true behind-the-scenes hockey leaders that put their time and effort into making hockey fun and accessible for Canadian kids."

The nomination essay is printed below, in its entirety: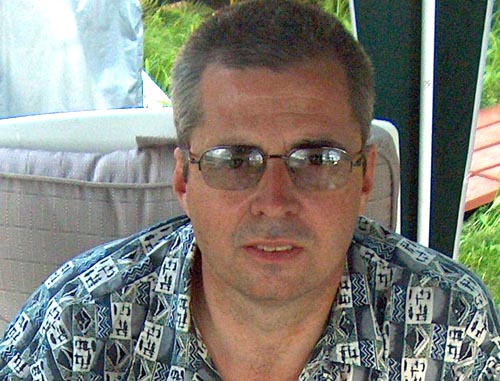 Bob Bellerose is very dedicated to volunteering for Valley East Minor Hockey.

He is the President of the league, and has been for approx 5-8 years. Before this he was the convenor of the novice division for approx 2 years. He demonstrates dedication not only by the number of years he has been volunteering, but also when it comes to tournaments, scheduling, assisting anyone in need, coaching, or anything that really needs to be done he is there to assist and complete the job.

He can be easily approached by anyone. He is one of those people that can take criticism well and at the same time he can also be approached for anything that needs to be asked. He can answer any questions you may have if he knows the correct answer of coarse.

He must be by far the person that dedicates his time to any sport just for satisfaction that kids are having fun and are developing. That is his main priority, Kids first! His helpfulness to the game of hockey in Valley East is exquisite.

I do not think anyone would have a bad word to say about Bob because he demonstrates all the assets a leader needs. He is the best leader/volunteer that anyone can ask for.

The positive lasting impact that Bob has given me is that helping out is very important. Life is not just about making money. You can have fun when you are volunteering.

Since he has volunteered so much to hockey it has given me the love of the game. Since that I am too old to play I am an assistant coach of an atom tier 2 team and the timekeeper coordinator. Without his motivation and support I would not be able to do any of this.

He has impacted the board/group because when the city wanted to do something that Bob did not like they backed him up. He has the respect for all board members because they respect how much time and effort he puts to volunteering.

When I was in novice he was my coach. He was probably the best coach that I have ever had. Although I was really young I still knew how much time and effort he put to help coach the team. He even went out of his way to book gym at schools so we can have dry land practices to develop our skills. We might not have been the best team but having him on the team made it the best years of hockey of my life.

Last year was my last year of hockey with the Valley East Minor Hockey. My dad (bob) was the assistant coach. He ran practices, scheduled practices, got us into tournaments; he was very dedicated to helping out team. It was really nice to see it once again.

He volunteers THOUSANDS OF HOUSE but people take this for granted now that he has been around so long so I feel that he should be merited for all the volunteer work he has done for the game of hockey.

As you may see this is my dad. I am too old now to play houseleague hockey is the valley because I am now 18. He is still the President of the league and still demonstrated all the assets that a leader needs. He has everyone riled up for next year because they know that he will be there and if they need help they know for sure that there is at least one person they can go see and ask anything they desire.

Submitted by
Michael Bellerose
Collecting Coins Is An Excellent And Potentially Rewarding Hobby For All Ages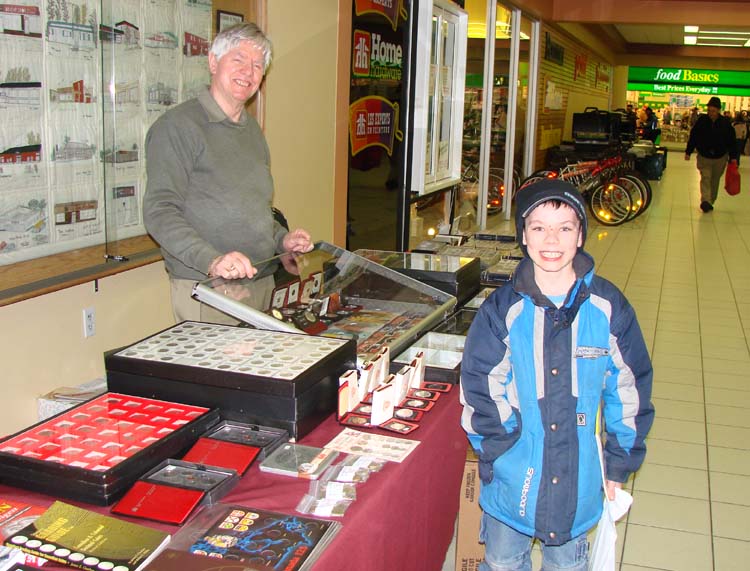 John Brown, owner of "The Connoisseur", otherwise known among these circles as "The Coin Guy", can be found every month at the Hanmer Valley Shopping Centre with his display of coins and memorabilia. Coin enthusiasts from around the area, and as far away as North Bay, regularly visit with John to talk, trade and buy collectors' items of all kinds.

Young William Gagne, an eleven year old collector, was one of the visitors to John's exhibit recently.

William, who is a Grade 5 student at Ecole Notre Dame in Hanmer, has been collecting coins all his life, an interest that was started by his grandfather.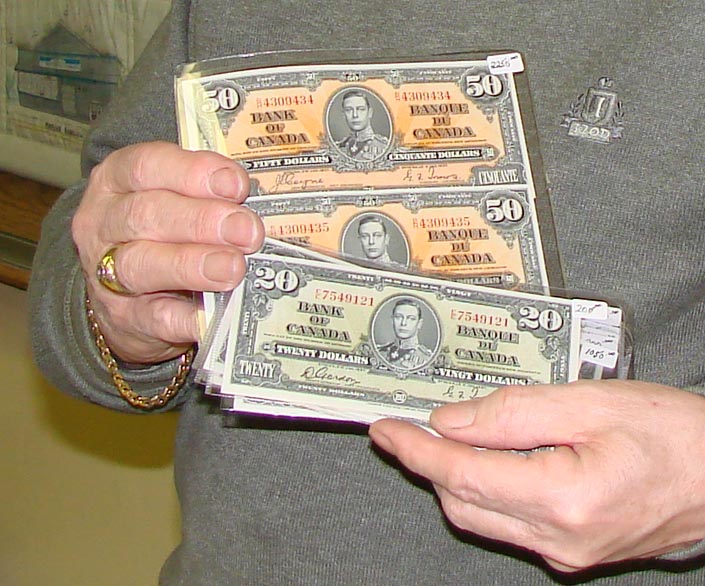 John will spend hours talking to visitors about coins.

"Besides learning so much about the history of different countries, this can be a great long-term investment for anyone," he explained while holding up some bills that were worth thousands of dollars. The two 1937 $50 bills in his hand are valued at over $2250 because of their mint condition and the fact that they contain two consecutive serial numbers. "You can imagine how hard it would be to find two bills in mint condition with consecutive serial numbers. The value of these bills will just keep climbing every year, so even if a person buys it now for $2250, you know you will make your money back and much more when you sell it some time in the future."

John mentioned that some people have sold their complete coin set and made enough money to buy a house. This is especially the case for people who start collecting when they are very young, like William.

"The value of coins and bills depends a lot on their condition," he explained. "Many people think the older a coin is the more valuable it is, but that isn't always the case. Coins that are misprints or during years when there were very few of them produced are more valuable. And the better the condition, the more valuable they become."

Many coin collectors explain that they were started on the hobby at a very young age and just kept at it, accumulating interesting coins from different countries and different sets over the years.

"You would be amazed at how much money has slipped through your pockets over the years," John explained. "Coin collectors get into the habit of examining all of the coins they receive to see if there is anything special about them or if they have any dates that are missing in their collection. Some go to the bank every week to buy rolls of coins and then check the coins to see if they can find any that they can use. Quite often a very valuable penny will be mixed in with the rest and instead of paying hundreds of dollars from a coin collector, you can pick it up at face value from the bank. If you have a set of every single penny that was produced by Canada in the 20th century, you can imagine how valuable that would be to some collectors. And you may be able to build that set simply by checking pennies from rolls you buy at the bank."

Check out the Calendar of Events schedule for the Hanmer Valley Shopping Centre to find out when John will be back in the Valley with more coins and stories to tell.
Close To 100 Christmas Hampers Delivered by Knights of Columbus Council #5005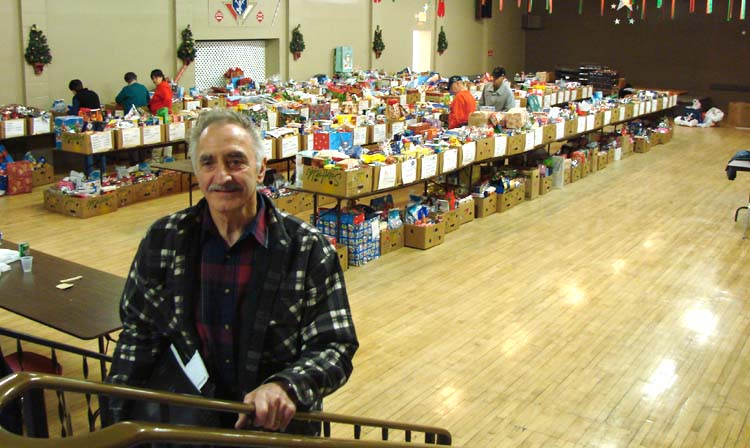 Fern Gascon, who has just completed his 3rd year as coordinator of the Christmas Food Hamper Program for the Knights of Columbus Council #5005, is shown here with the 96 food baskets ready for delivery to needy families in Hanmer and Val Therese. The Knights work with the Good Neighbours Food Bank on the annual project. Applications and referrals are made through the Food Bank and the Knights supply most of the volunteers who put everything together.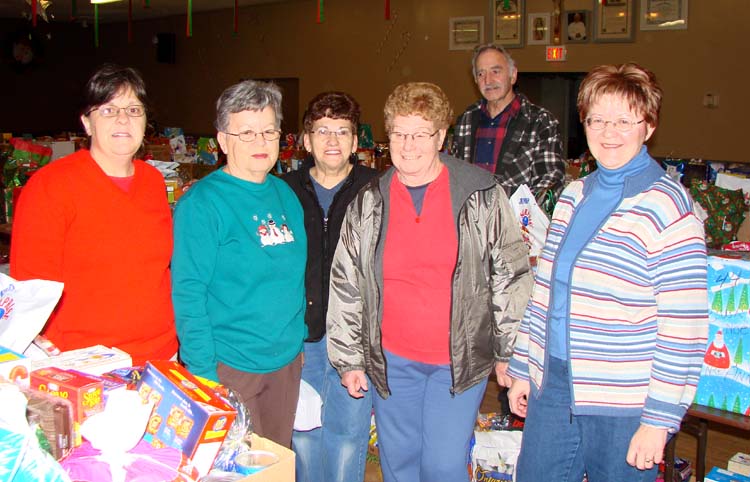 Five members of the volunteer team are shown above. From the left: Evelyn Lefebvre, Florence Lefebvre, Helene Denis, Marcelle Menard and Roseline Harrison. Fern is shown in the background.

The volunteers worked until midnight and were up again at 8 a.m. to make sure everything was ready for the men to deliver or for people to pick up the food hampers at the hall that day.

The food is donated from a variety of sources. For example, much of the food comes from the local schools, especially Ecole Secondaire Hanmer, Confederation Secondary School, St. Anne School and Ecole Notre Dame. The Club Optimist donates food vouchers and 50 bags of potatoes are donated from Valley Growers.

Each food hamper contains over $150 worth of food, milk, bread, etc. as well as a gift for each member of the family. The idea is to provide the family with a good Christmas dinner and still have some left over for a few days.

Fern commented that while it is a lot of hard work for the volunteers, they all feel that their effort is well worth it in order to help make Christmas just a bit happier for the more than 300 people who depend on the food hampers each year.