Capreol Child Care Centre Celebrates 10th Anniversary With Special Open House Event
Capreol Family Action Network Operates Clothing Exchange For Residents of Valley East and Capreol
Groceries For A Year Presented By Desjardins' Food Basics As Part of Valley East Minor Baseball Sponsorship
Many Local Residents Would Like To See A Leash-Free Dog Park Established In Valley East
Beavers, Cubs And Scouts Distribute Apples To Residents of Valley East During Annual Fund-Raiser
2006 CHAMPIONS DECLARED IN VALLEY EAST MENS' SLO PITCH LEAGUE
T.B.A. Wins Valley East Ladies' Slo-Pitch League & Playoff Championships For Second Year In A Row
Neil's Independent Grocer And President's Choice Children's Charity Provides Financial Assistance to The Poirier Family of Hanmer
2915 Royal Canadian Army Cadet Corps Irish Regiment of Canada Capreol Group Gains Money and Recruits From Visit To the Mall
Capreol Child Care Centre Celebrates 10th Anniversary With Special Open House Event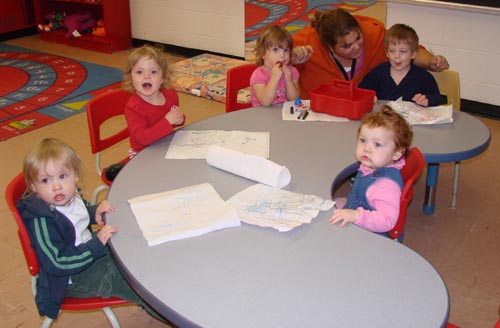 Early Childhood Educator, Lori Major, is shown working with her five "toddlers" during a drawing activity in one of the spacious classrooms at St. Mary's Catholic School which have been used by the Capreol Child Care Centre since it opened in 1996.

The Capreol Child Care Centre also operates out of C.R. Judd Public School , providing children from the community with an opportunity to make an easy transition from the day care setting to Junior Kindergarten when the time comes at the age of four.

The two centers provide a total of seventy-five (75) child care spaces for children ages eighteen months to twelve years old. Families come from Capreol, Hanmer, Val Caron, Sudbury and other localities.

Executive Director, Mary Chernenko, is quick to give credit to the team of loyal and devoted staff who have given so much over the years and to the volunteers who serve on the Board of Directors. "We have taken steps to reduce the struggle between career and parental obligations by offering very flexible child care hours, operating from seven days a week opening from six a.m. to six p.m. and even accommodating parents who work late in the evening or weekend when requested and feasible. We're also proud to say that we have never had a waiting list due to the school's availability of classrooms to expand our center if and when needed."

The Capreol Child Care Centre is nonprofit and fully licensed establishment and follows the stringent guidelines and requirements set out by the Ministry. "We offer the full range of programs you would expect to find at any licensed child care center," Mary explained. "Through the Best Start Plan we facilitate educational programs in conjunction with school programs offering alternate full day junior kindergarten programs. We have before and after school programs. We continue to work with the City of Greater Sudbury to promote school readiness programs with nominal or no fees for parents."

With respect to cost, the Capreol Child Care Centre offers child care at a lower cost than many other day cares in order to appeal to larger families. "We are the only nonprofit day care center that offers 30% child care discount for families with two or more children. Subsidies are also available from the City of Greater Sudbury for low income families who qualify."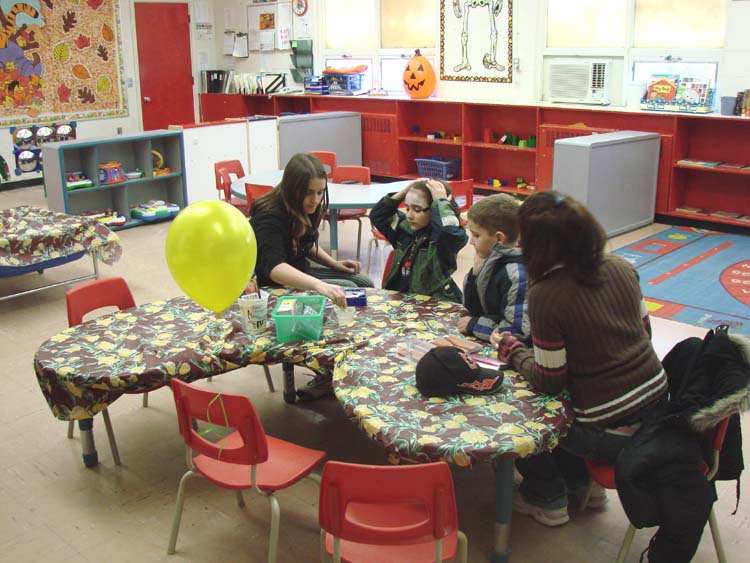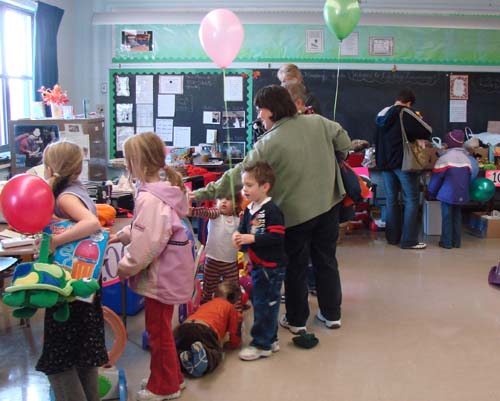 The public was invited to attend the Capreol Child Care Centre's Tenth Year Anniversary Kids Party on Saturday, October 21, 2006 from to at the St. Mary's School site on Meehan Street .

This was an an opportunity for parents to tour our facility and talk to our qualified instructors.

As you can see from the photos in this article, there was a yard sale, games, balloons, crafts and face painting. A fantastic kid's show was featured at put on by "The Stylanders" from Toronto . The outdoor barbecue provided plenty of hot dogs and sausages plus plenty of refreshments and donuts on hand at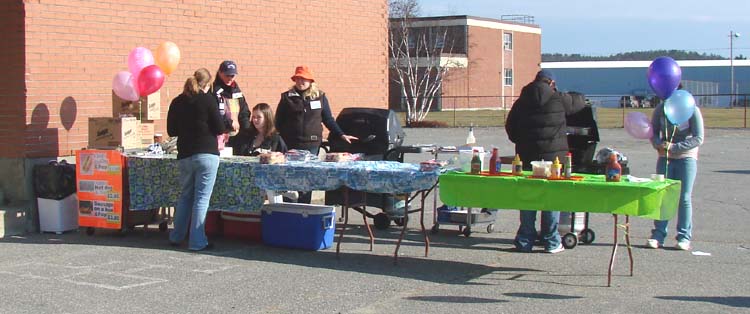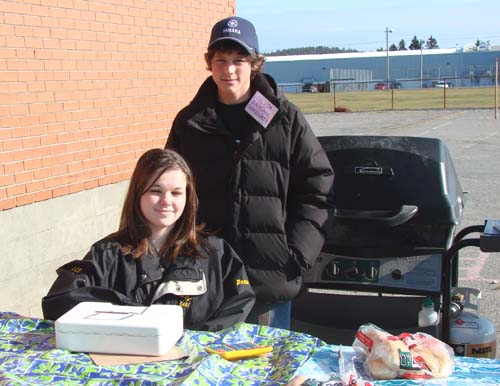 Mary, the entire staff and Board of Directors want to thank the hundreds of people who have supported the center over the years. "We could not have done it without you and we are glad that so many of you were able to stop by and enjoy our anniversary celebrations.

Two of the young people helping out at the barbecue are graduates of the Capreol Child Care Centre. They are Stephanie Wilson and Trevor Lambovich, both attending Bishop Alexander Carter Catholic School in Hanmer.

If you have any questions about the Capreol Child Care Centre contact Mary Chernenko at 26 Meehan Street in Capreol or call her at (705) 858-0651.

Capreol Family Action Network Operates Clothing Exchange For Residents of Valley East and Capreol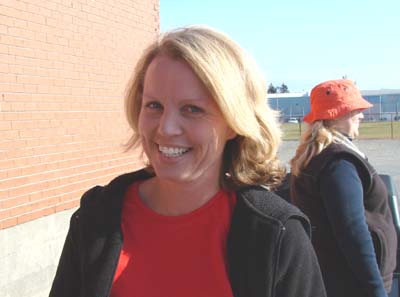 Sari Huhtala, Chair of the Capreol Family Action Network wants people from Capreol and Valley East to know about the clothing exchange service that she and her team of volunteers operate at the Citizen Service Centre in Capreol.

"If anyone, especially from young single-parent families is in need of clothing of all sizes and kinds, please call me at 858-4430 to get information about how we can help you out," Sari explained. "We have received so many donations from wonderful people in the area that we just want to distribute these articles to people who can use them."

The centre is open for distribution Mondays from 11:30 to 121:30 and Thursdays from 6 to 7 p.m.

If you need more information, contact Sari by email at chacha@isys.ca
Groceries For A Year Presented By Desjardins' Food Basics As Part of Valley East Minor Baseball Sponsorship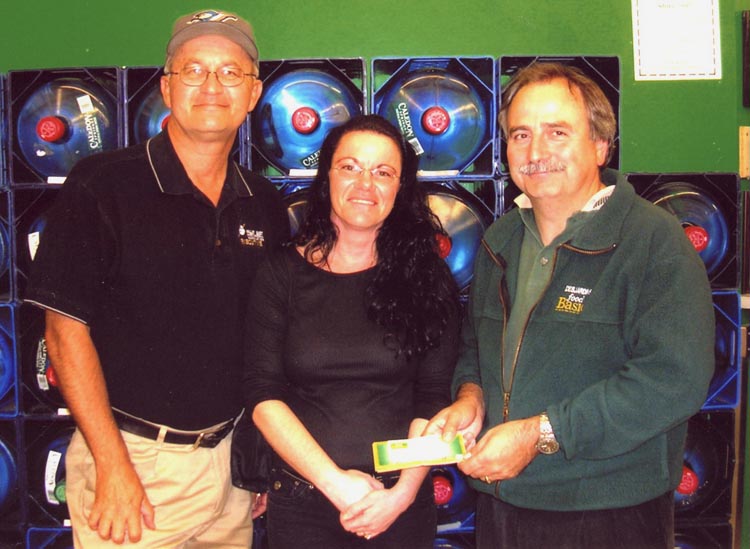 Garry Shyminsky, on the left, and Ken Desjardins, owner of Desjardins' Food Basics in the Hanmer Valley Shopping Centre, congratulate Patty Crites, the winner of the Valley East Minor Baseball "Win Groceries for a Year" contest which was drawn on September 16, 2006. The Valley East Vipers Baseball teams would like to thank Ken Desjardins and Desjardins' Food Basics for all the help and support this past baseball season.
Many Local Residents Would Like To See A Leash-Free Dog Park Established In Valley East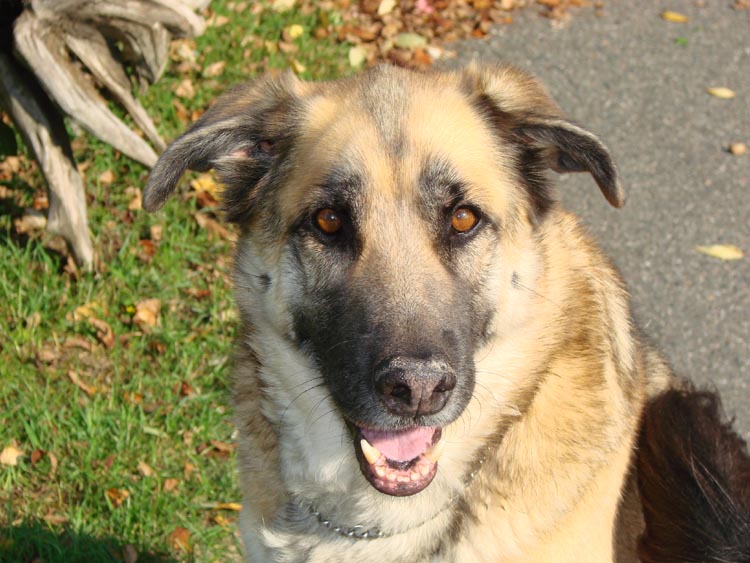 One thing you notice very soon when you visit Valley East is that the dog population is very high. However, according to one long-time dog owner, Darlene Ranger, despite the fact that there seems to be a lot of places in the community where you can bring your dog to run and play, especially in wooded areas on the outskirts of town, there just isn't any place where you can bring your dog and teach him/her to socialize with other dogs.

"What we need is a nice large, fenced-in park where you can bring your dog and just let it run loose and play with other dogs," explained Darlene. "Some of the big cities have them set up already and they are proving very popular. You can have a place to dispense water for your pet, a covered shelter to keep out of the sun and rain, and places to dispose of droppings that owners will be responsible for picking up."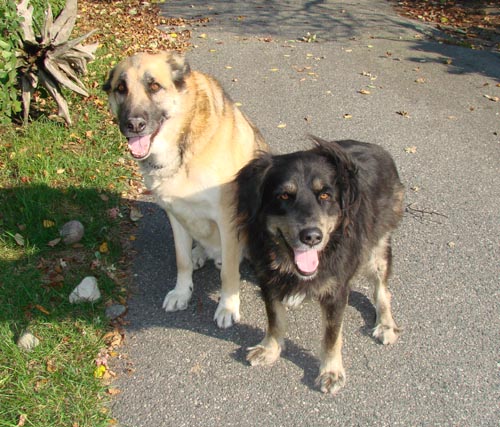 Leash-free parks are relatively easy to set up once you find a suitable piece of land. The area is fenced in so that dogs can't run loose. There are access gates and plenty of signage around the facility. The park would be open seven days a week from dawn to dusk. Once it is open, it can generally become self-sufficient as dog walking groups take on the responsibility of fund-raising to come up with money to cover most of the expenses.
Owners will always be responsible to follow the "stoop and scoop" bylaws so this would be a fairly clean park.
Darlene Ranger and other dog lovers in the area are looking forward to the day when dogs like Sarge (left) and Baxter can be taken to a park where they can run loose and play with their "friends".


| | |
| --- | --- |
| If you have any thoughts or opinions about the possible establishment of a leash-free dog park in Valley East, please send an email through the link to the side... | |
Beavers, Cubs And Scouts Distribute Apples To Residents of Valley East During Annual Fund-Raiser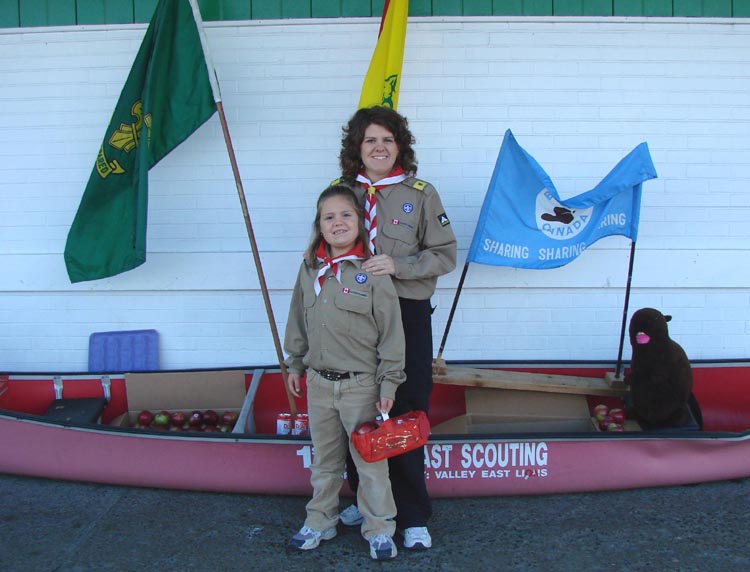 Lynn Lachance, a Cub Leader with the 1st Valley East Scouts, is shown with her 8-year old daughter, Roxanne, during the Annual Apple Day fund-raising drive held in Valley East on Saturday, October 7, 2006. Roxanne attends Grade 3 at Ecole St. Joseph on St. Anthony Street and has been a member of the organization for 3 years. Roxanne's brother, Andre, is also a Cub. He was selling apples in another section of the mall at the time the photo was taken.

Lynn speaks very highly of the 1st Valley East Scouting group and feels it provides an excellent experience for young children. This year there are 36 young boys and girls registered in the organization. There are 15 Beavers (aged 5 to 8); 15 Cubs (aged 8 to 11); and 6 Scouts (over 11 years of age).

The Beavers and Cubs meet every Wednesday evening at St. Anne School in Hanmer, while the Scouts meet every Tuesday at the same place. Other activities and outings take place on weekends during the year which runs from September to May.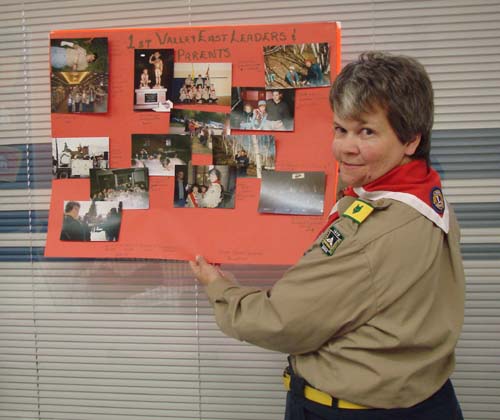 Debbra Christianson, shown in the photo to the right, Scout Leader with the 1st Valley East Scouts, holds up a display board that was used at the Hanmer Valley Shopping Centre during registrations which were held in September.

This marked the first time that the scouts have used the mall for registrations and Debbra was pleased with the response.

"We gained nine new members while we were in the mall, so it was very worthwhile for us to be there," she explained.

If anyone is still interested in joining this great organization, you can call Debbra at 969-7095 or Olivia Lobbon at 222-8878.

2006 CHAMPIONS DECLARED IN VALLEY EAST MENS' SLO PITCH LEAGUE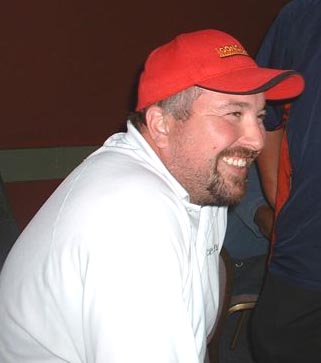 The 2006 Season is over now for the Valley East Men's Slo Pitch League. Team Kaos dominated the league from start to finish, winning the 'A' Championship over Gonga's Grill in three straight games. In fact, even though some games were close, Team Kaos lost only one game all year long.
Other Championship winners included: Neil's Independent/Parmalat in the 'B' Division; Autotech in the 'C' Division; and Optimus Prime in the 'D' Division.

The standings for each of the first and second half of the season, as well as both playoff series results can be found by following the links below.
We want to express our sincere appreciation to Brian Beaupre, shown on the left, for providing this information to us all season long. He has been extremely dependable in delivering the up-to-date stats to Valley East Today in time for our Tuesday publications. We look forward to the summer of 2007 for another great season.
FIRST HALF
FINAL STANDINGS
FINAL STANDINGS &
First Round Playoff Results
SEMI-FINAL SERIES RESULTS
CHAMPIONSHIP SERIES RESULTS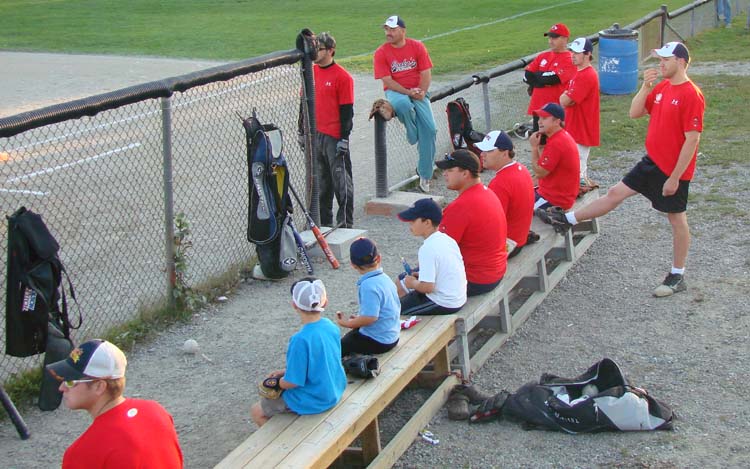 The closest Championship Series of the year was in the Budweiser Division Finals as Auto Tech and Moeric Services had to go to a fifth and deciding game to decide the eventual winner. Moeric took a commanding 2 to 1 lead in the series, but Auto Tech came back with two strong games to eventually win three games to two. The team in the photo is Auto Tech.
T.B.A. Wins Valley East Ladies' Slo-Pitch League & Playoff Championships For Second Year In A Row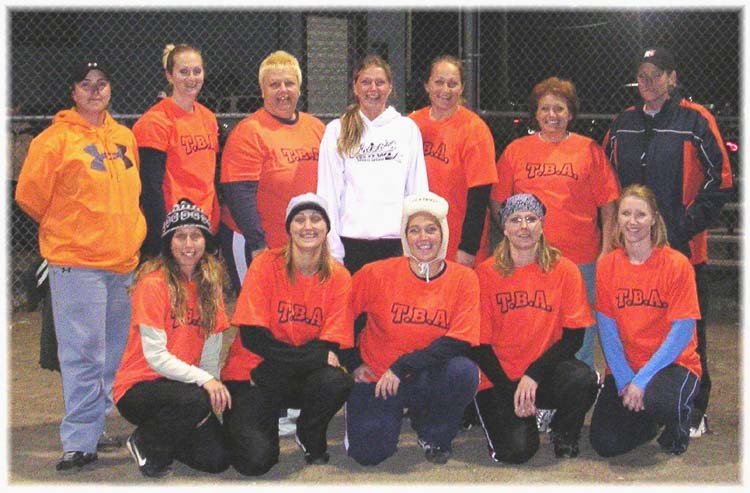 T.B.A. / CORTINA Girls Capture League and Playoff Titles For 2nd Straight Year
The Valley East Ladies' Slo-Pitch League wrapped up the 2006 season with their annual banquet at Buddies' Restaurant on September 30, 2006. For the second year in a row, T.B.A./Cortina captured both League and "A" Playoff Championships. They took the playoff title by defeating Chico's Bowl in the finals.
A new entry in the league, R.L. Construction (The Chemy Girls) took the "A" Consolation title by downing Paula's K-9.
The "B" Champs for 2006 were Northstar Bedding who edged out Gerharts Critters for the title.
The "C" Championships were won by Aimee's Team over Val Caron Equipment.
League organizers felt that this was one of the best seasons ever for the league and could be looked upon as a turning point for Ladies' Slo Pitch in Valley East. With ten teams this summer, it is expected that the number of teams could grow to twelve for 2007.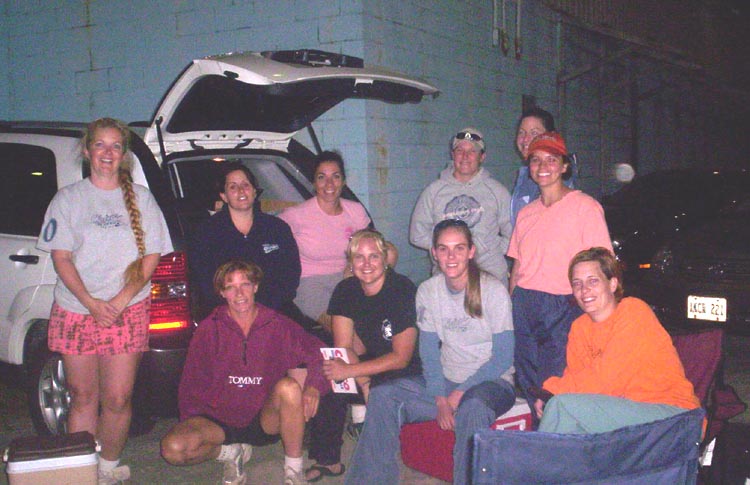 Chico's Comes In As Runners Up In "A" Division Playoffs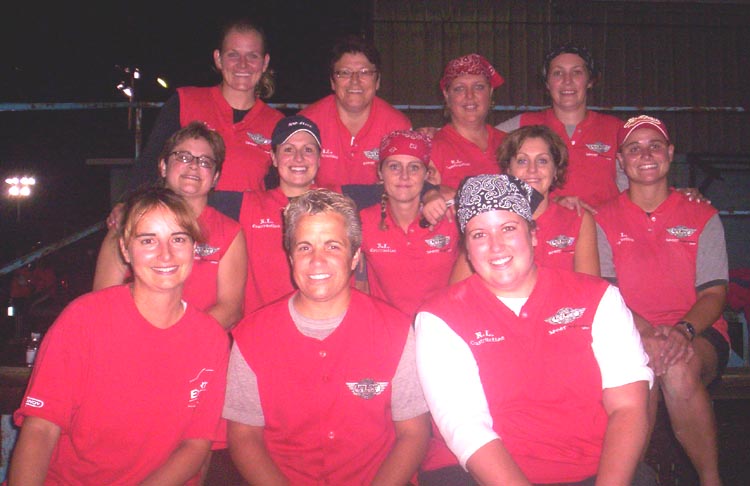 R. L. Construction (The Chemy Girls) Take 3rd Place In "A" Division In First Year Of Play In Valley East League
For more photos....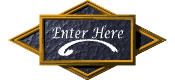 Neil's Independent Grocer And President's Choice Children's Charity Provides Financial Assistance to The Poirier Family of Hanmer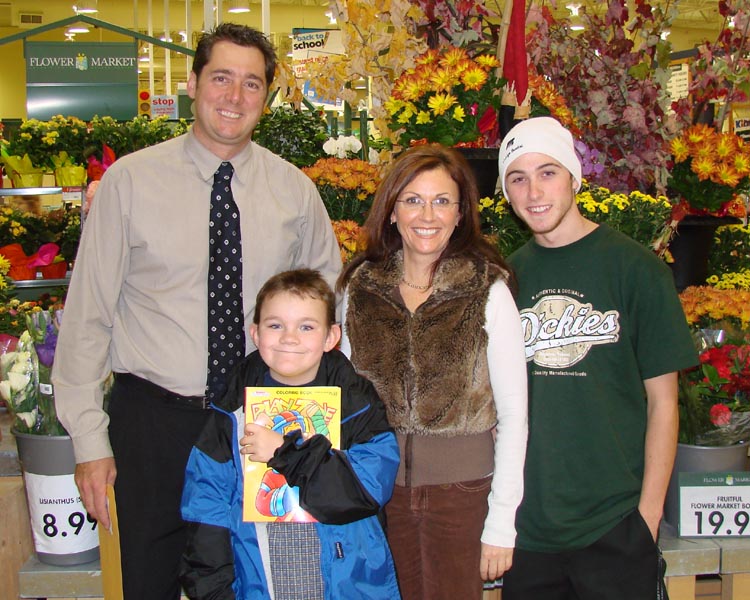 The President's Choice Children's Charity is dedicated to helping children who are physically or developmentally challenged.

We provide direct financial assistance in the purchase of mobility equipment, environmental modifications, physical therapy and more in an effort to remove some of the obstacles that make everyday living extremely difficult for these children.

Loblaws founded the charity in 1989 and has since raised in excess of $15,000,000 and helped over 3,500 families across Canada. Anyone with a child or young adult under the age of 25 with a physical or developmental disability can apply for financial assistance through this program. Just stop by Neil's Independent Grocers and talk to Neil for more information.

This past year, the staff at Neil's Independent Grocers held barbecues, walkathons, skateathons, draws, fish ponds and cake tables, raising over $10,000 for the President's Choice Charity. In recognition for its efforts, two local families received grants through the program.

In the photo above, Neil Lindenbach, owner of Neil's Independent Grocers, is shown with the Poirier Family of Hanmer. Claire Poirier is a single mother, raising three children. She is in the photo with two of her children: Francois (18), who attends Grade 12 at Ecole Secondaire Hanmer, and Isaac (10). Anik (6) was at home at the time of the photo.

For Claire, who was born and raised in Valley East, being the mother of an autistic child, Isaac, means being always unsure of the future. "Each day is a new day and you just don't know what it will bring. Isaac attends school at Ste. Marie in Azilda because it is the only school I know of that offers a special classroom for autistic children. He is extremely hyper-sensitive and takes a long time to adjust to changes in his routine, so I find that being in this class is good for him at this time."

It is quite difficult raising three children as a single mom in the first place, but having an autistic child brings with it even more challenges. Claire holds down two part-time jobs as a nurse so that she can take more time off if needed to attend to Isaac's requirements or to catch up on some much-needed rest.

"Francois is a great help to me," Claire declared. "I also need to hire help from time to time."

The grant from the President's Choice Children's Charity will be used to erect a fence around Claire's property in order to ensure that Isaac remains in the yard and doesn't venture off without telling anyone where he is going. This has always been a safety concern for the Poirier family and having the fence is going to make it much easier to allow Isaac to enjoy playing in the yard.

Neil is extremely proud of his staff who are always willing to take part in fund-raising ventures to assist in the ultimate goal of raising money for this worthwhile charity. "To have two grants in the same year is really quite remarkable and will certainly help motivate my staff even more."
2915 Royal Canadian Army Cadet Corps Irish Regiment of Canada Capreol Group Gains Money and Recruits From Visit To the Mall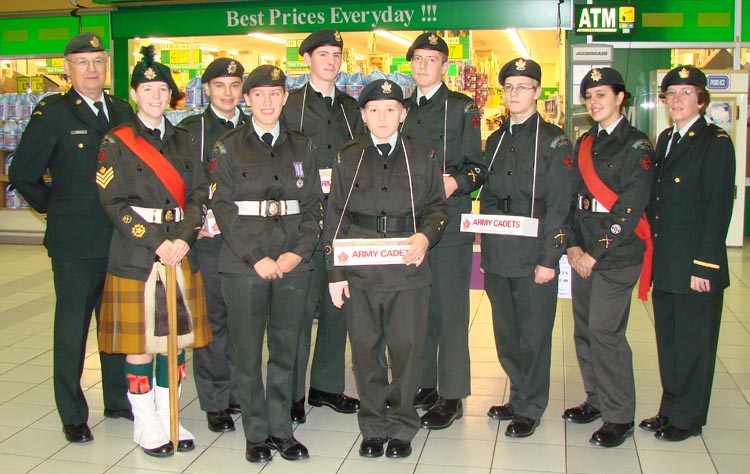 Members of the 2915 R.C (Army) C.C. Irish Regiment of Canada are shown above before their "Tour of Duty" during a special fund-raising "tag day" at the Hanmer Valley Shopping Centre on September 29 & 30, 2006. Company Sergeant Major Karie Belisle, 2nd from the left in the kilt, was in charge of organizing her group and she demonstrated why she is in her position of responsibility. Others in the photo, from the left, included: Captain Norm Duffy; CSM Belisle; MCPL Belanger; MCPL Harpe; CPL Deschamp; PVT Schreader; CPL Spurrell; PVT Brunet; SGT Belanger; and 2LT Joan Dumontelle.

Company Sergeant Major Belisle, a resident of Hanmer, has been with the "Capreol Cadets" for the past four years. She is a Grade 12 student at Confederation Secondary School and is the top ranking cadet in her corps. She feels that being a member of the Cadets has definitely helped her in a great many ways.

Captain Norm Duffy oversees the operations of the Capreol Cadets and he feels that, "This definitely something that every kid should try, but it is not for everyone." He continued to explain, "The goal of the Irish Regiment of Canada is to produce better citizens, promote physical fitness, and give young people insight into the Canadian Armed Forces. It helps boys and girls develop self-confidence, poise, and a sense of respect for their fellow man and for authority. Many people say that you don't belong to Cadets; you are adopted by Cadets.

The tag day at the mall is the major fund-raiser of the year for the Capreol Cadets and they appreciate the support that the public has always shown them.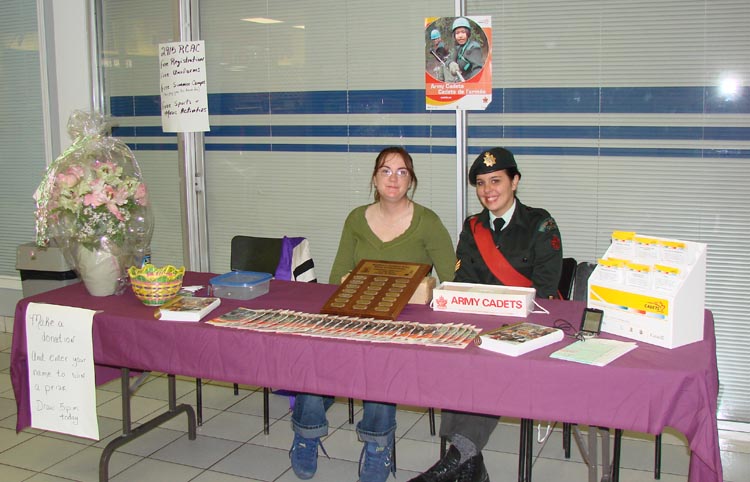 As well as raising money, the time at the mall was also used to provide awareness of the program and hopefully recruit more members. In the photo above, Heather Richer, on the left, and SGT Ashley Belanger are manning the recruiting table.

Heather is no longer an active member of the Corps, having retired from her position as Company Sergeant Major to make room for the person currently in the role, Company Sergeant Major Karie Belisle. Heather joined the Corps as a shy 12 year old girl who lacked in outward self confidence. By the time she left the Corps, she was the top ranking Cadet and is now enrolled in the 1st year of the Concurrent Education Program at Laurentian University, with a goal of becoming a high school teacher. She also plans to travels all over the province and country speaking to groups about the Cadet program as a Civilian Instructor.

"I thought it would be an interesting thing to do," Heather explained. "I tried to get in when I was eleven, but they wouldn't let me. I've been to summer camps where you get paid a lot more than if you work at a fast food restaurant or retail store and I've met friends from all over the world."

A total of 36 teenage boys and girls between the ages of 12 and 19 belong to the Capreol Corps. They come from Capreol, Valley East and Garson. There is no fee to join the Corps and all of the material and uniforms are provided free of charge. The group meets every Wednesday evening from 6 p.m. to 9 p.m. at the Millennium Centre in Capreol. They also get together for several weekend activities, such as the tag day, during the year.

If you are interested in finding out more about the 2915 R.C (Army) C.C. Irish Regiment of Canada, you can call (705) 858-3220 and leave a message.