CHAPTER TWENTY-SIX
Welcome To The Valley East Sports Hall of Fame
2006 Valley East Sports Hall of Fame Inductions Held During Valley East Lions Charity Days
Chico's Bowl In Hanmer Hosts Junior Boys National Championships
BONAVENTURE LANES CHALLENGE LEAGUE
ONTARIO SPECIAL OLYMPICS
Junior Golf League Starts Thursday At Whistling Winds Golf Course

Bran Kor Midget House League Players Enjoy A Dream Season

Sara Waters Sets Her Sights On Team Canada
Roger's Sportsline
Valley East Skating Club Presents "Disney Through the Ages"

T.B.A. Wins Valley East Ladies' Slo-Pitch League & Playoff Championships For Second Year In A Row
The Girls Of Summer Are Back On The Field Of Dreams In The Valley East Ladies' Slo Pitch League
Ontario Students Against Impaired Driving Group From Confederation Secondary School Is Committed to Making A Difference In The Community
The 200 Wolf Squadron Thanks The Community of Valley East For Generosity
Danica Tremblay Dhinel Shares An Inspirational Story With Our Readers About Showing Your Loved Ones You Care

Confed's Evolutionary Band Members Are Earning Their Education

Local Students Get A Chance to Develop Performance Skills This Summer

Catherine Colasimone Named Miss Valley East 2009

Junior Kindergarten Class Enjoys Field Trip to Neil's Independent Grocers

Laurentian University Students Conduct Survey In

Valley East

Young Ladies Give Up Their Saturday For A Good Cause & Community Service Hours
Local Girls Perform Well In The Pool During Meet In Timmins
Laurentian University Nursing Students Conduct Vital Signs Clinic

Canadian Model and Talent Convention Could Be The Start Of A New Lifestyle For The Collin Family

Valley East Youth Centre Photos and Grand Opening
Welcome To The
VALLEY EAST SPORTS
HALL OF FAME
The Valley East Sports Hall of Fame is officially located at the Howard Armstrong Recreation Centre on the corner of Elmview and Dominion Drives. Each year, the photos of inductees are placed on a "Wall of Fame" across from the trophy case.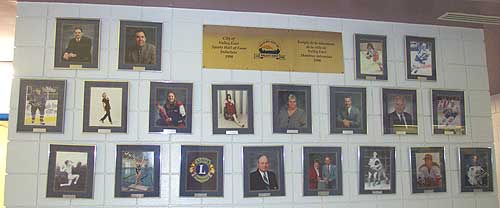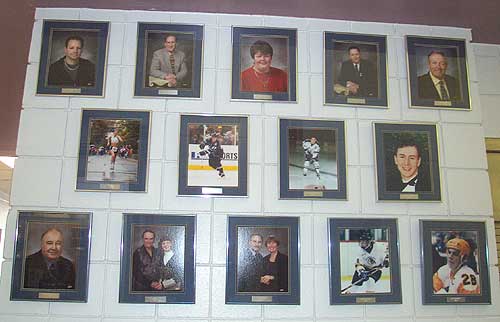 Four More Inducted Into Valley East Sports Hall of Fame
During 2005 Ceremonies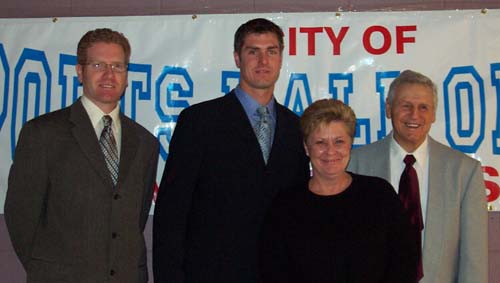 The 8th Annual Valley East Sports Hall of Fame induction was held on Sunday, December 4, 2005 at the Howard Armstrong Recreation Centre. The four people who were added to the prestigious assembly of individuals bring the total number of Hall of Fame members to thirty-seven. Barry Newell, who unfortunately passed away a little over a year ago, was selected as an entry in the Volunteer Category. Accepting his award was his wife, Bev Newell, second from the right in the photo. Mr. Rick Walker, owner of Consbec Inc. was inducted in the Sponsor Category. He was represented by his oldest son, Richard, shown on the far left. Leo Bertuzzi, on the far right, was selected in the Amateur Category. And, finally, Jeff Walker, 2nd from the left, was chosen in the Professional Category.
Ron Dupuis was the master of ceremonies for the event. He explained that, "This year's inductees were selected based on their outstanding contributions to sports in Valley East . They were chosen because of the difference they made in our community and the impact they had on young people's lives. They were and still are, excellent role models for our young."
Dupuis, along with Dan Yachuk and Henri Lebouthilier, form the Hall of Fame Committee.
Barry Newell, this year's Volunteer inductee, will best be remembered for his work with young hockey officials. In his role as Referee-in-Chief of the Valley East Minor Hockey Association, he personally trained and nurtured many excellent young boys and girls. He always made sure that when a referee or linesman stepped onto the ice that person was absolutely prepared to handle the job. Barry also "backed up" and showed support for his officials in difficult situations. This writer will always remember one incident back around the year 1995, when my youngest son, Marty, was refereeing a house league tournament game at Centennial Arena. Marty refused to allow an entire coaching staff from starting a game because he had watched them drinking in the community hall upstairs during the game before. While the decision caused much commotion and hostility towards this young official, Barry Newell stood by the decision and showed total support for his official. The game proceeded with replacement coaches, and Marty continued to develop his skills, both on and off the ice. Today Marty is a referee in the Ontario Hockey League and a police officer with the Peel Regional Police. Barry Newell's influence on Marty had a lot to do with the kind of person he is today.
Anyone who has lived in Valley East , or in the Greater Sudbury Area for that matter, will recognize the name, Leo Bertuzzi, who is a very worthy selection to the Sports Hall of Fame. Leo was involved a great deal in hockey during the early years and was a generous sponsor through his business, The Woodland Hotel, which once stood where the current Pizza Hut plaza is now located. While the Woodland will be remembered in many different ways by local residents, one cannot forget that Shania Twain once "sang" on the stage there and also that it was the original site of the Valley East Boxing Club, which continues to this day at the Ray Plourde Arena. Leo's fame in sports was in the boxing ring, where he fought as a Middleweight all over Ontario . He is also a member of the Canadian Boxing Hall of Fame. During his acceptance speech, Bertuzzi left a very important message for the young people in the audience, "When you learn how to work hard today, you'll work hard for the rest of your life because it's in your heart."
Rick Walker, who is known for the company he founded, Consbec Inc., is also recognized as the person who brought 'AAA' Midget hockey to Valley East . He has always given generously to the Consbec 'AAA' Major Midget Club, ensuring that the talented young boys who progressed through the ranks of the Valley East Minor Hockey Association and the Valley East Progressive Hockey Association would have a place to showcase their talents and have an opportunity to move on to higher levels. Indeed, many have gone on to play in the Ontario Hockey League and other professional leagues around the world. While Rick and his wife, Judy, were out of the country during the ceremony, his three sons, Richard, Jeff and Trevor, along with his six grandchildren were all on hand for the presentations.
Jeff Walker, a person who was a member of the first every Valley East Consbec 'AAA' Midgets, was induced in the Professional Category. Jeff showed a great deal of talent on the blue line from a very early age. He played for the Peterborough Petes of the Ontario Hockey League, where he was a finalist in the Memorial Cup during the 1992-93 season. While with Peterborough , his defense partner was none other than Chris Pronger. Jeff was also drafted by the Detroit Red Wings and took part in several training camps. He decided to put off a professional career in order to pursue his education at the University of New Brunswick and upon graduation became a supervisor with his father's company, Consbec, where he continues to develop his career in the mining construction business. Jeff is a person who demonstrates the same kind of characteristics both on and off the ice. He carries himself like a professional and gives 100% in everything he does. During his acceptance speech, he gave credit to three individuals for having a huge impact on his life. Those people were Steve Richardson, Dan Lafrance and Ron Masciangelo.
VALLEY EAST
SPORTS HALL OF FAME
MEMBERS
1998 INDUCTEES

Marcel Moncion

Richard Tasse

Ron Duguay

Frank St. Marseilles

Andrew Brunette

Amanda Maurice

Melissa Junkala

Hilda Kingsley

Wilfred White

1999 INDUCTEES

Jack Paquette

Darryl Lafrance

The Lions Club

Kelly Thompson

Lucien Chevrier

2000 INDUCTEES

Mike Corneau

Eva Lanctot

Rolly Bariault

Leo Burns

2001 INDUCTEES

Peter Obonsawin

Emery Parent

Sean Venedam

2002 INDUCTEES

Henri Lebouthilier

Debbie Tranchemontagne

Roland Mallet

Arthur Hawley

Kiley Hill

Karen Cowling

2003 INDUCTEES

Dan Frawley

Rebecca Paul

Ken and Sandra Desjardins

Gaetan and Gaetanne Poitras

Serge Parenteau

2004 INDUCTEES

Val Mazzuca


Jimmy Jefferson


Gerry Trottier


Jeff Domonsky

2005 INDUCTEES

Rick Walker


Barry Newell


Jeff Walker


Leo Bertuzzi
2006 Valley East Sports Hall of Fame Inductions Held During Valley East Lions Charity Days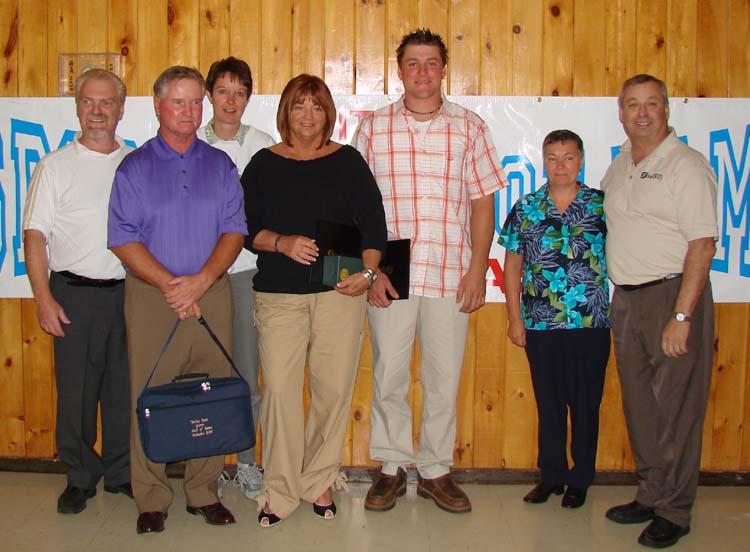 The 8th Annual Valley East Sports Hall of Fame Inductions were held on Saturday, September 9 during the Valley East Lions Charity Days at the Centennial Arena in Hanmer. The Master of Ceremonies was Ron Dupuis, standing at the far right of the photo above. Ron is also the Chairman of the Selection Committee. Others in the photo, from the left, include: Andre Rivest, who, along with Shelley Martel (3rd from the left) assisted Ron in making the presentations.

The remainder of the people in the photo include the 2006 inductees. Ken and Bonnie Davidson were inducted in the Sponsor Category as owners of the Tim Horton's Franchise in Val Caron. Eric Larochelle, 3rd from the right, was inducted in the Amateur Athlete Category, and Gabby Laberge, 2nd from the right, was the 2006 Volunteer Inductee.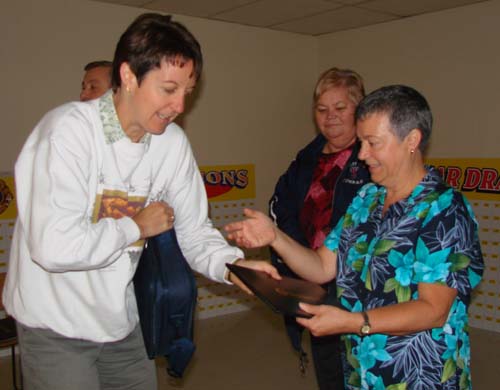 Gabby is shown at the left receiving her plaque and gifts from Shelley Martel, MPP for Nickel Belt. In the background is Gabby's long time friend, Hilda Kingsley, who was the first Volunteer Hall of Famer every inducted into the Hall of Fame in 1998.

Hilda pointed out how devoted Gabby has been over the years, especially in her fund-raising role with the Valley East Cobra 'AAA' Midget Hockey Club.

"Gabby is most deserving of this award," Hilda explained. "She works full time and still volunteers at the Elizabeth Centre. On top of that she spends countless hours with me as we try to raise money for the hockey team. She goes to all of the hockey games to watch her grandchildren and never misses a midget game, helping me collect tickets and 50/50 tickets. Many people who know Gabby will recall how she handles the stress of hockey games by knitting. She has developed a skill for keeping her eyes on the flow of the game and never missing a stitch.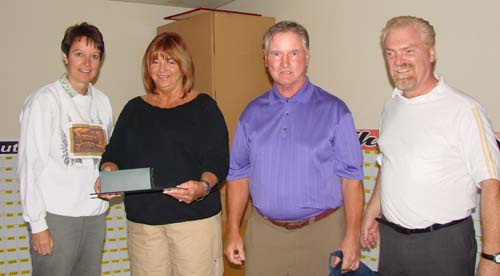 Bonnie and Ken Davidson have been in the Tim Horton's business for over 20 years. They were commended for the wonderful work they are doing with the Tim Bits Programs in both hockey and soccer. Tim Horton's also sponsors numerous special activities in the community, including the free skating at Christmas, free family swims, and community initiatives that help clean up the environment. On top of that, the Davidson's were shown as examples of sponsors who work and play in their home community. Ken stated that he considered this to be "a great honour that has been bestowed upon Bonnie and I today. We truly appreciate this award and thank everyone for making this possible." Before the ceremonies, Ken joked that when he was first called, he thought that he might be getting the induction into the Hall of Fame for his "golfing skills".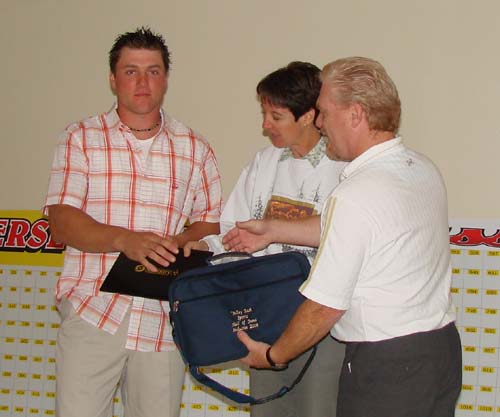 Eric Larochelle was induced into the Valley East Sports Hall of Fame for his amateur hockey career which started in the Valley East Minor Hockey system.

Ron Dupuis called Eric, "A true Valley East boy. When you have talent you will get noticed."

He explained that Eric was a star player with the Valley East Cobras before moving over to play with the Rayside Balfour Sabrecats. After being drafted by the Oshawa Generals in the spring of 2000 he ended up going to Guelph where he made it to the Memorial Cup finals. He was traded to the Sudbury Wolves, but an ankle injury three games into the schedule ended his hopes for a long-term hockey career.

Today, Eric is attending Cambrian College in the Millright program and will be graduating in the spring of 2007. He expects to continue to be involved in hockey in some capacity in the future.
Chico's Bowl In Hanmer Hosts Junior Boys National Championships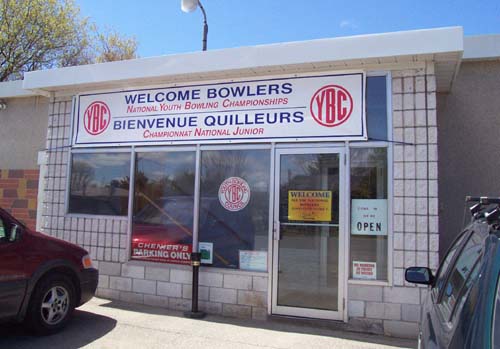 Every seven years the National Youth Bowling Championships make their way to the Greater Sudbury Area. This year 318 young bowlers converged on seven bowling centers in the GSA vying for national titles .

Valley East held the Junior Boys and Girls championships, with the boys at Chico's Bowl in Hanmer and the girls at Bonaventure Lanes in Val Caron.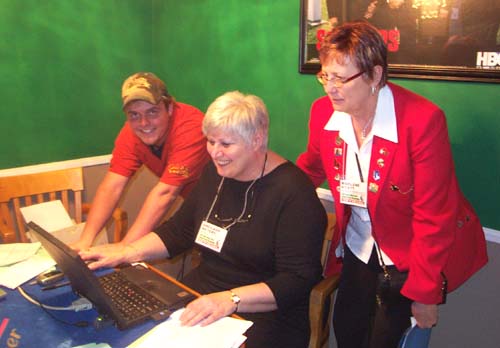 Shown above in the photo are Pierre Chenier, owner of Chico's Bowl; along with Sheilagh Mayers, Executive Director for the Youth Bowling Canada / British Columbia, and; Marlene Hyatt, Southern Ontario Youth Bowling Council Chair, from Hamilton.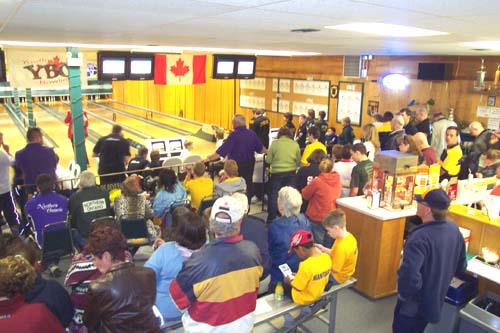 Junior bowlers range in age from 11 to 13. The Nationals brought teams from British Columbia, Alberta, Saskatchewan, Manitoba, Quebec, Newfoundland, Southern Ontario and Northern Ontario to Chico's Bowl. The teams arrived on Saturday, May 5, and attended an opening ceremony at the Sudbury Arena on May 6. During the three days of the competition, teams play a round robin of three games against each other team.
By the end of the three days, all teams will have played a total of 21 games. Points are awarded for wins and ties. The team with the highest point total is declared champion. All bowling is done by "scratch" rules - there are no handicaps in this tournament.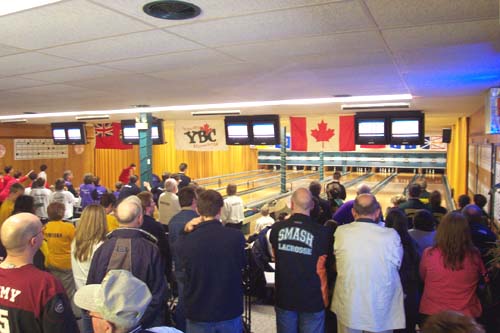 The Nationals are the fourth step in a four step process which begins with a team being selected as the "House Champ" at the local bowling alley level. From there they advance to compete at the Zone level. Then comes the Provincials and finally, the Nationals.

According to Sheilagh Mayers, "This is the best of the best. It is all about scratch bowling with no handicaps. What you score is what you get."

A total of 320 hotel bedrooms were booked for the tournament this year. Many of the teams arrived by bus because of the lack of available air transportation.
CHICO'S BOWLING FACILITIES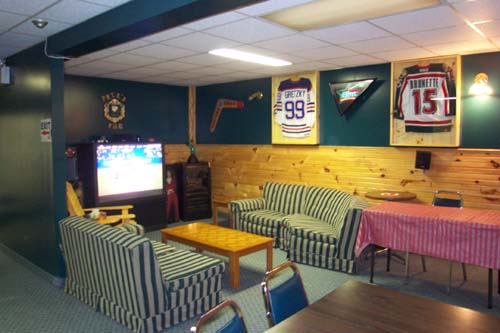 Besides an excellent 8-lane bowling centre, Chico's also offers a beautiful lounge just off the bowling alley. As you can see from the photos here, it is a very relaxing place to sit after bowling or just to hang out and watch the hockey game.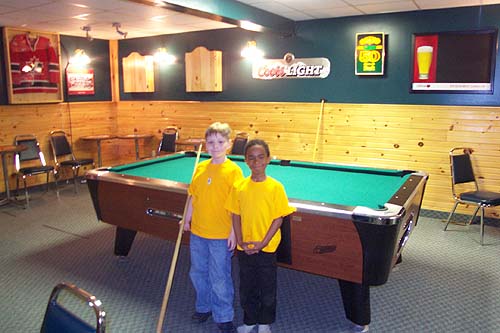 Two young participants from Manitoba took in a little bit of pool while waiting for their turn to bowl.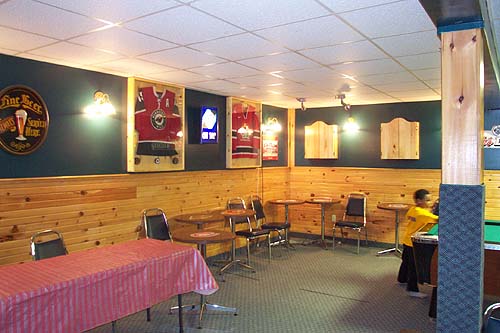 Chico's has plenty of room for small or large parties and indeed, every Saturday evening the place is hosting some sort of group function.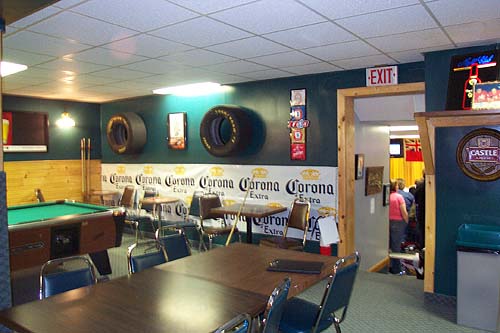 THE STATE OF BOWLING TODAY
"Bowling is facing the same kinds of challenges that most other youth sports are facing," explained Sheilagh Mayers. "The numbers are going down, but the enthusiasm of those who remain is increasing."
When asked why they thought the enrolment is decreasing, Marlene Hyatt replied, "There are just too many options for young people today. They have so much to do and keep busy with that bowling just doesn't seem to fit."
Sheilagh went on to explain, "Parents today work all day, and many have to travel for an hour or more from work to home. Once they get home, they often just feel like sitting in the house and relaxing. The last thing they want to do is go out to a bowling league. Nevertheless, we find that the smaller communities are holding their own with respect to league enrolment. It seems as if bowling is still very much a social activity in smaller communities."
Indeed, when one looks at the cost of bowling, it is definitely one of the most economical forms of recreation around. But when deciding to commit to a 30 week bowling season, many people are simply not willing to set aside one night a week every single week for on activity. Most need some flexibility to adjust to work or personal schedules.
"Everyone you talk to has bowled at some time in their life," stated Sheilagh. "And it seems as if the seniors are coming back to the game in huge numbers. This will certainly have a positive impact on the numbers of Young Bowlers in future years as they model their grandparents. Today's young parents, however, are finding it difficult to sign up for a league."
Despite the hectic schedules, most people do find time to participate in open bowling, attend the odd bowling party, and/or take part in a "Glow In The Dark" bowling fun event. It seems as if more and more people are turning to bowling as a form of entertainment instead of a form of recreation or competition.
On a positive note, Sheilagh has noticed that more parents seem to be getting directly involved with their children in the Youth Bowling League environment. They are helping with coaching or just being there to watch their children participate. This parental involvement is good for any organization.
To find out how the bowlers fared in the Nationals, go to
BONAVENTURE LANES CHALLENGE LEAGUE
ONTARIO SPECIAL OLYMPICS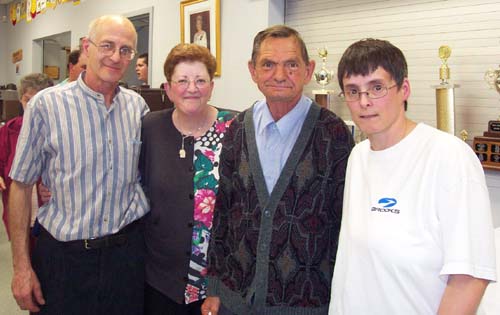 For the past 18 years, Claude and his wife, Sue Poitras, shown on the left, have been involved in the Bonaventure Lanes Challenge League for the Ontario Special Olympics. They are shown here with Roy St. Jacques, 2nd from the right, one of the bowlers in the league, and Brenda Malley, one of the coaches and organizers of the league.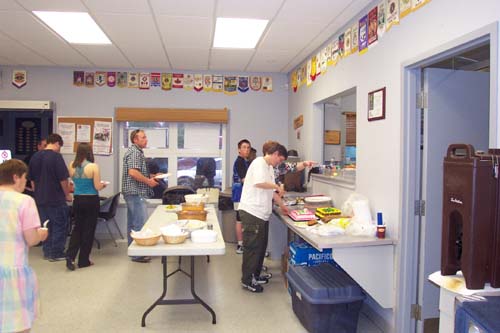 The 35 bowlers who participated in the Tuesday Night League during the 2005-2006 season gathered for their Annual Year-End Awards Banquet on Saturday, May 13, 2006 at the Lions Den in Hanmer. Ranging in age from 12 to 67, all bowlers were treated to a great dinner with food donated by Desjardins' Food Basics and then received individual and team awards.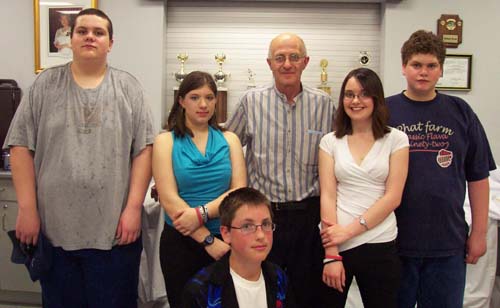 Several area high school students were also on hand to help out with the banquet. Shown above in the photo with Claude are, from the left: David Matheson (Confederation), Kelly Weiler (Marymount Academy), Claude Poitras; Hope Turpin (Marymount Academy); and Eric Rajotte (Confederation). Crouching in front is Richard Godin (Champlain).

All of the students helped out during the year as part of their Community Volunteer Program, but as indicted by Claude, "They all earned far more hours than they needed, but all wanted to remain with us for the entire year. They loved helping out with the bowlers and were absolutely fantastic."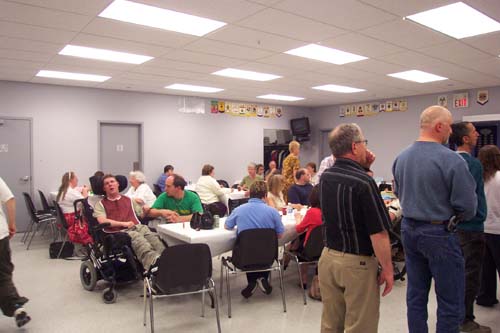 The League has been in operation for over 22 years. While not the original founder, early on in its history, a lady by the name of Carol Lingard, who died of cancer, made a dying request to Rick Reist that he keep the league going. And the rest is history.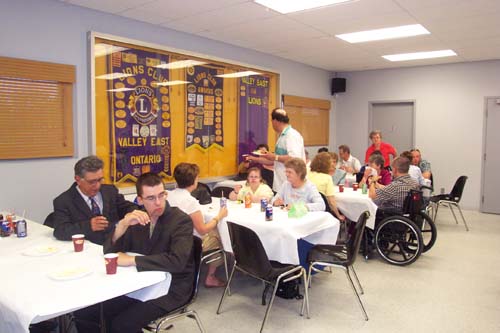 Claude Poitras, who has been the Head Coach for the past four years, indicates that he sees himself and his wife, Sue, continuing the League until, "I can no longer breathe. It is such a rewarding experience to see the fun that these bowlers have every Tuesday Night, and they all look forward to the banquet every year."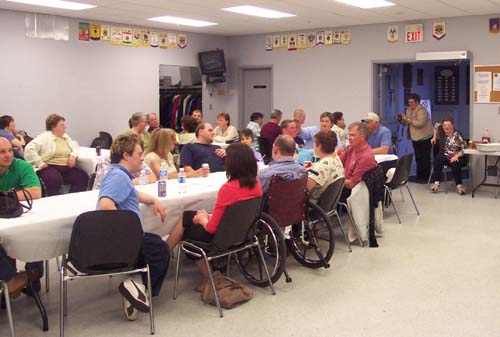 Claude also stated that he has never refused anyone who wants to participate in the league. While most of the bowlers are mentally or emotionally challenged, some also have physical impairments. However, thanks to a special device which was provided by CANUN International, a company operating out of the Valley East Industrial Park, bowlers who are confined to wheelchairs can also bowl with the rest of the group.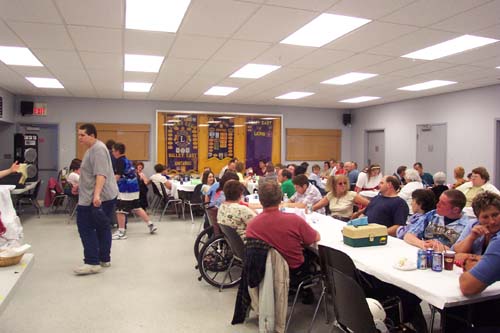 Anyone interested in registering for the League for the 2006-2007 season can just call Claude for more information at 969-5981. The League starts the first Tuesday after the September long weekend and finishes at the end of April, a total of about 33 weeks.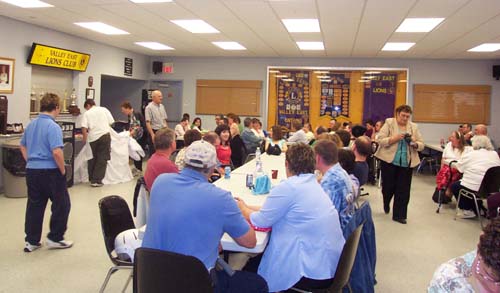 Every Tuesday the group gathers at Bonaventure Lanes at 6:30 p.m. The bowl one game and then have a fifteen minute break for snacks and refreshments before bowling the second game. Everything is over by about 8:30 p.m.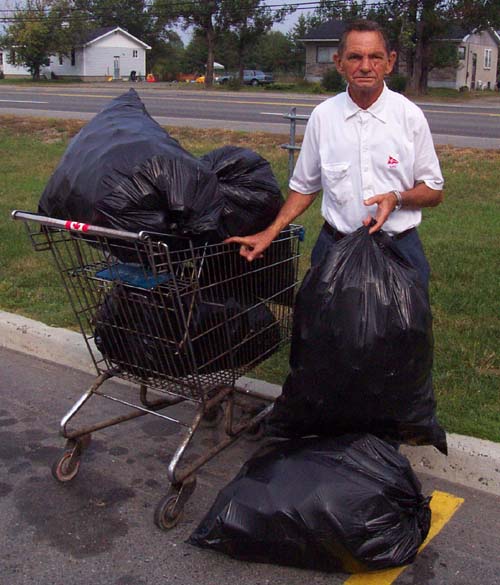 Roy St. Jacques was featured in a story earlier this year (you can read the story by going to the following link >>>>). All year long the bowlers collect pop cans and refundable bottles. The proceeds are used by the league to help pay for the banquet. Roy, who is know in these circles as the "Pop Can Man" was responsible for collecting the largest number of cans. In all, over 400,000 cans, weighing in at over 7 tons were collected.

"Roy will collect cans about four or five days a week, and then he comes over to my place to help me crush them," explained Claude. "He is remarkable."

Indeed, the day after the Annual Banquet, Roy was back out, walking from door to door collecting cans for next year.

This year each of the participants were presented with their own Special Olympics Jacket thanks to the money raised by the pop can collection.
Junior Golf League Starts Thursday At Whistling Winds Golf Course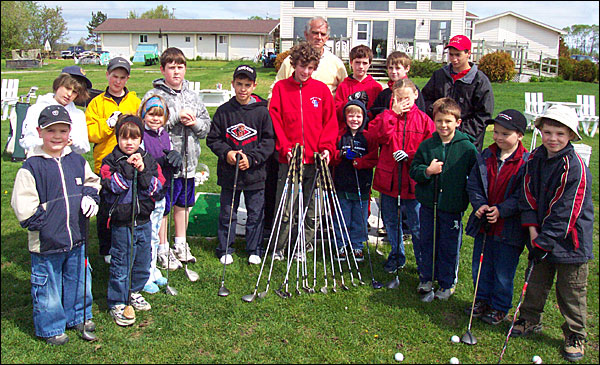 Vic Whissell is shown in the back of the group of junior golfers during one of his favourite lessons on the most effective use of your golf clubs. An avid promoter of Junior Golf development, Whissell will once again be running a ten-week Junior Golf League at the Whistling Winds Golf Course which is part of the Valley Family Golf Centre located on Regional Road 15, just outside of Blezard Valley. This year, he will be assisted by Carter McDavid, a 20-year old athlete from Valley East who is being coached by Whissell in preparation for his inaugural season with the golf team at Oakland City University in Southern Indiania. McDavid is on a double scholarship for golf and baseball.
The Junior League begins on Thursday, June 22 and will run for ten weeks, every Thursday night beginning at 6:15 p.m. It will culminate in a year end tournament which will be held on Saturday, August 26, 2006. Boys and girls from as young as 4 years of age up to and including 16 are invited to register with the league for a fee of $65. This fee includes nine holes of golf every week; the year end tournament; prizes and awards; plus helpful instruction on how to play the game. Up to 72 participants will be accepted in the league.


If you have a child who may be interested in registering for the Junior Golf League, give Vic Whissell a call at 897-7400. The cost is only $65 for ten weeks of play, plus a tournament on August 26, plus individual prizes and great instruction. You can't beat it for value and your son or daughter will also have a chance to work with Carter McDavid and Vic Whissell.
Bran Kor Midget House League Players Enjoy A Dream Season
The North Eastern Hockey League has grown from humble beginnings to become a significant part of the Greater Sudbury Area hockey scene. As with most minor hockey organizations, the ultimate championship at stake every year is that of the most senior, in this case, the Major Midget 'A' Division, which is seen as the culmination of the development of players over the years.
This year, that ultimate championship was earned by the happy faces of the group of competitors in the photo, namely, Valley East 's Bran Kor Trophies who defeated Nickel Centre in the finals.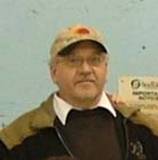 But, according to head coach, Dan Ross, who has been involved in coaching minor hockey for over 20 years, this was much more than just a hockey championship, "This was a group of young boys that were put together during a draft of all of the eligible players available in September to form one of five different Valley East teams that all played in the North Eastern Hockey League. There was nothing special about these boys when they were selected, but as the year progressed, I could tell that this was not just another team. This turned into the kind of 'Dream Team' that I doubt I will ever see again."
In fact, they were not even considered to be the strongest of the Valley East clubs in the beginning. However, after several practices and games, and after a lot of strategic planning, Ross and his coaching staff was able to find the right mix to create a hockey club that "believed in themselves and believed in a system". That system revolved around defense first and taking advantage of opportunities as they presented themselves.
"We showed the players that if they concentrated on defense, and really focused on preventing goals, the opportunities would come to score themselves," explained Ross, who as a martial arts instructor lives by the philosophy of focusing on defense as opposed to offense, but when it comes to going on the attack, it is best to use your opponents strength to his disadvantage. "We then made sure that the system was air tight in defending our own zone. When we got over the red line, we turned the boys loose. As a result we were very successful, and as the season progressed the players just seemed to jell. It has been a remarkable journey!"
Their season record is indeed amazing! First place during the regular season and round-robin playoffs followed up with the championship banner. Gold medal winners of three tournaments at Verner, Capreol and in the prestigious Renagades. The final icing on the season will be a tournament in Scarborough on Easter Weekend.
Besides head coach, Dan Ross, the rest of the management team included: Assistant Coach, Scott Forbes; Trainer, Bob Bertrand; Manager, Bob Belerose; and Assistant Manager, Lynda Flintoff.
TEAM ROSTER
PLAYER NAME

(Last/First)

PLAYER NUMBER

BELLEROSE, Michael (G)

00

FLINTOFF, Spenser (G)

01

DUBUC, Stephane

02

LEBLANC, Kyle

03

James Gagne

06

CAMERON, Dylan

07

LACHANCE, Daniel

08

LEGAULT, Korey

09

FLINTOFF, Farrell

12

GROULX, Jeffrey

13

BELLEMARE, Rene

14

PILON, Eric

15

BELLAIRE, Joel

16

PITRE, Daniel

17

FORBES, Bryan

19
Sara Waters Sets Her Sights On Team Canada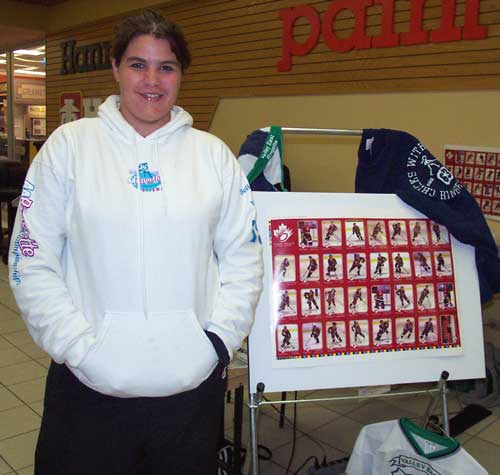 Sara Waters will be taking a giant leap towards fulfilling her goal of earning a spot on Team Canada when she laces up for one of the National Ringette League clubs during the upcoming 2005-2006 season.

During 2004-2005, Sara was a member of the Whitby Belle 'AA' team which competed in the Central Ontario Ringette League. This was the highest level at which that a girl her age could compete in the province. That meant juggling her time between classes at Laurentian University. Just about every weekend of the season, Sara was on the road to Southern Ontario to play in about 50 league and tournament games for Whitby. On top of that, Sara was also a member of the Laurentian University varsity ringette team.

This year, she will face the same grueling schedule as she graduates to the National Ringette League and will play for one of the four Ontario teams in that league. She will be playing for Richmond Hill, Waterloo, Gloucester or Cambridge. She will also be a full time student in the Liberal Sciences program at Laurentian and will once again play on the varsity team.

At the age of 19, Sara, who has been playing since she was 4 years old, is considered a top future prospect for the Team Canada National squad. She has the size, speed and experience that will make her a valuable addition once she has a couple of seasons of play in the NRL under her belt.

"Ringette is really a great team sport," explained Sara. "You have to pass the ring to get it from zone to zone, so you don't see any players trying to hog the ring. And with no body checking allowed the game is much faster."

Sara doesn't have dreams of making "millions" of dollars from playing ringette, but she is proud to be on the leading edge of making the sport more popular. She also wants to be very much involved in promoting the sport through coaching and assisting in the administration of the minor organizations.

"Last year was the first year for ringette at Laurentian, and we are hoping to see the league grow in numbers during the next few years," Sara declared. "We are also working on getting the sport recognized by the Olympic Committee and perhaps one day soon Team Canada will be playing for a gold medal. That is one of my biggest goals. To play on Team Canada in the Olympics."

During the summer months Sara plays fastball with the Sudbury Minor Girls Softball Association to keep in shape.

Local fans can see Sara in action in November when her team travels to Valley East for an exhibition game and skills clinic in mid-November.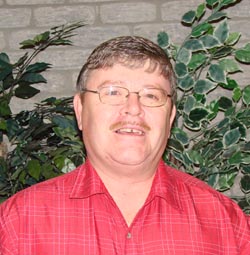 ROGER'S
SPORTS LINE
by Roger Legendre
OCTOBER 30, 2007 EDITION
FOUR LOCAL TEAMS BATTLE FOR GOLD
Following two grueling days of action in the fifth annual Junior and Senior Girls Air Time tournament , it came down fittingly to four local girls teams who battle the court in two exciting gold medal games.
In the junior contest a young group of bantam club team the Junior Vees under the direction of John Desormeaux a well known basketball promoter at all levels brought his young crew of grade 7 and 8 year olds within 2 points of victory but in the end the Lockerby Junior Vikings held on for a 32-30 victory.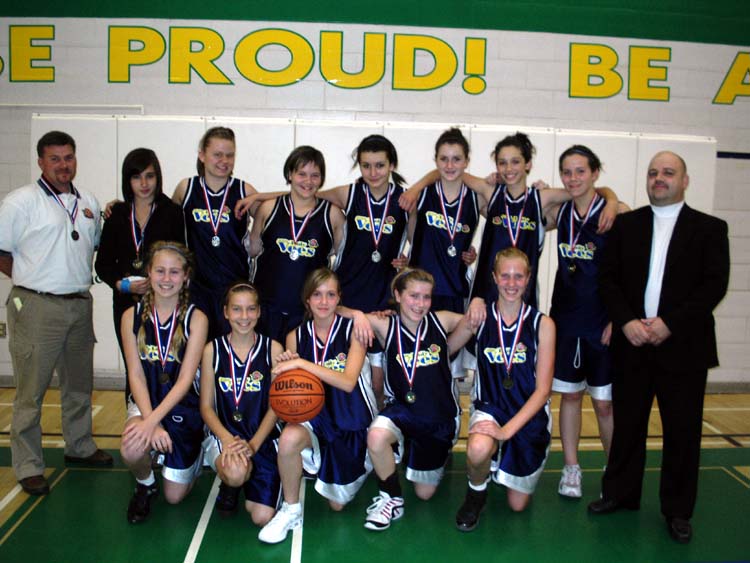 In the senior contest the highly favored College Notre Dame Alouettes took an early lead but let it slip away by turnovers and a strong opposing defense .The Aigles from Horizon came out on top to capture the gold medal with a 34-30 victory.
In football once again the St Benedicts Bears took the city crown with a 42-36 victory over the Knights of Lo-Ellen Park Secondary.

Basketball in the form of another tournament returns this weekend in second annual Lady Gator Invitational out of Bishop Carter and McDonald Cartier Secondary.

In the junior circuit four teams Bishop Carter ,Lasalle ,McDonald Cartier and Espanola will battle for gold while in the senior circuit there will be six teams (two divisions) Bishop Carter , McDonald Cartier ,Espanola , Theriault out of Timmins ,Elliot Lake and Chelsmsford to decide the gold medal .
Everything gets underway on Friday at 1 PM Bishop Carter VS Espanola in junior action and that will be followed by Bishop Carter and Espanola in senior play both at Bishop Carter.Both finals will be played at Bishop Carter late Saturday afternoon with the junior gold medal game at 4 PM and the senior gold medal game at 5:30 PM .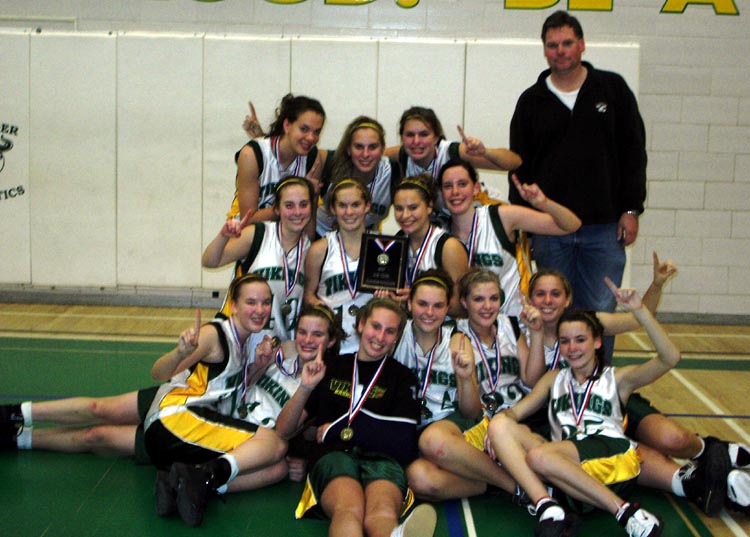 SEPTEMBER 11, 2007 EDITION
It seems lately by the luck of the draw or somebody up there wants me to stick around a little longer. Last Friday the 7th of September I was involved in my first ever serious car accident and I still wonder this morning how I survived the head on crash that totaled both vehicles involved .I received a few cracked ribs and partially fractured right knee cap. I'm still alive and would rather not go into details of this accident since it gives me a negative feeling and in life one should always be positive in the face of adversary.Suffise to say that the young lady and new born baby involved in this accident are very well.
On with sports. The Secondary schools are about to open their season in both football (regular and flag ) and ladies basketball will open the` season on Monday September the 17th on several fronts. While I recuperate from my personal injuries but am still able to move around I'll be up and about covering several of these games (especially the ones involving Valley East teams) still positively have photos in my next fourth edition of the Sports Line (on Wednesday September the 19th).
Up coming this Saturday September the 15th in the Hanmer ball field at approx Ill be the 2nd Annual All-Star Classic Extravaganza.
It will pit the defending game champions from 2006 (we won 7-6 ion bottom of the 7th frame. This year's game is very very special as it will involve the recognition of the legends of fastball from the last four decades. A few of these men are household names such as metro Sheryl ,Enzi Bavalaqua , Booker Thomas to name just a few.
Just come out on Saturday evening and you will see facing each other they 50 best fastball players in Northern Ontario .
I'll have a full report on this special game and its surrounding special events plus some comments on the openers on football and basketball
KEEP HEALTHY! TAKE WALKS! DO SOME EXERCISES!!!
September 4, 2007 Edition
I for one certainly had a busy, interesting week including the Labor Day Weekend holiday.
As the first day of school (I'm a retired teacher now for three years) approaches my mind wonders to those years when the night before almost each and every year, I would get butterflies in my stomach the night before in anticipation of the new` students which were about to be given to me and excite me to be able to pass on my knowledge of physical education to each and every one of them.
My week started off most interestingly with the second game of the Rick McDonald Memorial Fastball League championship final best of five series of which I'm the Commissioner (see attachments for the resume of the first two games as well as the up dated playoff standings ).It continued with more excitement about the 2008 North American Fastball Championships for men which will be held in the Greater City of Sudbury and more specifically in Valley East and Capreol between July 17th and 20th inclusively for the Summer of 2008.Some more then 40 top teams from across this great land of us and the USA and New Zealand will invade our area .You will be observing the top fastball athletes in the world. You people are in for a treat of which you've seen before.
On Saturday September the 15th at the Hanmer ball field you will be witness to the top 50 players All-Stars in fastball from Northern Ontario when the North Shore All-Stars are pitted against the Rick McDonald Memorial Fastball League All-Stars 2nd annual fall classic. In 2006 the local squad won an exciting nine inning affair 7 to 6. (Check the attachment for explanation of the evening).
On the labor day weekend I witnessed some exciting men's fastball in the 21st annual World Senior Men's Fastball Championships in North Bay where three of our local teams took part and gave a very good account of themselves(check the attachment for a resume) .
As the weekend ended, I was officiating in the Joe McDonald Football League at Lilly Creek. Just two minutes before half time in my first game I twisted my ankle and had to go to emergency in order to check for a possible fracture which was not the case. How your past seven days since mine was were very busy and interesting ads I prepare to relax and golf on the first day of school with 120 other retirees at the Pinegrove Golf Course on Highway 69 South.
Have a good week!! Watch for children as the 2007-08 school year gets underway on September the 5th and see you next week!!!
In my next edition there will be photos included and more information on the up coming All-Star Classic Extravaganza.
August 29, 2007 Edition
After a hibernation and absence of several months dating back to the early and late part of Fall 2006 , my Sportsline is returning and with a lot more information and photos then before. I will be explaining to you my regular readers as well as the new ones , the best avenue to follow if you're interested in sending me material (including photos) of several sports events on and about our Greater City of Sudbury region and I will endeavor to include them in my sporsline if possible on a regular basis.
As I turned to the ripeful age of a young 60 year old back on August 12th, I came to realize that life doesn't have to stop and send you to the pasture just because you've hit the sixth decade of your existence on this earth. If you're able to do certain things that your aging body still permits you to accomplish well then go for it and enjoy because far it to believe you're just going to stay home and wither away like the Autumn leaves after they hit the damp ground an early frosty October. Well enough philosophy and let's get to the crunch of the present situation and what you're interested in – the sports minor and major in and about Greater Sudbury .
I'm not sure about you people but I've certainly had an active past few months in my second year as Commissioner of the Rick McDonald Memorial Fastball League. We are presently well into our playoff round and to be exact the championship final best of 5 series .As expected, it is a classic between the same two 2006 finalists and if what I observed in game one on August the 15th in Whitefish Lake First Nation Reserve we are once again in for a treat or all present and returning fastball fans.
In the opener between the defending 2006b champs the Pickerel River Cardinals and this year's first place finishers during the regular season the Dog House North Stars, it took some nearly three hours to complete a most exciting titanic battle between two league arch rivals. In the end the North Stars came from behind in the of the seventh inning to dramatically defeat the Cardinal 8-7 to take a 1-0 lead in the best of five league championship. The Dog House North Stars took and early 4-1 lead through the opening few frames and seemed well on their way to an easy opening game victory until the sleeping giant that the Cardinals are combined with several mental and fielding errors (the several periods of showers from a full clouded sky didn't help the situation) saw themselves behind the eight ball losing 7-5 going into the bottom of the 7th frame. Here is `where the dramatics occurred. With two outs , and runners on both first and second bases through a base on balls and hit by pitch , substitute Randy Denis for injures Troy Chatwell came to the plate and brought the count to a full 3-2 . Eric "e-train" Abitong (as he's known) having as great playoff run at 3-0 with a 2, 97 ERA threw in a rise ball asked for by catcher and brother Bucky Abitong but it wouldn't react the way he expected coming out of his hand and stayed flat permitting Dennis to promptly sit on it and slam it to the left field fence just out of the left fielder's reach for a stand up triple bringing in both runners and knotting the game at 7-7. Catcher Rob Cardinal came up to bat and looking to bring in the winning run sitting on third base just 65 feet away and after the count went to 2 and one he hit the next pitch through the left side infield just past the short stop to score the winning run from third base . What a first game before a very large appreciating crowd of fans in Whitefish Lake . The series continues Monday night at the Rick McDonald Memorial Sports Complex in Azilda –game time 8 P.M. . If you can't make it and that would be ashamed the third installment of this series goes right back to Whitefish on Wednesday night thev29th of August at the regular 8 P.M. slot under the lights. At the moment games four and five (if both necessary ) are scheduled in this way – game four will be played on Wednesday September the 5th in Whitefish and game five in Azilda at the Rick McDonald Memorial Sports Complex on Monday September the 10th at 8 P.M. There seems to be a long period of time between many of the games in the series but for good reasons. Game four (if necessary) only goes goes on the 5th of September since many of the North Stars leave Sudbury on Thursday the 30th of August to participate in the Senior (35 and older) Worlds in North Bay over the Labor Day weekend holiday of September and there will be no games on Labor day on Monday September the 3rd . We also usually play on Thursday's in Garson at the Lorn Brady Memorial Park but ion request of the Dog House if it goes the distance, they would prefer playing that final tilt on their home ground base of Azilda. I hope this has not confuse you in planning your attendance of these games if you so desire.
Over the past few weeks there have been also some more exciting happenings in softball/fast pitch for both ladies and men..
In the second annual Northern Ontario Fastball Championships on August 17th to the 20th in Azilda, the Greater Sudbury Nickel Selects under the leadership of veteran head coach Judy Dunn and the Dog House North Stars under the direction of veteran manager and former city councilor Jim Sir Illnitski and playing coach James Jr Illnitski both retained their titles after late surges from their opponents to win both in the seventh inning dramatics. The Ladies took a high scoring affair 17-11 over the Manitou in Mindy Creek squad while the North Stars squeezed and exciting come from behind 7-6 victory over the Kaboni/Wiki Tigers from Manitoulin Island . During that same weekend , Eric "e-train " Abitong player /pitcher in both the Rick McDonald Memorial Fastball League's Pickerel River Cardinals and the North Shore F.A.N.S 's Sagamok Rider Dawgs participated in the World Fastpitch Champioships with a Minnessota team in the USA's Wisconsin State and made a very good account of himself going in his three outings (two full games and one relief) for 17 innings of pitching 1-1 and a fantastic ERA of 0,00 ( no earned runs were scored against him).Eric also became the proud father of his second child when baby Nelly a 8 lbs 4 ounces came into the world while he was away in Southern Ontario over this past weekend's All Ontario Native Championships for Ladies and Men's Fastball.In the All-Ontario's Eric and his teammates from the Pickerel River Cardinals came two outs away from participating in the tournament's championship game losing a heartbreaker in the semis 5-3 on a fielding error charged to their first baseman .The Cardinals went 3-2 in the tournament .Aaron"sixer" Owl the North Stars pitcher (12-1-1 ERA of 3,04 during the regular season) also p[participated in the same tournament with Garden River team out of the Sault and they lost in the quarter finals after going 3-0 in the round robin section. All in all both pitchers made an very good account of themselves and when they face each other in August 27th's second game, one would expect two tired pitchers who've played a lot of ball and traveled extensively lately but both these young men in the prime of their pitching careers (Eric is 31 and Aaron his approaching his 27th birthday) both thrive on many games and seem to get better the more they pitch. If both stay healthy we should be in for some pitching clinics in this Championship Final series where presently Aaron stands at 3-0 and an ERA of 4,37 while Eric is 3-1 and an ERA of 2,96 .
In Brampton over this past weekend the minor girls select bantams the Greater Sudbury Sharks , under the direction of veteran pitcher and Cambrian College's Shield Ladies Fastball program head coach participated Mickey Chartrand ,in the twelve team house league provincial championships . Out of twelve teams and being a brand new participant the girls were seeded 12 out of 12 participating teams and were not expected to do that well but certainly made a good account of themselves and received some great experience while they were there. They lost all three games where they had to face last year's defending champions and #1 seeded St Thomas losing 12-5 where their opponents scored 8 runs in one inning to make the difference. After a long waiting period and the same rain problems we faced here they took on a powerful Whitby team and were trounced 20 to 5 .In their final outing on Sunday morning at 8 AM ,they eventually lost 14-8 . All and all it was a great learning experience for the young 12 and 13 year olds as Mickey Chartrand expressed delightfully.
I already officiate fastball, slo pitch and basketball and now as a young 60 year old you'll be also seeing me this coming Fall of 2007 on the pits in football starting this coming Labor Day Holiday weekend in the Joe McDonald Memorial Football League as it gets underway. In one of those Labor Day weekend days, I will also in North Bay as and observer and official in the annual 35 and older Men's World Fastball Championships.
A major fastball tournament for men is coming up in July of 2008 –the North American CranktyJoe's/Molson Canada Fastball Championships with from several parts of Canada and the USA participating in this four day extravaganza which will be played out of Valley East's Hanmer ,Centennial and Capreol ball fields. I would mark my 2008 calendar for July 17th to the 20th and expect to be watching some of the finest athletes and pitchers in men's fastball exhibit their great sporting abilities during this most prestigious tournament a first one being played in the Greater City of Sudbury- you will be in for a treat.
There are two up coming important officials meetings in the next couple of weeks:
A] Basketball: On Sunday August the 26th present and new officials 2007-08 local meet at Cambrian College in room 3420 for 7 P. /M. On September the 28th to the 30th our local association will be hosting all five provincial associations of basketball officials for the annual provincial AGM.
B] Football: first association official meeting for present and interested officials goes Tuesday August the 28th 7 P.M. at the Lockerby Legion.
Already three tournaments for Secondary students have been announced. On September the 14th and 15th at Lo-Ellen Secondary Scholl its Doug MacKay's annual early tournament for Junior and Senior girls. You may call Doug at 524-2838 for more details and particulars. On October the 25th and 26th the 5th annual ladies Junior and Senior Air Time tournament go. You may reach either Charlie Ketter at 897-6579 cell 561-6579 email cketter@persona.ca or Roger Legendre 969-7268 cell 6977795 or email er_legendre@sympatico.ca . On November the 30th and December the 1st it's the 12th annual Jaak Valiots's Memorial basketball tournament for Junior and Senior boys. Same contacts as above. A league for ladies competive basketball(in hibernation for a year) is being revive with games starting g in early or late November 2007 and going till early o0r late April 2008 .You may contact Roger for this by looking at the above information concerning basketball and football.
Men's Fastball Set To Make A Comeback In Valley East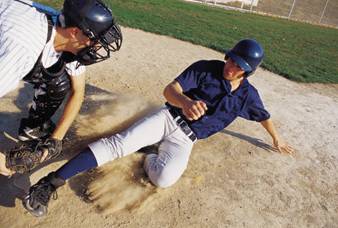 Roger Legendre, Commissioner of The Rick McDonald Fastball League has announced that men's fastball will indeed be returning to Valley East next summer. In fact, the league will be holding their Annual All-Star Classic game during the "Last Chance Slo-Pitch Tournament" which is scheduled for the Hanmer and Centennial ball fields the weekend of September 14-16.
The All-Star Classic will be played on Saturday night, September 15 at 8:30 p.m. at the Hanmer Ball Field beside the Lion's Den.
Valley East is expected to field a team in the Rick McDonald Fastball League next year. Legendre will have more information about the team during the winter months.
Even bigger news was released by the league in that a major international fastball tournament will make its debut on July 17, 2008 .
The First Annual Cranky Joe's / Molson Canada Fastball Championships will be held in Valley East with teams from all across North America expected to be in town to compete for over $20,000 in prize money, including a $10,000 first place prize for the tournament champions. All games will be played at the Hanmer, Centennial and Capreol ball fields. Legendre expects to see some of the best fastball players in the world competing in this tournament.
Valley East
Skating Club Presents "Disney Through the Ages"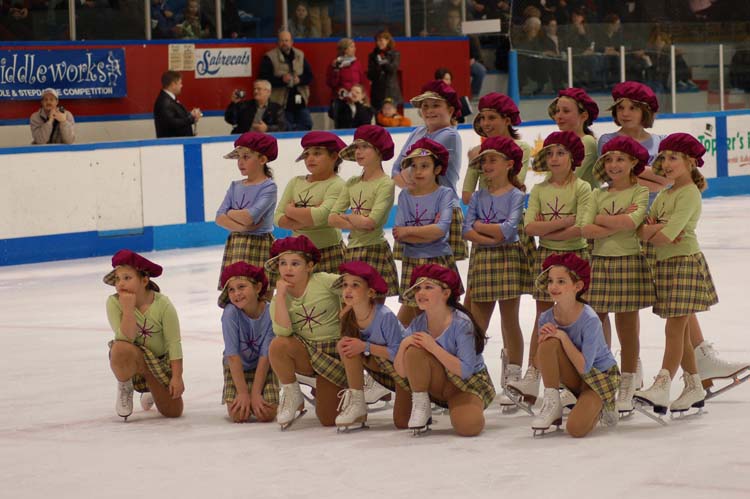 The Valley East Skating Club will be presenting their annual skating carnival on Sunday March 4, 2007 at at Centennial Arena in Hanmer. This is always one of the most spectacular events of the year in this community, with the arena jam packed with appreciative spectators. This year's theme is Disney Through the Ages. Approximately 180 skaters from Valley East will be performing in this show. Skaters have been practicing for several weeks to make this great performance. Children ranging in age from 3 to 18 with a wide range of skating abilities will be entertaining the audience for the afternoon. This is the culmination of years of skill development for many of the skaters and it is a chance for them to demonstrate their talents in front of an appreciative audience. Several of the more experienced skaters have competed in many competitions over the years and have won several medals for their accomplishments. If you are new to Valley East , or if you have never been to one of these skating events in the past, take time this Sunday and see what you've been missing. Come out and enjoy an afternoon of local talent. Admission is only $4.00 per person and children 5 & under are free. For more information about the Valley East Skating Club and the programs they offer, visit www.vesc.ca.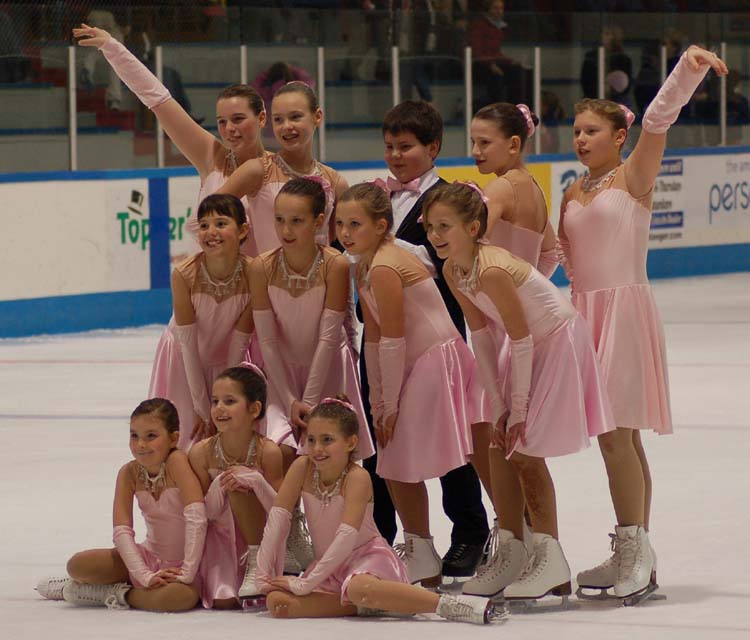 T.B.A. Wins Valley East Ladies' Slo-Pitch League & Playoff Championships For Second Year In A Row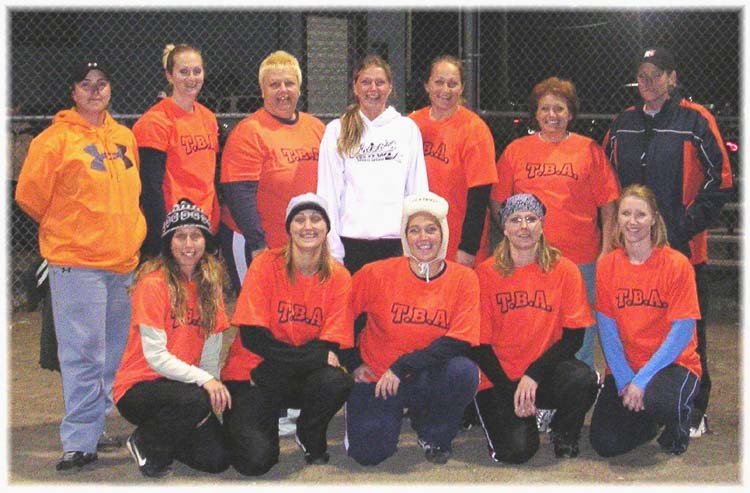 T.B.A. / CORTINA Girls Capture League and Playoff Titles For 2nd Straight Year
The Valley East Ladies' Slo-Pitch League wrapped up the 2006 season with their annual banquet at Buddies' Restaurant on September 30, 2006. For the second year in a row, T.B.A./Cortina captured both League and "A" Playoff Championships. They took the playoff title by defeating Chico's Bowl in the finals.
A new entry in the league, R.L. Construction (The Chemy Girls) took the "A" Consolation title by downing Paula's K-9.
The "B" Champs for 2006 were Northstar Bedding who edged out Gerharts Critters for the title.
The "C" Championships were won by Aimee's Team over Val Caron Equipment.
League organizers felt that this was one of the best seasons ever for the league and could be looked upon as a turning point for Ladies' Slo Pitch in Valley East. With ten teams this summer, it is expected that the number of teams could grow to twelve for 2007.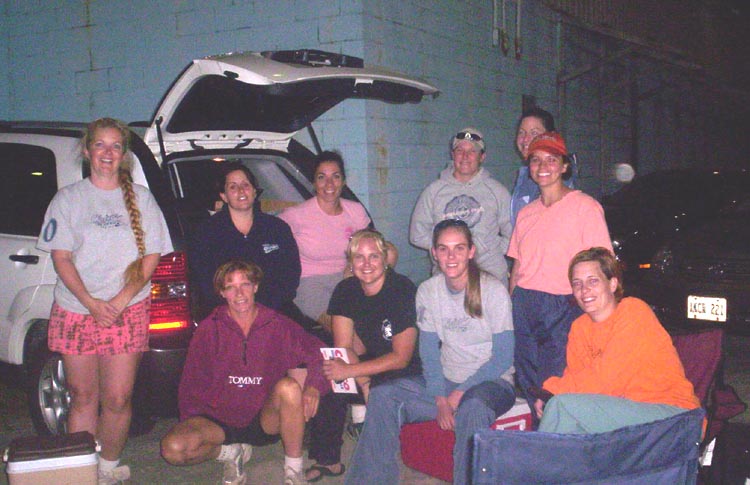 Chico's Comes In As Runners Up In "A" Division Playoffs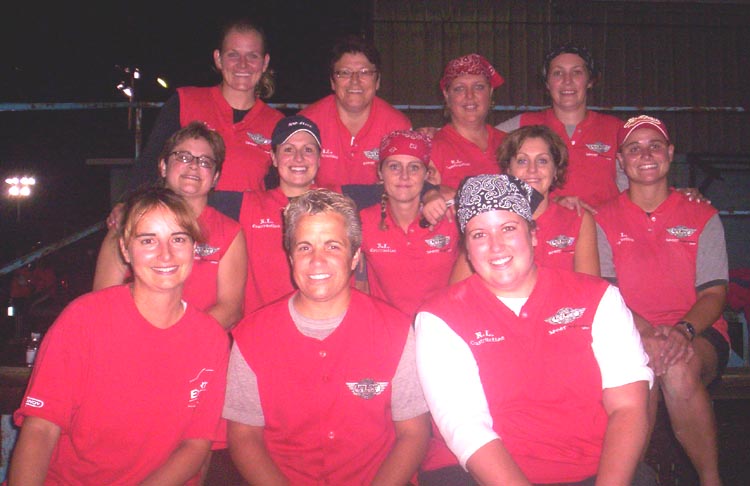 R. L. Construction (The Chemy Girls) Take 3rd Place In "A" Division In First Year Of Play In Valley East League
For more photos....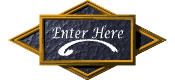 The Girls Of Summer Are Back On The Field Of Dreams In The Valley East Ladies' Slo Pitch League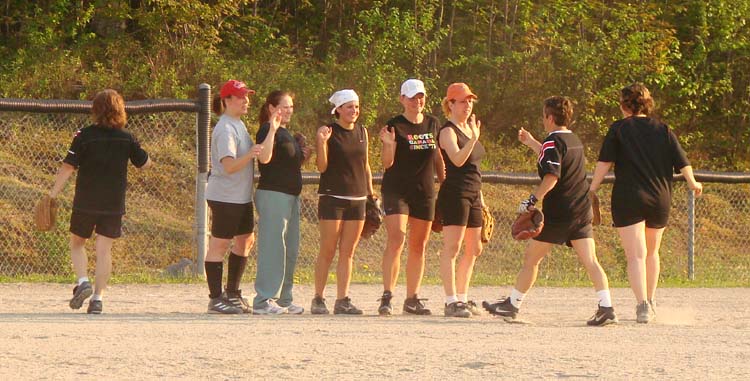 The Valley East Ladies' Slo-Pitch League started the season off with a bang on May 23 as eight teams hit the fields for what should be another excellent year of fun and competition. In the above photo, the girls from R & L Contracting are shown coming off the field after holding the opposition, Northstar Bedding scoreless in the inning just completed.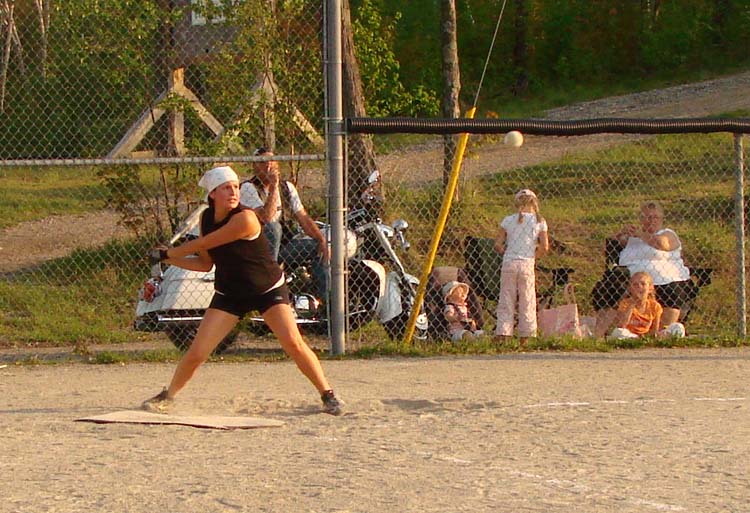 Angele Kirwan keeps her "eyes on the ball" as she gets set to give it a good ride into the outfield. R & L Contracting ended up winning the game after five innings due to the "Mercy Rule" after they had built up a 20 to 1 lead over their opponents.
Valley East Ladies
Slo-Pitch League
2007 Executive

Monique Grenon, shown on the right taking in the action during opening night, is the 2007 League President. Other executive members include:

Vice-President: Pauline Pelletier

Secretary: Pam Jones

Treasurer: Robin Trottier

Statistician: Mandy Hnatiuk

Monique will once again be providing Valley East Today with photos and information about the league as the season progresses.
Ontario Students Against Impaired Driving Group From Confederation Secondary School Is Committed to Making A Difference In The Community

Austin Powell (Grade 11)
Amanda McCutcheon (Grade 11)

Hannah Merchant (Grade 11)
Ashleigh McBain (Teacher)
The Learning Clinic Radio Show, hosted by Robert Kirwan on Laurentian University's CKLU 96.7 FM included members of the Ontario Students Against Impaired Driving Group from Confederation Secondary School as special guests on the December 21, 2009 program. Ashleigh McBain, the Teacher Supervisor of the group, brought along three students to represent the close to 40 students who have signed up to participate during the inaugural year of this important extracurricular organization. All students were in Grade 11: Austin Powell, Amanda McCutcheon and Hannah Merchant. During the show they spoke about how it was the death of three young teenagers in a tragic accident in Valley East on June 21, 2009.

Steven Philippe (16) and Jazmine Houle (15), who both attended Confederation secondary school, were walking along the side of Hwy 69N in Hanmer with their friend, Caitlin Jelley (15), when all three were killed by an impaired driver. Students at the school have shown tremendous support for the activities being organized by the OSAID group as the students try to raise awareness among community members of the need for people to be more sensible when it comes to driving while being impaired in any way. They stated that while alcohol is often the root cause of accidents where impairment is a factor, cell phones, loud passengers, medication, and a long list of other things that can reduce one's ability to focus on driving.



If you are interested in downloading the radio program to your computer, just click here to get to the archives.
Make sure that you have the date set at 2009-12-21; the start time set at 18:00; and the duration for 120 minutes. Then all you do is click on "download" and it will be saved to your computer in an mp3 format. Then you can enjoy the interview whenever you wish. NOTE: The archives will only be available until January 19, 2010.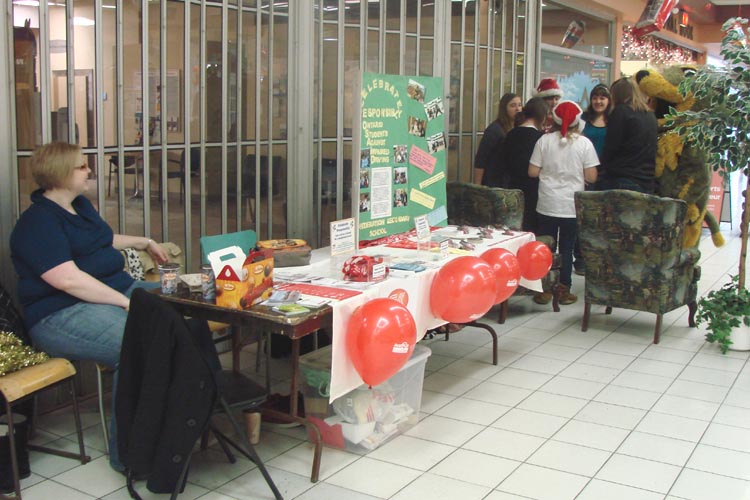 Ashleigh McBain and several more of the students in the group were at the Hanmer Valley Shopping Centre on Saturday, December 19, 2009, creating awareness among the community of the dangers of driving while impaired from any substance.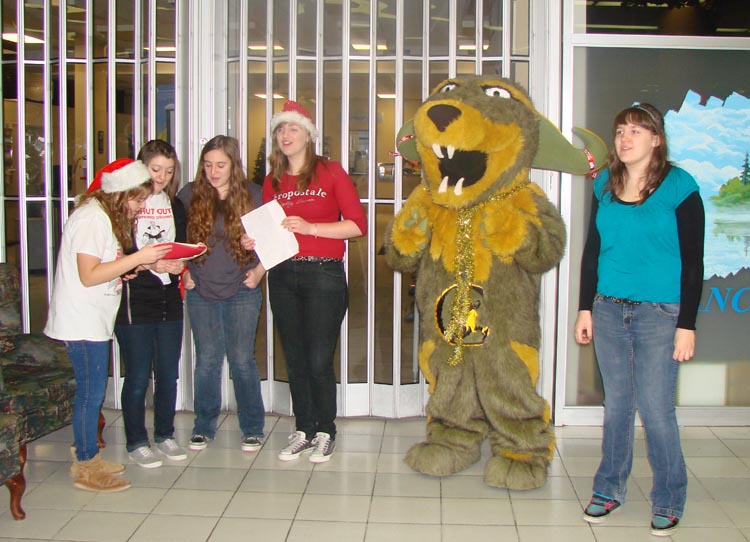 The group was set up in the Centre Court area of the Hanmer Valley Shopping Centre all day long singing Christmas Carols for shoppers and drawing attention with "Charger" who was a huge hit with the youngsters.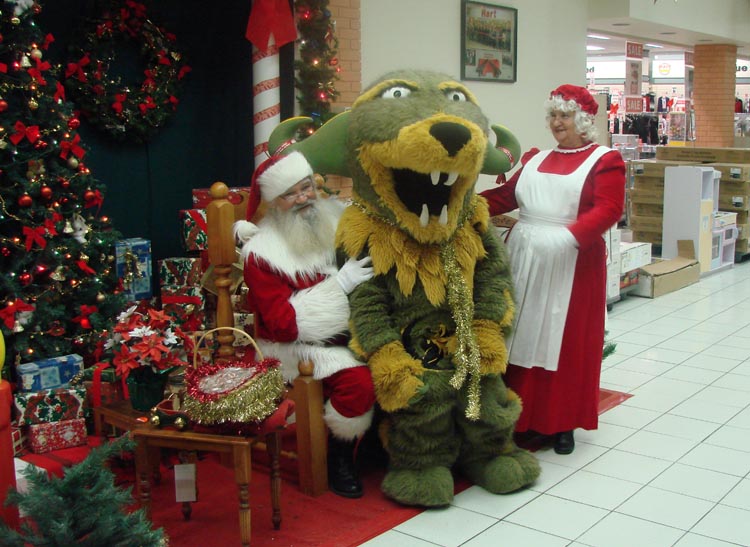 "Charger" even had a chance to visit with Santa and Mrs. Claus to give them his wish list for this year. Rumour has it that he wished for a city football championship in 2010.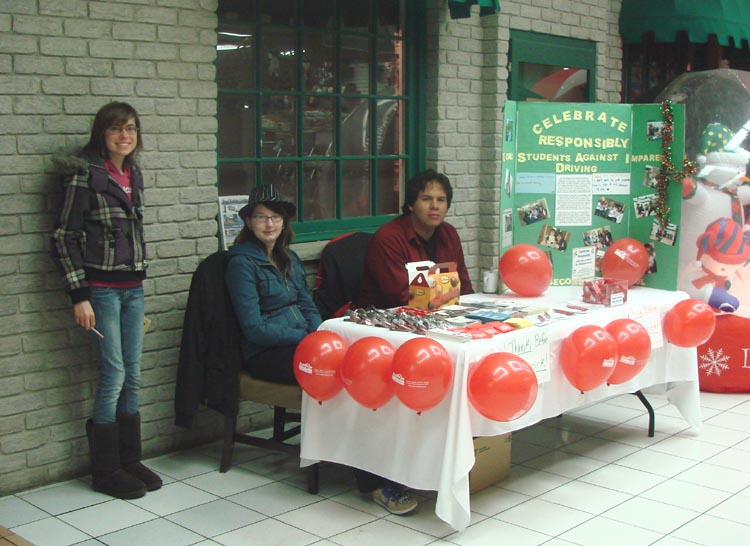 A second display was set up just outside Cousin Vinny's Restaurant & Bar. The owners of Cousin Vinny's have pledged support for the group all year long in an effort to promote safe driving practices among adults in the community.

The purpose of OSAID is to make students aware of the choices they make when drinking and to make responsible decisions. The students from Confederation will be raising money all year long to send representatives to a provincial conference in Toronto on the first weekend of May 2010. There they will take part in developing leadership skills and be trained in approaching peers and the community with the issues and seriousness of impaired driving.

For more information you can go the the Confederation Secondary School web site or contact Ashleigh McBain at the school during normal business hours.
The 200 Wolf Squadron Thanks The Community of Valley East For Generosity
The 200 Wolf Squadron of the Royal Canadian Air Cadets were at that Hanmer Valley Shopping Centre for their first tag day of the year.
On behalf of the 200 Wolf Squadron we would like to thank Val Mazzuca and Bob Kirwan for allowing us the opportunity to hold our tag day in their establishment. We'd also like to thank all the many patrons of the Hanmer Valley Shopping Centre on Dec 11, 12 & 13th for their very generous support. We raised in excess of $400.00 in the Hanmer Valley Shopping Centre alone.
Thank you again for your very generous support.
The Cadets even took time out to say hello Santa and Mrs. Claus.
IN THE PHOTO: Sgt Robert Bolger, Corporal Joshua Bolger, Corporal Aaron Anderson, and Corporal Austin Anderson
Danica Tremblay Dhinel Shares An Inspirational Story With Our Readers About Showing Your Loved Ones You Care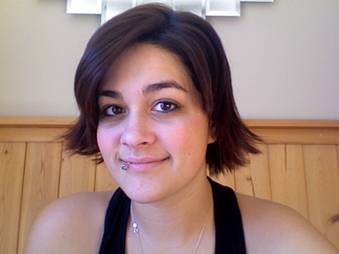 The Old Man


by Danica Tremblay Dhinel

Dear Mr. Kirwan:

My friend recently told me a story about an elderly man who frequently comes into her store and gives every woman he sees working a single rose. The man told her the story of why it is he does this. He told her that a few years ago his wife passed away. However while she was still alive he had never bought her roses. His wife asked him many times to buy her some but he had never thought of doing it. Once she had passed on he regretted not buying her any and felt guilty. Now, every once in a while when he thinks of buying his wife roses he enters my friends store, buys a bouquet and passes them out to the women.

When my friend told me this story I began to think deeply on my own life and all the things I should or could do for the ones I love while they are still around. Little things to show them that I care and that I'm thinking of them. Many of us go through life not thinking that these simple gestures could mean the world to someone. Not much thought has to go into them, just simple things like leaving a note to remind someone you're thinking of them; telling those around you that you love them: paying for a stranger's coffee when you're ahead of them in line at the drive-thru; calling someone up to see how their day is going or maybe buying someone flowers on any given day just to show you care.

Like this man, many of us don't realize the things we should have done differently while our loved ones were still around. We shouldn't wait till they are gone to realize we should have told them we loved them more often, or spent more time with them, or we should of gotten them those flowers they wanted so badly. Don't wait till it's too late. Tell your wife or husband or mother or father, brother or sister that you love them. Give them a hug; send them e-mails or a card, call old friends up just to see how they've been. Don't let the people you care about most slip out of your life, because one day they will be gone and you will spend your life regretting.

I have not had the pleasure of meeting this kind man but his story will remain in my heart forever. I am deeply saddened by his story but somehow it brings a new light to my heart. He realized his mistake too late and now he is trying to repay the debt he feels he owes. I believe everyone can relate and learn from such a story, and I hope some if not all will find it in themselves to slow down and start making the little things count, cause in the end, it's what matters the most.

Danica Tremblay Dhinel

Dear Danica:

What a beautiful story. It truly gives you hope for mankind when you know that there are people in the world like that elderly man. I am also glad to see that you are back to writing, and I do indeed remember you. You have a tremendous talent for communicating your feelings. I wish you the best of luck in your current endeavours and I definitely encourage you to write often.

Robert Kirwan
Confed's Evolutionary Band Members Are Earning Their Education
Members of the
Confederation
Secondary School
's Evolutionary Band, all consider their experience with the group to be memorable and very rewarding. They get to practice and rehearse for most of the school year to prepare for a Spring Tour of concerts and trips all over the region under the direction of Band Leader and Music Instructor, Norm McIntosh. Each year there is usually a major overnight tour that is the highlight of the season.
All of these activities cost money, and it is up to each member of the band to do their individual part to help raise the necessary funds. One of the major fund-raisers of the year is a raffle which will produce eight winners of beautiful prints by Gordon Drysdale. Students, such as Hailey Chinn, above, are responsible for using their creativity and initiative to find ways of selling tickets to the general public. Hailey is one of the students who have been seen selling tickets on the prints at the Hanmer Valley Shopping Centre recently. Hailey, who is in her second year with Evolutionary, is a member of the crew and is responsible for the sound board. "I'm not very good at performing or being in front of an audience, but I love music and wanted to be part of the band. When I got an opportunity to be part of the crew I took it and I love every minute of my experience," Hailey explained. Besides the lead singers and instrument players, there are a lot of people needed behind the scenes to make sure that the set is properly constructed and the sound comes out just right. The nice thing about Evolutionary is that it provides so many young people with a first hand experience in the music industry so that they have a better idea of whether or not this is the kind of career they would like to pursue after high school.
If you have a chance to purchase tickets on the Gordon Drysdale prints, or if you wish to help the band out with a donation of any size, just contact Confederation Secondary School and ask to speak to Norm McIntosh.
Local Students Get A Chance to Develop Performance Skills This Summer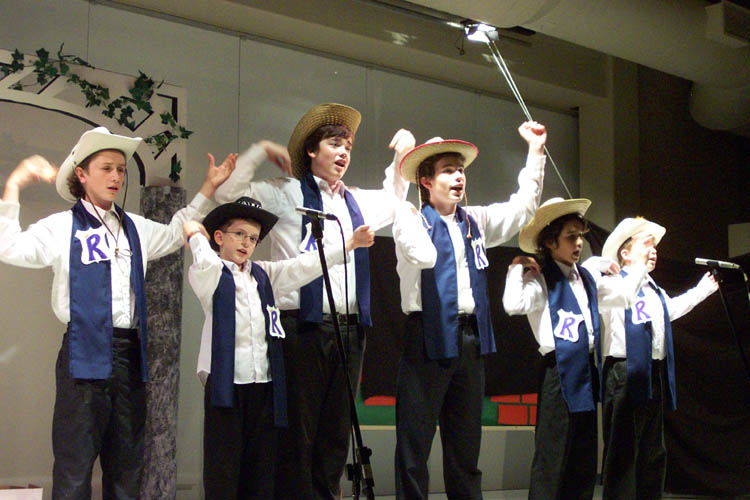 This summer, travel back to the 1960s with Lock and Keynote's production of the original musical, Rock Around the Nation! Lock and Keynote Productions aims to encourage and facilitate the artistic growth of young people in North-eastern Ontario and rural communities. For the past three years, we have held musical theatre day camps in Cochrane , ON and Cornerbrook, NLD for children aged 8-18. Our camps are run by young working professionals who not only have a passion for the arts, but a passion for children. Each year, a new script is developed, incorporating a wide range of classic and contemporary Broadway songs. In addition to learning skills in dance, drama, and singing, we believe that by participating in theatre, children develop confidence, creativity, and learn the value of teamwork. Now entering our fourth season, we are excited to bring our philosophy to Sudbury .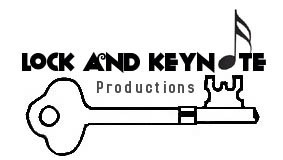 The Musical Theatre Summer Intensive For Youth will be held at Arts North, at 7 Cedar Street in Sudbury from July 20 to 31 with performances on July 31 and August 1. The cost to participate is only $300 per person.

This year's artistic team includes musical director and founding member Shari Porter, director and playwright Vikki VanSickle, and Sudbury native Sarah Williamson as choreographer. Sarah studied dance at Diane Boulais Dance Studio de Danse in Valley East before moving to Toronto to pursue her career as a dancer. After joining the Lock and Keynote team as choreographer in 2008, Sarah decided to bring Lock and Keynote Productions to her hometown.
This year's show, Rock Around the Nation, is a rollicking romp set in the 1960s. The sleepy town of Happy Hills is about to get all shook up, when famous girl group The Belles decide to do a live broadcast on the popular television show Rock Around the Nation from Happy Hills city hall. Jam packed with dancing, singing, and everybody's favourite hits from the 60s, Rock Around the Nation is sure to make you stand up and sing For more information, or to register, please visit our website at www.lockandkeynote.com or visit www.artsnorth.ca.
SPECIAL RADIO INTERVIEW: The Learning Clinic, a weekly radio talk show that is hosted by Robert Kirwan on CKLU 96.7 FM, will feature several members of Lock and Keynote Productions on Monday, June 15, 2009 from 6 to 8 p.m. If you want to find out more information on the program, or if you want to listen to a discussion about Education and the Arts, then be sure to tune in for the show.
Catherine Colasimone Named Miss Valley East 2009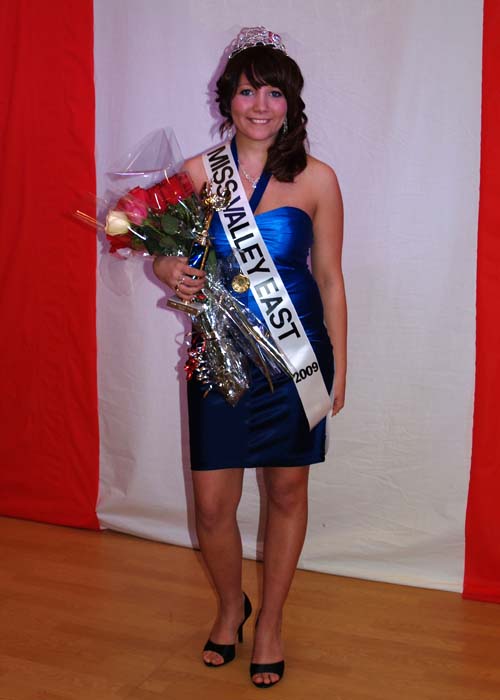 The Miss Valley East Beauty with a Purpose Pageant 2009 was held on Sunday January 18, 2009 at Valleyview Public School . There were fourteen contestants. Each contestant was judged in a number of different areas, including: a personal interview with the judges, scholastic testing, public speaking, on stage performances, fashion show and formal wear.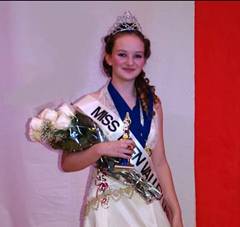 When all of the judging was completed, Catherine Colasimone, shown above in the photo on the left, a 17 year old student at Bishop Carter Secondary School was named Miss Valley East 2009. She will represent Valley East at the Miss North Ontario Regional Canada Pageant to be held in Sudbury April 30, May 1 and 2.

First Runner Up to Miss Valley East was Jennifer Dixon and 2nd Runner Up was Alysia Manojlovic.

The judges selection for Miss Teen Valley East 2009 was 13 year old Sara Beeson of Hanmer, shown in the photo to the right. The remainder of the contestants are shown below.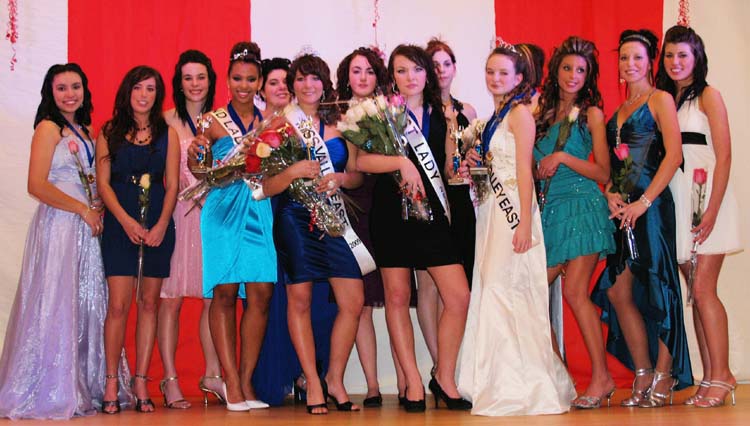 Junior Kindergarten Class Enjoys Field Trip to Neil's Independent Grocers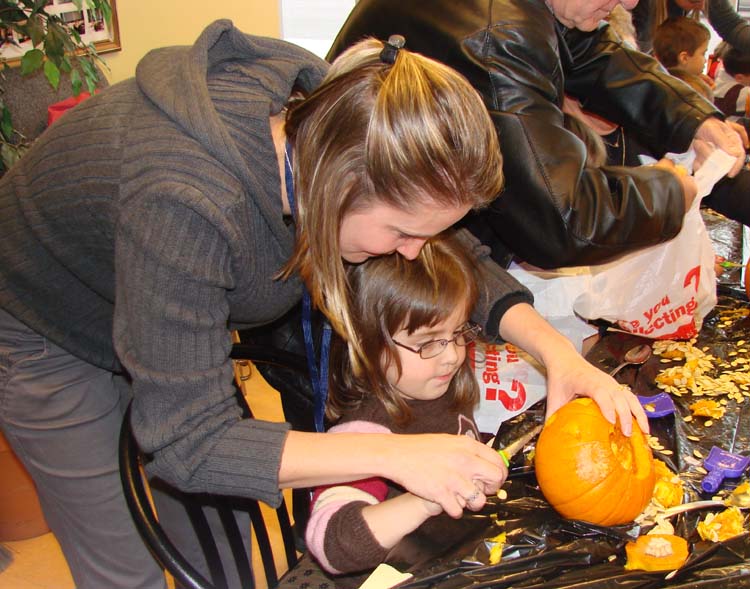 Neil Lindenbach, owner of Neil's Independent Grocers in Hanmer, has always bent over backwards to provide support to local schools in Valley East and Capreol. Individual classes are welcome to visit the grocery store during special times of the year to use the Community Room and go on group tours.
During the Halloween Season, many classes took advantage of the invitation, including Ecole Catholique Jean Paul II of Val Caron. Here we see Madam Renee Brunet helping one of her Junior Kindergarten students, four-year old Hailee Kirwan, during a pumpkin carving session in the Community Room. Madam Brunet's class took part in a two-hour field trip to Neil's Independent Grocers which included a tour of the facility, pumpkin carving and treats. Hailee and her classmates even got to bring the pumpkins home as souvenirs of their day at the grocery store.
Laurentian University Students Conduct Survey In
Valley East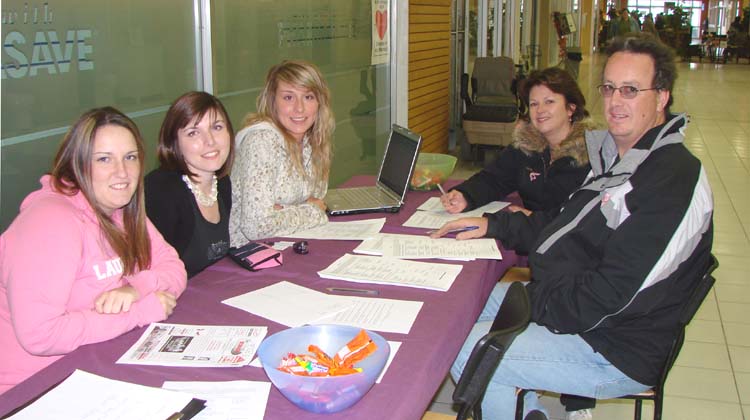 Two new residents of Valley East who moved here from Marathon , Rene and Diane Brunelle, shown on the right in the photo, were more than happy to give up a few minutes of their time recently to help out a group of Laurentian University students with one of their projects.
The students, from the left: Melissa Kirkey, Danielle Roy and Courtney Conaty, are all in the 2nd Year of a four-year Bachelor of Commerce Program. One of their major assignments for the year is the development of a new product that could be brought to market. In order to determine the viability of their product they are required to conduct interviews with potential customers to gather information that will be beneficial in their marketing efforts. They decided to conduct their survey at the Hanmer Valley Shopping Centre.
The product created by the group was a "pack of greeting cards designated to a particular person and containing all the cards that would be needed for the occasions throughout the year".
Two other members of the group, Justin Sawicz and Michelle Goneen were present for the photo. The entire group will be appearing on The Learning Clinic, a local education radio talk show on CKLU 96.7 FM on Monday, November 17 at 6:00 p.m. to share their thoughts about the Commerce Program at Laurentian. Any secondary school student who might be interested in enrolling in this program in the future should listen to the show or pick it up on their computer off the web site at www.cklu.ca .
Young Ladies Give Up Their Saturday For A Good Cause & Community Service Hours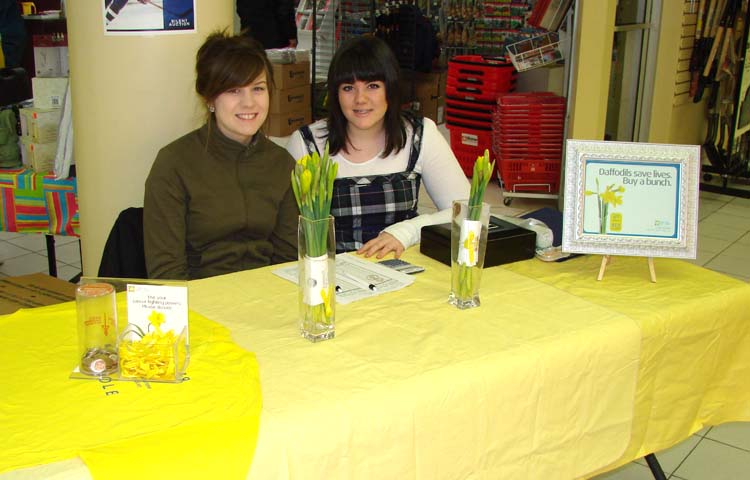 Jasmine McTiernan and Lindsay Aubin, both Grade 9 students at Confederation Secondary School , spent the whole day at the Hanmer Valley shopping Centre on Saturday, March 29. However, they weren't there to spend money – they were there to help raise money for the Canadian Cancer Society by selling daffodils to kick off Cancer Awareness Month. The time spent will also go towards their 40 hour community service requirement that is part of their Secondary School Diploma Program.
Even though they are only in their first year of high school, the two girls have indicated that they are already beginning to think about what they will do after Grade 12. Lindsay is pretty certain that she wants to enter a career in radiology after having spent a day shadowing the head of the X-Ray Department at the Sudbury Regional Hospital . Jasmine is still undecided, but is considering a few of her options.
Both girls attended Valley View Public School and have continued with the French Immersion program at Confederation. When asked what the biggest difference was between high school and elementary school, both girls indicated the same things. "You are more responsible for what happens to you in high school. The teachers are always watching what you do in elementary school but now we are left on our own a lot more. We have to make sure we do things ourselves without being told all the time." They also find that there is much more social time to interact with other students in high school.

Lindsay has already put in her 40 hours of service even though she still has three years of high school left. She has done things like helping with the Rick McDonald Park in Azilda, the flu clinic and now selling daffodils. Both Lindsay and Jasmine indicated that they have always loved volunteering their time for good causes and were glad to do their small part for the Canadian Cancer Society.
Local Girls Perform Well In The Pool During Meet In
Timmins
Sarah Tkachuk is a 15 year old swimmer who joined the Valley East Waves last season.

Sarah started in competitive swimming in Newfoundland with the

GANDER LAKERS SWIM CLUB

in the 2005-2006 swim season.

Previously she had been involved in diving and was a member of a diving club, diving was not available in Gander so she joined Competitive Swimming with her brother Alex. She attends grade 9 at Marymount Academy and is also a member for their school swim team. After several months of training in Group 2 of the Valley East Waves, Sarah had a great meet in Timmins at the Fred Rams B Championships on February 23 + 24 with 6 personal best times, 6 gold medals and overall high point winner for the 15 and over girls age category.
Corinne McAnulty joined the Junior Waves program of the Valley East Waves in the 2003-2004 season, following in the footsteps of big brother Steven.

Now as a 14 year old competitor who has moved through the program from Junior Waves to Group 2, Corinne trains hard five times a week for one and one half hours at a time, she has really found her groove in sprint fly events.

Corinne who attends Grade 9 at Confederation Secondary School also competed for her high school swim team at the recent City Championships.

Corinne attended the Fred Rams B Championships on February 23+24 in Timmins .

With six personal best times (what the Waves consider a perfect meet), 4 gold medals, a silver and bronze Corinne was the overall high point winner for the 13+14 girls age category.
Laurentian University Nursing Students Conduct Vital Signs Clinic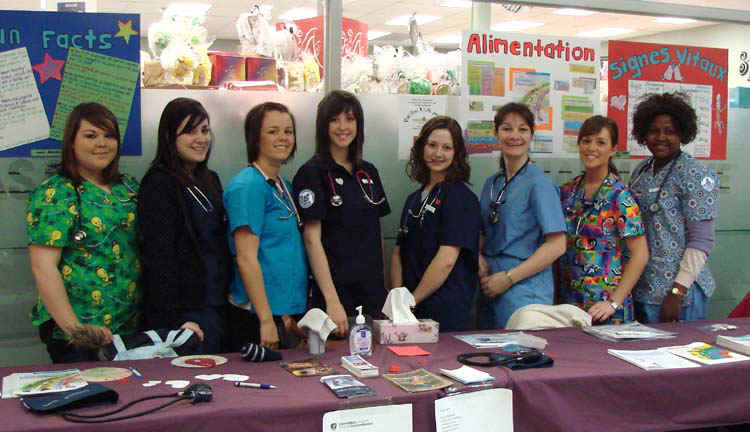 As part of their program, students enrolled in the Laurentian University Nursing Programs are required to spend a number of hours in community and clinical settings. On February 11, 2008, seven of the students, under the supervision of Lynn Aubuchon, third from the right in the photo, conducted a Vital Signs Clinic at the Hanmer Valley Shopping Centre.

Shown in the photo, from left to right, are: Carrie-Ann Castilloux, Marie Rose, Dominique Leroux, Renee Bertrand, Nathalie Lebeau, Lynn Aubuchon, Charlene Quesnel, and Fatima Sankoh.

The girls are all part of the 4 year French language nursing program at the school.
Canadian Model and Talent Convention Could Be The Start Of A New Lifestyle For The Collin Family

A local family from Hanmer is one step closer to realizing their dreams. The Collin Family are shown from top to bottom in the photo, includes, Alyssa (8), Ashley (17), and Aubrey (11), They have successfully auditioned to attend the Canadian Model and Talent Convention (CMTC) in Toronto this coming May. At the CMTC, they will have the opportunity to meet OVER 50 of the World's Top Modeling and Talent Agents, attend workshops and seminars as well as compete in several competitions.



Ashley is 17 years old and has been in dance, acting, singing and modeling for 4 years. Her goal is a career in acting and singing. She began at Paquette School of Music as a vocal student when she was 10 years old. The family then moved to Belleville where she continued singing and acting and had a lead role in the school play, Joseph and the TechniColour Coat. Upon returning to Sudbury and buying a home in Valley East , Ashley was enrolled in Diane Boulais School of Dance where she attended for 3 years. In 2007 Ashley decided she wanted to expand her experiences and joined Gauvreau School of Performing Arts. Since being at Gauvreau she has been in the French River Trading Post commercial on MCTV, modeled wedding attire in the local Bridal Show and modeled Fashions by Deedee at the Sudbury Arts and Crafts Show at the Howard Johnson. Ashley began secondary education at Bishop Alexander Carter in Hanmer and in Grade 11 transferred to Sudbury Secondary Performing Arts School where she is currently completing Grade 12. She is a Drama Major, Vocal and Dance Minor.



Aubrey is 11 years old and a natural born actor and comedian. He has been professionally trained for one year and his goal right now is to become an actor. Aubrey is in Grade 6 at Immaculate Conception School. He enjoys being center stage in any situation and much to the dismay to his teachers, easily engages his peers with his stories and antics. This is Aubrey's first year of formal training in the Arts and he has exceeded all expectations. He attends Gauvreau School of Performing Arts and studies Musical Theater.



And finally there is Alyssa. She is 8 years old and has been in dance, modeling, and musical theatre for 4 years. Her dream is to sing and dance professionally. Alyssa is in grade 3 at Immaculate Conception School. She attended Diane Boulais School of Dance for 3 years where she studied tap, ballet and jazz. Alyssa and her classmates competed in the North Bay Kiwanis Festival where her group placed first for her division. This year Alyssa wanted to try modeling and enrolled in Gauvreau School of Performing Arts. She has modeled flower girl attire at the Bridal Show in Sudbury . She is also taking Ballet and Musical Theatre at Gauveau.



In order for the family to attend the four-day CMTC, they must raise $7000 to cover the expenses.

The entire Collin Family will be set up at the Hanmer Valley Shopping Centre every Sunday in February from to They will be available to talk about their dreams of one day becoming professionals and will be hoping for your support in helping them achieve their goals. If you would like to make a donation to the family so that they can attend the CMTC, please stop by their table at the mall. They would appreciate any and all donations.



If you would like more information, you can contact their mother, Carrie Collin by email at thecollins26@hotmail.com or by telephone at 662-9105.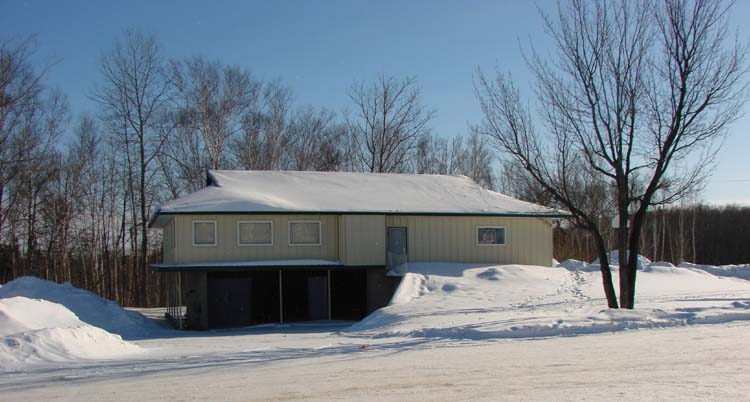 The Valley East Youth Centre
433 Centennial Drive, Hanmer, Ontario
Across from the Centennial Arena
(705) 969-5188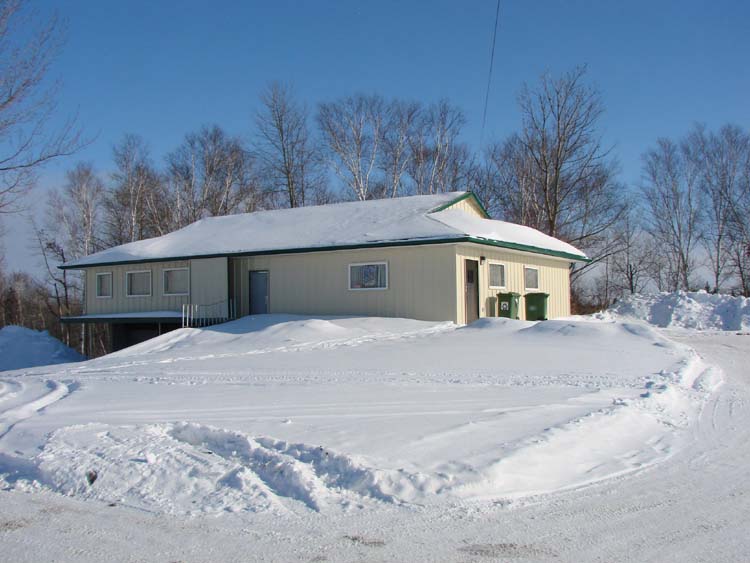 Grand Opening of
Valley East
Youth Centre Signals A New Beginning For Local Teens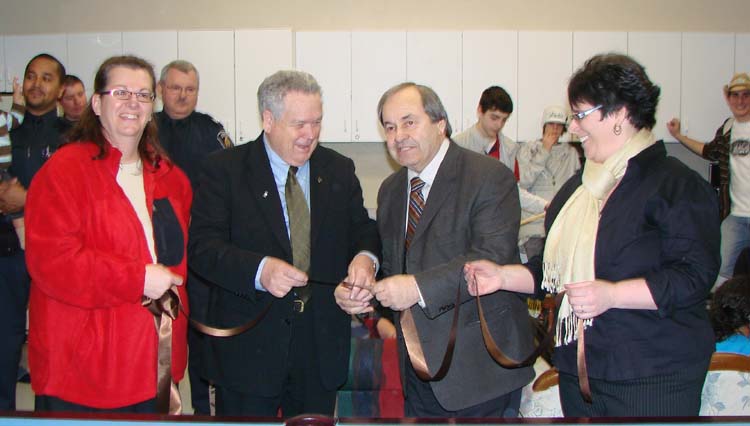 The Valley East Youth Centre, located directly across from the Centennial Arena in Hanmer, held an Open House on
Tuesday, January 27, 2009
that signaled a new beginning for young people in the community.



The highlight of the evening was the ribbon cutting ceremony shown in the photo. On the left, Volunteer Coordinator, Patricia Caine, and on the far right, Sue Beaudry, representing the Club Optimist de la Vallee, held the ribbon while the two guests of honour officially opened the newly renovated centre. City of
Greater Sudbury Mayor
, John Rodrigez, on the right, assisted

Roy Goden, Past Governor of the Northeastern Ontario Club Optimist to usher in a new era for the Valley East Youth Centre. Golden had made the trip up from
Ottawa
just for this occasion.



We've really done a lot to improve the image of the Youth Centre," Patricia declared. "Visit the web site and look at the pictures. I'm sure you will be impressed with how wonderful it looks today."



Caine pointed out that many families, struggling to maintain all of their family commitments, are faced with the challenges of balancing responsibilities having to do with work, their children, and making time for aging grandparents. Youth centres support families and communities by providing safe, supervised places and responding to youth when they need help. These centres assist youth in making positive relationships and healthy lifestyles. The teen years is a time for becoming more independent, getting that first job, and doing community service volunteer work. Youth centres strive to teach these essential skills in order to build better futures.



The open house was attended by dozens of adults and youth from the community and every single one of them marveled at the tremendous improvements in the facility.



The Youth Centre is open Tuesdays to Fridays from
to
There are two supervisors on duty at all times and there is plenty for youth to do while they are at the centre.



The next major event for the Youth Centre is a Valentine's Day Sweetheart Teen Dance on
Friday, February 13, 2009
from
to
at the Centennial Arena. Tickets are $8 in advance or $10 at the door.



If you want more information about the Valley East Youth Centre or if you would like to make some kind of donation, just contact Patricia Caine at 969-4834 or call the Youth Centre at 969-5188. You can also visit the web site at www.valleyeastyouthcentre.ca
YOUTH CENTRE HOURS
Tuesdays to Fridays
5 p.m. to 9 p.m.
YOUTH CENTRE BOARD OF DIRECTORS

Patricia Caine
Susan Johnston