CHAPTER TWENTY-FOUR
Suzie McNeil Drops In On Evolutionary Band To Surprise One of Her Biggest Fans

Principal For A Day Program Has Many Benefits For All Participants

Family Literacy Night At Redwood Public School Promotes Writing Skills

Redwood Acres Open House Is Always A Big Hit With The Entire Family
Canadian Recording Artist Heather Dale Stops In Sudbury For Concert On November 22
Hanmer's Eric Ouellette Begins The Most Important Race of His Life
An Exciting Life As An International Model Could Be In Store For Valley East's Erin Malinski

Greater Sudbury Public Library Offers A Teen Advisory Group to Local Students

Grade 11 Students Adam Leger and Erica Richard Begin Term as Co-Prime Ministers of the Confederation Secondary School Parliament
It's Official - Evolutionary Holds The Guinness World Record For The Deepest Underground Concert

The March Break Is A Perfect Time To Check Out Private Tutoring Options For Your Children

At Only $40 Per Week, Private Tutoring Is Now A Real Option For Every ChilD

Laurentian University Tuitions Going Up Again For 2007-2008 School Year

There is No Need For Any Child To Struggle In School

York Region District School Board Creates After-School Tutoring Program As Alternative For Parents

More and More Parents Turning To Private Tutors To Give Their Children One-on-One Guidance

Author of Boom, Bust & Echo Warns Against Overreacting To Increased University Enrolment

A School Nutrition Plan Would Be Well Worth The Money To Improve Learning In The Country's Schools

The Value Placed On Early Childhood Development Is Being Recognized As A Clear Indicator of The Future Of Canada

School Bus Safety Must Be Enforced - The Public Can Help Keep Our Children Safe

Mentors Will Help You Succeed In Any Career
Many Baby Boomers Looking To Golden Years For Personal Fulfillment In New Careers
Graduate Programs Being Offered By Universities As Students Realize That A B.A. May Not Be Enough!
Minimum Wage Increase to $8.00 Per Hour On February 1, 2007 Won't Help Fill Vacancies In Retail Stores
Federal Report Warns That Canada Is Training Too Few Workers To Compete Globally
Incentives Will Be Provided To Lure Highly Qualified People As Supply Falls Short of Demand
One Lady's Story Demonstrates How Hard It Can Be Without An Education And A Proper Career Plan In Place
Visit To Former Home Town During The Holidays Brought Back Fond Memories Of A Simpler Way of Life
Suzie McNeil Drops In On Evolutionary Band To Surprise One of Her Biggest Fans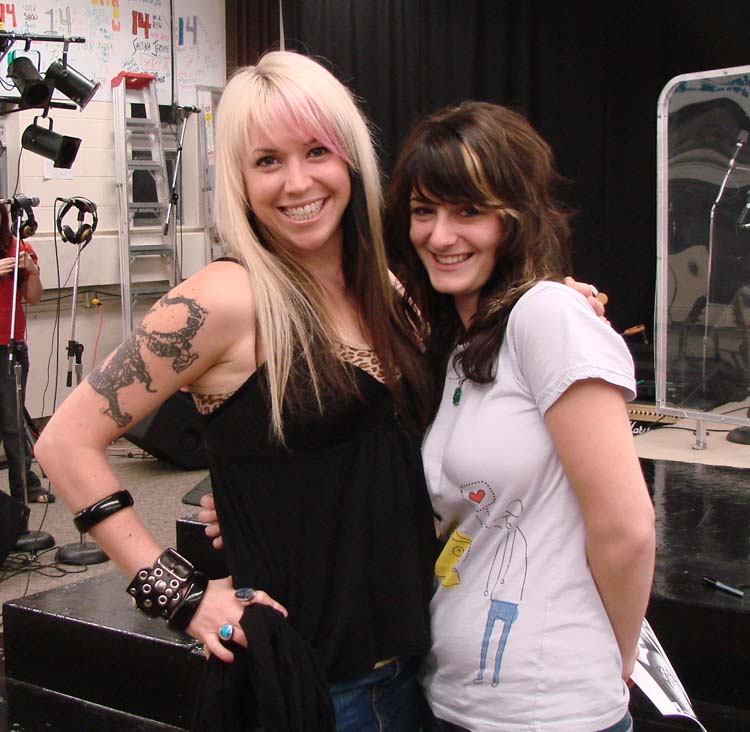 It was just a normal practice session for Confederation's Evolutionary Band after school on Wednesday, October 26. Courtney Tattersall, shown in the photo above, one of the senior lead singers on the band had just completed performing a song with her band that was originally recorded by Suzie McNeil. After the song, Music director, Norm McIntosh, asked Courtney to tell the rest of the group why she liked that song so much. Courtney was more than happy to express her love of the young rock star and proceeded to explain to the rest of the band how much she enjoyed her music.

At that point, Mr. McIntosh, who has been known for shocking the bank with guests dropping in to see them during rehearsals, said, "Well, Courtney, if you like her music so much, why don't you tell Suzie McNeil herself just how you feel."
Then, to the total surprise of everyone in the room, out of the darkness stepped Courney's idol, Suzie McNeil herself. After Courtney recomposed herself, McNeil asked Courtney to join her in singing the song that she had just performed so beautifully in front of the star.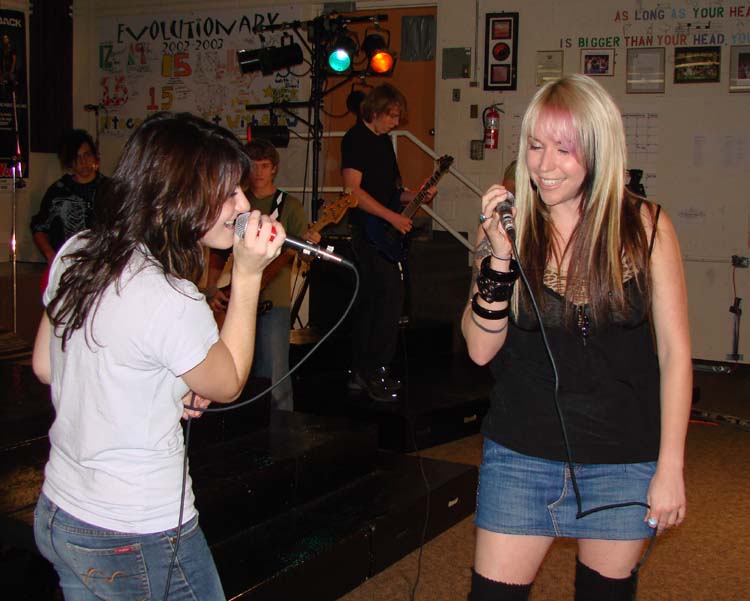 Throughout the years Suzie McNeil has accumulated an impressive array of musical accomplishments and has performed with some of the top stars in the business, even appearing in front of a crowd of over 200,000. She received much acclaim at the end of 2005 when she was the last woman standing on CBS Television's reality series Rockstar:INXS.
In the spring of 2007 she released her first CD "Broken and Beautiful" and this fall she worked with Bell Canada to produce an Olympics inspired video of her hit song, "Believe", which is being considered as the possible "theme song" for the 2008 Winter Games being held in Vancouver .

Suzie talked to the band for a while, signed some autographs and then headed off to the Grand Theater for an evening performance in Sudbury .
For Courtney Tattersall, it will likely be remembered as a defining moment in her singing career, performing with her favourite, Suzie McNeil, live on the set of Evolutionary. Before she left, Suzie told the band that what she has learned from being a performer is that "the energy you put out there is the energy you get back". She encouraged the high school students to adopt that philosophy in everything they do. Before she left Suzie signed the autograph board for 2007 with the message: "Continue the Evolution Revolution".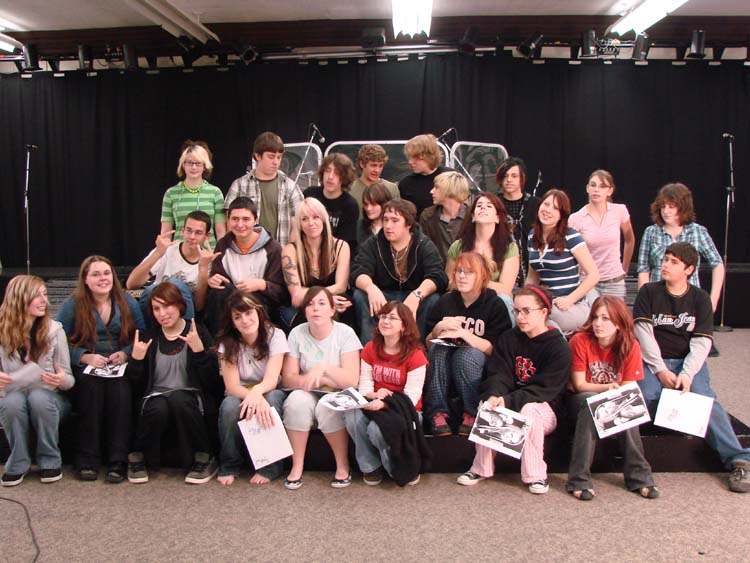 Principal For A Day Program Has Many Benefits For All Participants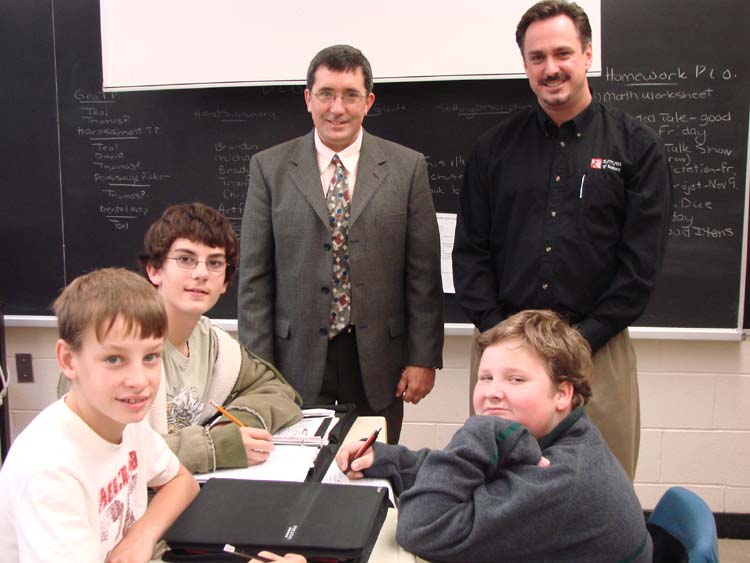 For Chris Scagnetti, President of Saturn of Sudbury, shown standing on the right, the opportunity to become "Principal For A Day" at Pinecrest Public School in Val Therese was something "I just couldn't pass up."

Others in the photo with him include "the real principal, Jacques Mantha, along with three Grade 7 students who were enjoying a very interesting discussion with Mr. Scagnetti about possible careers in the automotive industry. The students, from the left included Cody Boileau, Jesse Dordevic, and Jesse Lampsa.
"The primary purpose of the Principal for a Day program is to link schools with the communities that they serve," says Rainbow District School Board Chair Dena Morrison. "Community leaders will spend the day learning about the multiple roles that school principals play, from instructional leadership to the management of school facilities. In the process, they will gain a better understanding of what¹s happening in Rainbow Schools."



"Our community is keenly aware that we need an excellent educational system to prepare our future workforce," says Director of Education Jean Hanson. "By engaging community leaders in public education, we hope to mobilize the expertise and resources of our community to develop powerful partnerships to improve learning opportunities for students in Rainbow Schools. We want to give community leaders as realistic a view as possible of a day in the life of a
Principal."



"At Saturn we've been involved in many youth-oriented initiatives that have been designed to provide children with safe places to play and enjoy the experiences that are part of growing up," explained Scagnetti. "We sponsor projects like Saturn Kidspace that improve playground facilities and we take part in the "Ugliest Schoolyard Contest" which was actually won by Pinecrest last year. Because they won the first place prize, Pinecrest is receiving a $20,000 landscaping upgrade."



Scagnetti himself is part of a very active family. He and his wife are raising two sons who are involved in hockey and numerous other school-based activities. "The more my children get involved, the more I realize how fortunate I was to grow up at a time when there seemed to be money for everything. Our parks, arenas, recreation facilities were all pretty well new when I was young and we all spent hours every day on outdoor rinks, riding our bikes in parks and just enjoying our youth. Today, children have many more technological advantages that we didn't have, but I find that their outdoor-based activities are limited.

That is why Saturn is focusing its efforts on improving these outdoor facilities and promoting the development of playgrounds and parks.



Chris Scagnetti pointed out that initiatives such as the "Principal For A Day" program go a long way to establishing the kind of positive relationship that is going to be needed by our schools and our young people in the future. "If we are truly going to help our children get the most out of their education, then more and more of us from the private sector are going to have to step forward and provide the necessary support to our school programs. Spending a day in the school like this convinces me that anything I can do to help is well worth the investment in our future."
Family Literacy Night At
Redwood
Public School
Promotes Writing Skills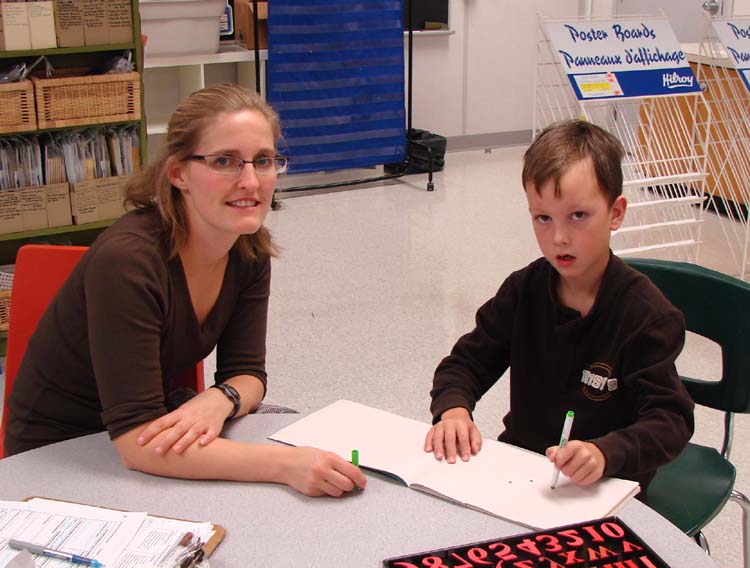 Kellie MacKenzie, one of the two "Literacy Teachers" at Redwood Acres Public School is shown working with Grade 2 student, Kyle, on some of his writing skills. On Thursday, October 25, from to , Kellie and her colleague, Monica MacMillan, will be coordinating the 2nd Annual Family Literacy Night for parents and children of the entire community.

"Our theme this year is 'Writing Through The Arts', "explained Ms MacKenzie. "We will be offering five different 20-minute workshops that will be lead by experts who will take parents and their children through an interactive experience designed to promote writing skills."
The evening will feature Nancy Gareth-Coulombe from the Art Gallery , Chuck Roberts using music as a writing tool, story writing with Michelle Walton and Miss Hallman as well as a "Book Fair" where parents can purchase or order some excellent reading resources for their children.
The Family Literacy Night is open to all parents and children of the community and is free of charge. Just drop in to Redwood Acres Public School at 4625 Carl Street in Hanmer. You can call 969-4435 for more information. Writing is one of those communication skills that is so valuable today and anything parents can do to encourage a love of writing in their children is well worth the time and effort.
Redwood Acres Open House Is Always A Big Hit With The Entire Family
On
September 13, 2007
Redwood
Acres
Public School
held their annual Open House.

This year featured a circus theme with face painting, juggling and clowns.

It was a huge success with parents coming with their children to see their classrooms and meet their teachers.

Below are moments captured at the event.
Below, Cody, the son of Educational Assistant Mrs. Olivier, juggles teddy bears.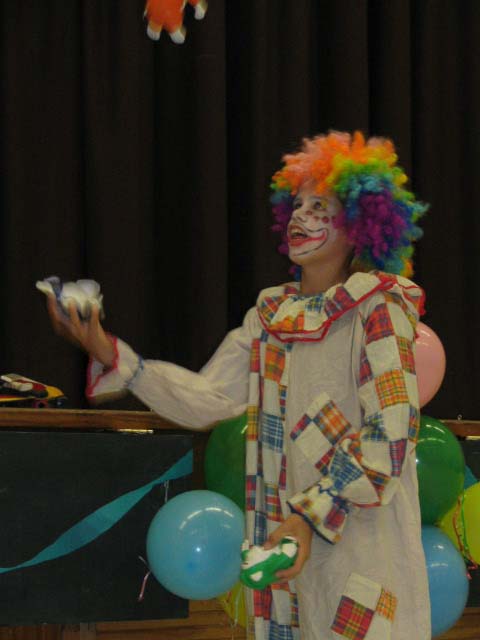 "My mom came to conference with my teacher, I came for the popcorn" says Lauren Oliver below.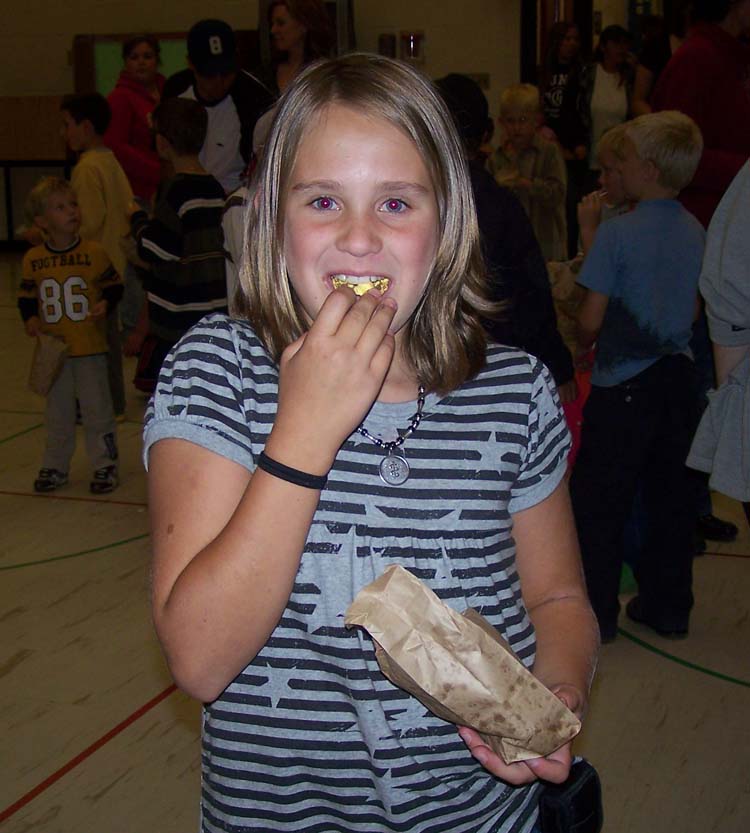 Mrs. Mackenzie LRT teacher at Redwood Acres handed out lollipops to children.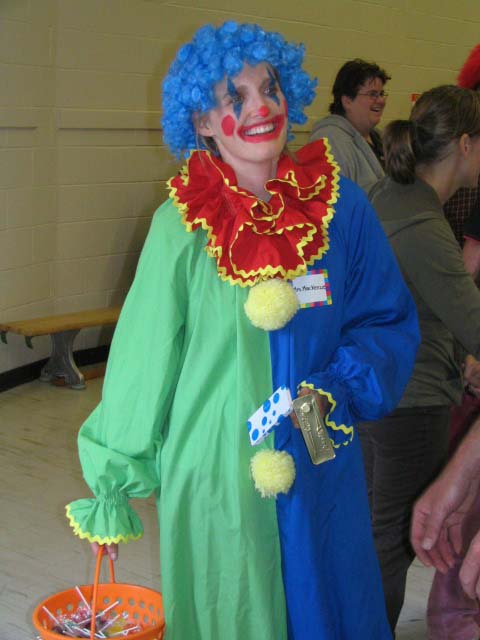 Canadian Recording Artist Heather Dale Stops In Sudbury For Concert On November 22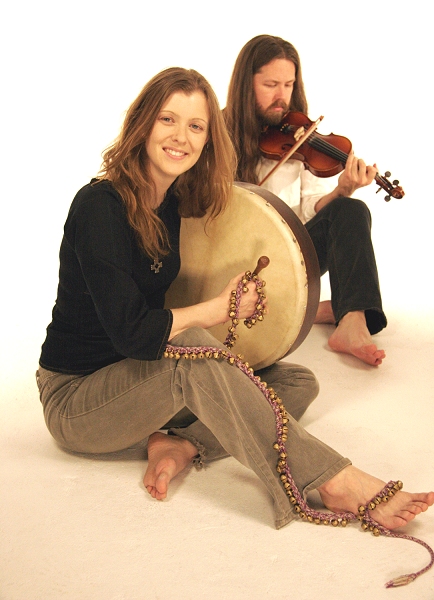 Heather Dale is a Canadian recording artist with Celtic roots, currently on tour to support her Christmas album "This Endris Night". This CD takes a joyful, thoughtful look at traditional holiday songs from the Middle Ages and Renaissance. Heather's voice is clearly influenced by Celtic traditions, along with jazz and folk, and her music is reminiscent of Loreena McKennitt and Steeleye Span. Heather regularly tours in North America and Europe. "Heather Dale soars... an unabashed and uninhibited romantic who has found her voice and her musical wings" (Toronto Star).

Heather Dale will be presenting a series of special holiday concerts this November and December, with performances in Manitoba, Ontario, Quebec, New Brunswick and Nova Scotia. This special 18-date tour will showcase Celtic-flavoured interpretations of traditional Christmas carols, along with a selection of original songs from Heather's six recordings. The concerts are family-friendly, with a good mix of upbeat and softer material. "We have so much fun at these shows, since it's such a joyful time of year," says Heather. "But I also like to focus on the simplicity and beauty of the original Christmas story, as it was told before the Big Box Stores took over the season."

Each concert features over a dozen instruments, all played by Heather Dale and Ben Deschamps. Along with double bass, guitar and piano, Heather and Ben bring out a whole host of smaller folk instruments during their sets: mountain dulcimer, Irish flute, violin, bodhran drum, tin whistles... often played in unusual ways. They also offer surprisingly contemporary twists on old favourites, whether it's putting a 14th century carol into New Orleans ragtime, or evoking a swirling snowscape with double bass and tiny bells. An evening of enchantment and delight -- great for all ages!

Visit www.HeatherDale.com

SELECTED TOUR DATES:

Thu Nov 15 Our Saviour's Lutheran Church (Thunder Bay, ON)
Fri Nov 16 The Bhigg House concert series (Winnipeg, MB)
Sat Nov 17 The Bhigg House concert series (Winnipeg, MB)
Wed Nov 21 Loplops Lounge & Gallery (Sault Ste Marie, ON)
Thu Nov 22 Church of the Epiphany (Sudbury, ON)
Fri Nov 23 Orillia Folk Club (Orillia, ON)
Sat Nov 24 Moonshine Cafe (Oakville, ON)
Sun Nov 25 The Rhino Craft & Music Fair (Toronto, ON)
Tue Nov 27 Grace Presbyterian Church (Scarborough, ON)
Wed Nov 28 Princess Margaret Hospital - Music in the Atrium concert series (Toronto, ON)
Fri Nov 30 Old Town Hall concert series (Waterford, ON)
Sat Dec 1 Waterloo Community Arts Centre (Waterloo, ON)
Fri Dec 7 CFMU concert series - opening for David Francey (Hamilton, ON)
Sat Dec 8 Yellow Door Coffee House (Montreal, QC)
Sun Dec 9 Glebe St. James Church concert series (Ottawa, ON)
Wed Dec 12 All Saints Anglican Church (St. Andrews, NB)
Thu Dec 13 The Blue Olive (Saint John, NB)
Fri Dec 14 St. John's United Church (Halifax, NS)
Tue Dec 18 Charlotte Street Arts Centre (Fredericton, NB)

An Exciting Life As An International Model Could Be In Store For Valley East's Erin Malinski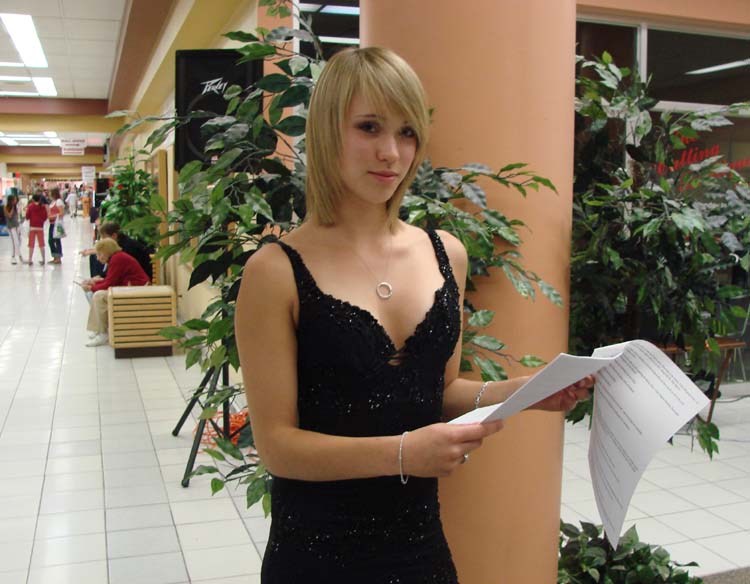 Fifteen year old Erin Malinski (this article was written in September 2007) is shown reading over the program just prior to taking part in the First Annual Hanmer Valley Shopping Centre Fall Fashion Show on September 9, 2007. For Erin, shown below as the lead model, must minutes from opening the show, every opportunity to get experience in front of audiences is an important step in her career development program.

Erin, who attends Grade 10 at College Notre Dame in Sudbury, seems to have been born to be a model. In fact, during a recent interview, Erin herself feels that while most successful models can be coached and trained to refine their talents, "You must have a certain kind of personality to be a high level model. It must be present in everything you do. When people look at you they should see you as a "model" just by the way you act and carry yourself, and I don't mean that in a negative way. I mean that you can just tell someone has what it takes to be a model."

Erin's father, Ed, a retired school teacher agrees, "I think I knew there was something special about Erin right from the day she was born. Even before she began school she was always trying on clothes and always extremely particular about the way she looked. She was our only daughter, so naturally my wife and I dressed her in the finest outfits and enjoyed seeing her in pretty clothes, but she just took to it naturally. She has been interested in her appearance and in clothes all along, and I can say as a proud father that she has done all of this while remaining very down to earth and being just a plain ordinary good person. But there is something special about her and I can say that I think she was born with this gift."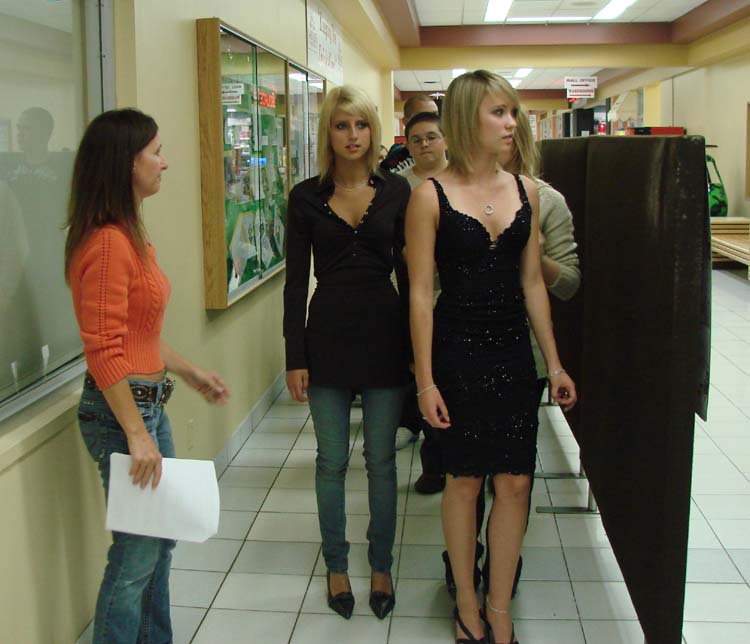 Erin's life as a potential career model moved to a higher level this year while attending the Canadian Modeling Talent Convention. She displayed her talents with 500 other aspiring teen models and was selected (equivalent to the drafting process in hockey) by seven different agencies from Toronto, New York, Taiwan, Paris, London and Los Angeles. These agencies will be watching Erin's development over the next few years until she turns 18 and is eligible to sign a professional modeling contract. She is now in the hands of Mrs. Florence Gauvreau who will continue grooming her for a possible career.

For Erin, it will mean a steady stream of events such as the one at the Hanmer Valley Shopping Centre where she will get as much exposure as possible and sharpen her presentation skills on stage. These practices will give her the experiences she needs in order to mature into a profession which is extremely demanding and short-lived.

"I know it is going to be a tough career," explained Erin. "It is very competitive among the top models in the world and you have to be at the top of your game to be successful. I also know that my career won't last forever on stage, but after you are finished with the "runway" part of your career you can still continue as a model in advertising for catalogues and magazines. I also want to finish my degree in psychology and perhaps open a practice helping young models cope with the emotional side of the business. I have thought about staying in business as an agent as well."

For now, Erin will continue to be a normal 15 year old who is heading towards a career she loves. She will take advantage of every opportunity to get in front of people in order to experience every type of situation and every kind of condition. All of it will serve its purpose in developing the "entire package". Her outgoing personality; her ability to take criticism; her ongoing concern about her appearance; and her unwavering morals and personal standards should take her a long way to a contract when she turns 18.
Hanmer's Eric Ouellette Begins The Most Important Race of His Life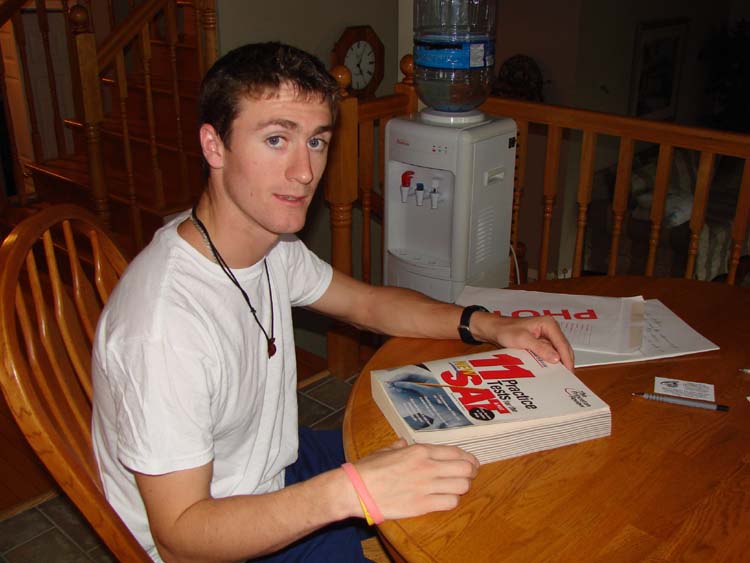 Eric Ouellette's career goal is to become a physiotherapist when he finally finishes his formal education. He plans on beginning his undergraduate degree in Kineisiology at Lake Superior State University in the spring as part of the Lake Superior State University varsity track and cross country teams on a full-scholarship valued at $60,000 over four years, but one little thing stands in his way - the SAT entrance test that must be passed before he is accepted into the university.

In the photo above, Eric is shown going over some of the practice tests in preparation for writing the test in November 2007. He plans on getting some assistance from David DiCarlantonio, a Personal Tutor through The Greater Sudbury Learning Clinic. David and Eric will be spending about four hours a week studying for the test.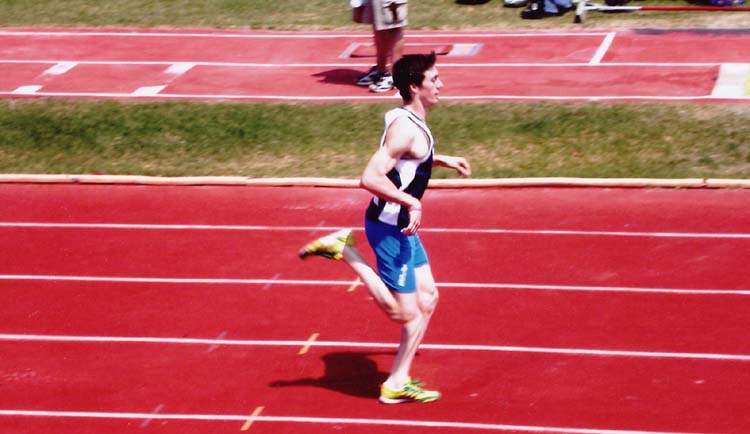 Eric is one of the top mid-distance runners for his age in the country. While attending College Notre Dame in Sudbury, Eric made a name for himself in the 400 and 800 metre races, clearly establishing himself as a National Level runner in the top eight in Canada. He was a member of Team Ontario during the summer of 2007, competing in the Eastern Canadian ESPOIR Meet in St. John/s Newfoundland where he came home with a gold medal in the 4 x 400 relay and 4th place finishes in each of the 400 and 800 m races.

Eric started out his athletic career as a mediocre runner in the 100 and 200 metre sprints. In Grade 8 he moved to the 400 and 800 metre distances and instantly loved it. He has played hockey while at College Notre Dame, but his true love is running. He has developed his skills under the watchful eyes of his personal coach Darren Jermyn as well as other local coaches in town, such as Dick Moss from Laurentian University.

"I like doing things myself and when you are running you are all alone," explained Eric. "You have to push yourself and train hard because when the race begins you can't depend on your teammates. It is you against the clock and against other runners."

The head coach of the track team at Lake Superior State University, Steve Ellis, is a former resident of Sudbury so he pays particular attention to local athletes. He liked what he saw in Eric and hence offered the full scholarship to become a member of the team.

Once he passes the SAT test, Eric will head to the university to begin training for the spring season. If you compare hockey to -the world of running, Eric is considered somewhere between the OHL and N.H.L.. He will therefore spend the next four years developing his skills and competing with some of the top runners on the continent with the dream of one day earning a spot on the Canadian Olympic Team.

We all wish Eric the best of luck as he begins the most important race of his life.
Greater Sudbury Public Library Offers A Teen Advisory Group to Local Students
The Greater Sudbury Public Library is looking for teens in grades 7 to 12.

What do they do...

- Meet monthly

- Suggest items for the library to buy

- Plan and promote teen library programs

- Discuss teen trends and school events

- Talk about favourite books, movies, music, computer games, magazines...

Reasons to consider joining...

1. Look good on college resume

2. Earn Community Service hours

4. Meet new friends

5. There's always food at meetings

6. It's fun!

You have the choice of two groups:

Valley East Public Library Main Public Library

4100 Elmview Drive, Hanmer 74 MacKenzie Street, Sudbury

first Wednesday of the month last Wednesday of the month

4:00 - 5:00 p.m. 4:00 - 5:00 p.m.

If you are interested, please contact Ginette Mallette at 673-1155, extension 205.

New members are always welcome. TAG - Now you're it!

For more information, please contact:


Ginette Mallette, Children and Teens Programmer


Greater Sudbury Public Library, 673-1155, extension 205


ginette.mallette@city.greatersudbury.on.ca
Grade 11 Students Adam Leger and Erica Richard Begin Term as Co-Prime Ministers of the Confederation Secondary School Parliament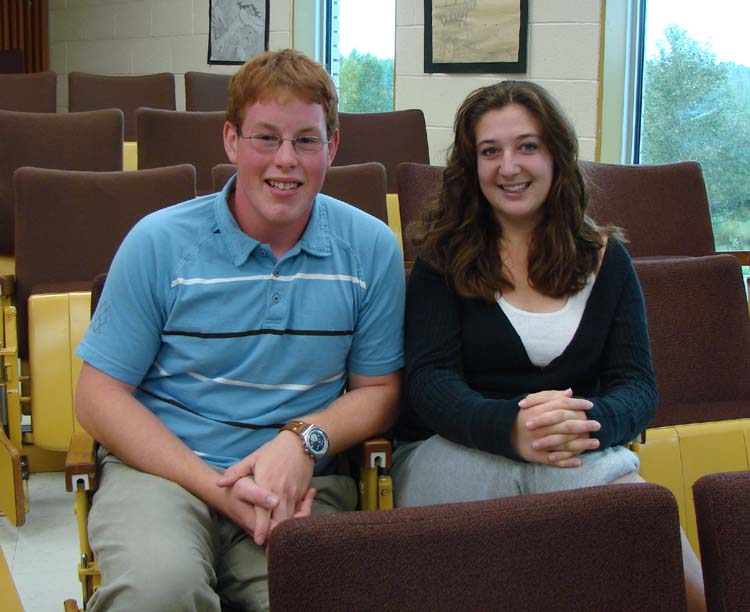 While acknowledging that it is unusual for Grade 11 students to be appointed to the position of Prime Minister of the Confederation Secondary School Student Parliament, both Adam Leger and Erica Richard are confident that as Co-Prime Ministers they will be able to combine their resources and talents to provide effective leadership to the student body this year.

The main goals of the Parliament this year are to improve the overall level of school spirit in all areas and help get the school more involved in the community of Valley East. They both agree that secondary school students must improve the public image of youth in general and this can be done by getting involved in more positive activities outside of the boundaries of the school. They also hope to revive the popular school dances and bring back a winter carnival in January or February.

Both Adam and Erica are graduates of Valley View Public School and are continuing their French Immersion program in high school. Adam hopes one day to be a teacher, although he is entertaining some thoughts about getting into politics. Erica plans on pursuing a career in journalism or photography.
It's Official - Evolutionary Holds The Guinness World Record For The Deepest Underground Concert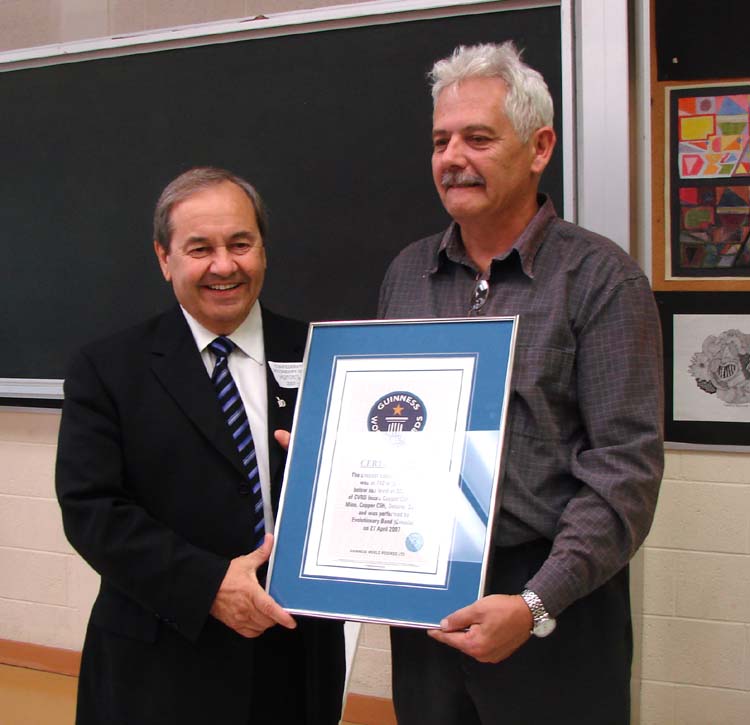 Mayor John Rodriguez was on hand to present the plaque confirming that Confederation Secondary School's Evolutionary Band has been recognized as World Record Holders for their underground concert performed at Copper Cliff's North Mine on April 27, 2007. Accepting the plaque on behalf of the band was music director Norm McIntosh as many members of the band looked on from the seats in the school amphitheatre.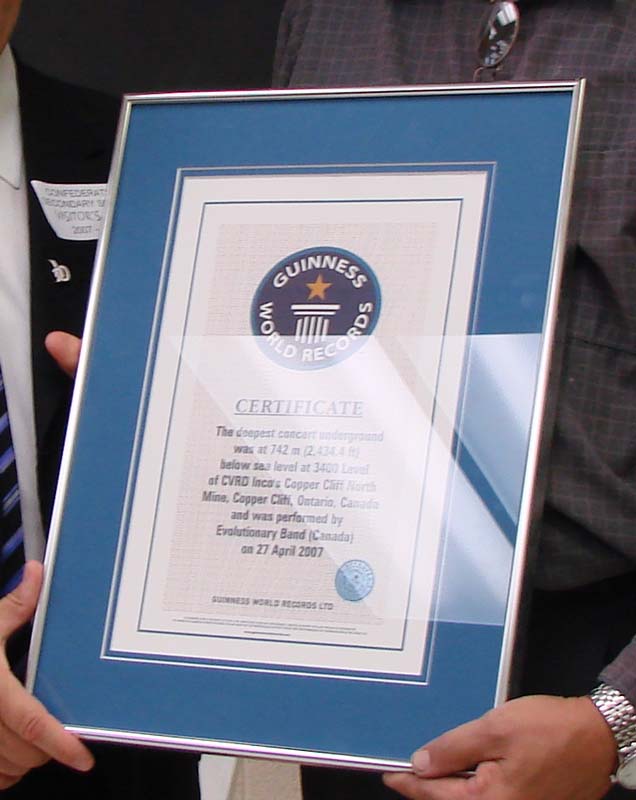 Referring to the moment as a "significant moment in the life of each and every student", Norm McIntosh held up a certificate that was about to be presented to the band members from Shelley Martel's office, and make it very clear that, "I want you to put this certificate in a glass frame and hang it on your bedroom wall. This is something that no one can ever take away from you. You have accomplished something that very few people living on this earth will ever achieve. But there are two other certificates that you must add to the collection. The first is your high school diploma and the second is your university or college diploma. No one can take those away from you either."

The formal certificate, shown above, states:

The deepest concert underground was at 742 m (2,434.4 feet) below sea level at 3,400 Level of CVRD Inco's Copper Cliff North Mine, Copper Cliff, Ontario, Canada and was performed by Evolutionary Band (Canada) on 27 April 2007.

"We commend Evolutionary for, once again, putting Greater Sudbury on the map," said Rainbow District School Board Chair Dena Morrison. "Having an official world record to their credit is an outstanding achievement. We thank our partners at CVRD Inco for giving our students the opportunity of a lifetime."

The world record concert was broadcast live from coast to coast on CTV's Canada AM. In a recent email message to the school, host Jeff Hutcheson said, "I just wanted to say congratulations from all of us here at Canada AM, and thanks so much for allowing us to be a part of this wonderful accomplishment. It was a broadcast I'll never forget, punctuated by the enthusiasm, dedication and talent of all of those connected with the band program at Confederation Secondary School."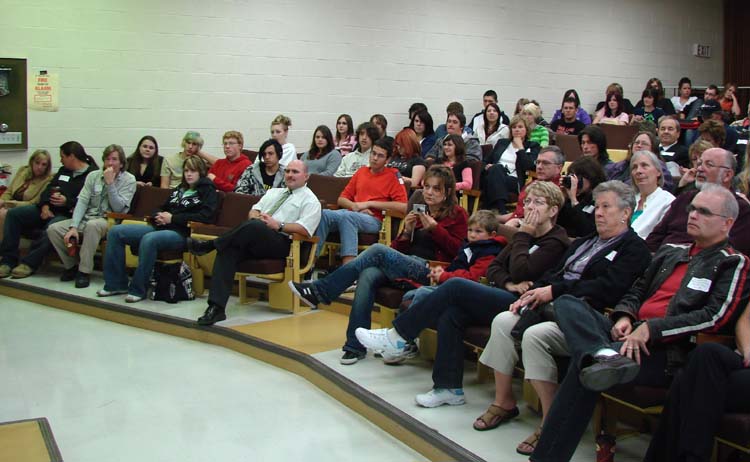 Members of the band can be seen seated in the section of the amphitheatre behind Principal, Mike Mirka, fifth from the left in the front row. The amphitheatre was filled with proud parents and grandparents, brothers and sisters who attended the special press conference to announce the official recognition of the world record. The students spent almost 15 hours underground setting up and playing their hour-long set to establish the record.

Also in attendance, shown 2nd and 3rd from the left, were the producers of a special 70-minute "rock-umentary" on Evolutionary which was to be featured during this year's Cinefest Sudbury International Film Festival. Gregory Tremblay and Woody Hackett own M-Potent Productions and Seat of the Pants Productions of Sudbury. The two local filmmakers spent a year filming performances and behind the scenes activities of the band members in putting together the documentary.

For Norm McIntosh, winner of the inaugural Music Teacher of the Year Award sponsored by the Rolling Stones, this was one of the proudest moments he has ever had in his career, "It's an honour for me to be in the presence of a world record holder. Thank you for believing in me and for coming with me that day."
The March Break Is A Perfect Time To Check Out Private Tutoring Options For Your Children by Robert Kirwan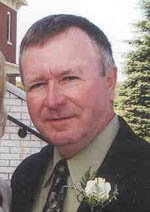 Elementary and Secondary schools start their March Break on March 9! For parents, this is a perfect time of year to check out the private tutoring options that are available at The Greater Sudbury Learning Clinic which is located at the Hanmer Valley Shopping Centre. For an investment of only $40 a week you can move into the last part of the school year knowing that you've given your son or daughter a better chance of successfully completing all of his/her courses and programs this year.

If you would like to talk to me about finding a suitable private tutor for your child, take some during the week to contact me and discover just how easy and inexpensive it is to acquire the services of a personal tutor to work with your child.
After you finish reading this article, make sure you go to the web site at www.thelearningclinic.ca . Finding the right tutor for your child can be done in three simple steps:

FIRST STEP: The first thing I will do is meet with you and your child, preferably at your home, to collect as much information as possible so that I can compile a comprehensive profile of your son or daughter which will include, among other things; the current status with respect to age, grade level, learning difficulties, challenges, etc.; your overall expectations as a parent about the desired outcomes of the tutoring program; and any other relevant details about your child or situation of which a prospective tutor should be aware.

Once I have enough information to prepare a student profile, I will be able to establish the general "baseline" position of your child so that we know our starting point.

A preliminary plan of action will then be developed which will form the framework within which a private tutor will be asked to operate. This will include such organizational components as the days and times of instruction; the frequency of instruction; a tentative schedule; and the nature of the instruction sessions. All of this will be subject to your approval as the parent.

SECOND STEP: The next stage of the process is for me to make contact with potential tutors who have the necessary skills and attributes for your child's situation. Each prospective tutor will have a clear understanding of your expectations as a parent, and also of the terms and conditions within which he/she may be operating. This is the most critical step in the entire process since the tutor will be ultimately responsible for implementing the final plan of action and for providing the all important guidance for your child.

THIRD STEP: Once I am satisfied that I have found a suitable tutor for your child, I will arrange for another meeting at your home to introduce the tutor to you and your child. Besides allowing all parties to become acquainted and to confirm the pertinent details about your child's program, it will also provide you with an opportunity to conduct an informal "interview" so that you are completely satisfied with the tutor who has been selected. If, for whatever reason you are not completely satisfied with the tutor, you will let me know after the meeting is over and I will then find another tutor for your child.

INVESTING IN YOUR CHILD'S EDUCATION is important so it is imperative for you as a parent to be certain that you are doing everything possible to ensure that your son or daughter is getting the most out of his/her learning experiences. Hiring a Personal Tutor makes a lot of sense today and when you look at the relative low cost, you can see that there are many other things you buy over the course of a year that pale in comparison to the return on investment of a personal tutor for your son or daughter. Call me today and let's get the process started. Your child's future could be totally changed with just one phone call. Make that call today.
At Only $40 Per Week, Private Tutoring Is Now A Real Option For Every Child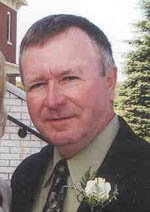 There is absolutely no better form of tutoring for a student than one-on-one instruction by a qualified, professional learning coach who is willing to come right into your own home to work within the very same conditions that your child experiences every day. That is not only my opinion, but also the opinion of just about every other education expert you will come across.
Since establishing the Greater Sudbury Learning Clinic, with its head office at the Hanmer Valley Shopping Centre, I have been able to develop a system whereby most children within the entire City of Greater Sudbury now have access to private in-home tutoring for an amazing price of only $40 a week – almost half of what they can expect to pay at some of the commercial centers in the region where you are expected to bring your child to the center to work in groups of three with a variety of tutors.

In return for this $40 per week investment, parents will have one ninety (90) minute, one-on-one instruction session in their home every week. The tutor will be someone who is qualified and skilled in the subject matter that your child requires. The tutor will not only provide guidance and assistance to your child during the ninety minute session, but he/she will also be available for phone and/or email enquiries in between sessions. If your child has a question that needs to be answered right away, he/she does not have to wait for the next session. Help is only a phone call away.

Most importantly, the tutoring instruction will be directly related to what your child is actually taking in school right now! Each session will begin with a review of the past week to deal with any problems that may have arisen. The rest of the session will involve the development of skills that will be covered in upcoming weeks in order to make sure that your child experiences maximum success in the classroom, thus increasing his/her confidence and self-esteem. The main goal of the tutor is to help your child get the highest marks possible in order to move on to the next grade level. By focusing on "where your child is going" rather than on "where your child has been", we can cover all of the previous weaknesses while helping your child make sense out of the current curriculum. The tutor will even review your child's progress with you every week.

I will personally meet with the parents and their child prior to any instruction taking place. During this diagnostic and preliminary planning session we will discuss all of the relevant details about your child so that we can develop a comprehensive profile from which to create an effective plan of action. I will then find a suitable tutor for your child and continue to monitor the progress your child is making. We want to ensure total success for your child, regardless of his/her age or individual learning needs.

Your next step is to either give me a phone call or visit my web site at the address below. Once you are absolutely convinced that this is a good investment in the future of your child, we will begin the process. I guarantee this is something you won't regret! Call me today at my office during the day at 524-7006 or at home in the evenings at 969-7215.
Laurentian University Tuitions Going Up Again For 2007-2008 School Year
Laurentian's University's 26-member board of governors have voted to increase tuition fees by a minimum of four per cent for the 2007-2008 school year.

Laurentian Student General Assembly president Luke Norton, spoke against the hike at the board meeting yesterday, but was able to convince board members to pass a motion calling for a committee to be created with representation from the board, faculty and students that will lobby the government for money aimed at reducing the impact of tuition fees.

"Even though tuition is going to go up, we feel that we have really achieved something special today," Norton said following the meeting. "We will now work together to lobby the government and show that we all want something done to address the situation."

The hike is four per cent for undergraduate and international students. For graduate students, the hike will be eight per cent in the first year and four per cent for each subsequent year.

The increase would bring one-year tuition for undergraduate students to $4,525 from the current $4,351, a hike of $174. The actual tuition hike for international students will be $424.

Tuition fees form the major portion of the cost of attending Laurentian, but there is a significant amount collected in other student fees, such as for the Student General Association, the school newspaper, health benefits, and of course the Universal Bus Pass. With all of the extra fees added in, the amount each student pays is more like $6000 or more per year.
There Is No Need For Any Child To Struggle In School
During my entire 28 year career as a teacher, I can honestly say that EVERY, I repeat, EVERY student I taught could have improved their grades and developed stronger learning skills with the help and guidance of a private tutor who would meet them in their home for a 90-minute session every week or two. I'm not only referring to the students who had difficulty learning; I'm also referring to the brightest and most gifted children I ever taught. In fact, the gifted child is often more in need of a tutor in order to help him/her realize even higher levels of accomplishment and achievement. For example, it takes a lot more effort for a student to go from 90% to 95% than it does for a student to go from 50% to 55%.

Even though I've been out of the classroom for almost six years, I have continued to maintain a close watch on what has been happening in our public education system. What I have witnessed is alarming to say the least. Never before in the history of our province have classroom teachers been faced with so many extreme challenges in fulfilling their responsibilities to their students!

Thankfully, I am beginning to see a positive shift in attitude among parents and school boards towards tutoring. It seems as if private tutoring is becoming accepted as a necessary element of a child's education. More and more parents are realizing that the time has come to stop complaining about the public education system. The time has come to accept that the public education system will always have its limitations and that the systemic problems will not go away.

Instead of simply sitting back and being critical, many caring parents have decided to do what they can to provide their children with additional support in the form of tutoring. This has predictably lead to the rapid expansion of commercial franchise learning centers where children are enrolled in a mastery approach built upon worksheet completion of specific skills identified as weaknesses through standardized tests and working in groups of three.

Because of my background in teaching, and as a result of my personal experience, I am convinced that the best way parents can help their child is by hiring a PRIVATE TUTOR who provides PROFESSIONAL ONE-ON-ONE instruction that is geared to what the child is taking in school right IN THEIR OWN HOME!
I have therefore decided to open up The Greater Sudbury Learning Clinic to help parents find PRIVATE TUTORS for their children. Furthermore, I have been able to establish a system whereby most parents can get this type of tutoring for an affordable $40 a week – almost half of what they can expect to pay at some commercial centers. I invite you to call me as soon as possible so that we can talk about the needs of your child who will undoubtedly benefit from a visit from a professional private tutor coming to your home every week or two. Call me and we can discuss your options. It won't cost you anything to talk and it may make all the difference for your child.
www.thelearningclinic.ca
or Phone: 969-7215 or 524-7006
York Region District School Board Attempts To Compete With Private Tutoring Industry
The York Region District School Board has implemented a new after-school program that is likely to be the beginning of a wave of similar action by school boards across the province.

It is charging parents of children in Grades 4, 5 and 6 for after-school help in literacy and mathematics. For $190, students can fill in learning gaps and try to boost their marks by signing up for 16 hours of small-group instruction over eight weeks with a certified teacher.

The board says its "Learning Advantage" program is not a money grab, but merely an attempt to meet the needs of families who are already turning to private tutoring businesses for extra help for their children. It also says it can do a better job than private services because its program is written by experts and reflects the provincial curriculum.

Whatever the merits of the actual program, the board is sorely missing the point. By charging for special academic classes, the board is in reality creating a two-tier education system that gives extra help to students who can afford to pay for it but leaves their poorer classmates behind.

The job of a public school is to teach the provincial academic curriculum to all students who attend its schools, not compete with private businesses. That means all of the board's programs should be accessible to all students, regardless of their family income.

It is unfortunate that the York Region's new program is being supported by Rick Johnson, the president of the Ontario Public School Board Association as well as the Provincial Education Minister, Kathleen Wynne, who sees no difference between York's tutoring service and other fee-based education services.

There are several elements of the program that deserve explanation and comment at this time:
It has been stated that the cost of the program offered by York is half of what is being charged in shopping mall tutoring centers. That is a completely false and misleading comparison.

In fact, the York program is much more expensive than most other privately operated programs. There are ten students in each of York's after-school classes. These students range from Grades 4 to 6. At a cost of $190 for sixteen hours, this works out to $118.75 per hour of revenue for the program. The instructor's time is being divided up between ten students, meaning an average of six minutes per student. Therefore, at $11.75 per class, and six minutes of attention, the student is actually paying almost $2.00 per minute of attention from the teacher. That would translate into an hourly rate of $120 an hour for a one-on-one tutoring session from a private learning coach.

Most private learning centres charge in the neighbourhood of $30 to $40 per hour. Some have groups of three students sharing a tutor, so in reality, this would mean that they would be given 20 minutes of attention and the cost would translate into approximately $1.50 to $2.00 per minute, or $90 to $120 per hour.

Private tutors who provide direct one-on-one tutoring will charge as much as $50 to $60 per hour, depending on their qualifications and experience. The cost to a student then translates into approximately $1.00 per minute, or half of what the York Region District School Board is charging. And very few people would argue the benefits of one-to-one instruction as compared to instruction in groups of 3 or 10.

In fact, the York Board must be making a huge profit on the program since it is using teachers who are not currently employed by the Board and therefore must be paying them at a much lower rate than would be demanded by hiring a union instructor. With a revenue of $118.75 per hour, and no overhead costs to speak of, the Board must be making at least $60 per hour from the program.

Therefore, the York Board may be well within its rights to offer the program in competition with private sector firms, but it should not be allowed to mislead the public by claiming that it is much less expensive.

The Board has claimed that its program is much better than some private tutoring services because it is less rote-based and more closely aligned with the Ontario curriculum. The program teaches a prescribed curriculum written by school-board experts that focuses on problem-solving and data management, according to Reg Robson, who administers the board's arm's-length Learning Connections organization which seeks new ways of drawing students and revenues.

The reality is clear. When faced with ten students who range in levels from Grades 4 to 6, the curriculum must be written and delivered as if this were a separate class of students, no different from the program they would receive during the day except that it is done with small classes. And we all know that smaller classes result in a much better education result.

Robson is correct when he refers to private tutoring companies using rote-based and worksheet-based programs. Unfortunately, this type of instruction program is necessary with most private tutoring companies because of the inexperience of their instructors, who are often university graduates who are entering the job market and in search of part-time employment. The wages are low and the turn-over tends to be high in these tutoring companies, so by adopting a worksheet-based program, a student can continue the program regardless of who the tutor happens to be on any given day. This clearly is not the most effective way for students to learn, however, it is easy to administer and produces hard evidence that a child is improving through the worksheets.

The York Region District School Board and many private learning centres are missing the point completely when it comes to providing students with extra help. The creation of a parallel curriculum merely provides a child with a second education program, albeit within a small-group setting which is much more enjoyable and effective than the current public system for most students. This parallel education program is only available to parents who have the ability to pay. Furthermore, the program that is being offered by York as well as the programs offered by many of the private companies, work out to approximately the same cost; roughly $2.00 per minute of direct attention from the tutor.

What most children need is one-on-one tutoring, or attention from a Professional Learning Coach. That cost is no more than $1.00 per minute, usually takes place in the child's home which is where he/she must learn on a regular basis, and is much more effective in the long run.
The Greater Sudbury Learning Clinic, for example, has established a system where parents can secure the services of a Professional Learning Coach for 90 minutes of direct one-on-one instruction, within their own home, for a maximum cost of $360 for 360 minutes of instruction each month. Many of the tutors on the Registry of Tutors offer their services for as low as half of that amount.
Compare that to the attention you receive from most learning centres who provide you with a maximum of 160 minutes of direct individual instruction for a cost of approximately $320, or to the York Board which provides you with a maximum of 48 minutes of direct individual instruction, for a cost of $96, and you be the judge.
It would be like a business person trying to sell you 5 litres of water for $10 because his is cheaper than his competitor who sells 20 litres of water for $20. Of course it is cheaper. But you are getting less water for your money.
The message to parents from all of this activity with respect to tutoring and learning coaches is that everyone, including one of the largest school boards in the province, recognizes that many students require additional help to bridge the gaps or to nudge their marks higher. There is a general acceptance that the current system is not working properly and will likely never be able to do so without incurring phenomenal increases in funding for education. The additional help is going to have to come from the private sector and it will be only available to people who can afford to pay. Yes...we do have a two-tier education system in Ontario. The question is, should the public school boards be allowed to enter into the battle for revenue from private citizens who already pay taxes for the public schools in the province.
Nevertheless, expect to see the rest of the School Boards in the province soon follow suit and implement their own after school tutoring programs to compete with the private sector.
Author of Boom, Bust & Echo Warns Against Overreacting To Increased University Enrolment
The following is an article from the Canadian Press that may be of interest to many of our readers. It was written by Collin Perkel and released on January 21, 2007.
Canadian universities, bulging at the seams with students and worried about finding faculty to teach them, could find themselves with the opposite problem in a few years, says a noted demography expert: empty classes and a glut of professors.
And it won't be as a result of generous government funding or clever public policy, demographer and author David Foot told a conference of Ontario university faculty members.
"If the government waits long enough, the problem will solve itself," Foot said. "Ten years from now, we may be talking about a whole new era."
Strong enrolment numbers at Canadian universities of late have been largely driven by the children of baby boomers, that massive cohort born after the Second World War but before the use of the birth control pill became widespread.
That "echo generation" has been moving into the university system in recent years, but will soon be moving out of it, said Foot, a professor of economics at the University of Toronto and author of the popular Boom, Bust and Echo books.
In November, Statistics Canada reported that university enrolment across the country had surpassed the one-million mark for the first time in 2004-05, fuelled in part by a growing number of young adults in the country.
"Don't presume that today's situation is going to persist," Foot said Friday at a conference organized by the Ontario Confederation of University Faculty Associations.
"Demand may well be going down as the baby boom echo leaves our system."
The moderating effect should be most pronounced in Ontario, where the scrapping of Grade 13 created a surge in first-time students in 2003.
"Right now, we're in the very worst possible situation," said Foot, who slammed the former Conservative government's decision to do away with Grade 13 in the midst of the baby-boom echo as "stupid public policy."
"Five years from now, the echo is gone, the double cohort is gone; we may be facing an entirely different external environment."
Data indicate Ontario's current enrolment is a whopping 40 per cent higher than it was in 2000-01. And last week, the Council of Ontario Universities reported that demand continues to rise.
Applicants for admission to the province's universities in 2007 were up 5.2 per cent over 2006 and 11.7 per cent over 2004, latest figures show.
"The number of applicants exceeded projections, as they had in 2006 and 2005," the council said. "The increased demand poses significant challenges for the university sector."
While a higher percentage of high school graduates have been opting for universities, Foot said that trend will also likely slow and may even begin to reverse.
Employers are increasingly demanding non-academic or more practical skills from newcomers, which will tend to press students leaving high school into apprenticeships and trades, he said. Governments have also been busy creating incentives for college applicants in hopes of taking the pressure off the university system.
Ontario universities have also been sounding the alarm over how to replace aging faculty, especially with tight hiring budgets.
Statistics show about half of all full-time faculty are over the age of 50; about 15 per cent are over the age of 60.
Foot said those concerns about faculty shortages should ease as well.
The end of mandatory retirement in Ontario that took effect this year should mean a 15 per cent increase in faculty over what otherwise might have been expected, he said.
"That will get us over the hump," said Foot. "That will get us through this decade into the next decade and in fact we may be then buying out the faculty to get them to leave."
Instead of overcrowding lecture halls that exist now, the photo below may end up becoming the reality if we overreact to the recent boom in enrolment.
<![if !vml]><![endif]>More And More Parents Turning To Private Tutors To Give Their Children One-On-One Guidance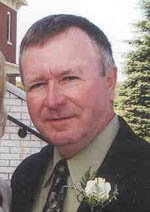 As a professional educator and a member of the Ontario College of Teachers, Robert Kirwan did not decide to open up a private practice as an Education and Career Planning Specialist in order to slam the public school system.
"Absolutely not," he exclaimed. "On the contrary. Professional Learning Coaches, otherwise known as tutors in North America, have been very popular in places like India, China, Singapore, and many European countries. In the United States it is common for students to have tutors who stay with them throughout their entire years in formal education."
"A good private tutor will work with a child to make sure that the student achieves the greatest success possible in his/her formal education setting. In fact, the main purpose of a tutor is to support the work that is being done by regular classroom teachers," he explained.
The Greater Sudbury Learning Clinic, which is owned and operated by Robert Kirwan, a former teacher with over 28 years of experience in the Greater Sudbury Area, is now open in the Hanmer Valley Shopping Centre. Parents who are interested in discussing the benefits of finding a tutor for their child are encouraged to stop by for a free initial consultation.

"As a Professional Learning Coach my primary responsibility is to inspire, encourage and guide my students to greater success in school and in life," explains Kirwan. "I've established The Greater Sudbury Learning Clinic as a place where parents can come when they have concerns of any kind about the future of their children when it comes to education, learning or career planning."

Kirwan went on to state, "My role as a Professional Learning Coach is to do whatever I can to develop a program which will assist in the development of appropriate learning skills that will satisfy the needs of my students, regardless of their age or current academic abilities."
The Learning Clinic offers local residents a very unique service which Kirwan feels will be catching on across the province in years to come.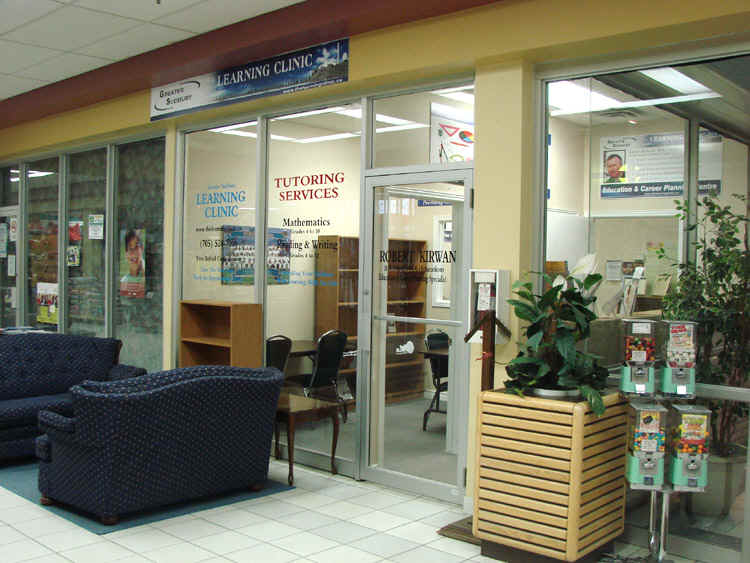 "When a parent comes to the Learning Clinic to discuss the needs of their child, they have the option of having me conduct a comprehensive diagnosis which will include two or more meetings, one of which will be at the child's home to review the home learning environment. Once the review is done, we will develop a treatment plan for the child," explained Kirwan. "Once the treatment plan is complete, it is up to the parent to decide if he/she wishes to utilize the services of one of the associate tutors who are part of the 'Registry of Tutors' which is administered by The Learning Clinic. If so, I will send the information out to all of the members of the 'Registry' and those who are interested in working with that particular child will reply. The parent is then given the professional profiles of the tutors who showed interest and it is up to the parent to initiate contact to make the necessary arrangements."
Members of the 'Registry of Tutors' come from the community and consist of retired teachers; occasional teachers; students of Teachers' College; part-time teachers; university and college graduates; or anyone else who has special skills and would like to work with children to help them develop their learning skills.
All members of the Registry of Tutors are required to have an up-to-date Criminal Record Check and all of their credentials are verified prior to being accepted on the Registry of Tutors.
"Parents who use the services of anyone on the Registry of Tutors can be assured that their children will be receiving the highest standard of professional care possible," declared Kirwan.

"I have devoted my entire adult life to assisting young people in the development of learning skills in a wide variety of areas: sports, recreation, hobbies, and formal education, to name a few," he went on. "In all of my endeavours, be they in my roles as a parent and grandparent, as a professional teacher, or as a minor sports coach, I never cease to be amazed at the tremendous capacity of young people to learn new skills when they are truly interested in what it is that they are involved."

"It hurts me to see so many young students missing out on what life has to offer because of the development of a negative attitude towards learning and ultimately towards anything that has to do with education and training. Often all it takes is the right "spark" to re-ignite the excitement that will open the doors to a life time of opportunities and success. All it takes is the right "approach" from the right "person" to show a young person how to overcome the seemingly impossible challenges that they face every day."

Whether your child is "struggling" and falling behind, or your child is "excelling" and wanting to surge ahead of the rest of the pack like a spirited thoroughbred, it makes sense to consider putting him/her under the care of a "professional coach".
If you would like more information about The Greater Sudbury Learning Clinic, go to the links below.
If you are interested in becoming a member of the Registry of Tutors, go to the web site and read more.
A School Nutrition Plan Would Be Well Worth The Money To Improve Learning In The Country's Schools

The Conservative government is being urged to spend $250 million for the first year of a nutrition program for all children younger than 18. If implemented, this would be a giant leap forward with respect to improving learning opportunities for students in our elementary and secondary schools.

"What we are proposing is a very simple plan, a nutritious breakfast, snack or maybe a lunch for every child under 18," MP Olivia Chow (New Democrat-Trinity-Spadina) told a news conference on January 17, 2007.

It is unfortunate that Chow did not suggest that this level of funding would be maintained in subsequent years, and it is obvious that the timing was likely politically generated, considering a Commons standing committee on health was about to report on child obesity. However, it is a sign that the government is at least considering something that would also be good for learning, not just child obesity.

Currently, a patchwork of non-profit food programs exists for some children.

"What we want to do is to have a debate in Parliament about the kind of program and support that we can have for children so that they can grow up healthy," Chow said.

Health Minister Tony Clement's office said the government is doing its bit for children's nourishment needs by cutting taxes.

"We trust Canadian parents to make the right choices for their children, and we are helping to make that possible," Clement's press secretary said.

Dr. Robert Cushman, former medical officer of health for Ottawa , said hungry students need food but obese students need to learn to eat the right food. The youth "obesity epidemic" means nutrition should be a "part of the curriculum as much as math and English," or this generation may have shorter life spans than their parents, Cushman said.

Statistics Canada found the number of overweight and obese children 6 to 17 doubled from 1979 to 2004, while obesity tripled among teens.

Inappropriate weight gain could lead to diabetes, hypertension, health disease and stroke at younger ages and to mental health problems relating to self-esteem. All of these also impact significantly on the way children learn and on their education.

Cushman said the solution is to go to places where children are – daycares, neighbourhood centres or schools – to provide proper nutrition. "The remedy is that we can eat well and bring that food where the children are."

Almost a half-million children in 5,000 communities across Canada attended nutrition programs last year, supported by Breakfast for Learning, a non-profit agency based in Toronto, said executive director Martha O'Connor, "but what about the millions of children we haven't yet reached?"

O'Connor said Canada is the only major industrial country that does not have a universal nutrition program.

This speaks volumes and is an indication that we should be doing something about it.
The Value Placed On Early Childhood Development Is Being Recognized As A Clear Indicator Of The Future Of Canada
It is becoming increasingly clear to everyone that in order for us to develop a high quality population for the future - one that has strong learning skills, is highly literate, is creative and has the capacity to adjust quickly to changing times, we have to think much more about the policies of our children and the value of early childhood education, which obviously sets the foundation for adult learning and health.

Two recent reports from Statistics Canada spell out the importance of what happens in the early years for future success in learning capabilities and educational achievement.

The first examined readiness to learn of 5-year-olds entering the school system, and whether these differences were evident by age 3. This is important because the learning ability of youngsters as they begin school has an important influence on their subsequent school performance, and therefore whether they go on to college or university education.

Readiness to learn is not about whether youngsters entering school can already read, write or do arithmetic. It is about their ability to understand words, to communicate, their knowledge of numbers, how to copy and use symbols, their self-control of behaviour, their ability to pay attention, their work effort, their curiosity, their ability to engage in co-operative play, their independence in dressing and independence in cleanliness.

What the study found was that there were clear differences in readiness to learn depending on the income level of the family and the home environment, which was also linked to income. In other words, on average, youngsters from low-income families were handicapped from the time they entered school because they were less ready to learn than children from more affluent families.

A second Statistics Canada report found that literacy skills of young people in their late teens were clearly linked to their early reading ability. This complements the first study on readiness to learn. Youngsters entering the school system ready to learn are much more likely to develop a strong reading ability from the start, and maintain this development during their years of formal schooling.

Both studies point out that it is so important to spend time to develop a positive attitude to learning among our children. Other studies have shown that this should not be much of a problem, since up until the age of nine, most children exhibit signs that they love to learn and gain new knowledge about the world around them. The challenge is to maintain that excitement for learning as they grow into their teenage years and move through the education system.

Statistics indicate that up to 30% of all students entering high school will not complete the necessary number of courses to graduate. Further statistics show that up to 50% of all high school graduates do not pursue post-secondary studies. These numbers are not acceptable in today's global economy where over 70% of all jobs in the marketplace require some form of post-secondary training.

It is a problem that must be addressed.
School Bus Safety Must Be Enforced - The Public Can Help Keep Our Children Safe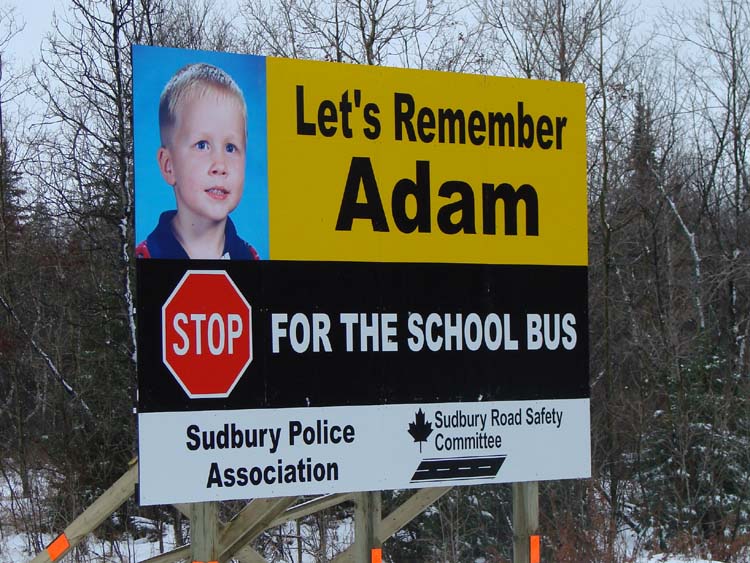 Even the large billboard like the one above on Highway 69 North in Val Caron near the Whitson River bridge across from Cecile Street isn't enough to convince people to be more careful when school buses are out on the roads.

The awareness campaign, which is being sponsored by the Greater Sudbury Police Services Board and the Sudbury Police Association, is designed to remind everyone about Adam Ranger, who was five years old when he was hit by a truck after stepping off the school bus in Mattawa. Since Feb. 11, 2000 , the Ranger family has vowed to increase public awareness about the consequences of illegally passing a stopped school bus.

The same week the sign was unveiled, Riley Richer, a five year old Hanmer boy was hit by a car as he crossed Elmview Drive after getting off his school bus. The driver of the car, Jessica Chiblow, 19, of Hanmer, is facing numerous charges under the Highway Traffic Act. Fortunately, the boy was not seriously injured and was released from the hospital that same night, but it is definitely an experience he will remember for the rest of his life. It could also have had far more devastating results.

Just recently we heard of another incident in the community where after seeing a driver fail to stop for two school buses that were stopped, a witness followed the vehicle, copied down the license number and the driver has since been charged with two counts of failing to stop for a school bus. He is facing a fine of $980 and is lucky that no one was injured as a result of his carelessness.

The public appears to be fed up with the carelessness of drivers around school buses and now that witnesses see how easy it is to punish offenders, perhaps more will begin to report license numbers of guilty drivers. The police can't be everywhere, but if drivers know that other witnesses can initiate the process of charges, and if they think about what this will do to their insurance premiums, then perhaps people will be more careful.

Just remember that the law states that motorists travelling in both directions must stop when approaching a stopped school bus with its upper red lights flashing. The only exception is on highways with a median, where traffic coming from the opposite direction is not required to stop.
Mentors Will Help You Succeed In Any Career
When you look at successful professionals or business executives, one thing that sets them apart from the others is the coaching or mentoring that they received along their way to the top. It is readily accepted by the most intelligent and most ambitious people among us that we can never have all of the answers. Therefore, instead of re-inventing the wheel, it is always advisable to listen to the advice of people who have "been there before us" or who are able to help us out with strategic planning that will enable us to avoid the pitfalls along the way.

Just think about it: all of today's professional athletes have coaches. These coaches can be generalists or specialists, but just taking a hockey team into consideration, you will find defense coaches, goalie coaches, forward coaches, team psychologists, etc. Politicians have speaking, writing and public image coaches. Singers, dancers, skaters and olympic swimmers have personal coaches. Even Tiger Woods has a golf coach!

In fact, when you are close to the top, the difference between success and failure can be very small. All you need is a small piece of well-placed advice and it will make all the difference in the world.

TUTORS ARE LEARNING COACHES:

So, when you think about it, students should have the benefit of learning coaches or mentors just like anyone else. After all, most of us spend anywhere from 12 to 20 years of our life attending formal education classes so that we can become trained and prepared for a satisfying career upon graduation. The students who are the top of the class are always competing for scholarships, bursaries, awards, and positions in prestigious university and college programs. For the top students in the class it makes a great deal of sense to have a tutor who can help you gain a competitive advantage over the others. It may only be one or two marks that make the difference.

For students who are struggling in school, a tutor can mean the difference between passing and failing. If graduation is delayed by a single year, it could mean a loss of $40,000 in salary that could have been earned if you had graduated on time. That means that the investment of $2000 or $3000 in a tutor would give you a good return.

With respect to education, it is a wise parent who finds a good tutor BEFORE their child experiences difficulty in school. Tutors should not be seen as "fire-fighters", called in during emergencies only. They should be there to prevent fires. They should be there for preventative purposes.

CAREER PLANNING OR EDUCATION - IT MAKES SENSE...

So whether you are looking for advice on career planning or simply for guidance and tutoring assistance in any of your formal education courses, it makes a lot of sense to start looking for a good tutor or mentor. When you find one, he/she will be able to help you develop a strategic plan which will certainly give you a better chance of achieving your desired outcomes.

If you have any questions or concerns about career planning or education planning, visit one of the web sites below:
| | |
| --- | --- |
| | |
| | |
Many Baby Boomers Looking To Golden Years For Personal Fulfillment In New Careers
Many people who are entering their "retirement years" are finding that you can only play so many rounds of golf and fix so many things around the house before you are left wondering, "Is this what I really wanted?"

As a result, we are seeing a huge number of "older people" entering the workforce in a wide variety of careers where they are now finding tremendous personal fulfillment. This is especially true of people who may have worked for many years in a stress filled occupation simply because of the fact that it provided an excellent salary, good benefits and was stable. Now that the children have all left home, it is time to spend some time in a career that focuses on passions that they may have had all of their life, but for which it was just too irresponsible to give up the security of their "real job".

You find people who were extremely powerful in the business world taking on executive director roles in volunteer organizations and "loving every minute". Further, since most of the retirees have some sort of pension income to provide financial support, they find that the money isn't the most important part of their new job. It is a way of achieving tremendous personal satisfaction. It is like starting all over again with the energy and passion of a 25 year-old in a 60 year-old body.

As the baby boomers continue to age into retirement, don't be surprised if the anticipated "job market" remains fairly tight. You may also be surprised to find some corporate executives working as retail clerks on the floor of department stores or home building companies simply because for all of the years they remained on top of the corporate ladder they were denied the opportunity to "get down to street level" and work directly with the customer. They would gladly work for nothing, but will take minimum wages which when placed on top of their pension income create a better standard of living for them and their families.

What's even more important is that most businesses and retail owners are happy to hire a person in their 50's or 60's. As one business owner stated, "When you hire an older worker you don't need to worry about whether or not she is going to be here on time, or if she knows how to treat customers with respect, or if she is going to quit without warning to find another job that pays 10 cents an hour more. With older workers you have very stable, happy employees who appreciate their chance to work with the public.

You can expect to see this trend continue in the future.
Graduate Programs Being Offered By Universities As Students Realize That A B.A. May Not Be Enough!
At the end of this school year, four school years will have passed since the double cohort entered post-secondary education. A lot of those students are beginning to realize that a four-year undergraduate degree may not be enough to get them that dream job they have been working towards. In fact, many of them are registering in a Master's Degree program to give them the competitive advantage they feel will be necessary.

Ryerson University's new Master of Fine Arts in Documentary Media will let students explore the world of documentary

York University's Master in Development Studies will combine courses on understanding the growing issues of globalization with the practical application of real-world

The University of Toronto's

Master in Public Policy aims to get students

Ryerson's Master of Arts in Media Production which will analyze the rapid transformations taking place in the way we consume media. From

U of T's new Master in Management in Innovation is a fast-paced, interactive 12-month program created to better prepare students with a science and technology background for industry.

And so, despite the ever increasing debt load that many students are facing at the end of their undergraduate studies, now they may have to look into a Master's or Doctor's degree just to be able to move up the ladder in their chosen career. The double-cohort had a tremendous impact on post-secondary education four years ago. It may have an equally significant impact on post-graduate education in the fall of 2007.
Minimum Wage Increases To $8.00 Per Hour On
February 1, 2007
Won't Help Fill Vacancies In Retail Stores
The Ministry of Labour reminds all employers that the minimum wage will increase to $8.00 per hour for most general employees on February 1, 2007 . The current rate is $7.75. This amounts to a 3.2% increase. During the past three years the minimum wage has increased almost 17% from its pre-2004 rate of $6.85.

The new rate for students under the age of 18 who work 28 hours a week or less will be $7.50 and for people working in licensed restaurants and taverns, the rate will be $6.95 per hour as of February 1, 2007.

By definition, "The minimum wage is the lowest rate an employer can pay an employee. Most employees are eligible for minimum wage, whether they are full-time, part-time, casual employees, or are paid an hourly rate, commission, piece rate, flat rate or salary."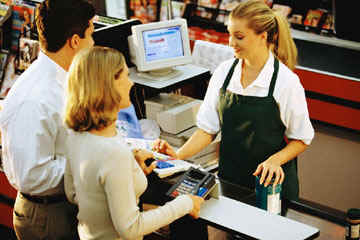 A significant percentage of employees in the City of Greater Sudbury are employed at the minimum wage level, so this will result in a small increase in their take home pay every week. However, critics of the government point out that this still only amounts to $10 per week before deductions if a person is lucky enough to be working 40 hours a week. It is estimated that approximately 60% of all employees in the City of Greater Sudbury earn $10 or less per hour. The rate increase will have a direct financial impact upon businesses in the region that pay their employees the minimum rate.

A study in Greater Sudbury during the fall of 2006 showed that despite the tremendous growth being experienced in this area, and despite the fact that there are a lot of people having trouble finding jobs, hundreds of retail positions are going unfilled because employers simply can't find anyone willing to take the jobs.
Once of the reasons so many of the retail jobs are going unfilled is because people are finding it extremely difficult to live on minimum wage. Even if you can get 40 hours a week, you are still only making $1,600 per month before taxes if you can get a job that pays $10 an hour. If you are being paid $8.00 an hour, that figure drops to $1,280 per month.
As a result, young people are still moving out of the region in search of better paying jobs.
Employers are also wondering why there are not as many students around to fill the retail jobs, but the answer to that question is easy to determine when you examine the nature of the education system today. The demands being made upon secondary and post-secondary students to achieve the highest marks possible leave little time for part-time jobs. For many, the prospect of ruining one's chances of getting into the university program of your choice in order to make $160 a week just isn't worth the risk. And since most of the hours for students come during the evening or on weekends, many are simply choosing to stay home and study.
The minimum wage will help somewhat in helping move earnings closer to a decent level, but $8.00 per hour is not going to help anyone get out of debt or make ends meet in this expensive world.
Federal Report Warns That Canada Is Training Too Few Workers To Compete Globally
"Canada is training too few workers — from plumbers to PhDs — for today's smart economy and, unless we set a national plan for higher education, other countries are going to "eat our lunch," warns a federal report released in December 2006.
Without a coast-to-coast blueprint for higher learning with sharp goals for quality, affordability and access, Canada will be left behind by economies on nearly every other continent, says this country's first national overview of post-secondary education, by the Canadian Council on Learning, an independent research body created this year.
"When a hockey team is falling in the standings, you need to know what to fix — the goaltending? Checking? Forwards? We need to start tracking post-secondary education on a national level so we can figure out what needs to be done to improve," said council president Paul Cappon.
While the United States, the , Australia and the European Union have been busy setting targets for better post-secondary funding, graduation rates, class size, library holdings and teaching credentials, Cappon says Canada has neglected to set any national vision for post-secondary education and is now "out of sync with 21st-century reality.
"The status quo is not an option; we produce fewer PhDs than the average among countries in the OECD (Organization for Economic Co-operation and Development) and we're near the bottom for producing graduates in science and engineering," he said in an interview.
While 70 per cent of new jobs are expected to require some level of higher learning, he noted roughly 44 per cent of Canadians have this much formal schooling.
The writing is on the wall for policy makers when it comes to post-secondary education for people living in Canada. More must be done to ensure that our children are receiving adequate training that will equip them for work in the 21st century.
Incentives Will Be Provided To Lure Highly Qualified People As Supply Falls Short of Demand
Reports of northern medical students being lured to southern Ontario by huge financial incentives have unsettled some Greater Sudbury politicians, however, anyone with some understanding of how the business world operates would not be at all surprised with this revalation.

City council directed staff to look into the matter after hearing at least one Northern Ontario School of Medicine student has been lured to a southern Ontario municipality by a $150,000 payment. "They are offering quite lucrative contracts ... even to first-year students," Ward 3 Coun. Claude Berthiaume said during a council meeting in January 2007.

"I have been told that personally, by the father of a student," Berthiaume said. "He's being paid $150,000 and will have all his education paid. He's telling me that .... other students, as well, have been signing contracts."

Mayor John Rodriguez added he was aware of the same example cited by Berthiaume.

The medical student has signed a contract with "a small, southern Ontario municipality ... which will cover his costs for his years at medical school here. He will be going down there for a period of time," Rodriguez said.

"It's a small municipality that recognized they had a problem with physician recruitment. So where do you come? You come to the medical school. What do you do? You offer money."

Rodriguez said he fully expected northern medical school students to be recruited by communities outside the North. But not necessarily so soon, he added, referring to the fact the medical school opened last fall and its inaugural class won't graduate until 2009.

"I knew that eventually this was going to happen, but I didn't realize they were so quick on the draw," the mayor said.

Northern communities, in turn, will have to be active and innovative with their recruiting initiatives, Rodriguez said.

This is a practice that has been used for decades, if not for centuries in the private sector. Retaining top level executives as well as good, qualified and trained employees has always been one of the main challenges for any business in any industry.

This is one of the reasons why employment agencies have become so popular and have begun to spring up everywhere. It is also why anyone beginning a career, in any field, should pay particular attention to continued networking and also to keep their names in with employment agents who will keep their eyes and ears open for opportunities for advancement in their chosen careers.
One Lady's Story Demonstrates How Hard It Can Be Without An Education And A Proper Career Plan In Place
This story is being placed here as an example to all young people who feel that it is just too hard to work towards a definite career plan. It is for those students who can't wait to quit school and go out to find a minimum wage job just to get out of the drudgery of the education system. The message is clear.

The story first appeared in the Toronto Star in September 2006.

This is a story about one lady. However, there are 650,000 working Canadians who are struggling just like her.
From her ninth-floor apartment in the northwest corner of
Toronto
, Maheswary Puvaneswaran glances out over a neighbourhood of neat and trim homes where she can only dream of living.

If she even had time to dream.
Right now, she barely has time to sleep.
When you are a member of the working poor — more than 650,000 strong in this country — there is precious little time for either.
Around , when most families are getting ready for bed, she escorts her two sons, aged 6 and 13, down a narrow carpeted corridor in their concrete high-rise. Clad in flannel pyjamas, backpacks over their shoulders and sleeping bags and pillows in their arms, the boys willfully, though not eagerly, accept the journey as part of their routine. They reach a doorway and, with a final hug, their mother leaves them in the care of a neighbour for the night.
Outside on the deserted rain-soaked streets near the intersection of Martin Grove Rd. and The Westway, she catches a city bus and travels north. She transfers to another bus further on, one that eventually drops her off at a condominium where she will mop hallway floors, empty garbage and scrub toilets from until dawn.
"My sons, they always say, `Please stay with us.' But I can't," she says with a mix of sadness and regret. "I have to leave. I have to work."
For her labour, Puvaneswaran earns no more than $1,150 in an entire month, often less. The rent for her small one-bedroom apartment is $849.
Puvaneswaran, who is paid $8.50 an hour, borrows money from friends to get by. She has relatives who sometimes send clothes from England . She rations food during the week — one glass of milk for each boy at morning and one at night. She won't allow herself any. After , she lets her sons have some fruit, a banana or apple.
Their main meal of the day alternates between rice (Mondays, Wednesdays and Fridays) and pasta (Tuesdays, Thursdays and Saturdays). On Sunday afternoons, they look forward to a hearty meal at the Hindu temple where they worship. In short, she pays a hefty price to live in the country's largest and richest city.
So why — 13 years after settling in Canada — does a hard-working mother still live in poverty? How many more years will she be expected to live and work like this?
In the time Puvaneswaran has been here, there has been no shortage of research documenting the plight of the nation's poor, 40 per cent of whom work but can't earn a decent living for themselves and their families.
Almost annually, government agencies at all levels and community-based groups — ranging from the United Way to the national anti-child poverty group Campaign 2000 — have urged reforms of Canada's social-security, housing, child-care and income-security programs. The reports' titles read like a burning red flag: The Outsiders, The Growing Gap, Families on the Financial Edge, Precarious Jobs, Enough Talk, Falling Fortunes, Time for a Fair Deal.
Despite the stack of studies, the plight of the working poor remains all too invisible on the political radar screen of Queen's Park and Ottawa .
"It's bloody horrendous," says Deena Ladd, co-ordinator of the Workers' Action Centre, a worker-based organization fighting for changes to labour laws. "These people are on the margins of the workforce and have a big struggle on their hands. We have to get someone to pay attention."
A federal study released last month found that more than 650,000 Canadians who work still lack the means to live a decent life. A total of 1.5 million live in working-poor families, a third of them children.
Puvaneswaran, 45, who has a post-secondary degree in the liberal arts and taught school in Sri Lanka , would unquestionably be counted among them. Like her, they scrub toilets, mop floors, toil in factories, wash dishes, deliver pizzas and newspapers, make hotel beds, serve coffee, sell credit cards and drive taxis. Many work at two and three jobs to stay afloat. Some are paid Ontario's minimum hourly wage of $8.00, some more, others less.
An alarming number of Ontario's working poor — 37 per cent — work in part-time, casual or temporary jobs, or are misclassified as "self-employed," denying them basic employment rights many Canadians take for granted. Thousands are at the mercy of "temp" agencies that enable employers to hire and fire workers at will.
Despite working long and hard hours, the federal analysis done for Human Resources and Social Development Canada found they are, on average, as poor as people on welfare.
Social workers, academics and some politicians are sounding the alarm: Without major reforms, we will all soon pay for the ever-widening gap between the prosperous and the poor.
Largely immigrants, visible minorities and single parents, the working poor are called "the semi-invisible." We barely notice them. And when the jobs disappear, so do they.
So precarious are their lives, poverty experts warn that the slightest downturn in the economy could suddenly thrust thousands onto government assistance, employment insurance or, worse, the streets.
"One thing goes bad in their lives and they're plunged into a precipice," says Susan Pigott, executive director of St. Christopher House, a social-services agency, and co-chair of a high-powered task force of business, labour, academic and civic leaders that released a report earlier this year on the city's working-age poor. The report calls for a federal income supplement or "top-up" for low-wage workers and a revamping of Canada's income-security system.
Puvaneswaran's economic struggle has ebbed and flowed over the years, but it has only ever fluctuated between being poor and poorer.
There is no sofa in her sparse one-bedroom apartment, so Puvaneswaran graciously offers up plastic chairs during a recent interview. Bedding is rolled up against the living-room wall. Her sons are in the other room, lying quietly on their beds.
She and her husband arrived from Sri Lanka in April 1993, she explains, shortly before her first son was born. Her husband took work in a Toronto factory; she stayed home to care for their child. She later went to work ironing and packing at a Roots factory before giving birth to her second son, now 6.
Tragedy struck when her husband was injured at his job in a glass factory. He underwent two operations on his hand, and tried but failed to return to work. He left angry and disillusioned. He received sick pay in 2005, but his support ran out, and last November Puvaneswaran again returned to work.
Her husband went back to Sri Lanka two months ago to visit his sick mother. She has no idea when or if he'll return.
"There are just far too many people living in large urban centres that are on a go-nowhere treadmill," Pigott says. "If you're working full-time, you should be able to make ends meet.
Puvaneswaran arrives home from work around 7 a.m., in time to get her kids off to school, then falls into bed for several hours before waking to make meals for their return. On a good week when she's handed 30 hours of work, she'll set off again in the evening.
Before making the ritualistic walk down the corridor, she puts together a snack and the next day's school lunch. On a particular evening in her kitchen this week, she pulls out some cinnamon raisin bagels and slips a breaded chicken patty in the middle of each.
She'd love to put some of her wages into occasional luxuries for herself and her boys — a meal in a restaurant, a movie, video games — but the high cost of the rent delivers a jolt back to reality.
She remembers that as a couple, she and her husband applied for subsidized housing many years ago, but she can't recall what happened to the request. If she applied now, the wait could be up to 10 years, according to the city.
The high cost of rent almost had Puvaneswaran and her kids tossed onto the street in April.
Before moving into their one-bedroom apartment, the family had been living in a two-bedroom that cost $986 a month. She came home one day and was startled to find a sheriff changing the locks. She'd been short $150 over two months' rent. Her neighbour, Malathi Chennai, remembers the tears and mayhem that day and having to come to the rescue.
"I gave her some money for the rent," Chennai says.
Puvaneswaran now works for two employment agencies. One sends her to the job cleaning condos; the other found her work cleaning floors in a west-end medical plastics factory. Although paid better than minimum wage, she still averages only 16 to 30 hours a week of work.
"I'm always sleepy," she says of the effects of working a graveyard shift. "But I need more hours. I need a permanent job."
In the 13 years that Puvaneswaran has been in Canada, the country's workforce has changed dramatically. New immigrants and visible minorities make up a larger proportion of low-income workers, despite having a higher education than immigrants in the past. In 1981, one in seven immigrant families lived in poverty; by 2001, it was almost one in four.
The number of people working in temporary or part-time jobs, often through temp agencies, has doubled in Ontario since 1989. It has become a convenient means for employers to ignore the province's Employment Standards Act, according to this year's task force report by the Toronto City Summit Alliance and St. Christopher House.
Every year, between 15,000 and 20,000 workers complain to the Ministry of Labour of not being paid for overtime or statutory holidays, or of not being paid at all. Some work as many as 60 hours a week. Others don't get enough hours and then fail to qualify for employment insurance. Part-time employees, like Puvaneswaran, are typically denied basic health and dental benefits.
"Employers used to call a temp agency when an employee was off sick for a week. Now they're hiring people through temp agencies effectively for their permanent staff," says Elizabeth Bruckmann, staff lawyer at Parkdale Community Legal Services.
"People are putting up with the most atrocious conditions because they cannot afford to leave a job."
In the past 15 years, the minimum wage, employment insurance and social assistance have all significantly declined in value, and there's been little public or political pressure to improve the situation.
A growing number of workers are now being forced to take jobs misclassified as "self-employed," denying them job security, sick pay, pensions and other benefits. The federal study, entitled When Working is Not Enough to Escape Poverty, found that more than 40 per cent of working-poor Canadians are self-employed and thus not eligible to collect employment insurance.
"The government needs to recognize it's not the 1950s anymore," says Ladd of the Workers' Action Centre, which has been lobbying for at least a $10-an-hour minimum wage and changes to labour laws.
"It's 2006 and our world of employment has radically changed, yet our laws are based on post-Second World War."
There is no official definition of poverty in Canada , but by any measure one can see Puvaneswaran personifies the raw reality of any cold calculations. This year, her earnings will be about $13,000. A government child benefit only barely lightens the load, bringing her total annual income to about $16,000 — not much different from what she would receive if she went on welfare.
Her income is well below the $37,791 ($31,865 after tax) that Statistics Canada defines as low income for a Toronto family of four.
"She is the sole provider in the household, but she doesn't complain a lot," says Jayanthie Reynold, program manager at the South Asian Women's Centre. She recalls Puvaneswaran coming to the Bloor St. W. centre for emotional support during her husband's struggles, but she hasn't seen her lately.
"She feels bad when I give her a token," Reynold says. "But for her to come and see us, she has to use the TTC."
Puvaneswaran now has a TTC pass from one of her employers, but she is also looking for a third part-time job, one she hopes will raise her monthly pay to at least $1,200.
"If my income is $1,200," she says modestly, "I can manage."
Visit To Former Home Town During The Holidays Brought Back Fond Memories Of A Simpler Way of Life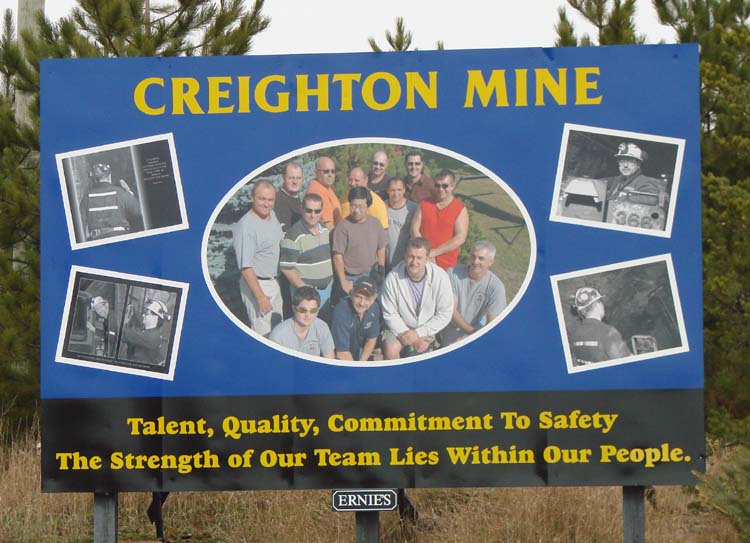 Robert and Valerie Kirwan took some time out of their busy holiday schedule to "walk the streets" of Valerie's home town of Creighton Mine. Walking down the remnants of the once busy streets brought back memories of days when life seemed so much simpler, and yet, in many ways, much more fulfilling.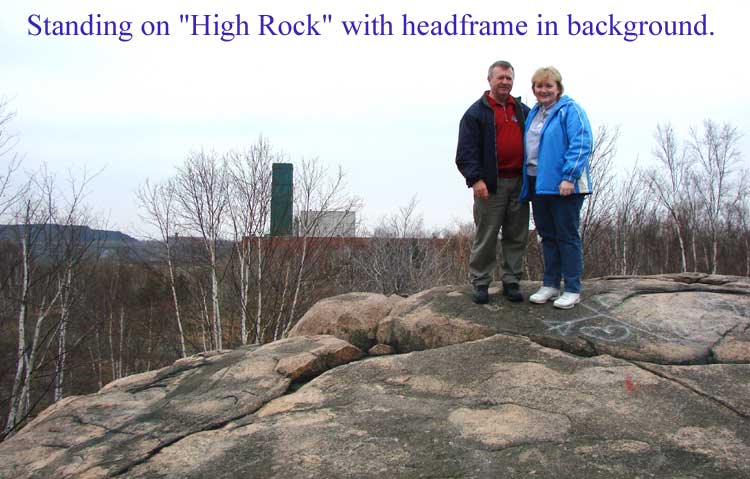 The Kirwans first met in the spring of 1968, in what was known as the Creighton Club Recreation Centre. He grew up in Lively, a company town located a few miles up the road, and Valerie was born and raised in Creighton. They were married in 1972 and have lived for the past 34 years in Val Therese.

The Town of Creighton no longer exists, after having been leveled to the ground during the 1980's. As they walked along the streets the Kirwan's commented on how small the space seemed to them now, and yet this small space once contained hundreds of houses, all occupied by employees of INCO. In the photo above, Robert and Valerie stand on "High Rock", a name given to the rock that was used as an all-season playground for Valerie and her friends as they were growing up. In the background you can see one of the head frames at Creighton Mine. Those were the days when you made your own fun. When creativity and ambition was common among all young people. When playing outside for hours on end without "store-bought" toys was simply "what you did" as a kid.

Below, in the space contained within the circle, is where Valerie's home once stood. Some of the rocks that lined the walkway beside her home still remain, but the road now cuts right through the spot that was once the living room. The house was small by today's standards, but it was all that the family needed to enjoy a happy existence among friends.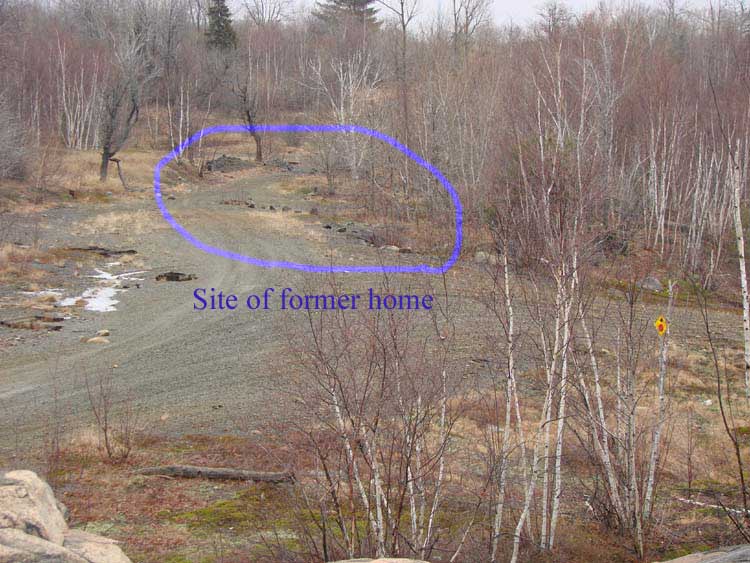 Just to the left of the circle in the photo above you can see where the "original street" once wound around Valerie's house. Several months before Robert and Valerie ever met, Robert was driving around Creighton with some of his friends when they decided to turn around and backtrack. When he backed the car up, his bumper hit a large rock that was beside the road, making a loud banging sound (but not doing any damage to the car). Valerie remembers her father going to the window to see what was going on and then returning back to his chair with the comment, "Just some teen-age boys." It's strange how life works out. Over 38 years later, one of the teen-age boys in that car is still living with her.

I know that there are many former Creighton residents who receive Valley East Today every week. If any of you have any stories about the days when you lived in Creighton we would love to have you send them to us so that we can share them with our readers. Send along a photo or two of the "old days" so that we can show others just how much community spirit existed in Creighton Mine.

It certainly was a wonderful life back in the 50's and 60's growing up in the company towns of Creighton and Lively. I regret that our own children couldn't benefit from the same experience.

I would recommend that you visit the following web site that has been created and managed by Audrie (Jamieson) Brooks, a young lady who lived at 48 Wavell Street (Snob Hill !?!). I am sure I went to school with her husband, Earl Brooks. Audrie and Earl moved to Thompson Manitoba in 1976 with their two small daughters. It is a fantastic web site with some great photos and memories.

CREIGHTON MINES WEB SITE

If you have any comments you would like to send for us to add to Valley East Today, please send your information to the following email: rkirwan@infocomcanada.com

We look forward to your stories and hope you enjoy Audrie's web site.