CHAPTER TWENTY-THREE
Mary Guy Thanks The Community For Their Support of Dystonia Walk & Wheel Event
Evolutionary Band Members Raise Money For Their Spring Tour During "Annual Playathon" Held On February 20
Hundreds of Valley East Residents Sign PET SCAN Petition
Valley Community Theatre Communautaire de la Vallée Has An Eye On The Future With Fund-Raising Projects
St. Anne Students Have Fun on the Ice

St. Anne Students Supporting Hatian Relief

Kin Club of Valley East Is Calling On Entire Community To Support Their Fireworks Fund-Raiser To Overcome Loss From Theft In Sudbury
Local Social Network Developed For Active Moms and Their Families

Introduces First Ever Sexy 4 Summer Makeover Contest

Amandah Kohls Is Hoping For A Huge Turn-Out To 2nd Annual Fundraising Barbeque

Evolutionary Band's 30th Anniversary Tour - Subject of Zack Werner Film

Conrad Leduc Creates An Automotive Art Masterpiece

MARGUERITE GROULX INVITES YOU TO VISIT A NEW WEB SITE FOR SUDBURY RIGHT TO LIFE

FREEDOM TO MOVE 5 KM WALK-AND-WHEEL FOR DYSTONIA RESEARCH

Greater

Sudbury

Accepts Community Conservation Challenge

Young Mother Creates Web Site For Sudbury Parents
Mary Guy Thanks The Community For Their Support of Dystonia Walk & Wheel Event
WOW!!! What a great Sunday, June 13th morning we had. For those of you that attended our annual Freedom to Move Walk and Wheel for Dystonia Medical Research you know what a great job you did. Thank you so much for all your hard work. Today we raised $13,120.71. That is the most we have ever raised, so congratulations! Special thanks go to Dwayne Backer who had another personal best collecting $4056. He approached 315 people of which 190 were Wal-Mart employees. He is hoping that Wal-Mart will match the amount his associates contributed which will give us a further $1500.

Also attending was Corinne Fewster-Gagne with her family and friends. Her son Beckham was diagnosed at 11 months with dopa-responsive dystonia which can be treated with dopamine. It was a long hard struggle to get the diagnosis and Beckham is the youngest person that doctors had heard of when his neurologist brought his case to a recent neurological conference. So his neurologist in Ottawa is following his case with a lot of interest. Corinne and Beckham were sponsored for $500 by the committee that runs the Rick McDonald Memorial Ball Tournament so we are thankful to them. Rick, a police officer, killed in the line of duty, was Corinne's first husband. Corinne's family & friends also brought in an additional $1507.
I am also excited that members from the Elizabeth Fry Chapter IODE came out to support the cause. I also belong to this charitable organization and 9 of us raised $2955. IODE was promoting fitness during the month of June so we all got pedometers and we hope to walk enough steps to theoretically cross Canada . Coco Lariviere's family came out to support her as always and raised $1447.71. Richard Guy had a personal best and raised $1325. These are just some of the highlights. Every contribution is greatly appreciated and I know how difficult it is to ask people for money so I am pleased with everyone's efforts.
Special thanks to Linda Thompson for getting all the food donated and collecting it all. Thank you to our food sponsors Tim Horton's (Hanmer), Food Basics (Hanmer), Metro (Val Caron) and Neil's YIG. Thanks also to Len Shymkiw for his dazzling BBQ skills along with his handy helper Harry Thompson. Thanks also to Brenda Morris (my sister-in-law) & her friend Barb Zaitz for helping to set up and take down posters and balloons and your money. Thanks also to Coco 's sisters Suzanne & Lise for helping at the desk as well as Marj McIvor from IODE .
We had some great door prizes and I want to thank the donors: Plaza 69 Pharmacy, Staples, Levack Pharmacy, Silver City , M7M Meats, Rusty Cellars, Topper's Pizza, Scotiabank, Barrydowne Paint & Wallpaper, Wal-Mart, Grand & Toy and Chico 's Bowl & Sports Lounge.
Thanks to everyone for making our walk the best walk ever!
Sincerely, Mary Guy
Evolutionary Band Members Raise Money For Their Spring Tour During "Annual Playathon" Held On February 20

Cassie Young, one of the Lead Singers with Confederation Secondary School's Evolutionary Band, and Kyle Benoit, in the red shirt on the trombone, were two of the 40 students who took part in the annual "Playathon" fundraiser held in the band's "sanctuary room" at the school on February 20. The group has been rehearsing since September in preparation for a tour of "gigs" which will be starting around the end of March. The members of the band are responsible for raising funds to cover all expenses of travelling on their tour and were able to raise over $5000 for this event.

Mr. Norm McIntosh, Director of Evolutionary Band and a Music teacher at Confederation Secondary School, has been leading the band for its entire 30 years of existence. Evolutionary is a 24 piece rock band which includes 4 vocalists, a 7 piece rhythm section, 3 trumpets, 4 trombones, 2 alto saxes and 4 tenor saxes and is supported by a 16 member stage crew.

Band members range in age from 13 to 19 years old and must complete an audition and interview annually in order to be earn a place in the band. Successful applicants sign a year-long contract. Students in Evolutionary receive a high school music credit for their participation. All students who participate in this program are expected to carry a full timetable and to maintain passing grades in their other subjects.

Evolutionary is completely self-supporting. All expenses for transportation, and the purchase and repair of musical instruments and equipment are covered by student fund-raising and sponsorship. The band rehearses 4 nights a week from September to March.

Evolutionary tours from March until June, performing in front of over 8,000 students per year. Venues include other schools, public events and opening for professional acts. Performances include a high energy, choreographed show with an exciting light display including lasers, strobes, smoke machines, intelligent lighting and orbitrons. Shows are approximately 75 minutes in length and include 16 songs including a selection of top 40 hits such as Shinedown, Hinder, Green Day, 3 Days Grace, Rolling Stones, Queen, Bryan Adams, AC/DC, Foo Fighters, Linkin Park, Nickleback, Kings of Leon.

For more information about the band, you can go to the Education Section of this publication.
PART-TIME TUTORING POSITIONS ARE NOW AVAILABLE AT THE GREATER SUDBURY LEARNING CLINIC

The Greater Sudbury Learning Clinic is in need of part-time tutors to provide personal, one-on-one instruction in the homes of students from elementary, secondary and post-secondary schools of the Greater Sudbury Area.

We especially need tutors who live in Valley East and who are qualified to provide instruction to French-language students. If you have completed or if you are currently enrolled in any university and/or college program, please consider taking on one or two students to help them out with their education.

The rate of pay for this position is very competitive and actually higher than most other similar franchises will offer. If you are interested click on the box below.
Hundreds of Valley East Residents Sign PET SCAN Petition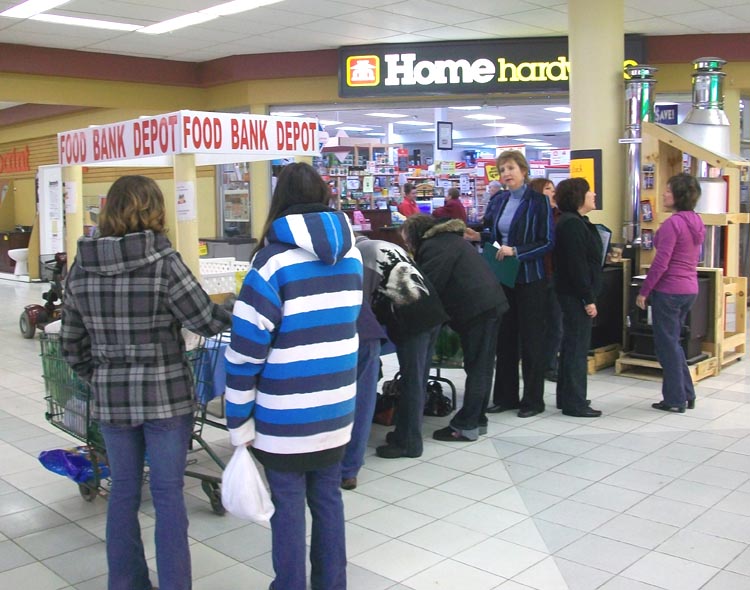 France Gelinas, MPP - Nickel Belt, shown standing in the blue sweater and jacket in the middle of the photo, was in the Hanmer Valley Shopping Centre on February 27, 2010 asking shoppers to consider signing a petition to the Legislative Assembly of Ontario to make PET scans available through the Sudbury Regional Hospital. Hundreds of residents agreed with the cause and gladly signed their names on the petition.

The Ontario government is "making positron emission tomography (PET) scanning a publicly insured health service available to cancer and cardiac patients under conditions where PET scans have been proven to be clinically effective."

The problem is that the insured PET scans will only be performed in Ottawa, London, Toronto, Hamilton and Thunder Bay. Gelinas is trying to pressure the Government of Ontario to make the PET scans available in Sudbury in order to provide equal access to the service for people living in Northeastern Ontario.

If you wish to sign the petition you can stop by Gelinas' office in the Hanmer Valley Shopping Centre or call 1-877-280-9990 for more information.
A PROUD MEMBER OF THE VALLEY EAST TODAY VIRTUAL COMMUNITY CENTRE

NEW ORLEANS PIZZA
Six locations to serve you in the City of Greater Sudbury.
Eat In or Take Out - Free Delivery All Day
"Smart Dough" for a healthy alternative
For more information on Lasalle & Val Caron Locations

523-8080

Located at 3049 Hwy 69N in Val Caron

HOME-BASED BUSINESSES NOW HAVE CHANCE TO REACH LOCAL MARKET WITH COST-EFFECTIVE CORPORATE MARKETING PROGRAM
Valley East Today is now offering an extremely cost-effective corporate marketing program that is affordable for all businesses, including small home-based operations. There are several options available to businesses which can be designed to suit all budgets and needs. If you check out the current advertisers that have been added to the site (CLICK HERE) you will see that they receive an enormous amount of space within which to promote their goods and services. We have also decided to add a special "video and audio" element to the corporate marketing program which will enable local shoppers to not only see what you have to offer in pictures and text, but also with a full colour and sound video tour and presentation up to 30 minutes long. We feel that by adding the video and audio components Valley East Today will generate that much more interest and traffic, making this one of the best values around for businesses who need to advertise to the local community. If you are interested in more information, make sure you contact Robert Kirwan at 969-7215 or rkirwan@infocomcanada.com

EDUCATION & CAREER DEVELOPMENT NEWS
If you are interested in some of the latest trends and issues in the world of education and career development, you should visit the Learning Clinic Education Centre's special "News & Views" Section. There you will find some articles from other publications as well as some thought-provoking commentary.
The Learning Clinic Education Centre is a new web site that has been established for student, teachers, parents and grandparents. It contains reference links as well as many other articles, commentaries and special sections that will be invaluable for anyone who needs information about education and career development. A new initiative is currently being worked on which will involve the creation of a number of video seminars on issues of importance to young people attending secondary and post-secondary schools today. More information about this project is available on the web site.
Check it out the next time you have a few minutes. CLICK HERE>>>>>

Valley East Facebook Group Growing In Popularity As Hundreds Of Current & Former Residents Use The Internet To Keep In Touch
The popular social network site, Facebook, now has a special group section that will allow current and former residents of Valley East to keep in touch with a click of a mouse. Valley East is a group that was created during the second week of January and had grown to over 1000 members by the end of May 2010..

Each day more and more people are joining up as the word spreads and "friends" of "friends" are invited to join. The Valley East Today Online Newspaper is also being distributed to members of the new group which will make this site even more valuable, especially to those who now live in far away places.

For example, one of the members is Sandra Umney, shown in the photo on the right, who many of you will remember as Sandra Laliberte. Sandra graduated from St. Anne School in Hanmer in 1979 and is now teaching english in a secondary school in the UK. Sandra discovered her former teacher, Robert Kirwan, through Facebook after being out of touch for over thirty years. Many local residents will remember Sandra and now have a chance to communicate with her through the Facebook group.

If you would like to become a member of that group, just go to the top right hand side of this page and click on the Valley East Face Book Group button, or click on the button below. If you are not currently a member of Facebook, you will have to join. There is no cost to join Facebook and it will definitely be something that will have you wondering why you didn't join a long time ago.

Valley Community Theatre Communautaire de la Vallée Has An Eye On The Future With Fund-Raising Projects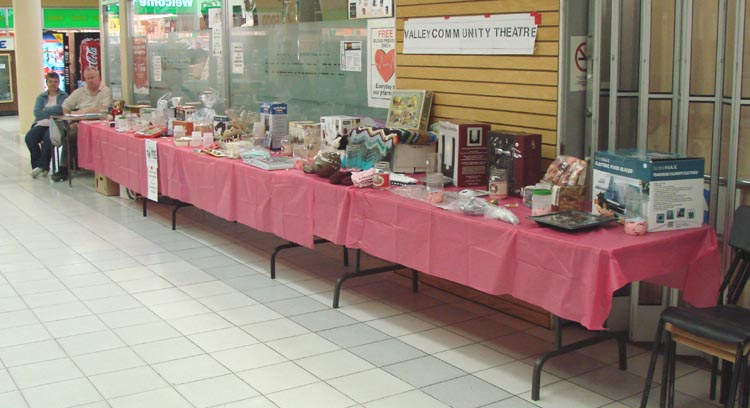 The Valley Community Theatre Communautaire de la Vallée held it's Annual Spring Penny Table fund-raiser from March 18 to 20 at the Hanmer Valley Shopping Centre. Dozens of prizes were available to shoppers who wished to support the activities of the Theatre Group.

Since putting on their first play in December 1999, The Best Christmas Pageant Ever, to their series of three "Crazy 8" productions in 2009, the Valley Community Theatre Communautaire de la Vallée has been entertaining thousands of patrons of the performing arts working out of local secondary schools.

Production Manager, Ron Babin, is hopeful that a business plan will be soon established so that the group can get involved in a project to build or purchase a permanent home for the Theatre Group. "We have some excellent talent in the Valley and anyone who has seen our productions will agree that we need to do better for people who have a passion for the performing arts. We need a permanent facility where we can set up our sound and lighting equipment and leave it there for rehearsals and performances."

While appreciative of the support they have received from the local secondary schools, the fact that volunteers must go to so much work setting up and taking down equipment for performances and rehearsals is "burning them out". Having a permanent location would go a long way to stimulating tremendous interest among young and old alike in the theatre.

If you wish to find out more about the Valley Community Theatre Communautaire de la Vallée, visit their web site at http://www.valleycommunitytheatre.com/

You are also invited to attend the next meeting on April 22, 2010 from 7 to 9 p.m. at the Confederation Secondary School amphitheatre (back entrance).
St. Anne Students Have Fun on the Ice

St. Anne Students Supporting Hatian Relief

The students at St. Anne Catholic Elementary school laced up their skates for a field trip to Centennial Arena.

Parents were invited to join their children as they skated around the ice enjoying themselves.

There was fun for everyone!

Jadon, a grade 2 student, took the time to help Ian, his J.K. schoolmate, learn about balancing on the ice.

Way to go Jadon!

Just before the March Break, the students at St. Anne Catholic School held a Bake Sale in support of

Haiti

.

It was a huge success!

The funds were presented to Sister Therese Lamoureux, a missionary in

Haiti

and a survivor of the earthquake.

Some students, like Emily in Grade 1, collected money on their own and presented it to Sister.

Sister Therese was very moved and pleased with all the support from the parents and students at St. Anne.

She was very thankful for all of their efforts and will present the money to her mission where it will be put to good use.

Sister Therese had a wonderful time visiting the children at the Bake Sale and she extends her thanks to all the students and families for their generosity!
Kin Club of Valley East Is Calling On Entire Community To Support Their Fireworks Fund-Raiser To Overcome Loss From Theft In Sudbury
The photos above show

Manon and Scott Bolger stand outside the steel container which was used to hold the fireworks on sale by the Kin Club of Valley East at its usual place in the Hanmer Valley Shopping Centre. The Kin Club operates out of the playground building in Blezard Valley where it is open Monday to Wednesday from to during the summer months to provide refreshments to the minor baseball players. The club house is also open whenever weekend tournaments are held at the fields.
The following article was submitted by Jeanine Bolger, a member of the Kin Club of Valley East, in reaction to a break-in which occurred on June 1, 2010.

The Kin Club of Valley East has been selling fireworks in the Greater City of Sudbury for over 20 years now and this has been our main source of funding for the many charities' we support. We have been donating to such charities as Heart & Stroke, John Howard, Kidney, Vale Inco Hospice, Send a Kid to Camp, Valley East Good Neighbours Food Bank, Cystic Fibrosis, and finally there are numerous families in and around Greater Sudbury that the Kin Club has helped to purchase medical equipment and offered personal assistance who we cannot name as their privacy is to be respected. The list is truly very long.

The Kin Club of Valley East has been struggling like so many others to increase its membership and share the wealth of fun, friendship, and educating its members in modern business methods and ethics. The past two years have seen us grow and almost double in size. We run a family oriented club with interesting meetings, and many social events encouraging our members to bring their children.

The hours spent in selling firework are long tedious and this year has been very hot already. The hours we have taken away from our families, our jobs and ourselves to see this project run successfully from year to year is truly staggering. This year we petitioned the City of Greater Sudbury to change its by-law to allow us to sell 5 days prior to the holiday and they in fact gave us 6! Thank you Greater City of Sudbury for supporting local charities like us. We respect the by-law and work closely with the Sudbury Fire Department to ensure safety first and always. The Kin Club of Valley East has taken every possible effort to ensure the safety of our project from year to year.

This past weekend we were broke into and fireworks were stolen and there is evidence of them being set off in the corner of the trucking lot. Our trailer was parked at Sudbury Truck & Trailer Centre on Wessell Street for its annual inspection. On Monday afternoon we were contacted by Brian Nolet who has been volunteering his services for us in transporting our trailer from location to location, that the truck centre had called the police as the trailer had been broke into!

The morale of our club members nosedived, all those hours, sacrifices, and hard work out the window. To me this is just horrific and for what a few hours of fun setting off fireworks which by the way happens to be illegal, this is a direct violation of the by-law which is a chargeable offence. Now not to mention the vandalism of our trailer now costing us a few hundred of dollars to repair, having to spend yet another day from our families to do another inventory of what's left, having to pay for fireworks that we DID NOT sell, and all this has to come out of our profits from our sales which was looking pretty good. Ted Rock hopefully July will be record breaking for us and help us to recoup some of our losses.

If you know someone who knows someone, or know someone yourself who was involved in this vandalism/theft please call the police 675-9171 and report them. It's not only for our protection but theirs also. If the person or persons responsible for this are reading this now, please know that this time of year we donate to a local send a kid to camp program and because of your thoughtless act we will not be able to send a kid to camp this year. I hope it wasn't your little sister or brother who is going to lose out.

On behalf of the Kin Club of Valley East we wish to thank all our supporters in whatever capacity that may be and we also apologize to the many charities that we support to please be patient and understanding as our funds may not be as plentiful as they have been in past years.

Local Social Network Developed For Active Moms and Their Families

Introduces First Ever Sexy 4 Summer Makeover Contest

SudburyMoms.com is Greater Sudbury's first social network and online service provider helping members get and stay connected to the many people in their lives as well as the things they care about most.We are committed to providing accurate, up to date information on subjects about being a mom, and all the little things that happen along the way.
"We always thought a local site for moms would be a great idea, somewhere to go and seek out answers to questions you might be expected to know but didn't," Lynn Phillip, administrator of Sudburymoms.com, said in a press release.

"(The site is) a sort of shortcut or definitive resource as to what really works and what doesn't."

Sudburymoms.com was created by Lynn and her husband Errol, and launched in November. The website allows moms — and dads — to get together online by posting blogs, videos, and questions.
For more information about this wonderful web site, CLICK HERE to visit www.sudburymoms.com
SudburyMoms.com First Ever Sexy 4 Summer Makeover Contest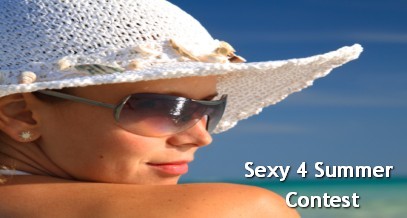 It's Hot - It's Trendy - It's Fun and It's Free!

SudburyMoms.com in co-operation with Roma Hairstyles, Julie Berthelot Image Consulting, PhotoCaptiva, and Heels N Handbags are giving you a Sexy 4 Summer makeover. This is our first city wide contest and very easy to enter. Upload a picture of yourself on our site with a brief description of why you deserve to be oh so Sexy 4 Summer. Contest details can be found on www.SudburyMoms.com . Grand prize will be drawn on June 28th with the winner being notified by email.

We want make it known that just because were moms we still like to feel good about ourselves. Motherhood is the most underrated and toughest job in the world and we deserve a little Pampering and Spoiling once in awhile. Were not just about mom jeans, sweats, and flip flops. Our plan is to make the Sexy 4 Summer makeover contest bigger and better every year.

NO PURCHASE OR PAYMENT OF ANY KIND IS NECESSARY TO ENTER OR WIN THIS CONTEST

Amandah Kohls Is Hoping For A Huge Turn-Out To 2nd Annual Fundraising Barbeque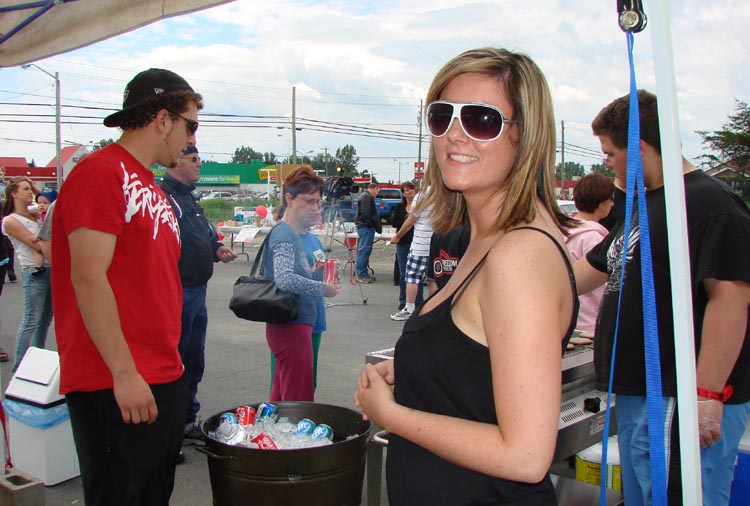 Amandah Kohls and the staff of the Shoppers Drug Mart Hanmer organized a very successful fundraising barbeque last July, raising over $3600 to help Action Sudbury in their efforts to promote safe driving.

She was inspired to organize the event after the tragic deaths of Steven Philippe 16, Jazmine Houle, 15, and Caitlin Jelley, 15, when their lives were cut short by a drunk driver in Hanmer. This event troubled Amandah in much the same way virtually every other member of this community was upset. Amanda decided that enough is enough and felt that it was time to stop the madness of drinking and driving by getting the message out in the public once and for all.
This year the event is once again being hosted by Shoppers Drug Mart Hanmer and Action Sudbury. It is being held in honour of Jazmine Houle, Caitlin Jelley, Steven Phillipe and Tyler Goulais, another young man whose live was taken this year. The fundraiser will take place on Saturday, June 26, 2010 from to in the Shoppers Drug Mart parking lot on Hwy 69N, right across from the Hanmer Valley Shopping Centre. Donations will be accepted through Action Sudbury.
This year Amandah Kohls and her good friend, Amy Stephens will be co-chairing the event.
You can go to a special Facebook site that has been set up for this event. If you would like to make any donations for the penny table or even make a cash donation, you can drop in to the Shoppers Drug Mart.

Evolutionary Band's 30th Anniversary Tour - Subject of Zack Werner Film
Press Release From Confederation Secondary School - May 12, 2010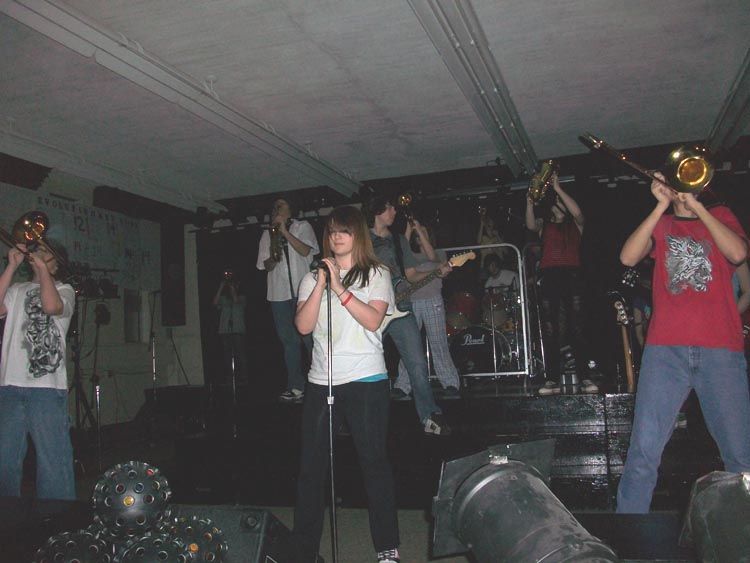 At the end of May, Confederation Secondary School's Evolutionary Band is preparing to depart on a four day whirlwind tour in Southern Ontario that will see them performing four concerts in four days. Their first gig will be in Lindsay , Ontario where Zack Werner, Canadian Idol judge and president of Venus Records will be joining them on the first leg of the tour. When he visited their school last November with a film crew, Werner's intention was to shoot enough footage to make a trailer to pitch a TV series about Evolutionary.

"The trailer/pitch so far is spectacular. Now I want to make it unbelievable," Werner said recently in an email to the band. " This is the time of your lives and I feel so lucky to get a chance to capture it on film and then show it to the world. We are hoping to sell this trailer to major entertainment channels nationally and internationally. Who knows? Maybe by this time next year, you may be on a reality TV series."

"This will be a grueling four days for the students ," says music director, Norm McIntosh. "They will certainly get a first hand look at life on the road as they experience long hours of traveling on the bus , unloading sets and equipment, setting up, performing and then re-loading and moving on to the next venue. Their days will be starting early as the bus pulls out every morning at Unlike professional musicians, these students are their own 'roadees'. The band and crew members have worked hard all year to prepare for this tour. They are also responsible for all the fund-raising that is required to pay for the trip. We are looking forward to working with Zack and his crew again. The students are especially excited to have been invited to drop in at Werner's 100 acre farm for a swim a volleyball game and a BBQ."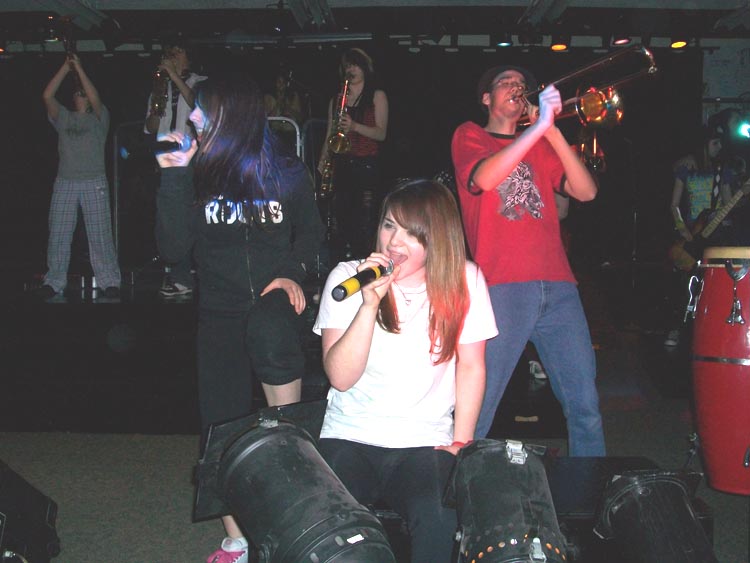 "We are so proud of our students in Evolutionary and what they are accomplishing," says Confederation School Principal, Mike Mirka. "Just this past Saturday night, our school gym was packed with a crowd of close to 800 for the band's Annual Mother's Day Concert. The band received several well-deserved standing ovations throughout the course of the evening. It is an honor to have someone of Mr. Werner's caliber who is interested in shooting a film (series) about our Evolutionary."

Evolutionary's 30th Anniversary 'Bring it to the Wall' Tour takes place from May 25-29. Concert cities include Lindsay, Belleville , Cornwall and Carleton Place . Werner and his crew will be filming the band at both the Lindsay and Belleville concerts. Evolutionary is a 25 piece rock band with a 16 member stage crew. This band set the Guinness World Record in 2007 for the deepest concert below sea level the earth's crust when they played a concert at the 3400 ft. level at Vale Inco's North Mine. Evolutionary is Northern Ontario 's No Drinking and Driving Band. They promote this cause to their audiences at all of their concerts.

If you'd like more information about Evolutionary Band, their upcoming tour and Zack Werner's film shoot or to schedule an interview, please call Norm McIntosh, Music Director, Confederation Secondary School, Rainbow District School Board at (705) 671-5948 , ext. 6150.

Valley East Today Online Magazine Invites Readers To Submit Their Own Material

One of my main goals as Publisher of the Valley East Today Virtual Community Centre and Community Magazine is to make this a publication that belongs as much to my readers as to my publishing company.

That is why you will find a number of places on the site where you will be able to submit your comments and opinions on matters of importance in your life. You will also be able to send in photos and articles that I will gladly post on the Newspaper for others to read.

This is a community publication and I want the community to take ownership of it. If Valley East Today is going to reflect the character of Valley East, then it must be open to submissions from the people who live in this community.

Below you will find several examples of places where you will be invited to submit your comments and opinions on issues of the day. Please take time to visit the sections and comment on articles that are already there, or suggest your own articles and I will comment on them with you. I look forward to hearing from as many of my readers as possible.

Conrad Leduc Creates An Automotive Art Masterpiece

What once was an everyday rental car, this 2003 Chevrolet Impala has been transformed into a piece of automotive art. Everything from the grille to the tail lights has been modified on this ride and it's not done yet. Owner Conrad Leduc has spent a lot of money and countless hours making this past daily driver into a 1 of a kind show car.

It's main features include a 1 of a kind custom made fiberglass body kit, digital air ride suspension to raise and lower the car to the ground, a full 1 off fiber-glassed interior all done by Conrad himself, neon lighting all throughout the vehicle (inside and out), 2 tone suede buckets seats with embroidered headrests, 10 speaker 5 subwoofer surround audio system powered by 6000 watts of power, upgraded engine including headers, dual exhaust, cold air intake, new ignition system and a performance chip, 20" chrome rims with low profile tires, upgraded braking system, and to top it all off mirror and powder coating under the hood.

The car can be seen Saturday nights at Cruise night in the Hanmer Canadian Tire parking lot and Sunday nights at cruise night in the Costco parking lot. (both nights start at

).

MARGUERITE GROULX INVITES YOU TO VISIT A NEW WEB SITE FOR SUDBURY RIGHT TO LIFE
A special thank you to Marguerite Groulx for sending us information on a wonderful new web site that has been developed. Marguerite is President of the Sudbury Right To Life and encourages you to check out her new site at www.sudburyprolife.ca

FREEDOM TO MOVE 5 KM WALK-AND-WHEEL FOR DYSTONIA RESEARCH
We are pleased to help our long-time friend, Mary Guy, let everyone know about this years Dystonia Walk-and-Wheel which will be held at the Howard Armstrong Recreation Centre on Sunday, June 13, 2010 . Registration is at and the walk begins at The following is a press release sent out by Mary.
Do you take for granted your sight, your speech, your ability to write, to eat, to walk or play your favourite instrument? Those stricken with dystonia may find one or some or all of these abilities compromised.
Dystonia is a neurological movement disorder that causes muscles to tighten and twist involuntarily. It can affect the eyes, jaw, voice box, neck, hands and limbs and in extreme cases the entire body. Dystonia affects people of all ages and gender and can be painful and uncomfortable. It is the third most common movement disorder after Parkinson's disease and Tremor.
An estimated 50,000 Canadians have dystonia. Yet incredibly, few people have heard about this unusual condition. As such, dystonia often goes either undiagnosed or incorrectly diagnosed. There are some effective treatments for dystonia which makes awareness all that more crucial to those suffering without knowing what is wrong with them.
Please join Mary Guy on June13th at at the Howard Armstrong Recreation Centre in Hanmer to participate in the 13th Annual Walk for Dystonia Medical Research. You can get more information by going to the following link:

Greater
Sudbury
Accepts Community Conservation Challenge
Mayor John Rodriguez calls on all residents to compete and conserve on August 11
April 21, 2009 , Greater Sudbury , ON — Mayor John Rodriguez announced today that Greater Sudbury will be participating in Ontario 's 2010 Conservation Community Challenge.
As part of the campaign, residents of Greater Sudbury are being asked to take The Power Pledge at www.powerpledge.ca and make a few simple conservation actions, from now until Challenge Day in August. By taking The Power Pledge, Ontarians will save money, save electricity and help the environment.
Participating municipalities can compete in two different categories:
The highest per capita participation in the Power Pledge drive.
"Energy conservation is essential in helping combat global warming. If we all take action and do our small part, collectively we can fight climate change and contribute to cleaner air in our community," said Mayor Rodriguez "People of Greater Sudbury are proud of their community and committed to energy conservation. I am confident that we will rise to this challenge and contend for the title of: Ontario 's Most Conservation-Conscious Community."

Winners of the Community Challenge earn the right to be considered Ontario 's most conservation-conscious communities, as well as valuable "green" awards. The Woodstock Cup is awarded to the MW Reduction Category winner. Last year's Community Challenge winners—Sioux Lookout in the Participation Category and Kingston in the Megawatt Reduction Category—will defend their titles in 2010.

"This initiative is something that Greater Sudbury Hydro supports whole heartedly," said Chair Doug Craig. "This pledge marks an important step in what we hope will ultimately lead to a commitment of sustained energy conscious actions; and, we encourage our community members to take advantage of the wide range of conservation programs we offer for businesses and homeowners. We're hoping that the people of Greater Sudbury take this opportunity to learn more about conservation and get behind this challenge."

The Community Challenge is a collaboration of the Ontario Power Authority, the Independent Electricity System Operator, the Association of Municipalities of Ontario, the Electricity Distributors Association and the Ontario Chamber of Commerce and their associated members. The City of Woodstock continues to play a leadership role spearheading community participation for more than five years. More information is available at www.powerpledge.ca.

For more information:


Paula Tarini, Supervisor – Conservation


Greater Sudbury Hydro Inc.


705-675-0502 / 705-691-2867

Young Mother Creates Web Site For Sudbury Parents
Larissa Puls is a mother of two young children who has set up a new website for Sudbury parents. In a recent message sent to Valley East Today, she explained the purpose of the site. "

The idea behind the website is to have a central online site for parents in the Greater Sudbury area to access if they are looking for activities or events to do with their children. I only launched the site at the beginning of February, and I have done some minimal amount of "advertising" through my playgroup, friends and facebook."

Larissa is looking for community involvement to keep the site up to date and to build it into something that will be useful for parents from the entire region.

You can visit the site by going to www.nickelcityparents.ca

If you would like more information you can contact Larissa by email or phone which is found in the contact section of her web site.

A PROUD MEMBER OF THE VALLEY EAST TODAY VIRTUAL COMMUNITY CENTRE

VCCNET.CA
Long Distance Phone Plans
Internet Service.
Computer Repairs.

479-5017

Located on Elm Street in Sudbury Call for an appointment

A PROUD MEMBER OF THE VALLEY EAST TODAY VIRTUAL COMMUNITY CENTRE

FANTASTIC FLOORS
For all your flooring needs.
Carpet, laminate, hardwood...you name it!
Free Estimates. Affordable Prices. Installation.

897-3567

2914 Hwy 69 North, Val Caron In the Bingo Plaza

A PROUD MEMBER OF THE VALLEY EAST TODAY VIRTUAL COMMUNITY CENTRE

HEATWAVE TANNING SALON
Four locations to serve you in the City of Greater Sudbury.
Stand up and Lay down beds available.
State of the Art equipment. Safe and reliable.

897-4006

Located in Norm's Plaza Hwy. 69N in Val Caron

Businesses & Professionals Discover That Using The Internet Is An

Effective Way

Of Reaching Their Primary Market in

Valley East

| | |
| --- | --- |
| | Find out how you can buy all of your flooring products at the lowest prices around. 897-3567 |

Ron Pedneault for example, owns Fantastic Floors in Val Caron. He has used all kinds of advertising venues, but he still likes to post his web site and profile on

www.valleyeasttoday.ca

This way people can see all of the photos showing the inside of his store before they come for a visit. The weekly online newsletter that is sent out to over 2500 individual email addresses ensures that people will be reminded of Fantastic Floors every week.

Take a photo tour of all four locations.

897-4006

Ron Brunette and Andrea Guinard have worked hard to grow their business from its humble beginnings in Val Caron. Now their Norm's Plaza location is one of four tanning salons they own across

Sudbury

. Ron and Andrea have used the internet to promote their monthly specials and have also posted an album of photos that show people what their facilities are like.

For all of your internet solutions, contact www.vccnet.ca or phone:
(705) 479-5017

Edgar Lajambe is a local business owner who can provide just about every service you can think of when it comes to technology. VCCNET.ca offers internet services as well as long-distance phone plans. You will find his plans convenient, effective and most importantly, affordable. If you have any questions about your computer or network system, give Edgar a call. He provides service to both residential and commercial.

The high cost of advertising is taking a huge toll on local businesses and professional service providers. On the one hand we are all aware that it is important to promote your goods and services to your primary market; on the other hand it is becoming almost impossible for small business owners to afford to buy traditional advertising in newspapers, on radio and on television. Flyers are extremely expensive and usually only larger national chains can afford them.

With the end of The Vision Paper, one of the most important marketing tools available to Valley East businesses has disappeared. Many of the business owners are now being forced to seriously consider promoting themselves through the internet and what they are discovering is that Valley East Today is one of the most effective and cost-efficient options available to them.

Survey Confirms Importance of Internet In Daily Lives Of People
A recent survey done by a major advertising company found that the effectiveness of television ads has diminished greatly. In fact it was found that the internet is coming on strong as a communication vehicle for businesses today. For example, half of Canadians under the age of 34 spend at least two hours a day on the internet. However, 83% of Canadians stated that the internet is "essential" to their daily living, citing high speed internet as their single most important entertainment device. Also, the survey found that just over half of all Canadians are on Facebook.

Stimulating The Local Economy Will Become A Top Priority For Valley East in 2010

Valley East Is The Fastest Growing Community In The Region

Valley East is fortunate to be considered one of the fastest growing communities in the Greater Sudbury Area. This means that as new people move into the region, Valley East will continue to be one of the preferred locations for anyone coming here to work or retire. It is important that local residents and business owners do everything we can to make sure that the image of Valley East remains strong and positive. Valley East will have a better chance of successfully overcoming the challenges of the slow economy. If you are looking for work, or if you would like to hire someone to work for you, please contact Valley East Today to see how we can help you get your message out to the community.

The effects of the strike at Vale Inco and the uncertainty of the future by other mining services in the Greater Sudbury Area are taking a huge toll on employees across the entire region. Retail workers are seeing their hours reduced as businesses try to survive the downturn which arrived with the global economic recession and was made worse with the strike. Even people who have good jobs have changed their buying habits and have adopted a philosophy of purchasing only what they "need" instead of buying whatever they "wanted". The good times seem to have ended and everyone is going to have to adjust their way of life to adapt to a new future.

The Vision Paper Comes To An End After Over 15 Years Of Serving The Town of

Valley East

The Vision Paper has been mailed to homes in Valley East for over 15 years. During that time the paper has provided local residents and businesses with an excellent way of keeping up with what is going on in the community. Unfortunately, the owner of the paper decided that it was time to discontinue the publication and sell his printing business. Therefore, for the first time in over 15 years, Valley East will be without a print publication that is dedicated solely to local news and articles. The last issue was published on December 16, 2009 – the Christmas edition.

With Over 70% Of The Homes In

Valley East

Connected To The Internet, Local Residents Are Ready to Adopt An Electronic Paper As Their Own Community Publication

Valley East has had its own community web site since 2003. The web site can be found by logging in to www.valleyeasttoday.ca. During the past several years over 2500 people have been receiving a weekly online newsletter called Valley East Today. All of the stories, articles, editorials and photos have been stored and organized on that web site so that it is now a "massive" living history of our community. With the closing of The Vision Paper, Valley East Today has now become the only form of communication dedicated exclusively to the community of Valley East . Groups, schools, organizations and clubs will continue to have a place to give recognition to the people making a difference in the community. Residents will continue to have a place to which they can turn for news and information about what is going on in the community. And businesses will have a place to promote their goods and services to the local market.

THANK YOU TO OUR SPONSORS
At this time we would like to thank the following sponsors for their support. Without their help we would be unable to bring you the Valley East Today Online Community Newspaper & Magazine. Please check out their profiles for more information on the goods and services they have available for you and your family. Click on the names or the Business Directory logo for more information about our sponsors
Fantastic Floors
Heatwave Tanning Salon
VCCNET.ca Computer Services
New Orleans Pizza