CHAPTER TWENTY-TWO
Emotional Farewell Celebration For Val and Violet Mazzuca As They Sell the Hanmer Valley Shopping Centre After 38 Years

"The Real Heroes Of The Olympic Games Were The 12,000 Torch Bearers Who Left Lasting Memories Across This Great Country"

Local Social Network Developed For Active Moms and Their Families
Members of Confederation's Evolutionary Band Give Evidence Of How Music Program Prepares One For Life's Challenges
Skating Excursions With Class Provide Children, Parents and Grandparents With An Opportunity For Fun And Exercise
CAW - LOCAL 598 RATIFY THREE-YEAR AGREEMENT WITH XSTRATA WITH 93% ACCEPTANCE VOTE
Larry Berrio Co-Hosts THE LEARNING CLINIC Three-Hour Live Talk Radio Show With Robert Kirwan on February 8, 2010
Hospice Palliative Care Volunteer Training Offers Local Residents A Chance To Take Part In A Rewarding Experience
Valley East Facebook Group Growing In Popularity As Hundreds Of Current & Former Residents Use The Internet To Keep In Touch
Student Group Plans On Promoting Safe Driving All Year Long
Mother of Two Young Children Decides To Venture Forth Into The World of Business In Search of a More Balanced Lifestyle
Hanmer Valley Shopping Centre Continues To Provide Central Communication Site For Community
Georgette Bergeron Seeks Help From Local Residents To Help Rebuild Mission In Haiti Following Devastating Earthquake
Emotional Farewell Celebration For Val and Violet Mazzuca As They Sell the Hanmer Valley Shopping Centre After 38 Years
Val and Violet Mazzuca purchased the Hanmer Valley Shopping Centre on February 28, 1972. Thirty-eight years to the day later, they found themselves turning the keys over to new owners because of health conditions that just didn't allow them to be the type of "hands-on" owners that they have always prided themselves on. And since he couldn't be the kind of owner that the community of Valley East had come to rely upon, he decided that it was time to turn the job over to someone else.

France Gelinas, MPP for the Nickel Belt Riding, held a brief public celebration for the Mazzuca's so that family, friends and local residents could drop by to say thank you for the years of providing the community with a shopping centre that is second to none in terms of cleanliness and community involvement.

Gelinas commented, "There will never be another owner like the Mazzuca's. They were truly "hands-on". This is not what you can expect from an Ontario Inc. 123794 (not the real corporation name of the new owner). No matter what the new owners do, they will never be able to provide shoppers with the kind of attention and involvement we have come to expect for all of these years."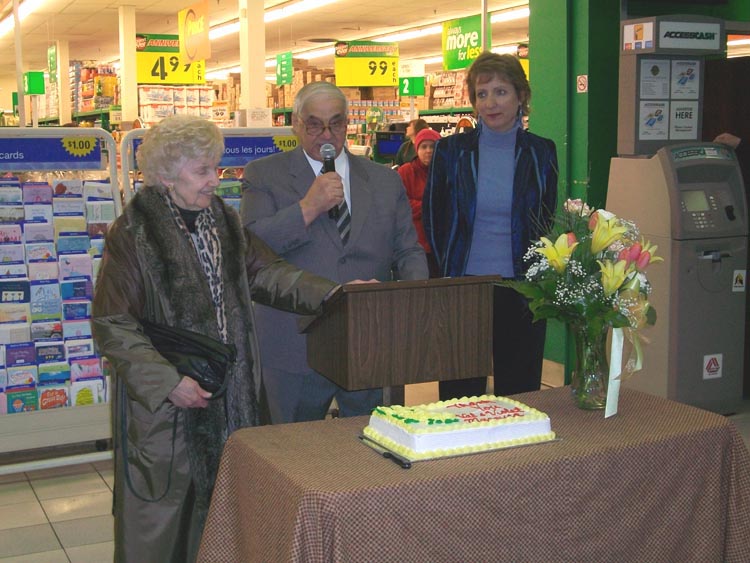 Val Mazzuca spoke with obvious emotion in his voice as he first of all gave recognition to his wife, Violet, whom he described as helping him become "the person I am today." He said that he was truly grateful for her support all of these years and it was quite evident that those who were gathered in the crowd agreed as they gave that comment a rousing applause.

He also said that he would never forget the day that they bought the mall. "My brothers, Mario and Bob and I were in Toronto with our accountant and lawyer to sign the final papers. We drove back that day in one of the worst snow storms I can remember. We could only make it back to the Fleur de Lis motel and had to wait for some of our friends to come to get us on their snowmachines."

"When we bought the place I could look down this hallway and all that was lighting the mall were about a dozen light bulbs. We've come a long way since then."

He thanked everyone who supported them through the years by supporting the merchants who have been in the mall and for working with him to improve the quality of life for people living in Valley East and Capreol.
| | |
| --- | --- |
| Frank Mazzuca Jr, spoke highly about his Uncle Val and the early morning work they did plowing the snow at 4 a.m. Val and Violet did the honours of cutting a cake for those who were gathered for the ceremony. You can see some of the crowd in the background. | |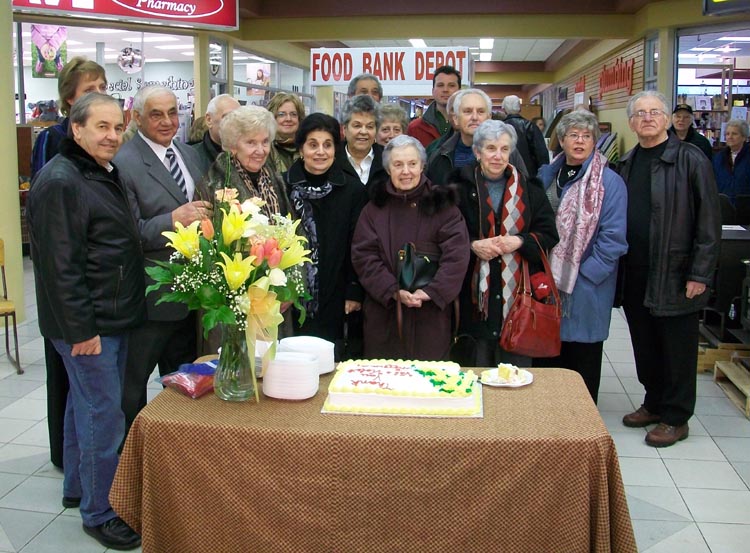 The Mazzuca's are all about "family" and this occasion was no different as many of the relatives were in the crowd to commemorate this very important occasion in the live of Val and Violet Mazzuca.

Mayor John Rodriguez called the couple, "True community builders who not only have done wonderful things in the past, but who can be counted on to do more great things in the future."

Val Mazzuca said, "This is not good bye. We consider Capreol and Valley East to be our home and we will still be around. Now this is going to give me even more time to help rebuild Capreol so that it can become the town it once was."

The new owners are from Southern Ontario and are already owners of a mall in Bolton and one in Sault Ste. Marie. They have expressed a commitment to continue the traditions that have been established by the Mazzuca's, a sentiment that Val Mazzuca pointed out as one of the main reasons he selected the new owners out of several who were interested.

"The Real Heroes Of The Olympic Games Were The 12,000 Torch Bearers Who Left Lasting Memories Across This Great Country"

by Robert Kirwan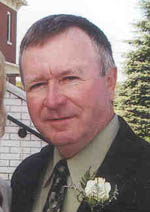 As I write this article I can truly say that never in my life have I been so proud to be a Canadian. And I am not afraid to say that publicly to anyone who is around to listen. The Olympic Games in Vancouver were absolutely phenomenal. To be able to declare that I actually watched Sidney Crosby score the winning goal in overtime to capture not only the gold medal for Men's Hockey, but moreover, the 14th and record-setting gold medal of the games is something that I will hold dear to my heart for the rest of my life. I watched Paul Henderson score the winning goal in 1972 during the famous Canada-Russia Series, and this moment ranks right up there alongside that tremendous moment in history.

There has been much said and written recently about how the Olympic Games has rejuvenated our national pride and raised our normally refined patriotism in this country to a euphoric level the likes of which few can recall being equaled in the past. There were some amazing achievements realized by all of our athletes, and there were some disappointments. As a country, "Team Canada" broke the all-time record for the most gold medals ever won by any nation at an winter Olympics. This means that our national anthem was sung after more events than any other nation in the world, and after all, that is what the Olympics is all about. It is nice to congratulate the bronze and silver medallists, but the reality is that we celebrate the "gold medal". We want to hear our national anthem played and we want to see our athletes stand on the top level of the podium. All in all, there were some extraordinarily inspirational and emotional times during the period from February 12 to 28, 2010 that touched the hearts of all Canadians.

For example, we all fell in love with Joannie Rochette, the courageous skater who won a bronze medal after dealing with the sudden death of her mother the day she arrived in Vancouver. We all cried with Joannie because every one of us could "connect" with her. We have all felt the pain of a sudden loss of a loved one and we "knew" what she was going through. We felt her pain and we could imagine how much courage it would take for us to go through what she was experiencing. When she skated and won the medal; when she climbed onto the podium; we were there with her in spirit. Even if you have no interest in skating, you watched her because you identified with Joannie Rochette.

Similarly, we all had an intense desire to win the hockey gold medal because hockey is "Canada's game". We have fought "wars on ice" many times before and we have felt both the joy of winning and the pain of losing. The hockey game was more than a game on ice. So too were the other sports that were played during the Olympics. It wasn't the sport we were interested in. We all wanted to see our flag flying the highest and we wanted to hear our National Anthem. Once again, we did not identify with the athletes or the sport. We identified with the "country". I couldn't care less about watching a man go head first down an icy tunnel on an old sleigh. But I certainly wanted him to win for my country.

Nevertheless, despite all of the great moments that occurred during the actual competitions, I doubt very much that the Olympic Spirit that we felt during the games would have been quite as intense if not for the 106 day Olympic Torch Relay that began on October 30, 2009 in Victoria British Columbia and ended during the Opening Ceremonies on February 12, 2010. I would suggest that the key to the tremendous success of the 2010 Olympics was the decision to make this the longest torch run in history to be contained within the Host Country. The torch was carried a total of 45,000 kilometers through over 1000 communities in 106 days by over 12,000 individual "heroes" allowing over 90% of the population of Canada to be within a one hour drive of experiencing the Olympic flame. The Olympic Spirit was nurtured across this vast country and culminated with Sidney Crosby's overtime game-winning goal. The roar was felt all around the world, but it was started in Olympia Greece on October 22, 2009 and continued to build once it started its journey across Canada.

In the days following the closing ceremonies, I have yet to hear one comment or news story about the Olympic Torch Relay. All of our attention has been focused on the performance of the athletes and in particular on Sidney Crosby's single goal. I wonder what things would have been like if the United States would have won that last game? Personally, I will soon forget the accomplishments of the athletes during the Olympic games. I'll remember the game winning goal and I will remember that we won 14 gold medals. But I will soon forget the competition that created the euphoria. And I doubt if I will ever go out of my way to watch free-style skiing competitions, or figure skating, or luge events.

However, there is something that I will never forget and I would like to share it with you right now.

The 2010 Vancouver Olympics captured the hearts of the entire nation. We will all remember how proud we felt during the Olympic games, but it has nothing to do with the accomplishments of the athletes or the beautiful facilities. I have always believed that while we may over time forget the names of people we meet in our life, we will never forget how they made us feel. This was never more evident than when the journey of life that my wife and I are on lead us to Barrie on October 22, 2009, helping our son Warren, and Cindi Meyer move into their brand new house. While we were taking a break from moving in the furniture we found ourselves watching the live broadcast of the Olympic Flame being lit in Olympia Greece during a special ceremony to hand the torch to Canadian officials. We took advantage of the opportunity to get a photo of Cindi beside the television. Cindi, you see, was one of the 12,000 people who had been selected to carry the torch. At that time, I could sense that this was more than just a picture of Cindi in front of her television, but I still had no idea just how much it would eventually come to mean. This was indeed a very significant moment in a story that was about to unfold over the next several months. I wondered silently how many other families of the 12,000 torch bearers were doing exactly the same as us. For us, this television broadcast meant a lot more than we could ever imagine.
| | |
| --- | --- |
| | |
All during the Christmas season, when people asked me what I was going to be doing during the holidays, I told them that we were going to be in Barrie watching Cindi carry the torch in Alliston, about 40 minutes south of where they now lived. The responses I received were quite remarkable. Each and every person had an expression of what can be best described as "Wow!" They were sincerely happy that I would be experiencing such an important event and they couldn't say enough about how lucky I was to be so close to someone was going to be an official "Olympic Torch-Bearer". I could sense that they felt their trips to exotic places around the world for the holidays were nowhere as impressive as what I was going to be doing. This happened over and over again and I began to feel a deep sense of pride and anticipation. I began to feel the importance of the event. I was actually going to be with my family witnessing Cindi carry the Olympic torch. There were going to be a lot of torch parties going on over the land, and we would be attending one of them. It was actually quite exciting but I still had no idea of what was to come.
We even started to follow the Olympic Torch on the CTV web site. You were able to see each individual carry the torch over their stretch of 300 meters, and even though we were not there in person, I could still feel that sense of pride and anticipation building up inside me, knowing that the flame was making its way to Alliston where on December 29, we would see Cindi doing exactly what these people were doing on television. As the day approached, there was a special feeling that came over me that I couldn't quite explain.
When the big day finally came we crowded into our vehicles to drive the 40 minutes from Warren's house to the spot where Cindi would begin her run. Warren and Cindi along with her children went ahead because the Olympic Torch Bearers had to gather in advance for final instructions at a central meeting place.
There was no way in the world that I could have ever imagined how I was going to feel later on that afternoon. But I will admit that I felt different. I can't describe it, but there was something different inside of me. It was as if I knew that I was going to be part of something special.
When we arrived in Alliston we positioned ourselves beside the pole where Cindi would be dropped off by the Torch-Bearer Bus that went out in advance of the relay runners. Each torch-bearer had a designated drop-off spot along the route. Warren told us where Cindi's drop-off spot would be and he was there when we arrived. We found ourselves sort of in the middle of a stretch of the street which was between a corner with traffic lights and a section of the downtown that was barricaded to keep traffic out for a good hour prior to the run. Because of this, very few spectators were in the spot when Cindi was dropped off. There was a crowd at the corner with the traffic lights and there was a crowd gathering on the other side of the barricade. You can see in the photo below as Cindi was let out of the bus that there were not many people around her at the time.
This was the moment we had been waiting for since the day we found out that Cindi was one of the 12,000 persons selected to carry the torch.
What happened during the next fifteen minutes was a truly defining moment in my life, as I am sure it became in the life of many of the people who were around me that day. Almost immediately, dozens of people began inching their way towards Cindi. They saw her get out of the bus and they wanted to get an up-close look at this "celebrity" whom we simply called Cindi.
We took a picture of Cindi and Warren with her two children, Brittney and Austin and then the flood-gates opened and everybody surrounded Cindi asking politely if she would mind them getting their picture taken with her and the torch. It was if the picture we took released something inside the spectators. It was as if they felt "connected" to Cindi. You could tell how proud and thrilled these "strangers" were to be allowed to stand beside a real, live Olympic Torch Bearer and have someone take their picture. They touched the torch gently and with reverence.
At that moment in time, Cindi was the most famous person in the world to the people in the crowd, especially to the youngsters. Wayne Gretsky could have walked by and the people would still have wanted to get their picture with Cindi. This was Cindi's moment and Cindi was absolutely gracious. She was anticipating one of the most important moments in her life, and yet she gratefully obliged everyone by standing there and letting them get their picture so that they could put it in a treasured place to remind them of the event for the rest of their lives. You could tell that everyone who touched the torch and stood beside Cindi felt that she was somehow representing "ordinary Canadians" and that this stretch of the run was being done for them.
| | |
| --- | --- |
| | |
I stood back and watched as my granddaughters, Hailee (5) on the left and Hannah (3) on the right went up and hugged their Aunt Cindi. They put their hands on the torch. They had heard us talking about this for some time and they too, even as young as they were, could understand that this was something very special. When they get older they will appreciate the significance of the event, but even now they somehow knew. This was the same Aunt Cindi who they had been with that morning, but somehow Aunt Cindi was going to be different for a while. She was going to be doing something very special and they could feel it just like everyone else in the crowd.
| | |
| --- | --- |
| | |
Keep in mind that this all happened in less than 10 or 15 minutes from the time the bus dropped Cindi off by herself at her designated spot until the flame was delivered to her and she would carry it for the next leg in the 45,000 kilometre journey. It was truly remarkable and I can honestly say I have never felt quite the same as I did that day. I can't even describe how I felt. I was so proud to be there to witness the moment with my family and my granddaughters. I was also so happy for the dozens of people who would be able to tell their family and friends that they had their picture taken with an Olympic Torch Bearer. You could tell that they were moved and very appreciative of the way Cindi treated them. I was so proud of Cindi for allowing everyone to share a little piece of this moment that they would take away with them forever.
| | |
| --- | --- |
| | |
And then the "flame" arrived and was transferred to Cindi. The crowd watched, cameras flashing, and Cindi stood alone for a few seconds in the middle of the street, taking it all in and realizing the significance of the event. Now it was her turn to accept responsibility for bringing the flame on the next stage of its long journey. This was the flame that we had seen on television on October 22, 2009. It was the flame we were going to watch on February 12, 2010 when the Olympic cauldron was lit in Vancouver. Everyone in the street watched and felt in their hearts a sense of pride in being a Canadian that for most of us we had never experienced with such intensity until that moment. Cindi was carrying that torch for everyone on the street and indeed everyone in Canada.
| | |
| --- | --- |
| | |
As Cindi ran with the torch through the crowded street in downtown Alliston, you could sense that each and every person there was running with her. She was carrying much more than a torch with a flame. She was carrying the hopes and dreams of a nation. This was not about athletic competition and gold medals. This was much, much more and the sight of Cindi with that torch would somehow change the life of everyone there in a very positive way forever.
That is why the Vancouver 2010 Olympic Games meant so much to us. That is why over 26 million people turned on their television sets to watch at least a part of the gold medal hockey game on the afternoon of February 28, 2010. We watched the opening ceremonies; we shared in the highs and lows of the athletes during their competition in sports that many of us have never seen in real life; and we experienced the unbelievable feeling when Crosby scored the goal as the ultimate moment in the games. We then wound down during the opening ceremonies and we now move forward in our individual lives as proud Canadians. Life is returning to normal.
Millions of people experienced first-hand the Olympic Flame as it was carried by "ordinary" people like Cindi Meyer. There are almost 12,000 "ordinary" people who enjoyed a moment of fame while they took their turn under the flame. There were also some famous people who carried the torch, but the people on the street couldn't stand beside and put their arm around the famous people. They couldn't get their picture with the famous people. But they could get their picture with the thousands of Torch Bearers like Cindi. The people like Cindi Meyer were the real heroes of the 2010 games. They were the ones who generated the Olympic Spirit and who fueled the National pride we all felt when Crosby scored his historic goal.
The ordinary people just Cindi are the ones we could all "connect" with because they were just like us. They were ordinary people who were doing something "extraordinary" with their life. They represented all of us as they carried their torch. We could feel as if we were a part of them. We identify with Joannie Rochette, not because of her medal win, but because we know how difficult it is to move on when you lose someone close to you. We identify with Alexandre Bilodeau, not because he won the first gold medal, but because we all know someone like his brother who has been unfairly inflicted with some kind of physical challenge. We identify with Jon Montgomery, not because of the fact that he won a gold medal on the "skeleton", but because of how he acted like an "ordinary" person when he walked down the street with a jug of beer in one hand and a helmet in another, just like a down-to-earth Canadian.
Most of the millions of Canadians who were caught up in the spirit of the Olympics know someone, or a friend of someone who was an Olympic Torch Bearer. Most of us actually saw "the flame". Most of us followed the flame as it travelled through our community, either in person or on the television. We identify with the Olympic Torch Bearers because they were mostly "ordinary people", just like us. That is why the Vancouver 2010 Olympic Games meant so much to us.
Cindi's Olympic torch will stand in a place of honour in Warren and Cindi's house. Each time I visit I will be reminded of the feeling I had on December 29 when I saw all of those "ordinary" Canadians swelling up with pride on that small street in Alliston. I will be reminded that this same feeling was felt by millions of Canadians across this country who experienced the same thing almost 12,000 times during the 106 day journey. They all have fond memories of the torch run and they also are being reminded when they look at pictures or whenever they meet someone who is introduced to them in the future as "one of the 2010 Olympic Torch Bearers".
It is a good feeling knowing that our country is a much better place to live as a result of the 2010 Winter Olympics and it's all because of thousands of ordinary people like Cindi Meyer who carried lit our Canadian Spirit with a small flame, 300 meters at a time. We will forget the names of most of athletes who brought us so much joy during the 17 days of the Olympic Games. The people who had their picture taken with Cindi Meyer on December 29 on the small street in Alliston will not remember her name. Nor will the millions of others who had a chance to get up close to the thousands of other torch bearers and who experienced the thrill of watching the torch make its way across this country. But I will guarantee you one thing; everyone will remember how they felt when they saw the torch being carried. They will remember the feeling that came over them when they were in the presence of the real heroes of the 2010 Vancouver Olympic Games.
Have a good week!
Local Social Network Developed For Active Moms and Their Families

Valley East Today would like to congratulate local residents, Lynn and Errol Phillip, on the launch of their exciting new web site, www.sudburymoms.com. The site was launched in November 2009 to serve both as a social network and an online service provider connecting area moms with each other. Their goal is to have it become like Facebook, but on a more personal level.

The web site contains a wide variety of sections, including a discussion forum where there are already over 60 topics. Visitors can post videos, photos and comments. They can also access a coupon section and get some great information about products, books and recipes.

Lynn Phillips stated that, "We always thought a local site for moms would be a great idea, somewhere to go

and seek out answers to questions you might be expected to know but didn't.

A sort of shortcut or definitive resource as to what really works and what doesn't."

Lynn and Errol have done their research, which confirms why sites like www.sudburymoms.com and www.valleyeasttoday.ca are becoming so popular. According to their press release, "There are studies that prove more women and mothers are spending more time online with social networks. Fortune 500 companies and alike have also now embraced the social media arena for their marketing needs. There are also numerous reports that have evaluated the "Mom Job" of the Working and Stay at Home Moms. We have created this free online tool to be a unique and informative parenting resource to serve the local community."

Dads are also welcome to visit the site and participate with the group.
Members of Confederation's Evolutionary Band Give Evidence Of How Music Program Prepares One For Life's Challenges

Veronica Ranger (Grade 12)

Kayla O'Hearon (Grade 12)
Jasmine Wagg (Grade 11)

Three members of Confederation Secondary School's Evolutionary Band were the special guests on THE LEARNING CLINIC on Monday, February 15, 2010 during the 5 p.m. to 6 p.m. time slot. Veronica Ranger, currently attending the "Victory Lap" in Grade 12 (for those of you who may not be familiar with that term, she has already graduated but has chosen to return for a 5th year to add some courses to her transcript) is one of the Lead Singers with the band and also does background vocals for some of the songs. She has been a band member for all five years and is also able to play the trumpet, sax and trombone. Kayla O'Hearon, also in Grade 12, has been with the band for all four years of high school and is in her 3rd year playing the guitar. She spent her first year with the stage crew. Jasmine Wagg, a Grade 11 student, is in her 3rd year with the band. She started out with the stage crew and has now been a bass player with the band for the past two years. During the show the girls discussed many of the transferable skills that they have developed as members of the band. They rehearse four nights a week for two hours after school in preparation for a performance tour which begins some time in March. The tour includes an out-of-town trip where they put on several performances for a variety of audiences.

The girls also explained that the entire band will be out looking for pledges for their annual "Play-a-thon" which will be held at the school in the "sanctuary" on Saturday, February 20, 2010. The band needs to raise about $140 per member in order to cover the expenses of performing on tour this season. Therefore, if you are approached by any member of the band, please give them your support. This is a music program that is doing wonders for the overall development of each and every member of Evolutionary.

If you are interested in finding out how to download the radio show, click here for the instructions >>>>

FACTS ABOUT EVOLUTIONARY BAND

The following information has been provided by Mr. Norm McIntosh, Director of Evolutionary Band and a Music teacher at Confederation Secondary School.

In its 30th year of existence, Evolutionary is located at Confederation Secondary School.

Evolutionary is a 24 piece rock band which includes 4 vocalists, a 7 piece rhythm section, 3 trumpets, 4 trombones, 2 alto saxes and 4 tenor saxes and is supported by a 16 member stage crew.

Evolutionary is the musical ambassador for Action Sudbury. They are Northern Ontario 's official No Drinking and Driving Band. At every performance they distribute Contracts for Life (approx. 6000 per year). Evolutionary participate in community events including the Rainbow School Board's 'Reading Rocks' program.

Band members range in age from 13 to 19 years old and must complete an audition and interview annually in order to be earn a place in the band. Successful applicants sign a year-long contract. Students in Evolutionary receive a high school music credit for their participation. All students who participate in this program are expected to carry a full timetable and to maintain passing grades in their other subjects.

Evolutionary is completely self-supporting. All expenses for transportation, and the purchase and repair of musical instruments and equipment are covered by student fund-raising and sponsorship. The band rehearses 4 nights a week from September to March.

Evolutionary tours from March until June, performing in front of over 8,000 students per year. Venues include other schools, public events and opening for professional acts. Performances include a high energy, choreographed show with an exciting light display including lasers, strobes, smoke machines, intelligent lighting and orbitrons. Shows are approximately 75 minutes in length and include 16 songs including a selection of top 40 hits such as Shinedown, Hinder, Green Day, 3 Days Grace, Rolling Stones, Queen, Bryan Adams, AC/DC, Foo Fighters, Linkin Park, Nickleback, Kings of Leon.

HIGHLIGHTS OF THE RECENT HISTORY OF THE BAND

2009 - 3 Days Grace attends a Fall rehearsal, invites EVO to their concert

- Zack Werner (Canadian Idol Judge) brings a film crew north to see Evolutionary

- Jake Gold (Canadian Idol judge) attends Mother's Day Concert

2008 -Rock band, Hedley, surprises Evolutionary by dropping into their rehearsal, invites EVO to

their concert

- Evolutionary was recognized as Junior Citizens of the Year at the Community Builders

Awards of Excellence for the City of Greater Sudbury

- Evolutionary completes "House Party" video recorded at Ostara Studios, May 2008

2007 - Recording artist, Suzie McNeil (Rockstar INXS) gigs with Evolutionary at a rehearsal

- Evolutionary is the subject of a full length documentary, "Face the Music"

- Evolutionary sets the Guinness World Record for "Deepest Concert Underground" at CVRD Inco's North Mine, 3400' level

- Denise Donlon, founder of Much More Music, attends an Evolutionary concert in Toronto

- The Tragically Hip drop in on an Evolutionary rehearsal, Keshia Chante attends EVO concert

2006 -EMI Music Co. President, Deane Cameron, and CARAS Director of Music Education, Srinka

Wallia attend an Evolutionary tour concert in Maple, Ontario

- Recording artist and Juno nominee, Skye Sweetnam attends Evolutionary's Reading Rocks concert

- The Trews drop on the band during sound checks and jam with them

2005 -Notable music industry professional, Bob Ezrin, record producer of Pink Floyd The

Wall/Canadian Music Hall of Fame inductee attends Night Concert

-State-of-the-art recording studio is officially unveiled at Confederation Secondary School

2002 -Evolutionary receives $10,000 from Junos/CARAS for new musical equipment and appearS with recording group, Sloan, on a taped segment on the Juno Awards

2001 - Mike McCarty, president of EMI Music Publishing Canada, attends an Evolutionary concert

FOR A PHOTO STORY OF AN OUTDOOR CONCERT PERFORMED BY EVOLUTIONARY AT THE HANMER VALLEY SHOPPING CENTRE

Skating Excursions With Class Provide Children, Parents and Grandparents With An Opportunity For Fun And Exercise

Hailee (5), an S.K. student at Ecole Catholique Elementaire Jean Paul II, and her father, Ryan, have a chance to skate with the class during "Skating Day" at the Ray Plourde Arena in Val Caron.

There is nothing like dozens of young children skating on the ice, especially when many of them are still learning how to balance themselves on these "blades of steel". The scene at Val Caron's Ray Plourde Arena was chaotic at best, but everyone truly enjoyed themselves. The younger boys and girls were in good hands as many parents and grandparents donned the skates as well and offered their encouragement. Students from older grades were also on the ice to help with the children from the younger grades.

CAW - LOCAL 598 RATIFY THREE-YEAR AGREEMENT WITH XSTRATA WITH 93% ACCEPTANCE VOTE
GREATER SUDBURY AREA WELCOMES AGREEMENT AS A SIGN OF HOPE FOR STEELWORKERS
It was a long hard marathon session, but at approximately 5:00 a.m., Monday, February 1, 2010, there was a huge sigh of relief felt across the Greater Sudbury Area as the bargaining teams representing Xstrata Nickel and CAW/Mine Mill Local 598 signed a tentative agreement for a new Collective Agreement, averting strike action by the membership.

On Tuesday, February 2, 2010, 876 of the 1080 members of Sudbury Mine, Mill & Smelter Workers Union, Local 598/CAW voted to accept the agreement with an overwhelming 93% margin. A total of 813 voted yes while only 63 voted no.

The main details of the agreement included:
a $2,500 signing bonus to all active and laid off members;
a wage increase of $0.20 per hour in the third year of the contract;
a $0.27 cola fold in from the previous contract and the COLA rolled into wages each year;
a retirement incentive of $10,000 per employee for eligible employees who voluntarily elect to retire with an unreduced pension during the life of the agreement;
a 30 and out plan with a $3,450 monthly pension;
several benefit improvements, including up to $1,000 in laser eye surgery;
a $500 payment to low income pensioners and widows
Also included in the agreement is a Nickel performance bonus in addition to a modified existing nickel bonus system (based on a higher floor price).
There were several other staffing provisions in the agreement, including a guarantee that if a person was promoted to a staff position, he would maintain all of his seniority rights in production & maintenance for up to two years.
Both sides are very pleased with the results of the negotiations which were punctuated by a positive communication atmosphere throughout. It was clear that both sides wanted an agreement.
Now the city waits for Vale Inco and the Steelworkers to settle their dispute.

Larry Berrio Co-Hosts THE LEARNING CLINIC Three-Hour Live Talk Radio Show With Robert Kirwan on February 8, 2010

Larry Berrio, a resident of Valley East and who is recognized as one of Sudbury's most exciting performers in the music industry, shown in front of his decorated truck on the right, was the co-host of a special 3-hour live talk radio show on Laurentian University's CKLU 96.7 FM on February 8, 2010. The program is called THE LEARNING CLINIC and is on every Monday from 5 p.m. to 8 p.m. It is hosted and produced by Robert Kirwan, Publisher of Valley East Today and owner of The Greater Sudbury Learning Clinic, his private practice as an Education, Training and Career Planning Consultant. Kirwan is shown on the left.

Berrio welcomed the opportunity to do the show with Kirwan, only two days after the official launch of his new video, "Rock Town", which was released during a grand ceremony at Science North on February 5, 2010. The launch was attended by 350 people, all who were there to celebrate the launch of the video ROCK TOWN which was dedicated to all miners and people working in the mining industry.

Kirwan first met Larry Berrio in June 1997, just before he released his very first CD, "Living A Dream" which was the start of his career as country music entertainer. Before that, Larry was the owner of a company called "Larry's Graphics". Music was a part-time job until he released "Living A Dream". A copy of The Vision Paper which carried the article, can be found at the end of this article.

During the radio show, Larry Berrio shared his life story with listeners and explained what young people can expect if they want to follow his path in the entertainment industry. THE LEARNING CLINIC is a program that provides students and parents with information that may help them in making important life decisions with respect to education and career development. In addition to bringing in groups of students from area secondary schools, Kirwan also invites people such as Larry Berrio to appear on the show to talk about some of the challenges and offer some suggestions regarding their own careers.

During the show on Monday, February 8, 2010, Larry Berrio talked about how his new video was produced, explaining how he was able to secure funding from supportive people in the Greater Sudbury Area. He also played his hit song, "Rock Town", and explained the story behind that recording. Rock Town is expected to be extremely popular with the over 2 million people across the country who are involved in the mining industry.

Berrio also announced that he will be the "headliner" at the Knights of Columbus Country Fair which is held every July at the K of C fair grounds in Hanmer. For now, he will be doing an extensive "radio tour" across the country promoting his CD, RPM.

Jeff Sheppard, Larry's manager who resides in Kitchener, was also called during the show. He explained some of the plans that are in place for the spring and summer as they get ready for a major awards show that Larry will be playing at this summer. The show will be broadcast across the country and will give Berrio the exposure he needs to take his career "over the top".

Larry Berrio has been compared by many as a "younger Garth Brooks". He has a passion for entertaining live at concerts and outdoor festivals, and still gets a rush when he has a chance to play in one of the country bars in Sudbury or across the country. "I love being close to the fans, and you really get close to them in a bar. The fans just love being able to talk to Larry following the show and he always finds time to speak to them and make them feel special. Larry also explained why he deliberately selected ten songs for his new CD that are all fast-paced. He stated that he wanted to be able to perform every one of his songs live on stage. He said that when people come out to a show they want to see a high-energy entertainer. They don't come out for slow songs.

Larry gives a lot of credit for his success in the music business to his parents, Oliver and Judy Barriault, of Val Caron. Oliver was interviewed over the phone during the show and expressed his pride in what his son has been able to do. Oliver worked his entire career with Inco, so he was especially thrilled when Rock Town came out. "Larry's song really captures what it means to be a miner. There is nothing like the camaraderie you find with a group of miners. It is something that this city was built upon and it is what newcomers notice the most. The people here care for each other and welcome you with open arms."

If you missed the show, you can download the entire three hours by going to the archive section of www.cklu.ca Select February 8 from the calendar and put in the starting time as 17:15 ( which is 5:15 p.m. using the 24 hour clock). Put 180 minutes as the duration and save the show as an mp3 file on your computer. You can then play it with your media player.

It has been a long, hard road for the past 12 years for Larry Berrio. He now has his second CD under his belt, a fantastic video, and has also produced the theme song for a national hunting show called, "In The Rough" which is carried by Global every Sunday morning. The theme song of the same name is also on his new CD, RPM.

If you want to find out more about Larry Berrio, visit his web site at www.larryberrio.com

ARTICLE ON LARRY BERRIO FROM JUNE 4, 1997
Written in The Vision Paper by Robert Kirwan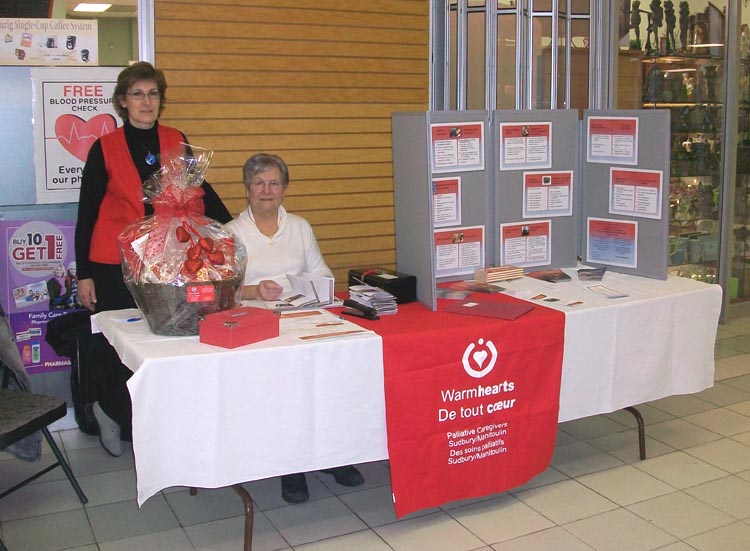 Hospice Palliative Care Volunteer Training Offers Local Residents A Chance To Take Part In A Rewarding Experience
Jeannette Carrier, Volunteer Coordinator of Warmhearts Palliative Caregivers of Sudbury/Manitoulin, and one of her volunteers, Jean Manuael, were seen at area malls recently selling raffle tickets on a beautiful Valentine Sweetheart Basket. Here they are shown at the Hanmer Valley Shopping Centre.
They were also letting the public know about the work that the members of the Sudbury/Manitoulin Palliative Caregivers do in the community. They do a lot of fund-raising and public awareness, but their main mission is to improve the quality of life for people who are going through end-of-life challenges, regardless of illness. You can find out about their work by visiting the web site at www.warmhearts.ca
If you are interested in working with the Sudbury/Manitoulin Palliative Caregivers, you can take part in a 30 hour training course which starts on and April 9 (French) and April 16, 2010 (English).

Valley East Facebook Group Growing In Popularity As Hundreds Of Current & Former Residents Use The Internet To Keep In Touch
The popular social network site, Facebook, now has a special group section that will allow current and former residents of Valley East to keep in touch with a click of a mouse. Valley East is a group that was created during the second week of January and had grown to over 700 members by February 9.

Each day more and more people are joining up as the word spreads and "friends" of "friends" are invited to join. The Valley East Today Online Newspaper is also being distributed to members of the new group which will make this site even more valuable, especially to those who now live in far away places.

For example, one of the members is Sandra Umney, shown in the photo on the right, who many of you will remember as Sandra Laliberte. Sandra graduated from St. Anne School in Hanmer in 1979 and is now teaching english in a secondary school in the UK. Sandra discovered her former teacher, Robert Kirwan, through Facebook after being out of touch for over thirty years. Many local residents will remember Sandra and now have a chance to communicate with her through the Facebook group.

If you would like to become a member of that group, just go to the top right hand side of this page and click on the Valley East Face Book Group button, or click on the button below. If you are not currently a member of Facebook, you will have to join. There is no cost to join Facebook and it will definitely be something that will have you wondering why you didn't join a long time ago.

Student Group Plans On Promoting Safe Driving All Year Long

If you would like to read hundreds of stories that have been published over the years on Valley East Today, visit the Living History Archives by clicking on the button below. Stories go back for up to six or seven years with plenty of photos that will bring back memories.

NEWS & VIEWS is a special section of Valley East Today that will be devoted to summarizing events and issues that will have a major impact on our community. We do not intend

to make this a "Current Events Section" since that is best left up to daily and weekly news publications.

READERS' FORUM has been created as a special section of Valley East Today where readers can express their opinions on any topic they wish or pose questions to the editor and other readers. We hope that this section will result in a healthy exchange of opinions from local residents on issues that they find important. If you wish to participate in READERS' FORUM, all you have to do is send an email to the editor. Click on the box above to enter.

Austin Powell and Amanda McCutcheon, both Grade 11 students at Confederation Secondary School, were special guests on The Learning Clinic Radio Show, hosted by Robert Kirwan on Laurentian University's CKLU 96.7 FM in December. The two are members of the Ontario Students Against Impaired Driving Group from Confederation Secondary School and were representing over 40 fellow students who have joined the group which was started by Teacher Supervisor, Ashleigh McBain in the fall of 2009. During the show they spoke about how it was the death of three young teenagers in a tragic accident in Valley East on June 21, 2009.

Steven Philippe (16) and Jazmine Houle (15), who both attended Confederation secondary school, were walking along the side of Hwy 69N in Hanmer with their friend, Caitlin Jelley (15), when all three were killed by an impaired driver. Students at the school have shown tremendous support for the activities being organized by the OSAID group as the students try to raise awareness among community members of the need for people to be more sensible when it comes to driving while being impaired in any way. They stated that while alcohol is often the root cause of accidents where impairment is a factor, cell phones, loud passengers, medication, and a long list of other things that can reduce one's ability to focus on driving.

The purpose of OSAID is to make students aware of the choices they make when drinking and to make responsible decisions. The students from Confederation will be raising money all year long to send representatives to a provincial conference in Toronto on the first weekend of May 2010. There they will take part in developing leadership skills and be trained in approaching peers and the community with the issues and seriousness of impaired driving.
Mother of Two Young Children Decides To Venture Forth Into The World of Business In Search of a More Balanced Lifestyle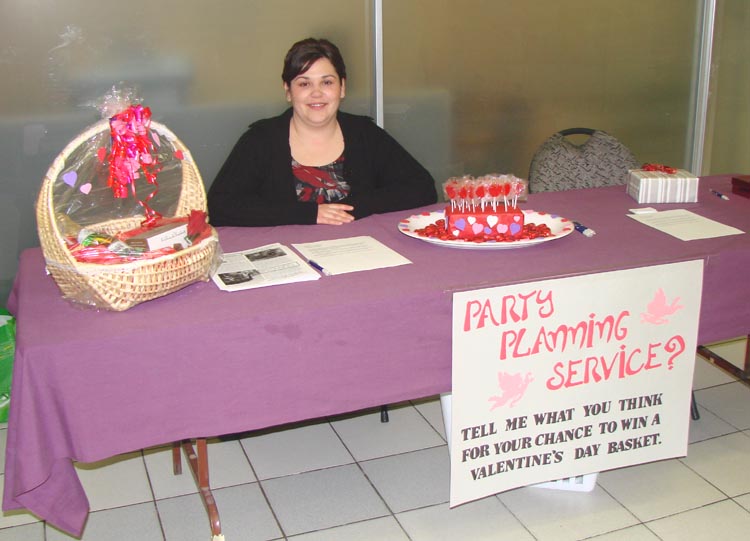 Melanie Giroux, a mother of two young children, Caleb (4) and Noah (6 months) has been working for almost ten years. She graduated with a diploma in Social Work from Collage Boreal and subsequently worked in that field for a couple of years. For the past seven years she has been working as an Educational Assistant for one of the local school boards. During that time, her and her husband, Dan, have enjoyed life raising their two children in Valley East, where both her and Dan were born and raised.

Now, Melanie and Dan want more from life. They want to enjoy their children and long for a more balanced lifestyle. Hence, Melanie has decided to explore some options for starting a home-based business so that she can help contribute to the family income and still be available for her children as they grow up.

On January 30, 2010, Melanie set up a display at the Hanmer Valley Shopping Centre to see if there is a need for a Party Planning Service in Valley East. Her party planning services would involve all aspects of planning a party from invitations to decorations to entertainment. Types of parties planned would include birthday parties, theme parties, anniversaries, Christmas parties, baptism/christening, graduations, etc. She would also plan children's parties that would include invitations, loot bags, balloons, cutlery and plates, napkins, games and/or craft projects.

As part of her survey, Melanie interviewed shoppers to find out if such a business venture would be viable and to determine how much people would pay for these services. Whether Melanie starts up the party planning service or not will be decided by the feedback she receives from her surveys. However, what Melanie has decided is that she definitely wants to start her own business. She just needs to decide what that business will involve. You can download a copy of the survey by clicking here>>>>. You can also call Melanie at (705) 969-8251 for more information.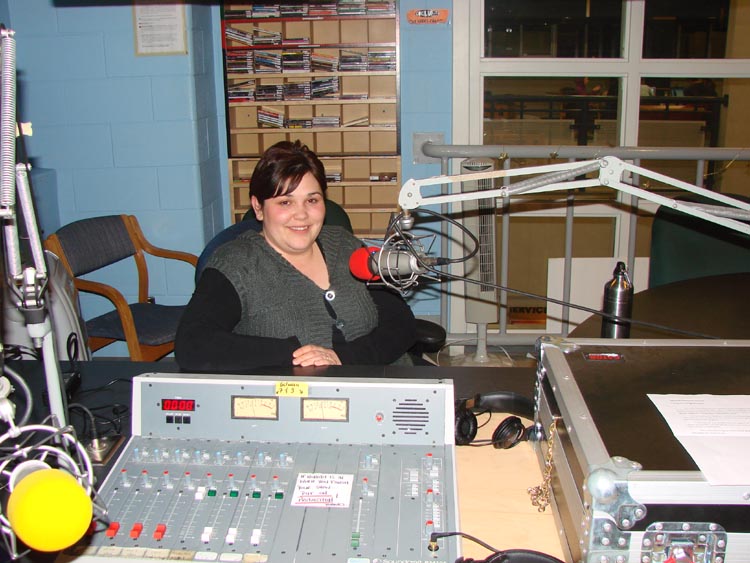 Melanie was also be the special guest on THE LEARNING CLINIC, a live talk radio show that is hosted by Robert Kirwan on CKLU 96.7 FM every Monday evening from 5 p.m. to 8 p.m. THE LEARNING CLINIC is a show that deals with education and career development. Melanie appeared on the show on Monday, February 1, 2010 from about 6:15 p.m. to 7:30 p.m. She shared her story about how people her age are now beginning to consider small business start-ups as a viable option to working as an employee for the rest of their life. She moved to Valley East from Timmins at the age of 2 and plans on raising her children her as well. After graduating from Ecole Secondaire Catholique l'Horizon in Val Caron, Melanie obtained a Diploma in Social Work from Collage Boreal and a Youth and Child Worker Diploma afterwards. She has spent the past six or seven years working as an Education Assistant and will continue to do so after her maternity leave ends. Her goal is to set up a home-based business on a part-time basis and eventually build it up to the point where she may be able to work part-time or devote full-time to the business. If you happen to miss the live broadcast of the show, you can go to the web site at www.thelearningclinic.ca and find out how you can download the entire show onto your own computer.

Hanmer Valley Shopping Centre Continues To Provide Central Communication Site For Community

The community bulletin boards in the east wing of the mall are filled with notices, posters and information in general about organizations, schools and churches. Shoppers stop by frequently to read the notices.
Local schools are always invited to set up information display exhibits in the hallways. Here Ecole Notre Dame lets the public know about their kindergarten registrations in the spring.

Georgette Bergeron Seeks Help From Local Residents To Help Rebuild Mission In Haiti Following Devastating Earthquake

If You Want To Help Georgette, Read The Article Below and Contact Her For Information.
Georgette Bergeron is well known in Valley East as the President of the Cercle Missionnaire de la Vallee, which was established in 1991 by a group of persons in the Valley who had the desire to help the less fortunate not only in the region, but also in Haiti. Since that time, Cercle Missionnaire de la Vallee has been sending supplies to Sister Therese Lamoureux m.c.r. at Cardinal Leger Hospital in Sigueneau, Haiti. She in turn has been distributing the goods to those in need to help with schools, hospitals, housewives and their families, crafts-men and crafts-women and gardeners just to name a few. Funds raised have paid for a number of houses or their repairs, and for some wells. Unfortunately, Sigueneau is located just 30 km to the west of Port-au-Prince, and was hit hard by the recent earthquake. The convent, hospital and warehouse which was used to store the goods shipped to the mission were all destroyed and must now be rebuilt. Georgette has a full shipment ready to be sent once the word is given that the sisters will be ready to receive it. Now, what is needed most are donations of money to help reconstruct the facilities and give the less fortunate hope in this desperate time.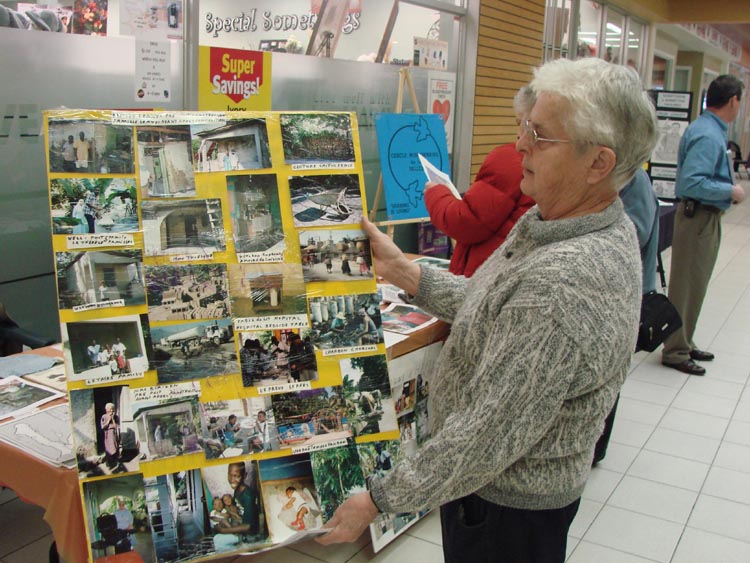 The earthquake in Haiti has brought world-wide attention onto the plight of Haitians. However, Georgette is quick to point out that there were major problems even before the earthquake hit. She stated that Haiti is not only the poorest country in the Western Hemisphere but it is also the only one that falls into the category of a "third-world country". Haiti is also the second most food insecure country in the world. Remember that this was all before the earthquake.
Haiti has a population of 10,000,000. Things are so bad that life expectancy is only 49 years, and a child born in Haiti has a 21% chance of dying before his/her 40th birthday. 59% of the people are illiterate and over 500,000 children have no school to attend. In addition, over 300,000 children are forced into slavery. 78% of the population has a yearly salary of less than $730 and only 28% of the population has access to safe drinking water with 46% of the population being considered as undernourished. The entire country has only 60,000 telephone lines for a population of over 10,000,000. This means that there are only 3 phones for every 500 Haitians. With respect to crime, consider that the National Penitentiary was built to hold 400 prisoners. However, there are 3330 prisoners in the facility, and 90% of the prisoners have not had a trial.
This is a country that needs help. If you wish to make a donation to help Georgette and the Cercle Missionnaire de la Vallee help the Haitians, give her a call at 969-2192 and she will tell you how you can be of assistance.