CONFEDERATION SECONDARY SCHOOL
Keshia Chante & Evolutionary Band Help Local Elementary Students Celebrate Reading
Mme Helene Berthiaume's French Immersion Students From Confederation Secondary School Write About Their Trip To Europe During The March Break 2007
Kelsey Patterson Has Chance To Earn Bursary By Volunteering Her Time To Recruit Blood Donors
Tasha Devost Follows Her Heart In Deciding On The Right Career Path
Confederation Secondary School Music Program Runs State-Of-The-Art Recording Studio
Confederation Secondary School Students Help Fill The Shelves Of Local Food Banks
Pet Palace Takes In Co-op Student From Confederation Secondary School
Spaghetti Dinner Tickets For Valley East Lions Charity Days Now Available From Confederation Secondary School Travel Group
Keshia Chante & Evolutionary Band Help Local Elementary Students Celebrate Reading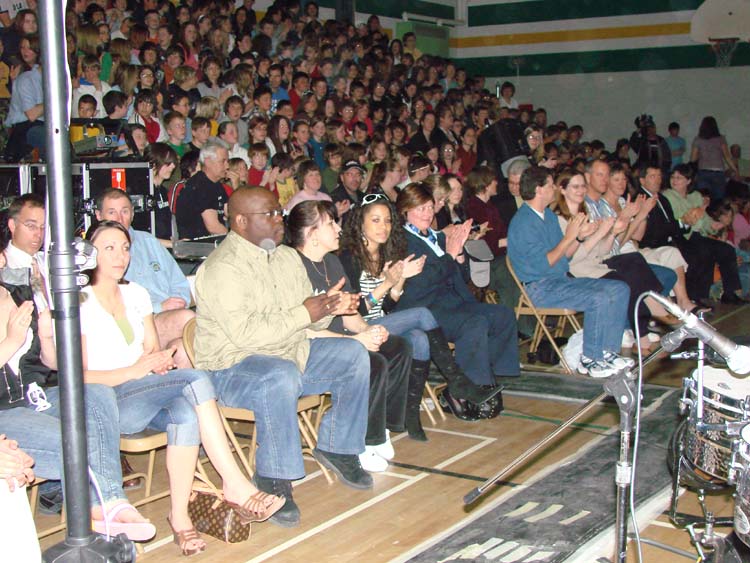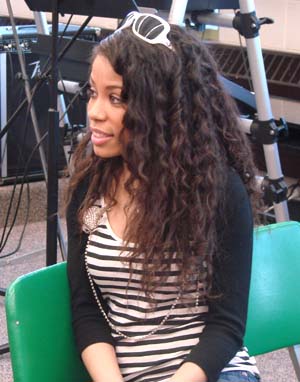 One of Canada's fastest rising music stars will joined Confederation Secondary School's Evolutionary Band to promote literacy in Rainbow Schools on April 20, 2007.

Keshia Chante, on the right, was in the audience when this year's Reading Rocks Concert hit the stage at about 1 p.m.

Above, she is shown in the middle of the picture with sunglasses on top of her head, acknowledging the introduction of the band by Norm McIntosh, Music Director at Confederation Secondary School and director of Evolutionary.

Grade 3 to 8 students at Redwood Acres Public School, Pinecrest Public School, Valley View Public School and C.R. Judd Public School who reach their monthly reading goals were in attendance. You can see some of the crowd in the photos above and below. Over 1,000 students attended the event.

"Keshia Chante is a name kids recognize. She is already an accomplished Canadian artist despite her young age (18), an excellent role model for young people," says Evolutionary's Music Director Norm McIntosh.

During 'Reading Rocks', Keshia congratulated the students on recognizing the importance of reading and encouraged them to read often in the years to come. will promote the value of a good education and will talk about the importance of reading." While at the school she was interviewed for a documentary on Evolutionary - the Real School of Rock and spent about an hour before the concert "hanging out" with members of the band."

Keshia Chante was a 2006 Juno nominee for R&B/Soul Recording of the Year - a Juno Award she won in 2005. She has many honours to her credit including Urban Music Awards, the Rising Star Award and a Canadian Radio Music Award. Her self-titled debut album produced a number of Top 10 radio singles including "Shook-The Answer," "Unpredictable," "Bad Boy," "Does He Love Me" and "Let the Music Take You." Keshia's debut album surpassed Gold sales in Canada. Currently signed to Sony/BMG Canada, her latest album "2U" is already garnering attention in Canada and in the United States.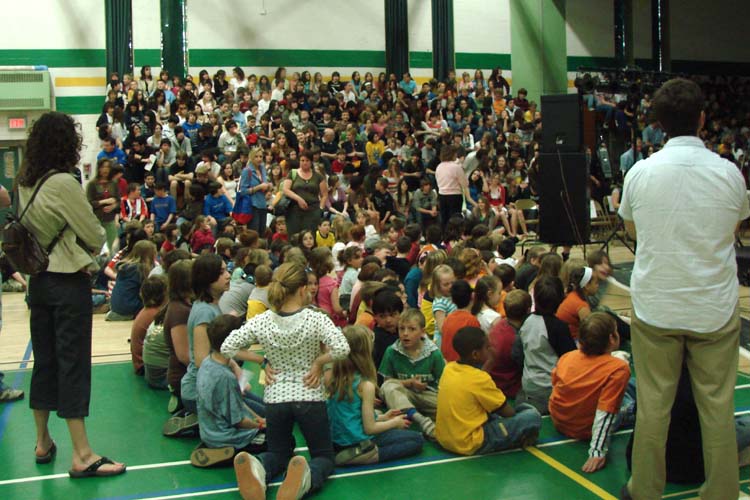 "Promoting reading among children has become a tradition for Confederation Secondary School," says Principal Mike Mirka. "Our entire community benefits when children improve their literacy skills, the very foundation for learning. Every year, 'Reading Rocks' gets bigger and better with the support of professionals in the music industry and our very own Evolutionary Band."

Participating schools have implemented a number of strategies to encourage reading among their students including book clubs, daily silent reading programs, night time reading at home, book bags, guest readers in schools, reading buddies, and independent reading incentives. Each school has developed an individual plan to promote reading that involves students, parents/guardians and community members. School Councils have provided invaluable support for the program since its inception, ensuring ongoing success.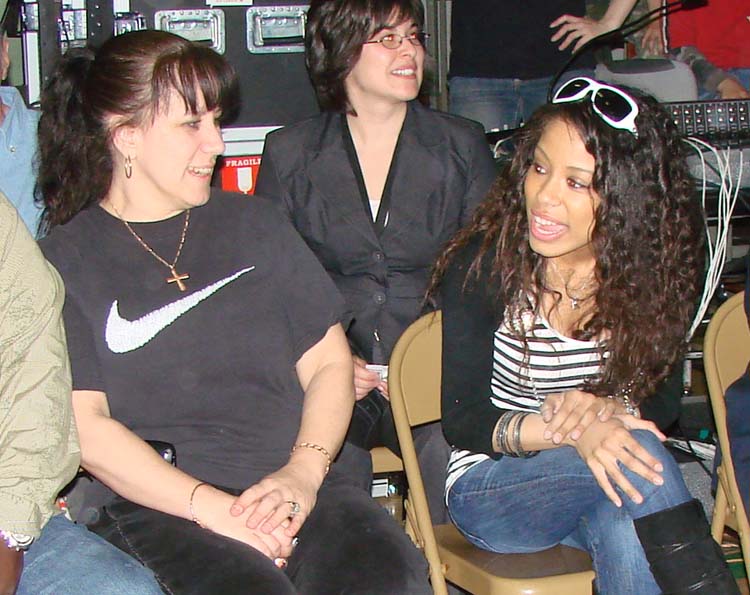 Above, Keshia is shown with the most important person in her life - her agent and mother, Teresa Angnelo. Behind them is Confederation's Tiffany Roberts.

Keshia was only 13 years old when she started her professional career as an entertainer. When she turns 19 on June 16, 2007, she will have lived what observers would call an amazing period of growth and development, not only as a singer, but also as a person.

"My fondest memories of elementary school are of talent shows and school plays," Keshia recalled. "I remember what it was like being in school. You are exposed to everything, but the thing I loved the most was reading. It is something that I still do a lot and I would do anything to help promote reading to school children. That is why I am here today."

Although Keshia required a tutor during her final year of secondary school, missing over 150 days while on tour, she is still proud of the fact that she graduated with her classmates and ended up with an average of 98% in both math and english.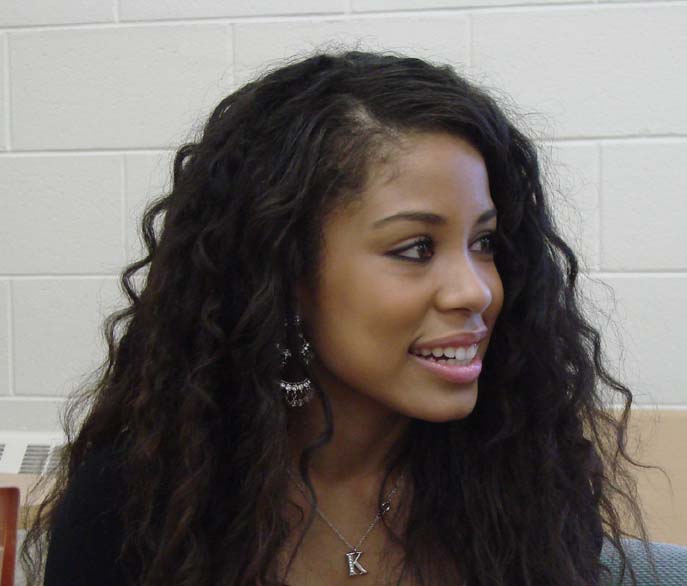 Keshia knows that her career on stage will one day come to an end, but she is becoming an expert in the business side of the profession as well. "I have a number of goals that I set for myself, and one day I want to be involved in the marketing and branding of other young singers, helping them on to successful careers."

Indeed, Keshia is constantly growing and evolving despite her young age. Her 2nd album is coming out in December and she is working on her 3rd single. She also had a diamond jewellery line coming out soon.

The message she left with the members of the Evolutionary Band and with the students who were on hand to celebrate reading was clear. "Follow your dreams and cherish your education. That is one thing that noone can take away from you.

We will all be watching Keshia's career unfold with great interest - a remarkable talent, and a more remarkable young lady.
Mme Helene Berthiaume's French Immersion Students From Confederation Secondary School Write About Their Trip To Europe During The March Break 2007
Written by Adam Leger: To go to Europe is a great trip on its own, but to go to Europe with your friends and classmates makes it the trip of a lifetime. On March 7th I was on my first trans-Atlantic plane ride, it took me from Pearson International to Frankfurt in just one night, or morning if you go by their time. From there, after a few hours wait, we flew trans-continental over a few select countries to Roma, the capital city of Italy . Our first real day in Europe was filled with sight-seeing: we visited the Vatican City , the smallest independent state in the world. Our next stop was the Coliseum, where the gladiatorial contests took place. We also saw the old ruins of Rome , the traffic in Rome , the Spanish steps, the packed subways, or as they call it, the Metro, the Trevi Fountain. That evening, we all went back to the Vatican City to see it lit up at night. Our next visit was to Assisi , a town in Italy where great olive oil is made. We stopped there on our way to Florence , the leather capital of the world, where great wallets and purses are made. After leaving Florence , we crossed the French border after dropping by to see the Leaning Tower of Pisa. The first day in France was spent traveling to another county, Monaco (the best country, after Canada , in the world, as far as Iím concerned). Also while in Nice, we visited a chocolate factory, a perfume factory, and the Mediterranean Sea . Our last two days were spent in Paris , shopping, visiting the Louvre, the largest museum in the entire world, the Eiffel Tower and a few select cathedrals. The trip was capped off by another trans-Atlantic plane ride, my second one in two weeks, and a not-so-great plane meal.
The trip to Europe that I experienced was fun and unforgettable. I would do it ten thousand times over. With the same great people: students and teachers. It truly was the trip of a lifetime.
Written by Chris: During the March break in 2007, my fellow French Immersion classmates and I visited Europe .

We visited Italy and France , two very remarkable countries in their own right.

In Italy , we toured around Rome , Vatican City , the region of Tuscany , Assisi , Pisa and Florence .

In France we visited Nice, Versailles and Paris .

It was an extremely memorable experience and the memories of the trip are definitely going to stay with me my entire life.

The values and the culture of Europe are quite different from those in Canada .

For example, the Europeansí main meal is usually around lunch hour, and the equivalent of our lunch is their dinner.

This shocked the students in the group because we were not used to this routine, and we had to get used to it for our time spent in Europe .

The architecture of the buildings was amazing, and the houses and buildings do not resemble those of North America , but rather of the Middle Ages and the Renaissance.

There were pillars carved out of marble, and the churches were as immense as our biggest one in Canada , but in Europe they are in every small town.

This was an eye-opening experience because even in the small towns we visited, there was a huge cathedral, with remarkable carvings, paintings, and tapestries.

This trip definitely will stay with me for the rest of my life, and I recommend everyone to visit Europe .

As far as I am concerned, it is the most technologically, culturally, and sociologically advanced continent on Earth.
Kelsey Patterson Has Chance To Earn Bursary By Volunteering Her Time To Recruit Blood Donors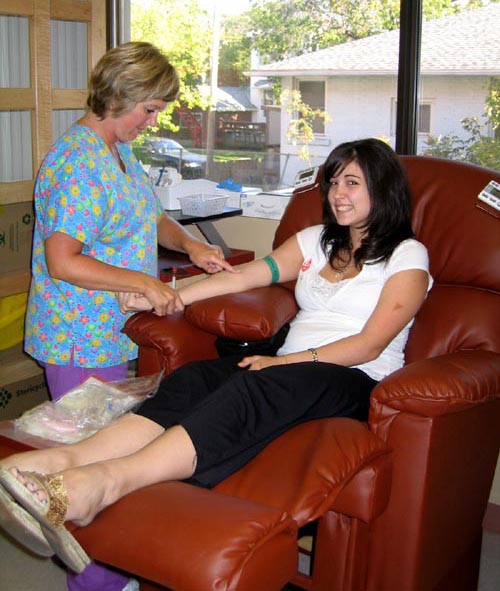 Seventeen year old Kelsey Patterson, a Grade 12 student at Confederation Secondary School in Val Caron, hopes to enter the University of Guelph in September 2007 in search of an eventual PhD in Psychology. In order to help raise money for her education, Kelsey has volunteered to participate in the Bloodstock 2006 Program with the Canadian Blood Services Sudbury Branch.

According to Brandy Duhaime, Communications Specialist in Northeastern Ontario with the Canadian Blood Services, in order to meet the challenge of collecting blood during the summer months, Canadian Blood Services invites Grade 11 and 12 students in the City of Greater Sudbury to become blood donor recruiters. Student recruiters, like Kelsey, are then required to sign up a minimum of 25 blood donors who will donate between July 4 and September 1. If successful, the student's name is placed in a raffle for Education Bursaries of from $250 to $1000, to be used upon graduation from high school.

For Kelsey, it has been quite an experience. "I find it very rewarding to talk to people about donating blood. For example, one unit of blood can be used for up to three different patients. A lot of people are not aware of that. I plan on becoming a regular blood donor and will be giving my first donation on my 17th birthday." Kelsey was true to her word and is shown above with Health Worker, Shiela Gravelle, who gave Kelsey a birthday to remember. Kelsey gives the thumbs up to show that everything was great afterwards.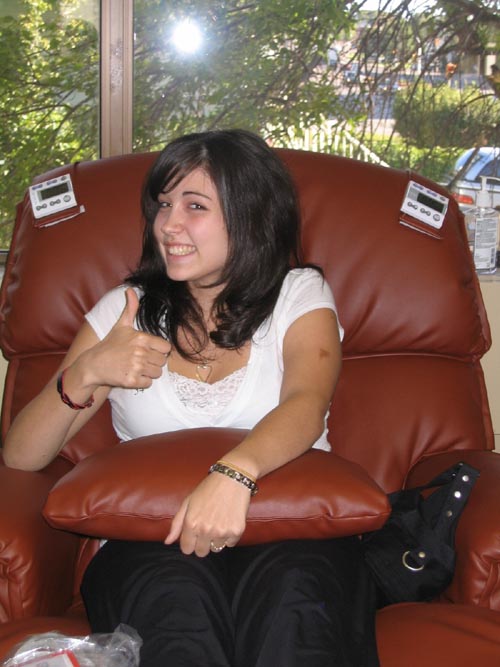 Tasha Devost Follows Her Heart In Deciding On The Right Career Path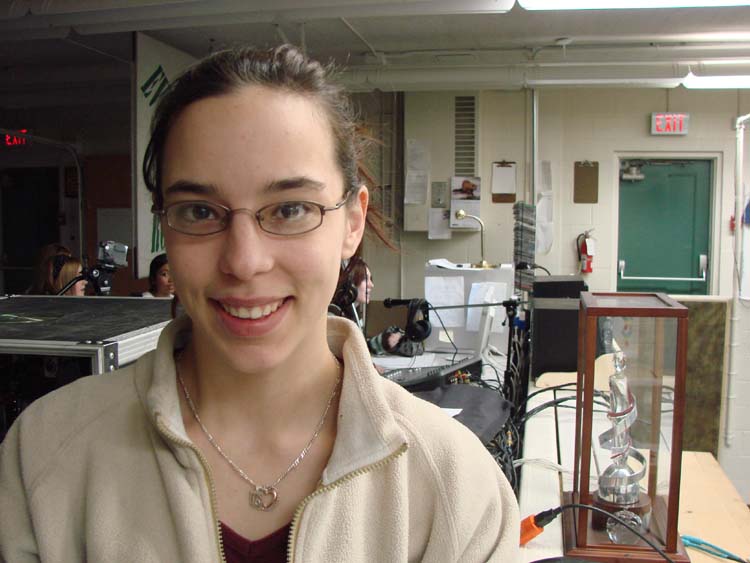 Tasha Devost, a Grade 12 student at Confederation Secondary School, is shown in the school's recording studio with Lianne Caron, a Grade 11 recording engineer in the background.

Tasha has always dreamed about one day being a famous performer.

"When I was little I was always singing and dancing, pretending to be a famous star," she reflected. "As I got older I continued to build up more and more interest in music. I've played the sax for five years and the keyboard for a year. I'm also in the Confed band."

However, when she took the first part of the Music program last year, Tasha discovered something.

"I realized my own personal limitations when it came to performing, and know that it would be unrealistic for me to try to get into a career on stage, but when I took Mr. McIntosh's music class I discovered that I could still make a career out of my passion for music on the technical side," this very mature young lady explained.

"I've decided that I am going to go to college next year to become a recording engineer," stated Tasha. "What I've found is that I totally enjoy editing and adding technical enhancements to a recording. The best part of it is when you let a person listen to the CD that you have just worked on. When you see how good they feel about the creation you have worked on, it gives you a real special feeling. I know this is what I want to do for a living and I am so glad I took Mr. McIntosh's music course to discover what I can do with my life."

For Tasha, performing magic by editing and adding special effects to a recording gives her as much satisfaction and should lead to a very rewarding life in the music industry.

If you link to the CAREER PLANNER web site you will see that Tasha is taking the right steps to ensuring a great future.

Confederation Secondary School Music Program Runs State-Of-The-Art Recording Studio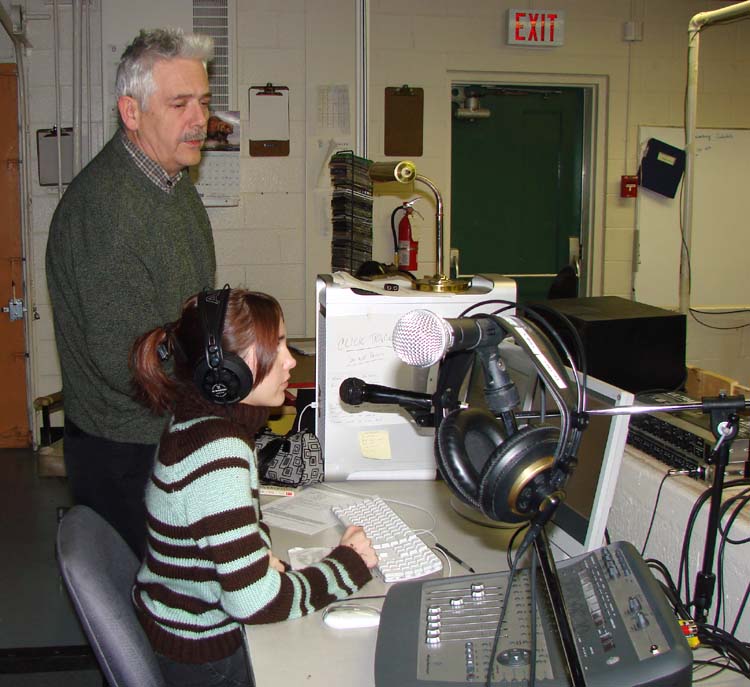 "A Solid Music Program Helps Students In Many Other Disciplines" According to Norm McIntosh, Music Director at Confederation Secondary School who doesn't hesitate a bit when asked what he likes most about music.

"I love live bands," he exclaims. "There is just something about a live band which captures the essence of music and that is why I have devoted my entire career to this segment of the industry."

Norm is shown with one of the students in his Music class, Lianne Caron, who is a "Recording Engineer" in the State-of-The-Art Recording Studio that was built with the help of a $23,000 Trillium Grant from the Valley East Lions Club. Lianne, who is in Grade 11, watches carefully while two students from Pinecrest Public School (see article below) record their song for a CD that was being produced by the class. Approximately one group or individual per week comes to the studio each week The school asks for a donation of $25 per hour, which includes the time in the studio to record the music, complete editing and technical refinement of the recording, transferring the music on to a CD and the finished product ready to take home in about two weeks. For about $50 you can record an entire CD and walk away with a professional product that is as good as you will get anywhere!

"This studio is one of the best kept secrets in Valley East," McIntosh declared. "We use professional equipment and recording software that is currently used in over 80% of the recording studios in the country. The studio is large enough to accommodate an 80 person choir or a single performer. We even record our Evolutionary Band here."

Despite the technological advances being made in the industry, Norm feels that as long as young people are encouraged to develop an "ear for music" there is no fear that computer generated music will replace live performances. However, he feels that music programs in schools in Ontario must continue to be funded and even expanded or students will lose a lot more than the chance to play in a band.

"It has been well documented that music students do much better in other curriculum areas. Because music is such an exact science, it develops a desire for perfection in a young person. For example, if you have a 100 question test in math and you get 90 correct, you will get an 'A' and feel good about yourself. However, if you have a 100 note musical piece and you make 10 mistakes, the end result will be terrible and you will certainly not get an 'A'," explained McIntosh.

"Another thing working in a band teaches you is team-work. If you have a 24 member band, the group is only as good as the weakest player. Therefore, you see a lot more cooperation and encouragement as stronger players help the weaker players become better. One person off key can destroy an entire performance, so there is definitely a commitment to working together as a team," McIntosh went on.
| | |
| --- | --- |
| For more stories and photos about the Confederation Recording Studio... | |
Confederation Secondary School Students Help Fill The Shelves Of Local Food Banks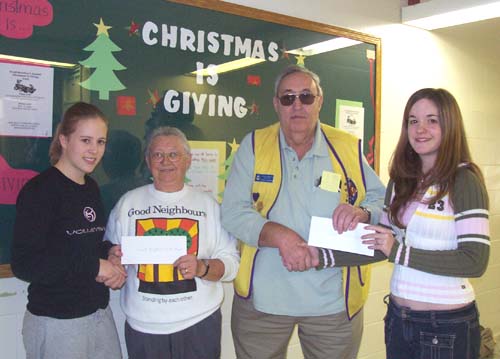 Anne Unwin, 2nd from the left, Director of the Good Neighbours Food Bank in Hanmer, and Charlie Larmondin, of the Capreol Lions, gratefully accept cheques from Stephanie Moyle, left, and Laura Cirelli, far right. The 16-year old Grade 11 students from Confederation Secondary School were presenting each of the two organizations with cheques amounting to $320. The $640 was donated from the staff of the school. This was on top of the 1257 food items that were already picked up from the school following a two-hour canvassing blitz in the communities of Valley East and Capreol on December 7.

Stephanie and Laura are both Ministers of Public Affairs with the Student Parliament. They along with fellow Grade 11 classmate, Amanda Alcock, 2nd from the right in the photo below, spearheaded the food drive, which has been done annually for the past 24 years at the school.

Ms Tiffany Roberts, who teaches Grade 10 and 12 English, was the Co-Chair of the initiative along with Ms. Pat Miller, a Special Education Teacher at the school.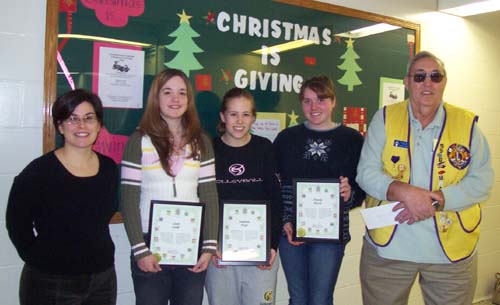 In recognition of the volunteer work, the three girls were also awarded with special Certificates of Volunteerism from Ray Bonin, MP for Nickel Belt.

According to Larmondin, "When we lost our high school in 1996, it left a big hole in our Christmas food drive campaign. However, Confederation Secondary School immediately took up the slack and ever since then has included us in their annual drive."

Some students canvassed for food in Capreol during the blitz, thanks in large part to the free bus transportation that was provided by Northway Bus Lines for the event. The Capreol Lions will deliver 74 Christmas hampers to needy Capreol families.

Other companies that deserve special thanks for their contributions on "blitz day" include:
Valley Growers who donated one hundred 10 pound bags of potatoes;

Tim Hortons (both Val Caron and Hanmer Valley Shopping Centre locations) for providing timbits, hot chocolate and cookies to the canvassers;

Canun International for providing the boxes in which to pack the food:

Northway Bus Lines for providing free bus transportation for the canvassers.
Amand Alcock commented, "It is sad to see that this is needed, but it is nice to see that people in the community were so generous."
According to Laura Cirelli, "I was surprised at how much time was involved in organizing this food drive, but it was worth it because we were so successful."
For Stephanie, it was a very rewarding experience. "Everyone worked hard and it all came together. It was very satisfying to see the results."
Ms Roberts and Ms. Miller were very proud of the students for their efforts to make Christmas a little bit better for so many people. However, everyone involved agreed that more must be done by the community to address the underlying problem of poverty that inflicts so many people in our society today. Canada is a land of abundance, so it is not acceptable that so many people have come to depend on food banks for sustenance.
Once again, however, the students of Confederation Secondary School have come forward when needed and it was much appreciated by Ann Unwin and Charlie Larmondin as well as the people they represent.
Pet Palace Provides Coop Student With A Great Practical Experience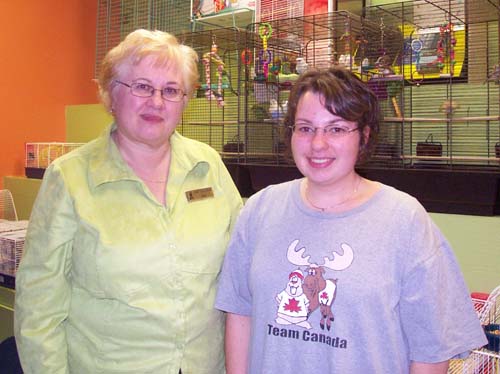 Lisa Froemmel, owner of Pet Palace on the left, is shown with, Janeen Guenette, a Co-op student who has been working every afternoon from 12 noon to 3 p.m. at the store since September 2005. Her last day was to be January 26, 2006.

Janeen graduated from Grade 12 at Confederation Secondary School in June 2005, but like so many of her peers, decided to return for a 5th year to take several other courses, and in Janeen's case, get some practical experience through the school's coop program.

"I would like to give recognition and credit to the entire staff at Pet Palace and thank them for taking me for my coop course," stated Janeen. "This has been a wonderful experience that I would recommend to all high school students when they are in Grade 11 or 12."

Janeen will be attending the Cambrian College Building Bridges Coop Program in September.

"I love animals," explained Janeen when asked why she wanted to work at Pet Palace. "I've owned 6 hamsters, 6 birds, 3 rats, and tons of fish. Besides, the store is within walking distance of my home and Lisa has known me since I was very young."

Co-op students are expected to perform all of the duties and responsibilities of a regular staff member, while under the supervision of the staff. Therefore, Janeen not only had a chance to work with the animals, she was also very helpful with customers and learned everything there is to know about running a retail pet store.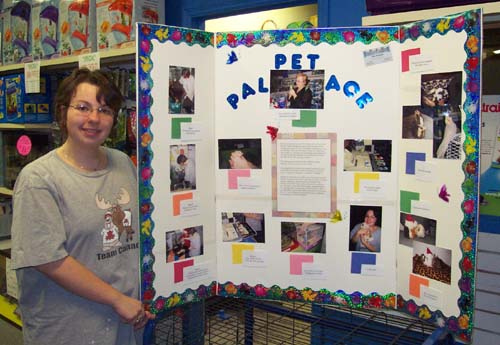 Janeen developed the above display board as part of a presentation she made to her teacher, Mr. Earl Cote, and during an open house at Confederation Secondary School. There were over 30 students in the co-op program during the first semester, so it is evident that more and more students are taking advantage of this opportunity. Students who participate in a co-op program receive 2 credits towards their Secondary School diploma.
SPAGHETTI SUPPER DINNER TICKETS FOR VALLEY EAST LIONS CHARITY DAYS NOW AVAILABLE FROM CONFEDERATION SECONDARY SCHOOL GROUP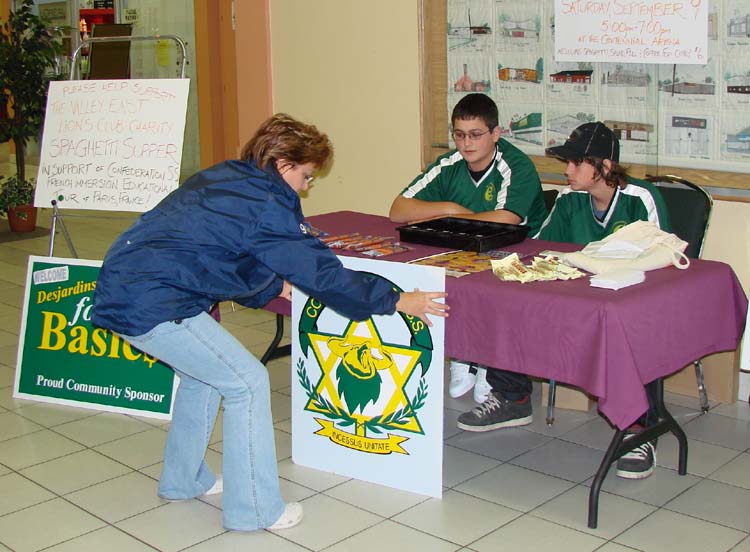 The Confederation Secondary School French Immersion Educational Tour group is now selling tickets to the Spaghetti Supper which will be one of the highlights of the Valley East Lions Charity Days being held at the Centennial Arena in Hanmer on Saturday, September 9, 2006. Tickets are only $6.00 each. For this you get a full plate of spaghetti, salad, a bun and coffee. Companies, businesses and organizations are encouraged to consider purchasing a whole table of eight seats for only $48.00. The food for the Spaghetti Dinner is being provided by Desjardins' Food Basics so that the entire proceeds of the event will go to help the Travelling Group.
If you are interested in purchasing tickets to support the Confederation Secondary School French Immersion Educational Tour, you can contact Gisele McCue at 969-3996.
In the above photo, Gisele is shown putting the final touches to the display table at the Hanmer Valley Shopping Centre on September 2. Two of the students who will be going on the trip next March were on hand for the day selling tickets. The students, Chris Burns on the left and Ian Henri on the right, are both going into Grade 11 this year. They are looking forward to the trip which will take them to France and Italy during the March Break.
Other fund-raising activities will be held during the year so that the students can earn money to pay for the trip, but more importantly so that they can develop communication and employability skills which will benefit them in their quest to become prepared for a career after they complete their formal education.