CHAPTER EIGHTEEN
Back-To-Church Sunday Is An Attempt To Raise Awareness of The Need For Higher Moral Values

Ken Kauffeldt & Paulette Carierre Capture 2008 Club Championship
Parkside Senior's Display Encourages Older Adults To Stay Active
Local Writing Enthusiasts Had Chance To Talk To Self-Published Author
City Transit Comes To The Valley

Mike Lemieux Wins First Annual Valley East Men's Open

Mixed Slo-Pitch League Having Another Excellent Summer!
Laurentian University's Radio Station Is Now "Streaming" Across The World
The Future of Golf Display Their Talents At Annual Mini Masters Tournament
The "Boys" Continue The Tradition During Annual Slo Pitch Tournament
Marymount Academy Students Raise $900 For SPCA
Daryl Sittler Adds Colour And Excitement to 2008 Valley East Sports Hall of Fame Ceremonies
Greater Sudbury Police Service

Officers of the Rural Unit and Traffic Unit explain the "Off Road Vehicle Act"
Back-To-Church Sunday Is An Attempt To Raise Awareness of The Need For Higher Moral Values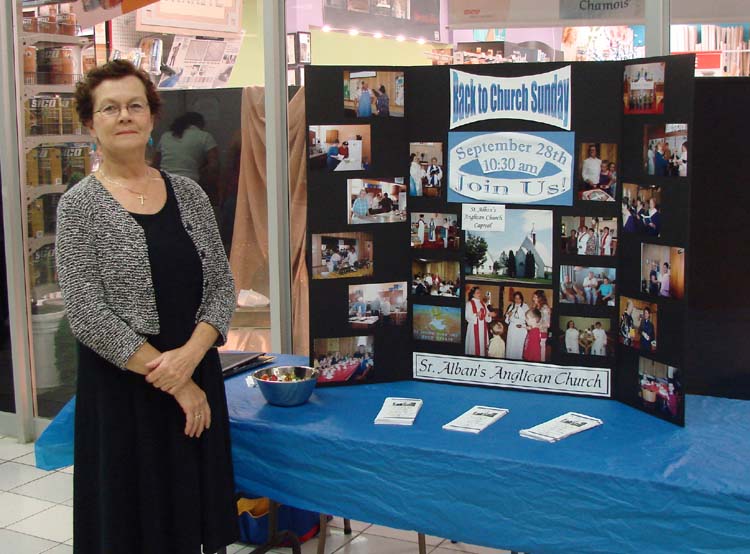 Rev. Diana M. Wilde, Parish Priest of the Church of St. Alban The Martyr , feels that the "Back To Church Sunday" movement, sponsored by the Anglican Churches throughout the world is an important step in raising awareness for a higher level of morality in our society.

Officially, Sunday, September 28, 2008 was declared "Back To Church Sunday", but Rev. Wilde is hoping that this will motivate more and more people to return to churches of all kinds and denominations in hopes of becoming inspired to live a better life and to treat others with respect and dignity.

"The concept started in the United Kingdom ," explained Rev. Wilde. "The hope was to show people who for whatever reason have stopped coming to church that we are always ready and willing to accept them back with open arms."

Rev. Wilde and several of her parishioners were in the Hanmer Valley Shopping Centre early in September talking to people about the special day and providing them with more information about St. Alban's Anglican Church which is located on Dennie Street in Capreol.

Sunday worship and Church School takes place at 10:30 a.m. followed by fellowship in the church hall. If you have any questions for Rev. Diana Wilde, please call her at 858-2550.
Ken Kauffeldt & Paulette Carierre Capture 2008 Club Championships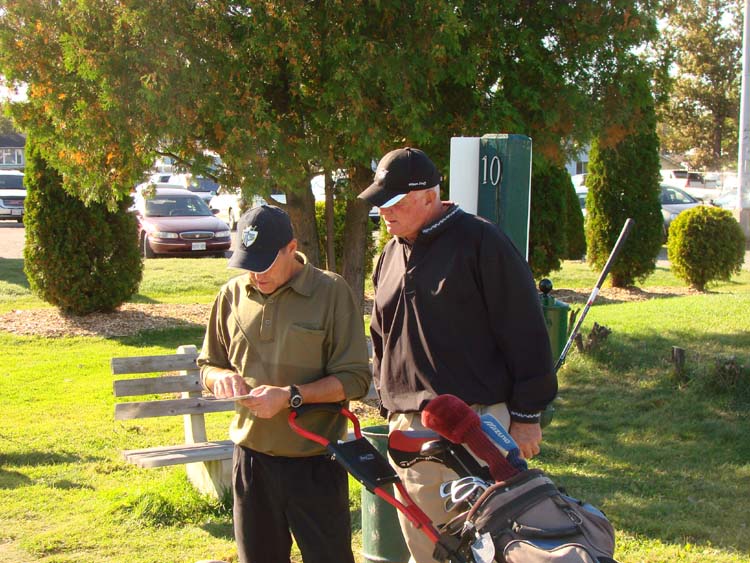 Thirty-six (36) holes were not enough for Ken Kauffeldt, on the left, and Gates Piquette to decide the 2008 Men's Club Championship. Ken entered the final day of the two-day event a full five strokes behind Gates, having fired an 80 to Piquette's 75 during the Saturday round. Kauffeldt didn't quit and played steady golf on Sunday, picking away at Gates' lead, until the 17 hole which Kauffeldt parred and Piquette bogied. The two men tied the final hole, forcing a sudden death playoff on the 10th hole.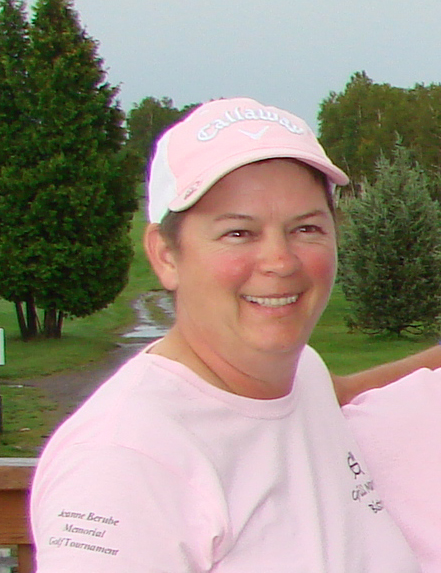 On the ladies' side, it was perennial winner Paulette Carrier dominating the field right from the start. Paulette finished up with 87 on Saturday and 79 on Sunday for a two day total of 166.
Karen Croteau came in runner-up position with a two day total of 189.
The photo below shows Ken Kauffeldt putting in the winning stroke, a bogie 5 on the 10th hole after Gates Piquette holed out with a double-bogie six. The victory was Kauffeldt's second Club Championship. He also won the title in 2005. His son, Jason, won the championship in 2006 before Peter Woitowich wrestled it from the Kauffeldt family in 2007. Ken's win in 2008 brought the title home once again.
Both golfers finished up the two-day event with 30-hole scores of 154.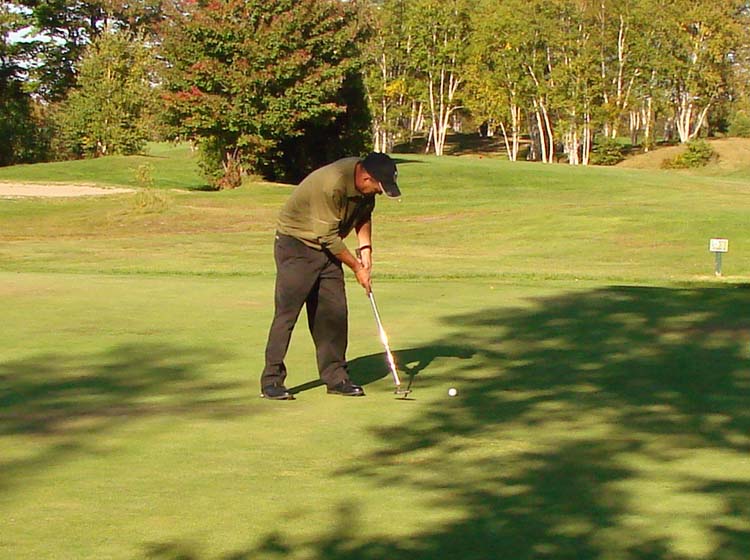 2008 CLUB CHAMPIONS

Ken Kauffeldt
Paulette Carierre
Parkside Senior's Display Encourages Older Adults To Stay Active
Debbie Daoust, Parkside Seniors' Information Line Coordinator, was at the Hanmer Valley Shopping Centre recently increasing local awareness about the important services available at the Parkside Older Adult Centre Sudbury which is located at the YMCA building at 140 Durham Street in downtown Sudbury .

If you or someone you know requires information on accessing senior services in Greater Sudbury, you are encouraged to contact the Senior's Information Line at 673-3636. Services include housing, home and yard care, government services/pension plans, respite care, fitness and exercise programs, home health care and transportation.

The Senior's line is open Monday to Friday from to and is supported by many senior service providers throughout the City of Greater Sudbury .

Visitors to Debbie's booth also picked up descriptions about some of the programs offered through Parkside. Membership is only $35 per year. With the membership you get access to drop in activities, workshops and the use of the games room. You also get reduced fees for programs at the Parkside OACS and discounted fees for the YMCA. The centre is open Monday, Tuesday and Thursday from to ; Wednesday from to and Friday from to

The Parkside OACS believes that programs and services should be available to all older adults in our community regardless of economic circumstances. The Centre offers sponsored memberships and programs to assist those individuals who otherwise would not take part in the activities and services.

For more information about the winter programs you can call 673-6227.
Local Writing Enthusiasts Had Chance To Talk To Self-Published Author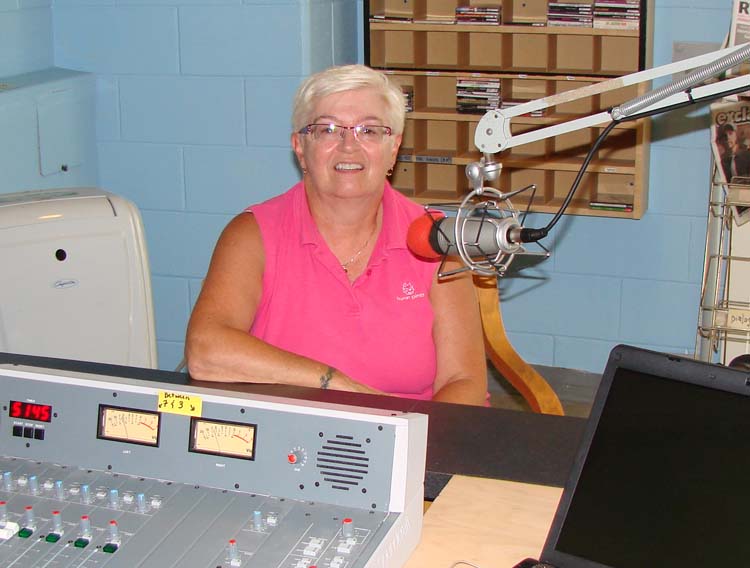 Pauline Quenneville, a self-published author whose first book is now available at Chapters, was in Valley East recently to meet and talk to fellow literary enthusiasts as part of a tour she is conducting to promote her book entitled VERITE. Pauline spent a day at the Hanmer Valley Shopping Centre signing books for shoppers and then was Robert Kirwan's special guest on his weekly radio show, The Learning Clinic, which can be heard on CKLU 96.7 FM every Monday from to .

Pauline, who now resides in Blind River , grew up in St. Charles . She moved into the "big city of Sudbury " when she was a teenager to get a "decent job". She worked for Canada Mortgage and Housing Corporation for 26 years until she retired and moved to Blind River . After she retired, she looked into several different career opportunities, but decided that she would pursue a passion she had all her life – writing a novel.

The book, VERITE, is, as Pauline puts it, "an English book with a French Title". It is a book that is a "must read" for young ladies who are planning to leave their small communities to find employment in a big city.
Pauline's own personal story is a good example for young people who are starting out on their journey of discovery in hopes of establishing a satisfying career or their own. It is also inspirational for older people who are about to enter the "age of retirement". They will see that there is no need to look at your 50's and 60's as a time to lay back and watch life pass on by. Pauline recommends that all retirees take a good hard look at what it is that excites them about life and then pursue those passions, turning them into reality.

Her advice to young people is quite simple – READ! Read everything you can get your hands on, and then read some more. Pauline is expected to return to Valley East the next time she is in the area – perhaps promoting the second book in her series – which is currently in the making!
City Transit Comes To The Valley
by Shirley Baxter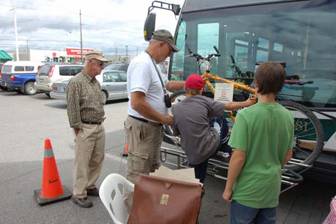 It was a productive day for 25 Valley East residents who did not have to travel to downtown Sudbury to have their photos taken for CGS Transit bus passes. For one day only, CGS Transit, in cooperation with the Valley East Community Action Network, the Hanmer Valley Shopping Centre, and the Bicycle Advisory Panel, provided two City employees and a bus, with the essential equipment, to take photos, produce the passes, provide information about City Transit and Intra-Valley Bussing, and to demonstrate Rack and Roll.
Glenn Murray, from the Bicycle Advisory Panel, was available all afternoon to demonstrate how to load bicycles onto buses. Here in the photo he demonstrates how to load a bike. A pilot project is providing 5 buses equipped with bicycle racks for route 703. Two senior students keenly commented that this was the perfect opportunity to include some exercise in their busy lives.

CGS Transit began a two-year trial period of Intra-Valley bussing last January. Costs are presently being covered through provincial gas tax funding. With increasing Valley traffic, higher gas prices and mounting concern for gas emissions, it is to be hoped that ridership will increase sufficiently to provide the necessary funds to continue Intra-Valley bussing for transportation within Valley East .
Mike Lemieux Wins First Annual Valley East Men's Open
The First Annual Valley East Men's Open Golf Tournament, sponsored by Grill Marks Bistro and Nature's Haven Developments, was held at Grill Marks Clearview Golf Club on September 6 & 7.

A total of 106 golfers took part in the two day event with Sudbury 's Mike Lemieux edging out Mike Doniec by a single stroke to take the title. Lemieux shot a three over par 75 on a very tough course layout to Doniec's 76. Third place went to local favourites from Hanmer, Rich Larochelle and Tim Phillips who came in with a 77. Roddy McLeod, formerly of Hanmer, now living in the Toronto area was next with a 78, just one shot ahead of Sudbury 's Tim Gordon.

Lemieux is shown accepting his trophy from the owners of Grill Marks Clearview, from the left: Tyler Merrin, Christine Allsop, Lemieux, Lynda Allsop, and Jim Allsop. Tournament Director, Robert Kirwan, was very pleased with the entire weekend and is planning on speaking to the other golf course owners over the winter to see if there is interest in developing a Sudbury Tour during 2009.
The event featured one of the richest prize packages ever offered in the Sudbury Area. Lemieux won the first place prize of $1000 plus a membership to the club for 2009 in addition to another $205 participation prize that was handed out to all players who took part in the tournament.
Other flight winners who also won a membership to the golf club for 2009 included: Rob Henri and Joshua Mayne tied in the First Flight with a score of 80; Tim Phillips won the Second Flight with a round of 77; Rich Larochelle won the Third Flight with a 77; Brian Fox won the fourth flight with a round of 87.
Mixed Slo-Pitch League Having Another Excellent Summer!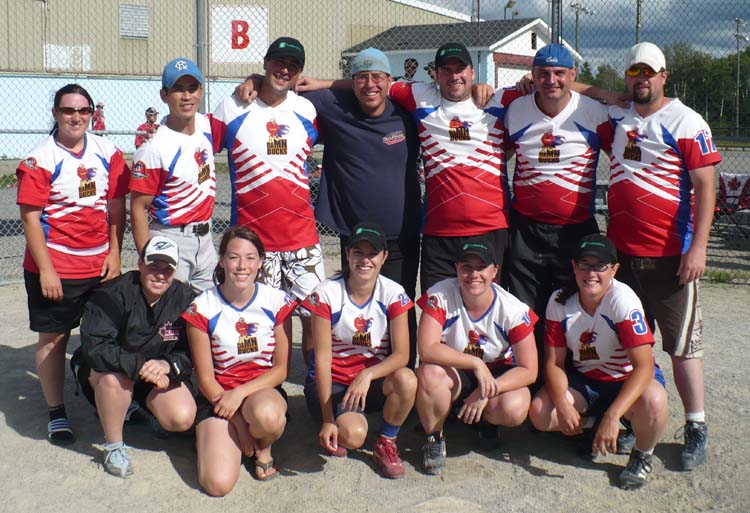 League Treasurer, Jeanine Bolger reported that The Valley East Mixed Slo-pitch Association is going stronger than ever this summer. They held their 24th annual soft ball tournament in July and 20 teams entered the competition. The Division A Champions, the Damn Ducks, are shown in the accompanying photo.
The winners of the weekend tournament were as follows;
Division A Champs – Damn Ducks, runner's up Ball Busters.
Division B Champs – Broch-a-foins, runner's up Star Mart
Division C Champs – Paralyzed Turtles, runner's up Talbot Automotive
Division D Champs – JAFT, runner's up Mobile Parts
Division E Champs – Cranky Joe's, and runner's up FunKINutz
Bolger stated, "Next year will be the Leagues 25th anniversary and it promises to be something special. 25 years of softball in the Valley and although times are changing and people are getting busier the urge to play ball is growing strong. This year the Valley East Mixed Slo-pitch Association has 29 teams on their roster...this has been a banner year!"

Local residents are reminded that you can contact the league by email at v.e.m.s.p.a@hotmail.com.

You can also watch the teams in action every Sunday except for long weekends at Centennial Arena and the Hanmer field just off 69N at the top of the hill. The year-end playoff tournament will be held the weekend of September 6 & 7.
Laurentian University's Radio Station Is Now "Streaming" Across The World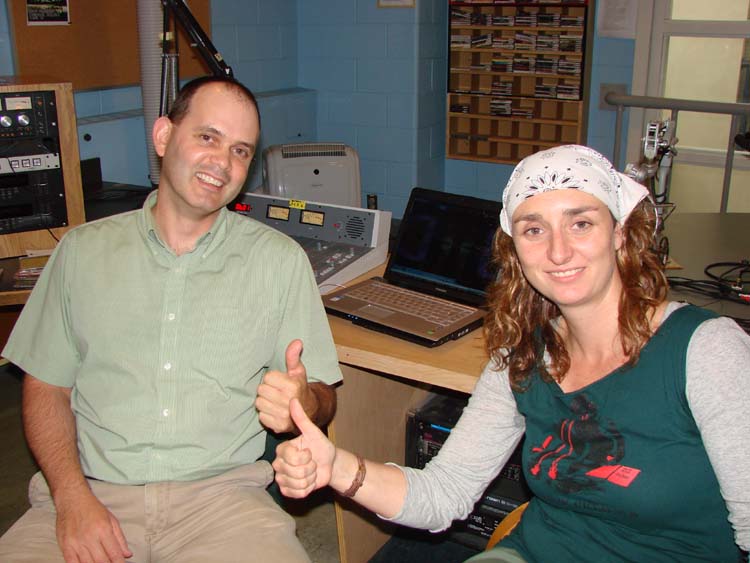 Monday, August 25, 2008 will be remembered as an historic day for Deborah Ann Frankel, General Manager of CKLU 96.7FM Radio which is broadcast from the studios at Laurentian University. Here she is shown with Richard Lloyd of Axsys Computers.

Deborah and Lloyd are giving a "thumbs up" to the first "streamed" broadcast which was sent out over the internet during the weekly Monday evening show, The Learning Clinic, which is hosted by Valley East's Robert Kirwan every Monday at 6 p.m.. During that particular show Kirwan was doing a phone interview with Patrick Murphy, the person who is biking across Canada in the first annual Pedal Against Cancer tour.

Now that the station is "streaming" its signal through the internet, people all over the world will be able to "tune in" simply by going to the web site at www.cklu.ca and clicking on the Listen Live button along the side. Instead of using a radio, you can now listen to your favourite shows while you are working on your computer or lap top any where you have access to the internet.

Hundreds of Laurentian University students and alumni live in Valley East , so this is a significant milestone for their school. There are also several people living in Valley East who are hosts of various programs on CKLU, which is known as Sudbury 's Alternative Radio Station.
CKLU was founded in 1984 and is mostly run by volunteers. Funding for the station is generated partly from fees collected by students, advertising revenue and donations from the community. For more information about this station, go to the web site at www.cklu.ca or phone Deborah at 673-6538.
The Future of Golf Display Their Talents At Annual Mini Masters Tournament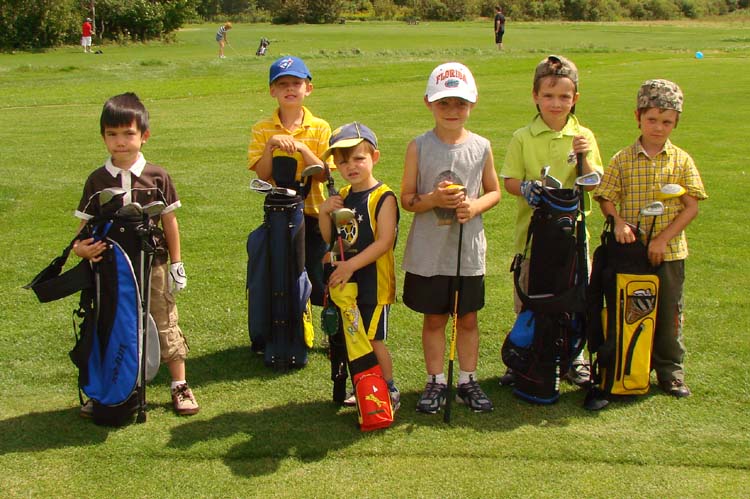 The 16th Annual Valley Family Golf Centre Mini Masters Golf Tournament was held on August 16 at the region's most popular driving range complex in Blezard Valley . Forty-nine boys and girls ranging from as young as four years old to fourteen years of age took part in the nine-hole tournament which was played on the par 30 Whistling Winds Golf Course which is part of the complex.

Vic Whissell, owner of the Valley Family Golf Centre, first started the event to give young children a taste of what is like to play in a real golf tournament. They play by the rules ( for the most part ) and have their scores recorded, earning prizes for their efforts. He added a long drive, putting, and closest to the pin contests to add variety and excitement to the day. Ryan Abresch, the winner of the boy's category in 1992, the very first year the event was played, has gone on to become one of the top young golfers in the area. The first girl's winner was Meghan Pitura.

The accompanying photo shows the group of the youngest golfers in the tournament as they finished the ninth hole and were about to make their way to the BBQ for a well deserved hot dog and refreshments.

At the end of the day, the boy's champion was Jordan Piette who shot a three over par, 33. Sarefina Giommi was the winner of the girl's division with a 61.

Winners of the different age categories were:

Ages 4/5/6 : Alexander Fawke with a round of 48;

Ages 7 & 8: Jordan Ferron with a round of 64;

Ages 9 & 10: Jodi Walker with a round of 39;

Ages 11 & 12: Trevor Labonte with a round of 49;

Ages 13 & 14: Jacob Smith with a round of 40.

The long drive winner for the boys was Jodi Walker and for the girls it was Marzia Giommi.

The putting contest was won by Austin Pawlik.

The winner of the closest to the hole contest was Mathew Perry.

Special thanks are extended to Nicole Stone and Vic Whissell, the two main organizers of the tournament. Others who were instrumental in helping make the event such a huge success included Myrna Young, Sam Stone, Diane Houle and Ed Lemieux. Of course, a special thank you was extended to all of the area merchants who donated prizes in support of the event.
The "Boys" Continue The Tradition During Annual Slo Pitch Tournament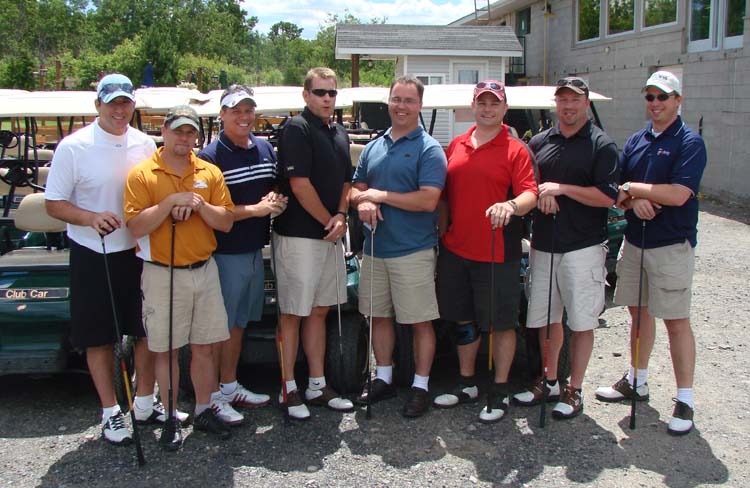 For as long as they can remember, the "boys" in the photo have gathered to take part in the Annual Valley East Men's League Slo Pitch Tournament (known to many as the Barn Dance Tournament), taking time to enjoy a few holes of golf the day before the competition begins. This is something that they look forward to all year long and they have no plans on breaking the tradition any time soon.

From the left we have, Andrew Brunette, Al Chenier, Bob Simoneau, Brian Savard, Steve Fournier, Scott Jeanveau, Rob Fournier, and Dave Ballantyne. All of the guys grew up in Valley East , playing all sorts of minor sports and are following their own paths through life as adults.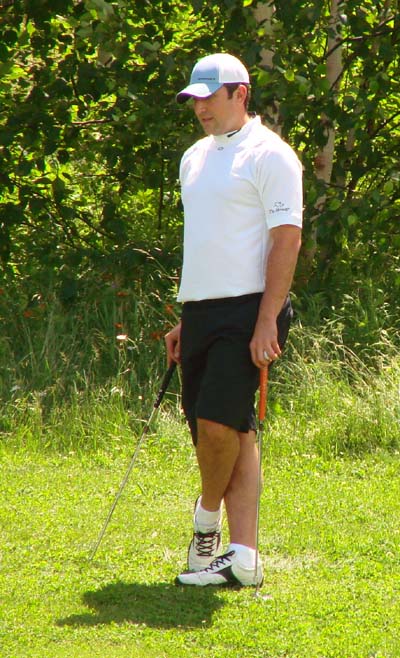 Just a few days before this photo was taken, Andrew Brunette, shown on the right lining up a chip off the first green, signed a new three-year $7 million contract with the Minnesota Wild of the National Hockey League.

The 35-year old Valley East native will be returning to the club where he played three seasons from 2001 to 2004 and ranks third on the franchise career list in assists, fifth in points and seventh in goals.
He spent the past three seasons in Colorado where he scored 70 goals and 135 assists for 205 points. He now has career totals of 191 goals and 358 assists for 549 points in 788 NHL games.

After signing Brunette, Minnesota Wild general manager, Doug Risebrough, who stated that he never should have let Andrew go in 2004, commented, "Andrew is a consistent offensive performer and an excellent teammate who helped create the culture of our team. We are better, on the ice and in the dressing room, with him back. Not often do you get the chance to correct a mistake."

Andrew Brunette is the current leader in the NHL Ironman competition, having played close to 600 consecutive games without an injury. No other current player has played as many games in a row, a true testament to his durability.

Andrew Brunette is already a member of the Valley East Sports Hall of Fame, having been one of the first inductees in the Professional Category in 1998.
APPROACHING THE BALL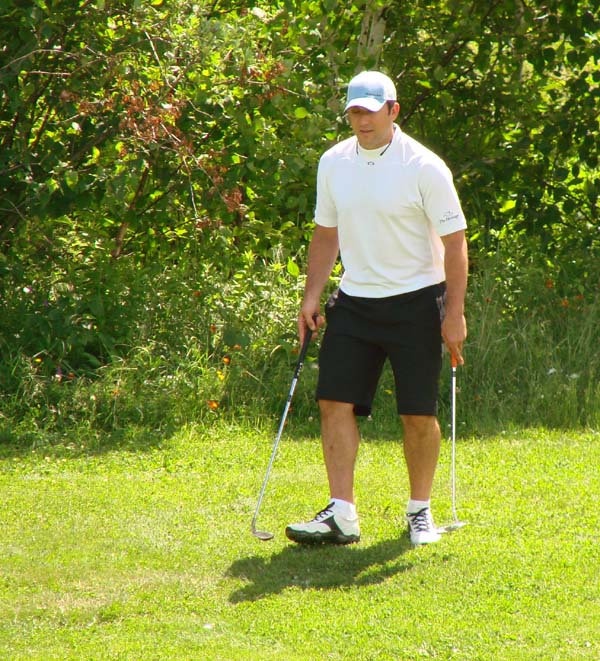 CAREFULLY LINING UP THE SHOT
IN THE HOLE!!!!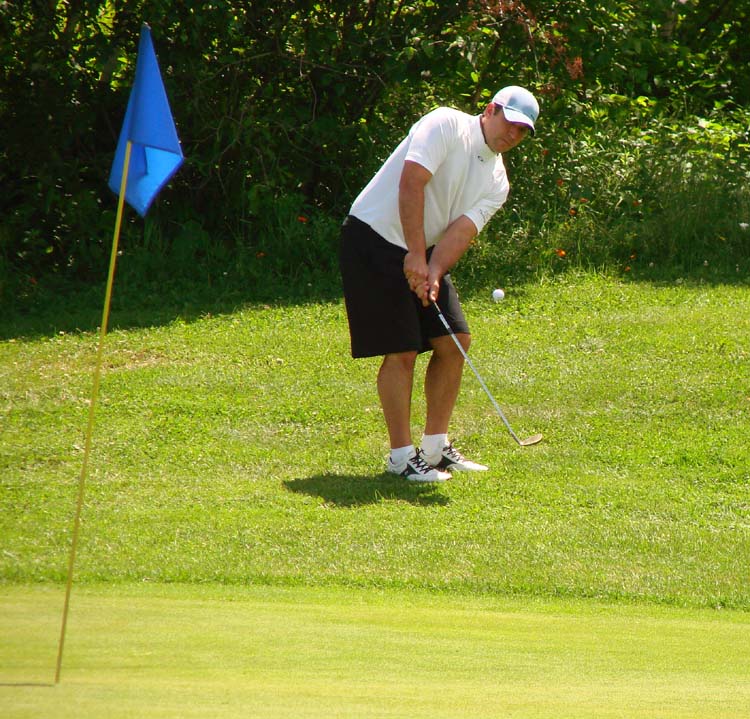 FORM ON THE TEE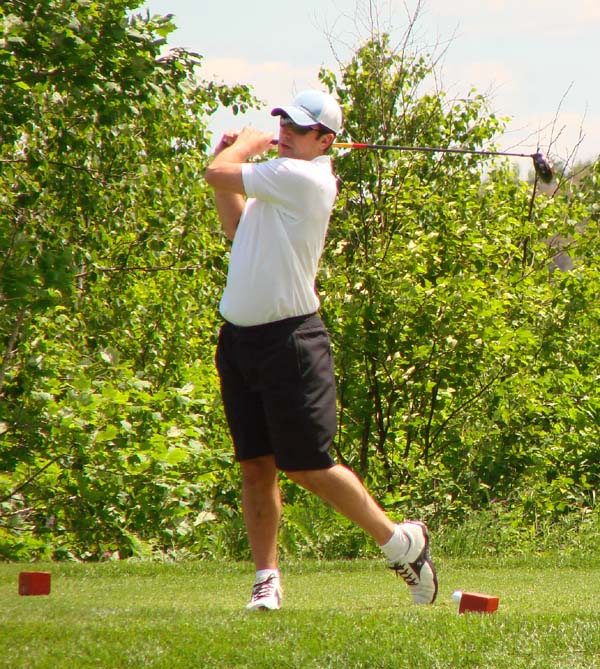 In the photo above, Andrew displays the form that demonstrates why he has chosen hockey as a profession.
All joking aside, this is one young man who has earned the respect, not only of his fellow NHL colleagues, but also more importantly of his long-time friends who welcome the opportunity to spend some quality time hitting the links or running the bases on the diamond with a man who is putting Valley East on the map around the world. During the 2008 Valley East Sports Hall of Fame Ceremonies, Andrew received a standing ovation from the crowd when introduced in recognition of the contributions he has made to his home town since becoming a professional athlete. Everyone in Valley East wishes Andrew Brunette all the best as he continues his career in the National Hockey League.
Marymount
Academy
Students Raise $900 For SPCA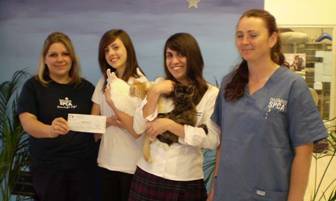 Jenna Poirier and Andrea Mikkila, shown in the middle of the photo, are shown making a presentation of $900 to two members of the Sudbury SPCA, Melinda on the far left, and Rachelle on the far right. The money was raised during the spring semester as the two Grade 11 students from Marymount Academy made and sold bracelets to hundreds of family, friends and acquaintances. This was part of a special humanitarian project they took on with their Grade 12 Church and Culture course to make a positive change in their community. Jenna and Andrea wished thank everyone from Valley East who supported them in their project.
Daryl Sittler Adds Colour And Excitement To 2008 Valley East Sports Hall of Fame Ceremonies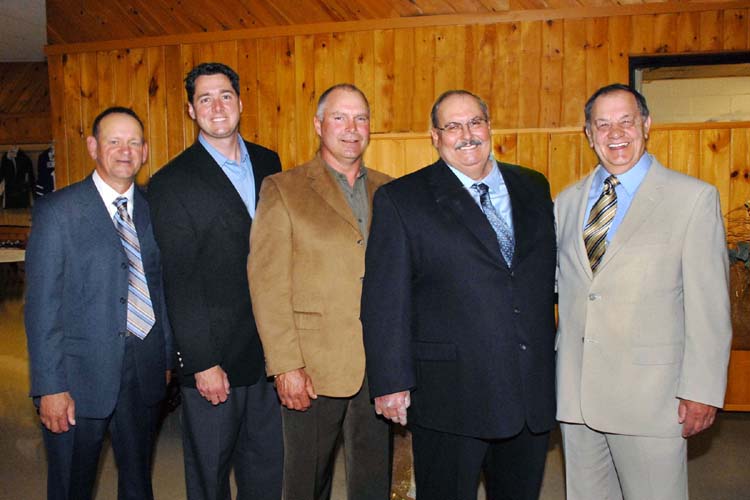 Five more people became members of the Valley East Sports Hall of Fame during the 10th Anniversary celebrations which were held at the Centennial Arena on June 21. N.H.L. Hockey Hall of Fame Legend Daryl Sittler was the guest speaker during the sold-out event and didn't disappoint any of the crowd as he made himself available all evening to sign autographs and provided a very entertaining speech.
Many of the 49 previously inducted hall of fame members were also in attendance, including hockey greats Frank St. Marseilles and Andrew Brunette.
Sittler paid tribute to the past Valley East Sports Hall of Fame Members and presented the 2008 inductees with their commemorative plaques. "Our community recognizes the exceptional achievements of the Valley East athletic community; athletes, coaches and community sponsors," said Ron Dupuis, the councilor responsible for initiating the Hall of Fame. "We are so fortunate to have so many committed sports people in Valley East ," said Dupuis.

The 2008 inductees, shown in the photo from left to right include:
In the volunteer category, we have Dick Decosse, who has been involved in numerous sports and organizations since 1969. Dick is known as one of the best umpires who ever took to the playing field in the Valley. He has also been involved in minor hockey as a coach, convenor, ways and means director, tournament chairman, sponsorship committee, vice president and president. He coached in minor ball and is a half marathon runner, having competed in six events to raise money for charities. His message to the audience was, "Remember that to volunteer is not always easy because sometimes you have to deal with characters. But volunteering is therapy and it soothes the soul." Decosse received a standing ovation from the close to 400 guests at the ceremony, clearly indicative of his involvement in the community for almost 40 years.

The Community Sponsor inductee was Neil Lindenbach, owner of Neil's Independent Grocers. Neil grew up in the grocery business only to purchase the franchise he worked at in the Valley. Lindenbach has been a strong supporter of sports in his community. Lindenbach commented at the ceremony, "as a child I proudly wore Daryl Sittler's name and number on my jersey and today I'm so proud that young people in the Valley now wear my name on their jerseys."
Mike Rusin was the inductee in the Professional Sports Category. Rusin had a 10 year career in the International Hockey League. He was drafted in 1976 by the Flint Generals.
The second inductee in the volunteer category was Conrad Laroque, For 25 years Laroque has coordinated the Jug Curling event that is sold out in advance every year with a long waiting list. He has helped raise hundreds of thousands of dollars for community groups and capital campaigns through his Jug Curling fundraising.
The Amateur Sports inductee was John Hawes. Hawes dominated the Canadian bowling scene by winning Gold medals six separate times in his bowling career. Hawes has coached many other bowlers who have gone on to illustrious careers in bowling as well. Hawes credits Chico 's Bowl for their longstanding commitment to bowling in the Valley and for supporting so many bowlers, both young and old over the years.
In the photo below, Daryl Sittler is shown taking time to sign an autograph for a fan. Beside Sittler is Mayor John Rodriguez who was also one of the guests of honour for the event. Across from Sittler is Ryan Benoit, Provincial Ambassador for the Easter Seal Society in 2006, during which time he first met Daryl.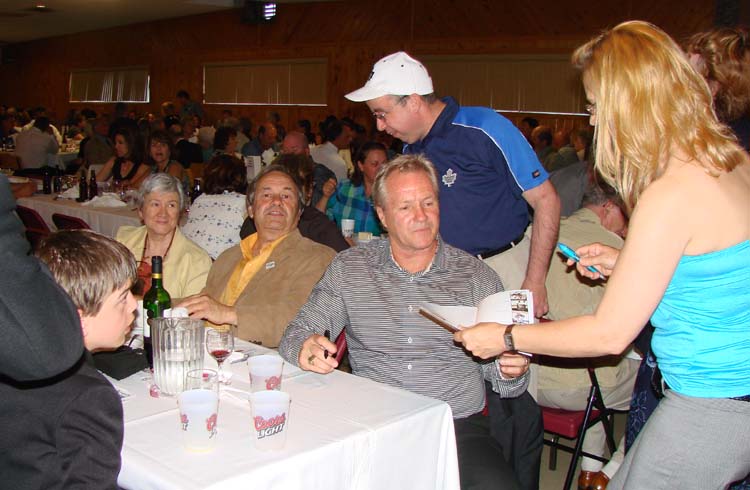 Greater Sudbury Police Service
Officers of the Rural Unit and Traffic Unit explain the "Off Road Vehicle Act"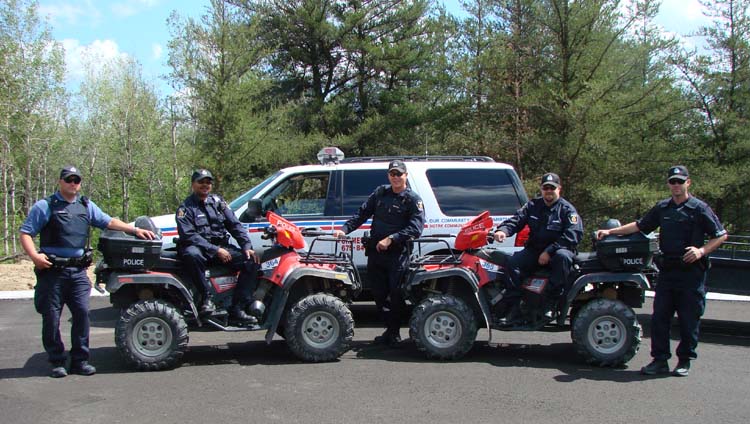 With the summer months upon us, activities such as quading or the operation of any other off-road vehicle will become more prevalent. Off road vehicles can include the more commonly used motor vehicles such as dirt bikes and 4 wheelers. Members of the public should have fun with their off road vehicles but should operate them safely and abide by all of the laws. In doing so operators will avoid injuries and disturbing other people. The Rural Unit along with the Traffic unit will be out in full force to ensure the laws are adhered to.
One day late in June the Rural Unit stopped by for a photo-shoot at site of the Nature's Haven Parkland Estates & Condominiums residential development in Hanmer..

In the photo above, we see five of the members of the Rural Unit with their quads. From the left we have Cst. Gilles Rainville, Cst. Reynald Dockery, Cst. Stephane Brouillette, Cst. Victor Leroux, and Cst. Darren Charbonneau.
Last year some of the more common charges laid to operators of off road vehicles were under the "Trespassing To Property Act", namely:

1. "Enter premises when entry prohibited"; (This charge can be laid in areas that are being used as farmland where cultivation is occurring. In this situation no notice is required to show that entry is prohibited. In other areas entry onto a premises may be prohibited by notice.)
2. "Engage in prohibited activity on premises" (It is best for people to have written permission to be on an individual's property and have the permission slip with them). You are only legally permitted to operate an off-road vehicle on your own property, private property with the owner's permission, or on Crown land.
3. It is best to trailer your off-road vehicle to the area in which you are riding as the shoulders of the roadway, paved or otherwise, are considered to be a portion of the highway and charges under the Highway Traffic Act do apply if an off-road vehicle is being operated in this area.
Some other charges fall under the Off- Road Vehicles Act, such as the following:
"Drive off Road vehicle with no number plate",
"Fail to surrender permit for off-road vehicle",
"Owner permit child under 12 to operate off road motor vehicle", (This does not apply where the child is driving the vehicle on land occupied by the vehicle owner or under the close supervision of an adult.)
"Obstruct plate",
"Drive off road vehicle no insurance (keep in mind that you can only operate an off road vehicle without insurance on property that you own!)",
"Permit off road vehicle to be driven without insurance",
"Fail to surrender evidence of insurance",
"Careless Driving"
"Fail to stop when signaled" (You must stop when signaled by a police officer or the owner or occupier of land)
"Fail to wear proper helmet"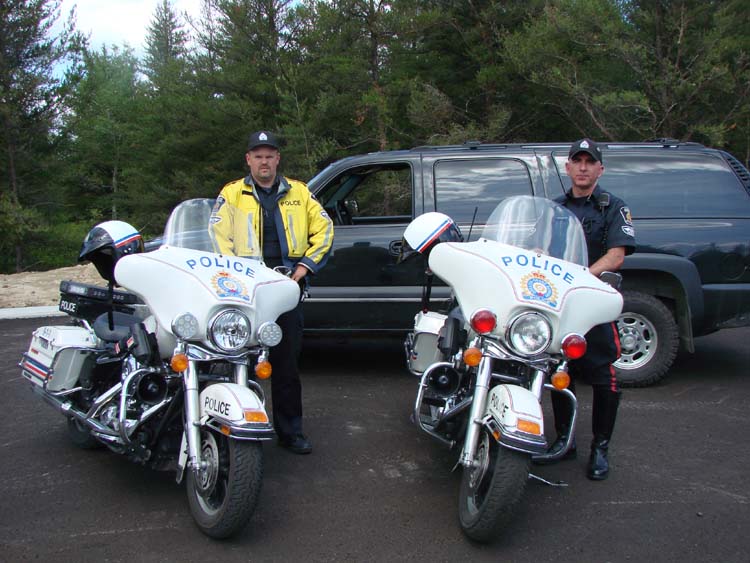 Finally, some of the charges come under the Highway Traffic Act. Cst. Enzo Rizzi and Cst. Rick Carr are out on their Harley's during the summer months to enhance the Traffic Branch of the Sudbury Police Service. Some of the more common charges under the Highway Traffic Act include:
"Unlawfully drive off road vehicle on highway"(No off road vehicle is permitted on any road way in the Greater City of Sudbury unless crossing certain roads)
"Drive off road vehicle no insurance" (Driving on road way) "Speeding"
The charges that were just mentioned are examples of charges that were laid last year and will be enforced again this year with zero tolerance. This is as a result of numerous complaints from members of the public. Police officers would prefer if people obeyed the laws and no charges had to be laid but the police have a duty to respond to the complaints of citizens and deal with ongoing problems arising from the operation of 4 wheelers and motor bikes.
REMEMBER, two people can only be on a quad if it is designed for two. When going out for a ride it is best for two quads to travel together. This is done in the case of a breakdown or if one quad gets stuck. If you are going out for an extended period of time you should advise someone of the route you are taking and the estimated time of return. Always carry a first aid kit, tools, cell phone and GPS device if possible.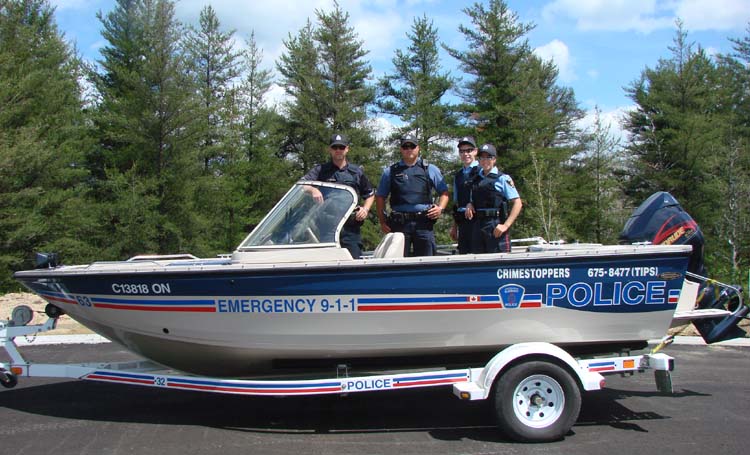 Cst. Darren Charbonneau, Cst. Gilles Rainville and summer students, Alain Brunette and Destiny Gratton are shown with the Police Boat that will be out on the waterways this summer as part of the Rural Unit and Traffic Unit.
If you have any questions regarding the use of off road vehicles you can locate the information by going to the Greater Sudbury Police Service's website police.sudbury.on.ca and looking in the menu for "Traffic". Have fun and enjoy the summer.

This message has been brought to you by the Rural Unit and Traffic Unit of the Greater Sudbury Police Service.