CHAPTER SEVENTEEN
Habitat For Humanity Receives $10,708 From Eva Lanctot Realty Family Fun Day

Local Residents Very Impressed with National Police Week Display at the Mall
Emergency Medical Services Paramedics Improve Public Awareness Level in Valley East

Capreol Citizens On Patrol Definitely Making A Difference In Their Community

Family Health Team Opens First Site In Val Caron

Men's Night Program At Grill Marks Clearview Expected To Return To Previous Numbers

CERCLE MISSIONNAIRE de la VALLEE Holds Successful Fund-Raising Event At the Mall

Neil's Independent Grocers Makes A Difficult Life A Little Easier
Habitat for Humanity Receives Generous Donation For Project
Sudbury Action Centre For Youth Mother's Day Basket Raises Funds For Important Summer Projects
Habitat For Humanity Receives $10,708 From Eva Lanctot Realty Family Fun Day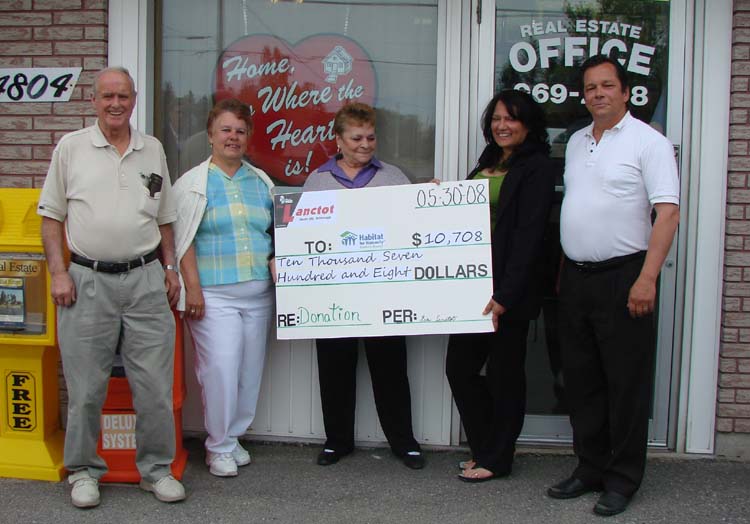 When the Sudbury Chapter of Habitat For Humanity opened up their first house in 1996, it marked the beginning of a new era for families who were struggling to find decent living accommodations. On June 27, 2008 , the 4th home will be dedicated on Velma Street in Val Caron, and will provide a home and a brighter future for a single mother and her three children.

The future also looks bright for Habitat For Humanity thanks to people like Eva Lanctot who continue to go out of their way to support charitable causes in our community.

On May 24, Eva Lanctot sponsored a Family Fun Day at the Knights of Columbus centre in Hanmer which raised a total of $10,708 for Habitat For Humanity. In the photo she is shown presenting the cheque to representatives of the organization. From the left we have, Roger Tessier (Faith Chair), Louise Tessier (Family Selection Chair); Eva Lanctot; Lise Reault (Executive Officer); and Jack Lanctot (Chair of the Habitat for Humanity Sudbury District).
Eva Lanctot Realty is one of the most successful real estate companies in the region, but success wasn't handed to Eva on a silver platter. "When my husband and I came to Sudbury in 1961 we had 4 kids, no place to live, no job and no prospects. We even received help from places like the Telethon and the Salvation Army. We bought our first home in 1962 in the Valley for $2700 and I spent 20 years working as a bus driver before I got into real estate. Now, I'm helping kids I drove as a bus driver buy their homes."

Eva Lanctot has always believed that "What you give is what you get!" and so for her, the opportunity to help an organization like Habitat for Humanity is something she does without hesitation.
Eva Lanctot was inducted into the Valley East Sports Hall of Fame in 2000 and continues to be one of the most avid supporters of minor sports and cultural activities involving children. The success of the First Annual Charity Concert for Habitat for Humanity is just another indication of how the town continues to embrace Eva Lanctot and everything she does for the people of Valley East .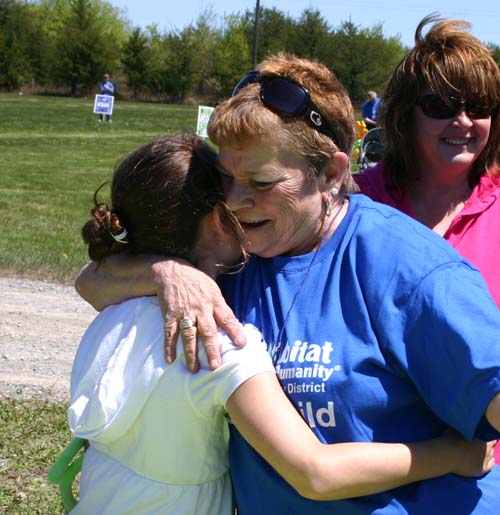 Alison Boyd is shown in the photo receiving one of the famous "Eva Hugs" from Eva Lanctot during the special family fun day and Charity Concert. Alison's mother, Edie is shown in the background looking on. "This town has been very good to me and my children," Eva explained when asked why she takes such great joy in sponsoring events such as the Family Fun Day. "For me, there is nothing I like better than doing something that will help make children happy. It's all about the kids!"
Local Residents Very Impressed with National Police Week Display at the Mall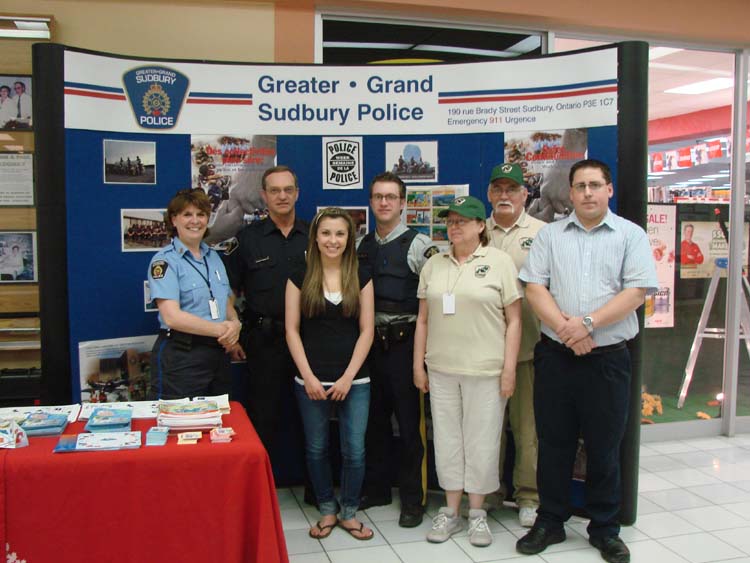 Denise Fraser, on the far left, Special Constable with the Crime Prevention Branch of the Greater Sudbury Regional Police has been visiting schools and shopping malls for over 24 years in meeting her primary responsibility of increasing public awareness and reducing crime. She was part of a large display at the Hanmer Valley Shopping Centre during National Police Week in May. "We love coming to this mall. It is always so busy and we get to talk to so many people from the community."
With her in the photo are, from the left, Bob Brunette, Constable with the Crime Prevention Branch; Jennifer Geryk, a Grade 12 Co-op student from Marymount Academy ; Mario Maillet, a constable with the RCMP; Linda and John Goddard, members of the Capreol Citizens on Patrol, and; Peter Marunchak, a member of the Board of Directors with Crime Stoppers.
Each group was set up for the day and provided information to the general public. All of the shoppers we spoke to found the exhibit very informative and professionally arranged.
Emergency Medical Services Paramedics Improve Public Awareness Level in
Valley East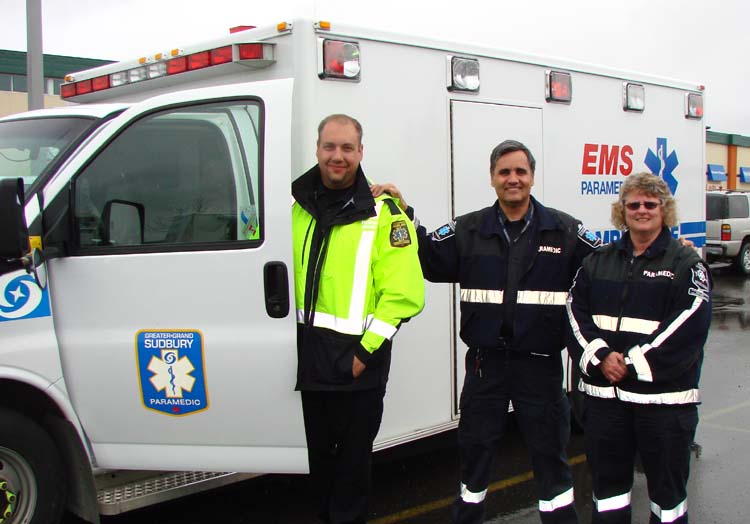 Dennis Melanson, on the left, has been with the City of Greater Sudbury Emergency Medical Services Paramedics for 12 years. He is currently the Investigations Compliance Officer and is in charge of investigating complaints as well as ensuring that all ministry requirements are followed by the rest of the crew. With him are two of the Paramedics, Rick Powlessland, who has been with the force for 32 years, and Cathy Desarmeau, who has been a paramedic for 31 years.
The three were taking part in Emergency Medical Services Week celebrations at the Hanmer Canadian Tire, sponsored by the City of Greater Sudbury . Besides a number of related displays with educational safety tips for children and adults, there were also some vehicles and equipment on hand.
The Sudbury & District Health Unit was also on the site to conduct a car seat inspection clinic.
"This is one week during the year when we take time to recognize the important role that paramedics play in the community," explained Melanson. "We have a total of 30 vehicles stationed at eleven stations throughout the region providing protective services 24 hours a day, seven days a week all year long. Our head office is at the Lionel Lalonde Centre in Azilda."
The EMS paramedics respond to over 35,000 calls each year, many of which require some very specific medical intervention right on the scene of the accident. "We are all equipped and trained so that we can act like a mobile hospital. This means that we are often required to start IV's, restart hearts and even perform intubations. Because we are called upon to perform complex medical procedures, we must take part in yearly on-going training and recertification."
Melanson points out that the old term of "ambulance attendant or ambulance driver" no longer applies to the profession. "We have become the eyes and ears of the doctors at the hospital. When we turn a patient over to them it is important that we have done an assessment and have administered the proper first aid treatment. Some of our paramedics have even gone on to medical school. So you can see that we don't just drive vehicles – we treat patients."
It takes up to three years of training to become qualified as an Advanced Care Paramedic. The physical demands of the job are tremendous due to the lifting. For example, the stretcher alone weighs 85 pounds, plus the weight of the patient. It is not an easy job.
While the weather didn't cooperate much, the members of the public who stopped by were able to come away with a new level of respect for the profession of Paramedic.
Capreol Citizens On Patrol Definitely Making A Difference In Their Community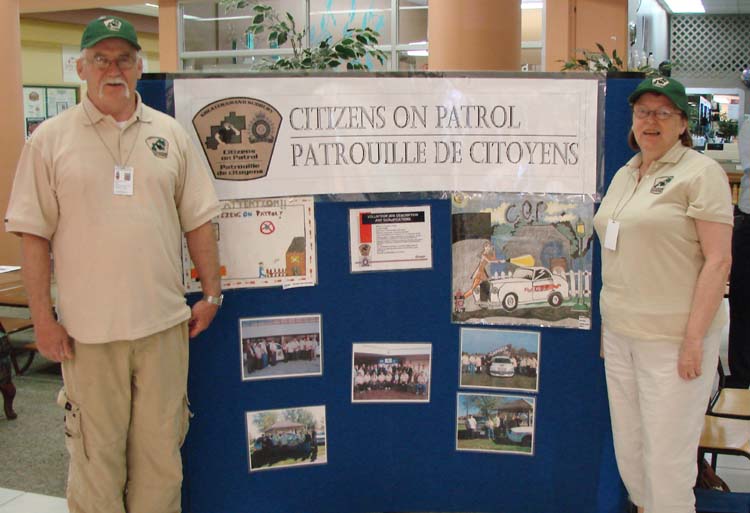 John and Linda Goddard have been members of the Capreol Citizens on Patrol for over three years. During that time they have become part of a group of approximately 25 concerned citizens who have been the "eyes and ears" of the police.

"We have definitely noticed a big improvement in the number of crimes committed in our town since the C.O.P. program was introduced," explained John.
Citizens on Patrol is a community crime prevention initiative involving specially trained volunteers who conduct mobile observations of neighbourhoods with a mandate to detect suspicious, disruptive, and criminal behaviour. The mission of the C.O.P. program is to "build safer communities by mobilizing citizens throughout Sudbury to participate in a community-based crime prevention initiative in cooperation with local law enforcement."
Applicants who wish to become a volunteer with Citizens on Patrol may apply online at www.police.sudbury.on.ca. They must be a minimum of 18 years old and pass a police background check. Once the application is processed, successful persons are contacted for interviews and must complete one full day of specialized training.
Anyone who is interested in learning more about the program is asked to contact the coordinator at 675-9171, Ext. 2335.
Family Health Team Opens First Site In Val Caron
The cutting of the ribbon on May 22, 2008 by MPP Rick Bartolucci and Mayor John Rodriguez in the photo was indeed a significant moment in the proud history of Valley East . The ceremony signaled the official opening of the Val Caron site for the City of Lakes Family Health Team . There will eventually be four such sites, but the Val Caron facility, which is located in the newly renovated former "city hall building", is the first.



Unofficially, the ribbon cutting demonstrated once again that Valley East has become one of the leading sectors of the City of Greater Sudbury . MPP Rick Bartolucci related a conversation he once heard with Wayne Gretzky who told of

the difference between a good and a great hockey player. "A good hockey player skates to where the puck is. A great hockey player skates to where the puck is going to be." The Val Caron opening is indicative of a community that is paving the way for the future – Valley East is definitely "skating to where the future is going to be in terms of health care".



Mayor John Rodriguez commented, "It is fitting that this facility is opening in the former City of Valley East municipal offices for this was often the focus of the healing of the community. Now it is going to be used for healing citizens' personal health needs."



Dr. Chris McKibbon, shown on the far right in the front row of the photo, Chairperson of the Steering Group and Chief of Staff at the Sudbury Regional Hospital , used the opportunity to highlight the progress of the City of Lakes Family Health Team .

"This is a significant milestone for our team," said Dr. McKibbon. "Not only are we opening our first site today, but we are also marking the beginning of a new era in primary health care in this community. We can do together what none of us can do alone."

Nine family physicians and three nurse practitioners have joined the team in recent months. The Val Caron clinical team, under the leadership of Dr. David Topps, has already welcomed over 400 local residents to their new patient roster.

A family health team is a group of healthcare providers working together to provide primary care to patients. Family health teams include family doctors, nurse practitioners, registered nurses, pharmacists, dieticians, and social workers among others. In addition to traditional healthcare services, family health teams focus on health promotion, illness prevention and chronic disease management.

The City of Lakes Family Health Team is one of 150 family health teams established by the Ministry of Health and Long-Term Care across the Province of Ontario and is a partnership initiative of the City of Greater Sudbury , the Sudbury Regional Hospital and the Northern Ontario School of Medicine.
Men's Night Program At Grill Marks Clearview Expected To Return To Previous Numbers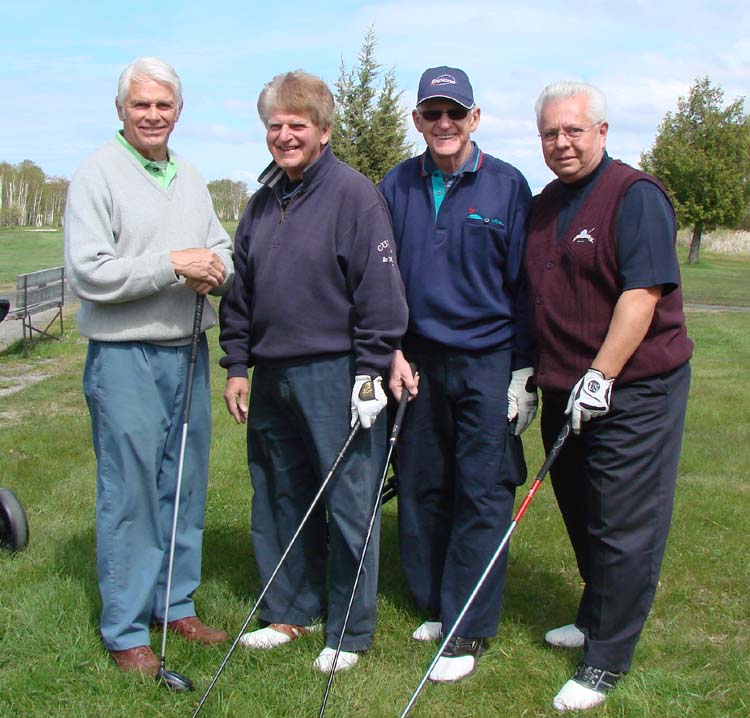 The Grill Marks Clearview Golf Club has started off the new year right with a good turnout to kick off the Men's Night season on May 20. One of the first groups to tee off that night are shown in the photo. They include, from the left: Robert Wilson, Clem Legault, Norm Legault, and Garry H. Lamoureux. All four friends live on Frenchman Lake and try to play Men's Night on a regular basis. Wilson and Lamoureux are members of the club while the two Legault's are green fee players.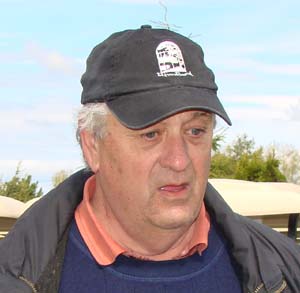 Rick Simmons, shown in the inset photo, is the coordinator of Men's Night this year. Rick has been involved in some way with the club for many years. Since it first opened during the summer of 1989 people like Rick have always been there when needed to help generate "club spirit" by getting the members involved in activities such as Men's Night.
"We will be holding Men's Night every Tuesday evening, with tee times starting at ," Simmons explained. "This is a fun evening for the guys so we will be trying some different formats from time to time, like two man scrambles and perhaps a best ball once in a while. Most of the time we will simply run a stroke and handicap event and give out small prizes to the people who come out."
For members, the only cost is the $5 Men's Night entry fee. Green fee players can get in on the action for a Green Fee of $10 for nine holes plus the entry fee of $5. The entry fee is used for prizes. The Grill Marks Bistro will also be providing a special "meal of the week" for Men's Night participants.
At the conclusion of the golf, many of the men remain around until all of the scores are in and the random door prizes are drawn. It gives everyone a chance to get together and discuss old memories or share stories about their golfing adventures of the evening.
For more information about Men's Night, as well as Ladies' Night which is on Wednesdays, go to the web site at www.grillmarks.ca or call the Pro Shop at 897-6419.
CERCLE MISSIONNAIRE de la VALLEE Holds Successful Fund-Raising Event At the Mall
Giselle Charette wanted to do something different this spring to help raise money for Circle Missionnaire de la Vallee. So she discussed an idea with several of her co-volunteers at Circle Missionnaire and before long she found herself in charge of a penny table, raffle and silent auction on the weekend of April 12, 13 and 14.

"The entire weekend was just amazing," Giselle commented when everything was over. "We had so many gifts donated and the volunteers were just so cooperative. This has been one of our most successful events of this kind we've ever had. And we met so many people at the mall during the weekend. It was fabulous!"
Indeed, the group has already booked their spot for 2009 and will return the weekend after Easter, April 17 to 19, 2009 .

CERCLE MISSIONNAIRE de la VALLEE is an organization that was created in the early 1990's to provide assistance to Sister Therese Lamoreux m.c.r. of the order of the Missionary of Christ the King. Sister Therese was originally from Chelmsford . When Sister Therese set up a mission at Sigueneau , Haiti , she discovered a tremendous degree of poverty and hopelessness among the people. Thus, Georgette Bergeron, President, and a number of volunteers from St. Margeurite d'Youville Parish set out to do what they could to help out.

Today, CERCLE MISSIONNAIRE de la VALLEE collects over 60 tons of goods and medical supplies from local donors and ships the lot twice a year to Sister Therese. Besides providing assistance to Haiti , CERCLE MISSIONNAIRE also sends material to Moosonee and has a working relationship with the other two food banks in Valley East , Good Neighbours and St. Vincent de Paul.

When donations come in, the volunteers check them out thoroughly to make sure that any repairs are completed before packing them in boxes, ready for shipping. With the permission of donors, some of the items are put up for sale in the impressive flea market section of the building. This is to raise money which is then used to purchase medical supplies and help pay the expenses of the building operation.

Georgette tries to get into schools as often as she can to create awareness of the poverty in Haiti . She also speaks to CWL, Confirmation Groups and other community minded organizations. Most of the donations come to the group via word of mouth. Georgette will also accept cash donations and indicated that all donations of $20 or more will be given a tax receipt.

CERCLE MISSIONNAIRE de la VALLEE originally ran out of the old Our Lady of Fatima school building on Percy Street in Blezard Valley . In January 2004, the organization moved to their new, much larger location at the former public works building on Desmarais Road in Val Therese. The space is much larger and enables the volunteers to have enough space to display items for their weekly flea market and do their packing for the next shipment to Haiti .

Every Wednesday, from 12 noon to 4 p.m. CERCLE MISSIONNAIRE de la VALLEE opens up their building for one of the largest a flea markets you can find in the entire district to help raise money to purchase supplies for the next shipment to Haiti.

If you have any items to donate or would like to make a financial donation, just drop in to their new home in the old Public Works building on Desmarais road any Wednesday afternoon from 12 noon to 4 p.m. or call 969-2192 for more information.

In the photo below, Georgette Bergeron is shown on the left, with Jacqueline Cormier, selling tickets to the penny table.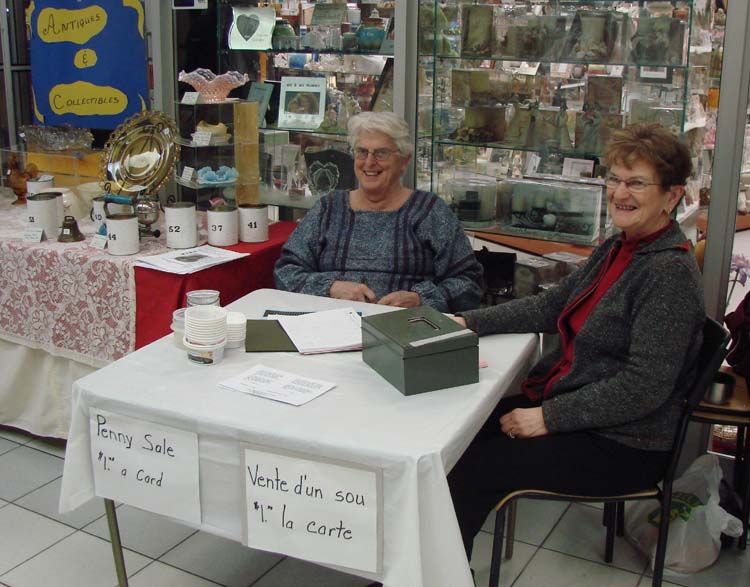 Neil's Independent Grocers Makes A Difficult Life A Little Easier
Imagine changing a life in a matter of minutes. Neil Lindenbach, of Neil's Independent Grocers, did that and made a difficult life a little easier with a grant from President's Choice Children's Chairty.
"It is an amazing thing to be able to help a child and their family who really need and deserve it. We at Neil's Independent Grocers are so proud to be able to help and to be a part of a wonderful organization like President's Choice Children's Charity, which helps kids right in our communities," states Neil Lindenbach, owner, Neil's Independent.
President's Choice Children's Charity has given the Labelle family a grant to provide Angele with a chair lift for their new van. The lift will enable the entire family of six to take part in short and long trips together.
In the photo above we have Angele in the wheelchair surrounded by, from the left, her father, Andre; her mother, Monique; and Neil Lindenbach. Angele, who will be turning 12 in July, is a quadriplegic with cerebral palsy and a number of other multiple challenges. "Without the support of organizations like President's Choice Children's Charity, there is no way we could provide for the needs of Angele," stated Monique. The Labelle family includes three other older sisters of Angele's, namely Ashley (18), Amanda (15), and Megan (12). The Labelle's live in Valley East . Angele attends Jean Paul II where she receives instruction in a special education class.
The staff at Neil's Independent Grocers has raised money towards this gift by selling icons in the store, selling President's Choice Decadent Cookies, direct employee contributions, and holding various fund-raising events. "The staff has done a fabulous job raising money so we can help kids like Angele, but there is so much more we need to do and so many more kids we can help," says Neil Lindenbach.

President's Choice Children's Charity is dedicated to making difficult lives a little easier by helping children who are physically or developmentally challenged. Their focus is to remove some of the obstacles that make everyday living extremely difficult and to provide these young people with a renewed sense of dignity, independence and freedom by providing funding for adaptive equipment, environmental modifications, therapy and more. The charity ensures that 100% of every dollar donated goes directly to helping children. It has awarded over $30,000,000, helping over 5500 families across Canada .
Habitat for Humanity Receives Generous Donation For Project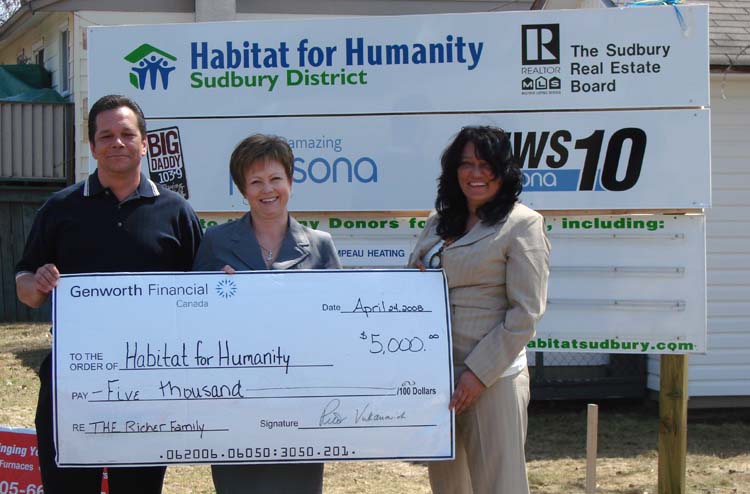 Jack Lanctot, Chair of the Habitat for Humanity Sudbury District and Lise Rheault, Executive Officer, on the far right, gratefully accept a $5000 donation from Lori Moggy, centre, Account Manager with Genworth Financial Canada for
Northern Ontario
. Lori, who is also the fund-raising chair for Habitat for Humanity, was pleased that her company recognized the importance of supporting such a worthwhile organization.



Habitat for Humanity Sudbury District builds homes with volunteer labour and as much donated or cost-reduced material as possible. Fund raising takes place to help offset expenses of materials, services and land when they are not available through donations. Financial support is received from individuals, corporations, service groups and the faith community. That is where companies like Genworth Financial Canada are so valuable to the cause.



Mortgage payments from current homeowners are retained by the affiliate, which holds the mortgages to fund future projects.



According to Jack Lanctot, "We consider this a hand up, not a hand out."

In other words, habitat houses are sold to families, not given to them free of charge. In addition, families help to build their own home. By building homes at low cost, requiring very little or no down payment, and not charging interest on the mortgage, Habitat for Humanity is able to provide an opportunity or a "hand up" to buy a home for families that would not otherwise qualify for a conventional mortgage.



The Habitat for Humanity Sudbury District also operates a ReStore at
250 Frood Road
in
Sudbury
. There are over 50 such stores across
Canada
.



"These stores are the primary resource for fundraising for our home builds," stated Lori. "Whether you are repairing your home or rental property, building a cottage or hunt camp, you are encouraged to visit the restore for the widest selection of used building material at the best price in
Sudbury
. Shopping at the ReStore not only saves you money, but also helps Habitat for Humanity build homes for the less fortunate in our community."



There are many benefits to shopping at the ReStore. For example, when you shop at the ReStore you save money that can certainly be put to good use today. You are also helping the environment by using some recycled materials that otherwise might end up in a landfill site. Finally, you are helping your community since the proceeds from the ReStore help Habitat for Humanity build homes for low income families.



The cheque presentation was made at the site of the "Richer Build" on
Velma Street
which is the 4th new build for Habitat for Humanity Sudbury District. For more information about the organization call 688-8808.
Sudbury Action Centre For Youth Mother's Day Basket Raises Funds For Important Summer Projects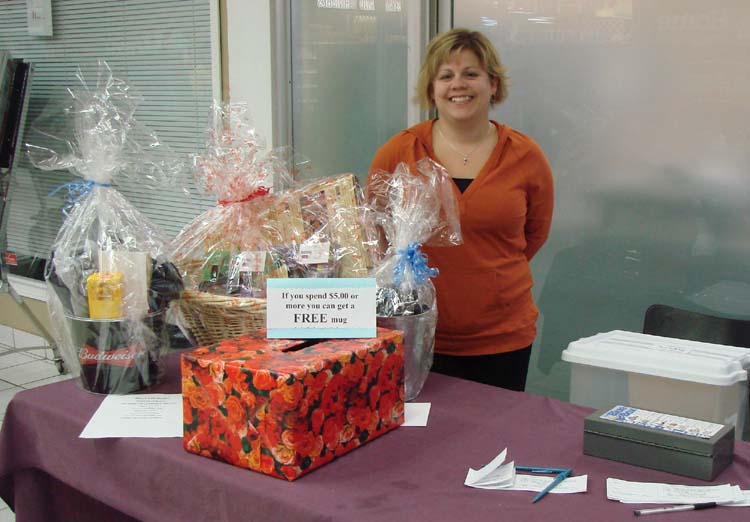 Linette Filippini, Youth Program Facilitator for the Sudbury Action Centre for Youth has spent several days in the Hanmer Valley Shopping Centre with members of her organization selling raffle tickets on a Mother's Day gift basket. The money raised will be used to help pay for a summer initiative for the youth.
The Sudbury Action Centre For Youth is a non profit, charitable organization that has been providing essential services to at risk youth for the past 20 years. The group has been recognized both locally and nationally for its contribution toward the prevention and treatment of substance abuse, homelessness, and employment. The Peer Mentoring Program teaches youth how to help other youth in our community and encourages them to get involved in community development. The harm reduction program received the Donner Canadian Foundation Award for Excellence in the treatment & Prevention of substance abuse. The Employment Program assists people who have a difficult time finding and keeping full time employment by offering help with job search and opportunities for casual labour day jobs.

The Action Centre For Youth provides a drop in where youth are able to gather for support, socialization, and recreation. Youth have access to crisis intervention, counselling and referral services, as well as support groups that help them deal with such issues as anger and addiction. Through a developed partnership with N-Swakamok Native Friendship Centre, they were able to offer additional supports and a warm meal in the evenings from to Currently, the program is going stronger than ever with youth sign-in records being broken almost monthly.

This agency has built a solid reputation in the community for the innovative, creative, and flexible ways in which it delivers services to at risk youth. Their ability to work with the community to identify local needs, map resources, and share expertise, space, and assets to meet these needs is extraordinary. In the interest of the youth, this agency has always ensured that the services provided were unique. The Centre is a safe haven for vulnerable youth, and we provide a triage of human services at the street level. The Centre routinely refers youth and their families to existing services and in turn receives regular referrals from community services.

For more information about the Sudbury Action Centre for Youth, you can visit their web site at www.sacy.ca or call 673-4396.