CHAPTER SIXTEEN
Good Start For

Toronto

Blue Jays Means Increased Registrations for Minor Ball



Ronald Ross Finally Turns Off His Light Pole After 52 Years

Renegades Tournament Adds A Nice Finishing Conclusion to Season

The First Sign That Spring Is Near!

Young Ladies Give Up Their Saturday For A Good Cause & Community Service Hours

Valley East Renegades Capture Ringette Gold


Former Graduate of

Hanmer

High School

Provides Good Career Advice For Students




Chamber of Commerce After Business Event Returns To

Valley East

After 5 Years



Valley East Community Theatre Raises Funds and Awareness Of Grass Roots Cultural Needs

Local Girls Perform Well In The Pool During Meet In Timmins

Mark Hodgson Wins $1500 Valentine's Day Gift

Breast Cancer Research Benefits From Sales of Avon Products

Canadian Model and Talent Convention Could Be The Start Of A New Lifestyle For The Collin Family

Valley East Novice Rebels Capture International Silver Stick Title


Four Members of

Valley East

Waves Swim Club Qualify For Provincials

CKLU 96.7 FM Radio Launches Weekly Education Talk Show From Laurentian University
Good Start For
Toronto
Blue Jays Means Increased Registrations for Minor Ball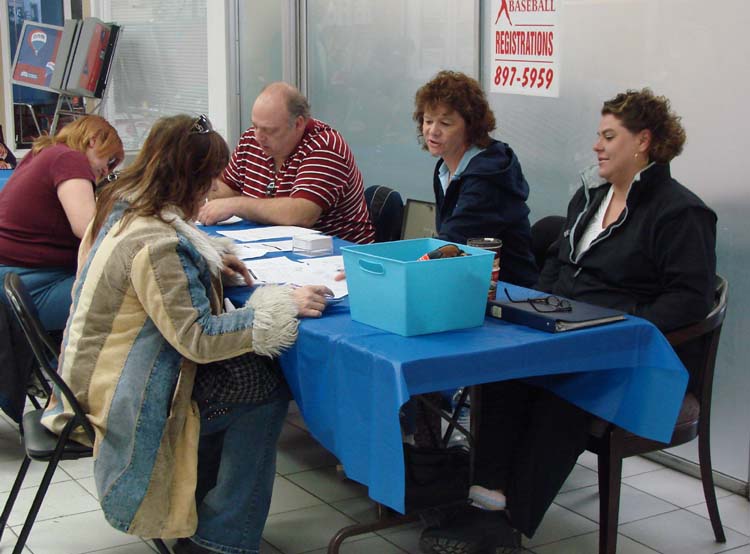 Registration totals for minor baseball in Ontario always increase whenever the Toronto Blue Jays do well in spring training and early in the season, so it was no surprise to Debbie St. Jean, President of the Valley East Minor Baseball Association to see positive numbers during their first two weekends of registration. Debbie is shown in the middle of the photo taking one of the many registrations that came in during her time at the mall. Sitting to her left is Joy Jokinen, Director of Operations for VEMBA, and to her right is Dan Beaudry, Vice President.

"Our provincial association tells us that registrations are directly related to the success of the Blue Jays, so we were glad to see them off to a good start," Debbie explained. "Our numbers have been going up steadily for the past couple of seasons and we expect more of the same this year."
When the first pitch is thrown the first week of June, there will be over 200 boys and girls from 4 to 20 years of age playing baseball on fields throughout Valley East .

Debbie went on to give an overview of the season. "We begin the season the first week of June and end around the middle of August. Each team plays two games a week plus we hold a house league fun tournament the weekend of June 27 and 28. Many of our divisions have traveling teams which play in tournaments throughout the summer. We will be hosting a bantam tournament on July 11 and there will be some double headers from time to time. Most of our house league teams play against teams from the Valley only, but a couple of divisions in the older age categories play in a loop with some Sudbury area clubs."
With 12 to 13 players on a team, it is certain that everyone will get plenty of playing time during the summer season. This is important since the VEMBA prides itself on being a developmental organization, with the top priority being to help young players develop the skills necessary to better enjoy the game. It's all about fun at the house league level. Another popular event, the Blue Jays Clinic will be held during the summer, featuring trainers from the Toronto Blue Jays working with young players from the Valley East Minor Baseball Association.
The final weekend for registrations will be held at the Hanmer Valley Shopping Centre on Saturday, April 26 and Sunday, April 27 from 12 noon to 4 p.m. each day. All boys and girls wishing to play baseball this summer should make sure to register on those days.
For more information you can always go to the web site that you can access at www.vemba.ca or you can call the main office line at 897-5959.
Ronald Ross Finally Turns Off His Light Pole After 52 Years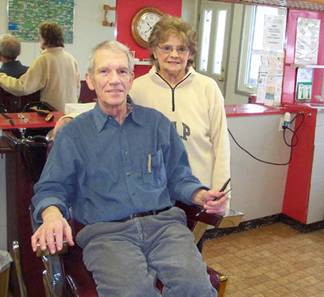 At 72 years of age, Ronald Ross has finally decided it is time to put away the scissors and turn off the light pole for one final time on May 2, 2008 at . At that moment, Ronald's Barber Shop will bring an end to a remarkable chapter in the history of Hanmer.

For the past 47 years, Ron has been serving loyal customers out of the very same room in the original house in Hanmer where he and his wife, Gertrude moved in June of 1960. Despite a hearing impairment that left him with only 16% of normal hearing from the age of 5, he hasn't let this challenge prevent him from enjoying a remarkable career which includes a great deal of conversation with customers.

Ron and Gertrude raised three children, Dan, Francine and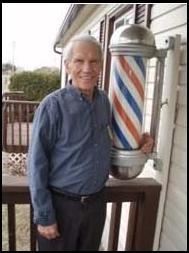 Suzanne. They were able to walk to both their elementary and secondary schools, and were able to enjoy something else that few children will ever experience – a father who was always at home for them, morning, and night.
Many residents will recall that Joe Ross, Ron's father, was Mayor of Hanmer for a couple of years prior to Ray Plourde.
On behalf of everyone who now calls Valley East home, and in particular on behalf of all of the people who have ever had the experience of receiving a haircut from you, Ronald, we want to congratulate you on the contribution you have made Hanmer over the years and we wish you and Gertrude the very best in your retirement. You have been a wonderful role model and a truly honourable citizen.
Renegades Tournament Adds A Nice Finishing Conclusion to Season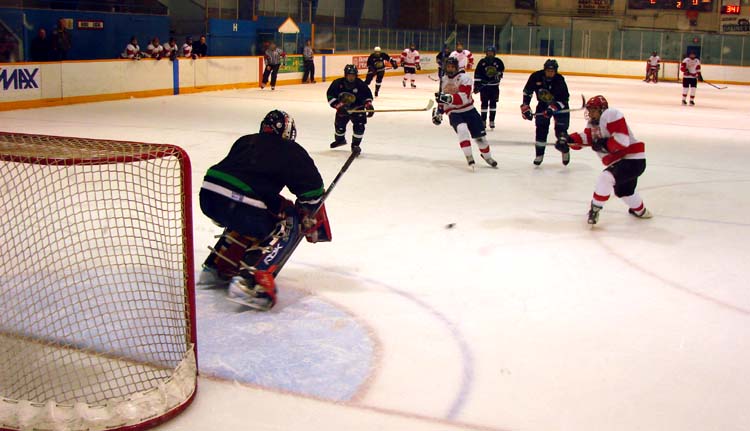 Goaltender, Phil Boudreau, of Valley East 's Desjardins' Food Basics Midgets is about to make another spectacular save during one of the frequent scoring opportunities he faced in the championship game against the Schumacher Combines. Unfortunately, the visitors were just too strong for the local squad, emerging with a 5-0 victory.
This was the final game of the weekend during the 27th Annual Valley East Renegades Minor Hockey Tournament which was held from March 28 to 30 at the Centennial, Ray Plourde and Capreol arenas. A total of 90 teams consisting of over 1200 players took part in the event which is considered the official end of the house league hockey season.
Tournament organizers once again expressed their sincere appreciation to Colorado Avalanche star, Andrew Brunette, a born and raised Valley boy who returns home for a few months every summer. Brunette provided numerous prizes in the form of sticks, gloves, helmets, and other equipment for the tournament players.
Spectators who had a chance to attend the championship game were treated to a fast-paced, exciting and clean-checking contest. Hilda Kingsley, one of the tournament organizers commented that everything went extremely well during the weekend, a testament to the volunteers and participants who always look forward to the "Renegades".

The Valley East Renegades use the proceeds from the tournament to sponsor youth hockey, baseball, soccer, basketball, and ringette, as well as disadvantaged youth and individuals in need.
The First Sign That Spring Is Near!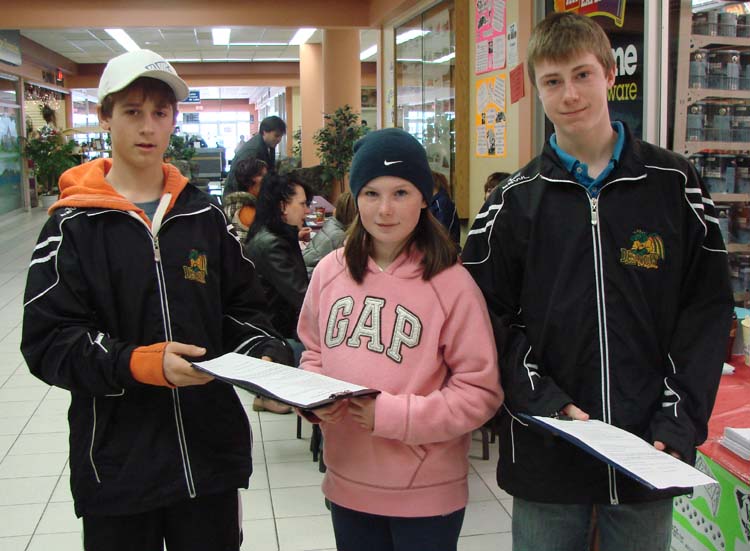 If you live in Valley East , the first real sign that spring is near has nothing to do with how much snow is on the ground or the temperature. It's all about "soccer registrations".

Here we see Brenna MacMillan picking up her registration form from Cameron Desjardins on the left and Patrick Desmarais on the right. Brenna, who attends Valley View Public School in Grade 5 was signing up for the U-12 girls division.
Cameron and Patrick are both 15 years of age and will be playing on the U-18 club this year. The boys are in Grade 9 at Lockerby Composite Secondary School and were helping out to earn community service hours as part of their school requirements. They decided to attend Lockerby because of the STEP laptop program, and although it may involve a bit more homework and a longer ride to school, both boys are thoroughly enjoying the experience.
The Valley East Soccer Club is expecting up to 1500 participants from Under 4 years of age to adult. Play will begin the week of May 26 culminating in the final playoff weekend on August 8 to 10. All games are played Monday through Thursday with adults playing on Sundays as well. The Annual Valley East Soccer Tournament will be held on June 20, 21 and 22.
For more information you are asked to call the Soccer Line and leave a message at 969-8497.
Young Ladies Give Up Their Saturday For A Good Cause & Community Service Hours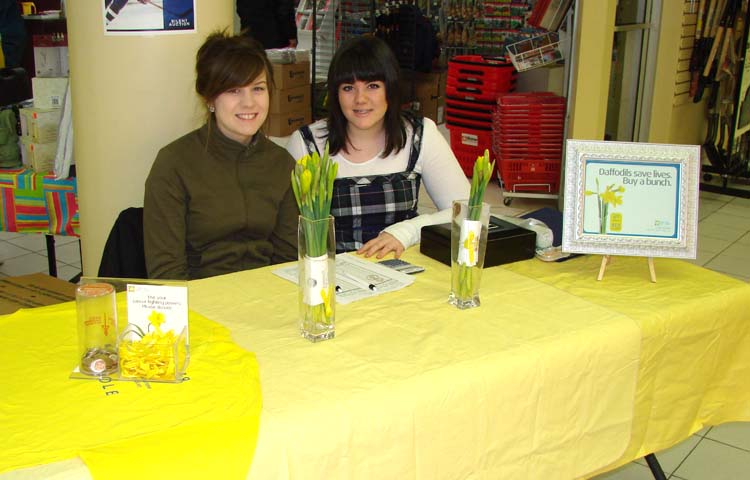 Jasmine McTiernan and Lindsay Aubin, both Grade 9 students at Confederation Secondary School , spent the whole day at the Hanmer Valley shopping Centre on Saturday, March 29. However, they weren't there to spend money – they were there to help raise money for the Canadian Cancer Society by selling daffodils to kick off Cancer Awareness Month. The time spent will also go towards their 40 hour community service requirement that is part of their Secondary School Diploma Program.
Even though they are only in their first year of high school, the two girls have indicated that they are already beginning to think about what they will do after Grade 12. Lindsay is pretty certain that she wants to enter a career in radiology after having spent a day shadowing the head of the X-Ray Department at the Sudbury Regional Hospital . Jasmine is still undecided, but is considering a few of her options.
Both girls attended Valley View Public School and have continued with the French Immersion program at Confederation. When asked what the biggest difference was between high school and elementary school, both girls indicated the same things. "You are more responsible for what happens to you in high school. The teachers are always watching what you do in elementary school but now we are left on our own a lot more. We have to make sure we do things ourselves without being told all the time." They also find that there is much more social time to interact with other students in high school.

Lindsay has already put in her 40 hours of service even though she still has three years of high school left. She has done things like helping with the Rick McDonald Park in Azilda, the flu clinic and now selling daffodils. Both Lindsay and Jasmine indicated that they have always loved volunteering their time for good causes and were glad to do their small part for the Canadian Cancer Society.
Valley East
Renegades Capture Ringette Gold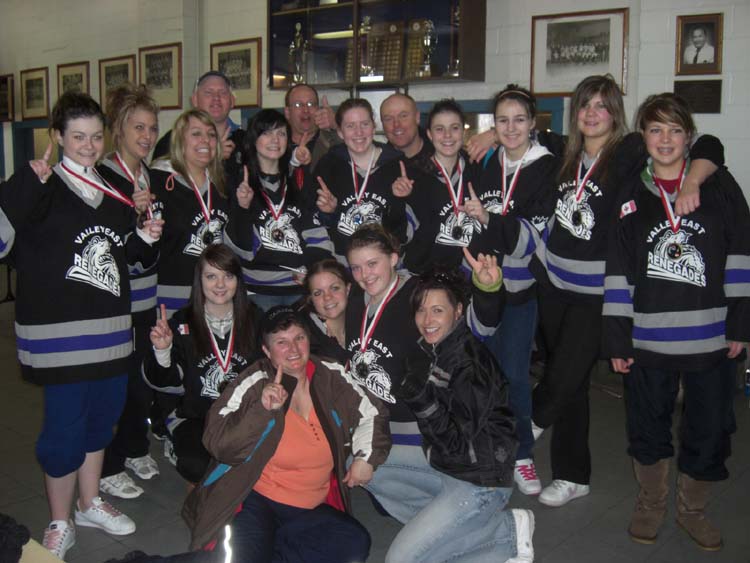 The Valley East Renegades Belle Team continued their successful season with a recent tournament title in Niagara Falls . In the opening match against Oshawa the ladies defeated the Storm by a 7- 4 count. During their second match, they were outscored in an offensive battle 10 - 8 by the Woolwich Reds. Game number three was a successful though close match winning 6 - 5 against the Caledonia Lightening. When the round robin was finished they found themselves in second place.
The ladies were to play the Woolwich Reds in the finals. After roaring out to a 3 - 0 lead in the first period, their opponent fought back to tie the game in regulation time at 4 - 4. The Renegades found themselves in uncharted waters not having played in overtime all season.
With convincing style they played on, not allowing the ring to enter their defensive zone or have a single shot on net, and scored into the overtime frame.
These young ladies have played hard all winter, losing one game during the season to become league champs. Into the playoffs they have fought hard as well, losing one game to finish first over all. Their final test comes at the Nickel Basin Championship game on April 6th. Well done Renegades
Former Graduate of
Hanmer
High School
Provides Good Career Advice For Students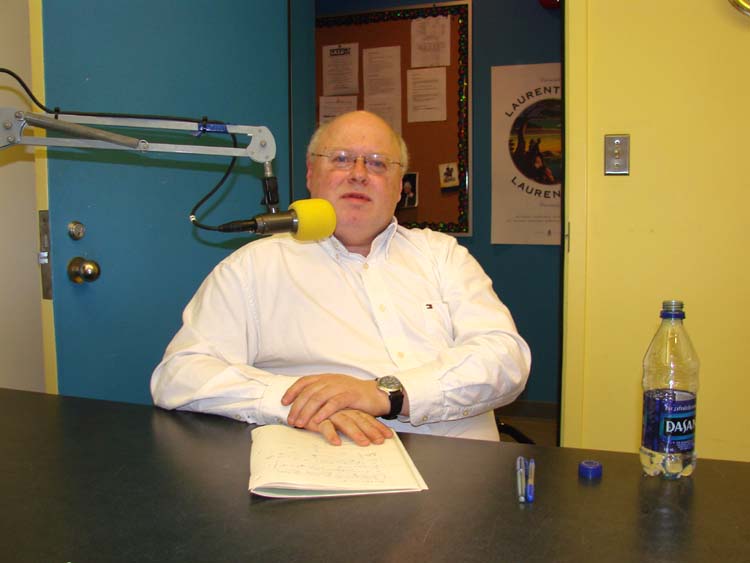 Gilles Lebeau, a life-long resident of Sudbury , has travelled a long and winding journey from the time he walked off the stage with a diploma from Ecole Secondaire Hanmer. Today he is Vice President of Finance and Operations of one of the area's most prominent mining sector businesses, the Mansour Group of Companies, where he is in charge of numerous and diverse business interests and is responsible for the livelihood of over 600 full and part-time employees.

Gilles was the special guest March 10, 2008 on "Inside Education", a local talk show on CKLU 96.7 FM that is broadcast live every Monday evening at from the studios at Laurentian University. Robert Kirwan, an Independent Education & Career Development Specialist who operates a private practice called The Greater Sudbury Learning Clinic, is the producer and host of the program which consists of an engaging conversation with a person from a different career field each week. The purpose of the show is to provide listeners with some valuable down-to-earth insight and information which may prove helpful for those who are looking for tips and strategies that will help them become more successful in their current or future careers.

"Our biggest challenge in the industry right now is to be able to hire competent people," Gilles commented. "I look for people who are enthusiastic, creative, and confident. We need people who are competitive, because everything in business today is competitive and if you aren't looking for new and better ways of providing services and products to your customers you won't survive."

He feels that young students should decide what it is that they love to do and then pursue a career in that field. "If you are good at what you do, and you do it with a lot of enthusiasm and energy, you are going to make a lot of money. It will just happen naturally. That is the secret to success. You must first of all decide what it is you are good at and that you like. Then go forward from there and learn from people who are successful in that field. Find a "mentor" who will teach you what you need to know to be successful."

"Once I hire a person I tell him that I cannot guarantee him a job for life, but I can guarantee that I will make him marketable so that he will not have any trouble getting another job if he ever has to leave our company," he commented. "I think that is something that all young people must work a little harder on. They must try to market themselves a lot better than they are today. It is the little things that count, like being on time, being neat and organized, being polite and respectful of others, and genuinely and sincerely trying to learn everything you can about everything you can all of the time.

Indeed, one of Gilles' favourite quotations is, "True learning happens at the edge of your comfort zone. It is only when you push yourself and when you are willing to take the hard road, not the easy way out, that you truly learn. That is what makes the difference between excellence and mediocrity."

As a final bit of wisdom, Gilles Lebeau wants young people to remember that "There is only one thing that no one can take away from you, and that is your reputation. Guard it carefully and it will serve you well."

And always remember that the people who do the hiring today believe as he does, namely that, "I always hire on attitude. I can teach everything else, but I can't teach attitude. Without the proper attitude, you are not going to be much use to anyone."
Chamber of Commerce After Business Event Returns To
Valley East
After 5 Years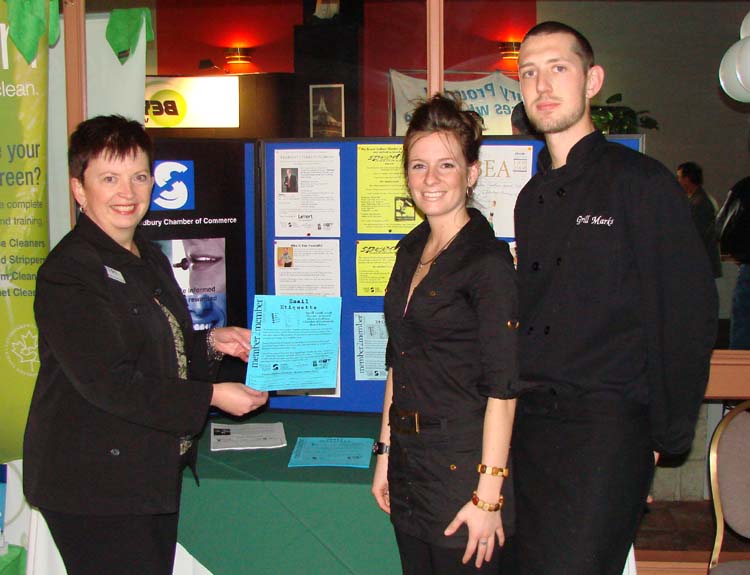 Debbi Nicholson, President and CEO of the Greater Sudbury Chamber of Commerce is shown explaining some of the services offered by the Chamber to Christina Allsop and Tyler Merrin, co-owners of Grill Marks Bistro Restaurant, which is located at the Clearview Golf Club in Val Caron. The Chamber organizes a monthly After Business networking evening at various sites in the Greater Sudbury Area and decided to return to Valley East for the first time in five years on March 11. Christina and Tyler graciously offered their facility to host the event which featured displays and exhibits from over a dozen businesses and services, several of which were from Valley East .
Valley East continues to be one of the fastest growing communities within the City of Greater Sudbury , both in terms of residential and commercial development. With over 25,000 people living in a rapidly expanding town with a proud history, Valley East has become home to many of the influential leaders of both private and public sector businesses and organizations in the region. It is estimated that up to 8,000 people commute to work each day to various sites in the former City of Sudbury . It has been said that the residents of Valley East have direct contact with over 80,000 people living throughout the region through business, school and family connections. The economic impact Valley East has on the City of Greater Sudbury is enormous.
In addition to being the preferred place to raise families for many of the key leaders in many of the establishments outside of the community, Valley East is also home to approximately 500 store-front and home-based businesses and professional service providers. This is becoming known as the "City within a City", in reference to the fact that Valley East had received the official designation as a "city" just prior to amalgamation. Residents here have just about all of the goods and services they will ever need right in their own self-contained community. Events such as the Greater Sudbury Chamber of Commerce After Business provide community leaders an opportunity to network with each other and to share ideas and visions of the future.
With several large subdivisions already approved as well as other retail expansion projects in the works, it appears as if Valley East is going to continue to experience significant growth and development in the future.
Valley East Community Theatre Raises Funds and Awareness Of Grass Roots Cultural Needs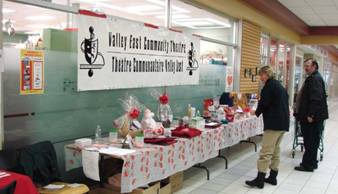 Sandra Desjardins, Secretary of the Valley East Community Theatre Group, puts the finishing touches to the Annual Valentine's Penny Table at the Hanmer Valley Shopping Centre. Each year at this time the group organizes a huge penny table sale to help raise much-needed funds for the theatre group and generate renewed interest among residents interested in the development of the arts and cultural sector of the community. Shown examining the array of prizes is Marcel Legault, a trustee with the French Catholic School Board and someone who has always had an interest in the development of young artistic talent.

The topic of arts and culture is expected to reach a peak some time this spring when City Council is presented with a proposal to build a $75 million performing arts centre somewhere in the downtown core. While there are plenty of emotional and economic arguments to support such a development, the fact remains that Council will also be presented with a proposal for a state-of-the-art sports facility with a price-tag that could also hit the $75 million level before it is complete.

The success of recent concerts featuring Elton John, Michael Bulble, Anne Murray, Blue Rodeo and other big name performers has generated discussion of a third option, namely the development of a multi-purpose sports and entertainment complex which may satisfy the needs of the entire community and avoid an obvious conflict between different interest groups in the city. Clearly, it would seem that an 1800 seat auditorium in a new Arts Centre would be insufficient to attract the likes of Elton John, Michael Bulble, Anne Murray or any other performers of their stature. Indeed, the Sudbury Arena's 6000 seats are barely enough to warrant this level of entertainment. Neither of the new proposals include seating arrangements that would be satisfactory if we are to continue to see groups of this nature coming to Sudbury . At some point we will either have to spend a lot of money upgrading the Sudbury Arena or build a larger complex some time in the future. Some are saying, "Why wait? Why not do it all at once and make one facility that will be good for everyone?"

It would appear then, that once the total cost of the two new facilities are put on the table, the debate over whether to pursue one or both will undoubtedly split the community. At that time consideration will have to be given to a development of a new multi-purpose facility that could seat as many as 10,000 people at a time and yet still accommodate the needs of some performances that require a much smaller space. Engineering technology currently exists to allow for the flexibility in construction to make this happen. All of this can be done for about half the combined cost of the two proposals about to be put in front of City Council this spring.

Once such facility that has come up as an example in recent editorials in a local news publication is London's $47 million John Labatt Centre, which can hold over 9,000 fans for hockey or concerts and over 3000 for theatre performances.

While the debate goes on about what type of facility we need to build in the central part of Sudbury to attract major concerts and symphonies, the Valley East Community Theatre Group is busy trying to generate a grass-roots arts and cultural climate right here in our own community. This is where the "seeds of culture" need to be sown and we commend all of the volunteers who are doing their part to bring this spirit to life.

The next performance by the Valley East Community Theatre will be popular musical, "Leader of The Pack". It will be held on April 24, 25, 26 and May 1, 2, 3, 8, 9, and 10. Each show will begin at at Hanmer Secondary School .

Tickets are $15 for adults and $10 for seniors and children.

You can pick up your tickets at M & R Grill (Capreol), Valley Plaza Pharmasave; Paulette's Variety; Val Caron Rexall Drug Store; and Caisse Populaire St-Jacques de Hanmer.
Local Girls Perform Well In The Pool During Meet In
Timmins
Sarah Tkachuk is a 15 year old swimmer who joined the Valley East Waves last season.

Sarah started in competitive swimming in Newfoundland with the

GANDER LAKERS SWIM CLUB

in the 2005-2006 swim season.

Previously she had been involved in diving and was a member of a diving club, diving was not available in Gander so she joined Competitive Swimming with her brother Alex. She attends grade 9 at Marymount Academy and is also a member for their school swim team. After several months of training in Group 2 of the Valley East Waves, Sarah had a great meet in Timmins at the Fred Rams B Championships on February 23 + 24 with 6 personal best times, 6 gold medals and overall high point winner for the 15 and over girls age category.
Corinne McAnulty joined the Junior Waves program of the Valley East Waves in the 2003-2004 season, following in the footsteps of big brother Steven.

Now as a 14 year old competitor who has moved through the program from Junior Waves to Group 2, Corinne trains hard five times a week for one and one half hours at a time, she has really found her groove in sprint fly events.

Corinne who attends Grade 9 at Confederation Secondary School also competed for her high school swim team at the recent City Championships.

Corinne attended the Fred Rams B Championships on February 23+24 in Timmins .

With six personal best times (what the Waves consider a perfect meet), 4 gold medals, a silver and bronze Corinne was the overall high point winner for the 13+14 girls age category.
Mark Hodgson Wins $1500 Valentine's Day Gift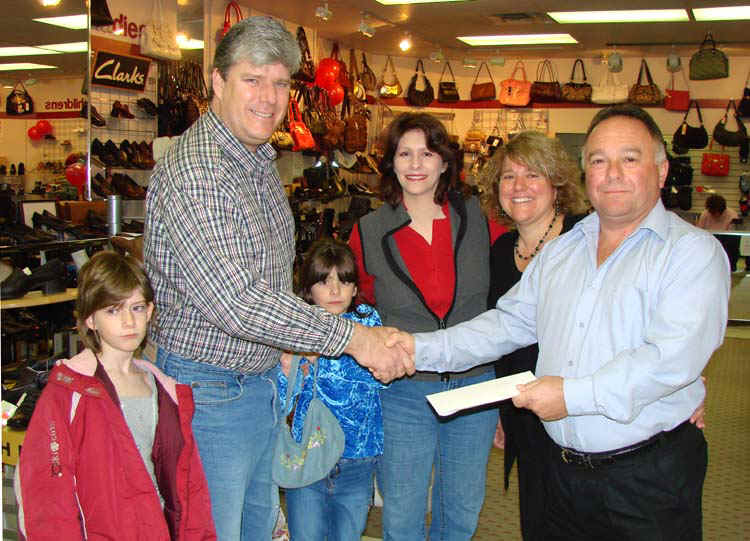 Mark Hodgson was the big winner in the 1st Annual Hanmer Valley Shopping Centre Valentine's Day Customer Appreciation Contest which was held on February 14, 2008. In the above photo, Mark is shown being congratulated by the owners of Sole Mates Family Footwear, Rob Cousins, and his wife, Vicki who is standing just behind him to his right. The winning ballot was picked up at Sole Mates Family Footwear and as a special bonus prize, Mark won an extra $100 gift certificate that can be redeemed from Sole Mates. Mark works at Cambrian Ford and is originally from Pointe-au-Baril.

Mark brought the rest of his family along for the prize presentation. He was joined by his wife, Jeannine Hodgson and their two children, Ariel (9) and Erika (8). Both girls attend Redwood Acres Public School in Grades 4 and 3 respectively. The Hodgson's live in Val Caron.

Jeannine has her family roots as a Valley resident going back into the early 1900's. Her grandfather, Napoleon Bertrand started Capreol Dairy. Her father, Roger, owned Sudbury Wholesale.

Besides the $100 gift certificate which was donated by the landlords, Val and Violet Mazzuca, Mark won the following prizes and gift certificates from the the participating merchants.

PRIZE LIST

His & Hers Matching Wrist Watches from J.B. Jewellers

A Large Food Basket From Desjardins' Food Basics
A Digital Standard Express Vu System from Bell Canada

Tickets to see Damian The Hypnotist from Cranky Joes
A Beautiful Gift Basket from Hidden Secrets
A bouquet of flowers from The Floral Nook
A Massaging Foot Bath from Hanmer Home Hardware
An Oxyfresh Gift Pack from Hanmer Denture Clinic

A Hershey Chocolate Bar Pack from the Dollar Klub
A Copy of a New Release from Popcorn Video
A New fishing rod from Western Auto NAPA
An Aquarium Kit from Pet Palace
A Gift Bag from Lou's Shoe Repair
PLUS A SHOPPING SPREE WITH
GIFT CERTIFICATES FROM THE FOLLOWING MERCHANTS:
Hart Department Store Crafts 'N More
Sole Mates Family Footwear Valley Plaza Pharmacy
Be-You-tiful You Esthetics & Electrolysis Sears Canada

Valley Plaza Barber Shop Gallery & Brew Shop

Dunlop & Labrecque Optometrists Dixie Lee Restaurant
Source by Circuit City Carmike's Sports Memorabilia
Breast Cancer Research Benefits From Sales of Avon Products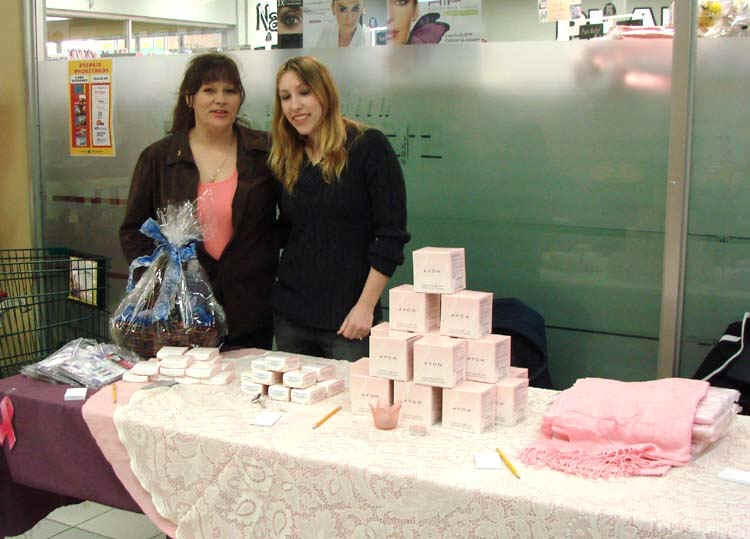 Lise Harrison and Cori Chauvin are shown with their four fund-raising products from Avon as they spent a recent weekend at the Hanmer Valley Shopping Centre generating much needed dollars for Breast Cancer research.

All of the Avon products cost $5 with the entire proceeds going to the charitable cause. Visitors had their choice of memor pads, key chains, candles or a shawl, each with the familiar Breast Cancer logo on them.

Breast Cancer Research is the major "cause" of Avon. Displays such as this are set up in malls across the country all year long so that people can donate to this worthy charity and help put an end to the dreadful disease. Both Lise and Cori are Avon Reps from Valley East.
Cash Calendars Being Sold By Ecole Notre Dame To Raise Money For Year End Activities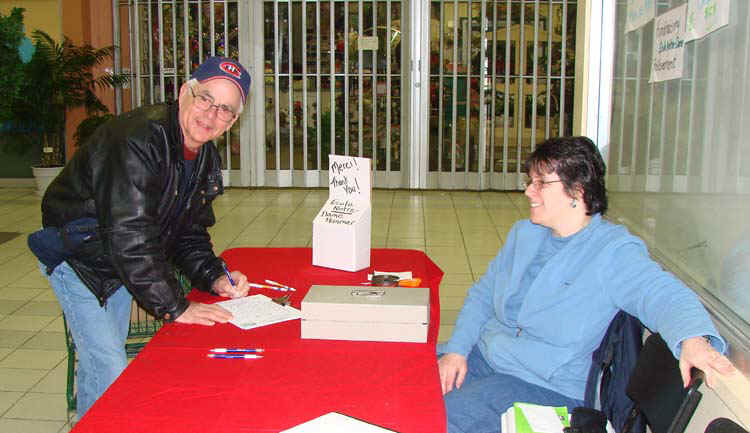 Sue Beaudry is recognized in the community as a tireless volunteer who is always ready to lend a helping hand when it comes to children. Here she is shown spending several hours at the Hanmer Valley Shopping Centre selling "Cash Calendars" for the Parent-Teachers Association of Ecole Notre Dame of Hanmer. Sue's daughter, Jennifer, is a Grade 8 student at the school.

Don Dupuis stopped by to purchase one of the tickets which will give him a chance at winning one of the daily prizes that will be awarded during the month of March. The $5 ticket gives him 31 chances at winning a cash prize. Every Sunday during March the prize will be $100; Saturdays the prize will be $50; and all weekday winners will receive a prize of $20. In all, $1170 in prizes will be handed out to thirty one winners.

This is the first year Ecole Notre Dame has tried this type of fund-raiser. You can also pick up one of your tickets at the school every Friday or by calling 969-4411.

Sue is also President of the Club Optimist de la Vallee, a youth organization that is dedicated to raising money in support of youth-based activities. The group organizes an annual golf tournament, bike rodeo, Christmas breakfast and Popcorn Fridays at the school. They provide funding to individuals who need financial assistance in order to improve the quality of life of children in the family.

On top of that, Sue is the manager of the two hockey teams her children play on in Valley East. Her son, Justin, attends Grade 10 at Collage Notre Dame in Sudbury.

Sue stopped working outside the home when her daughter was ten years of age. "I decided it was more important for me to be around for my children than to continue working and have more money for those extra luxuries. We just have to watch what we spend and we sacrifice a few things, but I don't regret my decision for one minute. It has made a world of difference for my children to know that their mother is available when needed. It has also been a wonderful experience for them to see me getting so involved in the community and in their school activities."

While her schedule is certainly filled with plenty to do because of her community involvement and volunteering activities, Sue wouldn't have it any other way, "I think it is important for children to see their parents getting involved in their community. It shows them how much we care and gives them a good example to follow when they have their own children. I know I am very fortunate to be in a position where I am able to take time from my career to devote to my children. It is something I am grateful for and will continue to take advantage of as long as I can."
Laurentian University Nursing Students Conduct Vital Signs Clinic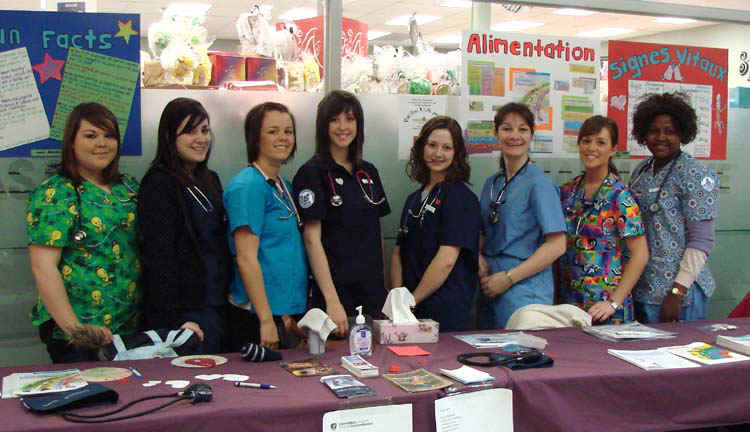 As part of their program, students enrolled in the Laurentian University Nursing Programs are required to spend a number of hours in community and clinical settings. On February 11, 2008, seven of the students, under the supervision of Lynn Aubuchon, third from the right in the photo, conducted a Vital Signs Clinic at the Hanmer Valley Shopping Centre.

Shown in the photo, from left to right, are: Carrie-Ann Castilloux, Marie Rose, Dominique Leroux, Renee Bertrand, Nathalie Lebeau, Lynn Aubuchon, Charlene Quesnel, and Fatima Sankoh.

The girls are all part of the 4 year French language nursing program at the school.
Canadian Model and Talent Convention Could Be The Start Of A New Lifestyle For The Collin Family

A local family from Hanmer is one step closer to realizing their dreams. The Collin Family are shown from top to bottom in the photo, includes, Alyssa (8), Ashley (17), and Aubrey (11), They have successfully auditioned to attend the Canadian Model and Talent Convention (CMTC) in Toronto this coming May. At the CMTC, they will have the opportunity to meet OVER 50 of the World's Top Modeling and Talent Agents, attend workshops and seminars as well as compete in several competitions.



Ashley is 17 years old and has been in dance, acting, singing and modeling for 4 years. Her goal is a career in acting and singing. She began at Paquette School of Music as a vocal student when she was 10 years old. The family then moved to Belleville where she continued singing and acting and had a lead role in the school play, Joseph and the TechniColour Coat. Upon returning to Sudbury and buying a home in Valley East , Ashley was enrolled in Diane Boulais School of Dance where she attended for 3 years. In 2007 Ashley decided she wanted to expand her experiences and joined Gauvreau School of Performing Arts. Since being at Gauvreau she has been in the French River Trading Post commercial on MCTV, modeled wedding attire in the local Bridal Show and modeled Fashions by Deedee at the Sudbury Arts and Crafts Show at the Howard Johnson. Ashley began secondary education at Bishop Alexander Carter in Hanmer and in Grade 11 transferred to Sudbury Secondary Performing Arts School where she is currently completing Grade 12. She is a Drama Major, Vocal and Dance Minor.



Aubrey is 11 years old and a natural born actor and comedian. He has been professionally trained for one year and his goal right now is to become an actor. Aubrey is in Grade 6 at Immaculate Conception School. He enjoys being center stage in any situation and much to the dismay to his teachers, easily engages his peers with his stories and antics. This is Aubrey's first year of formal training in the Arts and he has exceeded all expectations. He attends Gauvreau School of Performing Arts and studies Musical Theater.



And finally there is Alyssa. She is 8 years old and has been in dance, modeling, and musical theatre for 4 years. Her dream is to sing and dance professionally. Alyssa is in grade 3 at Immaculate Conception School. She attended Diane Boulais School of Dance for 3 years where she studied tap, ballet and jazz. Alyssa and her classmates competed in the North Bay Kiwanis Festival where her group placed first for her division. This year Alyssa wanted to try modeling and enrolled in Gauvreau School of Performing Arts. She has modeled flower girl attire at the Bridal Show in Sudbury . She is also taking Ballet and Musical Theatre at Gauveau.



In order for the family to attend the four-day CMTC, they must raise $7000 to cover the expenses.

The entire Collin Family will be set up at the Hanmer Valley Shopping Centre every Sunday in February from to They will be available to talk about their dreams of one day becoming professionals and will be hoping for your support in helping them achieve their goals. If you would like to make a donation to the family so that they can attend the CMTC, please stop by their table at the mall. They would appreciate any and all donations.



If you would like more information, you can contact their mother, Carrie Collin by email at thecollins26@hotmail.com or by telephone at 662-9105.
Valley East
Novice Rebels Capture International Silver Stick Title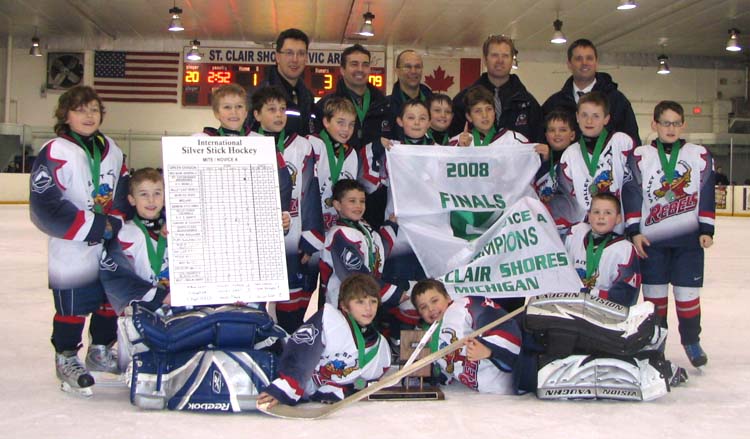 The Valley East Novice Rebels took top spot in the International Silver Stick Novice A play down held in St Clair Shores , Michigan the weekend of Jan 25 to 27th . Valley East downed the Valley Forge Colonials from Philadelphia 3-1 in the championship final.

The photo above includes the following players and coaches:

first row goalies from left to right Conner Sauve and Matthew Menard; 2nd row shows the 3 kids kneeling from left to right Jason Gough, Damien Giroux, Braedon Bilodeau; 3 row left to right Mason Blinn, Carver Grenon, Ryan Boudreau, Kyle Preseau, Kory Landry, Bradley Chenier, Daniel Walker, Alexandre Baronette, Bryson McLoughlin, Kade Bilodeau; 4th row Coaches: John Sauve, Dan Giroux, Todd Grenon, Richard Walker, Victor Baronette, Absent Steve Blinn and Derek McLoughlin .

Over 65,000 participants play in Regional Silver Stick Qualifying Tournaments throughout North America with representatives coming from Oregon , Texas , Connecticut and Northern Ontario . Champions from these tournaments are invited to advance to play other champions in the International Final Tournament. The tournament played host to 20 qualifying teams. If you are going to win one, this is the one to win. The talent at this level is incredible. The Novice Rebels have been working hard all season with this tournament as the primary gold. Five straight victories are what it took to get the prestigious tournament banner.

It's a 10 hour bus ride to get to St Clair Shores , but it did not take long for the Valley East Rebels to get out of the gate. The coaching staff had these kids firing on all cylinders. "Who are we boys?" yells the coach and this gets the kids going every time as they reply with an overwhelming "REBELS". Facing confident Dallas Jets team, Damien Giroux got them going with the 1st goal followed by Daniel Walker (with two goals) and Bradley Chenier getting a single as the Valley East Rebels won 4-1. The Rebels defense was strong as usual, limiting the Jet offence and allowing goaltender Connor Sauve to keep his team in the game. It was good to see the boys win the first game and ended the first game curse that has plagued many teams from this region during this tournament.

The next game saw the Rebels offence open up a little as they handily defeated the Collingwood Blackhawks 8-1. Rebels scorers included; Daniel Walker (3), Damien Giroux (2), Bradley Chenier, Kyle Preseau and Carver Grenon each adding singles. Again the defense limited the Blackhawk chances and goaltender Matthew Menard allowed only 1 goal in his tournament debut.

The third and final game of the round robin saw the boy's meet up with Indianapolis Racers. It was a one sided affair seeing the boys outshoot the Racers 40-3 and winning the game 15-0. With this final victory of the round robin, the Rebels sat in second place behind the Valley Forge Colonials.

The Semi-Finals started Sunday morning and Jason Gough led the team out of the gate with a quick goal only 36 seconds in. With confidence brimming over, the Rebels continued their team play that has made them so successful this year and sent the Raiders packing with a 5-2 win.

"Welcome to the show" yells Coach Richard Walker as he starts his pre-game talk before the Championship Game against Valley Forge Colonials from Philadelphia . It's all about "heart" and conditioning at this point and the Rebels definitely have this in abundance. In what was widely expected to be a high-paced game, the Valley East Rebels defense did not disappoint and exerted their presence from the initial face-off. It took the Colonials till the 3rd period before they could find an hole in the Rebel fortress as Connor Sauve held them back in allowing only one goal against. Facing an awesome Colonial goalie, the Rebels mounted attack upon attack with a total of 31 shots. In the end, with the support of his teammates, Captain Daniel Walker led the way with a natural hat trick securing a 3-1 Rebel victory.

Returning Head Coach Richard Walker has been to the International Silver Stick before and knew what it took to win it. Assembling a strong coaching and management staff, he picked the best players from a deep Valley East talent base and has continually challenged the boys to be better everyday. Starting with a Championship in London in October, the Rebels have followed it up with victories in the Guelph Storm AA and Nickel Center A tournaments. The final step to getting these boys geared up for the International Silver Stick was to have them play in the Barrie Colts "AAA" tournament where they lost a very close semi-final game to Peterborough.

The Valley East Rebel Novice roster includes: Matthew Menard, Conner Sauve, Braedon Bilodeau, Kade Boileau, Kory Landry, Mason Blinn, Daniel Walker, Bryson McLoughlin, Kyle Preseau, Bradley Chenier, Jason Gough, Carver Grenon, Damien Giroux, Alexandre Baronette, and Ryan Boudreau, Richard Walker (coach), Steve Blinn (coach), Dan Giroux ( coach), Todd Grenon (coach), John Sauve (trainer) Derek McLoughlin (coach) and team manager Victor Baronette.
Four Members of
Valley East
Waves Swim Club Qualify For Provincials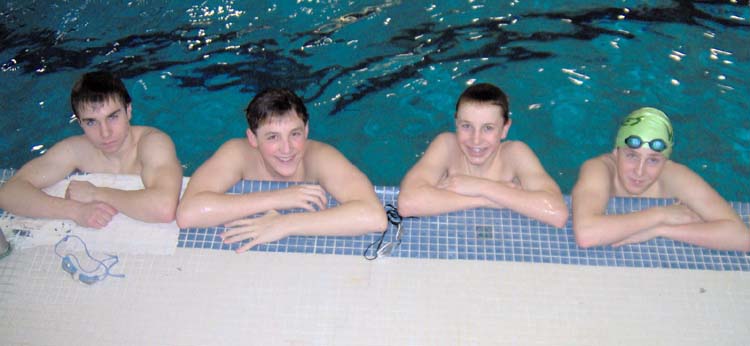 The Valley East Waves Swim Club will be well represented at the Short Course Provincial Championships in London on February 28, 29, March 1 and 2. Four talented boys will hit the lanes in London as they continue to impress the swimming community in Ontario . The four, from the left, are Ian Blechta, Justin Leclair, Colin Hirschfeld and Spencer Hirschfeld.
During a qualifying meet which was held at Laurentian University the first weekend of February, The Wave's were in the Large team category with 13 swimmers and placed 4th overall.
Colin Hirschfeld placed 3rd overall in the 14 & 15 year old boys' category. He ended up 1st in 200 Fly and 100 Breast; 2nd in 50 Fly, 100 Fly and 200 Breast; and 3 rd in 50 Free and 400 IM.
Spencer Hirschfeld was 1st in 50 Fly and 100 Fly; 2nd in 200 Fly, 200 IM and 50 Free; and 3rd in 50 Back.
Justin Leclair placed 2nd overall with a 1st in 50 Breast, 200 Breast and 50 Back; 2nd in 200 Back 100 Back and 400 IM; and 3rd in 200 IM.
Ian Blechta placed 3rd overall in the 16 and over boys category. He came 1st in the 50 Breast, 100 Breast, 200 Breast and 200 IM
The Waves also did very well in the relay events. The team of Alex Leduc, Denis Villeneuve, Justin Leclair and Colin Hirschfeld finished 1st in the 200 Free Relay.
Justin Leclair, Colin Hirschfeld, Denis Villeneuve and Spencer Hirschfeld took top spot in the 200 Medley Relay.
Spencer Hirschfeld, Colin Hirschfeld, Ian Blechta and Steven McAnulty took 3rd place in the 200 Free Relay.
For more information about the Valley East Waves you can contact Sharon Leger, Head Coach, at 969-1360.
CKLU 96.7 FM Radio Launches Weekly Education Talk Show From Laurentian University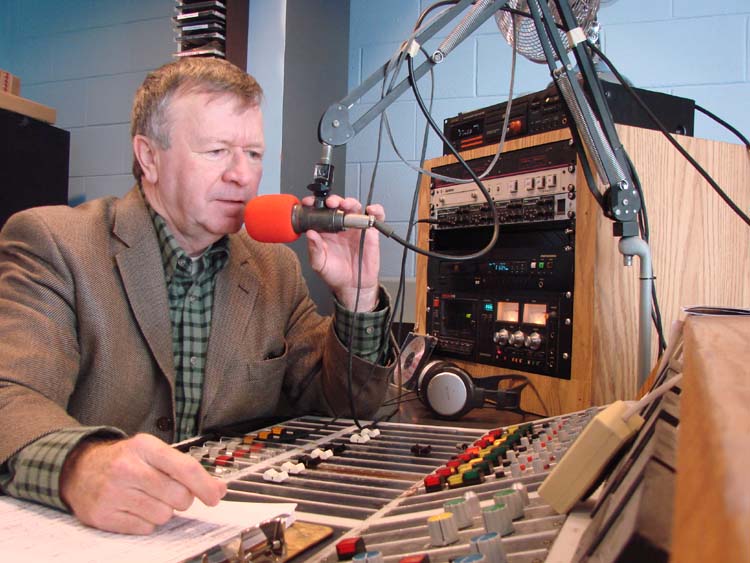 Robert Kirwan, a well-known local education authority who operates his own private practice as an Independent Education, Career and Personal Development Agent, is the host of a brand new radio talk show that will be of interest to all students, parents and teachers of the Greater Sudbury Area.

The Learning Clinic: Inside Education, will broadcast live every Monday from to on CKLU 96.7 FM from the studio at Laurentian University.

The Greater Sudbury Learning Clinic was founded by Kirwan at the beginning of 2007 as a Tutoring Agency providing personal, one-on-one, in your home tutoring services to students attending elementary, secondary and post-secondary institutions in the City of Greater Sudbury . He has built up a Registry of Tutors which contains in excess of one hundred instructors who are qualified to provide assistance in both official languages in all subject areas to regular and special needs students of all ages in all schools.

"In meeting with hundreds of parents during the past year I have discovered a disturbing degree of confusion and anxiety when it comes to the learning difficulties and challenges being faced by their children. We continue to emphasize the importance of higher education as the key to a successful and satisfying life, but the complexity of the whole education system today is overwhelming to most parents and students," explained Kirwan. "The Learning Clinic will provide assistance in the form of personal "learning coaches" to students of parents who approach us directly for help, but I wanted to find a way of reaching out to more of the 45,000 or more students who are attending JK to Grade 12 and post-secondary institutions in the region, and I wanted to find an effective way of communicating with the parents and teachers of these students."

In attempting to accomplish his mission, Kirwan has created a comprehensive web site at www.thelearningclinic.ca that contains a wide variety of information, commentaries and inspirational editorials designed to motivate and encourage students, parents and teachers. "I am pleased with the growth of the web site and will continue to add appropriate content and links to the site to meet the needs of people who turn to the internet for solutions to their problems, but I felt that I needed another form of media to compliment the web site. That is why I decided to turn to Laurentian University for help, specifically, CKLU Radio."
The Learning Clinic: Inside Education will feature special interviews with dozens of people from the area who have something to offer listeners with respect to arriving at a better understanding of education, career and personal development topics. Kirwan will take time to discuss and debate important issues that are of concern to local students, parents and teachers. He will also deal with some of the trends in education that may affect the Greater Sudbury education scene in the future. Many segments of his radio show will be recorded and made available on demand on the web site at www.thelearningclinic.ca for people who may have missed the actual broadcast or who would like to listen to a particular topic over again.

"Life-long learning is taking on a new level of significance in the world today," Kirwan pointed out. "No longer is education just for the young. People entering the workplace now face the prospect of changing careers up to a dozen or more times during their lifetime. Baby boomers are entering retirement age with hopes of beginning twilight careers that will allow them to remain engaged in meaningful employment into their 70's and 80's. In the not so distant future the face of education will take on a whole new look, and in order to make sense of their world people of all ages will be looking for someone who can provide them with guidance in making the right choices. And every career change will require more education and training."
The Learning Clinic: Inside Education can be heard every Monday night from to on CKLU 96.7 FM, or on Cable 106.7. For more information about upcoming guests and topics, visit the web site at www.thelearningclinic.ca or phone Robert Kirwan at (705) 524-7006 if you have any suggestions or concerns you would like to have addressed on the show. Upcoming shows that will be of particular interest include: What Families Can Do At Home to Improve Literacy Among Their Children (January 28); The Sports And Success In High School with Brandon Dougan of Confederation Secondary School (February 4); and The Effect of Alzheimer's on Young Students with Linda Fontaine (February 11).