CHAPTER FIFTEEN
Annual Valentine's Penny Table Raises Valuable Funds For Valley East Community Theatre
Valley View Public School Welcomes The Community During Open House

Hanmer Valley Shopping Centre Sets Up Food Bank Depot To Replenish Food Lost In Fire

Damage To Kiost Provides

Canada

Post With A Reason To "Upgrade" Service To Val Therese

Courtney Bruno Hosts "City Spins" On CKLU 96.7 FM To Promote Local Musicians
1st Annual Sportsman League All Star Game Benefits Minor Hockey & Food Bank
Extent of Poverty In Greater Sudbury Area Places Strain On Food Banks All Year Long
Grant Crawford Wins Fun In The Sun Dream Vacation
Heatwave Tanning Salon Customers Donate Food Items To Help Those Less Fortunate At Christmas
Area-Rating System Creates Unfair Taxation For Valley East And Fuels Deamalgamation Movement Again
12th Annual Christmas Drive By Living Well Chiropractic Is A Huge Help For Food Bank
Annual Valentine's Penny Table Raises Valuable Funds For Valley East Community Theatre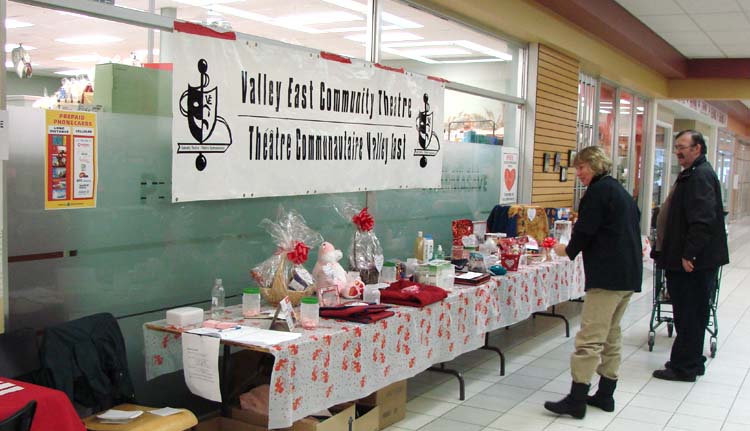 Sandra Desjardins, Secretary of the Valley East Community Theatre, puts the finishing touches to the Annual Valentine's Penny Table at the Hanmer Valley Shopping Centre on February 8. Each year at this time the group organizes a huge penny table sale to help raise much-needed funds for the theatre group. Shown examining the array of prizes is Marcel Legault, a trustee with the French Catholic School Board and someone who has always had an interest in the development of young artistic talent.

The next performance by the Valley East Community Theatre will be popular musical, "Leader of The Pack". It will be held on April 24, 25, 26 and May 1, 2, 3, 8, 9, and 10. Each show will begin at 7 p.m. at Hanmer Secondary School.

Tickets are $15 for adults and $10 for seniors and children.

You can pick up your tickets at M & R Grill (Capreol), Valley Plaza Pharmasave; Paulette's Variety; Val Caron Rexall Drug Store; and Caisse Populaire St-Jacques de Hanmer.
Valley
View
Public School
Welcomes The Community During Open House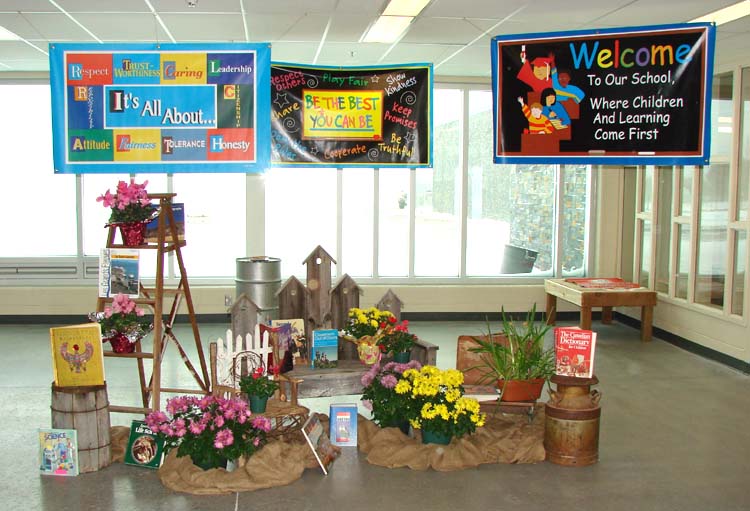 When the new $15 million
Valley
View
Public School
opened in September 2007, Greater Sudbury became home to the first
Green
School
in
Northern Ontario
. Students marked the historic occasion at a special Open House Celebration on January 30 as hundreds of parents and special guests jammed into the school for a tour and presentation in the gym. They welcomed the school board officials, architect and contractor who worked to make their dream school a reality, providing a superior learning environment in a state-of-the art green facility. Cars were parked for several hundred meters along
Valley View Road
as every available spot was used for the overwhelming crowd that turned out for the occasion.



"
Valley
View
Public School
, Rainbow District School Board's first new school in 40 years, is a model for sustainable development as a high performance green school," said Board Chair Judy Hunda.


Valley
View
Public School
is a JK to Grade 8 French Immersion school with an enrolment of 475 students. The school is barrier-free and has space for lower class sizes in the primary grades as well as physical education, instrumental music, visual arts, computer technology, a library and special education. The school also houses a daycare and before and after school programs in state-of-the-art facilities.



The Rainbow District School Board is realizing significant savings in energy consumption with the green features incorporated into the building. The 65,000 square foot facility is expected to operate at half the energy cost of a typical school.



The Architect and Sustainable Consultant designed the school with a north/south orientation, maximizing windows on the north and south faces of the building. Sun screening devices and glass are used to optimize the amount of natural light in the school, obtain solar heat gain in the winter and avoid undesirable solar heat gain in the summer.

This approach has many benefits. It provides a learning environment lit with natural light, reduces the need for artificial lighting, takes advantage of passive solar heating during the winter months and shades the hot sun of the summer. When rooms are not in use, occupancy sensors integrated with the artificial lighting systems automatically shut lights off. This type of lighting creates significant energy savings.



The use of geothermal energy systems in the new school provides four units of energy from the ground for every unit of energy purchased from conventional sources. This efficiency is unequalled by other conventional heating and cooling systems. Geothermal systems heat and cool the school by tapping into the relatively constant temperature of the earth below the frost line, at significant energy savings.



The building has radiant floor heating. Cooled/tempered air is delivered to classrooms using displacement ventilation concepts. Displacement ventilation provides fresh and tempered (cool) air to classrooms at floor level. Displacement ventilation systems typically use 100 per cent outdoor air. As a result, air pollutants generated within the building are removed at the source and are not re-circulated. The displacement ventilation system improves the indoor environment.



A number of additional sustainable features have been incorporated into the building, including the use of building products with recycled content. The school has retroplated concrete floors with recycled glass chips collected by the students. Wood beams from the old
Valley
View
Public School
are being reused as interior benches and architectural accent features.



The staff of
Valley
View
Public School
will be doing everything they can to help students incorporate what they learn about conservation and sustainability into their everyday lives at home as well.
Hanmer Valley Shopping Centre Sets Up Food Bank Depot To Replenish Food Lost In Fire
The Sudbury Food Bank lost about 30 tons of food in a fire at the Terry Fox Sports Complex on January 27. The food was supposed to provide supplies to area food banks until April, but now everything is gone. This means that we must do something to minimize the impact on our own local food banks.

In order to help make sure that the Valley East Food Bank is not affected by this terrible loss, the Hanmer Valley Shopping Centre has placed it's FOOD BANK DEPOT back up a the main entrance of the mall. Local residents are encouraged to bring in whatever you can afford and put it in the depot during this time of need. All of the food will be distributed to the Good Neighbours Food Bank in Hanmer and to the St. Vincent de Paul Food Bank in Val Caron as well as to the Food Bank in Capreol.



If you have any food or cash that you would like to donate and you cannot get out to the Hanmer Valley Shopping Centre, you can call the Good Neighbours Food Bank at 566-1283 or St. Vincent de Paul, at 897-1212.
Damage To Kiost Provides
Canada
Post With A Reason To "Upgrade" Service To Val Therese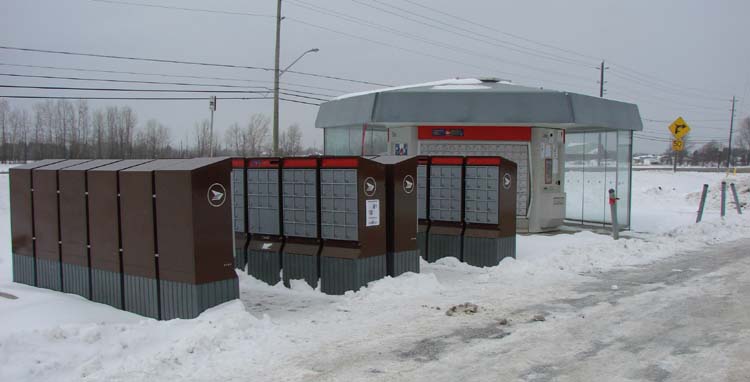 Residents living in Val Therese have lost yet another convenience thanks to an accident that damaged the Canada Post kiost on
Tate Blvd.
before Christmas. A vehicle went out of control breaking one of the glass sides of the kiost. As a result, Canada Post decided to install outdoor community mail boxes instead of repairing the kiost. The kiost provided a cover and lights at night. It also allowed the mail carrier to go inside the central area away from the elements of rain and snow to place mail inside boxes Residents are now required to pick up their mail without the benefit of lights and carriers must stand outside to put mail inside boxes.



Home owners are obviously upset at losing their kiost, however, the cost of maintaining and lighting the facilities was apparently prohibitive and a decision was made to move to community boxes. Residents are slowly getting used to the inconvenience; however, if you happen to be on the wrong side of the streetlight, it is difficult to pick up your mail at night.
Courtney Bruno Hosts "City Spins" On CKLU 96.7 FM To Promote Local Musicians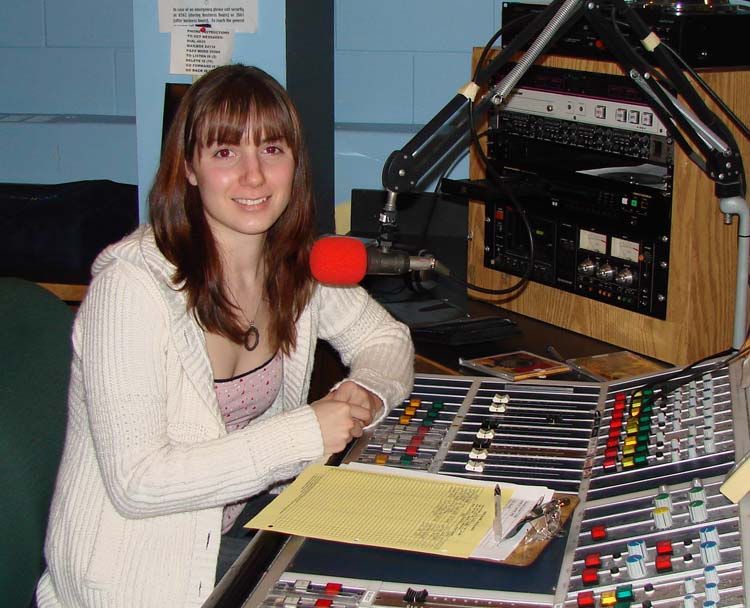 Courtney Bruno is in her 3rd year in the Bachelor of Fine Arts program at Laurentian University. She is a resident of Hanmer and has always had a passion for music and performing. After graduating next year she plans on moving to Ottawa where she hopes to begin some kind of career in the film industry, either on screen as a performer or in the creative side of the business.

"I have always had a passion for music and creative arts," explained Courtney. "I play the piano and I was in a band called 'From Far Apart' for a while."
Courtney was introduced to CKLU 96.7 FM radio over a year ago when one of her friends was hosting a show recently. "I liked what I heard and thought it would be fun for me to volunteer to do a show of my own, so here I am."
CKLU 96.7 FM has been in existence for almost 24 years. The studio is at Laurentian University and is run mostly by volunteers who come in and host a wide variety of alternative shows. You can pick up the station on any radio as well as on Cable 106.7. For a complete list of programs you can visit the web site at www.cklu.ca.

Courtney hosts a show called "City Spins" every Monday night from 4 to 5 p.m. During that hour she plays music that has been produced by local bands from the Greater Sudbury Area. "Most of the music is really good," she commented. "I didn't realize that there was so much talent in the Sudbury area and it covers a broad range of styles from punk to folk rock."

CKLU 96.7 FM is the type of radio station that allows listeners to tune in to alternative programs that commercial broadcasters have moved away from. For example, Robert Kirwan, the writer for The Vision Paper hosts his own show every Monday evening from 6 to 8 p.m. called The Learning Clinic Education Forum. It is a two-hour talk show that includes interviews with special guests and discussions about topics of interest in the world of education. Roger Chevrier, another resident of Valley East hosts a couple of shows every week on Friday night from 6 to 8 called "My Pickin Parlour" and Sunday mornings from 10 to 12 noon called "Sittin' Back Pickin'". Listeners tend to find shows that will be of interest to them and then they tune in during that same time every week. Each show has its own following and with such a wide variety of shows to select from, it is certain that everyone will find something they like. Many people have stated that this virtually commercial free radio station provides them with an escape from the main-stream stations.

In fact, the advent of satellite radio seems to be a throw-back to the CKLU philosophy. We are also finding that some radio stations in southern Ontario are beginning to focus more and more on particular target audiences in their programming, thus we are finding stations devoted entirely to talk shows on sports, entertainment, etc. It appears as if radio is beginning to go the way of cable and satellite television with a multitude of different channels all focusing on their own particular niche market.

CKLU 96.7 FM has never changed it's commitment to providing local people with an opportunity to host their own specialty shows directed to their own target markets. Thus, people like Courtney Bruno, Robert Kirwan and Roger Chevrier are encouraged to find an open time spot and produce their own style of show for anyone in the area who shares their interests. Some hosts have been in their own time slots for over ten years.

Courtney will continue to promote local musicians on her show "City Spins" as long as she remains in the Sudbury area. If you are interested in local music, tune in to CKLU 96.7 FM, every Monday night from 4 to 5 p.m. and see what Courtney has to offer. And don't forget Robert Kirwan's education show or Roger Chevrier's shows for guitar players.

Congratulations to Courtney Bruno for giving us another reason to be proud that we live in Valley East .
1st Annual Sportsman League All Star Game Benefits Minor Hockey & Food Bank

The Centennial Arena in Hanmer was the site of the 1st Annual Sportsman League All Star game on December 28, 2007, and from the feedback received by league officials it is going to be something that is looked forward to every year at this time.

A crowd of over 100 fans of all ages were in attendance to witness some excellent hockey action put on by the top players from the ten-team league. The Valley East Sportsman League provides a place to play for men ranging in age from 19 to 35, many of whom with OHL, NOJA Junior A and 'AAA' Midget experience. The action is always fast and entertaining, but the all star game provided the opportunity for participants to perform at a higher level than they have enjoyed in a long time.

The final score in the game was Team Cranky Joe's All Stars 2 and Team Desjardins' Food Basics All Stars 1 – a true indication of the competitive nature of the players.

The game was organized by Paul Walker, President of the League, and Moe Martel, Referee-In-Chief. "We put the game together to promote adult hockey, but we also wanted to give something back to the Valley East Minor Hockey Association since so many of our players started out in the VEMHA."

The game raised $105 for minor hockey and over five boxes of food for the Good Neighbours Food Bank of Hanmer. Hubert Moncion, a member of the Valley East Sports Hall of Fame dropped the puck for the opening face off.
There are ten teams with over 150 players in the league. If you want to catch any of the action you can drop in during any of the following game times: At the Ray Plourde Arena in Val Caron on Wednesdays at 10 pm and Sundays at 6 pm; At the Centennial Arena on Fridays at 8:30 pm and Saturdays at 10 pm.; and at Capreol on Fridays at 9:30 pm, Saturdays at 7 p.m. and Sundays at 6 pm.

Tournament organizers want to thank all of the fans and volunteers who came out to support the all star game and also the major sponsors, namely Cranky Joe's, Labatt's Breweries, Desjardins' Food Basics, Skater's Edge and Tim Horton's.
If you have any questions about the league or if you are interested in playing for one of the teams, call the League President, Paul Walker at 969-3658.
Extent of Poverty In Greater
Sudbury
Area Places Strain On Food Banks All Year Long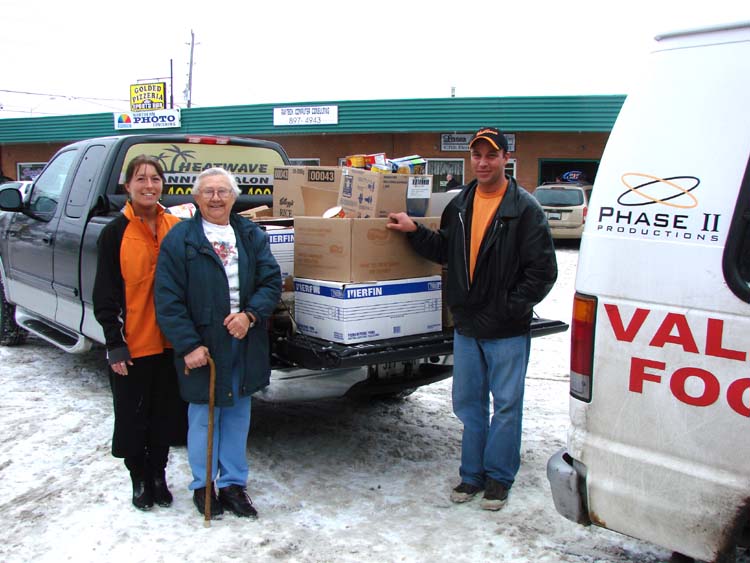 Anne Unwin, Director of the Good Neighbours Food Bank in Hanmer, received a call from Ron Brunette, on the far right, and Andrea Guinard on the far left, Co-owners of Heatwave Tanning Salon, she was asked to come by to pick up a donation of food just before Christmas.
The request was not unusual for this time of year as schools, churches and other community organizations go out of their way to collect non-perishable donations that can fill the shelves of local food banks in order to help out those less fortunate in our area. But even Anne was "blown away" by the volume of food that had been collected from clients of the four Heatwave Tanning Salons in the Greater Sudbury Area. "I was told that there was some food to pick up, but I had no idea it would be this much. This is going to be really well appreciated by the people who use our services."

In addition to the full truck load of food, Ron and Andrea also presented Anne with a cheque in the amount of $500 to be used to "top-up" any shortages that the food bank may have.

Despite the "economic boom" that we keep hearing about in Sudbury , over 30,000 people living in the City of Greater Sudbury are living below the poverty line. It is also estimated that about 60% of the jobs in the area pay less than $10 per hour, making it extremely difficult for many who are earning minimum wage to escape the cycle of poverty. The Good Neighbours Food Bank is part of a network of 40 food banks from across the City of Greater Sudbury providing much needed food supplies to an average of over 10,000 Sudbury residents each month. The Good Neighbours Food Bank and St. Vincent de Paul provide support to hundreds of people living in Valley East .
"We must do more for food banks at times other than Christmas," stated Ron Brunette. "Everyone is very generous around the holidays, but people need food all year long. We are glad to be of help to Anne and her volunteers right now, but we will be trying to find a way to help them out in the months to come as well."
If you have any food or cash that you would like to donate to help some of the 10,000 people who must seek the support of the food banks each month, you can call the Good Neighbours Food Bank at 566-1283 or St. Vincent de Paul, at 897-1212.
GRANT CRAWFORD WINS
FUN IN THE SUN DREAM VACATION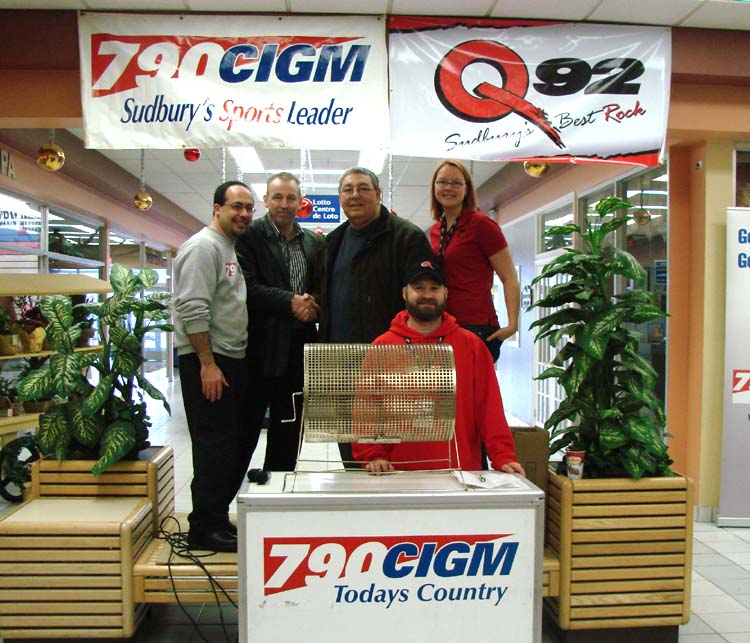 Grant Crawford, a resident of Capreol, was the grand prize winner in the Hanmer Valley Shopping Centre "Fun In The Sun Dream Vacation" contest which was held during the Christmas holiday season. A total of 90 people qualified as finalists for the contest with 81 showing up for the "reverse draw" which was held on January 5, 2008.

The winner was announced on January 5, 2008 during the course of a "reverse draw" conducted by 790 CIGM and Q92 in the centre court at the mall.

Standing in the photo are, Chris Johnson, a radio host with CIGM; Mike Biglow, owner of J.B. Jewellers, where the winning ticket was entered; Grant Crawford, winner of the contest; and Holly Thorne, a radio show host with Q92. Standing in the front is Greg Williams of Q92.

Grant and his wife Gail will have their choice of traveling to one of three sites through Marlin Travel. They will visit either the Dominican Republic , Cuba or Jamaica . The trip is valued at $2500 each plus they will receive $500 in spending money.
Heatwave Tanning Salon Customers Donate Food Items To Help Those Less Fortunate At Christmas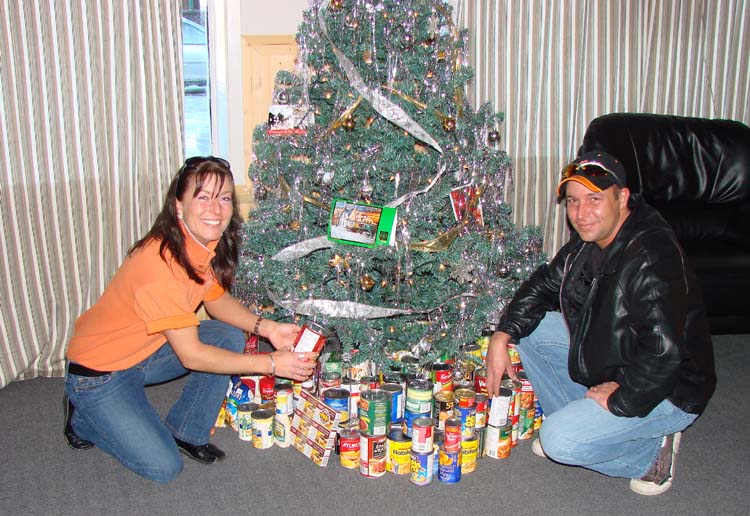 Andrea Guinard and Ron Brunette, Co-owners of the Heatwave Tanning Salon Chain with four (4) locations in the City of Greater Sudbury, are proud of the support they have received from their customers during this wonderful season of Christmas.

Shown above in front of the tree at their Val Caron salon, Andrea and Ron are arranging the dozens of items that have been coming in every day. People who bring in a can of food when they purchase tanning packages during the Christmas season will double up on their FREE tanning incentives.

This is the second year that Heatwave Tanning Salon has implemented this worthwhile cause at all locations. All of the food donated this year will go to the Good Neighbours Food Bank in Hanmer.
Area-Rating System Creates Unfair Taxation For Valley East And Fuels Deamalgamation Movement Again
City Council was warned by both Ron Dupuis and Andre Rivest that a proposal submitted by Fire Chief Don Donaldson to add ten full time firefighters to provide service to Valley East may end up providing the fuel needed to begin the deamalgamation movement again in the outlying areas. The cost of the additional firefighters would be almost $800,000 and would be paid almost entirely from taxes levied against Valley East residents because of an area-rating system that was introduced when amalgamation was forced upon the Sudbury-area municipalities in 2001.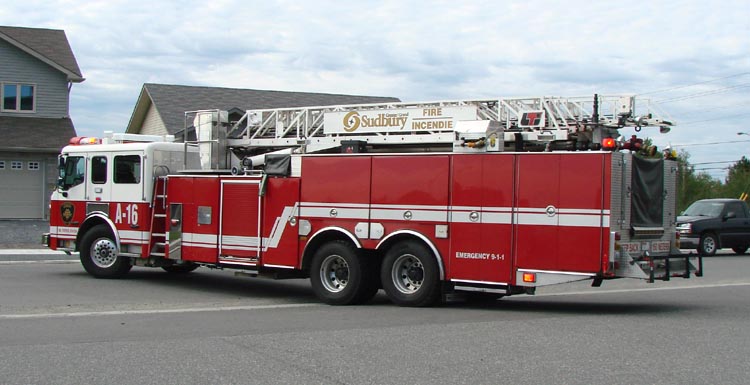 As a result of the increase, residents of Valley East could see their taxes for fire protection rising to a level that is even higher than that paid by people living in the former city of Sudbury , even though there is no comparison to the level of services between the two areas.

The area-rating was supposed to result in less property taxes in the outlying municipalities to allow for a lower level of fire and transit services in those communities as compared to that of the former city of Sudbury. For example, the outlying areas are served by volunteer fire-fighters whereas the former city of Sudbury is entirely served by a full-time career staff. Valley East has two full-time firefighters working each shift out of the Val Therese station. At times there are up to four full-time staff at the station unless the extra two are required in Sudbury . Since that was an enhancement over the level of service prior to amalgamation ( we didn't have any full-time firefighters prior to 2001) residents of Valley East paid a special tax levy to pay for the cost of this extra service.

Donaldson's recommendation that the full-time staff complement for Valley East be doubled raises the question of whether the current level of protection in the community is adequate given the growth we are experiencing.

History has proven that the residents of Valley East are very well served by the volunteer system that is now in place and headed up by Captain Tracy McCandless. Valley East is currently served by three fire stations. Besides the Val Therese station, (Station 16) which is the only "composite station in Sudbury" with both full-timers and volunteers working together, there is one in Val Caron (Station 15) and one in Hanmer (Station 17). Those are strictly run by volunteers. There are always two full-time career firefighters on duty 24 hours a day at the Val Therese station and often there are up to four on the site. When a call comes in for a "structure" fire, such as a residential or business building, all three stations respond. That means that a pager call goes out to all 55 volunteers from all three stations. The volunteers carry their equipment and pagers at all times, with most of them keeping this equipment in the trunk of their car.

The two full-timer career firefighters at Val Therese immediately head out to the location of the fire in the new million dollar Arial Pumper, leaving the tanker and support trucks to be picked up by the first volunteers to arrive at the station.

Upon hearing the call and the location of the fire, each of the volunteers who are licensed to drive one of the remaining vehicles begins heading immediately towards their "home station". As soon as one of the volunteers reaches the station and gets the truck rolling all of the others responding to the call are told to head to the site of the fire. "We don't want to all arrive at the fire and then find out that no one went to pick up the truck," McCandless stated.

The system works so efficiently that in many cases some of the volunteers are even on the scene before the pumper arrives with the full-timers. In any event, even if the full-timers arrive first, they cannot begin fighting the fire until other volunteers arrive anyway.

"The use of volunteers to provide fire protection to communities is common throughout North America ," explained Captain McCandless. "In fact if you look across Canada and the United States , volunteers are used in up to 80% of all communities. In the entire Sudbury area we have a total of about 350 volunteer firefighters on staff. "

Many people feel that an additional ten full-time firefighters would not add to the protection provided in Valley East under the current system. Even with four full-time firefighters on duty during any shift, you would still need the volunteers on the scene before you could do anything at a fire.

"We have an excellent response rate in Valley East," McCandless went on. "Regardless of when we get a call we can usually expect to see between 15 and 20 volunteers or more on the scene. The number may be lower during the day time because of work commitments of our firefighters, but if we are ever short, we can call on Capreol or Rayside Balfour. Usually we have more than enough responders to the call."

There are anywhere from 200 to 240 calls coming in to the fire station each year. This includes false alarms as well as major structure fires and vehicle accidents. The low call frequency or 4 or 5 calls per week along with the excellent service that is now in place does not seem to warrant the doubling of the full-time staffers and the corresponding increase to residential tax rates in Valley East.
12th Annual Christmas Drive By Living Well Chiropractic Is A Huge Help For Food Bank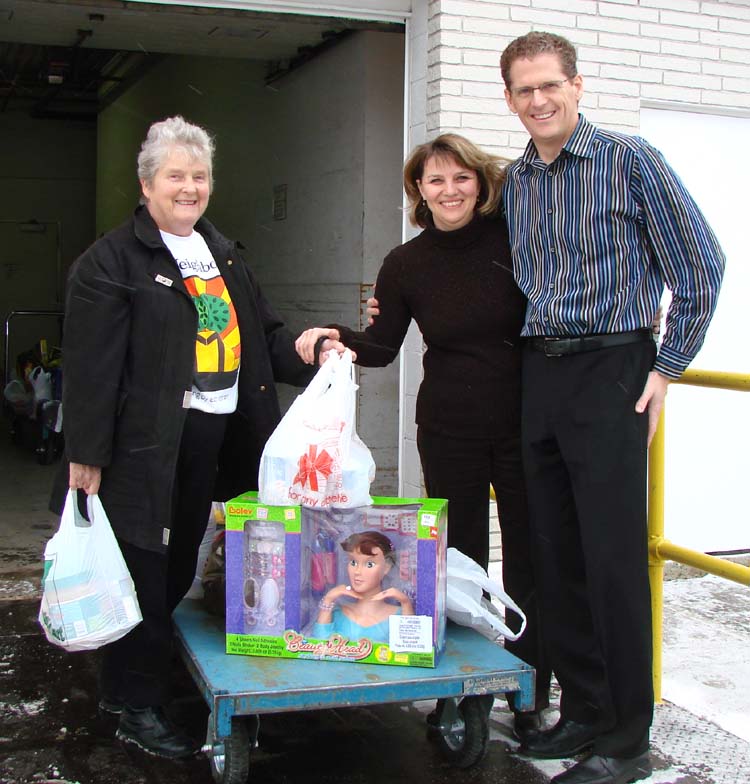 For the past twelve years, the Living Well Chiropractic Centre, located in the Hanmer Valley Shopping Centre has been conducting a special food & toy drive for the Good Neighbours Food Bank in Hanmer. This year, patients were encouraged to bring in non-perishable food or cash donations from December 3 through 7. Marg Bourgois, representing the Good Neighbours Food Bank, is shown on the far left with Dr. Ghislaine Landry and Dr. Dave Welsh as they helped load up the Food Bank van on Friday afternoon. This was one of the most successful campaigns ever for the Living Well Chiropractic Centre with donations consisting of food, toys for kids and cash. Marg expressed her sincere appreciation to all of the patients who generously donated to the campaign during the week.