Chevaliers De Colomb / Knights of Columbus Council #5005 Annual Lobster Supper For 2007 Is Another Big Hit
Keshia Chante & Evolutionary Band Help Local Elementary Students Celebrate Reading
4th Annual Greater Sudbury Modelers Spring Show A Huge Success At The Mall

LET'S PLAY BALL!

Register At The

Hanmer

Valley

Shopping Centre

Annual Lucky Duck Dash Being Promoted In Hanmer Valley Shopping Centre
TOPS Annual Spring Penny Table & Bake Sale Once Again A Huge Hit With Local Residents
Reward Offered by Neil's Your Independent Grocers To Find Local Vandals
Greater Sudbury Police Display Draws Steady Crowd At the Hanmer Mall
12th Annual Raise The Flag Celebration Held By The Kin Club of Valley East At Confederation Secondary School
Chevaliers De Colomb / Knights of Columbus Council #5005 Annual Lobster Supper For 2007 Is Another Big Hit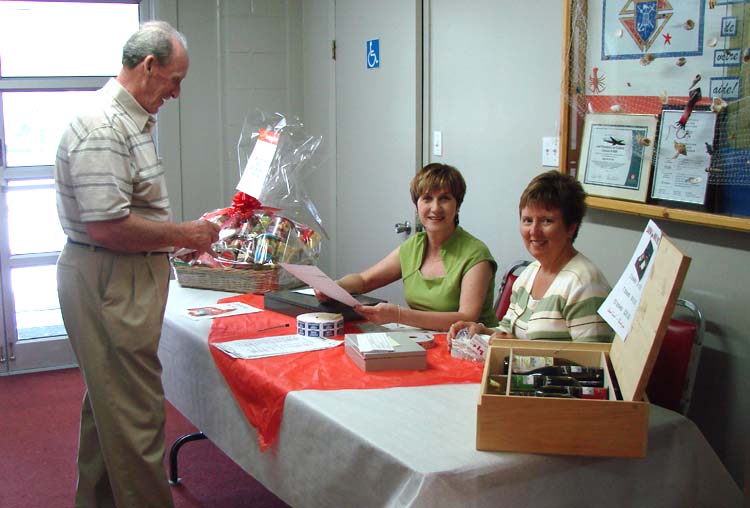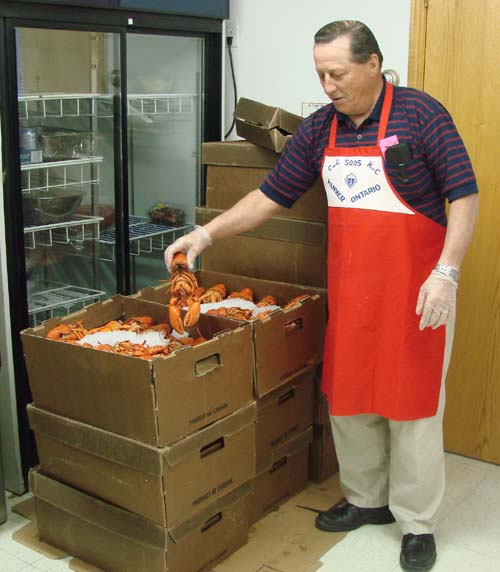 Henri Lebouthillier, coordinator of the Chevaliers de Colomb / Knights of Columbus Council #5005 Annual Lobster Supper, is shown going over some of the last-minute preparations at the door with Diane Desjardins on the left and Anna Rivest.

With over 300 guests expected to begin arriving at 5:00 p.m. for cocktails prior to the annual feast, the two ladies were expecting to be quite busy.

Each spring the Chevaliers de Colomb / Knights of Columbus Council #5005 hosts what is arguably one of the most spectacular events of the year - The Annual Lobster Supper. Over 300 people gather to enjoy a marvelous evening of dining and entertainment while raising much needed funds for the operation of the organization.

To the right you can see Grand Knight Rolland Mallette examining some of the lobsters which were flown in from the Maritimes just for the event.
Shown above are some of the hard-working volunteers who make the whole event such a success. From the left we have Gilles Leblanc, Raymonde Mallette, Gilles Landry, Rolland Mallette, Henri Lebouthillier, Collette Lebouthillier, and Therese Forget.

Below, we see the gang hard at work in the kitchen preparing the feast.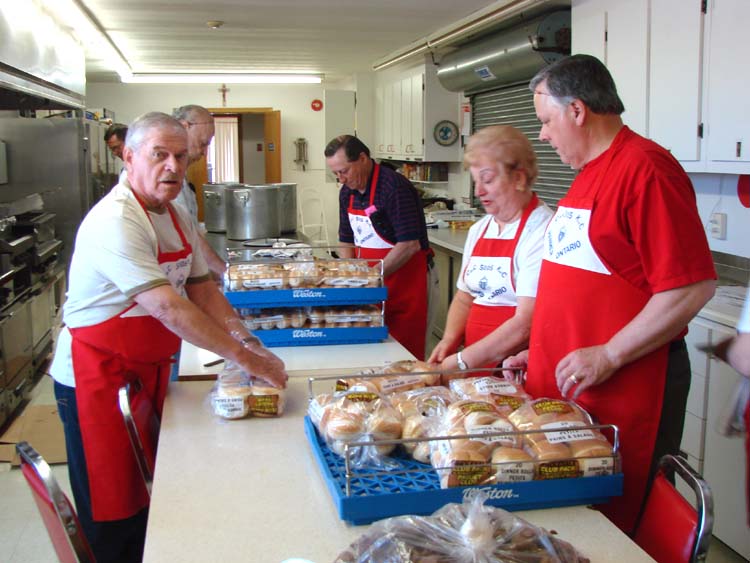 Helping make the evening a spectacular success were several students from local secondary schools who were on hand to earn some of their community service hours. From the left we have, Carlie Hawes (Bishop Alexander Carter), Carey O'Brian (Hanmer High), Mike Bellerose (BAC), Megan Purvis (BAC), Kassandra Dunn (Confederation), Amber Appleby (BAC), and student supervisor, Emile Rousselle.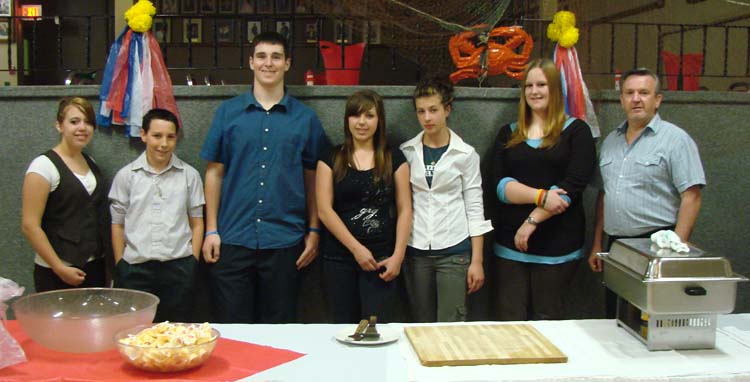 Keshia Chante & Evolutionary Band Help Local Elementary Students Celebrate Reading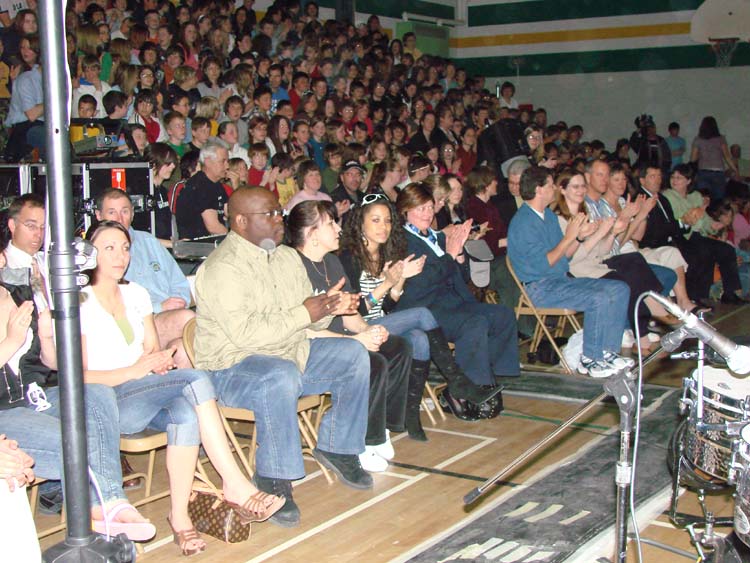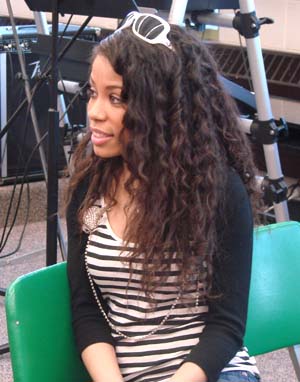 One of Canada's fastest rising music stars will joined Confederation Secondary School's Evolutionary Band to promote literacy in Rainbow Schools on April 20, 2007.

Keshia Chante, on the right, was in the audience when this year's Reading Rocks Concert hit the stage at about 1 p.m.

Above, she is shown in the middle of the picture with sunglasses on top of her head, acknowledging the introduction of the band by Norm McIntosh, Music Director at Confederation Secondary School and director of Evolutionary.

Grade 3 to 8 students at Redwood Acres Public School, Pinecrest Public School, Valley View Public School and C.R. Judd Public School who reach their monthly reading goals were in attendance. You can see some of the crowd in the photos above and below. Over 1,000 students attended the event.

"Keshia Chante is a name kids recognize. She is already an accomplished Canadian artist despite her young age (18), an excellent role model for young people," says Evolutionary's Music Director Norm McIntosh.

During 'Reading Rocks', Keshia congratulated the students on recognizing the importance of reading and encouraged them to read often in the years to come. will promote the value of a good education and will talk about the importance of reading." While at the school she was interviewed for a documentary on Evolutionary - the Real School of Rock and spent about an hour before the concert "hanging out" with members of the band."

Keshia Chante was a 2006 Juno nominee for R&B/Soul Recording of the Year - a Juno Award she won in 2005. She has many honours to her credit including Urban Music Awards, the Rising Star Award and a Canadian Radio Music Award. Her self-titled debut album produced a number of Top 10 radio singles including "Shook-The Answer," "Unpredictable," "Bad Boy," "Does He Love Me" and "Let the Music Take You." Keshia's debut album surpassed Gold sales in Canada. Currently signed to Sony/BMG Canada, her latest album "2U" is already garnering attention in Canada and in the United States.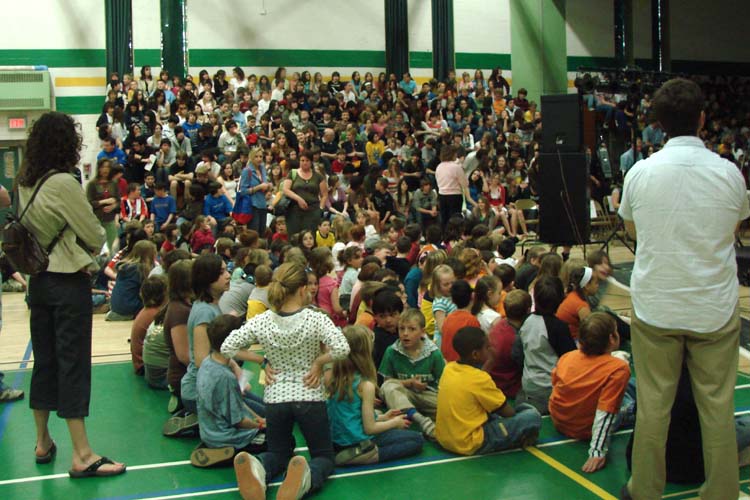 "Promoting reading among children has become a tradition for Confederation Secondary School," says Principal Mike Mirka. "Our entire community benefits when children improve their literacy skills, the very foundation for learning. Every year, 'Reading Rocks' gets bigger and better with the support of professionals in the music industry and our very own Evolutionary Band."

Participating schools have implemented a number of strategies to encourage reading among their students including book clubs, daily silent reading programs, night time reading at home, book bags, guest readers in schools, reading buddies, and independent reading incentives. Each school has developed an individual plan to promote reading that involves students, parents/guardians and community members. School Councils have provided invaluable support for the program since its inception, ensuring ongoing success.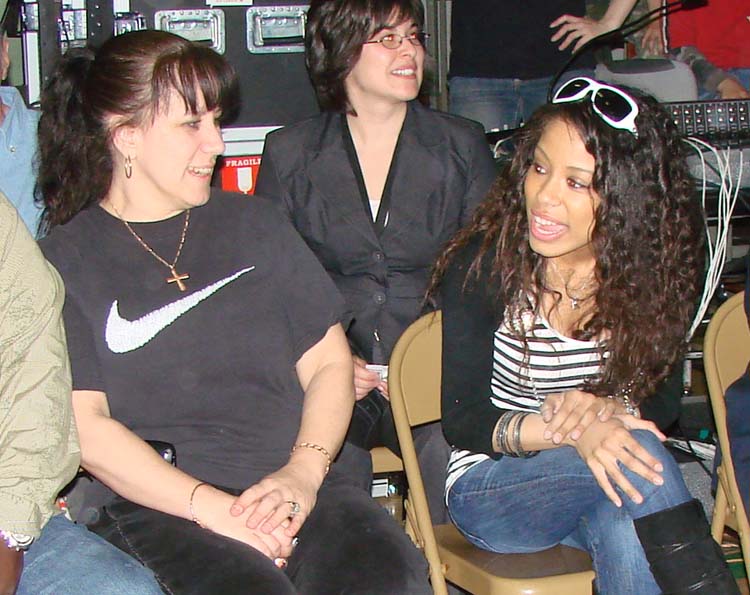 Above, Keshia is shown with the most important person in her life - her agent and mother, Teresa Angnelo. Behind them is Confederation's Tiffany Roberts.

Keshia was only 13 years old when she started her professional career as an entertainer. When she turns 19 on June 16, 2007, she will have lived what observers would call an amazing period of growth and development, not only as a singer, but also as a person.

"My fondest memories of elementary school are of talent shows and school plays," Keshia recalled. "I remember what it was like being in school. You are exposed to everything, but the thing I loved the most was reading. It is something that I still do a lot and I would do anything to help promote reading to school children. That is why I am here today."

Although Keshia required a tutor during her final year of secondary school, missing over 150 days while on tour, she is still proud of the fact that she graduated with her classmates and ended up with an average of 98% in both math and english.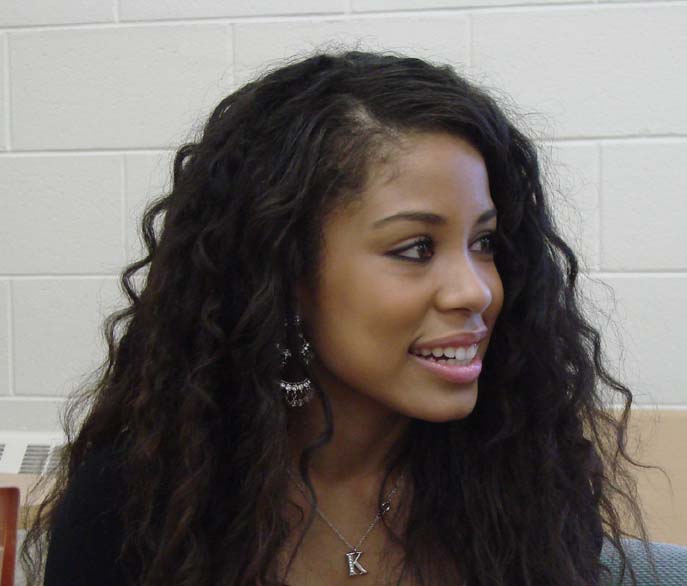 Keshia knows that her career on stage will one day come to an end, but she is becoming an expert in the business side of the profession as well. "I have a number of goals that I set for myself, and one day I want to be involved in the marketing and branding of other young singers, helping them on to successful careers."

Indeed, Keshia is constantly growing and evolving despite her young age. Her 2nd album is coming out in December and she is working on her 3rd single. She also had a diamond jewellery line coming out soon.

The message she left with the members of the Evolutionary Band and with the students who were on hand to celebrate reading was clear. "Follow your dreams and cherish your education. That is one thing that noone can take away from you.

We will all be watching Keshia's career unfold with great interest - a remarkable talent, and a more remarkable young lady.
4th Annual Greater Sudbury Modelers Spring Show A Huge Success At The Mall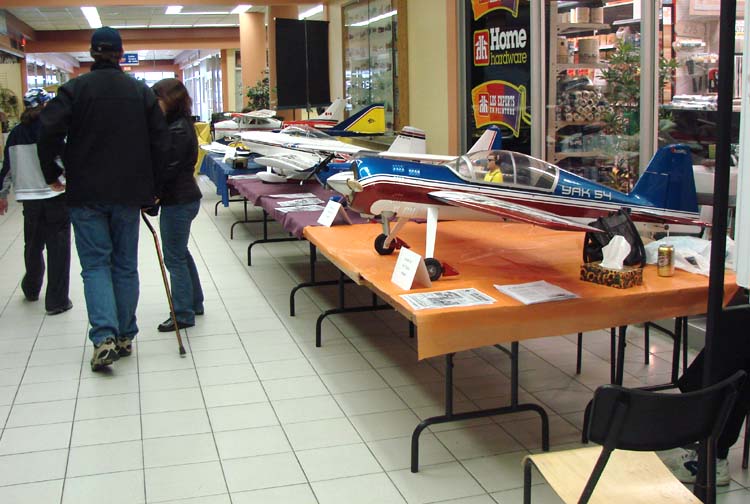 Gaston Boissonneault, President of the Greater Sudbury Modelers, was absolutely thrilled at the response by the public during their 4th Annual Greater Sudbury Modelers Spring Show which was held at the Hanmer Valley Shopping Centre on Saturday and Sunday, April 14 and 15.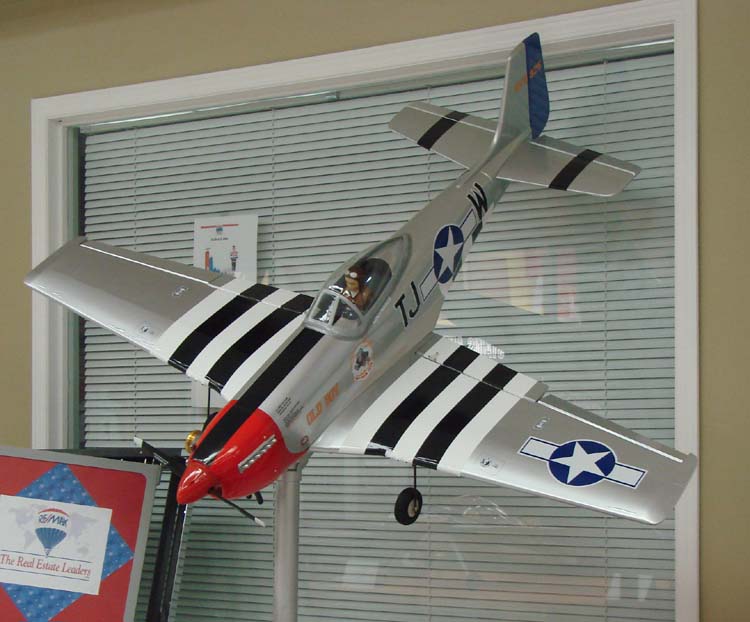 The Club has been in operation since 2002 and is home to the biggest remote control airstrip in Northern Ontario , located at 1187 Dominion Drive . The airstrip is 800 feet long and 80 feet wide. During the summer months the general public is always welcome to watch the pilots in action.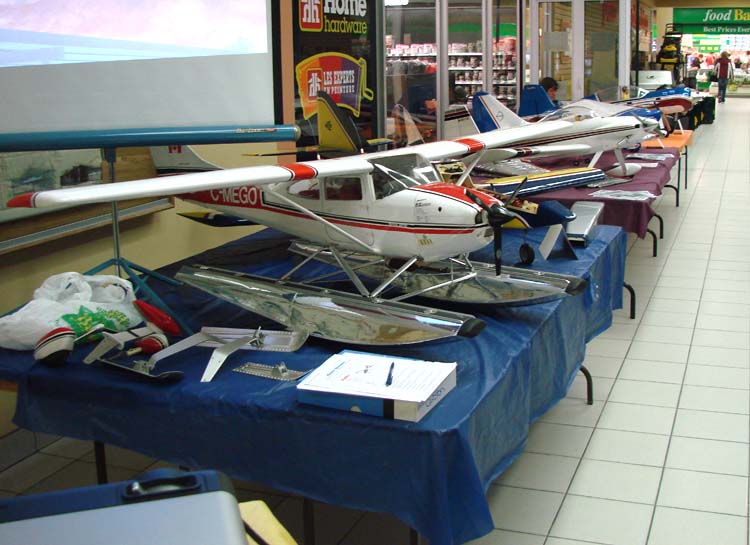 You can find out more about the Greater Sudbury Modelers on their web site at: www.greatersudburymodelers.com
LET'S PLAY BALL!
Register At The Hanmer Valley Shopping Centre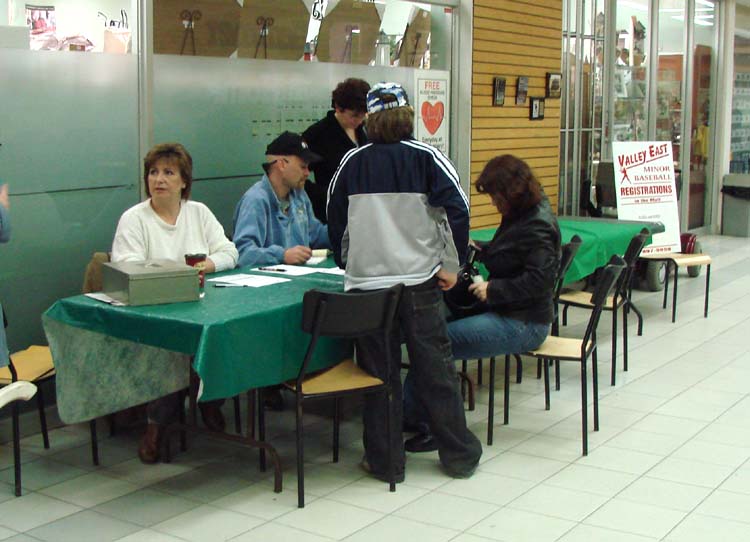 As spring arrives, so does yet another baseball season in Valley East . Barb Cornthwaite is shown at the registration table during the first weekend of registrations.
We are pleased to announce that registrations will be taking place for Valley East Minor Baseball throughout the month of April for the following age groups:
T – Ball, 4 to 7 years of age
Rookie Ball, 8 to 9 years of age
Mosquito, 10 to 11 years of age
Pee Wee, 12 to 13 years of age
Bantam, 14 to 15 years of age
Midget, 16-17-18 years of age
Junior, over 18 years of age
Valley East Minor Baseball has been around for over 20 years, and is looking forward to the upcoming season as one of its best ever. You can register for the 2007 season at the Hanmer Valley Shopping Centre on the following days and times:
Saturday & Sunday April 14 & 15 from to .
Saturday & Sunday April 21 & 22 from to
Saturday & Sunday April 28 & 29 from to
Evaluations will be held during the week of May 14 through to the 18. The season starts on June 4th , which is when the first pitch will be underway. The Valley East House League Tournament is slated to be held the weekend of June 23 & 24.
Also another great item on our agenda, which was a huge success last year, is Blue Jays Camp. All registrants of VEMBA are welcomed to come out for a fun filled day and learn some great techniques from personal trainers of the Toronto Blue Jays.
Our current executive board is working very diligently to make the 2007 baseball season another great success. We also offer players a chance to play on Rep teams in the divisions from Rookie to Midget level.
Board members will be on hand at the mall during registrations to answer any questions you may have, or perhaps you may want to volunteer some time. As with any sport we are always looking for volunteers such as coaches, convenors, scorekeepers, board members, or even to help out with fundraisers, or perhaps you would like information on sponsoring a team. There will also be sign up sheets for anyone interested in Umpiring.

After all of that has been said and done, our season finalizes with a Year End Banquet to congratulate all players in all levels and also our Umpires and Volunteers.

The board members of Valley East Minor Baseball look forward to providing you, the players and parents, with yet another wonderful and fun-filled season of baseball. The popularity of the sport continues to grow in the Greater Sudbury Area and we are so grateful to everyone who participates or contributes in any way to the success of our organization.
We look forward to seeing all of you at the Hanmer Valley Shopping Centre when you sign up for the 2007 baseball season. Or call our hotline at 897-5959.
Valley East Minor Baseball Association
CALL THE HOTLINE
897-5959
Annual Lucky Duck Dash Being Promoted In Hanmer Valley Shopping Centre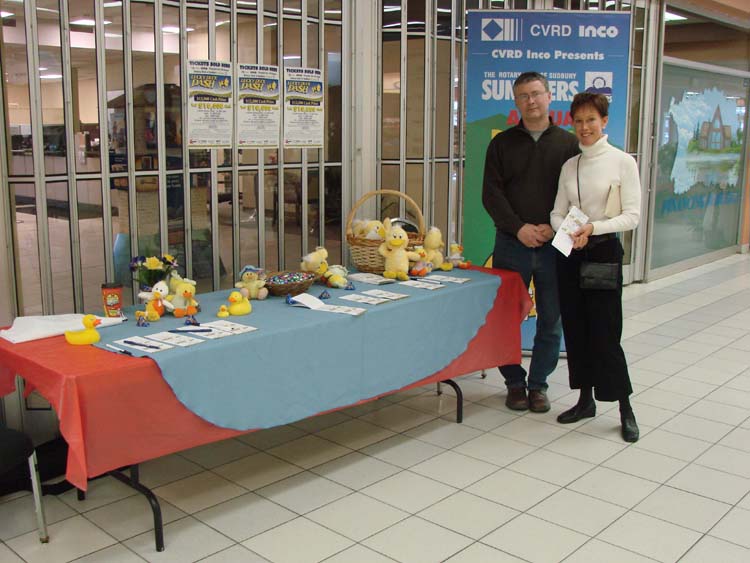 Paul Gomirato and Michele Liebrock, two members of the Rotary Club of Sudbury Sunrisers, were on hand recently in the Hanmer Valley Shopping Centre selling tickets for the Annual Lucky Duck Dash which will be held at the Lilly Creek Park on May 12, 2007. People can buy a single duck for $5 or a "Flock of Ducks" for only $20. There are $10,000 in prizes plus plenty of family activities with the "race" beginning at 2 p.m.
TOPS Annual Spring Penny Table & Bake Sale Once Again A Huge Hit With Local Residents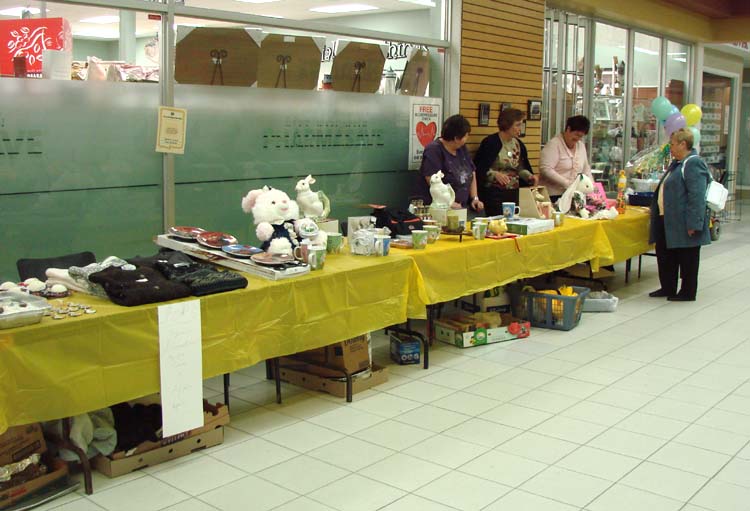 The ladies from the TOPS (Take Off Pounds Sensibly) organization of Capreol were once again very appreciative of the support from the local community during their annual Spring Bake & Penny Table Sale held at the Hanmer Valley Shopping Centre. Shown below are four of the hard-working members who spent many hours in the mall taking care of business. From the left: Juanita Rector, Sue Jokinen, Stella Kent and Kimyly Mayer. Murielle Chalk is the current President of the organization and she can be reached at 969-2003 if anyone is interested in joining the group. The Capreol TOPS meets every Wednesday from 5:30 to 7:30 at the Trinity United Church in Capreol.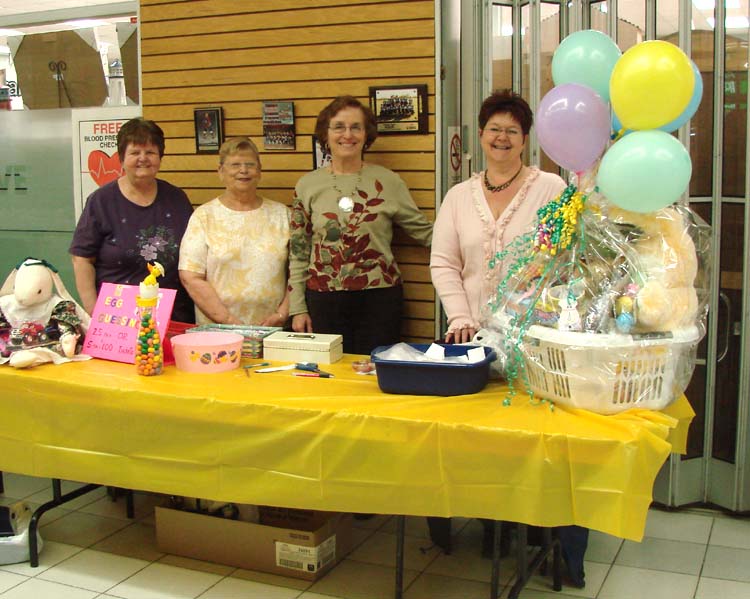 Reward Offered By Neil's Your Independent Grocers To Find Local Vandals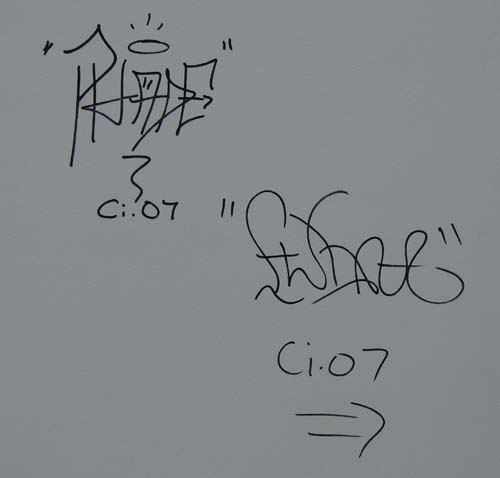 Neil Lindenbach, owner of Neil's Your Independent Grocers is tired of the disrespect some area youth have shown for property in the community. During a recent vandalism spree on the evening of
Friday, May 11, 2007
, several individuals were seen marking businesses with the above signatures. Some of the marks were made with markers while others were done with spray paint. The same vandals struck another business that night but escaped from the scene before a security guard could apprehend them.
"I will pay a cash reward to the first person who can provide me with information that leads to the arrest and conviction of the people responsible for this vandalism," explained Lindenbach. "This is not funny. It costs a lot of money to clean up after vandals, especially when they do damage to vinyl siding or other material where the writing doesn't wash off. The people doing this are just displaying their disrespect for other's property and should be forced to suffer the consequences."
Authorities say that it is likely that there are quite a few people in the community who know who the vandals are since individuals who write their signatures on buildings are actually leaving their "imprint" in public so that others can see where they have been. It is just a matter of time before some law-abiding person comes forward and provides the name of the perpetrator. When that happens, charges will be laid, damages will be demanded and a conviction will be sought in court. Judging from the number of businesses that were hit recently, the guilty party will have quite a large bill to pay when his/her name is reported.
If you have any information please contact Neil Lindenbach at 969-4474 and find out how you can claim your reward.
Greater Sudbury Police Display Draws Steady Crowd At the Hanmer Mall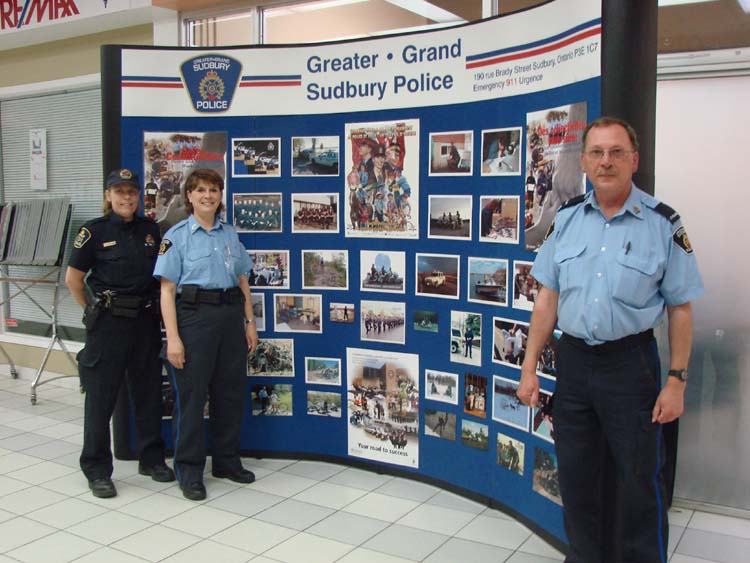 Cst. Lisa Burt-Jones of the CN Police, on the left, is shown with S/Cst. Denise Fraser and S/Cst. Luke Joliet in front of the large floor exhibit that was set up at the Hanmer Valley Shopping Centre on Thursday May 8, 2007 to celebrate Youth Week and introduce Police Week the following week.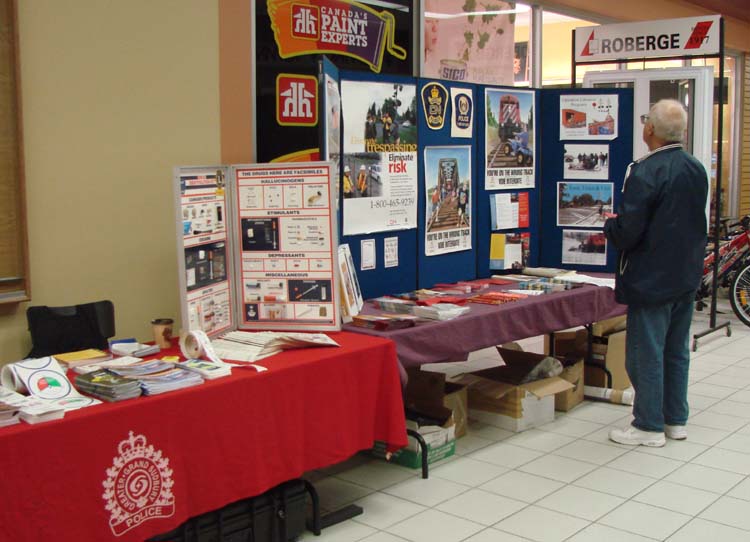 Although it was the middle of the week, there was a steady flow of traffic around the attractive and informative exhibit as the members of the Crime Prevention Unit answered questions from young and old alike.
The officers are shown again in front of the CN Rail display. From the left are Cst. Grant Dokis, S/Cst Denise Fraser, Cst. Lisa Burt-Jones of the CN Police, and S/Cst. Luke Joliet.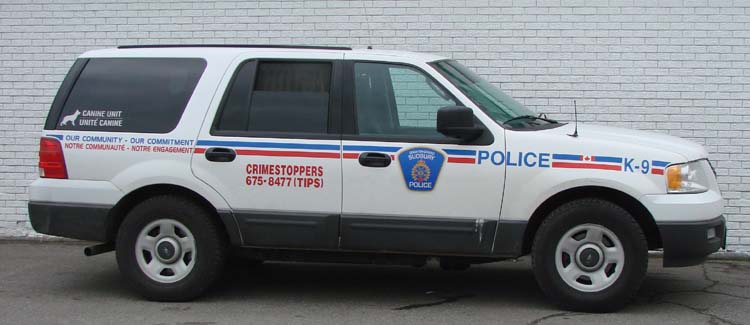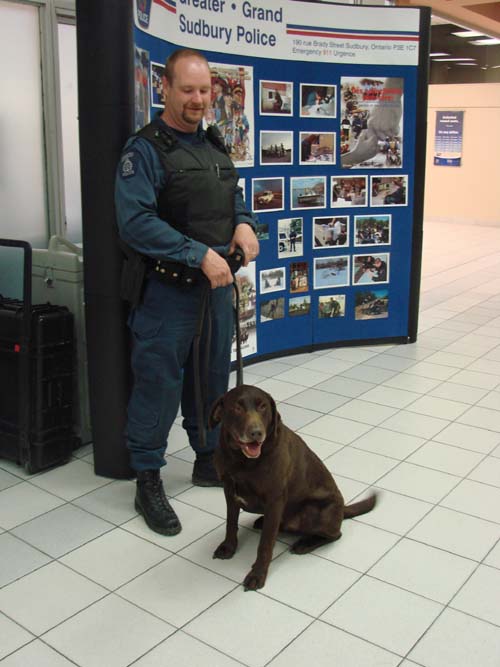 During the afternoon Cst. Doug Ward of the Canine Unit made an appearance with "Hunter" a 7 year-old chocolate brown lab that is used by the police when tracking down drugs, guns and ammunition.
Hunter took all of the attention in stride, showing no reluctance at all in having his picture taken by people walking by.
The Crime Prevention Officers primary role in the community is that of pro-active policing as opposed to reactive policing that is necessary once a crime takes place.
"We try to educate the public in order to prevent crimes from happening in the first place," explained S/Cst Denise Fraser. "That is why displays such as this and our getting into the schools to talk to children are so very important."
12th Annual Raise The Flag Celebration Held By The Kin Club of Valley East At Confederation Secondary School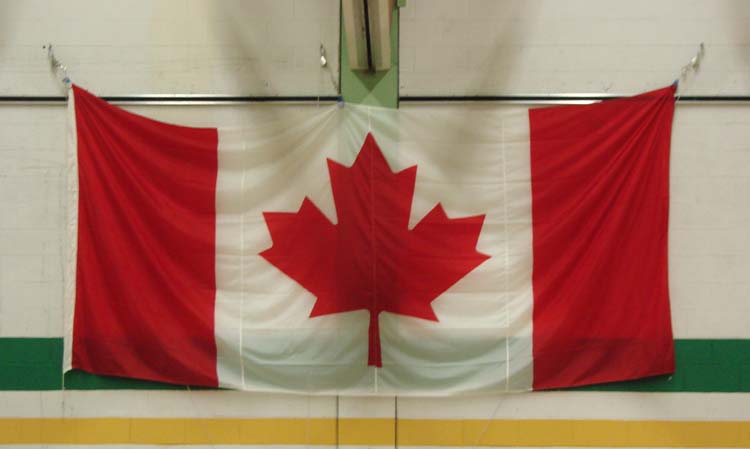 The Canadian Flag was hanging proudly on May 11, 2007 as hundreds of children and adults gathered in the gymnasium at Confederation Secondary School to participate in the 12th Annual Kin Club of Valley East "Raise The Flag Day".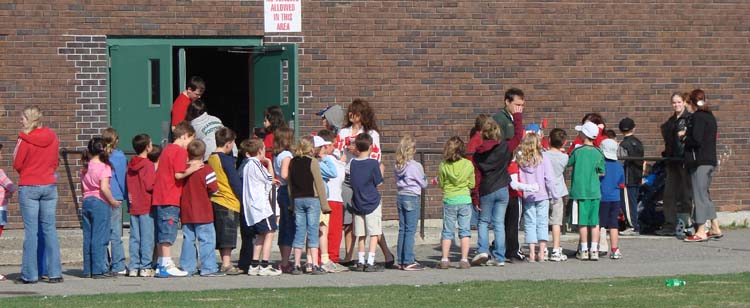 Over 300 children from Immaculate Conception School took the short walk over to Confederation to take part in the ceremony. Immaculate was the winner of the Elementary Schools Division in this year's essay writing contest and was awarded a prize of $500 for the school to use in any way it sees fit. Confederation Secondary School took top honours in the high school division.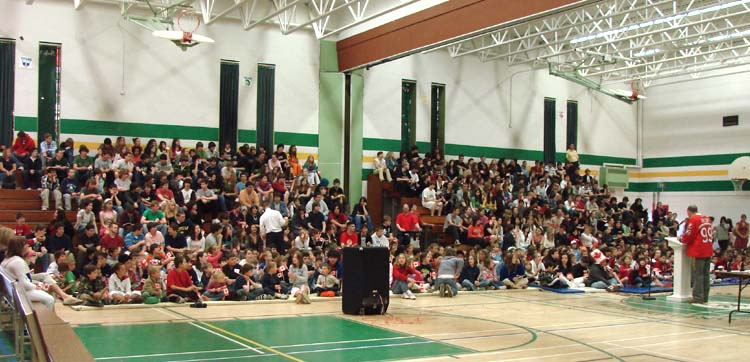 The bleachers were filled and students spilled out on to the floor mats in front as the ceremony began at 9:30 a.m. sharp.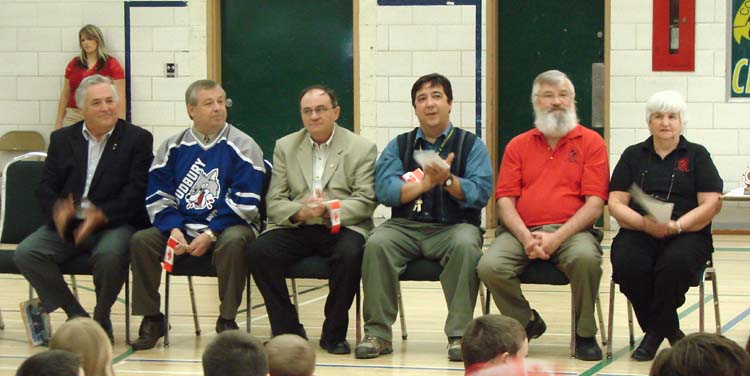 Mary Lou and Bob Bolger, of the Kin Club of Valley East were pleased to be joined by several special guests who all addressed the students about the importance of being "Canadian". Shown from the left are Ray Bonin, in his final months as the Liberal MP for Nickel Belt; Ward 5 Councillor, Ron Dupuis; Claude Gravelle, representing MPP Shelley Martel; and Paul Derro of Confederation Secondary School.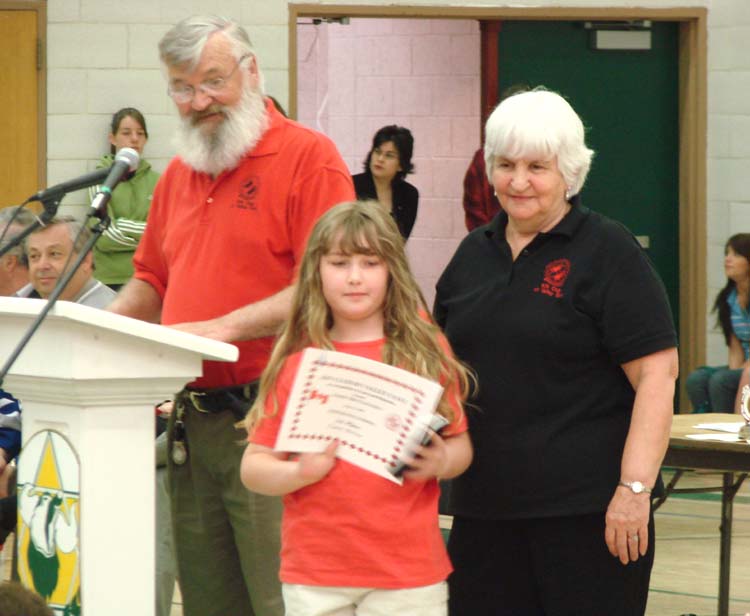 Students from the area were invited to submit essays answering the question, "Why are you proud to be a Canadian?" The primary aged children were asked to draw an appropriate picture as part of a colouring contest. Over 1000 entries were submitted, making it a difficult task for the Kin Club to select winners. All participants received a certificate of appreciation, while the winners in each age group received a trophy as well.

Casey McGee was the 1st Place Winner in the Grade 2 Essay writing category and is shown here with Bob and Mary Lou Bolger receiving her certificate and trophy.

Other winners included:
| | | |
| --- | --- | --- |
| Senior Kindergarten | Alexander Gillette | Immaculate Conception School |
| Grade 1 | Alexis Gunter | Immaculate Conception School |
| Grade 2 | Casey McGee | Immaculate Conception School |
| Grade 3 | Zander Fortier | Immaculate Conception School |
| Grade 4 | Matthew Ingriselli | Immaculate Conception School |
| Grade 5&6 | Danica Brabant | Immaculate Conception School |
| Grade 7&8 | John Sime | St. Anne School |
| Grade 9&10 | Michelle Claveau | Confederation Secondary School |
| Grade 11&12 | Laura Cirelli | Confederation Secondary School |
| Poems | Samantha Newbury | Confederation Secondary School |
| Drawings | Joey Hamelin | Confederation Secondary School |
| Welding | Tara Sohm | Confederation Secondary School |
| Woodworking | Braedon Kleven | Confederation Secondary School |
| Electronic | Juston Walker | Confederation Secondary School |