Hi Bob!

Just looking at the photos from St. Kevin's Tea & Bazaar...I sure do miss those things, nothing like them at all down here. No one knows what a penny sale is, and the only tea they drink down here is "iced."

I noticed a face that looked familiar while looking at these photos. I checked the name and saw it is Doris Labelle. I thought, nah, couldn't be the Mrs. Labelle I had in grade 5. Then I saw the next photo of her, and it does look like her! Can it be...??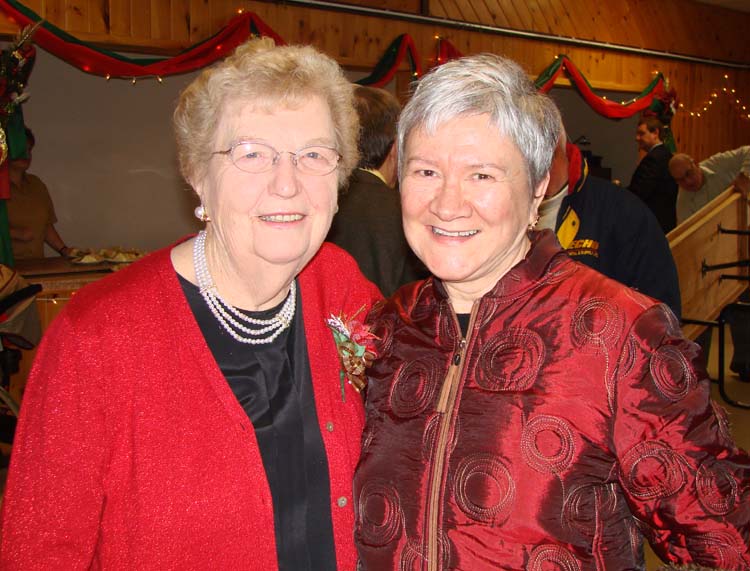 (Yes, Wendy. The lady on the left is Doris Labelle. The lady on the right is Bertilla Rodriguez)
You don't know how much I long to be up there at this time of year. We actually had a snow flurry last week (it was above freezing on the ground, but it was cold up above us...the snow came down and melted before hitting anything), but we're back up into the low 80s again. My mom's in Sudbury right now (probably at Pioneer Manor as we speak, sitting with my grandmother). Mom said it's been warm, but then you had a bit of a freezing rain storm yesterday...? Sounds delightful to me!
I remember one time we had a whole bunch of snow, and then it got warm (I think it was in March or somewhere later in the season) and a lot of snow started to melt, and then it rained and got cold again...school was out because of the weather as the roads were iced over. It was really windy, and these kids down the street got their skates on, held a sheet between them, and ice-sailed down the street!

We just celebrated our Thanksgiving last weekend. Katie's had a cold, so she wasn't much in the mood for turkey. I must say, for not having my mom around, the gravy turned out really good (of course, I did call her to get instructions as I was doing it!). The City of Orlando had its employee holiday luncheon today at the O-rena (we still can't get used to calling it the TDWaterhouse Center). My gravy was MUCH better than the stuff they served there...their stuffing looked like it had been put through a blender...and the ham was called "mystery meat" by several of my co-workers! I wonder who catered the event?! At least the turkey wasn't too bad (although even there, I believe mine was better!).
One of my co-workers was up in Niagara Falls two weeks ago, and she'd brought back some fancy cookies...maple cream cookies! I told her you could get the same thing at the dollar store (made in Canada, of course), so went out and bought some and brought them in...no one could taste a difference. Yesterday I brought in some Dare maple cream cookies which I found at a local grocery store (and bought a bag of chocolate fudge cookies for myself, but the kids have eaten most of them already!!). Gotta show these Americans what good junk food tastes like!! I had Shirley bring me back some Coffee Crisp bars, and the following weekend I found some at another dollar store in Winter Park! And they were 2 for $1!!! That's cheaper than we'd pay up there!!! Now, if I could only get someone locally to sell butter tarts and ketchup chips! The Entenmanns company was selling Vachon cakes under their name here for a while (Au Caramels and Half Moons, as we called them up there) but they've disappeared. The Dare cookies I find every now and again, depending on the store. I'm hoping mom can bring me down a can or two of Habitant soupe au pois. I have a recipe to make some sponge toffee (looks easy enough) which will probably entertain Katie as well (and give her a quick science lesson at the same time), and another recipe for tortiere. I'll let you know how those turn out! Maybe I'll make some butter tarts, too, if I become ambitious and the weather gets cool. I can't make the sponge candy 'til the humidity drops again, should have taken advantage of the nice weather last weekend.
See? And you take all these things for granted.... LOL!!
Anyway, hope you're doing well and you're getting back on track after the elections. Please let me know whether the Doris Labelle in the photos was the same one I knew. I love when you post photos as I am constantly searching for my old life and people I knew when I lived up there in God's country!
Take care, Bob!!