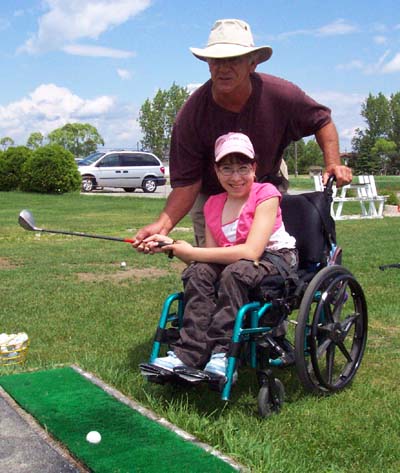 Eleven year old Jeanie Rochon-Poirier never lets her physical disability get in the way of trying out new experiences.
Here she is getting some golf tips from Vic Whissell, owner of the Valley Family Golf Centre on Regional Road 15 in Blezard Valley .
Jeanie, who is a former Easter Seal Ambassador, was on a field trip with her Grade 4 class from Ecole Notre Dame de líEsperance.
Every June the school sends their Grade 3 and 4 classes for a two-hour outing on the driving range.
Jeanie is a victim of Spina-Bifida, but according to her Teacherís Aid, she is a model student who accepts all challenges and loves being with people.
Jeanie was a great Ambassador for Easter Seals during her two-year term and continues to provide motivation and inspiration to everyone she meets.
Vic Whissell has a soft spot in his heart for all children who attempt to learn the game of golf. It is, according to Vic, one of the best sports in the world, and something that you can enjoy playing your entire life.