| | |
| --- | --- |
| | Suzie McNeil Drops In On Evolutionary Band To Surprise One of Her Biggest Fans |
| | Principal For A Day Program Has Many Benefits For All Participants |
| | Family Literacy Night At Redwood Public School Promotes Writing Skills |
| | Redwood Acres Open House Is A Big Hit |
Suzie McNeil Drops In On Evolutionary Band To Surprise One of Her Biggest Fans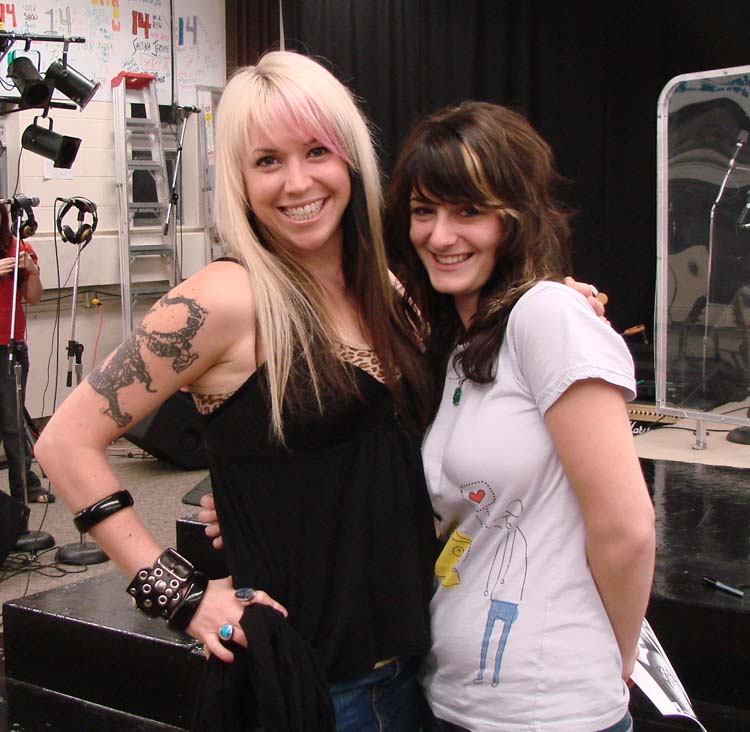 It was just a normal practice session for Confederation's Evolutionary Band after school on Wednesday, October 26. Courtney Tattersall, shown in the photo above, one of the senior lead singers on the band had just completed performing a song with her band that was originally recorded by Suzie McNeil. After the song, Music director, Norm McIntosh, asked Courtney to tell the rest of the group why she liked that song so much. Courtney was more than happy to express her love of the young rock star and proceeded to explain to the rest of the band how much she enjoyed her music.

At that point, Mr. McIntosh, who has been known for shocking the bank with guests dropping in to see them during rehearsals, said, "Well, Courtney, if you like her music so much, why don't you tell Suzie McNeil herself just how you feel."
Then, to the total surprise of everyone in the room, out of the darkness stepped Courney's idol, Suzie McNeil herself. After Courtney recomposed herself, McNeil asked Courtney to join her in singing the song that she had just performed so beautifully in front of the star.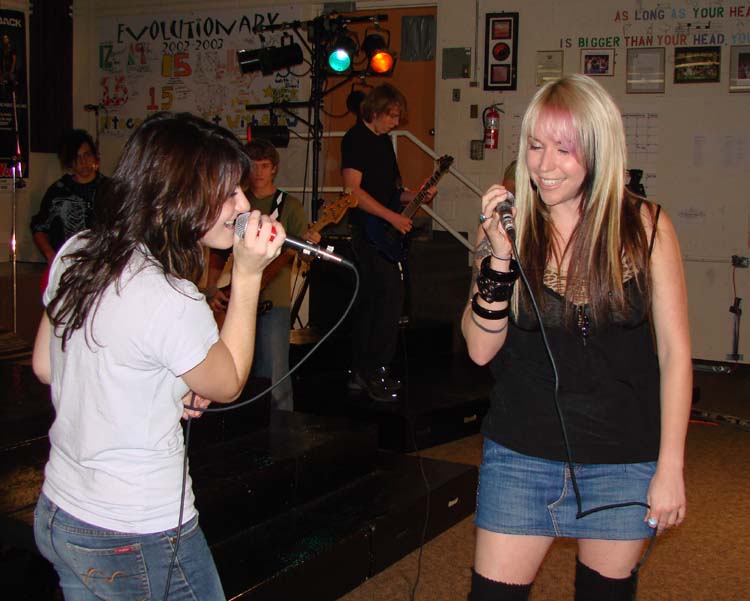 Throughout the years Suzie McNeil has accumulated an impressive array of musical accomplishments and has performed with some of the top stars in the business, even appearing in front of a crowd of over 200,000. She received much acclaim at the end of 2005 when she was the last woman standing on CBS Television's reality series Rockstar:INXS.
In the spring of 2007 she released her first CD "Broken and Beautiful" and this fall she worked with Bell Canada to produce an Olympics inspired video of her hit song, "Believe", which is being considered as the possible "theme song" for the 2008 Winter Games being held in Vancouver .

Suzie talked to the band for a while, signed some autographs and then headed off to the Grand Theater for an evening performance in Sudbury .
For Courtney Tattersall, it will likely be remembered as a defining moment in her singing career, performing with her favourite, Suzie McNeil, live on the set of Evolutionary. Before she left, Suzie told the band that what she has learned from being a performer is that "the energy you put out there is the energy you get back". She encouraged the high school students to adopt that philosophy in everything they do. Before she left Suzie signed the autograph board for 2007 with the message: "Continue the Evolution Revolution".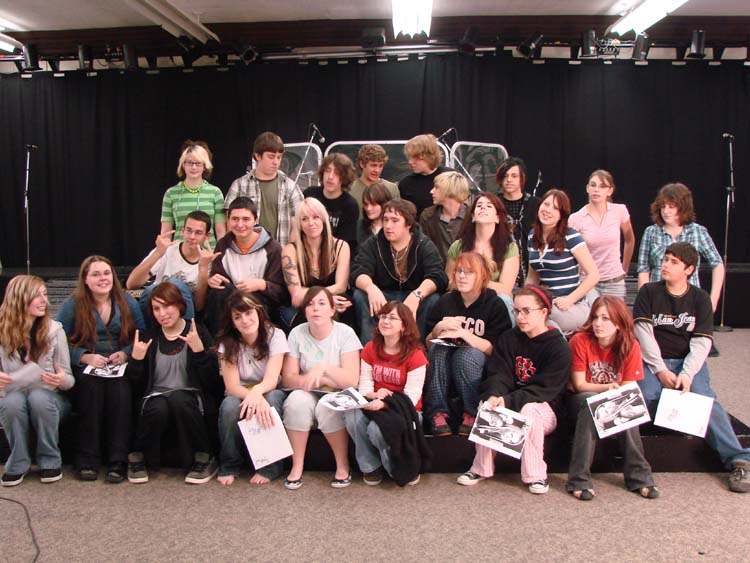 Principal For A Day Program Has Many Benefits For All Participants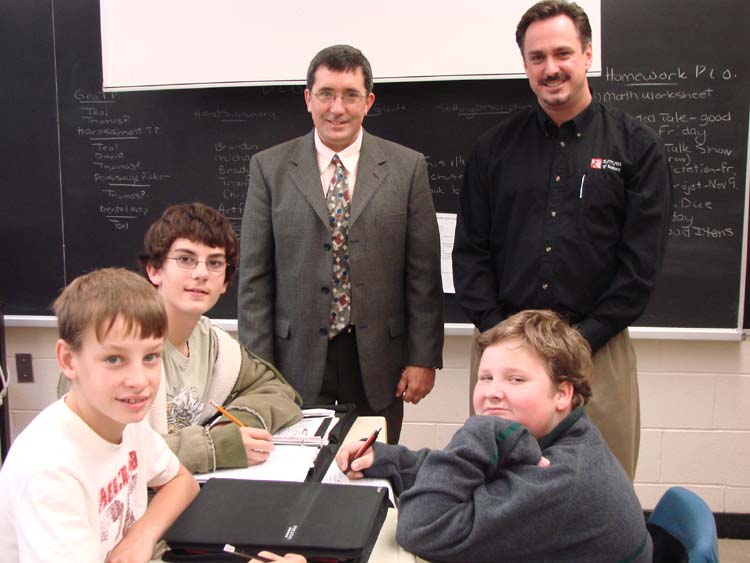 For Chris Scagnetti, President of Saturn of Sudbury, shown standing on the right, the opportunity to become "Principal For A Day" at Pinecrest Public School in Val Therese was something "I just couldn't pass up."

Others in the photo with him include "the real principal, Jacques Mantha, along with three Grade 7 students who were enjoying a very interesting discussion with Mr. Scagnetti about possible careers in the automotive industry. The students, from the left included Cody Boileau, Jesse Dordevic, and Jesse Lampsa.
"The primary purpose of the Principal for a Day program is to link schools with the communities that they serve," says Rainbow District School Board Chair Dena Morrison. "Community leaders will spend the day learning about the multiple roles that school principals play, from instructional leadership to the management of school facilities. In the process, they will gain a better understanding of what¹s happening in Rainbow Schools."



"Our community is keenly aware that we need an excellent educational system to prepare our future workforce," says Director of Education Jean Hanson. "By engaging community leaders in public education, we hope to mobilize the expertise and resources of our community to develop powerful partnerships to improve learning opportunities for students in Rainbow Schools. We want to give community leaders as realistic a view as possible of a day in the life of a
Principal."



"At Saturn we've been involved in many youth-oriented initiatives that have been designed to provide children with safe places to play and enjoy the experiences that are part of growing up," explained Scagnetti. "We sponsor projects like Saturn Kidspace that improve playground facilities and we take part in the "Ugliest Schoolyard Contest" which was actually won by Pinecrest last year. Because they won the first place prize, Pinecrest is receiving a $20,000 landscaping upgrade."



Scagnetti himself is part of a very active family. He and his wife are raising two sons who are involved in hockey and numerous other school-based activities. "The more my children get involved, the more I realize how fortunate I was to grow up at a time when there seemed to be money for everything. Our parks, arenas, recreation facilities were all pretty well new when I was young and we all spent hours every day on outdoor rinks, riding our bikes in parks and just enjoying our youth. Today, children have many more technological advantages that we didn't have, but I find that their outdoor-based activities are limited.

That is why Saturn is focusing its efforts on improving these outdoor facilities and promoting the development of playgrounds and parks.



Chris Scagnetti pointed out that initiatives such as the "Principal For A Day" program go a long way to establishing the kind of positive relationship that is going to be needed by our schools and our young people in the future. "If we are truly going to help our children get the most out of their education, then more and more of us from the private sector are going to have to step forward and provide the necessary support to our school programs. Spending a day in the school like this convinces me that anything I can do to help is well worth the investment in our future."
Family Literacy Night At
Redwood
Public School
Promotes Writing Skills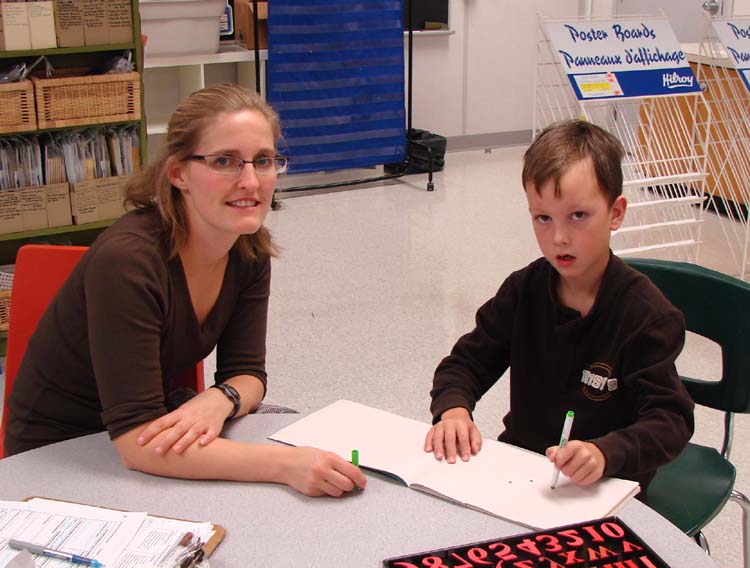 Kellie MacKenzie, one of the two "Literacy Teachers" at Redwood Acres Public School is shown working with Grade 2 student, Kyle, on some of his writing skills. On Thursday, October 25, from to , Kellie and her colleague, Monica MacMillan, will be coordinating the 2nd Annual Family Literacy Night for parents and children of the entire community.

"Our theme this year is 'Writing Through The Arts', "explained Ms MacKenzie. "We will be offering five different 20-minute workshops that will be lead by experts who will take parents and their children through an interactive experience designed to promote writing skills."
The evening will feature Nancy Gareth-Coulombe from the Art Gallery , Chuck Roberts using music as a writing tool, story writing with Michelle Walton and Miss Hallman as well as a "Book Fair" where parents can purchase or order some excellent reading resources for their children.
The Family Literacy Night is open to all parents and children of the community and is free of charge. Just drop in to Redwood Acres Public School at 4625 Carl Street in Hanmer. You can call 969-4435 for more information. Writing is one of those communication skills that is so valuable today and anything parents can do to encourage a love of writing in their children is well worth the time and effort.
Redwood Acres Open House Is Always A Big Hit With The Entire Family
On
September 13, 2007
Redwood
Acres
Public School
held their annual Open House.

This year featured a circus theme with face painting, juggling and clowns.

It was a huge success with parents coming with their children to see their classrooms and meet their teachers.

Below are moments captured at the event.
Below, Cody, the son of Educational Assistant Mrs. Olivier, juggles teddy bears.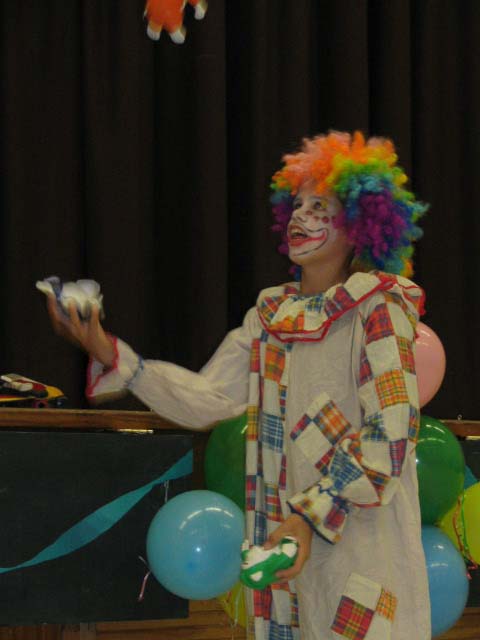 "My mom came to conference with my teacher, I came for the popcorn" says Lauren Oliver below.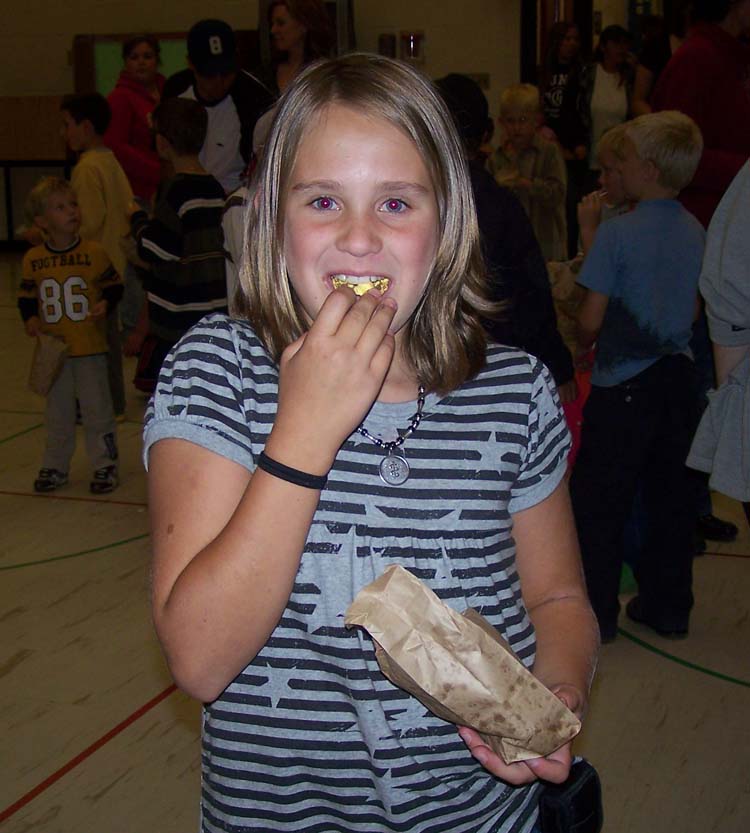 Mrs. Mackenzie LRT teacher at Redwood Acres handed out lollipops to children.