"When You Look At The Whole Community of Valley East We Have More Than Our Share of Attractions For Local Residents Who Are Searching For Recreational and Family Focussed Activities," Robert Kirwan States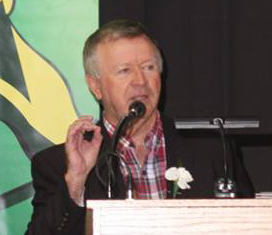 The community of Valley East has an abundance of attractive and interesting places to visit and enjoy special outings and activities for the entire family. And it gives me great pleasure to provide you with a directory of some of those sites along with a photo album of each spot to help you appreciate what awaits you if you find the time to visit.

I encourage all local residents to make sure to bring your visitors and guests to these attractions the next time they are in town. I also recommend that you return to this page often for updates on additional areas that are posted for your enjoyment and so that you might be able to make the most out of your recreational time with your family. Valley East is the Place to Grow in the Greater Sudbury Area and once you visit the following pages you will understand why.

A GREAT RESOURCE FOR POTENTIAL HOME BUYERS
We welcome the opportunity to showcase our community to anyone interested in living in Valley East. That is why HQ Mortgages Inc. is pleased to sponsorthis section of Valley East Today. This is a great place to raise a family and once you see what the community has to offer for you to enjoy your leisre hours, you will most certainly start to look at housing options. We hope what you see here helps to make your decision a little easier.
Langdon Park & Nature Trail
Langdon Park & Trails is located just off Martin Road in Blezard Valley. It is located in between Regional Road 15 and Valley View Road, close to the bridge over the Whitson River. This park has a beautiful 1 km trail that starts at the edge of the parking lot and winds its way to a wonderul open park. The park has a gazebo and some benches where you can relax and enjoy the sun while your children play. There is even a sandy beach area where children can wade in water that is only a few inches deep while playing with the soft sand.
Howard's Nature Trail
Howard's Nature Trail is a beautiful 1 km winding trail that makes its way around the soccer fields and through the wooded section to the north of the soccer complex. While it states that it is only 1 km long, the walk will take you about 20 minutes to complete and there are many smaller trails which run off the main trail allowing you to spend quite a considerable amount of time back tracking and exploring if you wish.

Leo Girard Workers' Memorial Park
The Leo Girard Workers' Memorial Park was opened on September 5, 2011 in honour of the men and women who have lost their lives in accidents at work. There are 154 names on the display board and another 125 more to be added in order to bring everything up to date. It is unfortunate that so many have had their lives cut short through accidents that happened while they simply attended to their job. We are very proud that this memorial park has been established in Valley East and will make sure that the men and women who have died are remembered.

Howard Armstrong Recreation Centre
The HOWARD ARMSTRONG RECREATION CENTRE offers something for the entire family. Continuing on our tour of attractions in Valley East, we want to bring you a photo album of the outside facilities at the Howard Armstrong Recreation Centre located at the corner of Dominion Drive and Elmview Street.

The children will enjoy to modern playground equipment and on hot summer days will surely want to spend a lot of time cooling off in our wonderful spash park. There is a gazebo in the middle, which we are expecting will soon have a picnic table installed for parents to sit in the shade and watch the children. There is also plenty of shade under the trees where families can be found sitting on a blanket enjoying a picnic lunch. This one space alone will give you at least an hour or two of fun and healthy recreation.

You can then walk around the complex and enjoy the beautiful trees along the walkway. The memorial is at the corner of the building. There is a basketball net in the back parking lot where there is always a game going on. If you like racquet ball, there are several courts at the back of the building that will allow you to enjoy hours of uninterrupted fun playing this invigorating sport.

The soccer fields are an immense expanse of place to run and have fun for all ages. There is a second little playground area beside the soccer fields. And what better way to spend 30 or 40 minutes than taking a walk along the Howard's Nature Trail that starts beside the playground. If you are looking for hours of family-friendly fun, consider the Howard Armstrong Recreation Centre.

The Living Rosary
The Living Rosary that is located on the property of Paroisse Notre Dame du Rosaire at 2758 Main Street in Blezard Valley is without a doubt one of the most inspirational places you will find in the entire Valley. It doesn't matter what religious denomination you belong to, or even if you belong to any church or religious group, you will truly enjoy spending 20 or 30 minutes in quiet relaxation on your own or with a group of friends.

The site consists of a living rosary with 55 cedar bushes replicating the beads. Each decade of the rosary is shown with a beautiful sign and the medal at the beginning is a nice shady spot for you to sit and reflect. If you have guests in town, you must show them our living rosary, and if you are looking for somewhere to bring your family for a little outing this should be one of your stops.

Right beside the living rosary is a cemetery that contains so much history. Take some time to walk around and look at some of the names on the memorials. You will recognize so many people who were pioneers of our community. You will marvel at the work that has gone into creating this living rosary centre and you will soon find yourself returning from time to time to gather your thoughts and ask for strength to move forward with your life. Just drive along Regional Road 15 into Blezard Valley and you will find the living rosary right beside the church.

Kalmo Beach
Head along Main Street East in Val Caron and eventually you will come to Kalmo Road. Follow that road and you will find yourself pulling into one of the most beautiful family settings in the Valley. Kalmo Beach, or as some call it Sandy Beach, is a municipal beach that is supervised from 11 a.m. to 7 p.m. every day of the summer until just before Labour Day weekend. It provides a wonderful place for families to gather with their children who can swim under the watchful eyes of a lifeguard and play in the sand.

Adults can swim or just enjoy lying on the grass slopes taking in the view or having a picnic lunch with the family. There is a change room and washroom facilities. And besides the supervised beach, there is an unsupervised beach where many people bring their pets to cool off from the hot summer sun. If you want to go for a boat ride on Whitson Lake, there is a convenient boat ramp and dock where you can launch your boat for the day.