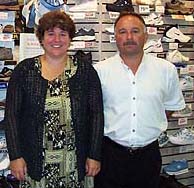 Rob and Vicki Cousins, owners of Sole Mates Family Footwear in the Hanmer Valley Shopping Centre and in Place Bonaventure Mall in Chelmsford, are proof positive that there is still a place in today's era of the big box store for the small family-owned business which is willing to pay close attention to the personal needs of the family.
Customers soon find that Rob, Vicki and their entire staff are never too busy to help them find just the right footwear to suit their individual requirements.
The Cousins have gone out of their way to provide an extremely wide selection of top quality athletic, recreation, and dress shoes for all ages at prices that are among the lowest you will find anywhere in the city. Rob and Vicki will continue to provide all of their customers with a full product selection on top of a proper fitting service because they know how important it is for everyone to have proper support in their shoes. You can also find excellent value on a wide variety of other products including purses, bags, casual boots and accessories.