It Gave A Lifetime Of Memories To Its Patrons....
It Only Took A Few Days To Come Down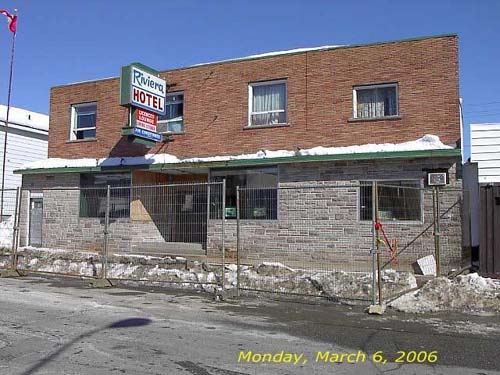 On Monday, March 6, 2006, The Riviera Hotel on Young Street in Capreol still stood proudly, like an "old man" looking over his field of dreams. Generations of people - some calling Capreol home, and some just stopping over long enough from their train to down a few cold ones and share a few stories. Whatever the reason, few who visited Capreol in the "glory days" missed the opportunity to sit for a while at the Riviera.

For those who passed by the front of this building on March 6, it must have felt as if they were seeing an "old friend" on his death bed - knowing that another part of their history was going to be taken away - knowing that "tomorrow" there would be no more Riviera.

I am not sure where the photos on this page originated. My thanks to Rudy Mazzuca for sending them to me by email. I also discovered them on Capreol Online. Whoever took the photos, we all thank you for providing us with a lasting record of a building that was much more than just four walls in developing the history and character of Capreol.
Tuesday, March 7, 2006
The Beginning of The End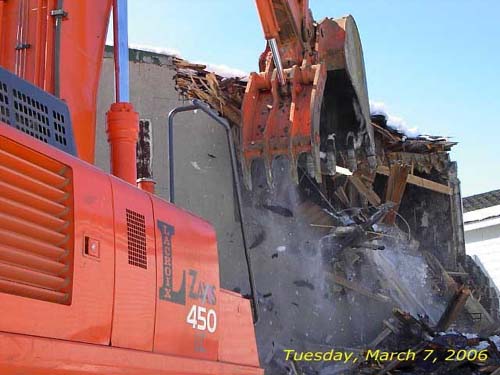 The "Jaws of Death" struck quickly and mercilessly at the "old Riviera". Soon this proud building was "stripped bare" of its dignity, letting the "spirits of the past" float away forever. I have always tried to avoid giving material things human qualities, but nevertheless, material things generate memories and feelings within other human beings. While I was not in the area during the demolition, I am sure that those who saw the event unfolding couldn't help but feel somewhat embarrassed that this "proud old structure" was being left "naked" and humiliated in its final hours.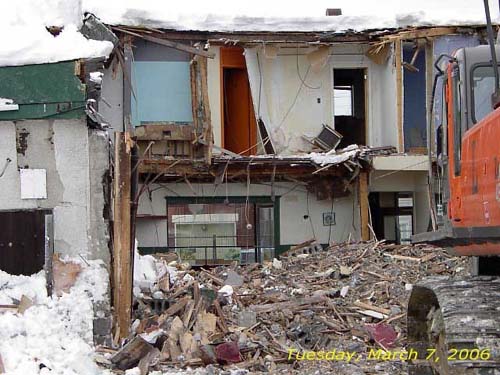 Wednesday, March 8, 2006
The Carnage Continues - The End Is Near
The steel shovel came down hard and swift as the walls and interior were crushed to bits. After only a couple of days there wasn't much left standing.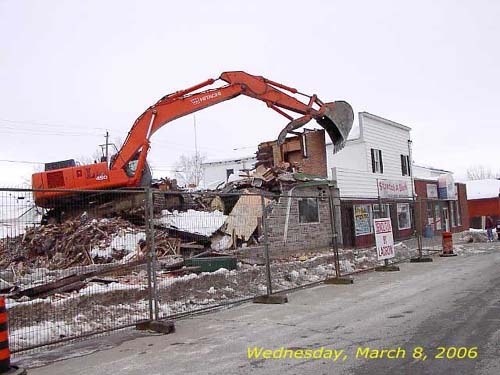 Friday, March 10, 2006
A True Sign of Power - Machine over History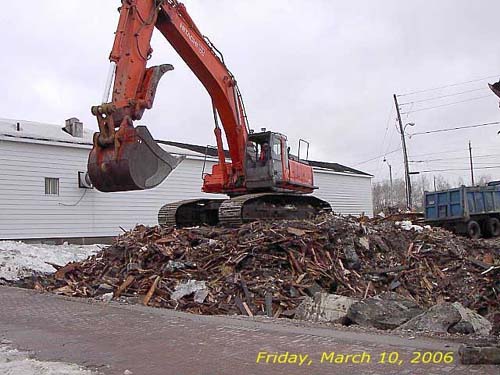 Reflective of the power of machine over tradition and history, the big shovel stands triumphant atop what was once a vibrant and exciting part of the community. Some will call this progress. Others, perhaps those with fond memories of the "old friend", will call it simply a sign of the times - a phase of life that we must all go through in some way as human beings. For no matter how great we become; no matter how much a part of our environment and community we become; some day we will all return to our roots and come tumbling down to make way for the future. Some day, our friends will look upon us and recall memories of the good times as we fall from our "pedestal of life" and make way for others to come in and fill our "void".

Perhaps this final event in the life of the Riviera can be used to remind all of us that no matter how great we become; no matter how strong we may feel at the peak of our existence; it is the memories we leave with those we come in touch with. The memories of the people who "enter our lives", even if just briefly like those people who were just on a train stop over - it is the memories we leave with people that will last far beyond our short time on this earth.

No doubt many people will pass by the spot where the Riviera once stood and talk about the "old days". That is the legacy of the Riviera.

All we can hope for during our short time on this earth - and we never know when the "jaws of death" will fell upon us - is that when people see old photos or recall our name after we are gone, they recall fond memories of good times while they were in our "circle of life".

Whenever you think you are feeling a bit "too big for your britches", come back to this article. Look at the photos and remember that one day you too will suffer the fate of The Riviera. Make sure that the memories you leave behind are good ones.
COMMENTS WELCOME
If you have any memories of The Riviera that you would like to share with our readers, please send them to me through the following email