On Wednesday, April 26, 2006, City Council approved a motion by Mayor David Courtemanche that will create a Community Solutions Team. This citizen-lead team will conduct an extensive public consultation process that will recommend solutions addressing issues raised by residents and businesses in outlying areas.
Mayor Courtemanche affirmed that the City is committed to building a stronger and more inclusive community. 'It is no secret that, since amalgamation, residents and businesses of outlying areas have had some concerns. By working together we can take a productive and planned approach to address these issues." The Mayor further emphasized that all Greater Sudburians stand to benefit from a stronger and more unified Greater Sudbury. 'The Community Solutions Team is yet another initiative, similar to the establishment of the Community Action Networks, intended to engage citizens from every neighbourhood and community across our vast city", stated Mayor Courtemanche.
The motion which was approved by Council included the following statements:
| | |
| --- | --- |
| | "The new City represents a combination of urban, sub-urban and rural settings;" |
| | "Residents in outlying areas have expressed a desire for the City to be more responsive to their needs;" |
| | "Municipal services, by-laws and policies should reflect the unique needs and issues facing outlying areas;" |
| | "City Council should take a pro-active approach to addressing these needs by identifying practical solutions to existing problems;" |
While many are applauding the idea of the committee, there are others that are saying it is six years too late and that with an election only six months away, this is nothing more than a method of trying to diffuse the momentum of the de-amalgamation petition.
The fact that the motion contains the statement that "municipal services, by-laws and policies should reflect the unique needs and issues facing outlying areas" leads one to wonder if by-laws will now be altered to apply themselves to various parts of the City after all of the work that has been done to make the by-laws more uniform throughout the City of Greater Sudbury.
This action by Council is being identified as a sign that Councillors are completely out of control and out of ideas. They have made mistakes and are caught in a corner with no way out. The Committee will discover nothing that Councillors ought to know already if they were indeed representing and in touch with their constituents.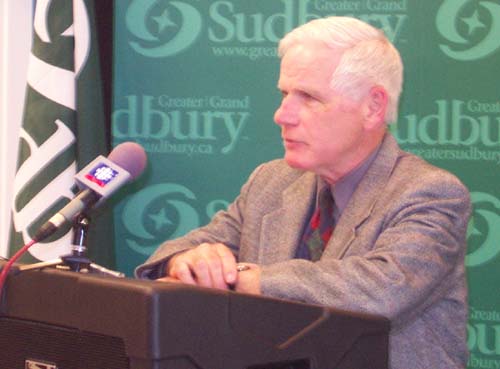 Led by former Nickel Belt MPP, Ontario Minister of Finance and Deputy Premier Floyd Laughren, the Community Solutions Team will implement a public consultation over the next several months and present their findings, including recommendations, to City Council in January, 2007. 'As a resident of the Walden area, and a long-time Sudburian, I am honored to have been chosen to lead the Community Solutions Team," said Mr. Laughren. He noted that the Team's work will be open and transparent and focused on getting results. 'This initiative is an important milestone in the evolution of the City of Greater Sudbury . All citizens will have a voice in the development of concrete and practical solutions to improve how the City provides services to our communities in the outlying areas," added Mr. Laughren.
The Community Solutions Team is a unique opportunity for Greater Sudbury residents to get involved and influence decision making on issues and policies that will unite Greater Sudbury's diverse communities and allow the City to continue to thrive and prosper. The Team will promote a better understanding between the City's rural, urban and suburban citizens, and identify specific ways in which the City can improve its service delivery to its outlying neighborhoods.
APPOINTMENT OF COMMITTEE MEMBERS
On May 10, 2006, City Council approved the members of the committee and provided them with a budget of $75,000 to do their work.
In addition to Floyd Laughren, other members of the team include:
| | |
| --- | --- |
| France Belanger-Houle | A Chelmsford businesswoman |
| Barry Brett | A retired police officer from Garson |
| Gisele Chretien | A retired president of College Boreal and a resident of Hanmer |
| Martha Cunningham-Closs | A resident of Onaping Falls |
| Keir Kitchen | A former town councillor in Capreol |
| Jack Oatway | A retired teacher and resident of Walden |
It was also decided that the mandate of the committee will be to search out suggestions on how to make the "current system work". As a result, the committee will not entertain any discussion about de-amalgamation during its meetings.