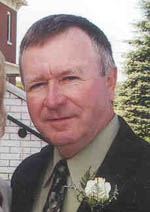 As I went on the tour and spoke to Michelle, Chantal and Linette about SHOOTING STAR DAY CARE / GARDERIE ETOILE FILANTE, I gained a great deal of respect for what these people are trying to do, not only for the parents of the children enrolled at the centre, but also for the entire community of Valley East.

It has become perfectly clear that we do not have sufficient licensed day care facilities in Valley East. It is also clear that we do not have sufficient funding, even for the spaces that we do have. This may not be a problem that is unique to this community, but it is something that will have a profound impact on the future growth and development of the Valley East area.

Valley East is recognized as one of the most attractive communities in which to raise a family. As such, we are being considered by many young parents as the place they would like to locate and begin a family.

However, one of the first questions these young couples must have answered deals with day care.

Is there sufficient, quality day care available for their children? Furthermore, since the employment situation is very competitive in this region, many young mothers are forced to return to their jobs as soon as possible or they will be replaced. This means that they must find a place to care for their infants. And this is the one area where licensed facilities such as Shooting Star Day Care are having trouble.

The City of Greater Sudbury is going to have to address this problem before we move forward with an aggressive marketing plan designed to attract new residents to the GSA. Since many of these new residents will give consideration to Valley East as a place to buy a house and begin a family, the lack of sufficient day care space will be a problem. And if the fastest growing community in the Greater Sudbury Area is having problems filling this need, what does it say for the rest of the region?

The Federal Government's plan to provide $1200 per year of taxable child care benefits is not the answer;

Forcing individual Licensed Day Care Centres to do fund-raising to purchase equipment and keep their facilities maintained, is not the answer;
The answer lies in the City of Greater Sudbury providing special grant money to the Licensed Day Care Centres so that facilities and equipment can be maintained.
The answer lies in the City of Greater Sudbury providing incentives for the creation of new licensed day care spaces in Valley East to accommodate the demand from young families.
The answer also lies in making sure that there are enough, affordable spaces for single parent families, or low-income families who must keep their part-time jobs in order to put food on the table. Many of them cannot afford to give up their jobs for fear of not being able to return at a later time.
Until we come up with suitable answers, Valley East, and indeed, the Greater Sudbury Area as a whole, will not be given serious consideration as a place to locate by young families. It won't matter much what the City does to market and promote the region to the outside if we do not have space to take care of children.
For now, I commend the people working with SHOOTING STAR DAY CARE / GARDERIE ETOILE FILANTE for what they have done to create a first-class licensed day care facility for Valley East. I only wish they had room for children so that we could continue to attract young families to this community.