PERSONAL PROFILE
Robert Kirwan, M.A. (Ed), OCT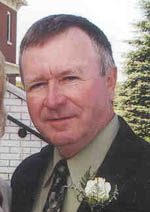 Robert Kirwan received his Bachelor of Arts degree in Mathematics from Laurentian University in 1972. He graduated with a Master of Arts degree in Education from Central Michigan University in 1984. He has been an Ontario Certified Teacher (OCT) since 1973 and is a member in good standing of the Ontario College of Teachers. In 2010 he was elected as a Trustee with the Rainbow District School Board which operates 37 elementary schools and 10 secondary schools over an area of 15,000 square kilometers, including Sudbury, Espanola, Manitoulin and Shining Tree.
After a 28 year career as a classroom teacher, Mr. Kirwan decided to open a full-time private practice as a Program Development Consultant. He founded The Greater Sudbury Learning Clinic in 2007, specializing in the fields of education, training and career development.
Student-Athlete Concussion Management Specialist
Since the summer of 2011, he has been working in partnership with Dr. Michael Czarnota, Ph. D., a licensed neuropsychologist from Detroit who is a specialist in sport-related concussions. Together they have developed concussion management protocols and procedures for children and youth which can be adapted by school boards and minor sport organizations. Mr. Kirwan is committed to helping raise the standard with respect to the identification and rehabilitation of concussions. He also feels strongly that formal "return-to-learn" protocols are critical to the successful treatment of concussions experienced by children and youth.
Affiliation with the Pure Wellness Group
Mr. Kirwan is pleased to be a member of the Pure Wellness Group, which is Directed by Dr. Allan Price. He will be available to provide individual consultation services to parents of children and youth who are suffering from the effects of a concussion. He will help parents and classroom teachers develop an individualized education plan that will help them better understand how to identify the signs, symptoms and behaviours consistent with concussion so that they are able to implement an appropriate personal rehabilitation program for the injured child/youth which will have the best chance of achieving full recovery and a return to pre-injury academic levels.
Founding Director of the Sudbury Wellness Group
In September 2013, Robert Kirwan and Dr. Allan Price decided to become the Founding Directors of the Sudbury Wellness Group of Affiliates. They wanted to develop an alignment of professionals from the fields of medicine, education, science, finance and law. The goal is to empower people with autonomy for their personal overall health and wellness by providing a referral base to an elite team of proficient, compassionate and results-driven affiliates who are operating their own clinics and practices from a variety of locations within the community.
The Sudbury Wellness Group therefore represents a virtual model of an integrated health and wellness clinic where associated professionals unite in a community focused approach dedicated to the provision of services and products designed to assist families improve their quality of life through the attendance at special workshops and through easy and free access to a variety of online and clinic resources. Our goal is to evolve into a virtual teaching "institution" where the community is the classroom and our patients and clients are our students.
As the Founding Director of the Sudbury Wellness Group, Robert Kirwan is responsible for the growth and development of the organization with respect to adding new Affiliates, expanding the "virtual hospital model" and facilitating educational workshops for the general public through schools and organizations across the City of Greater Sudbury.
PERSONAL BACKGROUND
Robert and his wife, Valerie, are both life-long residents of the Greater Sudbury Area, having grown up in the towns of Lively and Creighton Mine respectively. They were married in 1972 and raised three very active, sport minded sons who all graduated from the Business and Commerce Program at Laurentian University. They now have seven grandchildren, two wonderful daughters-in-law and consider family as their top priority in life.